8 Easy Ways to Travel as a Broke Student
If you're anything like me, your university years would have consisted of dining on toast and noodles, constantly checking your bank account, and budgeting your way from week to week. It's a fun life to live at times, but as students, sometimes living the broke student life doesn't mean we want to suppress our desires to travel and explore the world. We get itchy feet, we have desires to see the world, and we don't want to wait until we are stuck in a career that only gives us a week or two of annual leave.
Throughout the course of my four-year university degree, I travelled to over 30 countries! It was difficult to manage but was made even more rewarding by the fact that I know I made the most of every cent I earned throughout my broke university years. Even though I was a full-time student, I made travelling the world a priority and so I put all my efforts into saving to make my dreams come true.
When travelling on a budget as a broke student, there are a few things you need to consider in order to make the most of every trip (and every cent you spend). Here are my 8 easy tips to make the most of your travels as a broke student.
Looking for other ways you can make money online and budget? Check out these posts:
17 easy ways to earn money online without having to get a real job!
19 Ways to Cut Your Expenses So You Can Afford Your Dream Trip
46 Easy Ways to Travel on a Budget
How to earn easy travel vouchers for walking!
1. Select Your Destination Carefully
As a budget student traveller, chances are a trip through the Canadian Rockies followed by a road trip around the United States is not what you are going to be doing. Those places are expensive!
As a budget traveller, location is everything! While $100 might not get you through the day in Iceland, it could last you for more than a week in Southeast Asia. When choosing to travel abroad, choose a location that is going to allow you to travel for longer, and won't chew through every last penny in your bank account to do so. Although things like your flights might be really affordable, hotel rooms, food, and daily activities can often be infinitely more expensive. It's important to consider all the costs involved in a holiday before you decide where to go.
I also highly recommend you thoroughly research the destination and what other bloggers are saying about the day-to-day costs. They know best!
Japan, Cambodia, Indonesia, Montenegro, and Bosnia and Herzegovina are just a few of the really cheap locations I have been to.
To find the cheapest flights for your next budget vacation, check out this post.

2. Volunteer, Work or Study Abroad 
Accommodation is a major cost. So, why not get it for free? I absolutely love the idea of studying, working, or volunteering abroad. With companies like The Working Holiday Club that make working overseas a breeze, or workaway where you can volunteer for a family in-country and in return get food and board taken care of, why not take a semester off university to see the world but still earn some money?
Most universities also offer exchange programs with partner universities all around the world. If you don't want to take a break from your studies, why not do an exchange semester? It will allow you to explore a new country white continuing your studies! Most universities also offer scholarships for overseas exchange programs, so be sure to check those out if you are worried about the costs involved.
Not only will working, volunteering, or studying abroad save you cash while you explore a new destination, it's an all-around life-changing experience.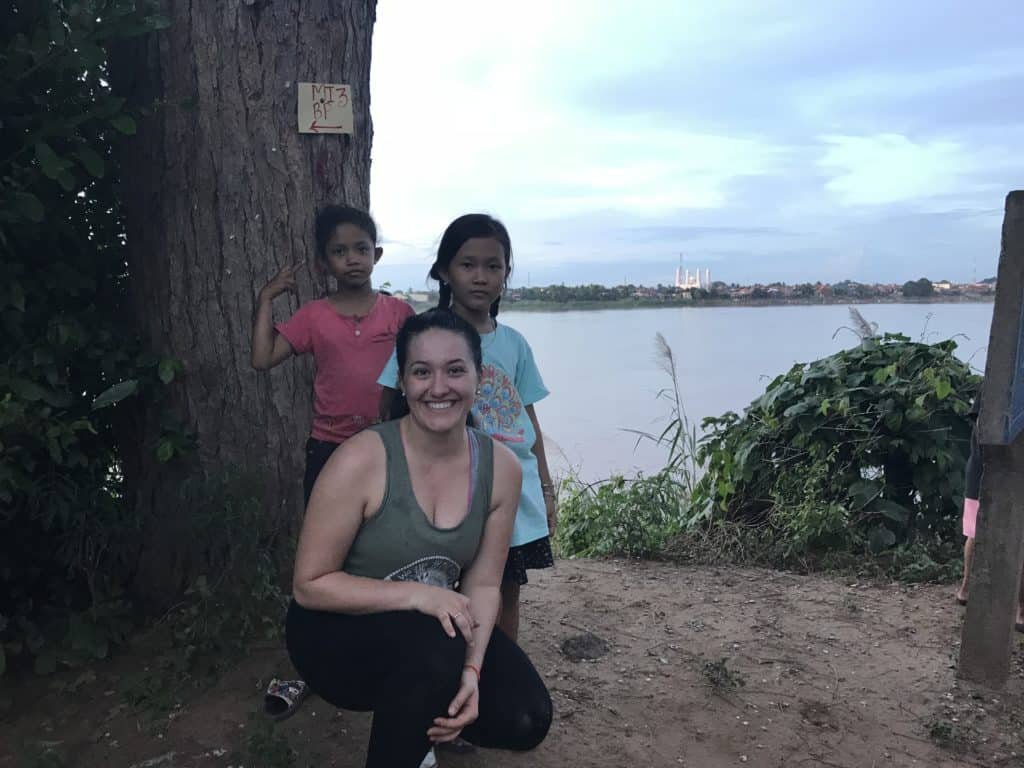 3. Plan Ahead
Prices can vary an unbelievable amount between pre-booking, and when you are trying to book in-country. No matter where you are visiting, booking something in advance- whether it be accommodation, tours, flights, buses- they will usually be cheaper to books earlier! And even if it doesn't, you don't want to wait until the last minute and risk missing out either!
One tool I love is the Skyscanner Price Alert. Enter the flight info you are looking for and then get alerts when the price changes. Just glancing at your alerts over a few weeks can save you hundreds. Know what's a good price, and commit to grabbing your tickets when you get a low price alert.
Once your flights are done, you're one step closer to living out those dreams of travelling the world while at uni!
When it comes to tours and passes to attractions, I also recommend to work out if it's cheaper to pay per day. Buying a daily, weekly, or skip-the-line pass is generally much cheaper than buying one there.
Get Your Guide is the company I use for all my tours when I travel! I find they offer the widest variety, and the value of booking things like an advanced pass or 3-day pass is awesome!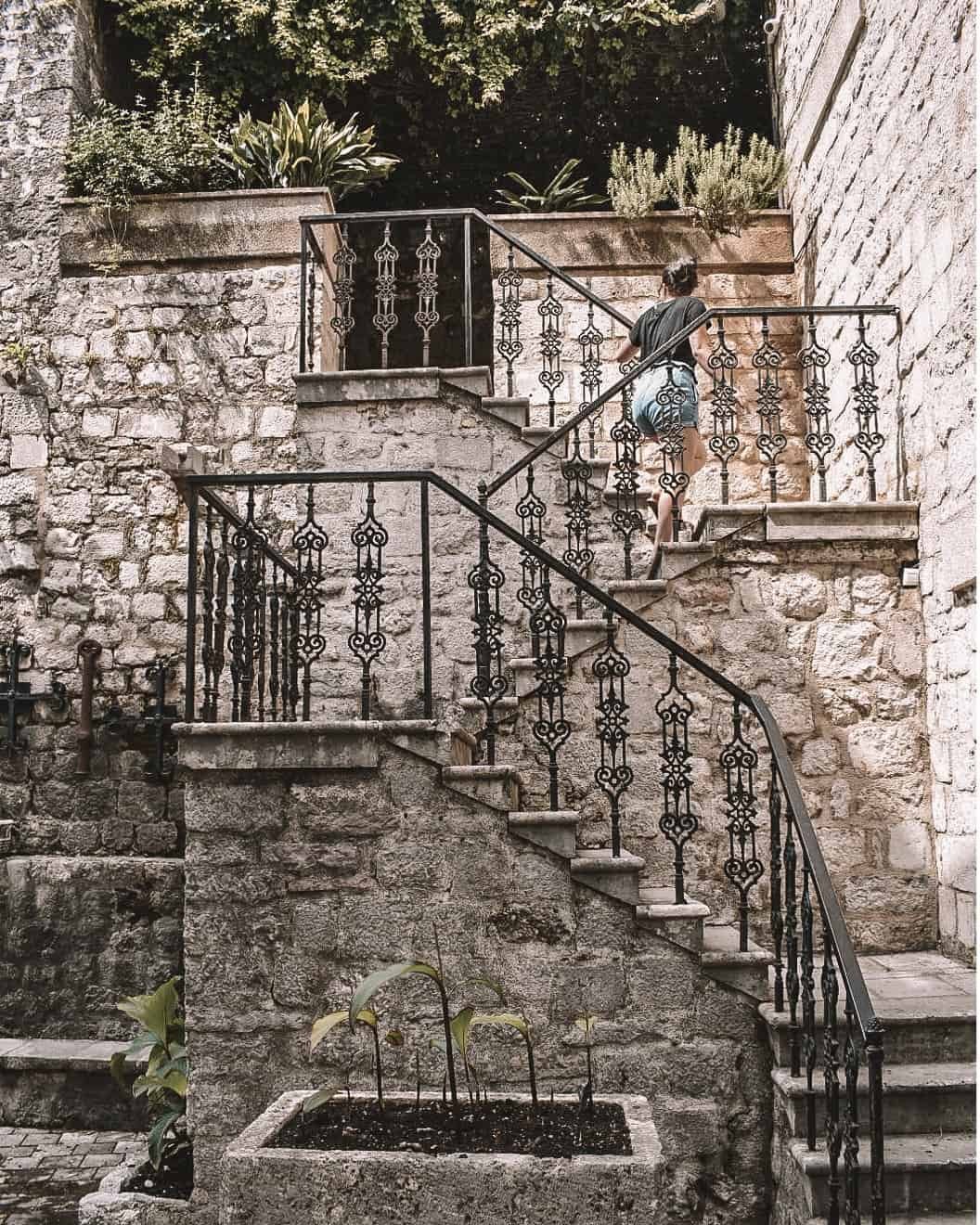 4. Consider Alternative Transport
Before you go, figure out your transportation options. Taking taxis and planes everywhere can add up quickly and take up a large portion of your travel budget.
If you're in a sprawling metropolis, or your feet are sleepy from pounding those pavements, walking everywhere might not be the best option. So go as the locals go! Use buses, tuk-tuks and other forms of transport that might be unique to the location you are visiting!
You'll find travelling like the locals is an unrivalled experience! You won't regret it.
If you're comfortable with cycling, bikes are a great cost-effective way to get around and see loads in a day. Plus, it's free exercise that doesn't even feel like you're working out! This can be a great way to see the countryside or go to places you never would have otherwise gone to. We visited a tiny, remote island in Cambodia because we rode there by bike and it was probably one of my favourite experiences ever!
Or- just walk!
This tip never gets old, but it's something so many people don't do!
Walking is without a doubt the best way to explore a city as it makes you feel like you get to be a part of the destination's life; not just passing through. I mean, walking through the streets of Rome and Athens is the only way you are going to stumble upon those really random shops, truly see the locals, and find the hidden ancient ruins.
Plus, it costs ZERO monies (unless your shoes break and you have to buy a new pair, which happens to me all the time!)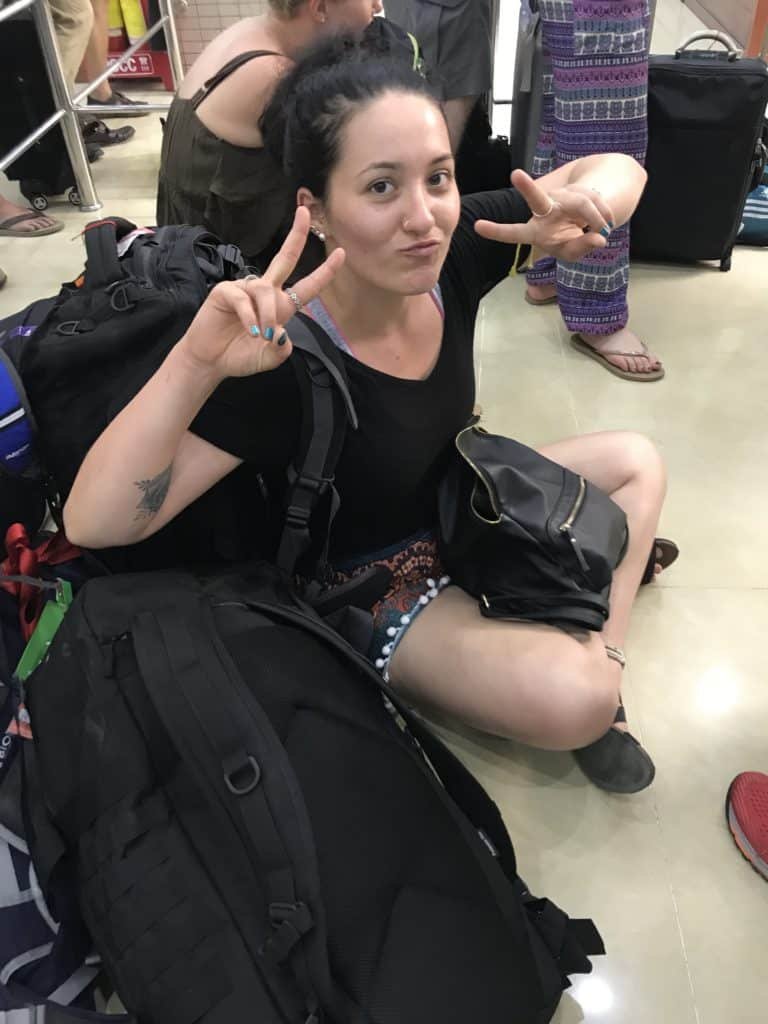 5. Sleep Cheap
Think outside of the hotel room! Grab a free couch, rent an apartment or room on Airbnb, check out a local hostel, or do a homestay. There are so many different options that will save you money and give you a priceless look into how locals live. Search with an open mind and decide what's best for you and your budget.
Hostels are usually the cheapest form of accommodation you'll find.  They are also usually located in the city centre, right near the action… and hotels in these same areas tend to be much more expensive.
Depending on where you are, it can cost as little as $10 a night to stay in a hostel– even the ones with great reviews that are well-rated, super cozy, and clean.
Along with having game rooms, media rooms, nightclubs, and cafes, many hostels also organise activities for their guests such as city walking tours, pub crawls, language exchanges, dance classes, etc. They are the best way to make friends while travelling abroad, and allow you to interact with locals without costing a fortune!
Alternatively, you can often find a budget hotel and great deals on booking.com. I do all my hotel bookings on booking.com because they note only keep records of all your travels and accommodations, but you can earn points that can help you earn wicked discounts on your future travels! I've received 50% off a hotel just because I was a member.
[pipdig_code_1]
6. Find Student Discounts
Student cards are awesome. Did you know that you can get discounts at more than 125,000 places in 133 countries around the world?
If I had known this when travelling around Greece with my student card in 2018, I would have saved myself a bucket-load of money. University cards are widely accepted in a tonne of countries, so make sure you remember to pack it next time you travel. It could save you money that you can put towards another exciting adventure!
7. Create Free Stopovers
If you've got time, but not money, creating a stopover or utilising a longer layover can allow you to explore a location you wouldn't have otherwise explored, without having to pay more for it. Rather than rushing through the airport to catch your next flight, get outside and see the city. There are many airlines that will get you a free stopover in their hub city.
See Reykjavik with Icelandair, Dubai with Emirates, Tokyo with Japan Airlines, Singapore with Singapore Air, Bangkok with Thai Airways, or countless other options!
On my last few trips, I took a stopover in Singapore and spent an entire day wandering around the beautiful city without having to pay more for my flight. I also did this when I flew to Greece in 2018. I stopped in Qatar and it didn't add anything extra to the price of my flights! On this stopover, I booked a desert tour and used my layover to explore a city I probably wouldn't have visited otherwise.
Just do your research and play around with different destinations. It can be really fun!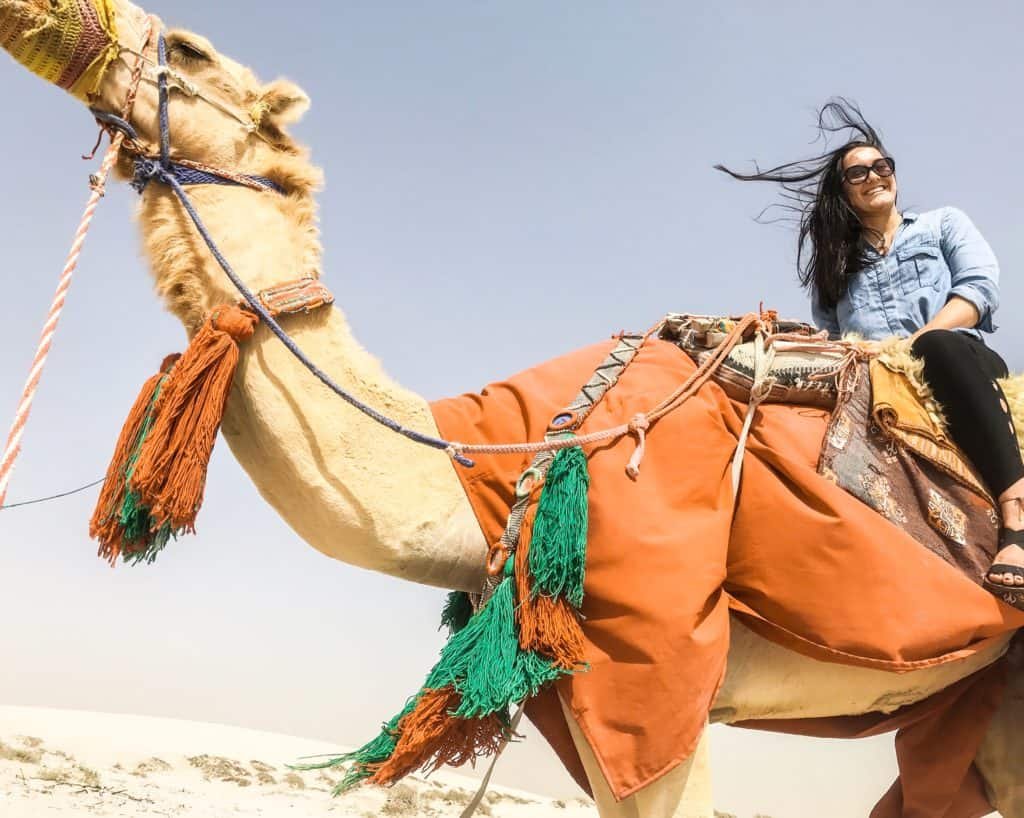 8. Do free and cheap activities to make the most of your budget!
Take a free walking tour
Okay, these aren't quite free as it's usually expected to leave a tip, but they're far less expensive than fixed price tours for those travelling on a budget. Local guides will have plenty of knowledge and advice on the area, and it is the perfect way to meet people. I usually take the free tours recommended by the hostel I am staying in. If they don't have many options for you, a quick google search will allow you to find some awesome free walking tours!
See what's free
There's usually plenty of free things to do in cities. Whether it be museums, street art, galleries, or local palaces, just get out there and see! I found London is the best place for free attractions. Big Ben, Westminster Abbey, Buckingham Palace- there are so many bucket list places to visit and it's all free!
Let blogs guide you
By checking out local websites and blogs you will have access to first-hand insight into the best things to see and do and eat while travelling! I like to read up on what some of the top bloggers are recommending before I travel. I create a 'city bucketlist' and then figure out how I'm going to get around. This is loads cheaper than buying day tours and allows you the freedom to explore in your own time.
Bonus tip- How You Can Earn More Money SO You Can Travel More
If you're anything like me and you LOVE to travel than you might have found yourself googling 'how to earn more money' or 'how can I travel more?'
It's actually really easy to earn extra cash to put towards your travels, and it is an awesome way to utilise your spare time as a student. It really just depends on what you are into, and what resources you have available.
These tips below are things you can do to earn money from your phone- something that almost all university students have easy access to!!
Blogging & Pinterest Marketing
Although, at first, blogging and setting up your Pinterest can be time-consuming and confusing, earning money online with your blog is an awesome way to earn really good extra money!
One of the main ways bloggers and Pinterest marketers earn an income online is through affiliate marketing. 
This means, linking on your blog or through beautiful Pinterest pins (similar to the graphics within this post) to companies you highly recommend and think will benefit your audience.
If this is something you are interested in, I highly recommend Michelle's Making Sense of Affiliate Marketing Course as it will teach you everything you need to know about affiliate marketing!
Some of the things covered in the course are:
What affiliate marketing is and how it works
Why affiliate marketing is great
The exact steps bloggers have taken to earn over $300,000 from a single blog post
How to pick the right affiliate products to promote
The one major tool you need for affiliate marketing
Different strategies to use to promote your affiliate products
Become an Influencer
Most of us have access to an Instagram account. So why not take yours to the next level and start to monetise it? In my time as an influencer, I have received several free or paid hotel stays, a sponsored trip through Central Australia, many sponsored travel activities, and many products!
All you need is to be able to take beautiful photos and write intriguing captions!
But being an influencer is an awesome way to earn money online for travel without a real job. And you can earn thousands!!
If this is something you are interested in, Christina Galbato's Influencer Bootcamp is a phenomenal resource that will teach you everything you need to know about working online as an influencer, specifically on Instagram. If being an influencer is something you are interested in, definitely check out her content! It helped me earn over $1,000 in my first year as an influencer!
Online Surveys
Earn with Swagbucks

The Swagbucks survey and video-watching app was my top go-to for earning free gift cards online while I was at university.
You can watch youtube videos and earn points, do surveys and earn points, play games and earn points, and- you get the idea. You can earn points for a LOT of things. These points can be redeemed for online vouchers to places like Amazon, or into PayPal money.
You can start earning cash immediately when you sign up for Swagbucks today for FREE.
Make money online with Survey Junkie

Trust me when I say  Survey Junkie is one of the most popular and trustworthy sites when it comes to earning money online with just surveys.
I've been using Survey Junkie for 2 years to earn extra money each month.
Survey Junkie is free to sign up for and use!
Teach English Online
Palfish is an easy to use mobile app and one of the best out there for teaching English online. There are two ways to make money on Palfish. First is with the Free Talk where you just chat to people, you don't need to have any specific qualifications for this (or to be a native English speaker) and you can set your own rates. The second is with the Official Kids Course (OKC) where you follow a prepared lesson and teach to young kids! The pay is better here but you do need a TEFL/ TESOL certification which is easy to do and can be easily acquired here for $19.
**If you sign up to Palfish please enter my invitation code: 91355193. I will be assigned as your mentor in the app and will be happy to coach you through the whole application process and answer any questions you might have :)**
Earn Money by Walking
Sweatcoin is an innovative free way that that you can get paid for taking steps!
It works like this: you take steps, and earn points that you can then redeem for items! Unfortunately, your steps do have to be outside your home, but for travellers and people who exercise and work long hours, that is awesome!
The app has several different levels, so the more steps you do, the more points you can earn each day (depending on what level you're on). For instance, I am a 'shaker' (level 2) meaning I can earn up to 10 sweat points per day. if I do 10,000 steps a day (outside), I earn 10 sweat points, which then go into my pool to put towards a travel voucher or Paypal payout. There are 5 levels, so the level you choose to be on really depends on how many steps you do each day!
Most of the prizes require a lot of points- but they can be redeemed for things like $1,000 Paypal cash or a 5 day trip to Disneyworld. The travel voucher are what makes the app intriguing to me. Plus, it motivates me to exercise, so it is 100% worth it!
For more tips on 17 ways to earn money online so you can travel more, I wrote this post 17 ways to earn money online so you can travel more to help guide other travellers to travel more. 


For a more in-depth guide on how to travel on a budget, read my 46 tips and tricks for budgeting and saving money so you can travel more!