This past summer spent in Europe was all about fairytale and medieval destinations. I went to Game of Thrones locations in Dubrovnik and the historic town of Kotor in Montenegro. I travelled across the Ancient ruins of Delphi in Greece, and through the stunning fjords of Norway. It was a dream come true! When I visited Tallinn, I wasn't at all prepared for the intense medieval atmosphere. In all honestly, I had never even really heard of the country, until a few days prior when I was looking at things to do in Helsinki.
Entering the Old Town was like entering a fairytale; a small kingdom in the Baltics with tall thick city walls, narrow alleyways, and locals in traditional attire. I literally felt like I was back in the 13th century. This was made even more true by the lovely sounds of music drifting through the ancient, stone alleyways.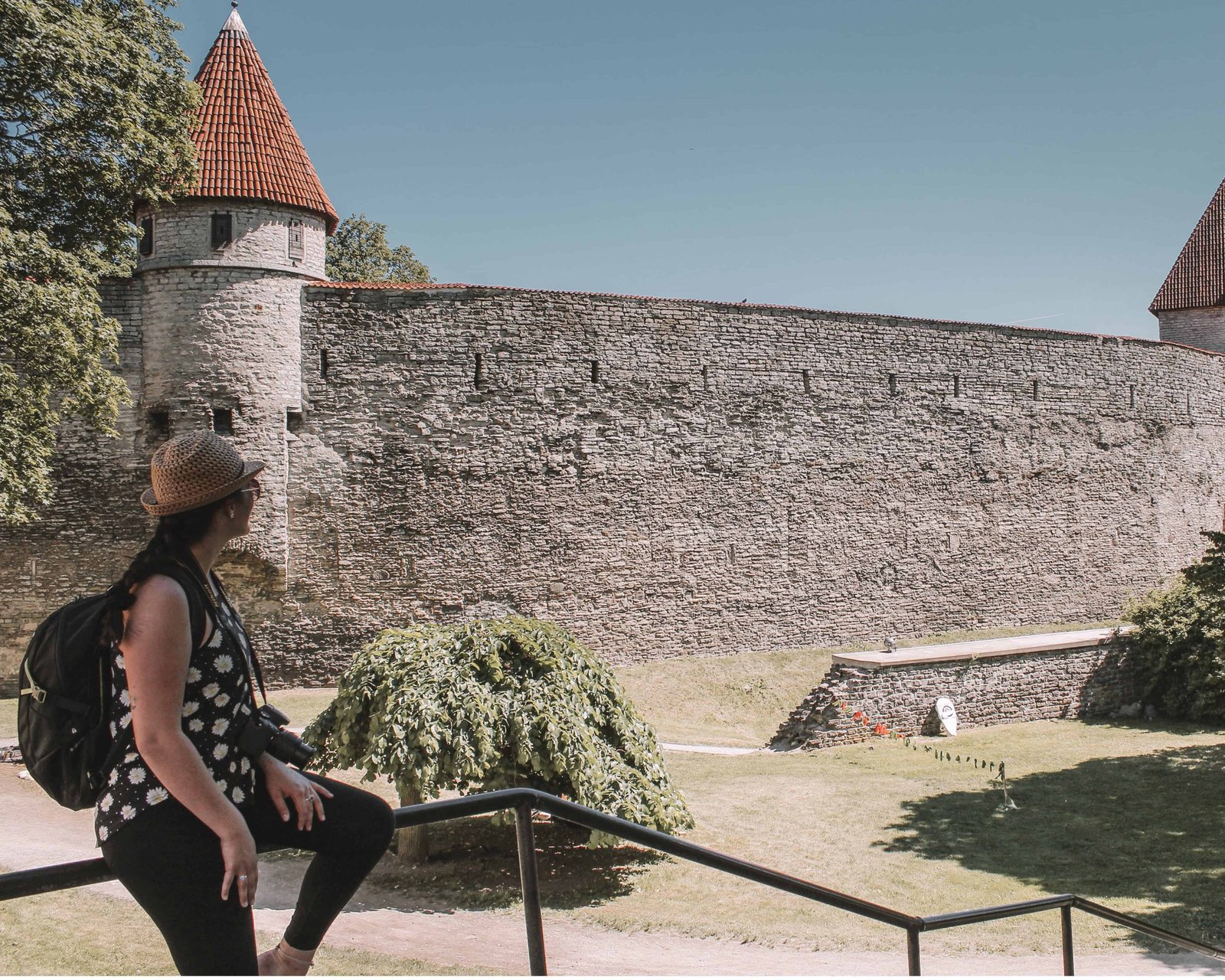 THE GOTHIC TOWN SQUARE
After arriving in Tallinn by ferry, we were more than ready to take in the beautiful sites. We started by strolling down the cobblestone streets of the Old Town. The town square is the heart of Tallinn and boasts a number of restaurants, cafés and bars that are incredible to visit. The tall, Gothic town hall in the middle is surrounded by traditional colourful houses and many little gift shops. We were lucky enough to be visiting Tallinn on a Saturday, so the town square was full of life, music, arts and crafts, and all kinds of interesting people.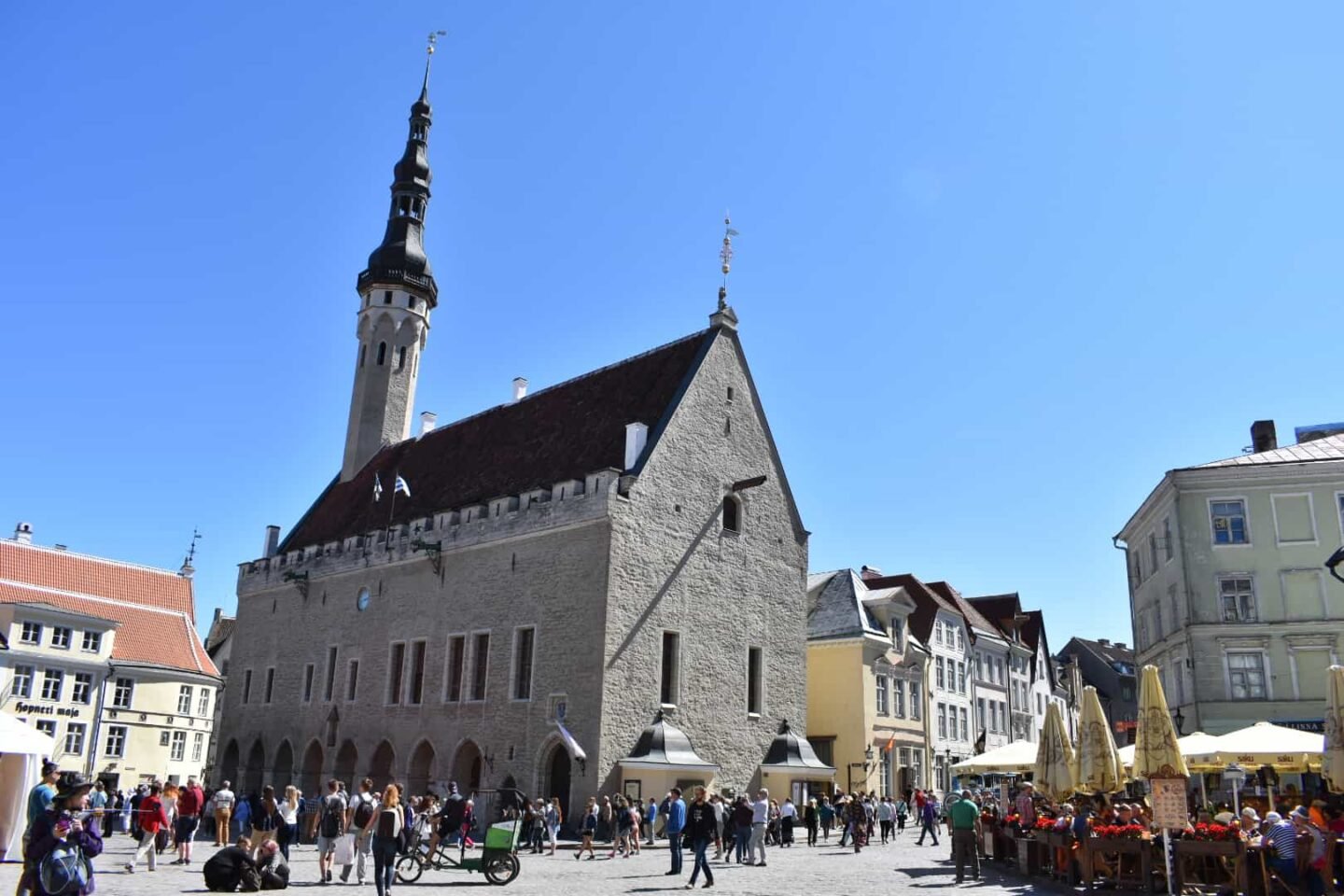 TALLINN'S MEDIEVAL RESTAURANTS
The medieval buildings and houses certainly added to the fairytale feel, but so did some of the restaurants. One of the more well-known places is Olde Hansa, located right next to the town hall. The restaurant comes with medieval menu cards and atmosphere, and staff are even dressed in medieval costumes! It's so adorable. This restaurant was rather hefty of price so I highly recommend checking out some of the other, equally as good, restaurants in the town square for traditional Estonian food and alcohol!
I loved visiting local restaurants where the staff was dressed in traditional clothes and the interior was medieval. It turned my dinner into a whole experience! And even though it came across as touristy, I wasn't put off by it, because the food was great and people were nice. The dressed-out locals, the themed restaurants and the colorful old houses brought a certain energy and charm to this Baltic city.
FAIRYTALE CITY WALLS AND TOWERS
My favourite thing about Tallinn was the city walls. They reminded me of the walls in Dubrovnik and I liked that you can walk on them and get a view of the town. Aside from the fact that the walls made Tallinn's Old Town a UNESCO site in 1997, they are almost 800 years old and still in fairly good shape.
If you don't want to walk the walls, there are many perfect lookout points around the city that are perfect to witness those beautiful panoramic views of the Old Town, its towers, steeples, and picturesque red-tiled roofs. All you need to do is wander and get lost in the city streets.
CHURCHES & CASTLES
Tallinn's Old Town is divided into two parts: the lower part (the center) and the upper part (Toompea Hill). Aside from the viewpoint, the upper part has another stunning feature → the beautiful Alexander Nevsky Cathedral. The large and richly decorated Russian Orthodox church, designed in a mixed historicist style, was completed on Toompea Hill in 1900, when Estonia was part of the Czarist Empire.
The well-maintained cathedral is one of the most monumental examples of Orthodox architecture in Tallinn. Tallinn's most powerful ensemble of church bells is located in the church towers. It comprises 11 bells! The interior, which is decorated with mosaics and icons, is definitely worth a visit.
Tallinn was one of the highlights of my trip to Europe. Despite only having a few hours to explore the city, we never felt rushed or stressed that we wouldn't see everything. By simply meandering through the alleyways and stopping at some of the attractions, we felt we saw everything we needed to. I hope you visit Tallinn one day. I promise you won't regret it.
Love,
Abbie xoxo
Travelling to Europe and wanting more inspiration? Check out these posts!
Tips and Tricks For First-Timers in Venice
A City Guide to Kotor, Montenegro
This is Why You'll Never Forget a Day Trip to Mostar, Bosnia
Why Bosnia and Herzegovina is a Must-Do on your European Vacation
Ultimate City Guide For Things to do in Madrid!
11 Things To Know Before You Visit Rome
<div data-gyg-partner-id="972T2A8" data-gyg-number-of-items="4" data-gyg-currency="AUD" data-gyg-locale-code="en-US" data-gyg-id="code-example" data-gyg-q="tallinn" data-gyg-widget="activites" data-gyg-href="https://widget.getyourguide.com/972T2A8/activities.frame"></div>