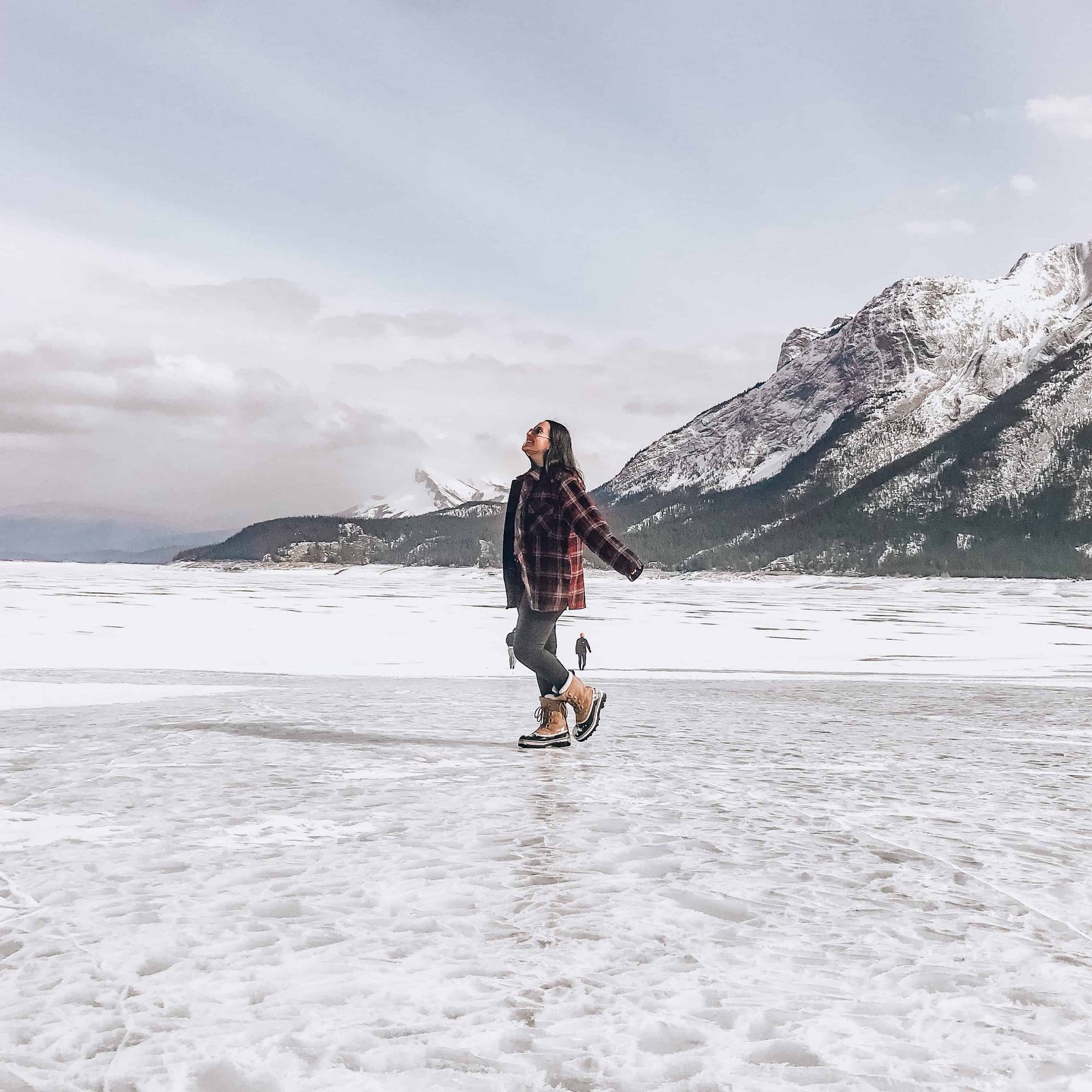 Top 6 Must-See Lakes In Canada
The second-largest country in the world, Canada is known for its natural beauty and outdoor activities. It's home to eight distinct forest regions, two mountain regions, volcanoes, and the arctic zone. It also happens to have the world's largest amount of freshwater lakes, which are spread across all ten provinces and three territories.
It's believed that there are over 2 million lakes in Canada. In fact, over nine percent of the country is covered by freshwater! With so many lakes, it's nearly impossible to decide which lakes are the best. But some of these lakes are much more spectacular than the others. And I was lucky enough to visit a handful of the most popular ones in the Banff and Yoho National Parks.
Unfortunately, I wasn't able to see these lakes in summer, but when I do, I can only imagine the stunning turquoise waters and lush forestry surrounding them. In winter, they boast beautiful winter wonderland scenery, making you feel like you've taken a step inside a wardrobe and ended up in Narnia.
If you head to any of the lakes in Canada, it is important to be wary of animals, weather conditions, and frozen waterways.
Here is my list of the top 6 must-see lakes in Canada.
Loving the winter vibes and Canadian wanderlust? Why not try a working holiday! If you want to read more about how to prepare or begin your working holiday dream, you can find all the information in part 1 and part 2!
First time in the snow or on a ski holiday? Read this post for all the best winter tips, tricks, and packing guides!
1. Lake Louise
Everyone has heard of Lake Louise, right?! For good reason too, because Lake Louise deserves the worldwide fame and celebration it receives. Soaring mountains provide an epic backdrop and the fairy-tale-like Fairmont Chateau Lake Louise makes it all seem like a dream.
If you're lucky enough to see it in winter, the frozen lake boasts the perfect place for some of those must-do winter wonderland checklists. Ice skating, sleigh riding, snowshoeing, and cross country skiing are just a few of the activities you might fall in love with.
Located a ten-minute drive from the Lake Louise Village, it probably won't surprise you that this kind of breathtaking beauty comes with large crowds. The trick is to go at sunrise or sunset for fewer people and more space along the lake-shore.
I recommend you finish your trip to Lake Louise with a coffee or hot chocolate in the Fairmont. There's just nothing like it.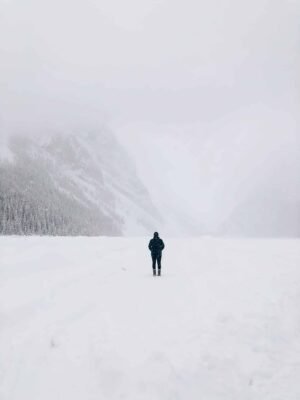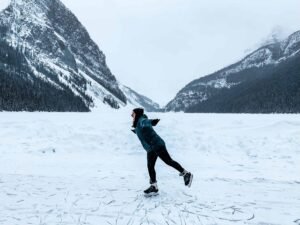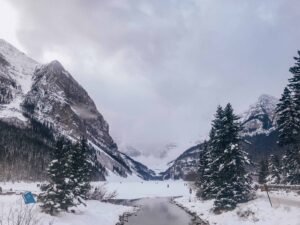 2. Abraham Lake
One of those world-known bucket list lakes not far off the Icefields Parkway, Abraham Lake is most popular in winter when bubbles can be seen just below the frozen surface. Trapped methane is what causes frozen bubbles to form under the ice. This phenomenon results when decaying plants on the lake bed release methane gas, which creates bubbles that become trapped within the ice, in suspended animation, just below the surface as the lake begins to freeze. The visual effects formed by the resulting stacks of bubbles, frozen while rising toward the surface, combined with the clear blue water, have made Abraham Lake a popular destination for photographers and nature observers, and it does not disappoint. The surrounding mountains and long stretches of stunning forestry make the trip to Abraham Lake one to remember.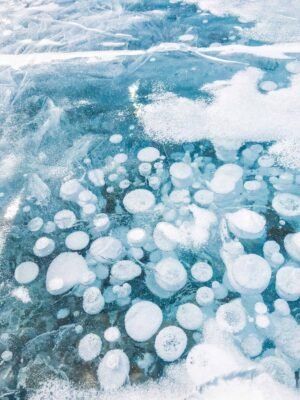 3. Bow Lake
Also making the top 6 list of must-see lakes in Canada is the gorgeous Bow Lake. A quick detour from Icefields Parkway, Bow Lake is a slightly less touristy stop compared to the lakes listed above. In fact, when we went the only other people were locals who were cross-country skiing around one of the many impressive mountains and glaciers.
Visitors can enjoy the lake via a short 1-2 minute walk from the parking lot and there is also a lodge for those looking to stay. Although I only saw this lake in winter, like many of the other lakes in Canada, I would recommend visiting at sunrise or sunset for the ultimate view.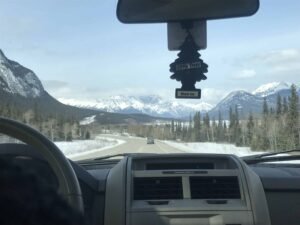 4. Lake Minnewanka
Lake Minnewanka was a surprise to me. It is without a doubt one of those must-see lakes in Canada you cannot miss. Having barely heard about the lake, when I decided to make the trek there, I quickly learned it was one of the most picturesque landscapes I'd come across in the Banff/ Lake Louise area. Lake Minnewanka is a large glacial lake five kilometers from the town of Banff. The lake is 21 kilometers long and 142 meters deep. It is a beautiful spot, popular for picnicking, mountain biking, hiking, cross- country skiing, canoeing, diving, and snowshoeing, depending on the season.
During the winter, you might experience some seemingly magical phenomena at Lake Minnewanka. When the atmospheric conditions align, Lake Minnewanka is one of the best places in Banff National Park to view the Northern Lights (Aurora Borealis). This is definitely on my list for when I return!

5. Emerald Lake
Located in British Columbia's Yoho National Park, Emerald Lake is another beautiful lake worth adding to your Canadian Rockies itinerary. It's hard to describe how, but trust me when I say that it is gorgeous!
When exploring Emerald Lake, visitors can take an easy 3.2 mi / 5.2km hike around the lakeshore. Cross-country skiing and snowshoeing were also very popular activities many of the locals were doing when we visited in winter. Emerald Lake Lodge also has cozy cabins and guest rooms for those wishing to spend more than a day in the area.
6. Sherbrooke Lake
Sherbrooke Lake, a lake I am lucky enough to say was literally my backyard, is a short and easy mountain hike in east Yoho National Park, British Columbia, Canada.
The trailhead for Sherbrooke Lake in Yoho National Park begins just west of the Great Divide Lodge along the north side of the Trans Canada Highway  5+ kilometers west of the Alberta – British Columbia provincial border.
Even in winter, the main trail is a frequently traveled path with fairly consistent gentle ascent. This 1.4 km access trail leads to a trail junction at a large tree where the left 1.6 km branch accesses the length of the east shoreline along Sherbrooke Lake. The right 2.2 km one-way branch begins the more aggressive hike to Paget Lookout, the perfect spot for some backcountry skiing on fairly easy terrain.
When you arrive at the lake, there are paths you can walk around to get different vantage points of the stunning mountains surrounding it. If it is mid-winter, you might even be able to take a walk across the frozen lake. As always, just be vigilant of weather conditions and the ice!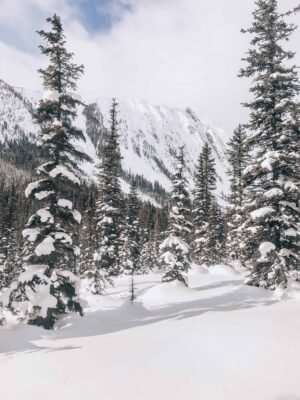 Bonus: 5 more must-see lakes in Canada
Some other popular and beautiful lakes in the Canadian Rockies that I'd love to visit in summer include Lake O'Hara, Two Jack Jake, Moraine Lake, and Peyto Lake. I am sure there are WAY more I haven't visited or even heard of so I encourage you to do your own research and get off the beaten path. The Canadian Rockies are full of hidden gems!
Are there any other must-see lakes in Canada you would recommend? Add them to the comments and let me know!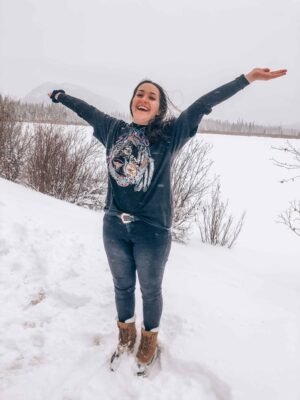 For more adventures to do in winter, check out these other posts:
Dog Sledding in Canada: to do or not to do?
9 of the Best Winter Adventures Near Banff/Lake Louise
Your Ultimate Canadian Bucketlist
Johnston's Canyon: Everything You Need To Know About Hiking It
First-Timers Guide to Summer in Lake Louise