Ultimate City Guide For Things to do in Madrid!
Guest Author: Juliette Smith is passionate about travelling. She has already visited pretty much everywhere in Europe and experienced all kinds of travelling types- from backpacking to luxury travel, leisure and relaxing trips, to more adventurous ones.
But Spain is where her heart is!
Juliette is the community manager for Madrid Discovery, a thriving company which boosts tourism all throughout the city with their unique city tours, skip-the-line tours, and expert guides. In her free time, Julie loves to explore new locations around her favourite city, and of course, eat tapas!
The Ultimate City Guide For Things to do in Madrid!
Madrid, Spain's central capital, is a city of elegant boulevards, manicured parks, art and culture. It is a place that thrives on activity, and a city where you will always have plenty of things to do. From it's countless museums, to its best rooftops that allow you to soak up the city's amazing views- you will never get bored in Madrid!
This sunny city will fit everyone's travel agenda, whether it be for families, a romantic getaway for two, or between friends on a well-needed city break.
Here is your ultimate city guide for things to do in Madrid on your next holiday!
Things to do in Madrid: Visit a Museum
Madrid is a cultural city laden with an abundance of impressive museums throughout the city. With more than ten popular museums, you'll find everything from contemporary art, to ancient history.
The top three museums in Madrid you absolutely must see are listed below.
The Prado Museum
The Prado Museum is one of the most visited, and one of the oldest museums in Madrid. In fact, last year the Prado Museum celebrated its 200 years since opening. It is also one of the biggest museums in Madrid, so be prepared for a jam-packed day when you visit! Here you will find paintings and sculptures from the royal families, for example, made by famous painters such as Velazquez or Goya. But this building doesn't only contain Spanish art, it is also filled with art from all over Europe dating back hundreds of years!
It is the perfect place for you to travel through time.
The Reina Sofia Museum
Unlike the Prado Museum, The Reina Sofia Museum is more of a contemporary and modern art museum, most known for hosting the Guernica painting from Pablo Picasso. In this museum, you will be able to see various movements which transport you through Spanish history, right up to the two world wars, and into today.
Palacio Real
The Royal Palace of Madrid is one of the biggest Palaces in Europe and is now home to a stunning museum where you can discover the daily life of royalty. The palace also hosts a variety of artwork and a magnificent throne room which makes you feel, for one afternoon, just like royalty!
Outdoors, you will be able to walk through the Campo del Moro or the Sabatini gardens, two major attractions of the palace which allow you to enjoy the sun and discover the outdoor sculptures, unique to Spanish history. It is highly recommended to visit The Royal Palace of Madrid with a guide as to not lose anything of its story.
Things to do in Madrid: Visit an outside attraction
Retiro Park
Retiro Park is Madrid's biggest park and one of the most beautiful locations to visit when in Madrid. Initially a part of the Palacio del Buen Retiro, a large palace complex designed by the architect Alonso Carbonell and built on the orders of Philip IV of Spain as a secondary residence and place of recreation, it now stands as a place full of history, helping you discover the full expanse of Spanish living.
And what's better, the Retiro Park is entirely free!
If you want to know all about the Retiro Park to plan your visit you can read about it here.
Alfonso XII Monument and Lake
This monument is one of the biggest, most visited places in the park. Located near the lake, it is composed of an equestrian statue representing the former King. Alfonso XII, the influential Spanish King whose short reign (1874–85) gave rise to hopes for a stable constitutional monarchy in Spain, was a very humble man who was dedicated to his nation and who attempted to maintain peace in the country. Surrounded by Roman columns and other sculptures, this work of art represents the major Spanish values, such as peace and freedom.
On sunny days, you will be able to navigate the lake by renting a little boat, allowing you to enjoy the sun on the water and nature at its finest. That's what Spain is all about, after all!
Walking down the avenue from the Alfonso monument, you will find several statues from all the previous Spanish Kings. At the end of the avenue, you'll find a puppet show which takes place every weekend. This little gem is absolutely perfect for kids, and even the big kids will probably crack a smile if that's what you're into (we won't judge!).
Things to do in Madrid: Visit a Palace
The Crystal Palace
Initially constructed as a greenhouse, The Crystal Palace sits deep within Retiro Park and welcomed one of the most fascinating glimpses into Spanish History- the Philippine Islands Exhibit. Originally built to house exotic plant life from the farthest corners of the Spanish empire, the Crystal Palace is now a museum where visitors are able to find outdoor exhibitions and learn about the Empire.
The building is made entirely of iron and glass, where when the sun hits it, it creates beautiful rainbow colours that allow you some of the best photo opportunities in all of Madrid!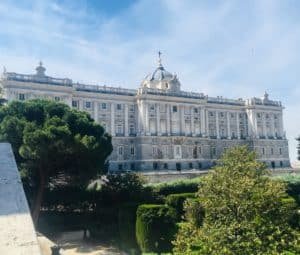 Velazquez Palace
Constructed by the architect Ricardo Velázquez Bosco, who was also responsible for The Crystal Palace, and who gave his name to the building, the Velazquez Palace now often hosts exhibitions of National Fine Arts and contemporary painters.
Just like the Crystal Palace, the Velazquez Palace is made of iron and glass, but also from stone pillars and porcelain. Initially constructed in order to host the National Mining Exhibition held in Madrid from May to November 1883, and inspired by the Crystal Palace of London, it now belongs to Reina Sofia Museum, where you will find many temporary exhibitions of famed artists from all over Spain and the world.
Things to do in Madrid: The best rooftops
Although rich in history and beautiful palaces, Madrid is also a dynamic city where you will find an abundance of rooftops to sit back and relax with your favourite drink. These rooftops are paired with amazing views of the capital city and its surroundings and are a must-do when visiting Madrid.
As the capital city is pretty diverse, it offers various types of rooftops, allowing you to find the one which will perfectly fit your holiday preferences.
The most luxurious rooftop
If you want to go for a luxurious experience, the perfect place to be is the rooftop at the BLESS Hotel of Madrid. On the 8th floor of this 5-star hotel, you will find its rooftop has a bar, pool and gastronomic restaurant.
Feel free to order your favourite cocktail and sit back to relax on the comfy sofas for a calm moment away from the bustling city. And if you want to benefit from total immersion into a luxurious life, you can even book a room at the hotel. It will allow you free access to the pool, and an even more relaxed way to spend the evenings after exploring Madrid all day.
Nightlife
If you are more of a party lover or love getting into the night scene whenever you travel, the SkyNight bar is a place made for you. Offering cocktails and good music produced live from a DJ every night, this place is perfect if you want to dance and make the most of your day until late at night. It mirrors that of a nightclub but is entirely outdoors.
And if you are bold enough, walking through its glass walkway allows you to take incredible pictures.
Corte inglés rooftop
The Corte Ingles rooftop is more accessible and at a more reasonable price than those listed above. Called the 'Gourmet experience,' it is a place where you will have the choice between several international cuisines, from Japanese to traditional Spanish or Italian food. You can visit late at night to enjoy a drink, or visit for lunch and sit in one of the terraces comfy chairs.
Book your rooftop bar experience here! It is perfect for solo travellers, those couples looking for a romantic evening amongst the stars, or groups looking for a night of fun!
Need Travel Insurance? I highly recommend getting travel insurance before ANY international trip. World Nomad's offer the most flexible worldwide cover that I have come across, and you can purchase a policy online, even if your trip has already commenced.
[pipdig_code_2]
Booking Accommodation? I always book with Booking.com as they are reliable, offer free cancellations, and have the widest range of accommodation available in EVERY location. Get a quote for your upcoming holiday here:
[pipdig_code_1]
Planning a trip to Europe and looking for other destination guides? Check out these posts!
Why Bosnia and Herzegovina is a Must-Do on Your European Vacation
11 Things To Know Before You Visit Rome
A City Guide to Kotor, Montenegro