19 Ways to Cut Your Expenses So You Can Afford Your Dream Trip
Do you have a dream trip you have always wanted to take? Do you have friends that always seem able to travel the world, while you are sitting there, unsure of how to afford your dream trip?
Well, the key to any holiday is being smart with your money – and that starts even before you hit the road. It's important to know how to save and plan your trip so you don't find yourself running out of money while you are travelling, or finding yourself saying "I can't afford to do that!"
The thing with this is, it can be hard to know how to budget before you travel in order to save enough money.
If you want to afford your dream trip, here are my best tips and tricks on how to cut your daily/ weekly/ monthly expenses and put that hard-earned cash toward your holiday.
If you need help with booking a budget holiday, check out these 46 easy ways to travel on a budget! 
If you're a student, casual worker, or someone who struggles to make money, here is my guide to 8 easy ways to travel when you're broke!
1. Cut the coffee and make your dream a reality
Love your Starbucks? Well, Starbucks loves your money. If you want to be able to afford your dream trip, coffee might be a daily expense that is quietly draining your bank account without you even noticing.
That daily $5 coffee costs you $150 per month. At $1,800 per year, that's two months in Southeast Asia. What's more important: your daily cup of Joe or spending more time on the beaches of Thailand or exploring the jungles of Borneo? Give up the coffee, or brew your own cup! This can yield huge savings almost instantly!
If cutting out your coffee isn't something you want to do anytime soon, I have two tips.
ACTIONABLE TIP: First, try and limit yourself to once a week. One coffee as a treat each week to keep you motivated to save save save.
Secondly, why not take up a small side hobby that can earn you enough each week for that coffee? My recommendation here would be to start doing surveys!
Swagbucks Surveys
The Swagbucks survey and cashback app have been in the business since the late 2000s and I've been a user for a while. With the app and desktop versions, you can take surveys, watch videos, and play games to earn cash!
You can opt for PayPal money, and sometimes even choose Starbucks coffee vouchers!
This would be a great way to earn money for your week y or daily coffee. Sign up for Swagbucks today for FREE.
Surveyjunkie

Trust me when I say  Survey Junkie is one of the most popular and trustworthy sites when it comes to earning money online with just surveys.
I've been using Survey Junkie for 2 years to earn extra money each month. Whenever I cash out to my Paypal, I don't feel guilty for spending some of it on coffee or a meal.
Join Survey Junkie right here- it's free to sign up for and use!
2. Learn to cook so you can afford your dream trip
We all need to eat, but restaurants are getting quite expensive these days. I have increasing sticker shock every time I go out to eat. You want how much for pasta?! To keep your food bill low, cook more often.
If you want to afford your dream trip, I recommend cooking for yourself (even if it is just a packet meal or toast).
I was lucky enough to learn to cook at a young age, but in my recent adult years, I have found a huge love for takeaway and eating out (sorry Mum!). I realised recently that it was happening wayyyy too much, and since then have cut it out in order to cook more for myself. I also eat leftovers from dinner for lunch the next day- thus saving more money. You don't need to be a whiz in the kitchen, either. There are a million and one cooking sites that will teach you how to cook fast and healthy meals — perfect for people without much time. I recommend checking out taste.com, Pinterest, or even purchasing an easy meals recipe book.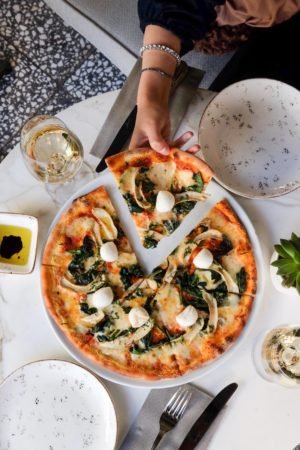 3. Lose the car
Okay, admittedly this is something I haven't done yet because I live in a city with no public transport, but cars are crazy expensive to own, between insurance, repairs, loan payments, and filling your tank with fuel.
Get rid of your car if you can. Learn to love the bus, take the subway, bike, or walk where possible. I understand that this tip may not be feasible for everyone, especially those in smaller towns that don't have an extensive public transportation system, but an alternative is to sell your car and buy a cheaper used one, which you will only need until you leave for your trip. Buying a throwaway car will allow you to pocket the money from your more expensive car and help you afford your dream trip sooner than you think.
4. Find a roommate
You'll see a huge increase in your savings by lowering your housing costs.
Downsize your apartment or bring in some roommates. If you can, try to move in with Mom and Dad (it's seriously the best thing ever). I moved in with my Mum in mid-2017 in an effort to save more money so that I could travel more. Since then, I have been to New Zealand, travelled to Bali twice, South East Asia for a month, Melbourne a dozen times, I spent two months in Europe, travelled Australia, and moved to Canada for 6 months. Now, I live with my two sisters and my sister partner, meaning I have close to no spending each month. A little on rent, electricity, and the internet, and I am sorted!
I don't always love living back at home, but I do love saving over $400 a month on rent! If this is not an option for you, bring in a roommate. Turn that living room into a spare room if necessary. In NYC, people turn living rooms into bedrooms and studio apartments into two bedrooms by putting a folding screen in the middle of the room. It's not always the most ideal living situation, but it does save money. And if saving money means being able to take that dream trip of yours, it's worth it!
5. Get rid of your subscriptions to help afford your dream trip
In the age of streaming TV, there's no reason for you to be spending $50 per month on foxtel television.
If you don't really listen to a lot of music, do you really need Spotify Premium?
And what about having a Netflix, Stan, Hulu AND Disney+ subscription? Reassess your subscriptions and how much this is costing you each month. You might be spending more than you think!
6. Ditch your landline
I honestly only know about 2 people these days who have anything other than a mobile phone. You don't need both a mobile phone and a landline. Ditch your phone line and avoid doubling your phone expenses.
7. Downgrade your phone
Having an iPhone costs anywhere from $90-$150 per month. I'm not sure about other phones, but I'd imagine it is much the same.
While smartphones are handy devices, and I myself love using them too, getting a cheaper phone or phone plan will cut your monthly phone bill in half. You might get bored on the train not being able to read the news, but saving an extra $1000 a year will allow you to spend a few more weeks in Europe, buy fancier meals, or learn to scuba dive in Fiji.
I understand that most people will want to keep their fancy iPhone. I, myself don't think I will ever get rid of mine because it is perfect for someone who travels, takes a lot of photos, and works from their phone. However, one thing I recently switched to in 2020, is buying my phone outright. Sure, this cost me $800 upfront, BUT rather than going on a fixed plan, I now have a $10 a month sim card, and I rely on wifi. This is going to save me so much money for the next two years because a plan would have cost me over $100 a month.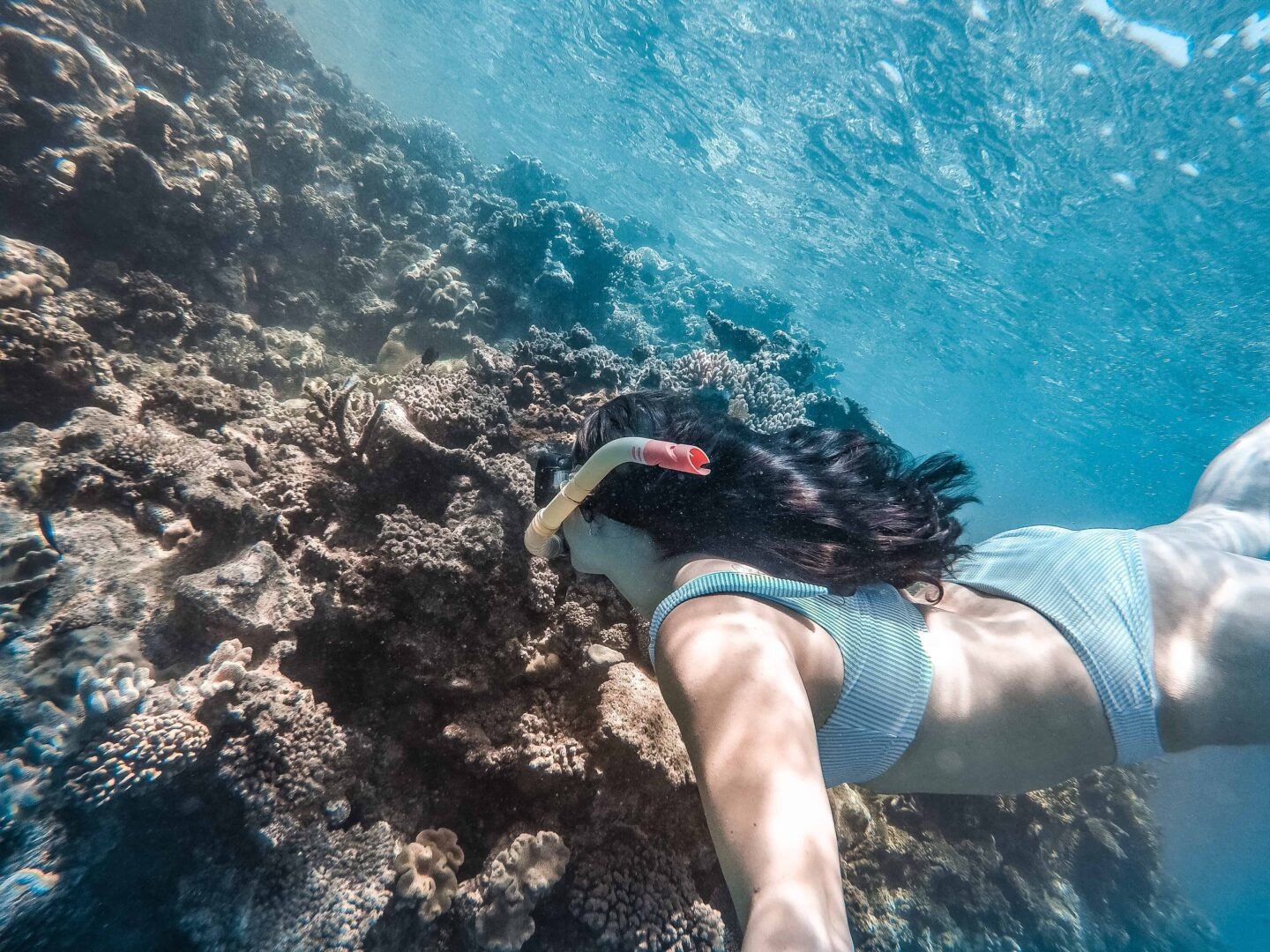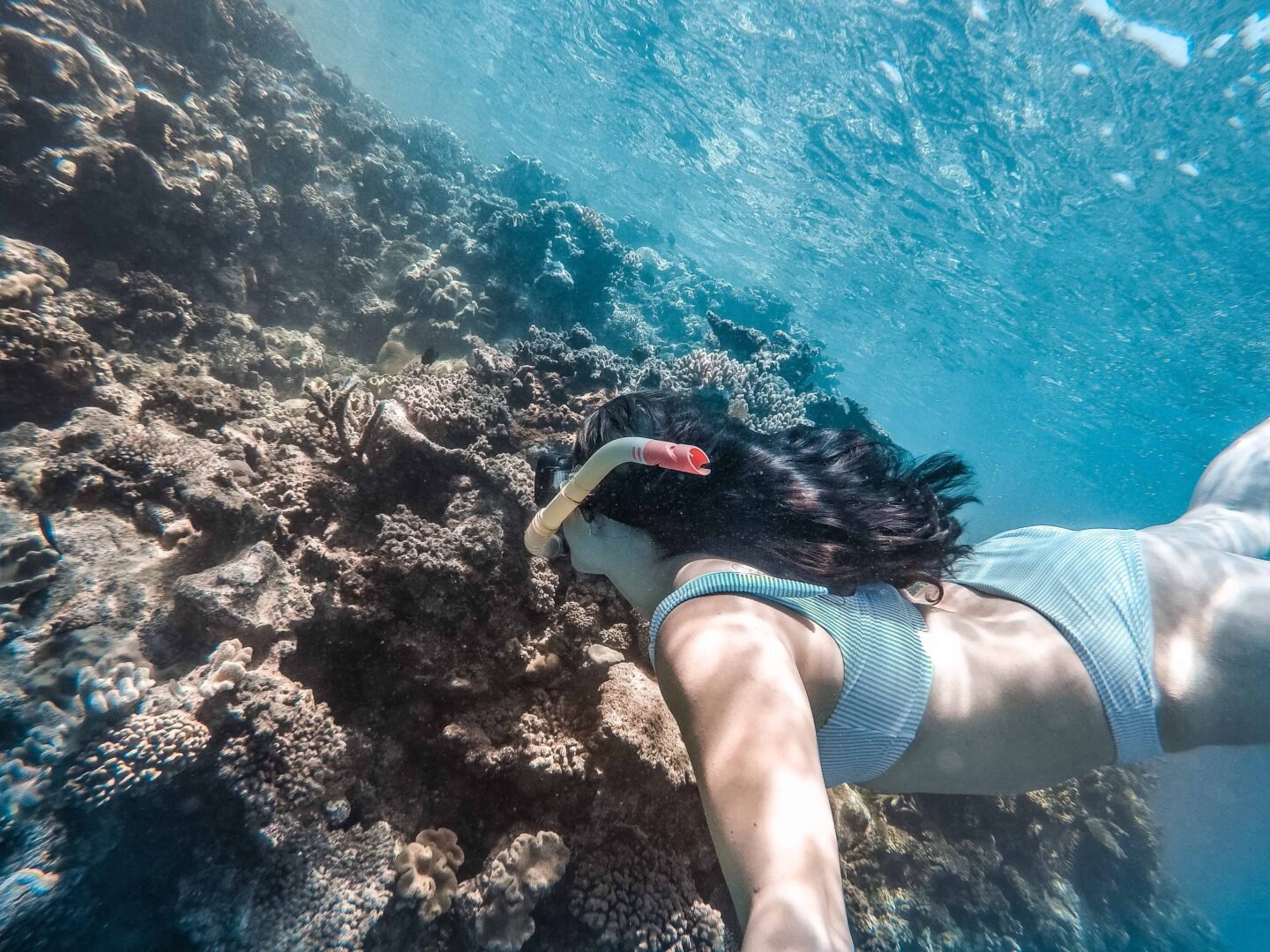 8. Having the right savings accounts
While saving up to afford your dream trip, you can have your money grow a little bit more by putting it in a high-yield online savings account. I've done this since the time when I was preparing to go away on my first trip and I netted a few extra hundred dollars. Interest rates are pretty low these days but you can still get some good ones if you look for them.
Another saving trick I always rely on is to have a piggy bank. Yep, you read that right. An actual, physical bank I put cash into.
I find that saving up cash adds up really quickly. When I worked in a bar for a year, I saved almost $700 in tips (and when you barely get tipped in Australia, that's pretty awesome!). Before I moved to Canada, I saved coins for a couple of months and came up with $200. It might not sound like a lot but $200 can go a long way if you know how to use it.
9. Afford your dream trip- sign up for travel newsletters and emails
No one likes to clutter up their inbox, but by signing up for mailing lists from airlines and travel companies, you'll be able to get updates about all the last-minute sales or special deals happening.
I would have missed out on a round-trip ticket to Japan for $500 AUD  if it wasn't for the Jetstar Airways mailing list. Another awesome deal I saw just yesterday was through a volunteer company I have been wanting to use for a few months now. They were offering a buy 1 get 1 free on their trips. Some of their trips are over $5000. Imagine getting that free? And I only saw this because I receive their emails!
ACTIONABLE TIP: I recommend finding your top three airlines and top three tour companies and signing up to their mailing list.
10. Build a network on Couchsurfing
Building a network on Couchsurfing can help you make friends with locals and get free accommodation when you do travel. But if you have never used it before, you might not get many responses. After all, someone who hasn't been vouched for and has no reviews isn't an appealing candidate. Before you go away, sign up for Couchsurfing, find a local meetup (there should always be at least one in your area), and attend. You'll make friends, be added to people's profiles and vouched for, and have a network you can utilise when it is time to actually go away.
11. Buy second-hand
Why pay full price when you can pay half or even less? Use websites like Amazon (discounted books and electronics), wholesale websites, or op shops to buy your clothes. They are seriously a lifesaver!
12. Cut coupons or use a cashback app
The Entertainment Book, grocery coupons, Groupon, and loyalty cards all reduce the price you pay at the register. Clipping coupons might make you feel like your 80-year-old grandmother, but the goal here is to be frugal and save money, and coupons definitely help with that.
Another thing you can do is join a cashback app. This is something I have recently been doing, and I am amazed at the savings that can be found! The cashback app I use has links to Amazon, Sephora, The Body Shop, Asics, Target- so many amazing places I regularly shop!
If you sign up, you'll get $10 off your first shop!
13. Sell your stuff
This is one of the best things you can do to save moolah and help you afford your dream trip. You can sell anything from old electronics, to furniture, to old Pandora rings and books you no longer need, baby items you don't use anymore, or old clothes.
Everything I sell I add to my cash piggy bank and put toward my next holiday. Over the last few years I have sold old clothes, old jewellery, and even an instrument I had at school! The things you can do are endless!
Check out Amazon or Gumtree or your local Facebook 'buy swap sell.'
14. Skip the cinema
I don't know about you, but I find going to the cinema to be ridiculously expensive.
It can cost up to $15 for a ticket, and that much again for the popcorn. Cut out going to the cinema and just watch them at home with a $1 pack of popcorn for date night.
You'll save yourself so much money in the long run!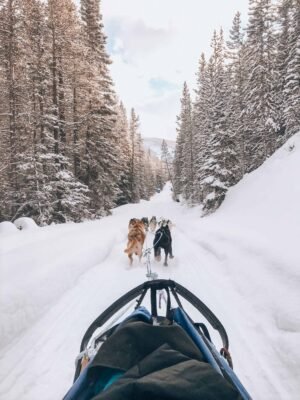 15. Stop drinking to save more so you can afford your dream trip
Alcohol is expensive. Like, ridiculously expensive. Depending on what you drink, you could be paying for $8 a drink at a bar. Sometimes, even more.
Cutting down the amount you drink is going to have a big impact on your savings account, and get you closer to affording your holiday. Drink before you go out to the bar or simply don't drink at all. Your bank account will thank you later.
16. Quit smoking
This goes without saying, but smoking kills not only you but also your wallet. A $10 pack per day amounts to $3,650 per year. And honestly, $10 is cheap for cigarettes.
Even half that amount each year would still yield enough money for close to two months in South East ASia. If you don't want to stop smoking for your health, do it for your trip.
17. Stop snacking
A snack here and there not only adds calories to your waistline but also empties your wallet.
We don't think much of them because they cost so little, but they add up over time and eat into our savings.
Now I'm not talking about not snacking at all. I am a firm believer that having several small meals a day and keeping your body energized by eating the right foods is good, but it's when you choose to add a pastry to your coffee date, or you pick up snacks when your out. Even the extra packet of chips or biscuits you add to the basket can add up.
Eat fuller meals during lunch and dinner and avoid the snacks.
18. Buy a metal water bottle
If you want to afford to your dream trip and travel the world, one of the biggest things you can cut out of your daily or weekly expenses it plastic water bottles.
I can't tell you how angry it makes me that people literally still use these.
They destroy the environment y'all! And not only this, they are an absolute waste.
Plastic water bottles are harmful to your wallet. One or two water bottles a day at $1 per bottle will add up to at least $30 a month. That's $360 a year! You can spend a week in France with that much money! Instead of plastic, buy a reusable water bottle and fill it with tap water.
Please just make sure that tap water is drinkable in your area! In some countries, it isn't, so I understand it is impossible not to buy plastic bottles.
These are the two reusable bottles I recommend:
19. Earn extra money on the side
In 2020, it has become really easy to earn extra money on the side. You can drive with Uber- I'm giving you up to $10 off your first ride on the Uber app. To accept, use code 'abbieg625ue,' or get $5 off your first UberEats order by using my code at checkout: eats-abbieg625ue
If you are a pet lover then you can make extra money with Rover by providing care for pets either through walking, doggy daycare, or boarding.
You could teach English online with Palfish. If you sign up to Palfish please enter my invitation code: 91355193. I will be assigned as your mentor in the app and will be happy to coach you through the whole application process and answer any questions you might have. :)**
Or you could become a freelance writer, proofreader, virtual assistant– whatever and wherever your skills lie. No matter what skill or unused asset you have, there is a moneymaking service for you, and earning a little bit of extra cash each month could help you afford your dream trip and get you on the road sooner rather than later. You can check out my full list of 17 ways to make money online here.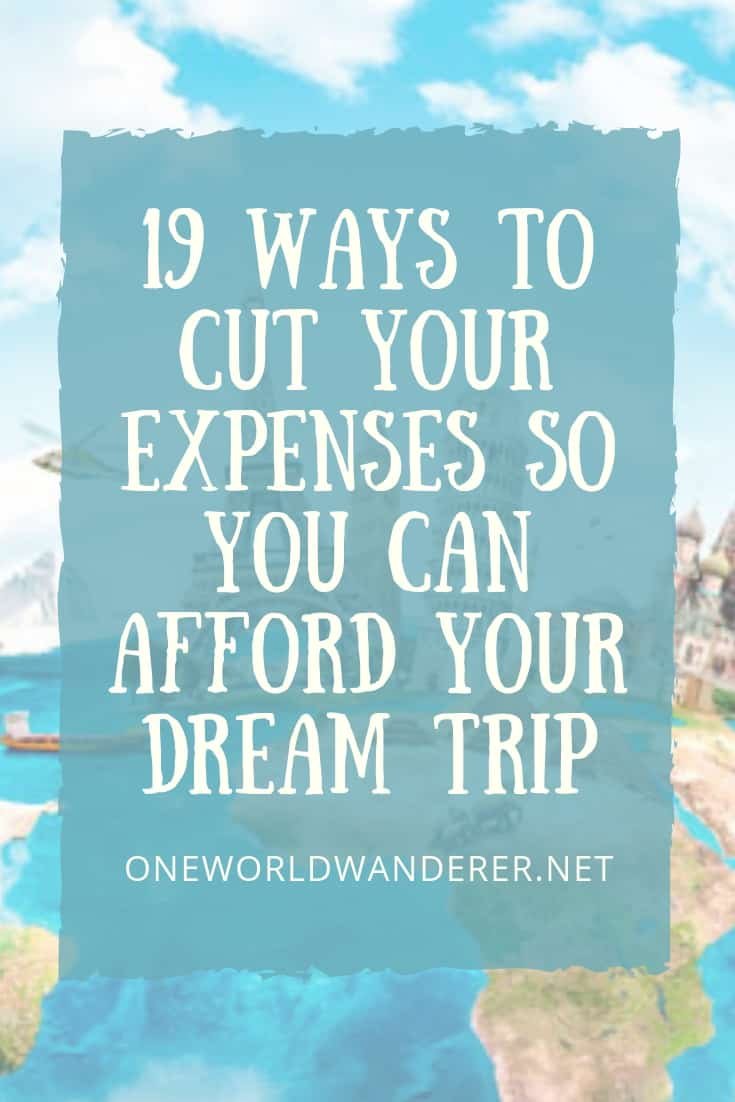 Cutting your daily expenses, being more frugal with your money each week and month, and downgrading to a simpler way of living will allow you to save so much more money for your trip around the world, and make affording your dream trip so much easier.
I know these tips work because I use most of them in my everyday life. These tips alone will help save you thousands of dollars that will suddenly make your dream trip seem less like a dream and more like a reality.
If you have any other tips and tricks, feel free to drop them below in the comments. I always love learning new ones!