Morocco is undoubtedly one of the most enchanting destinations in Africa, offering unique experiences and breathtaking sights that won't easily be forgotten. However, there's a season that demands caution for travelers seeking to embrace its charm fully: summer.
In this article, I'll shed light on the myriad challenges that summer travel can present, drawing from my own experience travelling when the temperatures were around 47 degrees celsius.
While my journey through Morocco left a lasting impression, it's clear that venturing there during the scorching summer months might be less than ideal.
From wandering through the maze-like alleyways of the Medina in clothes drenched with sweat to braving the searing temperatures while bedding down in the Saharan dunes, a summer trip tests the limits of endurance. These challenges can, at times, overshadow the enjoyment you'd otherwise derive from the rich culture and splendid landscapes that Morocco offers.
As someone who's explored the vibrant markets, savored the aromatic tagines, and marveled at the intricate architecture, I'm here to share why you shouldn't travel to Morocco in summer.
So, let's delve into the factors that make the hotter months less favorable for an optimal Moroccan experience.
Unrelenting Heat: Like a Sizzling Tagine
Picture this: You're strolling through the vibrant Medina's narrow alleyways, absorbing the exotic atmosphere. The temperature outside soars well above 40 degrees Celsius (104 degrees Fahrenheit), and you can feel beads of sweat trickling down your back (and virtually everywhere else on your body).
The scorching sun seems relentless, turning your clothes into a wet blanket.
Trust me, I've been there, and it's not the most pleasant experience.
You shouldn't travel to Morocco in the summer if you hate the heat! The sweat is no joke; unfortunately, most restaurants and cafes you visit won't have air conditioning to offer you a reprieve from the steaming sun. It really is unrelenting!
Even as someone from Australia (and the hot North Queensland part of Australia) I struggled really bad, and unfortunately, nothing I could have done to prepare would have helped.
Morocco is just so damn hot in summer!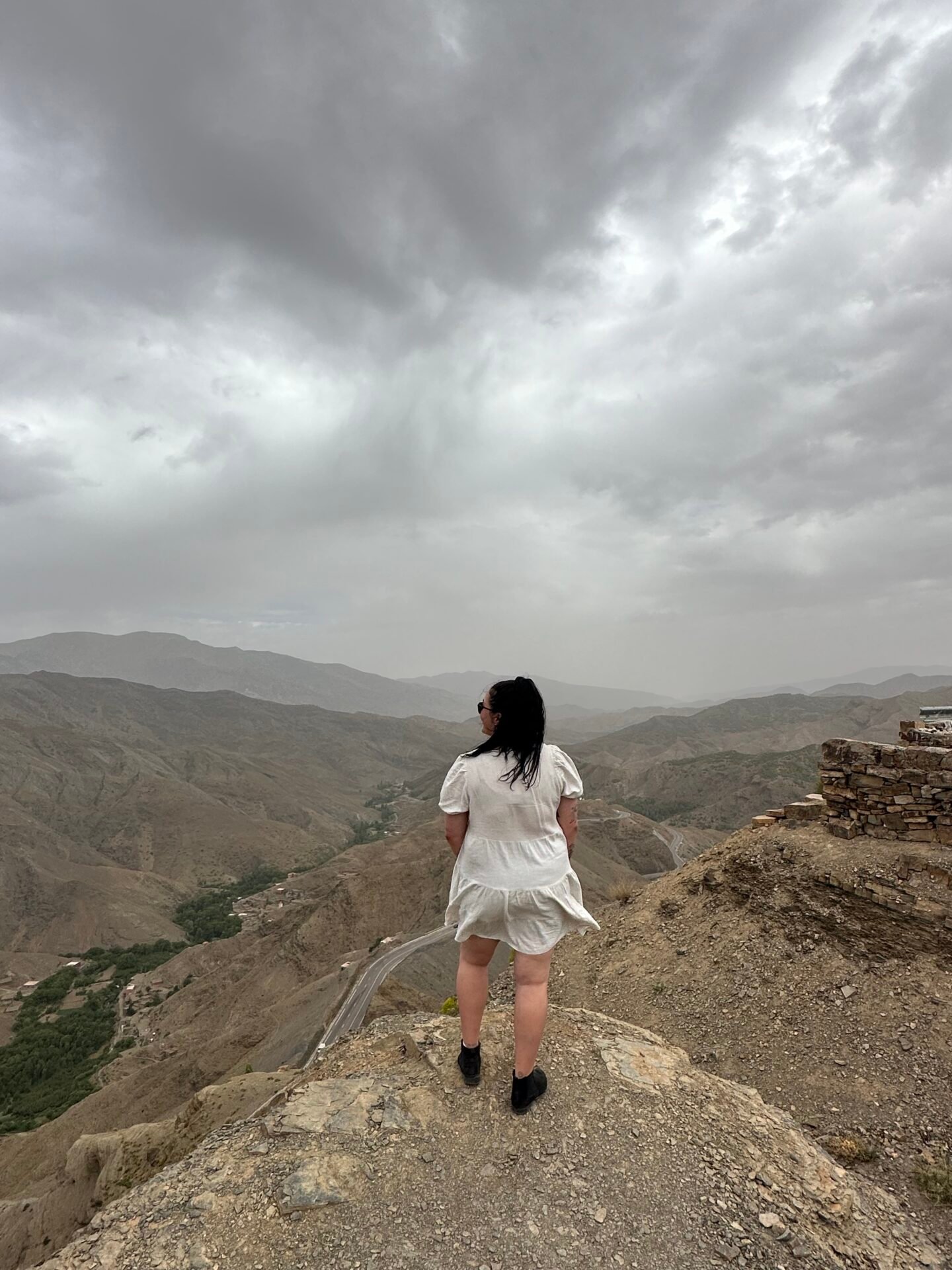 Overwhelming Crowds: Why You Shouldn't Travel to Morocco in Summer
Sharing the magic summer in Morocco means peak tourist season in Europe, and even though Morocco isn't quite as busy as its close relatives, it is still a hectic month to visit!
Visitors flock to explore this captivating destination. The narrow streets of the Medina, once filled with authentic charm, become teeming with people.
Navigating through the crowds can be exhausting and takes away from the tranquil experience you might envision. If you prefer a more intimate and relaxed exploration, consider visiting during the shoulder seasons when the tourist footfall is lower.
That being said, there were times on my summer trip to Morocco with Intrepid when we did have the luxury of places all to ourselves! It can be hit or miss – the cities like Fes and Marrakech seem to be the busier ones!
Sahara's Sweltering Embrace: Too Hot to Handle
No trip to Morocco would be complete without a desert adventure, and the Sahara's vast golden dunes are awe-inspiring; however, you shouldn't travel to Morocco in the summer if you plan to go to the Sahara and really enjoy it.
Imagine spending the night in a steaming tent at 47 degrees Celsius with no air conditioner, fan, or breeze flowing through the thick black walls.
This is the reality of camping in/near the Sahara. The water from the tap is hot, there are no air-conditioned places nearby, and sand is sticking to every sweaty part of you.
Though the Sahara is an incredible experience to witness, in the summer, it's also an experience that will easily push your tolerance for high temperatures to its limits.
To fully enjoy the magic of the desert, consider visiting in the shoulder season months when the weather is more forgiving.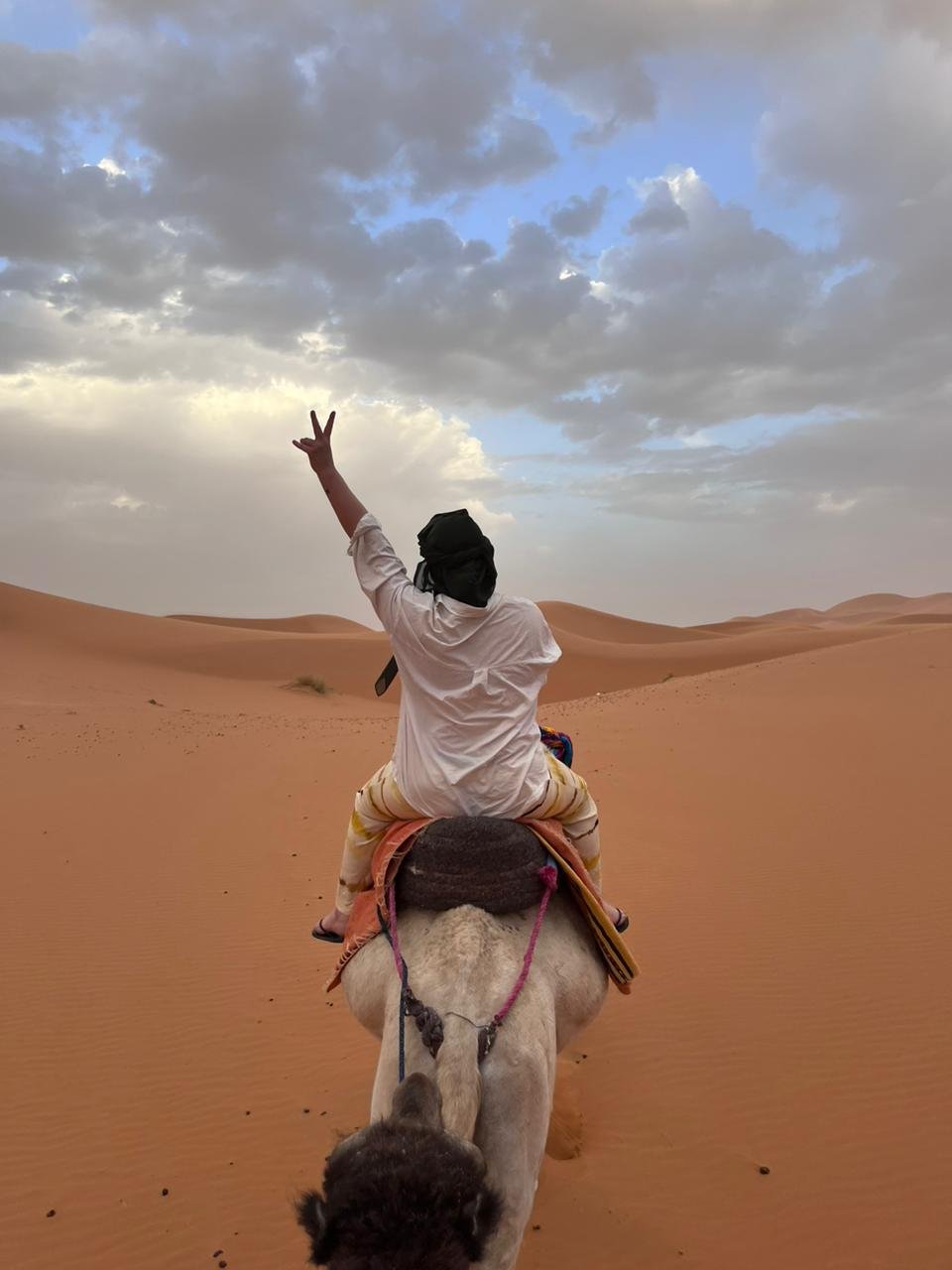 Heat Exhaustion: Why You Shouldn't Travel to Morocco in Summer
The heat takes its toll under the blazing Moroccan sun, and heat exhaustion becomes a genuine concern after a few days.
Dehydration, fatigue, dizziness, and even heatstroke are risks you should take seriously. Same with food poisoning – it can be easy for food to be mishandled when the kitchens are sometimes as hot as an oven!
While it's crucial to stay hydrated and take breaks in shaded areas, it's still challenging to escape the heat, and if you want to be able to be active, healthy, and out, and about comfortably throughout your trip, I wouldn't recommend travelling in summer.
Trust me, the last thing you want is to spend your precious vacation days feeling under the weather due to the sweltering conditions.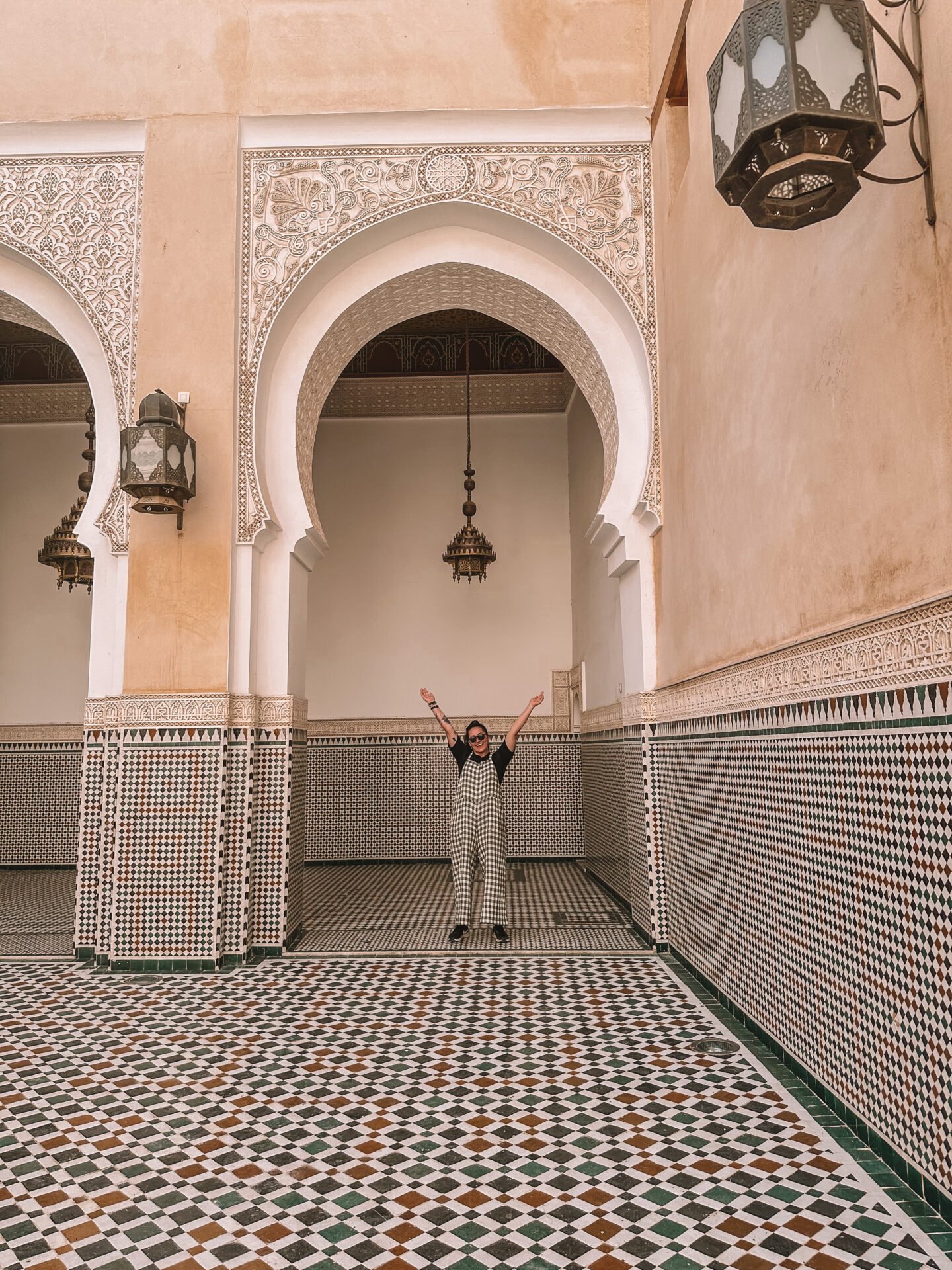 Cultural Immersion Takes a Hit: Why You Shouldn't Travel to Morocco in Summer
One of the highlights of traveling to Morocco is immersing yourself in the rich culture and heritage of the country. However, the extreme heat can make it difficult to fully enjoy certain experiences – another reasons why you shouldn't travel to Morocco in summer.
For example, exploring the intricate architecture of historical sites, wandering through bustling markets, or enjoying leisurely walks in picturesque towns become more challenging under the scorching sun.
Opting for a milder season allows for a more comfortable and immersive experience.
So When Should You Visit Morocco?
Spring (March to May)
Spring is a delightful time to visit Morocco, with mild temperatures, blossoming landscapes, and vibrant festivals. The weather is generally pleasant, making it ideal for exploring cities like Marrakech, Fes, and Casablanca. The Atlas Mountains and the Sahara Desert also offer pleasant conditions for outdoor activities like hiking and camel trekking.
Autumn (September to November)
Autumn is another excellent season to explore Morocco. The summer heat starts to wane, and the temperatures become more comfortable. This period is perfect for immersing yourself in Moroccan culture, wandering through bustling markets, and enjoying outdoor excursions. It's also a great time to visit coastal towns like Essaouira or Agadir, where you can enjoy beach activities without the intense heat.
Winter (December to February)
While Morocco experiences colder temperatures during winter, it can still be a rewarding time to visit, especially if you're interested in the unique atmosphere of the country during this season. The cities are less crowded, allowing for a more relaxed experience. Head to the Atlas Mountains for winter sports like skiing or visit the Sahara Desert for cooler, but still enjoyable camel rides and camping under the starry desert sky (it will be freezing at night though).
Shoulder Seasons (April to May, September to October)
If you prefer a balance between pleasant weather and fewer crowds, the shoulder seasons of spring and autumn are your best bet. These months offer comfortable temperatures, making it an excellent time for exploring both cities and natural landscapes. It's worth noting that popular tourist destinations like Marrakech and Fes can still be quite busy throughout these times, so plan accordingly.