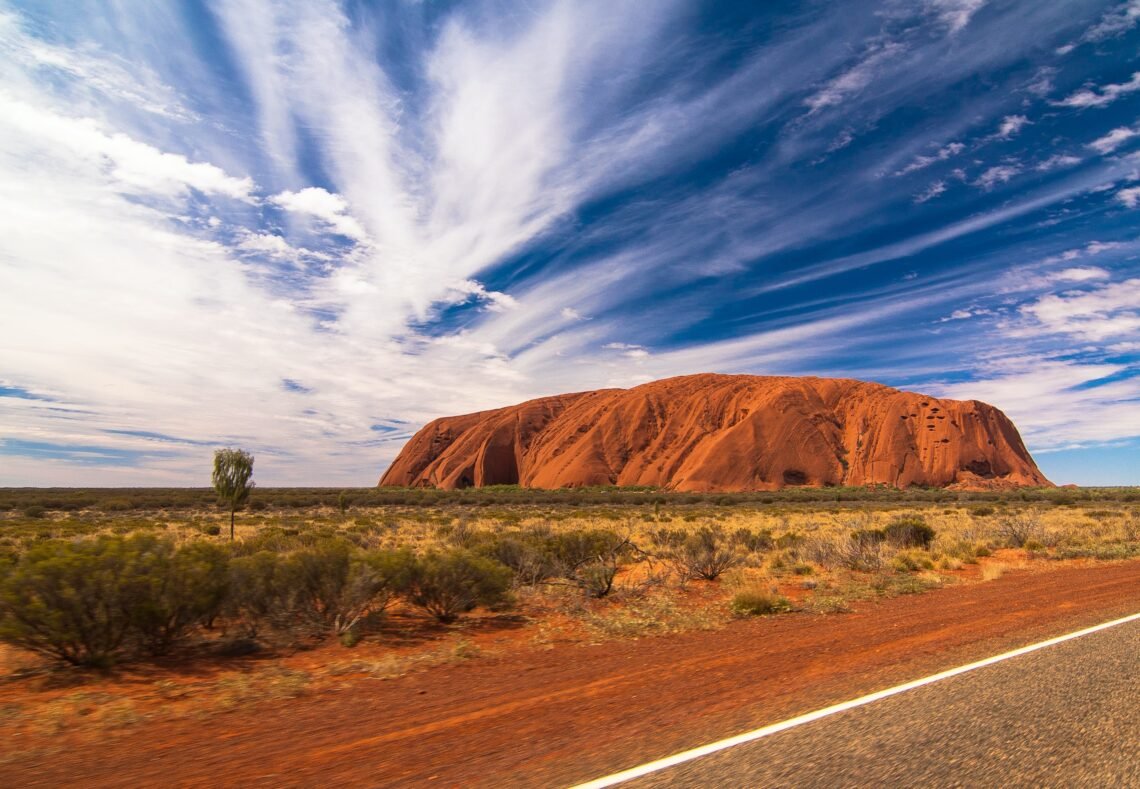 The Ultimate Road Trip Itinerary to Outback Australia
Have you ever wanted to travel Australia? To see the open-spaces of the outback known around the world for its unique beauty, wildlife, and towering red rocks?
You can find a large number of amazing road trips on every continent, but road tripping through the Australian Outback is unlike any other holiday I've ever done, and I am finally sharing with you my epic road trip itinerary.
Distances are vast, shops and servo stations are scarce, and campgrounds and hotel-type accommodations are few and far between. When you decide to leave the long straight road leading from the south to the north via the Red Center, it feels like you are in a completely different world, surrounded only by red hot roads, dust, and (not always friendly) wildlife.
This road trip itinerary to Outback Australia is the one I took a few years back using my Whimit Pass with Greyhound Australia, and it was one of my most favourite trips to date. I hope this itinerary can inspire you to step outside your comfort zones and visit places that are wildly, beautifully unique.
Road tripping the East Coast of Australia as well? Check out Part 1 of my vanlife road trip from Townsville to Yeppoon.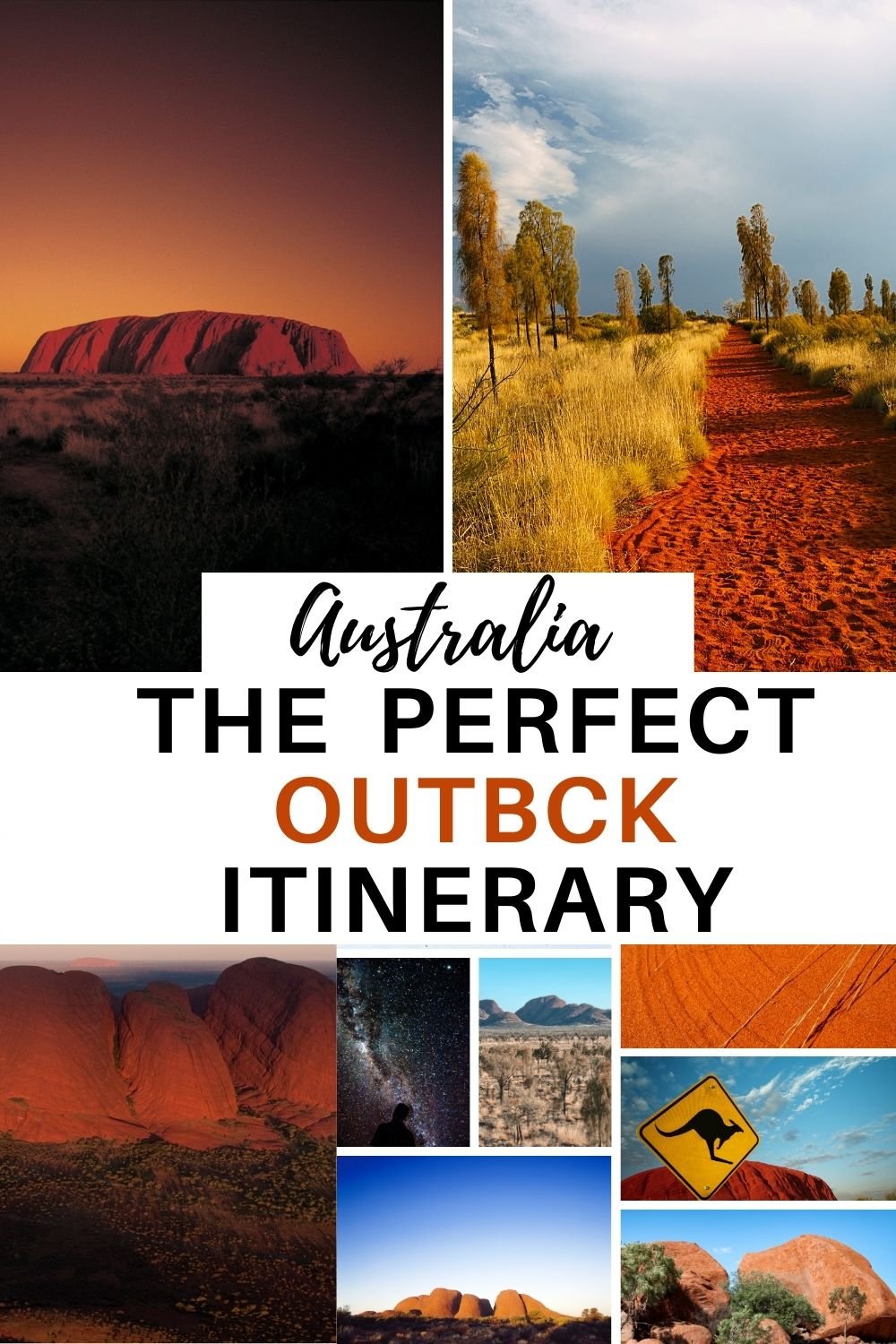 Trip map created with
Wanderlog
, an itinerary planner
The Ultimate Road Trip Itinerary to Outback Australia
Adelaide to Coober Pedy
I began my outback Australia adventure in Adelaide, ripe and ready to explore the heart of Australia. I had a day in the beautiful city before catching my overnight Greyhound bus to Coober Pedy-  a small town that wholly captured my heart and became so special to me.
Flying into the city offering beautiful views of the wide-open vineyards it is famous for, while up close the city reveals it is dotted with historic buildings, lush parklands and sprawling botanic gardens.
Adelaide is a cosmopolitan coastal metropolis bursting with culture, flavours, and entertainment and is the perfect place to begin your outback road trip.
The overnight bus From Adelaide to Coober Pedy
My desire to visit Coober Pedy started when I was a child and watched a movie in school about opal mining. While many of the other kids dozed off and doodled on their school books, I sat there mesmerised, dreaming of the day I would set foot in the town that lived underground and opals were in abundance.
I arrived in Coober Pedy at 6 am ready to tackle the day of adventure ahead. I chose to travel with Greyhound on this trip for many reasons, but the fact that I wouldn't have to travel solo and complete the long stretches of driving on my own was a definite benefit.
When I arrived in Coober Pedy I instantly fell in love. The sun was just beginning to open its eyes to the world, offering a soft, golden glow over the Coober Pedy sign. The desert air was crisp in my lungs and the last of the stunning array of stars were twinkling out, making way for the perfect start to an outback day.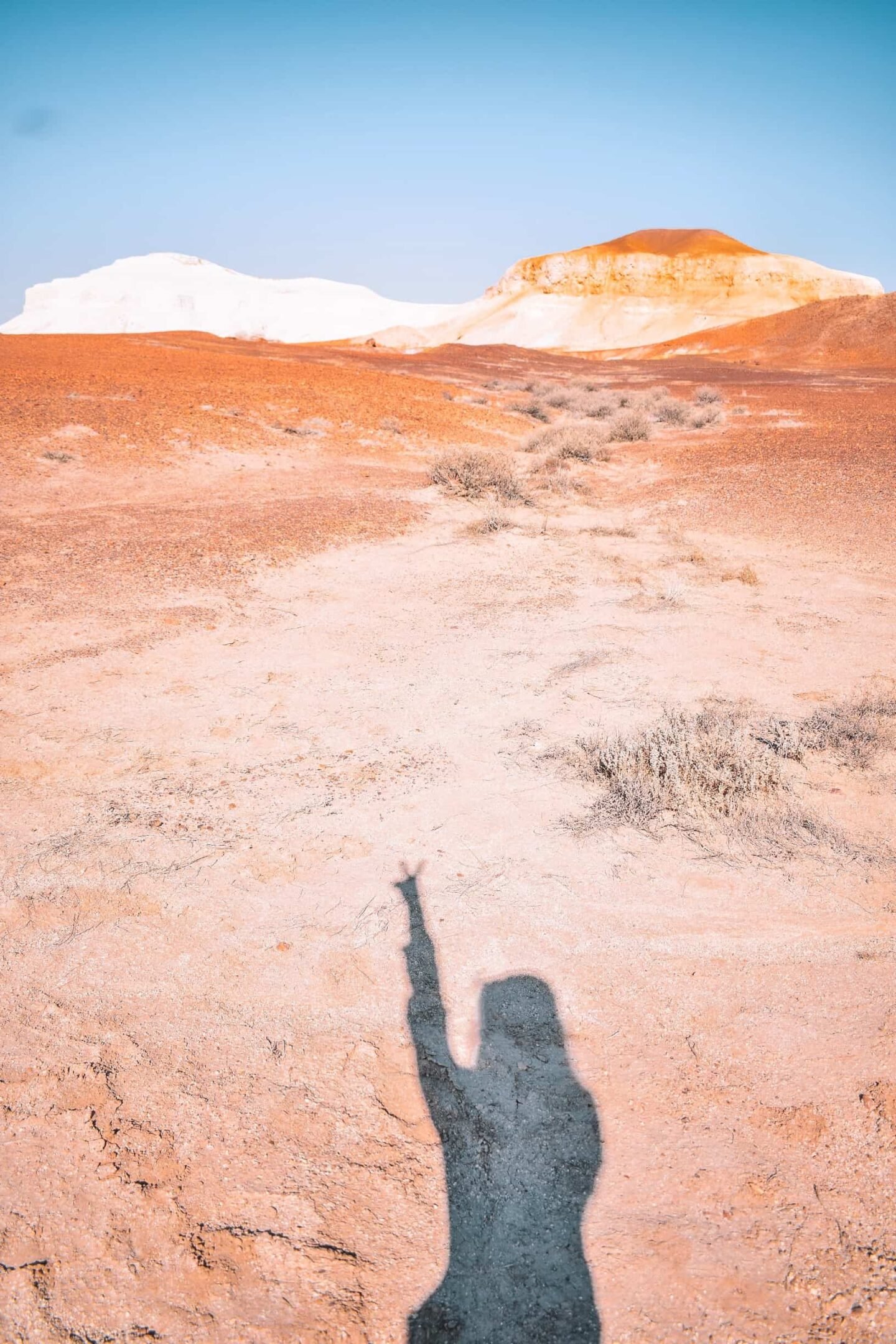 Things to do in Coober Pedy
Take a tour of Coober Pedy
With only two days in Coober Pedy, I decided to spend the second day on a tour with Stuart Ranges Outback Tours to see as much of Coober Pedy and the surrounding areas as possible, and it was absolutely worth it. From inside the town centre, Coober Pedy seems tiny. I'm talking a ten-minute walk from one side to the other. And even that is a stretch. But once you leave the centre, there's a whole world waiting to be discovered.
Stuart Ranges first took us to the local sites: a golf course made entirely of red dirt, a small football pitch that cost over a million dollars to be created just because the grass is not sustainable in Coober Pedy. We saw the tiny local jail, and piles and piles of junkyards. An interesting stop was the Greek Orthodox Church, a beautiful big church built entirely underground.
But, although I loved the uniqueness of the small town, leaving it was when my adventure boots kicked in. Stuart Ranges took us out of Coober Pedy and into the mining fields. Because opal mining is really a game of chance, mines litter the fields, making it a really interesting place to drive through.
Explore the Breakaways, Dog Fence, and Moon Plains
The Breakaways, Dog Fence, and Moon Plains are three of the driving attractions for Coober Pedy because they represent a stunning part of the outback: The Painted Desert.
The Breakaways are a stunning sight to look out on appreciate millions of years of Australian geographical history.
Did you know that the dog fence is the longest fence in the world? Spanning miles and miles across Queensland, New South Wales, and South Australia, it protects the sheep farms from wild dogs.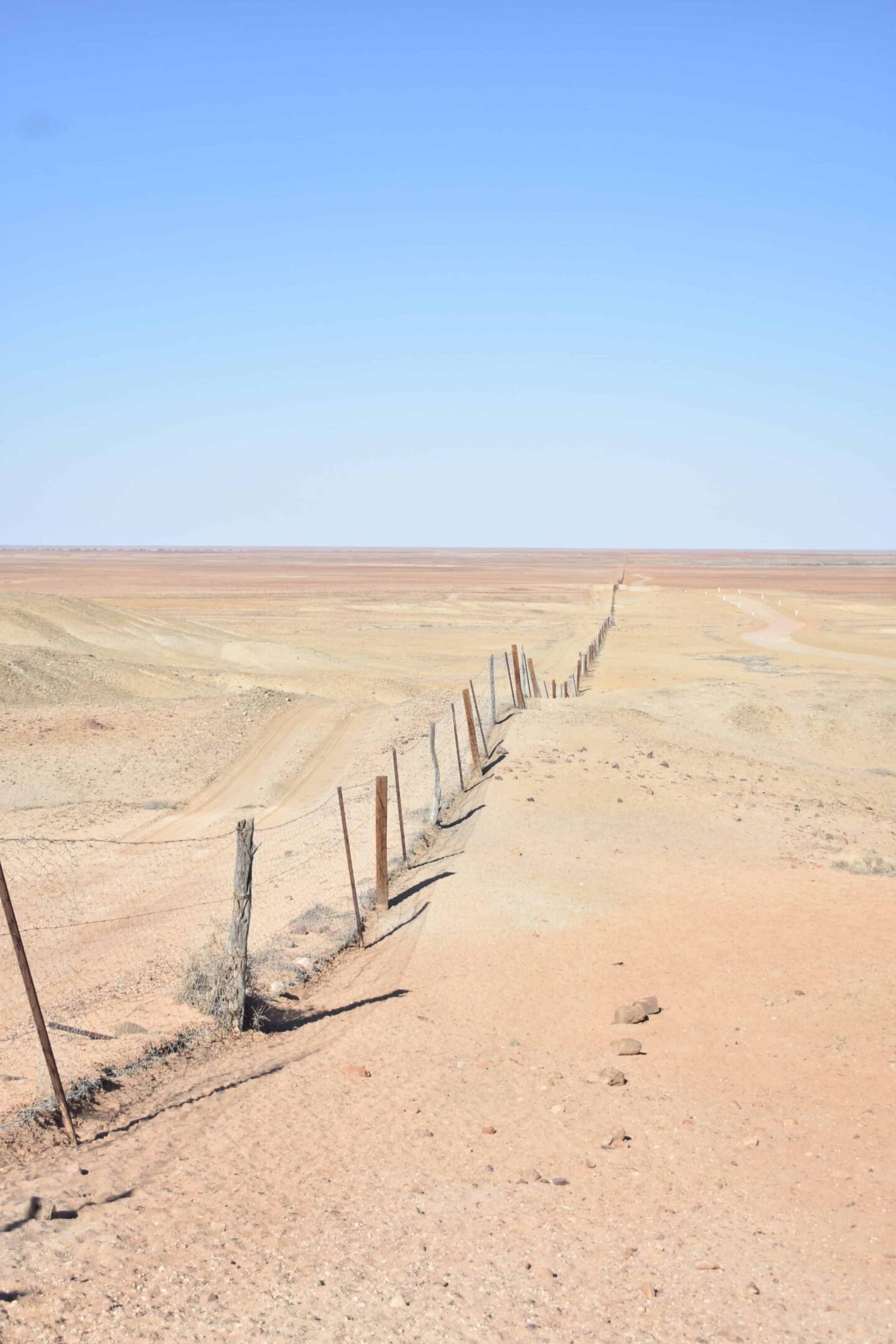 If you've ever wanted to visit the moon or Mars than the Moon Plains should definitely be added to your Coober Pedy checklist. It is one of the main locations in the world that off-world movies are filmed because of the similarities it has to the moon. I mean just check out the landscape!
Shop for opals, or dig for them yourself!
Opal-mania runs through the town. On pretty much every corner and inside every building, there is a small, locally-owned opal shop. You can buy opals in all shapes, colours and sizes, and they are a lot cheaper than you'll find in regular retail stores.
If you'd rather try your luck with opal mining, you can noodle for opals. On the outskirts of the town, there are dirt mounds that the public has the ability to noodle through (the term they use for people wanting to scavenge for missed fragments of opal). Although it is not common for people to find opal, there is the odd story of travellers wandering through and finding up to $20,000 worth of opal laying in the piles- and even friends of mine managed to find some small pieces when they visited the site.
It really is a game of luck, but it is good fun.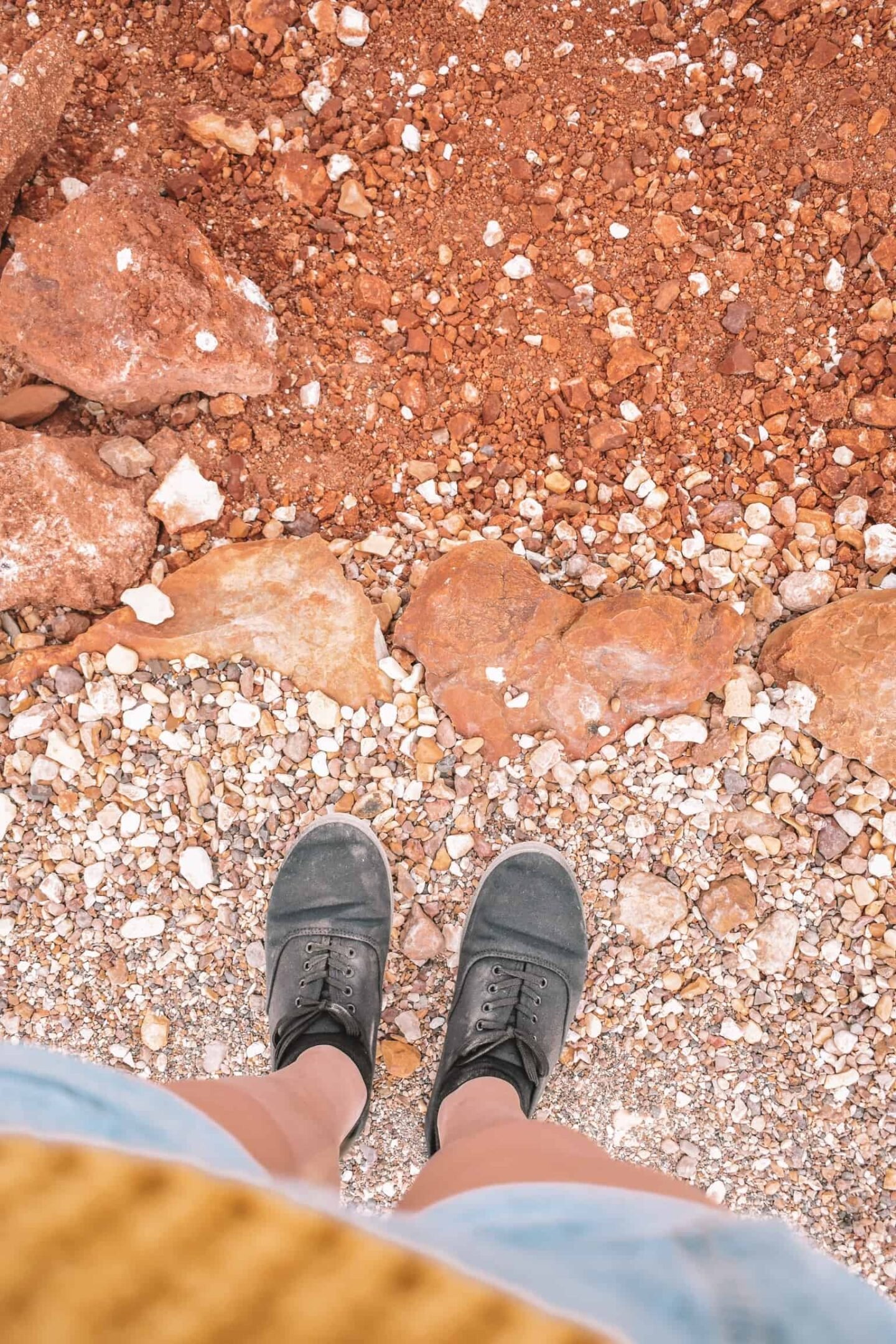 Sleep Underground in one of Coober Pedy's many Hostels and Hotels
Staying underground was one of the highlights of my outback Australia trip. The majority of citizens in Coober Pedy live underground because of the extreme weather. In summer, the weather is beyond boiling, but in winter, the cold is frigid and icy. My favourite form of travel is by staying in hostels, and so I booked in at Radekas, the local backpackers with underground dorms.
Sleeping in a dorm several metres underground was a strange experience. There are moments of anxiety where you feel like living in a small cave under the ground is completely unnatural. And maybe it is. I had small bouts of claustrophobia because I felt as though I was trapped with no way out if something happened. But I also felt the wonders of silence and time vaporating into nothing as you descend the steps.
It truly is an experience that everyone needs to try.
Visit the Coober Pedy Sign
Like any outback adventure, sunrise and sunset are not to be missed. For both sunsets in the town, I found myself navigating to the Coober Pedy sign, a small Hollywood-like sign atop a hill. It was the perfect place to kick back and relax with a picnic lunch, view the sunsets, and relish in the beauty of the outback.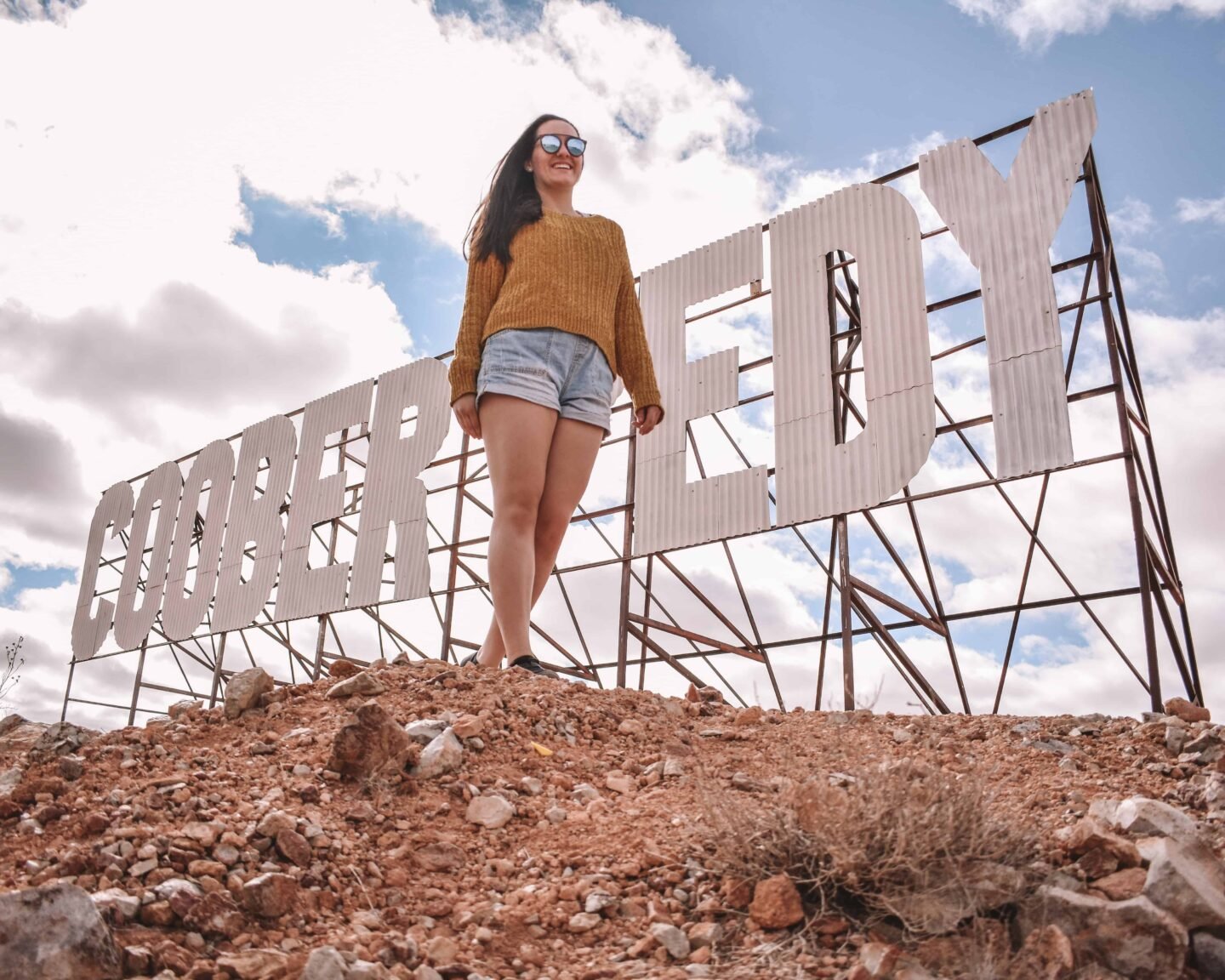 Coober Pedy to Alice Springs
After my two days of adventuring around Coober Pedy were up, I boarded the 5 am Greyhound bus to Alice Springs. I was looking forward to this bus trip the most because it was ten hours of day time travel through the desert, meaning I had the opportunity to see my surroundings and take it all in.
To read more about what it is like to travel on a Greyhound bus, check out my latest blog: 10 Reasons You Should Travel Australia With Greyhound.
When I arrived in Alice Springs, I checked in to the YHA Alice Springs Hostel. I took this time to prepare myself for the tour I was departing on the next day. While I found myself not really wanting to venture out too much to explore the small town of Alice Springs, I would recommend at least a day or two here before departing again, as there are a lot of things worth doing!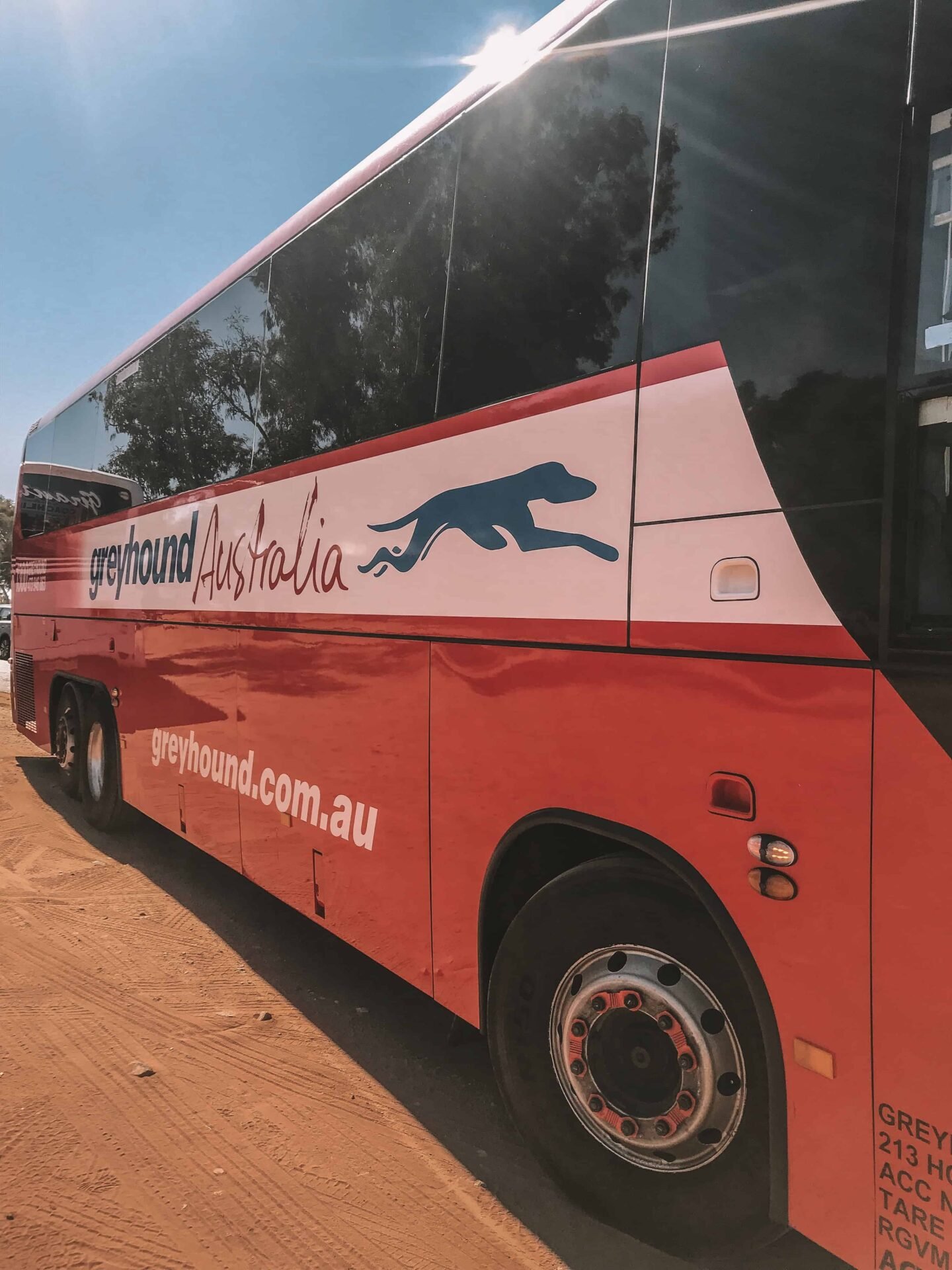 Alice Springs to Kings Canyon
The Rock Tour- the epic tour I was taking through the red centre or Kings Canyon, Uluru, and Kata Tjuta, met at 5 am the next morning, picking everyone up from their respective accommodations. It takes approximately 6 hours to drive to Kings Canyon from Alice Springs, and so getting on the road early was an absolute must.
Kings Canyon was one of the highlights of my outback trip. If I had gone all the way to the Red Centre of Australia just to see this, it would have been worth it. I'd seen images of the Canyon before, but nothing prepared me for the epic beauty of nature quite like a hike through the rugged, outback terrain.
Want to read more about my hike around Kings Canyon? Check out this post!
In total, the Kings Canyon rim walk is 6km along the upper rim of the Canyon. It was quite short (taking us a little less than 3 hours), incredibly scenic, and just challenging enough to keep things fun. Walking along the red stone paths, getting a bird's eye view of the outback, and the awesome views of the canyon walls were incredible. The pictures really speak for themselves!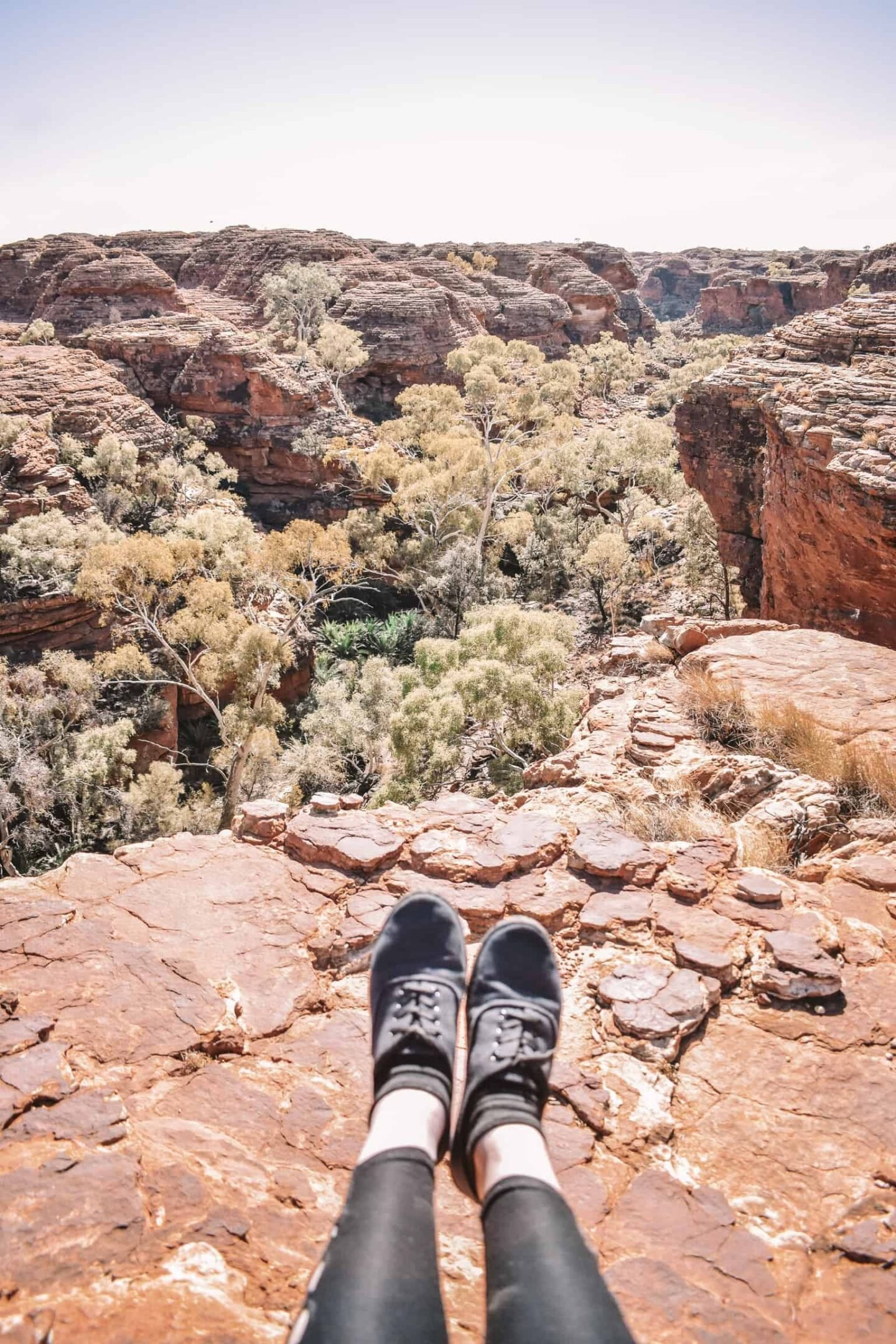 Free Camp at Kings Canyon
Due to the distances between Kings Canyon and any of the nearest towns or attractions, including Uluru, I highly recommend camping nearby. In fact, for anyone planning their road trip itinerary to Outback Australia, this is a must!
There's something about the fresh air, the rustle of dingoes stalking their prey in the night, and the scent of burning logs on the fire that fill your soul with an irreplaceable sense of peace. And what better place to kick back after a day immersed in nature than not too far from Uluru, Kata Tjuta, and Kings Canyon?
No amount of leaning back could ever encapsulate the blanket of stars that spread out above. The Southern Hemisphere is home to some of the most amazing views in the galaxy. Viewing an unobstructed, unpolluted view of the stars is one that cannot be missed when travelling the outback.
Kings Canyon to Uluru and Kata-Tjuta
The next morning, after a night under the stars dining on delicious curry and smores, we departed early for our next destination: Uluru and Kata-Tjuta.
Chances are if you are considering an outback Australian trip, Uluru and Kata-Tjuta are two of the main reasons you want to go. You've probably seen hundreds of photos, postcards and TV commercials of Uluru and Kata-Tjuta, but it's a place you truly have to see and feel for yourself. Especially at all different times of the day.
Sunrise at Uluru and Kata-Tjuta
There are two locations in the Uluru-Kata Tjuta National Park that are perfect for viewing the sunrise. The first, Talinguru Nyakunytjaku, is the perfect viewing spot to watch the colours change over both Uluru and Kata-Tjuta. Be warned, this is where hordes of people and tour buses converge, but, I found that most people left as soon as there was light in the sky, meaning the entire place was empty about five minutes after sunrise (when the real magic happens).
Even though you are still quite a distance from Uluru and Kata Tjuta, that first sighting is something special.
The second viewing spot is the popular sunset location, but since most people go to other locations for sunrise, it is one of the quietest places to watch the sunrise- and one of the most beautiful. And, you get the perfect, unobstructed view of the colours changing over Uluru.
No matter where you choose to see the sunrise, I highly recommend setting up early so you can drink your coffee and eat breakfast as the colours begin to change.
Walk around Kata Tjuta
Kata Tjuta, much like Kings Canyon, was one of those deliciously soul-happy walks, where you feel at one with nature. It might not be as high on your list to do as the Uluru base walk, but I promise it is entirely worth it.
The Kata Tjuta Valley of the Winds walk offers three different routes:
Kura Lookout | Grade 3 | Moderate
1.1km from carpark
This track has some loose rocks to negotiate, please mind your step and wear sturdy footwear.
Karingana Lookout | Grade 4 |Difficult
2.7km from carpark
This track takes you down into the valleys and creek beds. It is challenging with many steps and very steep in places by very worthwhile.
Full Circuit | Grade 4 |Difficult
7.4km full circuit, 3 hours
If you are of sound fitness, I highly recommend the full circuit. The views are breathtaking and it is worth the hike to see some of the hidden treasures of these ancient domes.In places like this, it is important to take a moment to take in and appreciate your surroundings. It's almost as if the Earth speaks to you. In the quiet, I heard oceans and streams, passion and fury, life and death. The story of the past, the present, and the future all warped into the magnificent land that was more than happy to share its secrets with me.
As with all the outback locations you visit, keep an eye out for wildlife! I saw a total of four wild camels, as well as lots of Emus.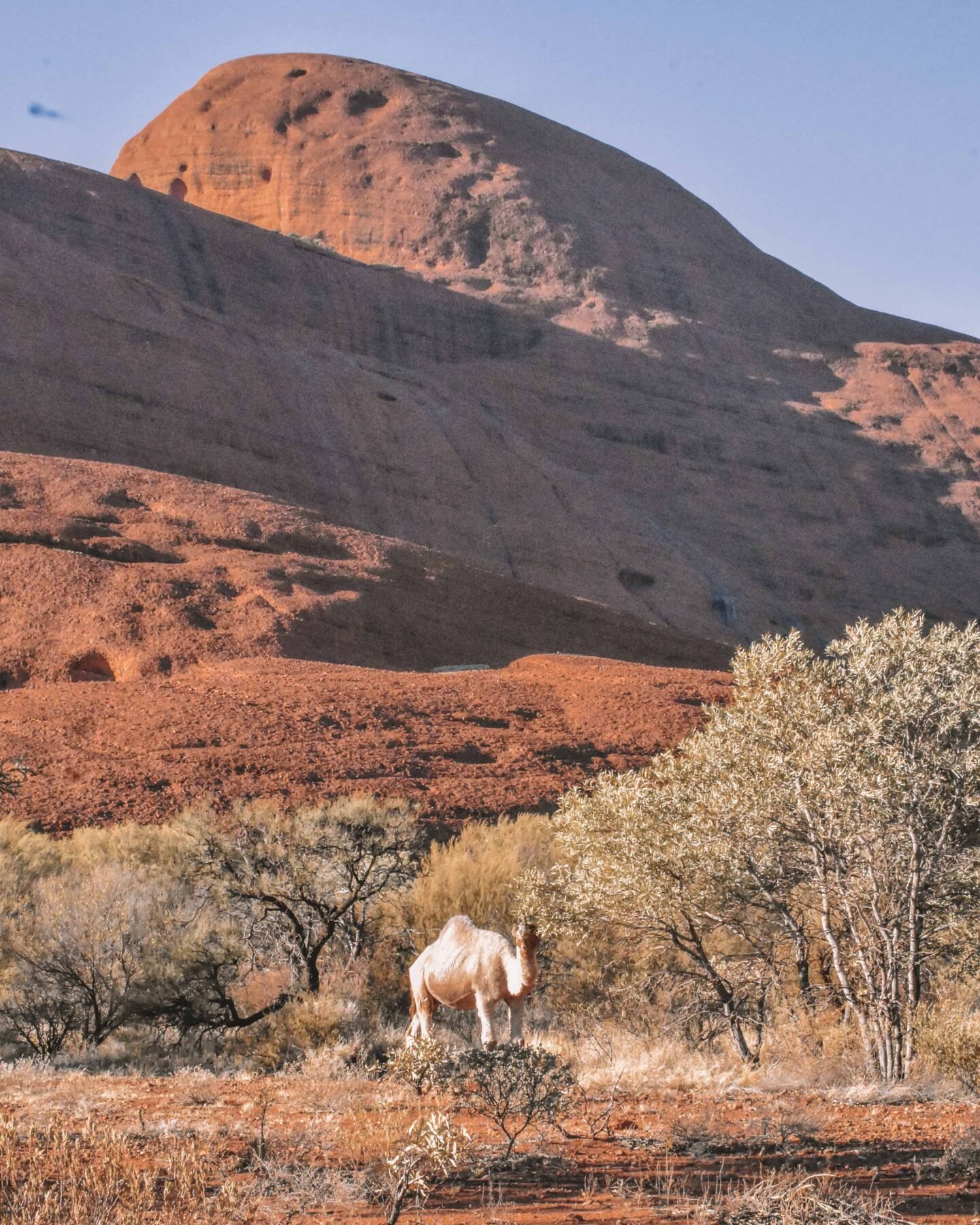 Visit the Culture Centre
After finishing your walk around Kata Tjuta, it's the perfect time to head to the culture centre to have some lunch and learn about the local Anangu culture.
Here, you can learn about Anangu and the parks natural environment through a series of displays and videos. There are also Aboriginal art galleries and several souvenir shops and facilities like a cafe, clean toilets, and freshwater.
The culture centre was an interesting stop on the trip! Although I'd studied a lot about the aboriginal culture in my degree, I was intrigued to learn about the local cultures of the Uluru-Kata Tjuta National Park and how they had been affected by tourism over the years.
It provided the perfect time to sit back and reflect on the things we had seen and done.
Uluru Base walk
The loop walk is 10.6 kilometres around the whole base of the rock and it took my group around two hours to do it. We started really early in the morning, and so the air was freezing cold and didn't offer much reprieve for the majority of the walk.
The walk is completely flat with one short sandy section, but otherwise solid footing underneath. It's peaceful, and a great time to chat with your new friends and take in the wonder of nature.
The base walk offers displays of ancient Aboriginal artwork. It lets you see into nature; into the past. You get to see the giant rock so infamous for its size from all different angles, and you get to stare at it in wonder.
Sunset at Uluru
This was perhaps one of my most anticipated moments of the trip. For weeks, I'd been dreaming about watching the colours of Uluru change from red to pink to purple to orange as the sun slowly made it's decent.
The two locations mentioned for sunrise are perfect spots to view the sunset-but the second is where we watched it two nights in a row. You'll be battling against dozens and dozens of tourists, but it is worth it for the unobstructed view over the giant rock. This is one of the things I recommend everyone do- and schedule out a lot of time on their road trip itinerary into the Australian Outback.
It's utterly beautiful.
Wander through the Field of Lights
Picture this: you're walking through the frigid night, shivering to your core, but spurred on by the stunning blanket of stars above you. Then, just before you think you're lost in the middle of the outback at night, you see a light. Then you see two. Suddenly, the landscape before you transforms into a sea of colour that dips and dances and flickers as if singing just for you.
As far as the eye can see gentle rhythms of colour light up the desert.
At this point, Bruce Munro's vision of a colourful desert garden in full bloom almost needs no introduction. Some 50,000 frosted-glass spheres light up the Central Australian night in a rainbow of colours that spread in all directions. The installation found a natural home alongside Uluru and the impressive expanse of the desert and has been proven so popular its tenure has extended well past the life of one year. For some, choosing to do the Field of Lights by camel or helicopter is an option, but for me, nothing beat wandering through the lights themselves with only the stars above for company and the tears of my wonder as my guide.
The exhibition, aptly named Tili Wiru Tjuta Nyakutjaku or 'looking at lots of beautiful lights' in local Pitjantjatjara is Munro's largest work to date. Overwhelming in size, covering more than seven football fields, it invites immersion in its fantasy garden of light, the stems breathing and swaying through a sympathetic desert spectrum of ochre, deep violet, blue and gentle white.
Uluru and Kata Tjuta to Adelaide (or continue up to Darwin)
After spending time around the heart of Australia, and getting inyour fill of outback in from the beautiful sights, you can either start the journey back down to Adelaide, or continue travelling up towards Darwin. As I had done the trip to Darwin with my family when I was younger, I travelled from Uluru back to Adelaide where the end of my trip would be.
Travelling with Greyhound Australia
Greyhound Australia is one of the most efficient ways to travel around Australia and get from point A to point B without having to sell your kidney to pay for it. It was budget travel at its finest.
I loved every part about the bus journey- and not just because the buses were comfortable and accommodating with things like water and wifi. It was a way to take the stress out of travelling. No fuel costs. No driving and fatigue. No worrying about being alone in the outback- especially as a solo female traveller. It was the ability to travel and view beautiful things without the stress that comes with road tripping and driving a car for hours and hours each day.
If you do plan on road tripping and taking your own transport, check out this post!
I had one of Greyhound's Whimit passes in order to do my trip and I highly recommend it. There are 15-day, 30-day, 60-day, 90-day, and 120-day Whimit passes that offer you complete flexibility on your travels, meaning you can travel as little or as much as you want within that timeframe. Perfect for a trip like this, or even a bigger trip all over Australia.
Read more about my amazing experience using the Whimit pass here: Exploring with Greyhound Australia's 30-day Whimit pass
Travelling Australia soon? Why not check out these destinations too!
12 places first-timers need to visit in the Atherton Tablelands
Weekend guide to Heron Island, the #1 place on the Great Barrier Reef to visit
Falling in Love with Coober Pedy
Visiting Tchupala and Wallicher Falls
Exploring the Millaa Millaa Waterfall Circuit in North Queensland
Top Things To Do In Townsville- The Ultimate Local's Guide
An incredible day trip to the Great Barrier Reef with Reef Magic Cruises
Top things to see and do in Charters Towers- North Queensland's Hidden Gem