Want to know why I ate my way through Disneyland?
When I visited Disneyland, Tokyo in 2017, it was the busiest week of the year. I'm talking Cherry Blossom festival/ school vacation/ start of spring holidays kind of busy.
It was hectic.
But it was also the best time of the year to be travelling Japan, and so I wasn't going to let the busy influx of local and international tourists stop me from fulfilling my lifelong dream of visiting Disneyland.
Sure, I knew that taking a photo clear of gushing tourists and getting on a ride without a wait of about three hours was near impossible, so I decided to do something different. Something a little more unique.
I'd been to plenty of theme parks over the course of my life which meant the novelty of going on rides was gone for me. What I hadn't had much of, was Japanese food! In particular, the weird and quirky and overly sweet Japanese food that Tokyo was so fond of. Therefore, I decided to take a more unconventional experience. I ate my way through Disneyland.
Planning a trip to Japan? Here's everything you need to know before you travel!
Note: This post contains affiliate links. When you make a purchase using one of these affiliate links, I get paid a small commission, at no extra cost to you. 🙂
It was only my second day in Japan and I was still getting used to the flood of delicious pastries and completely random 'things' that I had the ability to munch on. That, linked with my sudden realisation that everything in Japan was ridiculously cheap, had me drooling over anything my eyes laid on.
I went to Disneyland with the intention to explore the food options. And explore I did. Although my bank account just about exploded in my pocket, and I pretty much rolled out of there with stomach pains that lasted for days, it was totally worth it! Every damn calorie.
Here is what I ate when I ate my way through Disneyland!
Little green dumplings
The little green dumplings are obviously a tribute to Toy Story's little green alien men, and they're quite possibly the cutest edible thing ever. Whilst I didn't eat these snacks (for obvious meat reasons) I couldn't resist buying them for a photo. How darn adorable are they?
Ice Cream
Although I was shivering my gut off in the freezing cold whilst standing in line in the rain for ages to buy this ice-cream, it was one of the most delicious ones I have ever tried. I bought this ice-cream outside the Winnie The Pooh ride and merch store. It had a particularly sweet honey flavour…
The Mickey Mouse Chocolate Churro spectacular!
Ummm did someone say Mickey-shaped chocolate churro? YES PLEASE! I bought two of these and was so in love with them I devoured one before I remembered to take a photo!
This was eaten about 3 minutes after the ice-cream above. It's safe to say my sweet tooth was definitely in action when I ate my way through Disneyland.
Caramelised popcorn
I've always known that the Tokyo Disney Resort had multiple popcorn flavours, but I really had no idea how serious the popcorn game there was until I saw it for myself.  It's really like its own micro-culture.
People bring their collectable & rare resort buckets from the past and have them refilled. Some people wear more than one popcorn bucket at a time, and I even had people offering me samples right out of their buckets.
It's seriously SO MUCH FUN!
Popcorn is so popular in Disney culture, there's even popcorn themed merchandise that lists some of the many flavours available. I was rather boring with my paper cup and caramelised popcorn flavour but next time I plan on going all out!
Disneyland's Loontown Pretzel
At this point in the day, I was starting to feel the weight of all the sugary foods in my tummy. As someone who rarely has a sweet tooth, I think I was just about buzzing on a sugary high.
I decided to counter the sweets with a Loontown pretzel, only to be shocked that it was deliciously sweet. It was totally worth it.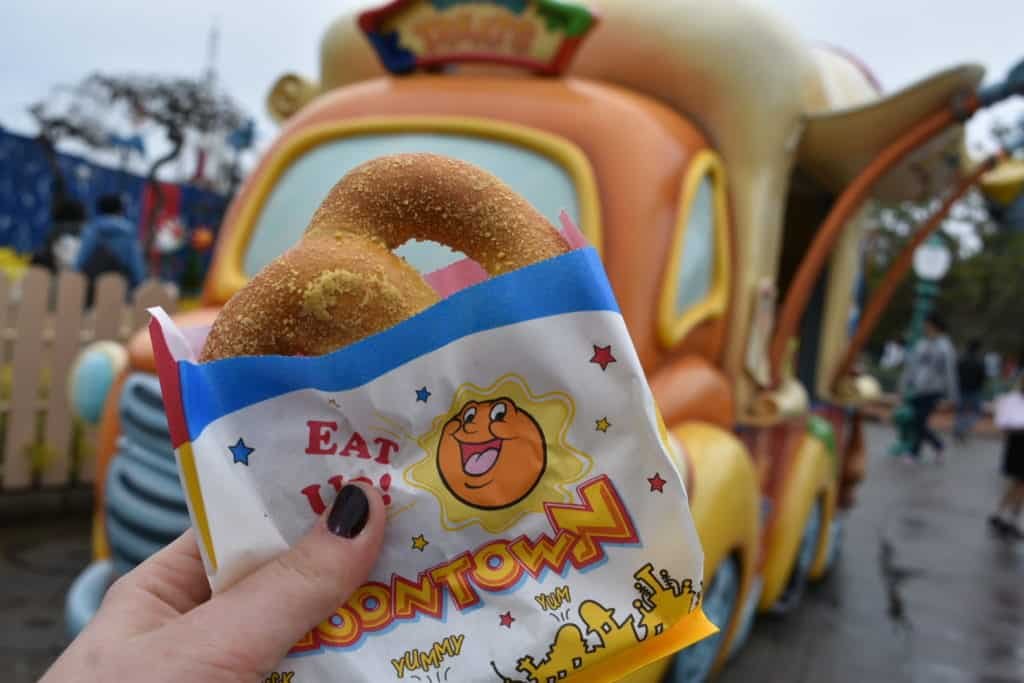 The classic chips and coke
Finding a delicious lunch in Disneyland was honestly a vegetarian's nightmare! It was kind of like any theme park- hot dogs, meat-filled pizza, burgers, etc.
I decided on the classic hot chips and coke, as my body was in desperate need of something warm and salty. There are plenty of fancier restaurants available, however, they are extremely pricey and most of them required advance bookings.
If you are visiting Disneyland and interested in a decent meal at a nicer restaurant, I'd recommend the Blue Bayou restaurant, Grandma Sara's Kitchen or The Diamond Horseshoe. Again, most of these require advanced bookings.
Options for budget-friendly food include Pan Galactic Pizza Pizza Port, Plazma Ray's Diner, Tomorrow Land Terrace, The Canteen, Camp Woodchuck Kitchen or The Queen of Hearts Banquet Hall.
I'd highly recommend doing your research before travelling, just in case you want to book in somewhere that requires a reservation. As well as this, there are just so many options and you definitely don't want to miss out.
The best corn soup ever!
Contrary to what most people say was their food highlight when they eat at Disneyland, my highlight of the day was corn soup. It was fabulous. The soup was flavourful and definitely hit the spot on a chilly day.
I would go as far as to say that this soup was my favourite thing I ate in Tokyo. Seriously, it was delicious!
The infamous Mickey-shaped ice-cream sandwich!
This was the last thing I devoured before I called it a day on the food thing (until I got back to my hostel that is). I decided to spend some time by the castle eating my ice-cream sandwich and reflecting on the amazing day I'd had at Disneyland.
If you are thinking about a trip to Disneyland, please do it! There is nothing I'd recommend more than travelling the distance and going. Just make sure you're prepared to roll out of there because the food is just too irresistible to say no to!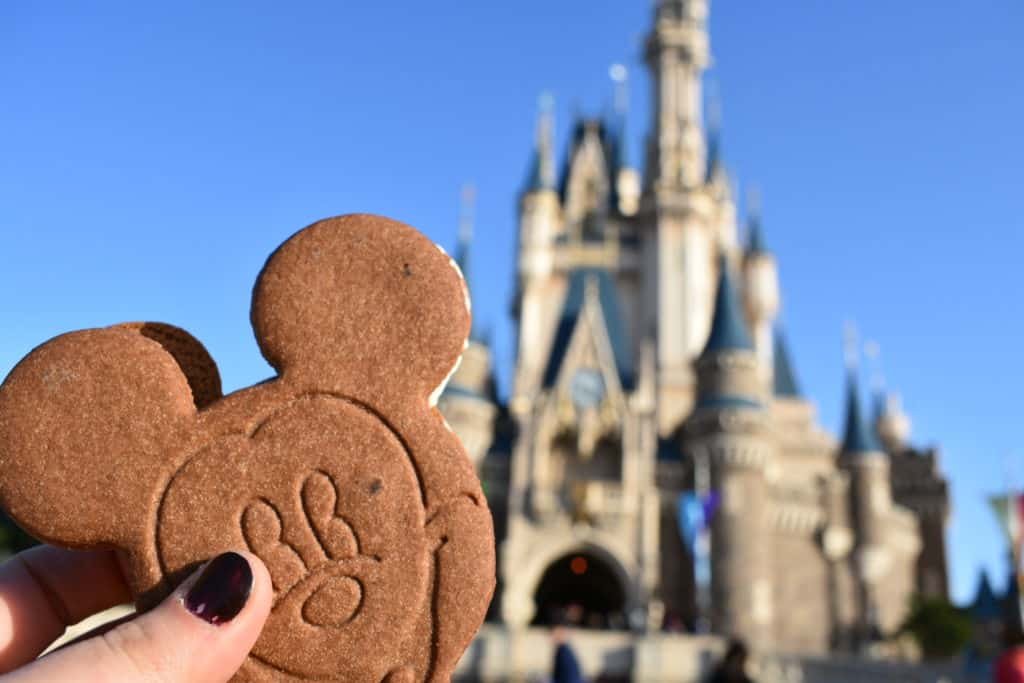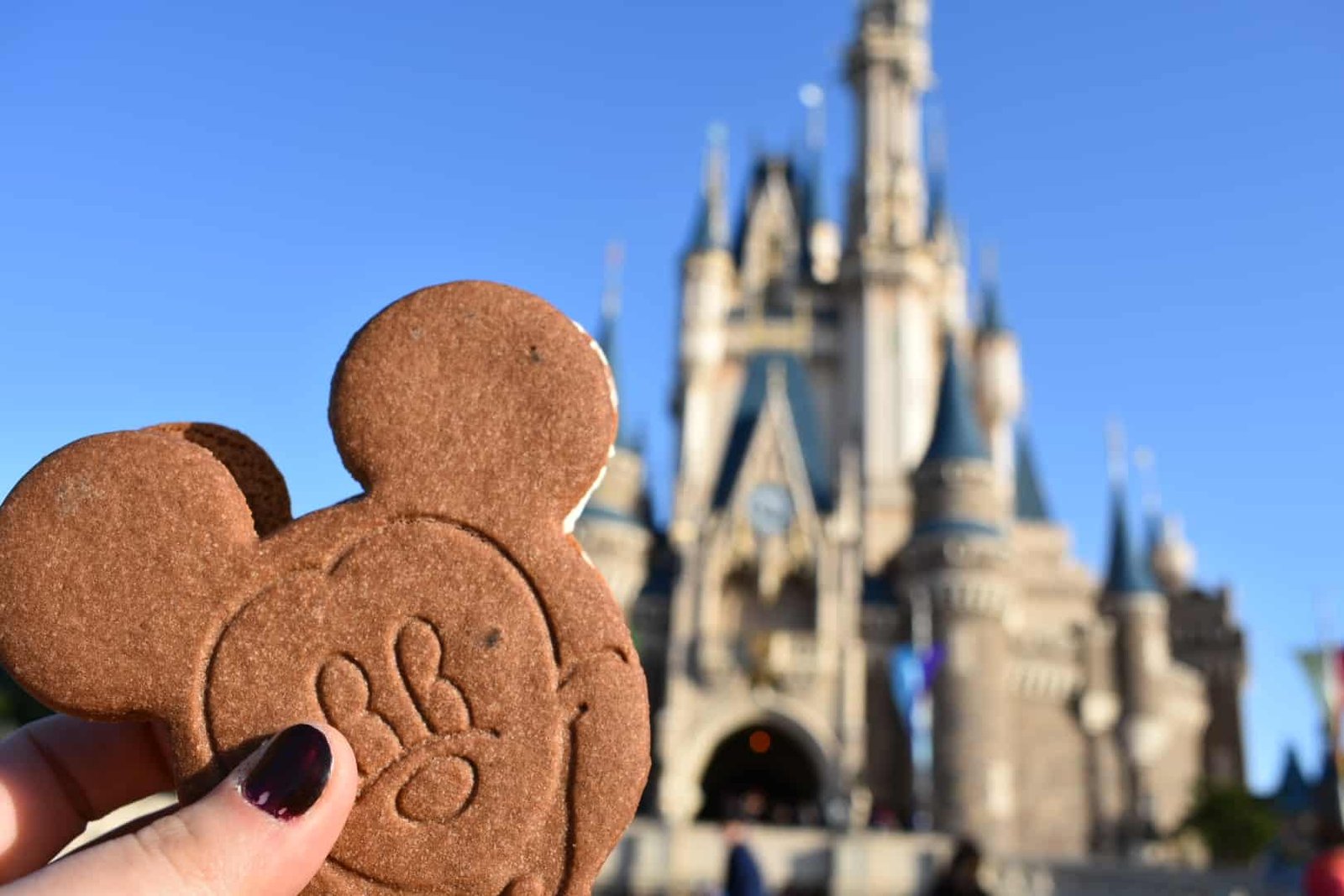 The Lowdown
Camera: Images captured with a Nikon D3400.
Find the best deals on your Disneyland accommodation! 
Need travel insurance: Travel insurance from WorldNomads is available to people from over 130 countries. It's designed for adventurous travellers with cover for overseas medical, evacuation, baggage and a range of adventure sports and activities.
[pipdig_code_2]
Looking for other things to do in Tokyo? Here is my list of 19 incredible things to do in Tokyo!