The Marina Bay Area was the activity I was most looking forward to on my South East Asian holiday in late 2017. I'd seen photos of the magical wonderland of the Gardens back in December 2016 and was completely smitten. I made myself a promise that I would see these gardens and explore them in 2017, and that is exactly what I did! For someone who loves to write fiction that usually takes place on other planets, the gardens were an absolute dream. I felt as though I'd taken a step off Earth and entered the realms of Avatar, where each step was illuminated but a phosphorescent wonder. Okay, that may be a slight exaggeration, but the Gardens by the Bay is different; it's a futuristic wonder beamed down from space that might just be the best tourist attraction in all of Singapore.
SUPERTREE GROVE
Straight out of another world (it's literally Pandora from the movie Avatar), the Supertrees are a unique blend of futuristic weirdness and environmental sustainability. The trees harvest solar energy and will eventually be home to over 160,000 plants. It'd be great if one day every tall building in the world is designed like this. They are absolutely amazing to behold! You can walk along the Supertree Skyway for $5, which is something I'll definitely be doing the next time I visit Singapore!
THE FLOWER DOME
Ever dreamed of walking amongst thousands of the worlds most beautiful flowers? Well the Flower Dome is certainly the place to do so! When you first enter you're hit with an unusual (and completely unexpected) wave of cold air. That's right friends, the flower dome is air conditioned! Once you get past this glorious fact after expecting a dense, muggy forest, you tend to notice the adorable Alice in Wonderland setup! There's all your favourite characters, including the rabbit, Alice, the red Queen, Absolem, and even the twins! It's truly adorable. You can then wander about freely, exploring plantation from all across the world! If you go in a festival season, you might even be lucky to see some themed sets. For me, there was a cute mix between pumpkins for Halloween and a Santa display decked out with snow and elves for the oncoming Christmas season.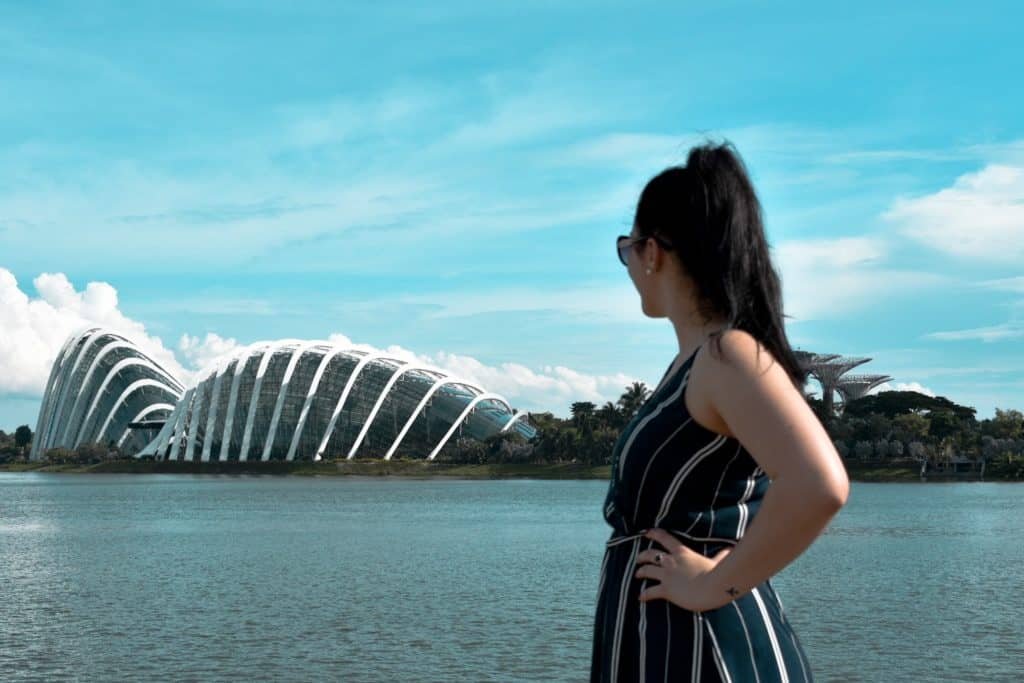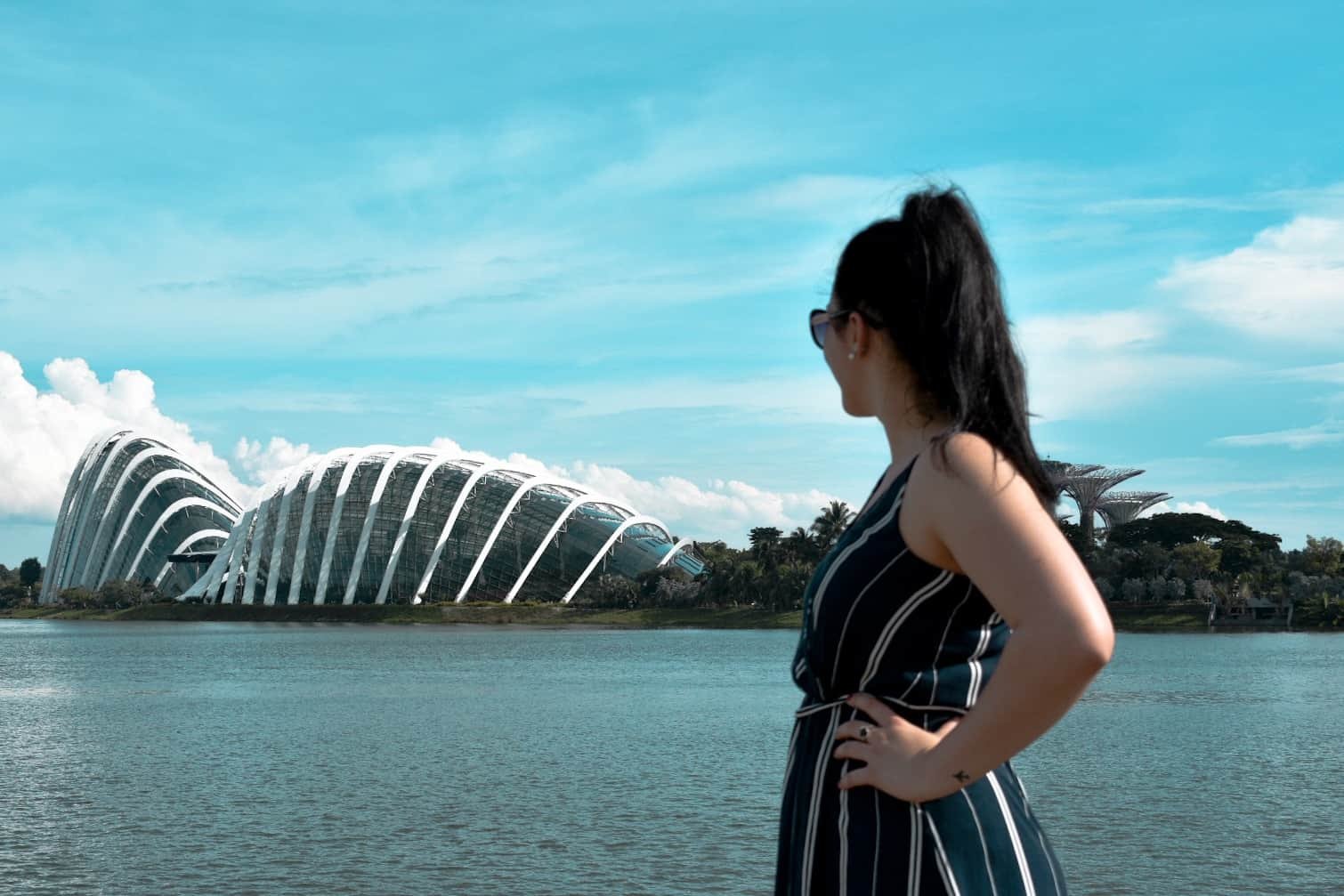 THE CLOUD FOREST
Imagine walking high in the sky through a magical wonderland where vines and flowers and all of nature's best grows to the sky. Then imagine this magical realm being surrounded in a thick (and magical) cloud, making you feel like you truly are in a forest in the clouds. Well- this is it. This was my Avatar moment. Words can't really describe how much I loved wandering around the cloud dome. It was a mix of peaceful serenity, wonder, adoration and inspiration. I wanted to sit down and write and create worlds of my own that featured spiralling trunks that go as far as the eye can see. I wasn't alone- everywhere there were people capturing memories through photographs and sketching in notebooks or simply gazing up in awe.
You can explore the interior of the mountain, which includes a treetop boardwalk, stalactites and stalagmites  and some great views of the Marina Bay area (including the famous Marina Bay Sands). If you time your visit to the Cloud Forest with an even numbered hour (eg. 12:00, 2:00, 4:00, etc) then you will get to witness the awesome cloud forest misting where the entire dome becomes a misty fortress. Definitely a scene off Pandora or what? You need to get to the very highest level to most appreciate the cloud effect.
It costs $28 to enter the cloud forest/flower dome, but it's definitely worth it.
THE PLACES IN BETWEEN
Gardens by the Bay is huge, and while the domes and the Supertrees are by far the most interesting parts, just strolling around the various gardens is a great way to get away from the crowds. You can get some peace and quiet and see a huge white baby that looks like it's floating in the sky. You can also see animals sculpted out of trees, heritage gardens, and tranquil river scenes.
GARDENS BY THE BAY AT NIGHT
If you think the supertrees are cool during the day then you'll be blown away when you see them at night.  The light show (at 7.45/8.45pm) energises the trees with electric colours that makes them pulsate with power; it's something that every visitor to Singapore should see.
Unfortunately, if you're like me and get stuck at the gardens right before a torrential downpour with a half an hour walk back to your hostel, you may miss the beautiful light show. If so, make sure you check out the trees at night before you go! They truly are the most tremendous thing I have ever laid eyes on.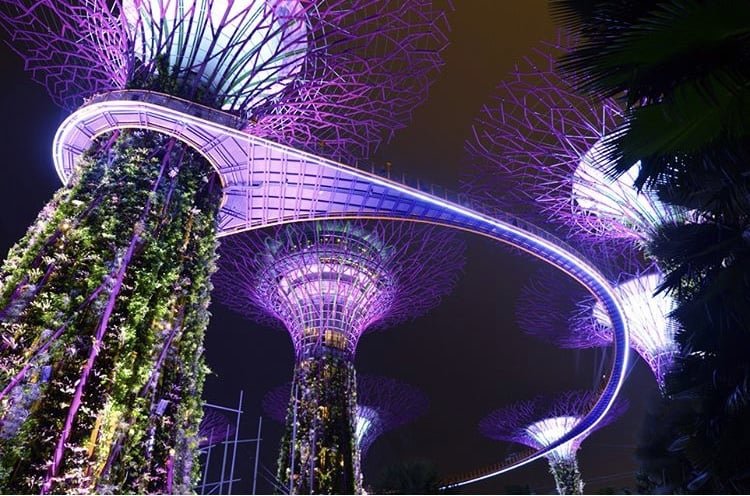 Are these not the coolest gardens in the world? They are by far the most interesting ones that I've ever been to. I love science fiction movies and the Cloud Forest, Flower Dome and Supertrees are all things I can imagine seeing on an alien world someday. If you are visiting Singapore (and you definitely should) you HAVE to check out Gardens by the Bay!
Another bucket list item: check ✔️✔️
Abbie xoxo