Qatar is a solo female travel destination unlike any other I have visited so far. It is unique in its middle-eastern beauty, alive with its buzzing sense of forward-thinking and adventure, and for solo travellers, it is incredibly safe!
I went solo female travelling through Doha, Qatar in 2018, and it was without a doubt one of my favourite travel experiences to date.
Yes, you read that right. I set out solo to Doha, Qatar. As a woman. And I loved it!
Curious to know why I travel solo? Read this post!
I chose to travel to Qatar as a solo female traveller for three reasons:
I had an eight-hour layover on my flight from Australia to Athens with Qatar Airways and wanted to utilise the long layover to visit a new destination I had been curious about for years.
I wanted to explore an off the beaten track location that not many people have visited.
I really wanted to explore the desert!
After visiting Qatar in 2018, I already can't wait to go back. The architecture is stunning, the museums are phenomenal, and the people were genuine and kind. It was honestly a traveller's paradise!
But maybe you just love the heat. Maybe you want to tick off another Middle Eastern location from your bucket list. Or perhaps you want to go to the FIFA World Cup when it's held in Doha in 2022.
Whatever your reason for visiting Qatar, I highly recommend you do it!
Here is my solo female travel destination experience in Doha, Qatar!
Note: This post contains affiliate links. If you make a purchase using one of these affiliate links, I get paid a small commission, at no extra cost to you. 🙂
Interesting facts about Qatar
1. Although a harsh desert environment, with average summer temperatures of over 40C, human habitation of Qatar dates back to 50,000 years ago.
2. Qatar is ranked 12th out of 153 countries in the Global Peace Index and is one of the safest countries in the world to live in for both families and individuals relocating alone.
3. Qatar is the biggest exporter of natural gas in the world, has the fastest growing economy in the world and has the highest per capita income than any country in the world. This means it is very, very, very wealthy. None of its 2 million residents lives below the poverty line and less than 1% are unemployed.
4. Qatar will be the smallest country ever to host the World Cup in 2022, although it has never qualified for the Cup before.
Is Qatar a safe solo female travel destination?
My answer is always this: YES! YES! YES!
In fact, Qatar is consistently ranked as one of the safest countries in the world. I only experienced a glimpse into life as a Qatarian, but at no point did I ever feel unsafe. In fact, I felt safer than most of my trips to Europe and Asia.
Walking through the Doha airport and viewing the people as an outsider, you get the feeling that Qatarians are emerging out from the scaffold that has hidden them from the world for a long while, and into one of the biggest superpowers in the Middle East. They are incredibly open to tourism, to meeting new people, and to the vast economical changes they are undergoing in the wake of the 2020 world cup.
Every person I came across- both at the airport and out- were really friendly and kind. Not once did I ever feel unsafe, threatened, or afraid that I was a target for anyone with bad intentions.
However, as with destination, you travel to as a solo female, being cautious and careful is very important.
I made sure I travelled with a reputable company on my day trip into the desert and kept my belongings with me at all times.
Want to know how I stay safe when travelling solo? Read this post!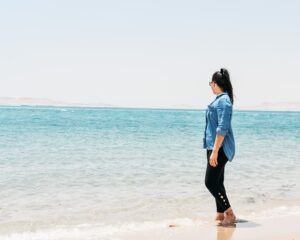 Day trips from the airport
If there's something I love as a regular traveller, it's a long layover. I know, it's an unpopular opinion. But having a long layover allows you the opportunity to leave the airport and explore a destination that you otherwise might not ever visit.
While some airports offer organised tours of the city, it is often just as easy to book your own personalised tour that will have you back at the airport in time for your departure. These will allow you to see more of the city you are visiting, and have a local guide that will teach you all about the local culture.
I did my stopover in Doha in Autumn on my way from Australia to Athens. I intentionally booked my flights so I would have an eight-hour stopover, allowing me to spend the entire day in Doha, but didn't have to book accommodation and stay overnight.
As this was my first time visiting the Middle East, I booked myself on a 4-wheel drive Safari with Get Your Guide- the only travel tour company I book with. Without a doubt, this was one of the best things I have ever done. The desert is only about 30 minutes away from the city/airport and you can experience a few hours of endless sand dunes and crystal clear inland ocean water!
My tour guide picked me up from the airport terminal and drove me to the desert where I was met with a delicious tea and a camel ride. Although this tour was on the pricier side of things to do from the airport, I wanted to go with a reputable company that had excellent reviews. They were quick to respond to any of my questions and made me feel confident with the idea that I was a solo female traveller about to adventure the desert with a solo male driver.
After snapping a few pictures, drinking delicious Middle Eastern tea, and riding my first camel, my guide and I headed off to do some sand dune four-wheel driving. This was a huge highlight for me as I love an adrenaline rush and my guide did too!
We spent a few hours riding the waves of the desert, going up and down, down and up.
Being alone in the desert was an exhilarating feeling. It was as if I was on a different planet, completely separate from the rest of the world.
It was me and nature; nature and me.
When my guide offered me the chance to drive, I jumped at the idea. I'd never 4-wheel-driven before, nor had I driven entirely on sand dunes, or on the opposite side of the car to what I am used to.
But it was the best kind of rush.
The tour was around 5 hours, and the majority of that was amongst the sand dunes.
Before heading back to the airport, my lovely guide took me to a beautiful ocean inlet with some of the clearest water I've ever seen. This experience was made even better when my guide pointed to the opposite side of the inlet, to Saudi Arabia. Viewing an entirely different Middle Eastern country from afar was awesome, especially with water this blue between us!
After four hours of fun, my guide drove me back to the airport with enough time for me to take a rather awkward sink shower to wash off the sand, brush my teeth, and have some dinner.
The only downside to the dune safari was that my clothes and shoes were covered with sand for my next six-hour flight.
Other things to do in Doha, Qatar?
I absolutely cannot wait to go back and explore more of Doha's city. The country is currently going through rapid growth at the moment thanks to the funding pouring in for the World Cup. It's transforming into one of the most advanced, stunning cities in all of the Middle East.
You will never run out of things to do in Doha. You could spend a whole day at the Katara Cultural Centre. Try all the amazing Middle Eastern food at the incredible restaurants. Or have an authentic Qatari shopping experience at the Souq Waqif. There are sunset safaris. Beautiful, extravagant shopping malls can be found everywhere, and an abundance of other extraordinary things to see and do.
What to wear?
As per every destination, I like to ensure I do some research into the customs and practices of the locals. Qatar is one of the most open Middle Eastern countries, with 80 countries allowed to visit on a completely free visa that you receive upon arrival. That openness means they understand others would not be comfortable being so covered in the heat!
I would, however, suggest that you aim to dress conservatively, but don't stress too much about it. I wore a long sleeve top (which I rolled up to the elbows after a day of extreme heat) and tights and I did not feel uncomfortable in the slightest (apart from, maybe, the heat).
My visit to Qatar changed my perception of the world. Not only did it allow me to understand that a country's spirit can be entirely different from what has been portrayed in the media, but it helped me fall in love with the Middle East. The people were beautiful and friendly and the terrain is unique and magical.
I can't wait to go back!
The Low Down
Camera gear I can't live without:
Travel items I can't live without:
Packing cubes (with laundry bags and shoe bags)
Need Travel Insurance? I highly recommend getting travel insurance before ANY international trip. World Nomad's offer the most flexible worldwide cover that I have come across, and you can purchase a policy online, even if your trip has already commenced.
[pipdig_code_2]
Booking Flights?
To book flights, I always use flight search engine, Skyscanner. I find it the easiest way to compare flight prices across airlines and get the best deals.
Where have you been that you think is a perfect solo female travel destination? Leave a comment below!
Check out some of my other off-the-beaten-track destination guides:
Falling in Love with Coober Pedy
Tallinn Truly is a Baltic Fairytale
A City Guide to Kotor, Montenegro