Have you ever wanted to visit Tanah Lot Temple in Bali but haven't been sure whether it's worth it? Here's my ultimate guide to the popular Balinese attraction, outlining just why you need to visit the popular Balinese Temple!
It is absolutely no secret that I adore Bali. Filled to the brim with culture, beauty, friendly people, and delicious food, it is one of the few places in this world I have truly felt at home. A place I think about regularly and am always itching to go back to.
Ever since I learned how to locate Bali, Indonesia on a map, visiting the spectacular Tanah Lot Temple was one of the things I was itching to do. When I embarked on my first trip to Bali, Indonesia in 2016, visiting the popular Tanah Lot Temple to watch the sunset was number one on my list of things to do. Here's why!
Should you Visit Tanah Lot Temple- What is it?
The Tanah Lot Temple is probably the most popular and photographed temple on the island of Bali, Indonesia. The name of the Temple stands for earth (Tanah) and sea (Lot), which is quite appropriate considering its spectacular setting on top of an impressive rock overlooking the sea.
Tanah Lot is one of seven ocean temples on the coast of Bali that creates a sort of spiritual bulwark against bad vibes rolling on the ocean currents. It is a spiritual location that even today, is used regularly by the local Balinese people.
The history of the Tanah Lot Temple
The stories and history of the temple are almost as beautiful as the structure itself.
I could write novel after novel divulging the history of the Tanah Lot Temple to you, but one of the things I find most special about travel is learning the culture and history for myself, so I highly recommend booking a guide when you go, so you can learn for yourself!
The history Tanah Lot Temple is closely related to the sacred journey from Blambangan (Java island) to Bali of a holy monk called Dang Hyang Nirartha who had the hope of spreading the teachings of Hinduism throughout the land and establishing a site to honour the sea god, Baruna. In this journey toward the East, Dang Hyang Nirartha really enjoyed and was impressed with the beauty of the southern coast of the island of Bali, as it had a natural beauty he hadn't before seen.
Nirartha faced opposition from the village chief who gathered his loyal followers to dispel the high priest. Nirartha resisted and through his meditation shifted a large rock to sea while transforming his sashes into sea snakes to guard its base. Eventually, the people began to worship him, and so they built a large temple out at sea in his honour.
The tales of the Tanah Lot Temple are long, but they are beautiful. I recommend that if you travel to Tanah Lot, you go with a guide that can explain the history and the importance of the temple even today. It is well and truly worth it!
You can visit Tanah Lot Temple at sunset with this highly recommended tour, or a cultural day tour that will take you to other must-see locations around Bali, before ending the day watching the sunset over Tanah Lot.
Visiting the Tanah Lot Temple- entrance fee
Visits to the Tanah Lot Temple are subject to an entrance fee of IDR 60,000 for (adult) foreigners- roughly $5 Australian. While some pre-booked tours cover the cost of entry, most will require you to have cash on you to pay the fee.
Should you Visit Tanah Lot Temple- The opening hours
Tanah Lot Temple is open from 7 am to 7 pm, allowing you plenty of time to fit the temple into your Bali trip! I highly recommend you get there as early as possible if you are chasing the infamous sunset views, as the place gets really crowded mid to late afternoon. If you plan on visiting Tanah Lot at sunset, try and aim for 4:00 in the afternoon, as this will give you enough time to explore the areas inside and around the temple, and set yourself up for a beautiful sunset!
When you should visit Tanah Lot Temple
On sunny days, the Tanah Lot Temple is one of the busiest attractions in Bali. There are hundreds, even thousands of tourists trying to get the best views of the temple from various angles. And it's totally worth it, but here are the best times to visit Tanah Lot if you're trying to avoid the crowds!
Low season is the best time to visit Tanah Lot- between January and April, September and December. There are usually fewer crowds throughout this time and accommodation/flight costs will most likely be a lot cheaper. While the country is generally pretty cheap to visit, check out these tips if you need a hand with your travel budget.
The best time of the day to visit the popular Temple is during the evenings at sunset, as the view is absolutely breathtaking. For those who love photography, the golden hour can allow you to capture a breathtaking sunset and enjoy unforgettable views for hours.
Another good thing to note is that heading to the temple is best done during low tide when you are allowed to walk to the base of the temple and be blessed by the priests there.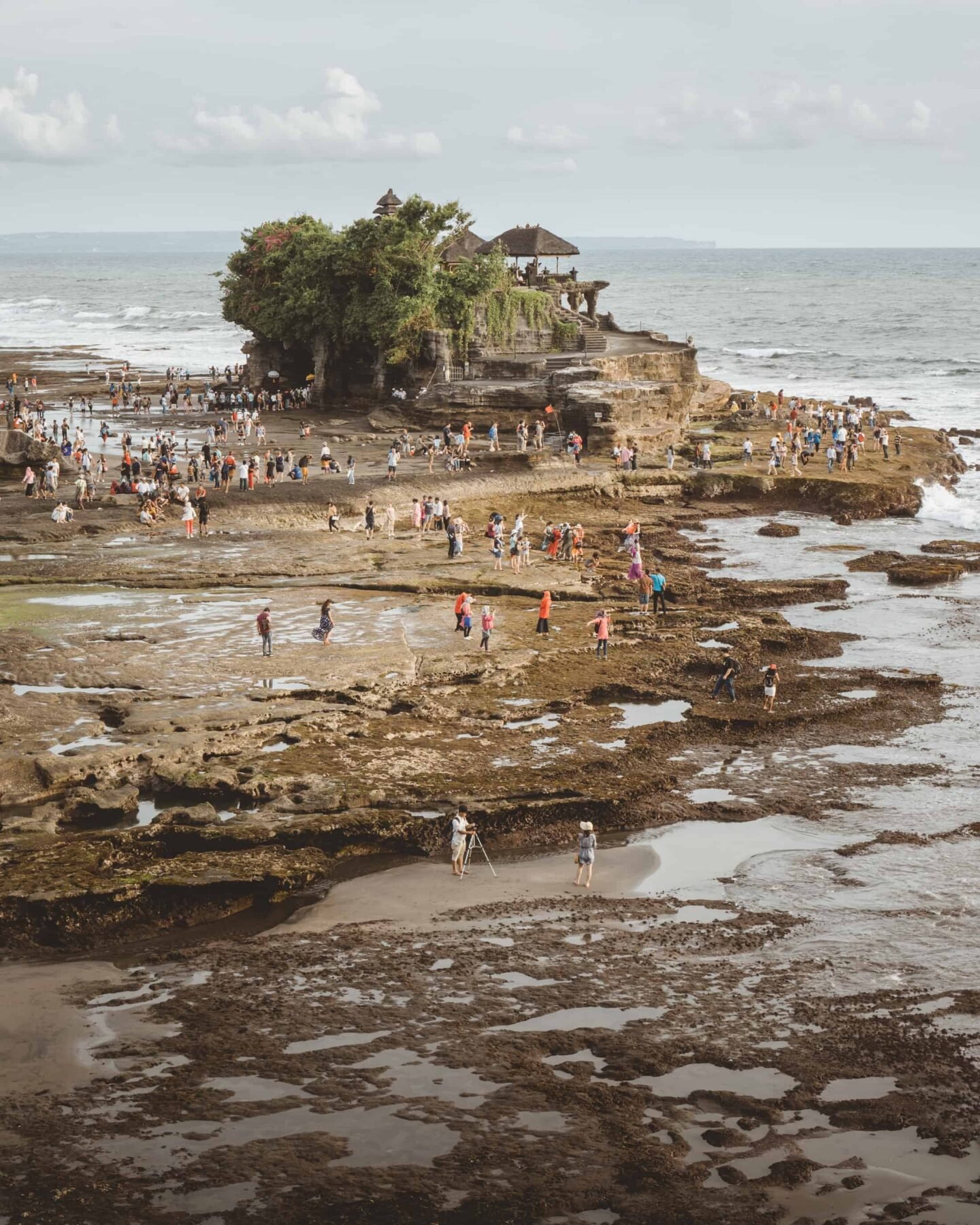 What you should wear at Tanah Lot
As you might know, when you visit any temple in South East Asia, both men and women should wear a sarong, scarf or sash tied around the waist. Shoulders should also be covered as best as they can. It is out of respect that tourists attempt to adhere to common cultural dress codes.
Although Tanah Lot Temple does not have a specific dress code, it is still a place of worship for locals, and it is highly recommended you wear adequate clothing.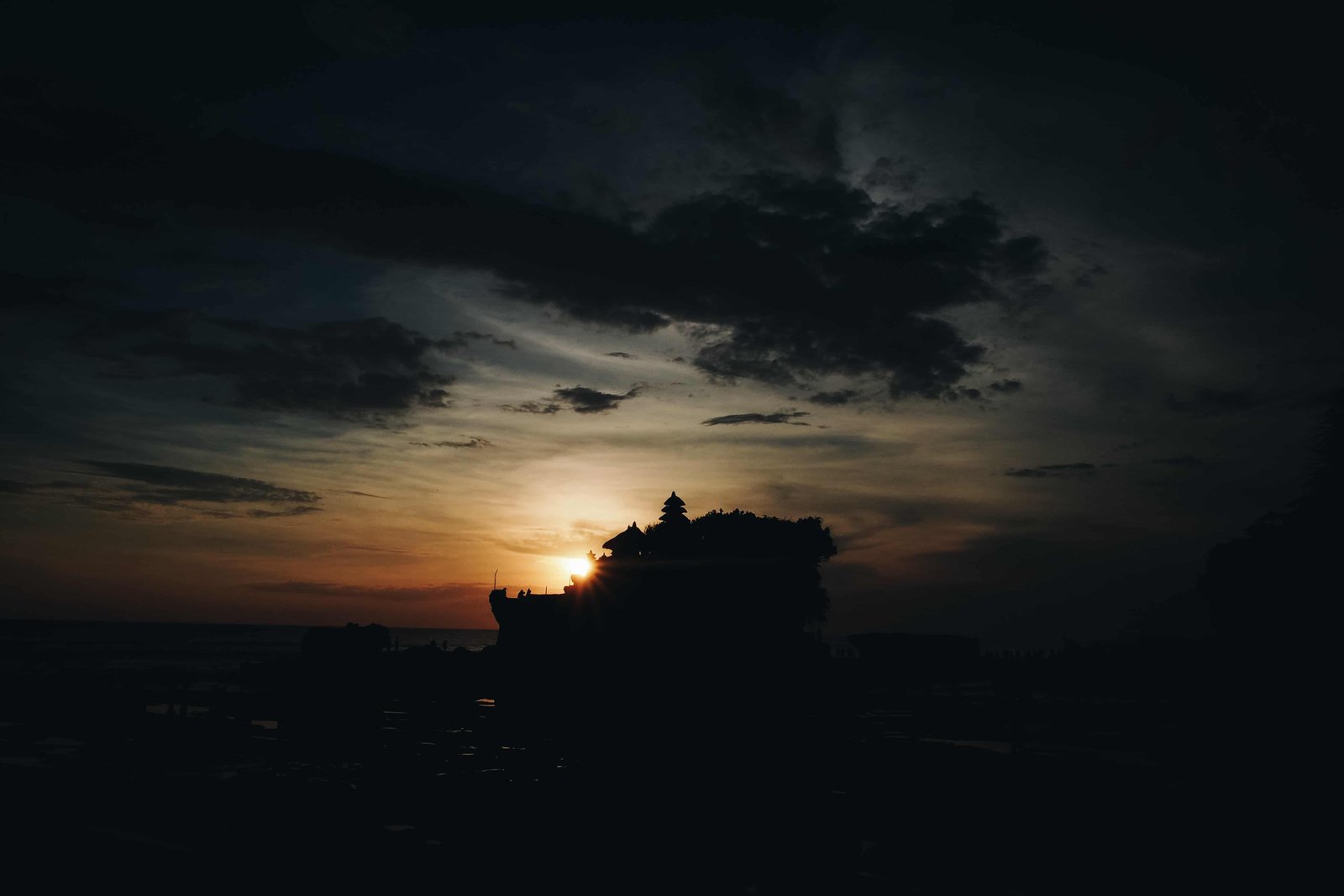 The best time to visit Tanah Lot Temple- Sunset!
There are dozens of restaurants situated on the cliff's edge, making it the perfect place to watch the sunset over the Temple. After wandering around the base of the temple and taking thousands of photos, we settled in with a cold drink, to watch the sunset from above.
The café's and bars that you find up there are situated right at the edge of the cliff and prove to be the best vantage point for beautiful photographs of Tanah lot. To get to these cafes and bars you have to walk through several little shops and stalls and on the way, meaning shopping can be done while you wait for the sun to set!
Eventually, the cloudy sky began its rich transformation of pinks and golds. With each small descent, the sky would change, forcing me to jump up with excitement and take a few more snaps with my camera.
I guarantee you will do the same!
Where to stay in Bali:
Bali is full to the brim with incredible hotels, villas, bungalows, and hostels.
Some popular areas to look into are:
Book Your Trip To Bali
Book Cheap Flights
Still in the planning stage of your trip? Currently, the best and easiest way to find cheap flights is to use eDreams, Bravofly and Skyscanner. Between them all, you'll be guaranteed to always find the cheapest flight, anywhere in the world.
Book Your Accommodation
Whether you're looking for hostels, hotels, guest houses, or resorts Booking.com will always give you the best deals. I always search using the map feature to find accommodation in the best locations. Sometimes, if I want to stay in a place a little longer, I'll use Airbnb. You can sign up with Airbnb and get $51 AUD off your first trip!
TIP: For the best hostels, I usually compare reviews on Hostelworld and YHA (when in Australia) then check other booking sites to compare prices and deals. Not sure on hostels? Read this post to find out everything you need to know about them!
Book Tours and Transport
Although a combination of independent travel and touring is my ideal form of travel, if the best, cheapest, and safest way to explore is to book a tour or package, I'll do it! For this, I always use Viator and Get Your Guide.
Finding a Car in Australia
Having a car or camper is an awesome way to travel. You can compare rental car deals on EuropCar.
Don't Forget Adventure Travel Insurance
If you're reading this blog then you're more likely to be seeking epic adventures for an affordable price over relaxing and luxurious vacations. By far, my favourite, most comprehensive adventure travel insurance is World Nomads.
Disclosure: This blog post contains affiliate links, which if you click, adds absolutely no extra cost to you. These links allow One World Wanderer to continue providing you with free guides and travel content.
Looking for more amazing reasons to travel to Bali, check out 4 Incredible Things to do on Nusa Penida, Bali!
Have you visited Tanah Lot Temple at sunset? What did you think of it?
Keep wandering
xoxo