11 Things To Know Before You Visit Rome
Planning a trip to Rome? Please take me with you!
It is, without a doubt, one of the most wonderful cities I have ever visited. There's something magical in the air you just can't describe. It's an energy; a feeling that everything is happening all around you. It's as though the city calls to you, allowing you to immerse yourself in a beautiful slice of life just begging to be explored and experienced. The smells, the sounds, the food, the history. It's a place that really should be on everyone's travel bucket list.
So if you're visiting Rome for the first time, or perhaps you're taking a sneaky trip back, here are a few of my top tips on things you must know before you go.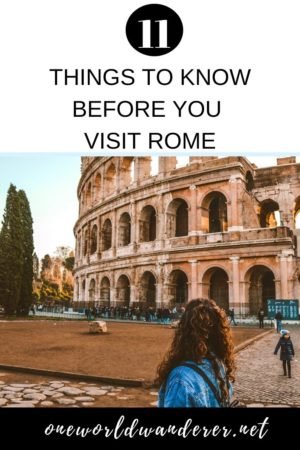 Note: This post contains affiliate links. If you make a purchase using one of these affiliate links, I get paid a small commission, at no extra cost to you. 🙂
1. There are a LOT of tourists
I bet you weren't expecting that! But seriously, Rome is one of the most visited tourist destinations each year, and it can be really overwhelming. In order to survive your time, this is something you simply must accept. No matter what the season, this city is swarming with people so don't be surprised when you cannot get that photo of an empty Colosseum, or you have to wait in line at the Trevi Fountain.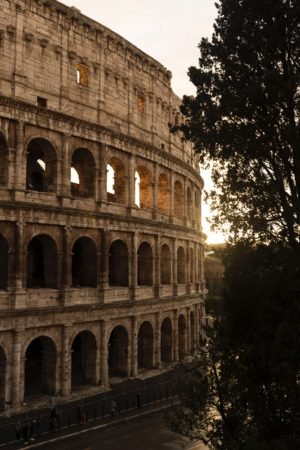 2. You can skip the long lines at the Colosseum
Good news! Even though the tourists are flocking to those must-see locations throughout the city, there are ways around those nasty lines we all hate.
You can get exclusive fast passes for virtually any location in Rome that requires an entrance fee. This little trick can save you hours, allowing you to do so much more in your trip to Rome!
This tour of Rome allows you to skip the line at the Colosseum, Forum, and Palatine Hill with a guide who will captivate you with stories of gladiators, emperors, and plebeians. I highly recommend booking before you go as it is 100% worthwhile!
3. Food!!!
The food in Italy is delicious, famous, and downright incredible. You'll have no problem finding somewhere to indulge and stuff your face silly. Eating food in Rome is a visceral experience and not one you want to stuff up. So, do your research before you go and find restaurants that are worthy of your time and money.
Alternatively, booking a food experience will give you the hands-free ability to follow your guide through the heart of the Italian capital and enjoy a complete menu of local specialties, served in classical order, at amazing culinary locations, popular taverns, and family-run shops. You can book the one I recommend here.
4. You'll need very, very comfortable shoes
The cobblestones, steps, and long distances between sites is no joke. We walked from the Spanish Steps to the Trevi Fountain, to the Pantheon, to the Colosseum, to the Vatican and my golly gosh my feet were walking on borrowed energy.
Don't try to be a hero. You are going to need very, very, very comfortable shoes, my friend.
5. Beware of the shady peeps
As with any major tourist spot, there are bound to be a few shady characters lurking about. Watch your bag carefully, never put it down, don't keep any valuables in your pockets and keep your wits about you.
6. The gelato is divine
You should aim to eat at least one serve of gelato each day. Seriously. It's just that good. Although my flavour choices were always terrible, believe me, the experience of staring at the Pantheon holding fresh gelato as your boyfriend plays with his new gladiator helmet- that is priceless.
7. You'll need elastic pants
There's a good chance you'll gain a little bit of holiday pudge in Rome because the food is that damn good. Okay, I lie. You'll gain a LOT of holiday pudge. Seriously consider packing light flowing clothes or pants with an elastic waistband. You'll need it.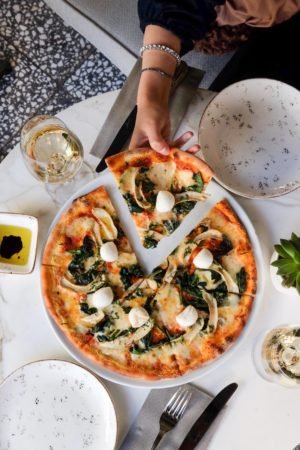 8. Water
Few things come free in the world these days, but one thing locals and tourists alike have learned to count on in Rome is ice cold drinking water from the city's 2500 fountains. The problem is a lack of signposts that force newbies to wander around in the hope of striking lucky. Or you fork out for overpriced bottles.
As always, I recommend you travel with your own water bottle. It's way more eco-friendly and will save you so much money in the long run. Depending on how big you want your bottle to be, these two from Amazon are my favs!
I was unfortunate to not come across these wonderful fountains but it taught me a little lesson. Do more research before you travel, and water, even tap water, is ridiculously overpriced in Roman restaurants.
9. Skip the tourist spots
Don't be afraid to wander the little back streets of Rome and let it take you on a journey. Yes, of course you want to see the big tourist spots, but allocate yourself some time to wander. Stop in at bakeries and cafes, explore local shops, talk to some locals, and just soak it all in. The magic of Rome happens out on the streets. Listen for it, feel it, embrace it.
 10. Understand the history before you go
If there's one thing I can encourage you to do, it's to know the history of Rome. I know, I know, it's a lot to take in. I mean, our version of civilisation kind of started in Rome, right?
But understanding a little about the famous spot can give you a huge appreciation for the things you see and just how old and important they are.
The perfect way to learn more about the history and experience the past with all the juicy stories and details is on a guided tour throughout the city. Get your guide is a trusted tour company that I have booked countless tours around the world with. Check out their Roman tours to book yours!
11. Carry cash
It may be hard for you to pay for everything by credit card or traveller's card, so carry cash with you. As per above, pickpockets are around so I don't recommend carrying large amounts of cash on you, especially in your pockets.
My advice would be to set a daily spend budget and carry that amount of money on you only. If there are two of you, split it up between you.
Travelling to Europe and wanting more inspiration? Check out these posts!
Tallinn Truly is a Baltic Fairytale
A City Guide to Kotor, Montenegro
This is Why You'll Never Forget a Day Trip to Mostar, Bosnia
Why Bosnia and Herzegovina is a Must-Do on your European Vacation
Ultimate City Guide For Things to do in Madrid!
Tips and Tricks For First-Timers in Venice
The Low Down
Camera gear I can't live without:
Travel items I can't live without:
Packing cubes (with laundry bags and shoe bags)
Need Travel Insurance? I highly recommend getting travel insurance before ANY international trip. World Nomad's offer the most flexible worldwide cover that I have come across, and you can purchase a policy online, even if your trip has already commenced.
Booking Accommodation? I always book with Booking.com. Get your quote today.
For more travel tips and things to know before you go- check out some of my latest posts.