I've travelled Bali several times and each time I fall in love with something new. Nusa Penida might just be my favourite travel destination in Bali. In case you haven't heard of it, Nusa Penida is an island located just off the southern coast of Bali. Although it's only a short 30-minute boat ride from Sanur and a 10-minute ride from neighbouring Nusa Lembongan, Nusa Penida is still impressively untouristy. It still boggles my mind that this little slice of paradise has managed to (largely) elude the tourist radar, because there are a tonne of amazing things to do on Nusa Penida. Seriously.
Most travellers who do visit Nusa Penida do so on day trips to dive and snorkel the pristine coral reefs that fringe the island – but more often than not they never actually step foot on the island.
Those who do allot a day or more to exploring the island will be rewarded in spades. There are quite a few breathtaking natural attractions scattered around Nusa Penida – think azure beaches, natural pools and hidden waterfalls.
Nusa Penida really is what I imagine Bali was like back in the '70s. If you're up for a little adventure and down to stray from the Kuta-Seminyak-Ubud circuit of Bali, then I highly suggest a visit to Nusa Penida.
 This post may contain affiliate links. If you make a purchase using one of these links, I might get paid a small commission at no extra cost to you. Please read my disclosure for more info 🙂
1. Visit Kelingking point
Thank god for Instagram because I would have had no clue this place existed on Nusa Penida if I hadn't seen it on Instagram. It might be a bumpy, and slightly treacherous, scooter ride to get there from the port town of Ped, but man is it worth all the effort.
The drive along the coast offers stunning views of the ocean, small villages and windy mountain roads. Because Kelingking is so isolated and difficult to reach, not many people go there so you can be sure to get those perfect insta photos you dream about!
Traveler's Tips: The roads leading from Ped to Atuh Beach are surprisingly well marked. The road does, however, get very rough, sandy and basically non-existent towards the end so be extra cautious when driving there.  Once you get there, a man will ask for a Rp 5000 fee to enter.  Visitors can trek to the beach at the bottom, however I believe it is closed off most of the time due to it being unstable and dangerous.
2. Explore Crystal Bay
Crystal Bay is a popular spot for tour boats shuttling tourists around on snorkeling and diving trips. Despite being a renowned spot for spotting sea life, there are still very few people here.
When I travelled here on New Years Eve I had the beach virtually all to myself. Crystal Bay is a pretty special beach, and a great place to slap on a mask and fins and explore the sea life.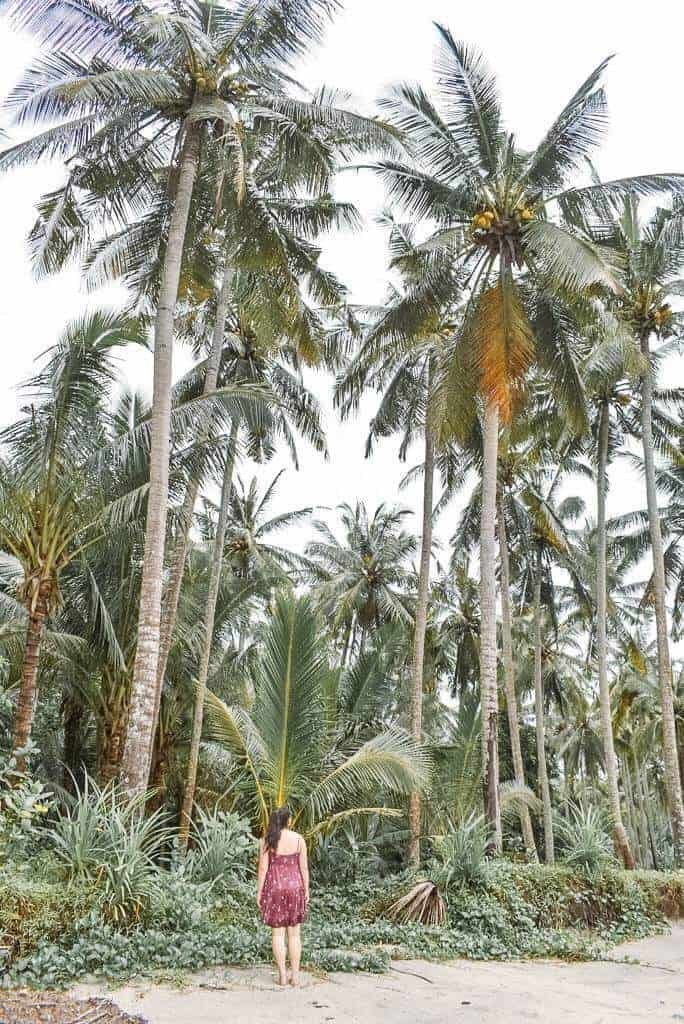 Traveler's Tips: The roads to Crystal Bay are very well marked and relatively smooth from Ped. While drinks do appear to be served at a beach shack, it might be best to bring your own food if you plan on staying here all day.
3. Gawk at Broken Beach
Broken Beach is a stunning natural formation on the coast of Nusa Penida. Despite its name it's not actually a beach. It's a natural bridge that makes for an unreal setting. It's a bit of a walk to get there but it was SO worth it. The unreal turquoise waters make for incredible photos. Just be warned- tourists will be buzzing!
Traveler's Tips: The drive to Broken Beach from Ped will likely take just over an hour. There are two roads pointing to Broken Beach which are both fairly rocky and after a big dumping of rain (which we experienced) it will be quite muddy and easy to get bogged. There is an entrance fee of Rp 5000 (I think).
4. Enjoy the view at Angel Billabong
Angel Billabong is the stuff Instagram dreams are made of. It's basically a little lagoon, set in the middle of the black and craggy volcanic rock. It's located on a cliff right down the path from Broken Beach (see above). Nusa Penida's massive waves crash into the cliff and splash water into the lagoon. It is possible to swim in the lagoon at certain points of the year (something that's super popular) but be warned that people have been swept out to sea by the powerful waves so most locals say it is ill- advised.
Traveler's tips: Angel's Billabong is literally right down the pathway from Broken Beach, maybe a two-minute walk.
There are so many other things to do on Nusa Penida, including diving and snorkeling excursions, seeking out hidden waterfalls, hiking to temples and spotting manta rays right off shore. The things I listed in this post are just the things I personally did during my day trip to the island but I would love to go back to see more!
Have you ever been to Nusa Penida? What else would you add to this list?