We are constantly reminded about all the amazing things that travel can do for us: it can expand our minds by promoting intercultural understanding and showcase the interconnectedness of humanity. Travel provides us with the ability to search deep within ourselves for the answers we often didn't know we had. It helps us grow into better and stronger people (not to mention all that amazing Instagram content it gives us…).  What is often swept under the rug is the not so amazing things that travel can do for our planet. Did you know that the tourism and travel sector is one of the key sources of greenhouse gas emissions worldwide?
By adopting an eco-friendly mindset on your travels, you will be working to protect the very places that you visit; not only for yourself and future travellers but also for those who continue to live there long after you return home. As if this isn't reason enough to adopt an eco-friendly mindset, sustainable travel also boasts the added benefits of providing you with a more authentic travel experience through the places you visit and the people you meet along the way.
The next time you plan a holiday, make sure you include these 8 ec0- friendly travel tips into your plans to ensure you are not harming the environment!
Take the road less travelled
Every year, the world's most popular tourist destinations are trampled by thousands, if not millions of tourists at a rate that the environment is unable to recuperate from. With a spike in tourism across the world in the last ten years, it doesn't take much imagination to comprehend how this influx of tourists is going to destroy the already fragile environment.
It's easy to want to visit the main attractions of every location you visit. Trust me, I've been in the same position. But wouldn't it be better (and far more exciting) for tourists to spread out to allow the environment time to recuperate from the impacts of tourism? With a little bit of research, you can often find even more amazing locations not too far from the popular tourist attractions, with little to no people there! So next time you're off exploring, look further than the top tourist attractions. You'll be doing Mother Nature a great service.
Bring a reusable water bottle
If there is one tip I want you to take away from this post, it's this one. Given the fact that one plastic bag or bottle can take hundreds of years to decompose, the simple act of packing a reusable bottle can make your holiday more eco-friendly. Having visited 33 countries and never had an issue with water, I can honestly say that unless you are visiting a third world country where the water isn't safe to drink, you will never have a problem finding a place to fill up your bottle. Most locations these days have public drinking fountains located around the city. This makes it easy to fill up your bottle all day. Another great benefit from having a reusable bottle is if you happen to be hiking in places like Norway or New Zealand, you can find some of the purest drinking water on Earth to drink from.
Travelling to South East Asia where the water isn't safe? No problem! All you need to do is bring a small water filter that easily fits in your backpack and can make drinking tap water safe! This was a lifesaver in Cambodia when my roommate let me filter water to brush my teeth every night (I was notorious for forgetting to buy water!).
It is important to consider the impact of other items when travelling too. For example, straws, plastic bags, food containers, etc. Travellers are usually the ones endorsing most of these items because of the nature of being out in a different location so often. If there are a few items I always take with me on a holiday its a metal straw, biodegradable cutlery, and a reusable bag to put my shopping in. These small steps can have a huge positive impact, so make sure to include them when packing for your trip.
Make like a local and take bus, bike or walk to get around town
This is definitely one of my most used tips for everything I write about on One World Wanderer. Not only can these small steps be cheap for your pocket and allow you to explore more of the local culture, but it is also the surest way to minimise your environmental impact by reducing your emissions footprint.
It's a win-win for everyone.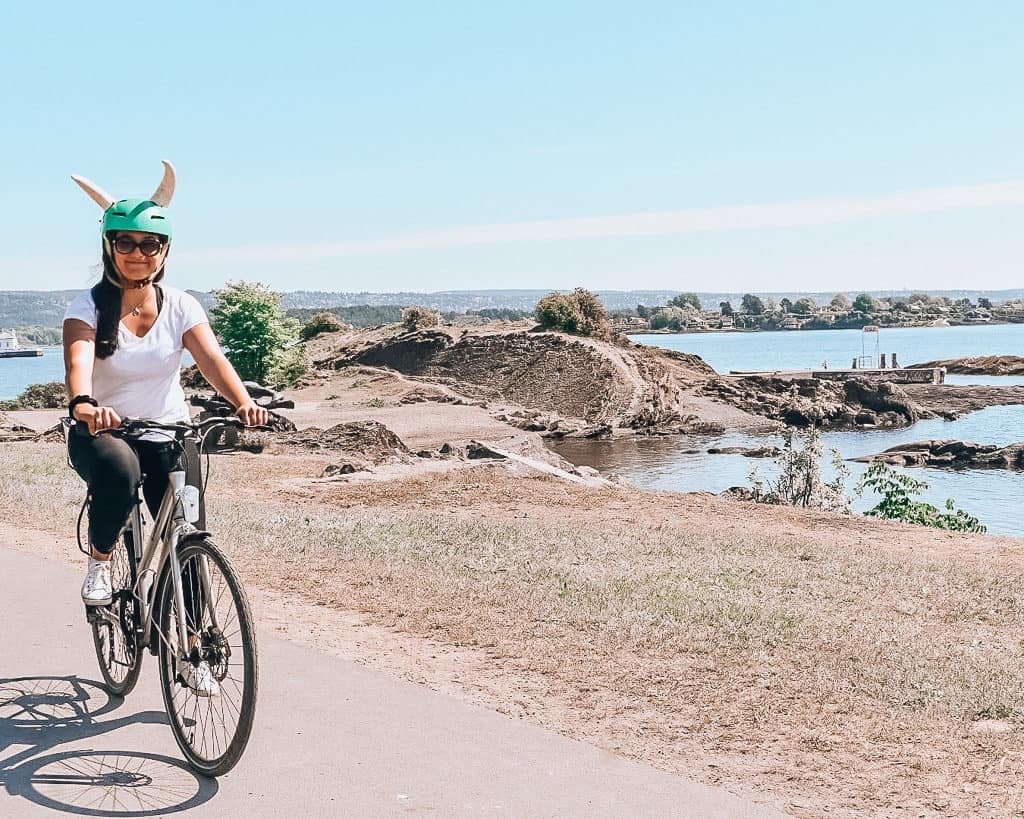 4. Stay in eco-friendly accommodations 
As the changing climate becomes an increasing concern worldwide, hotels are adopting eco-friendly initiatives to minimize their environmental impact. When choosing a hotel it's best to get a sense of the company's environmental ethics. You can do this by emailing them to ask a few questions. Example questions include: What recycling programs does the hotel currently have in place? Is the hotel locally owned and operated and/or staffed by local employees? What programs does the hotel currently have to reduce its energy consumption?
Another option when looking for accommodation is to completely avoid hotels. Why not stay in locally owned or traditional venues? When I stayed in Ryokans in Japan I was amazed to learn just how much it helped the local business stay on their feet. Another benefit is that they also allow you to stay away from the bigger corporations that tend to ignore the environmental issues their buildings are causing. This also works with homestays and AirBnB's.
   5. Abide by the rules in National parks
Governments don't spend money and time building boardwalks and putting up ropes for the fun of it. If there are signs telling you to do or not do something, you need to listen. Boardwalks in parklands serve a number of vital purposes. Firstly, they provide safe and easy access to locations that may otherwise be difficult to get to. Secondly, they are vital tools for enforcing conservation measures as they confine visitors to a set path, making them less likely to go off-trail and cause damage to fragile ecosystems.
It's the same in every environment. The world is suffering from the negative impact of humans, and we need to be more conscious of where we are putting our hands and feet.
     6. Remember the simple things
Forgetting about the importance of eco-friendly travel can be easy. However, remembering the simple things whilst travelling is just as important as when you are in your own house. Before leaving for your travels, be sure to research your destination and identify any water or resource shortages. Some simple practices to remember when travelling include: not taking long showers; switching off the tap whilst brushing your teeth and washing your face; turning off electronics, lights, and air-conditioning whenever you leave the room; reusing sheets & towels instead of having them washed and changed every day. These are the small things that can make a big impact. Be mindful and not wasteful.
     7. Explore with green tour companies
Similar to green hotels, an increasing number of tour companies are adopting an eco-friendly, sustainable approach to tourism. Before booking a tour, it is best to pay a visit to the company's website to research their environmental ethics. From experience, if a company is environmentally conscious it will boast about its relevant policies and practices on its site. Particular things to take note of is how they contribute to the local community, where the money you spend is going to go, and how they respect the local flora and fauna. Don't be afraid to travel with a lesser known company if you think they are more eco-friendly.
          8. Say 'yes' to carbon offset programs
I'm sure you remember learning about photosynthesis back in your school days. Well, remember how trees convert carbon dioxide from within our atmosphere into oxygen? This is not only good for us but also good for the planet. Many organisations offer carbon offset programs that work to offset the carbon used to produce the product you are purchasing. They do this by funding reforestation and renewable energy projects. While it is better to concentrate your eco-efforts on shrinking your emissions footprint in the first place, contributing to carbon offset programs is a great plan B. Especially when booking flights.
What else would you add to the list to make sure your travels aren't harming the environment? Leave a comment below!