9 Winter Adventures in the Canadian Rockies
Planning a trip to Canada in winter and want to know the best winter adventures in the Canadian Rockies?
You could spend an entire season (or life!) in Banff/ Lake Louise and never get bored of things to do! There really is just that much beauty in this dreamy location!
I lived in the Canadian Rockies for a winter season, and although I feel blessed with all the experiences I got to have, there was so much more I could have done before I was forced to leave (Coronavirus sucks man!).
In this post, I am sharing with you 9 of the best winter adventures near Banff/ Lake Louise… and trust me, you need to try all of them!
Loving the winter vibes and Canadian wanderlust? Why not try a working holiday! If you want to read more about how to prepare or begin your working holiday dream, you can find all the information in part 1 and part 2!
First time in the snow or on a ski holiday? Read this post for all the best winter tips, tricks, and packing guides!
1. Go Ice Skating
Grab some skates and hit the ice somewhere magical like Lake Louise. You can hire skates from the sports area in the Fairmont for a really cheap price.
Lake Louise definitely isn't as popular in winter as it is in summer, and when the weather gets bad (as it usually does), you can have the lake almost to yourself. It is truly magical!
Be sure to check out the beautiful man-made ice sculptures and ice castle near the Chateau before you head inside for a toasty hot chocolate.
You can do a full Lake Louise winter tour from Banff that will take you to all the best winter locations around the Lake Louise area! This is an absolute must-do if you're taking a vacation in winter!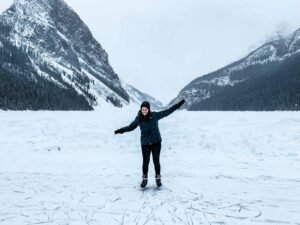 2. Hike Johnston's Canyon
Located about 30 minutes out of Banff townsite along the Bow Valley Parkway, Johnston Canyon is one of the most popular winter adventures in the Canadian Rockies.
And let me tell you, this Canyon walk won't disappoint you!
There are options for a short walk, moderate hike or even guided ice climbing tours. Visitors can marvel at frozen waterfalls, ice-climbers, icy turquoise streams, and snowy pine trees. Be sure to bring some ice cleats or spikes, and maybe a snack or two.
You can take a tour through Johnston's Canyon in the morning, afternoon, or night. I highly recommend this one, as I feel it gives the best value for money!
To read all about my hike along Johnston's Canyon and everything you need to know, check out my latest post!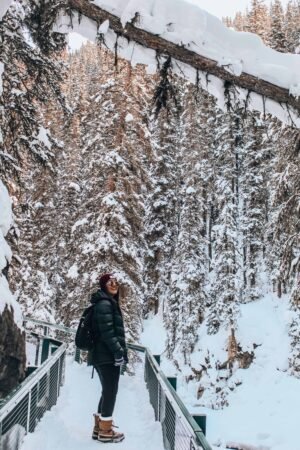 3. Hit the slopes!
One of the best things to do in winter is to find yourself skiing or boarding. I mean, what is a winter adventure in the Canadian Rockies without hitting the slopes?
Banff is located near some of the best snow terrains in the world – the Big3 (Sunshine Village, Lake Louise, and Mt. Norquay). All three resorts are unique in their own way, so it's awesome to have the opportunity to check out all three (which you can easily do on a Big3 ski pass!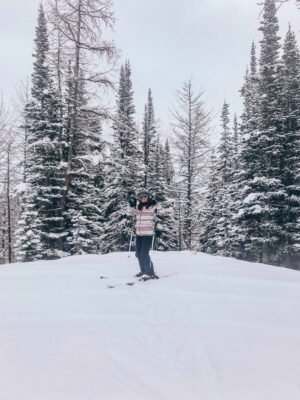 Sunshine Village has insane mountain views, great snow and they even have a heated chair lift for those extra chilly days. Sunshine Village is located just outside of Banff and sits in the valley of a beautiful set of mountains. One of my favourite things about Sunshine is the gondola you have to catch to get up to the village, and the long ski out you can do to get back down to the base.
Lake Louise has a difficult terrain, but in my opinion, some of the best views in the world (okay, I might be a little bias, having worked there and all). There are also some delicious dining options mid-mountain, meaning you can spend a day on the slopes and still dine like royalty.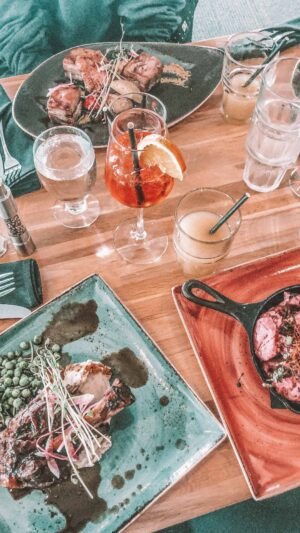 Mt. Norquay has a large tube park (bigger than Lake Louise), as well as night skiing for something a little different!
Gear can be rented at the resorts or in Banff townsite, or better yet, invest in your own gear and fall in love with skiing!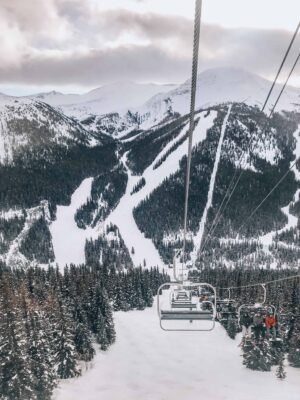 4. Explore some of the frozen lakes
Wintertime is perfect for capturing the frozen lakes and snow-dusted mountain peaks around Canada. In fact, frozen lake hunting is one of the best winter adventures to do in the Canadian Rockies because it is entirely free!
Some of my particular favourites are Lake Louise, Abraham Lake, Sherbrook Lake, and Lake Minnewanka, but the list is endless.
Sunrise and sunset are both beautiful times of day to visit these areas, however, day trips are also perfect, as in winter many of these lakes are quiet.
Read this post for my favourite lakes in the Banff/Lake Louise area.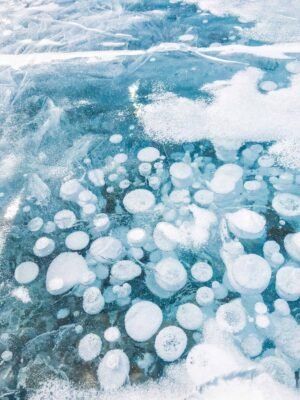 5. Drive the Icefields Parkway or Bow Valley Parkway
You can easily explore at least the first section of the Icefields Parkway (Highway 93) on a day trip from Banff, or if you are really game, rise nice and early for a full day trip. This stunning scenic drive will wind you past beautiful mountains and glacier-fed streams. Some must-see stops include Lake Louise, Bow Lake, and Peyto Lake. You could even consider popping into British Columbia to check out Emerald Lake in Yoho National Park (along the Trans-Canada Hwy).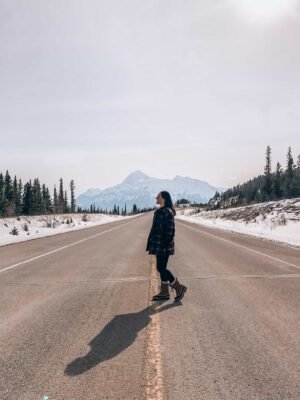 The Bow Valley Parkway is another fantastic drive that runs as an alternate, scenic route between Lake Louise and Banff. It runs parallel to the Trans-Canada highway, offering some of the most scenic views in the area. Some of my particular favourites include Johnston's Canyon, Castle Mountain, and the famous Morant's Curve (pictured below).
7. Go Dog Sledding in the Canadian Rockies
Who doesn't love dogs, snow, pine trees, and mountain views? Dog sledding is the ultimate winter experience to have on your visit to Banff! Howling Dog Tours run humane and ethical dog sledding adventures in Canmore (about 20 minutes from Banff). Be sure to rug up when you go- ski clothes are essential!
Read all about dog sledding on my birthday in my latest post!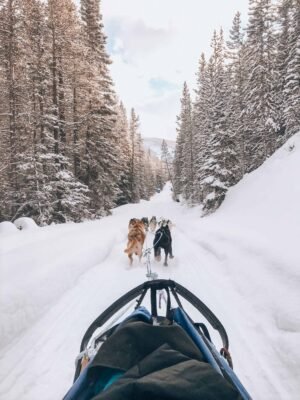 8. Go to some of Canada's best hot springs
Let's face it… relaxation on vacation is almost as important as the adventures you take! And what better way to relax after a day or exploring or skiing, than with a dip in the hot springs?
I only had the opportunity to visit the Banff Upper Hot Springs, however, I have heard fantastic things about Radium Hot Springs as well.
9. Go Snow Mobiling in the Canadian Rockies
One of my Canada highlights was the day I got to try my hand at snow mobiling with White N Wild. Being able to soar through the trees, fly up abandoned roads, and explore some of the most beautiful back-country terrains was without a doubt one of the most thrilling and enjoyable things I have ever done. Snow Mobiling was by far one of my favourite winter adventures in the Canadian Rockies, and I highly recommend you check it out if you're ever in Canada!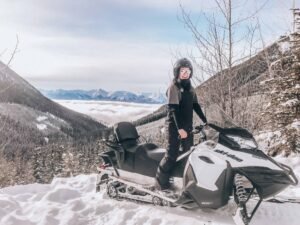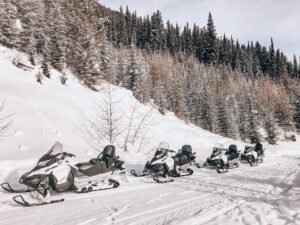 Other winter adventures in the Canadian Rockies
There are numerous other options for winter adventures near Banff and Lake Louise. You could check out the Banff Sulphur Mountain Gondola, take a Banff winter wildlife tour, take a helicopter ride out of Canmore, try snow shoeing in Lake Louise, cross-country ski to Moraine Lake, and so much more! As I said, Banff has endless opportunities for adventure in the winter.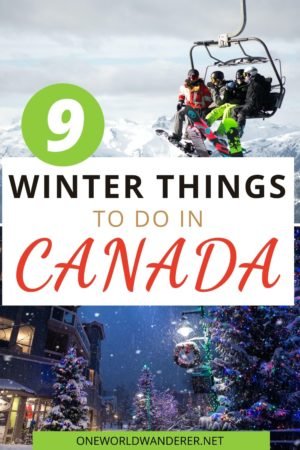 For more winter adventures in the Canadian Rockies, check out these related articles:
Dog Sledding in Canada: to do or not to do?
Your Ultimate Canadian Bucketlist
Johnston's Canyon: Everything You Need To Know About Hiking It