Bosnia and Herzegovina- a Must-Do on your European Vacation
Bosnia and Herzegovina was always on our route when we were travelling around Eastern Europe, but not somewhere we had done a lot of research on. We had, of course, heard about the Bosnian war in the 90s and knew of some of the main attractions in Sarajevo and Mostar, but that was about it.
Bosnia and Herzegovina's cities and towns are full of interesting things to explore, and the mix of stunning scenery and crazy roads mean you'll never be bored getting from A to B!
I loved our time in Bosnia and Herzegovina, so much so, I am itching to get back as soon as I can go back to Europe!
Here's why Bosnia and Herzegovina is an absolute must-do on your European vacation!
Note: This post contains affiliate links. If you make a purchase using one of these affiliate links, I get paid a small commission, at no extra cost to you. 🙂
Nature that is to die for!
Driving through Bosnia and Herzegovina was a real treat. Nowhere else in the world have I felt my jaw literally hurt from how wide it was in awe. And considering I have been to Norway, Canada, and New Zealand, that's saying something!
We had heard about the cities in Bosnia and Herzegovina but didn't know just how beautiful some other parts of the country would be. Huge mountainous regions forming stunning valleys, crystal clear rivers and leafy forest paths.
If you're a lover of nature, Bosnia and Herzegovina should be right at the top of your travel list!
The towns are super cute!
In contrast to the striking scenery throughout the country, Bosnia and Herzegovina has some beautiful towns with cobbled streets, bridges and castles. The most famous of these is Mostar which has become a very popular tourist destination. The old town in Sarajevo is also a great place to wander, with markets that make for a step back in time. Počitelj also has some impressive castles and is not far from Mostar.
The prices are super cheap!
Bosnia and Herzegovina is a budget travellers paradise. Food, drink and accommodation are all affordable, even in the cities. I've also heard that free and wild camping is very easy, and there are many beautiful and cheap campsites that can help keep your travel expenses down.
A meal costs around €4 and a beer is €1 or less in a bar/restaurant. That's bloody cheap if you ask me!
The local currency is Bosnian mark and when we were there it was around 2BAM = €1.
The history will blow your mind!
Arriving in Bosnia and Herzegovina we found ourselves lacking in knowledge about even the most recent history. Even as a history major at university, the only time we had even remotely covered the Baltics was to discussion of the major wars, and usually it was just touched on (despite playing a pretty major part). If you weren't aware, many people believe that WWI actually began in the heart of Sarajevo with the assassination of Archduke Franz Ferdinand of Austria, heir presumptive to the Austro-Hungarian throne.
A long and tedious history follows the country, with countless horrific bombings, wars, and ownership of the country.
A bit of googling and some visits to museums will help you gain more insight into some of the tragic events that have taken place in the recent past, and I highly recommend you go in search of the information! It will transform your opinion on the country that has so wonderfully bounced back!
Bosnia and Herzegovina also has a fascinating ancient past! In the old towns, such as Mostar, it is easy to discover the more ancient past from the Ottoman Empire and Austro-Hungarian rule just by walking into some of the older museums and art galleries.
It's still relatively untouristy!
Compared to other areas of Europe and neighbouring Croatia, Bosnia and Herzegovina remains pretty calm on the tourist front. Outside of Mostar and Sarajevo there were very few Western tourists to be seen, and even in these major locations, you feel like a true foreigner. English isn't widely spoken, and you often can walk for blocks without seeing another tourist!
This will most likely change as countries like Croatia and Montenegro become more expensive and Bosnia and Herzegovina establishes itself on the tourist scene. But for now you can enjoy some beautiful nature and cute towns without the crowds.
The food is delicious!
It's hard to distinguish which food is specifically Bosnian and which is from the Balkans in general as most of this area used to be one country. But nevertheless, you'll find some great food here at really affordable prices. We lived off lunches of Burek, which is basically a filo pastry tube filled with a choice of meat (or no meat if you're like me), cheese, spinach or potato and only about 75c per piece! There were also countless other meals, and a delicious array of sweets we found ourselves craving upon returning home!
Bosnia and Herzegovina also has some decent local beers to try.
Another thing we fell in love with, was the fruit! Cherry's and strawberry's in particular. Never have I ever come across such delicious, fresh fruit!
There are so many bucket list things to do in Bosnia and Herzegovina!
Splash around in Kravice Waterfalls
Swim under the rushing Kravice Waterfalls on the tour away from Mostar.
Explore the medieval town of Pocitelj
The next stop on the tour was the tiny old medieval town of Pocitelj. We got to climb up the watchtower and gaze from the archer's platform. It was a nice stop to have our guide explain the history of these people.
Visit the Blagaj Dervish House Monastery
One of my favourite stops on our tour, and the number one place I was dying to visit in Bosnia and Herzegovina, was the Blagaj Dervish House Monastery at the foot of a cave.
Legend has it, scientists don't know the source of the river that flows beside the monastery. *cue spooky music*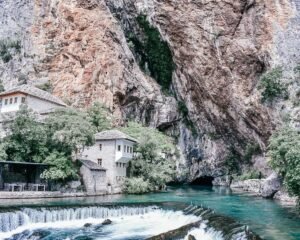 Walk across the Old Bridge (Stari Most)
Possibly the main attraction of Mostar is the Old Bridge (Stari Most). Once destroyed in the war, and built again to the same beauty, the Stari Most is one of the most iconic images in all of Eastern Europe.
Highly symbolic, the bridge literally is uniting two sides of the country. Walk across the bridge to get a view of the 24 meter (80 foot) drop to the water, and then head down to the river side and watch as jumpers collect money to put on a show for everyone as they dive into the river.
It's on the way!
Bosnia and Herzegovina is perfectly located for further exploration of the Balkans. With borders to Croatia, Serbia and Montenegro, Bosnia and Herzegovina is just a few hours from many other great destinations that should also be on your bucket list. It is definitely worth adapting your route to go through this interesting and beautiful country. You won't regret it!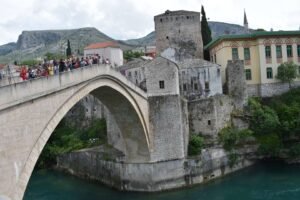 The Low Down
Camera gear I can't live without:
Travel items I can't live without:
Packing cubes (with laundry bags and shoe bags)
Booking a Tour? To book your tour of the beautiful places listed in this post, we used this group, and it was epic. Alternatively, check out the other tours Get Your Guide has to offer!
Need Travel Insurance? I highly recommend getting travel insurance before ANY international trip. World Nomad's offer the most flexible worldwide cover that I have come across, and you can purchase a policy online, even if your trip has already commenced.
Booking Accommodation? I always book with Booking.com. They are the most affordable and reliable search engine, with more hotels options than you can count!