Montenegro was a mystery to me.
I'm not entirely sure how we ended up here, because I had never heard of the place before Jaiden randomly booked us a day trip there. But it was such an experience!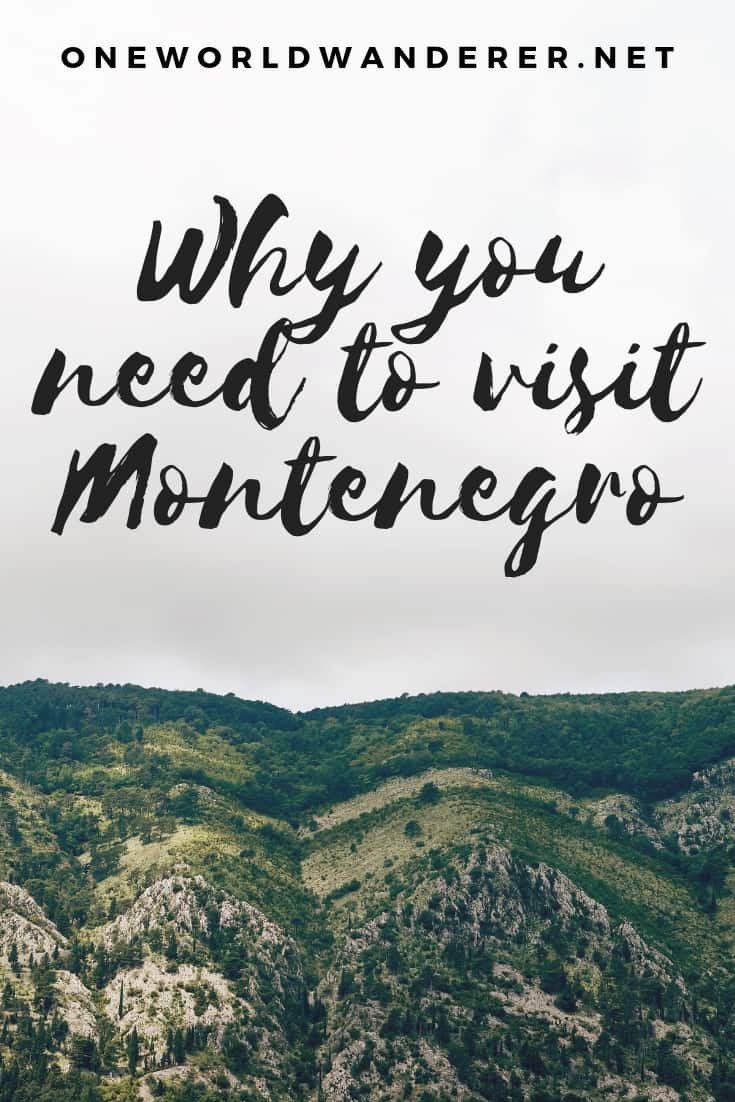 How to get to Kotor, Montenegro
We chose to do a day trip from Dubrovnik and travel to Kotor overland, via Budva. The journey takes about four hours via bus tour because of the longer wait at the border between Montenegro and Croatia and the scenic route through the countryside. There are options to fly to Montenegro, however, from what I have heard it is very expensive.
During our trip from Dubrovnik to Kotor it was immediately apparent why Montenegro has become such a hot spot for tourism. It's one of the fastest growing tourism markets in the world and when you drive through Montenegro it's easy to see why. Huge rugged mountains surround countless historical settlements perched at the waters edge in the Bay of Kotor, and that's not even including the small stretch of open coastline with clear turquoise waters or some of the most rugged terrain in Europe in the mountainous north.
The scenery of Montenegro blew me away at first sight, but I still knew little about this small Balkan country.

The history of Montenegro
Turns out that Montenegro has a rather turbulent history. Kotor is one of those places that's changed hands a lot, from ancient Rome, to the Republic of Venice, the Ottoman Empire, Austria-Hungary, Bulgaria, Serbia, France, Britain and finally Yugoslavia. Whew.
In 2006 Montenegro finally became an independent sovereign state, and ten years after independence they're still on the up and making a name for themselves, with hopes to join the European Union before too long.
At last count, Montenegro had 620,000 citizens from all sorts of ethnic affiliations. Depending on how people choose to identify themselves they might be Montenegrin, Albanian, Serbian, Croatian or something else entirely.
People in Montenegro might speak the official language of Montenegrin, technically a dialect of Serbo-Croatian, which can be written in Latin or Cyrillic, or they may speak Serbian, Croatian, Bosnian and even Italian. And as a random fact, Montenegrin people are some of the tallest in the world!
The first mention of Kotor has been found in 168BC (crazy old, just for reference) and the first Cathedral of St Tryphon was built in 1166, on the spot where the Cathedral stands today. Kotor was first fortified in the middle ages and the fortifications that surround the Old Town today are from the Venetian period, so it's no surprise much of the city also has a Venetian influence.
Kotor is surrounded by mountains, and with this kind of terrain often comes earthquakes. There have been many earthquakes around the Bay of Kotor and Montenegro, including one in 1979 which destroyed half of the Old Town. Despite that, Kotor is still one of the best preserved medieval old towns in the region.


So what is there to do in Kotor?
Kotor is one of those places where you can just "be". You could see Kotor in one day if that's all you had (and we realistically only had about three hours there), but it's a perfect spot to relax and soak in the atmosphere of the Balkans if you do have longer. I fell under the spell of this charming little city from the moment I stepped foot through the big, medieval doors. There are many hidden gems to be discovered and I highly recommend you add them to the list!
Wander around Old Town Kotor
We spent the majority of our time just exploring the Old Town of Kotor. Although it's somewhat similar to Dubrovnik, it's much more compact. It is easy to get lost and discover little alleyways, whilst not being able to find others at all.
Because Kotor is a UNESCO World Heritage site it's been kept relatively authentic, and big changes can't be made to the architecture. By comparison, Budva, located on the coast half an hour away, is a bit like a giant shopping mall with glass cases advertising goods outside shops and neon lights everywhere, including pink ones on the old walls!
There are several churches in the Old Town of Kotor open at various times and you can visit them if you're clothed appropriately, with your knees and shoulders covered.
Also, the cats of Kotor provide endless entertainment. Many of them seem to be homeless, but well looked after, and they're friendly too.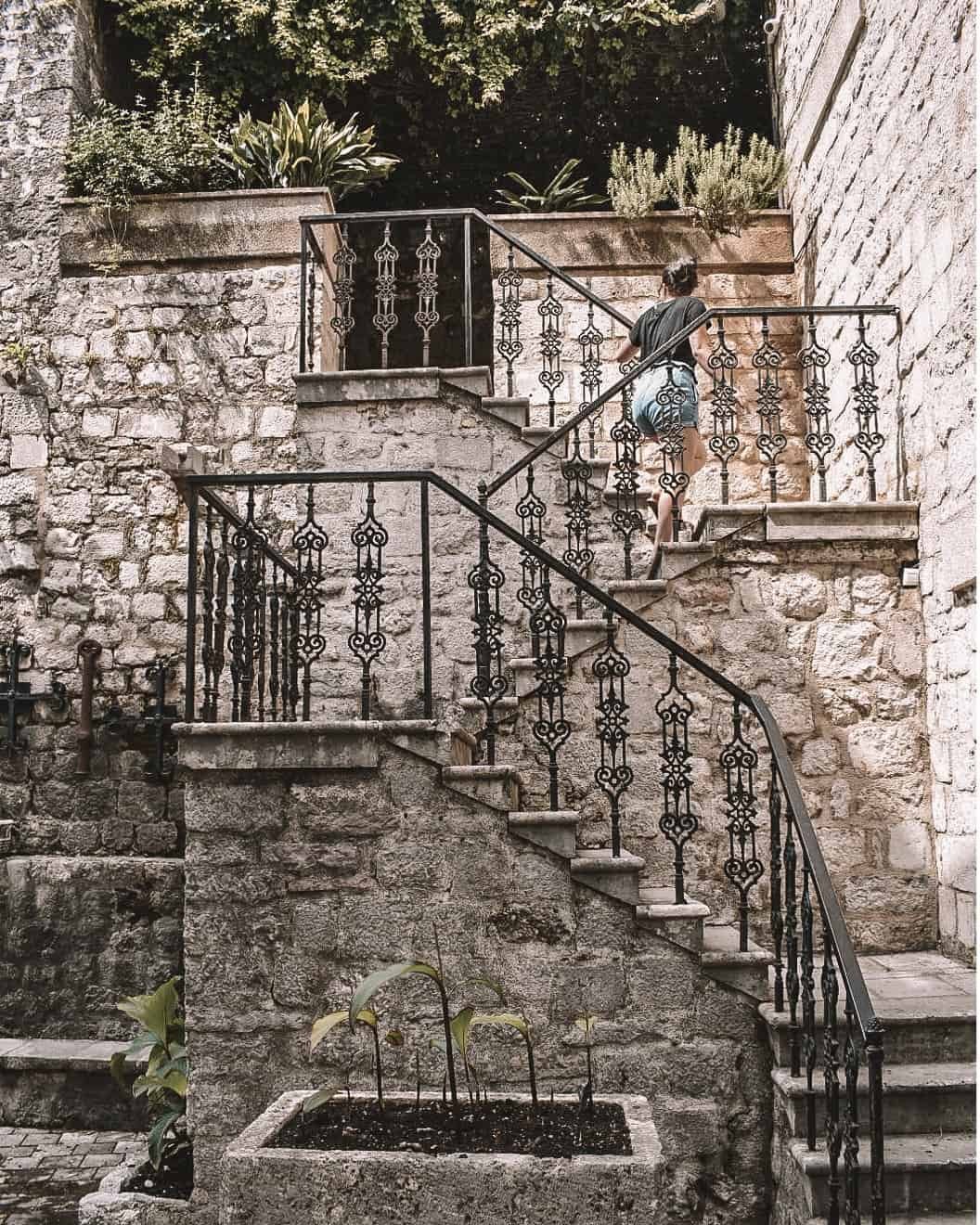 Kotor Fortress and City Walls
When you look at Kotor from across the bay you can clearly see the ancient city walls that stretch for 4.5km around the hillside above the city. Climbing the fortress is probably the top thing to do in Kotor. It doesn't take too long and there's plenty of stops to take a break and enjoy the view on the way up.
Unfortunately, due to time and bad weather throughout our visit, we did not venture to the top of the walls. They were absolutely stunning though, and from some of the pictures I have seen of people making it to the top, it is so worth the hike!
The beach near Kotor
Stroll right out of the Old Town and you'll reach the beach of Kotor. Ok, so it's not really a beach. It's more like a stone shore with some loungers, umbrellas and a roped off space of water where you can hurt your feet on more sharp stones before plunging in as soon as it's deep enough.
The beach of Kotor is good enough to be refreshing on a hot day and give you some "beach" relaxation time if you need it. For the true beaches of Montenegro, you need to head down to the coast half an hour away. This is where you'll find the party, resort town of Budva and the beaches on surrounding coastline.
So, have I convinced you to make the trip and visit Kotor in Montenegro?
Love,
Abbie xoxo