Want to earn free travel vouchers for walking?
Need some motivation to get off the couch and move your body?
The Sweatcoin app is the best way to make this happen!
11 million users have already increased their physical movement by 10-16% since downloading the app, and these people are cashing in their steps to get free travel vouchers for walking!
And all because they downloaded an app!
Looking for other ways you can make money online and budget? Check out these posts:
17 easy ways to earn money online without having to get a real job!
19 Ways to Cut Your Expenses So You Can Afford Your Dream Trip
46 Easy Ways to Travel on a Budget
8 Easy Ways to Travel as a Broke Student
How to travel more while studying and working full time, and how you can too!
What is Sweatcoin?
Sweatcoin is a free smartphone app that converts your outdoor-steps into 'sweatcoins' using a two-part, step-verification algorithm:
Part One: The Sweatcoin App counts your steps using your phones built-in pedometer.
Part Two: To ensure you're not sitting on the couch shaking your phone to earn free money, the app collates your step-count with your geolocation to verify that you are outdoors and moving.
If your steps are authentic, then every 1,000 steps you take will earn you .95 sweatcoins. Save up your coins and spend them in the SweatCoin Marketplace in exchange for travel vouchers to see the Northern Lights, a 5-day trip to Disneyland, or PayPal money!
Is Sweatcoin legit?
Sweatcoin's mission is to promote a healthier society. They have 5 health professionals on their board of advisors and have partnered with governments and insurance companies to help reduce healthcare costs.
So yes, Sweatcoin is legit in the sense that they give you free stuff for walking.
And yes, their Trustpilot reviews are glowing.
But most importantly, Sweatcoin is legit because their app actually encourages users to be more active. British Journal of Sports Medicine has concluded that Sweatcoin users are +20% more active each day, even after 6 months of first downloading the app. I know I am!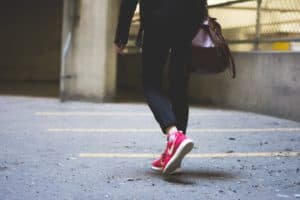 How Do I Earn Money With Sweatcoin? 
Now for the good stuff about how to earn free travel vouchers for walking!
There are 3 major ways to earn money with the Sweatcoin app:
1. Walk, Run, Skip, Hopscotch: As long as you're moving, you're earning free sweatcoins (aka free travel vouchers). Put your phone in your pocket, have the app running in the background, and convert your steps into sweatcoins each time you step outside.
2. Daily Bonus: Watch a short 30-second advertisement and get paid a bonus sweatcoin. If I walk 1,500 outdoor steps I can access three bonus videos (i'll usually just put my phone down and come back to it because who actually watches ads?). From these videos you can get anywhere from 0.5 to 25 sweatcoins!
Other bonuses pop up every now and then. Throughout the Coronavirus outbreak, sweatcoin was offering 5 free sweatcoins a day (around 5,000 steps) for doing 20 minutes of exercise. I would usually pair this with a walk outside, and bam! I had my daily workout goals reached, and I was putting aside sweatcoin money to put towards free travel vouchers when travel reopened!
3. Refer A Friend: If Sweatcoin has encouraged you to get outside and be healthy, then you can recommend Sweatcoin to a friend. When they download the app and create their account, 5 sweatcoins will be added to your Sweatcoin wallet.
Here's my sign up link if you're interested in checking it out! (It's super easy to do!)
The Sweatcoin logistics to help you earn free travel vouchers for walking
Sweatcoin's basic membership allows you to earn up to a maximum of 150 sweatcoins per month (5,000 steps per day). But if you walk more than this each day, you can increase your earning's cap so you can earn more free travel vouchers for walking.
Upgrade your membership—the fee is paid in Sweatcoins which means it doesn't cost you anything other than your steps—to ensure you get paid for every step you take.
Sweatcoin App Membership Levels:
Mover  –  Earn up to 150 sweatcoins per month
Shaker  –  Earn up to 300 sweatcoins per month (Cost: 4.75 sweatcoins per month plus a free month at the beginning.)
Quaker –  Earn up to 450 sweatcoins per month (Cost: 20 sweatcoins per month)
Breaker–  Earn up to 600 sweatcoins per month (Cost: 30 sweatcoins per month.)
I generally walk outside every day, and when I travel, I walk way more than the daily average, so I upgraded to Shaker in the first week I had the app downloaded. I can earn up to 10 sweatcoins per day, as well as bonuses.
It literally takes one click to upgrade your account, so don't be put off thinking it is hard work. The app is easy to use and super simplified to make the experience a breeze.
How to make every step count and earn more free travel vouchers
Don't 'force close' Sweatcoin
You know when you double-tap the home button and you're presented with all the apps currently running on your phone? You know how you can force close apps from this screen? (or whatever you do on your phone to close the open applications).
Do not force close Sweatcoin; keep it running in the background so that every step you take can be counted and converted into free travel vouchers.
And don't worry about the geolocation draining your battery: the app has been engineered to be extremely battery efficient while running. When your phone is in motion, the geolocation setting is turned on; when you are not in motion, the geolocation setting turns itself off.
Double your Sweatcoin income
Sweatcoin allows you to transfer your sweatcoins to different users. Normally you wouldn't use this feature, but if you have a walking partner, a friend, or a partner, it's a great way to double up on your Sweatcoin income. When you find an item in the marketplace you'd like to redeem, such as a travel vouchers, have your friend or partner send you their points and redeem the item. It's the perfect way to build up your coins quickly and purchase bigger items!
Sweatcoins never expire 
Ever. You have all the time in the world to save up 20k sweatcoins and get yourself that free 5-day trip to Disneyland or redeem it for $1,000 Paypal cash. Even though it might take a year or two, I think that 24 months is worth it for a big-ticket item that could help me travel more.
You have to walk outside
Due to Sweatcoins two-part verification system, you cannot remain in a fixed location while walking, so your steps have to be outside. This is to prevent cheaters who want to shake their phone while sitting on the couch to earn free Sweatcoins.
Sometimes, it sucks. Particularly on rainy days, when you want to rest, or if you work indoors. But according to the company, they are working to update it in in the future to include steps taken inside!
In saying this, some of my inside steps do get counted. So it's worth having the app regardless!
Keep an eye on the Sweatcoin marketplace
They have tonnes of products that regularly change.
To give you a better idea of the marketplace- writing this post now, there are four huge offers (20k coins) involving a TV, flights, expensive headphones, and a $1,000 Paypal cashout. There are four bucket list offers (18k-20k) such as a 5-day trip to Disneyland, dining at the Eiffel Tower, seeing the Northern Lights in Finland. Two donation services for excellent causes are also offered, along with four offers that involve either free subscriptions to health or music apps or discounted rates on things you can buy (usually awesome items).
In my opinion, it is worth waiting for the bigger bucket list items, but I have seen a few things pop up that are within my price range that has tempted me.
To start saving your steps for free travel vouchers, sign up here!
Pros and cons of Sweatcoin
Pros:
Earn free travel vouchers: You need to exercise, one way or another. Sweatcoin wants to help you do it, and reward you in the process.
It works automatically: Keep Sweatcoin running in the background on your phone so that it can track your steps automatically. As long as you have your phone in your pocket, 

you'll be getting paid

The big-ticket items: Those rewards make sweatcoins as good as cash.
Cons:
The marketplace is lacking: You're not going to find too many items in the Sweatcoin Marketplace, but then again, they're all free so it's still pretty cool.
It takes time: This is the only real unfortunate thing about the app. If you are impatient, or you lack the ability to get in a decent amount of outside steps, it is going to take you a while to be able to purchase those bigger items.
Is Sweatcoin a scam?
After several months of testing out the app, I can confidently say Sweatcoin is not a scam. You can earn real money and receive free travel vouchers from simply walking outside!
I can't stop thinking about the number of steps I have taken throughout the years of travelling. I could have earned thousands of sweatcoins and earned even more free travel vouchers!
Download the free Sweatcoin app here and start getting paid to walk!