Have you always wondered how making money online is possible for some people? Does the idea of working for yourself, setting your own hours, and being in control of how much or how little you make sound appealing to you? If so, you might want to think about teaching English on Palfish!
As a freelancer without a steady income,  I decided to start teaching English online in April 2020 for a few hours a week as a way to build on my online work and income. After researching many of the different ESL online teaching platforms, I decided to apply to Palfish as it stood out the most to me!
I want to make this clear in the beginning that prior to teaching with Palfish, I had no experience teaching. In fact, I had never even had a conversation with a child!
But since signing up with Palfish in May 2020, I have increased my online income and fallen in love with the idea of teaching children English.
In this article, I will explain how to make money online by teaching English with Palfish. I will be answering any questions you might have about teacher requirements, the salary, the application process and the lessons themselves.
Curious about other ways you can make money online? Check out these posts:
How to earn free travel vouchers by walking
17 easy ways to earn money online without having to get a real job!
8 Easy Ways to Travel as a Broke Student
**If you choose to work for Palfish please use my invitation code: 91355193. This will mean I become your mentor and can coach you through the whole application process. Once you sign up, please just send me an email, or message me on Instagram, and I'll be happy to help! :)**

What Is Palfish?
Palfish is an app available on both Apple and Android stores. The app is a teaching platform able to be done entirely on your phone (one of the perks!) where you- the teacher- get paid to teach English to students from China. It is a super fun app that is easy to use.
Teaching is broken down in two ways: The Official Kids Course and Freetalk. Both of these will be discussed later in this article. 🙂
Why I Decided To Teach English On Palfish
There are hundreds of apps and websites out there you can sign up to use to teach English online. In my research of which ones to sign up to, Palfish was always one of the top companies that stood out from the rest. I also found it was the one most bloggers, Instagrammers, and location-independent people chose to use- so I had to give it a go!
Here are the main reasons I started with Palfish:
They accept all native English Speakers (many platforms only take Americans, but this one takes anyone).
Decent pay- better than what I was earning in my last two jobs in Canada and Australia!
It's very flexible – you can pick what time slots work best for you, making it perfect for travelling or busy people.
There aren't any set hours you need to work each week like some other companies, you just need to keep 8 slots open each week.
The lessons are already planned- so they are easy to learn and teach.
You can work directly from your phone, meaning you don't even need to travel with a laptop and you can teach from anywhere in the world!
Requirements For Teaching The Official Kids Course
The Official Kids Course is the main attraction of teaching English on Palfish because you have set classrooms that you can work with regular students on.
In order to do so, you DO NEED to be a native English speaker (USA, Canada, UK, Australia, New Zealand). There are exceptions for people who are not necessarily native but have citizenship somewhere or have a high level of English, but native is best.
You DO NOT NEED a university degree.
You DO NEED a TEFL or TESOL certificate. Almost every student on Palfish did their certificate online with International Open Academy for just $19! It's a 120-hour course but only took around 6 hours for me to do. You will then receive a digital certificate that you can upload straight to the Palfish App. You can sign up to do the course here. For travellers, it is a handy thing to have on your resume, as it can be used when looking for teaching jobs overseas.
You DO NOT need teaching experience. As long as you have an enthusiastic and positive attitude, you won't have a problem with Palfish.
You DO NEED to keep at least 8 slots open a week.

What Qualities You Need To Have Success As A Palfish Teacher
If this is your first foray into online teaching, or maybe you're just not sure how you'd fare, you can read through the things I recommend you have if you want to be successful as an online teacher with Palfish. 
You must have the ability to remain calm even during disruptions. Whether you have children bouncing around on the screen, internet interruptions, or mothers yelling at their kids, you need to maintain a friendly smile and stay calm and collected.
Parents pay a lot of money for Palfish courses and they have the right to know that you are knowledgeable enough to teach their children. You won't be needing a deep knowledge on all things grammar and punctuation, but you need to be fluent in English and have a good understanding of the basics in order to talk about it. 
You have to not just appear approachable. You MUST be approachable. Palfish has a pretty good community of teachers and students and you won't get very far if you think you are better than everyone else.
Teaching English on Palfish requires some preparation before class and evaluation after class that you don't get paid for. In the beginning, marketing yourself as the awesome teacher you are is also beneficial to get you a regular schedule, so be prepared to put in some hours.

Bladder problems, anyone? If you cannot sit for half an hour to 2 hours straight without wanting to go to the loo, this job may not be right for you.
This goes without saying, but you are working with children. If you want to be a pro at teaching english on Palfish, a level of patience is definitely needed. Especially when they are misbehaving.
Students and parents expect you to always turn up on time when they book you. You must always be able to show up and give 100% to your class. I find that even if I am tired (and you will probably have a few early or late nights with the app), as soon as I enter the classroom and see my kids smile, I am energised!
Are you willing to consistently promote yourself on Palfish and make your services valuable? If so, go ahead and apply.
Who Are Your Students?
The students you will teach on Palfish for the Official Kids Course are kids from China aged 3-12 years old. You teach the classes one-on-one, with a parent that is quite often sitting in the background.
When you start you will most likely be getting trial students- children who are trialling the app to see if they want to join. From there, if the students and parents decide they like you as a teacher, they will purchase a package and book regular slots with you.
What Are The Classrooms And Lessons Like On Palfish?
Every lesson you teach with the Official Kids Course is already planned, so you never have to worry about creating a lesson plan. Awesome for people like me who have no prior teaching experience! They are 25-minutes long.
The lessons are 20 slides consisting of fun and interactive games, songs, drawings, and colours that the teacher can interpret and teach in their own unique way. Each slide has a box down the bottom which will explain what you need to say and do, helping you understand the objectives of each slide. There are also filters to play around with if you want to make yourself look like a rabbit, or dog, or cow, and these are highly recommended to use throughout the class to make it super fun.
Below, I have attached two photos of a fun class I recently had with a student to give you an example.
How You Earn Money Teaching English On Palfish?
There are TWO main ways you can earn money teaching English on Palfish. First is the Free Talk option. This is a feature on Palfish where you can create your own classroom and lessons based on the people (mostly adults) you teach. They may want to learn something specific, or just practice their talking skills. There are no qualifications needed for this, and you have the ability to set your own rates!
The second way to earn money is with the Official Kids Course where you follow a prepared lesson. The pay is better here but you do need a TEFL or TESOL certification which you can do for only $19 here!
Each month, your income may vary slightly because it is based on how many points you receive. The points will be detailed in the section below, but essentially, the more points, the higher your level and this means the higher your pay rate will be. As a beginner, you will most likely sit around Level 1-2.
The payment for the Palfish Official Kids Course is between 55-75 yuan for a 25-minute class (which is around $23+ Australian an hour) depending on current exchange rates.
You also get a bonus of 200 yuan (around $40 AUD) every month if you teach for over 20 hours in a month, along with heaps more bonuses!
You'll be paid via Payoneer at the beginning of each month for the previous month's work. It is free and secure to sign up for, and easily transfers your money into your bank account in whatever country you are from!
Sign up to Payoneer via my link to receive $25 free!
You get points on Palfish for:
Teaching lessons (5-10 points)
Selling packages (if you convert your trial classes to an Official Kids Course student) (40 points)
Inviting other teachers to join (10 points)
Never being late to lessons (20 points a month)
Not missing any lessons each month (20 points a month)
Having 8 slots open each week (1 point a week)
The final way of earning money with Palfish is by referring other teachers to join.
For each referral that passes the Official Kids Course teacher application, you will earn 300 yuan which is approximately $60Aud. You will also have the ability to mentor the person who signed up under your referral link and help them if they have any questions about the interview process, or anything else Palfish related. It's a win-win for everyone!
To do so, all the person has to do is sign up to Palfish using your referral code. Here is mine if you would like me to be your mentor- 91355193. 
For anyone with a decent following on social media or has friends that may be interested in teaching online, this can be a great way to earn some extra money and also help out someone else! Travellers are particularly fond of teaching online because of the flexibility it offers!
Things You May Need To Help With Teaching English On Palfish!
A Payoneer account, so you can get paid! Remember, you can get paid an extra $25 when you sign up through this link!
A TESOL or TEFL certificate. Sign up with International Open Academy for just $19!
Palfish encourages you to buy a few props when teaching online to help engage and motivate your students, and I fully agree that this is helpful! Upon completion of the application process, Palfish will give you 100 Yuan (around $15AUD) to spend on props once you've been approved to the Official Kids Course- but you are more than welcome to invest in a few more.
Some fun prop ideas:
A fun Background
11 educational posters for learning, includes: ABC/Alphabet Poster, Solar System Poster, Shapes Colors Letters & Numbers
An extra reward system!
Something Palfish loves and often rewards is going that extra mile for your students. The happier and better the experience, the more likely you are to get lots of bookings.
One thing I love to do is have exciting rewards for my students. Although the app offers stars to give your students when they do something awesome, having something else that is cute and fun can be a good way of keeping the students engaged!
Build an Ice Cream Cone reward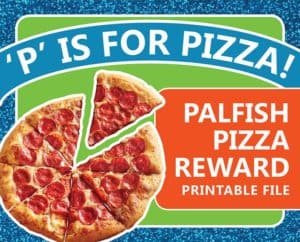 Another super awesome resource you may be interested in is the
Interview Survival Kit
which includes:
☆ A set of slide-by-slide flashcards to practice
☆ Paul, Shelly, and Freddy the fish
☆ Flashcards for all props in the "Hello, Monkey!" lesson (the trial and interview lesson)
☆ 1 gorgeous name tag. Most tags are customized within the day, but please allow up to 72 hours for customization.
☆ 2 posters with the PalFish logo
☆ 2 reward systems– plus a bonus one, the birthday cake!
☆ Additional props: emotions, day/night, a microphone
Blue Palfish Shirt
By no means do you need to have a shirt with a Palfish logo on it to teach with Palfish, however, I do think it is a nice touch to show the team you are serious! This is the shirt I recommend if you are interested in one with a logo.
A blue shirt is a requirement of Palfish, but again, any clean, professional-looking blue shirt will pass.
How To Apply To Teach With Palfish
Step 1 – Get your TEFL or TESOL Certificate
In order to teach English online with Palfish, you will need a TEFL or TESOL. If you don't already have a TEFL, TESOL or teaching certificate you will need to get one before applying to the Official Kid's Course on Palfish. I did my TESOL online with International Open Academy for just $19! It's a 120-hour course but it only took me a couple of hours.
Step 2 – Sign up to Palfish
Sign up to Palfish via your phone. You will need to download the app, and then enter your phone number to apply. If you are living in another country, you can use another phone number, so don't worry if you aren't home when you sign up!
Please use my invitation code: 91355193. I will be assigned as your mentor and will be able to coach you through the whole application process and answer any questions you might have.
Step 3 – Complete Information
The next step in your application process is to complete your information profile. This includes your chosen username, name, date of birth, text intro, audio intro, teaching certificate, proof of nationality and work experience.
To understand a good text intro and audio intro feel free to search me on Palfish- Miss Abbie and copy the layout of mine.
If you used my invitation code (91355193) you should also be able to easily find me as your 'inviter' under settings.
Step 4 – Create a Payoneer account
Payoneer is Palfishes preferred way to pay their teachers, and this happens at the beginning of each month for the previous month's work. You can join Payoneer via my link to make an extra $25!
Step 5 – Schedule your interview
Once your information is verified Palfish will evaluate it and invite you to an interview if you are successful. The Palfish interview is super quick and easy and basically just demonstrates how you would conduct a trial lesson. You'll be given the slides and materials in advance so definitely make sure you practice them! Your interview will be offline in your own time, pretending that there is a student on the other side.
Once you sign up- I will help you with preparing for your interview so you will be ready to ace it!
After the interview is completed, the next step is a quick quiz that covers the teacher's handbook. Don't stress about this– the handbook is given to you beforehand and is super easy to understand and answer.
Step 5- You're approved! Now set up your schedule!
Once you are approved with Palfish, you are officially a teacher. Yay! you will then be able to set up your schedule (see below). You will start to receive your first trials. The first two will unpaid as they are assessed by the teachers and considered your 'probation' period. Afterwards, you will receive a few more trials and you can begin earning money!
From the first day of teaching, you will be placed into a mentor group and two training groups to help you learn more about Palfish and the ways you can use the app to your advantage. It is super important to utilise every single thing available to you, as it will all benefit you in the long run!
My Experience Teaching English On Palfish
Teaching English on Palfish has been such a rewarding experience so far. 
In just one week of teaching classes, I had already made over $60AUD.
I know that sounds low for one week- but if there is one thing I have learned as a freelancer, things take time! And Palfish is no exception. Some people have luck straight out of the gates and get full schedules within the first month, while others do have to work a little harder to get regular classes. The beauty of this is that Palfish has an awesome training program in place for after you pass the interview, and so you can learn all the correct strategies you need to earn money teaching English on Palfish.
Compared to the hourly rate I had in my job prior to Palfish (on minimum wage in Canada), the pay is great! And with the pay structure of different levels and bonuses, it keeps you motivated and striving for more, because you can earn much, much more. 
But the icing on the cake, for me anyway, is you see your students improve by the day and it's all because of you. The children you teach are adorable. You get to watch them grow, have fun, and learn the wonderful language you know is going to help them so much in their lives and careers.
These little kids get inspired to dream and work hard and it's all because of me. That is the biggest satisfaction for me.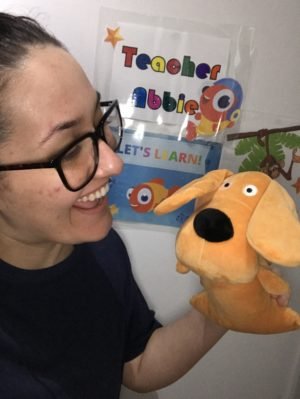 Pros And Cons Of Teaching English On Palfish
Pros
Freedom to work for yourself
As I have mentioned previously, Palfish offers the freedom to work solely on your phone. For many people (including travellers like myself), this is awesome. Being able to work from your device means you can work from virtually anywhere. You can travel and still have classes, and you can work without the need for a laptop or larger device.
I also love that Palfish allows me to set my own schedule. I can choose which hours or 'slots' I want to have open, and I can close and change these with each day and week that passes.
Classes are set
I love that each of the classes is already set within the app, so I can just review them before a class and teach my students! For someone without any teaching experience, I find this to be a really helpful way of ensuring I am doing the right thing.
Your classroom is yours
Palfish prides itself on allowing its teachers to have free reign over the classroom. They want unique teachers that make learning fun. I love that this means I can sing and dance and play with props to help engage my students. It makes it fun for both them and me!
Cons
Time zone differences
The peak times to teach on Palfish, where you can earn extra points and are most likely to be booked, are not always the best times for teachers! As an Australian, the time zones are pretty good, so I usually find my most popular classes are between 7-9:30 pm. Although I have my schedule open until 11:30pm and I have had an 11:00pm class before. However, for people living in the UK and USA, it is often early in the morning that students are booking, thanks to the time difference.
The popular times in China are:
Marketing yourself
I personally do not find this to be an issue, but I know some people are not a fan of the marketing process. Teaching English on Palfish is your own business, so marketing yourself as a teacher through the app and through the different features is a game you have to play yourself.
Upon signing up, you are entered into two training groups and a mentor group. These are really important to utilise as they give you all the advice you need to grow your students. For instance, taking advantage of moments (a social feed on the app), lives, and the reading app features can all put your face and name in front of other students! It is essentially a social media platform for the Chinese students and their families, so you sometimes have to treat it like one.
The penalties and fines are harsh
In order to stop tardiness, bad teaching, and misbehaviour on the teachers' behalf, the penalties are often really harsh. This is Palfish's way to weed out the people who aren't really serious about teaching with them, so it isn't really a problem. If anything, it makes you more motivated to be an awesome teacher!
Teaching English on Palfish comes with so many benefits – financially, personally and professionally. Although there are some cons, and every company does have cons so don't let that put you off, the advantages are well worth it.
I hope this article helps you understand how teaching English on Palfish can be fun, rewarding, and an awesome way to earn an income online. If you have any questions about teaching with Palfish or the interview process, please join with my invitation code: 91355193 and I'll be happy to coach you through joining Palfish!
Need some other ways of earning money online? Check out this post!