Have you ever dreamed of visiting Ireland? Stunning white-washed coastlines with cliffs looking something out of a fantasy novel, and places that are so unique they don't even sound real. The Giant's Causeway? Yep- she's real alright! And incredible to visit. Here, I've compiled a complete guide to Giant's Causeway Ireland- the bucket list UNESCO World Heritage location in Northern Ireland that will be sure to knock your socks off!
The Giant's Causeway is spectacular. It is so unique in its appearance that upon looking at it, you'll hardly believe it's real. A stretch of coastline with perfectly formed hexagonal columns, all massed together at the water's edge…it's truly one of the most amazing things I have ever seen.
Planning a trip to the UK/Europe? Check out these posts!
This is Why You'll Never Forget a Day Trip to Mostar, Bosnia
Tallinn Truly is a Baltic Fairytale
A City Guide to Kotor, Montenegro
Ultimate City Guide For Things to do in Madrid!
11 Things To Know Before You Visit Rome
Note: This post may contain affiliate links. When you make a purchase using one of these affiliate links, I get paid a small commission, at no extra cost to you. 🙂
What is Giant's Causeway and How was the Causeway Formed?
This wouldn't be a guide to Giant's Causeway Ireland without explaining exactly what the impressive location is (and why you should most definitely add it to your bucket list). The Giant's Causeway is a prehistoric part of Ireland, formed approximately 60 million years ago after a unique volcanic activity took place. It was the oozing up of basalt lava through the chalk beds and then the cooling that created an area of about 40,000 interlocking basalt columns.
There are many very rational (and boring sciency) reasons for the hexagonal shape of the columns, but the explanation I adore is the most interesting one of the myth of Finn MacCool. And when exploring the Causeway, it almost seems real.
Because of Finn, and many of his leftover belongings (like the very realistic giant's seat), this is where the Causeway found it's name.
The Irish tale goes like this: once upon a time, there was an Irish giant named Finn MacCool (because, you know, he was pretty cool). A long and tiresome feud raged between Finn and the Scottish giant Benandonner. They used to scream across the channel at one another so often, that Finn grew angry at his enemy, and grew ready to fight. One day, Benandonner challenged Finn to a fight, and Finn, being of great Irish blood, accepted the challenge. He built the causeway across the channel so that the two of them could meet. Eventually, when Benandonner charged across the causeway, Finn realised he was much, much larger than he had thought. He creates a number of hilarious and witty deceptions that eventually force the other giant to flee back to Scotland, destroying the causeway so Finn could not follow.
The giant basalt rock columns in Scotland support this legend, so who knows what's true.
When is the Best Time to Visit The Giant's Causeway?
A guide to Giant's Causeway Ireland wouldn't be complete without discussing the nitty-gritty bits before we get to the fun part (unless you're like me and love the nitty-gritty travel talk. In which case, hey!).
If you're hoping to experience the Giant's Causeway free from the crowds of nosy tourists, then you'll want to head to the Causeway nice and early, or stay until dusk. This is also prime time for photographers as the light sits beautifully over the mountains and ocean, along with a mysterious low layer of fog that often lies around.
When considering the best time of year to explore Ireland, the off-season is always the way- between March and May, September and November. Throughout these times, the temperature will be milder than in summer and winter, and will offer fewer crowds and cheaper prices!
Is Giant's Causeway a Wonder of the World?
Although Giant's Causeway is not formally recognised as a Wonder of the World, you'll often hear the Irish talking of it as the 8th Wonder of the World. Since 1986, however, the Giant's Causeway has official been recognised as a Unesco World Heritage Site, and is one of the most famous and popular attractions for visitors to see when in Ireland.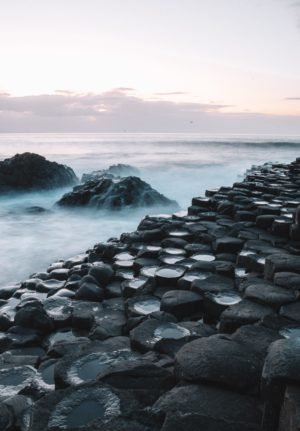 Where is the Giant's Causeway
Great question! The Giant's Causeway is located in Northern Ireland, located in County Antrim. As mentioned below, tours can take you from towns of Dublin, Derry, or Belfast to the Causeway. Otherwise, just google the destination and every GPS will be able to find it (it's kind of really popular!).
How Much Does the Giant's Causeway Cost?
One of the cool things about Giant's Causeway is that it is actually free to see!
However, there are costs involved in visiting the visitor centre. Here you can find audio access to guide you through the Causeway (involving the really fun tale of Finn that is worth every cent), cafes, gift shops, and many other informative features to teach you about the area.
The prices sit around 12 Euro per person and is worth every penny!
Guide to Giant's Causeway Ireland- Hours of Operation
Depending on the time of year you visit and the season in which it is, hours of operation will vary. As a general guide, the centre is open between 9 am and 9 pm, however, the Causeway is accessible before and after this.
For more information on the opening times, you can check out the Official Giant's Causeway website.
Guide to Giant's Causeway Ireland- Touring the Causway
Taking a guided tour to the Giant's Causeway isn't necessary if you have a car accessible to get you there, and if you have the ability to drive, I highly recommend it. It's a stunning drive, dipping in and out along the coastline, swapping ocean for mountains, and rolling green hills in every direction.
If this isn't possible, however, there are some great tours that take you from Dublin, Derry, or Belfast and include some other awesome stops along the way.
Game of Thrones lovers? This tour takes you from Belfast, to all the incredible GOT surrounding locations, as well as Giant's Causeway!
Interested in checking out the Rope Bridge and Giant's Causeway? This tour will take you!
Getting Around the Area
When you arrive at the Causeway, you'll be greeted with either entrance to the columns, or to the visitor centre. Depending on whether you get the guided tour (and I do recommend you do), you will either head inside or begin to check out the amazing columns.
If you are fit and able to walk, I recommend the walk down to the Causeway, as the surrounding scenery is truly stunning! The parking area sits about 1km slightly uphill from the Causeway.
If walking isn't your thing, you also have the option of taking a minibus down to the columns and back. The minibus tickets cost £1 one way and runs every half hour.
Once down at the level of the causeway, you are free to walk around as much as you want, including climbing the columns.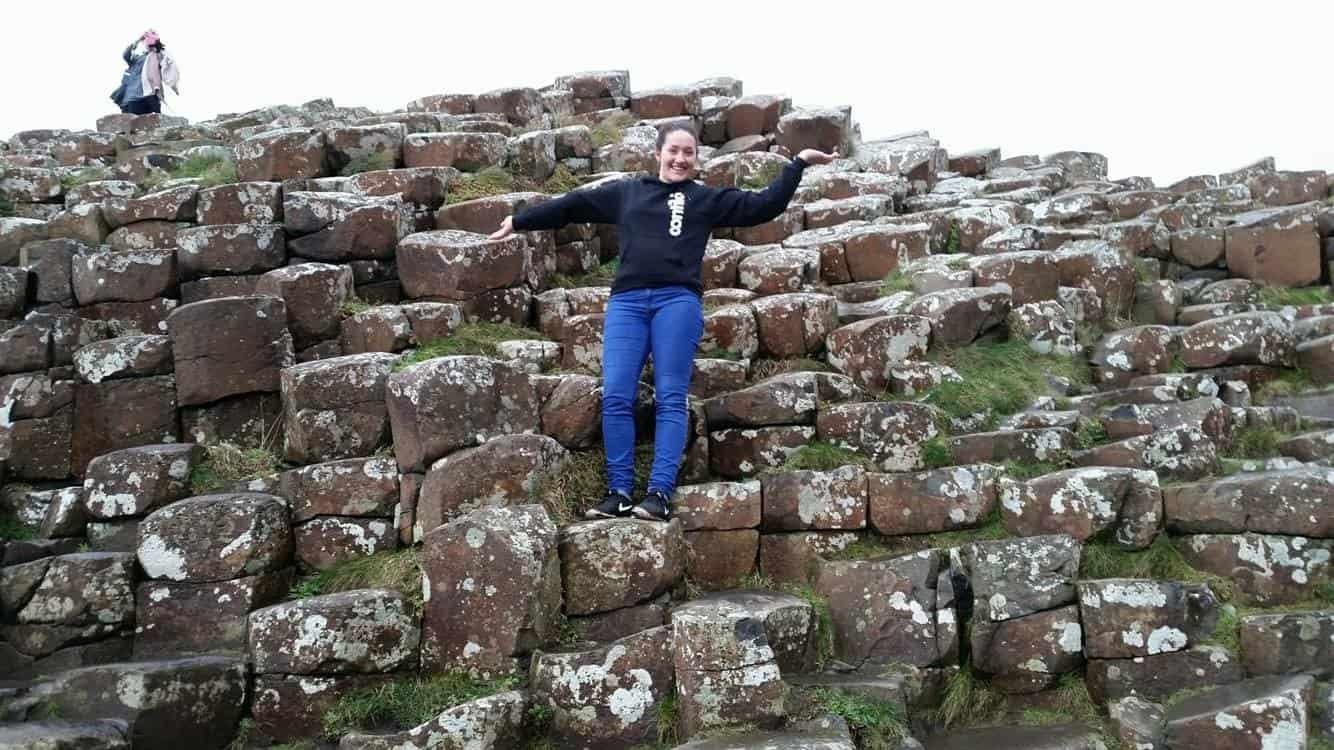 Guide to Giant's Causeway Ireland- Other Things to do Around the Causeway
One of the cool things about the Causeway is that it offers some really stunning and popular hiking trails.
Although technically not a 'hiking trail' the walk down to the causeway from the car park, and in and around the columns is technically called the Blue trail. It is a wide, asphalt road and follows the path of the audio guide.
The red trail is an easy to intermediate hike that snakes along the upper cliffs surrounding Giant's Causeway. It offers a stunning view down onto the coastline, as well as a different angle to appreciate the cliffs (and one that won't be super crowded). At the end of the red trail, you can join up with the blue trail to explore the causeway and then walk back up to your car.
The yellow trail is more of an intermediate hike due to it taking a couple of hours to complete. It follows the entire causeway coastline, offering first-class views of the entire area!
BOOK YOUR TRIP TO IRELAND
Book Cheap Flights
Still in the planning stage of your trip? Currently, the best and easiest way to find cheap flights is to use eDreams, Bravofly and Skyscanner. Between them all, you'll be guaranteed to always find the cheapest flight, anywhere in the world.
Book Your Accommodation
Whether you're looking for hostels, hotels, guest houses, or resorts Booking.com will always give you the best deals.  Sometimes, if I want to stay in a place a little longer, I'll use Airbnb. You can sign up with Airbnb and get $51 AUD off your first trip!
TIP: For the best hostels, I usually compare reviews on Hostelworld and YHA (when in Australia) then check other booking sites to compare prices and deals. Not sure on hostels? Read this post to find out everything you need to know about them!
Book Tours and Transport
Although a combination of independent travel and touring is my ideal form of travel, if the best, cheapest, and safest way to explore is to book a tour or package, I'll do it! For this, I always use Viator and Get Your Guide.
Finding a Car in Australia
Having a car or camper is an awesome way to travel. You can compare rental car deals on EuropCar.
Don't Forget Adventure Travel Insurance
If you're reading this blog then you're more likely to be seeking epic adventures for an affordable price over relaxing and luxurious vacations. By far, my favourite, most comprehensive adventure travel insurance is World Nomads.
Camera:
Images captured with a
Nikon D3400.
What to pack: I definitely, definitely, definitely recommend packing an umbrella when heading to Ireland. You'll need it.