How to Stay Safe When Travelling as a Solo Woman
Jetsetting as a solo woman can be a terrifying thought. Will I get mugged? Will I make friends? Is it dangerous? What if my life becomes a real-life reenactment of the Taken movie?
It can be scary, and at times terrifying. But, if there is one thing I have learnt as a solo woman traveller, it's that there are things you can do to make yourself feel safer, and things you can do to help keep yourself out of harm's way.
These are my top tips for how to be safe when travelling as a solo woman.
***I just want to add that doing these things won't guarantee you a 100% safe trip, but they will definitely work more than the alternatives.
Thinking of travelling solo soon? Check out some of my other posts!
Solo Female Traveller Fears + How to Overcome Them
Qatar is a perfect solo female travel destination!
How to tell your Worried Parents You Are Travelling Solo
21 Things to Know Before Travelling Solo
Choose a destination where you feel safe
When deciding where to go on your travels, it is important to research, research, research.
Part of my research before a trip includes googling to see if my destination is 'safe.' It might sound silly, but it can shed a lot of light into what that destination is life. For example, when planning my upcoming Central Australia trip, I googled 'Tennant Creek' and was instantly bombarded with news of it having a high crime rate. As a solo woman, that was a big no from me.
Of course, what you read on the news should always be taken with a grain of salt, but not when the news is overwhelming bad.
When I ventured into the deserts of Qatar on my own, people said I was crazy because of how dangerous they had heard the country was. Yet, when researching it, I didn't find anything out of the ordinary pop up. I felt safe while I was there, and it was one of the best experiences I have ever had.
Bad things are going to happen no matter where you go. But if you read the travel guides, sift through the travel blogs, and talk to people who have visited the locations you want to go, you will get a better picture of what it may be like.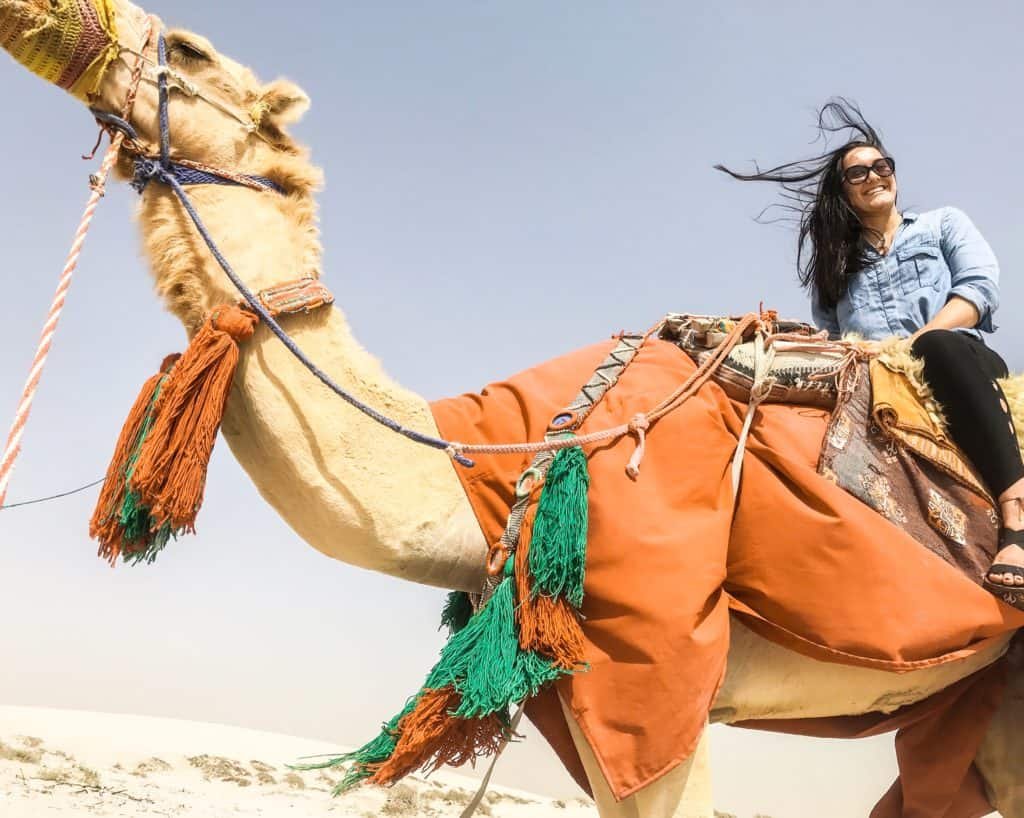 Research your accommodation and location thoroughly
Before you depart, do thorough research of your accommodation and its location. I find that most reviews are helpful because other people aren't going to lie for the sake of a review. People are, in fact, quite cruel in them, so that helps you understand what the accommodation might be like.
Booking.com, Hostelworld, Airbnb are all a good example of websites with large, extensive review pages that allow you to see the full picture of the accommodation. As a solo woman traveller, if I find reviews saying that a girl was assaulted, mugged, etc, it makes me question what security and staff are like, which often puts me off.
Another important tool is to research the location. If accommodation is too cheap, too available, or too something than something doesn't line up. It might be in the middle of a seedy area that you don't want to be in, or a really expensive tram ride away from the city. Location can make a big difference in helping you feel safe, so ensure you know where the good and bad areas are in the destinations you are travelling.
Arrive at your destination during the day
This is a safety point I really need to utilise! As a solo woman traveller, I always seem to arrive at night and immediately feel nervous and intimidated by my inability to navigate an unknown location in the dark. Everything just feels more fragile at night- my safety included, so I am going to make a conscious effort to aim for day time arrivals from now on!
And if you have to arrive late at night, pre-arrange transportation
It is not always possible to arrive in the day. As a budget-conscious traveller, if flights are ridiculously expensive throughout the day, I am always going to choose the night option. However, by contacting your accommodation ahead of time and arranging for a pick up at the airport or bus station, you can save yourself a lot of worrying! Far too many times have I heard of bad things happening to ladies who get into taxis at airports.
In fact, it is actually one of the main ways sex traffickers find victims!
Regardless of the destination, I always make sure I have a way from the airport to my accommodation. Even if it costs a bit more, I feel safer and that is worth more than money itself.
Stay in a hostel dorm
If you are concerned about staying in a room by yourself then a hostel dorm is a perfect option for you! You will always be around people and you'll never feel alone. Whether it's an all-girls dorm or a mixed dorm, you will be surrounded by other like-minded travellers.
And we travellers always have each other's backs.
Check my recent post: everything you need to know about Hostels.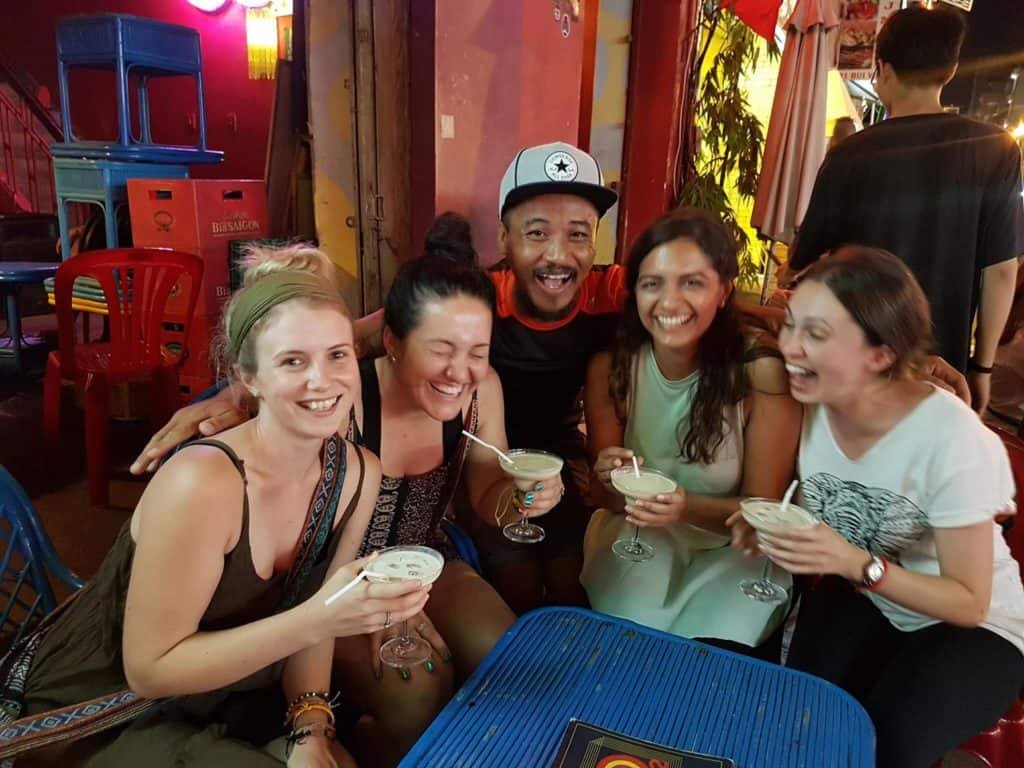 If you stay in your own room, use a door stopper or lock
If you want some privacy, staying in your own hostel dorm is always an option.
But if you feel like you might want to book an Airbnb or venture into the world of hotels, then always remember to lock your door when you are inside. If you want further security (and I highly recommend you do) then buy adoor stopper which enables you to wedge the door from the inside of your room so people cannot uninvitingly come into it.
Always lock up your valuables
This definitely is a controversial topic, but this is generally what I always do. If there is a safe in my room, I put my passport, extra money, and other valuables inside it.
If there isn't a safe, I put all my valuables deep inside my backpack.
The idea is to not take everything out with you. It is more likely you'll lose your wallet or passport when you're out, so leaving them locked up at your accommodation is going to be a lot safer.
Use a small backpack as a day bag
Continuing from the point above, whatever you are bringing out with you while you are roaming around the city, put it inside your backpack. Chances are your bag will not be snatched if you have a bag on your back rather than a handbag. It is harder for someone to rip a backpack away. Having both straps secure on your body will also help deter thieves from trying to grab it.
Don't linger at train stations
I've read a lot of tips lately about not lingering at train stations. Some travellers are targeted at train stations because they usually have all their belongings with them and don't really know where they are going or what they are doing.
Generally, I research ahead of time, go to the train station before my actual departure date and purchase a ticket in advance. The idea is to efficiently buy a train ticket when I don't have all my belongings with me. I'm in and out of the station. And on the day of my departure, I am already familiar with the layout of the train station so I don't look like I am completely lost and don't know what I'm doing.
Download Uber before you leave
Before you depart, check if your destination city has Uber.
First of all, you can enter your destination into the app and avoid any language barriers with your cab driver. Second, the app will tell you exactly how much your ride will cost and you can avoid any miscommunication with taxi fare and scams (I'm looking at you Ho Chi Minh!). Third, these are regulated programs so you don't have to worry about your safety and the driver will ensure you arrive at your destination safely. And finally, you don't need to fumble with cash as you can set your app to pay directly with your credit card. So even if you don't have local currency, you can pay directly through your card or paypal!
I'm giving you up to $10 off your first ride on the Uber app. To accept, use code 'abbieg625ue' to sign up.
Don't wander the city with headphones in
Picture this: You are walking along jamming out to your favourite beats. You're not paying attention to your surroundings, and someone has been following you for quite a while. They can do one of two things: follow you back to your accommodation, or sneak up behind you and grab your bag, phone, or wallet. You didn't hear them coming because you have had your headphones in blocking out the surrounding sounds!
If you are roaming around in a new city, don't listen to music while you are walking around. It is so much nicer to hear the city and nature (or wherever you are at), and you can be aware and alert at all times.
Don't drink too much
You can have fun and enjoy a glass of vino or two. But as solo woman travellers, it is important not to drink too much as you may appear to be a target. It is also important to NEVER leave your drink unattended just in case someone slips a mysterious substance in it. Also, don't accept drinks from strangers, even if they seem kind. You can never be too sure of their intentions.

Stay alert but not paranoid
If you are travelling solo, you will have to be alert at all times. But don't be too paranoid about things that can potentially happen. There is a delicate balance between the two, and it is important that you find it.
I have travelled solo so many times that being alert is just second nature to me now. I trust my intuition fully, and I am always careful about where I go, and what I am doing. Which leads me to my next point.
If you have fears about travelling solo, check out this post: How to overcome your fear of travelling solo
Always show confidence
Confidence is one of the most important tips I recommend to solo woman travellers. Walk at a steady pace (even if you are lost), so at least it looks like you know where you are going and there are fewer chances of someone disturbing you (it is pretty obvious when you are clueless).
If you exude confidence and show that you know where you are going and what you are doing, chances are nobody will bother you. Even if you are lost, keep walking at a good pace. Then find somewhere away from the crowd, or somewhere you can stand with a wall behind you, then look at your map and figure out where you need to go.
Seriously, being confident helps SO MUCH with solo travelling.
Avoid areas that are less populated and not well lit
If you want to visit some historic sights, join a group tour. As an example, sunrise in Angkor Wat is a huge bucket list item. Unless you are familiar with the area, it will be extremely dark when you leave your accommodation. Another example can be heading out of town to explore. These areas are not as populated as some of the more well-known attractions, and can sometimes mean you end up stranded, or alone in unsafe environments!
Always leave a copy of your itinerary with a family member or friend, and register your travel
This is one of the most important tips you can do for your safety. Not only does it allow the government and your family to know where you are in case something happens, but it also means that you will be found and rescued quicker in case of a natural disaster or event.
Australians can register their travel here.
Be aware of common scams and thieving tricks in countries you visit
Thieves usually cover the areas that tourists are most attracted to. For example, walking along the Champs Elysees in Paris with a large handbag makes you vulnerable to thieves. Without your knowing it, they can bump into you, steal your wallet, and run off. In Cambodia, many thieves use scooters. They can whiz by, snatch your handbag from your tuk tuk, and you'll never see it again. having your bag under your jacket, clipped up, or held tight can help prevent these things from happening. It is also very important to research these scams and tricks as much as possible before your trip, so you don't get caught out.
Read here for 9 of the most common travel scams in South East Asia. 
Travelling soon?
Camera gear I can't live without:
Travel items I can't live without:
Packing cubes (with laundry bags and shoe bags)
Need Travel Insurance? I highly recommend getting travel insurance before ANY international trip. World Nomad's offer the most flexible worldwide cover that I have come across, and you can purchase a policy online, even if your trip has already commenced.
[pipdig_code_2]
Booking Accommodation? I always book with Booking.com as they are reliable, offer free cancellations, and have the widest range of accommodation available in EVERY location. Get a quote for your upcoming holiday here:
[pipdig_code_1]