Have you ever visited a sunflower field? Chased sunset across a sunflower field? Danced in the golden rays of light and felt magic spring around you as the yellow hues of life were kissed by the last colours of the day?
Spinning and twirling yourself through a sunflower field is one of the most magical experiences you'll ever have.
Summer means sunflower season in Queensland, and with that, they bring to life a sea of yellow that floods fields of country towns and create the most picturesque sceneries for adventure- seekers and flower lovers.
Here's my spontaneous adventure visiting a sunflower field, and 5 reasons why you should visit a sunflower field asap!
Looking for another adventure? Why not try these? 
Hot Air Balloon Experience: What to Expect on Your First Time
An incredible day trip to the Great Barrier Reef with Reef Magic Cruises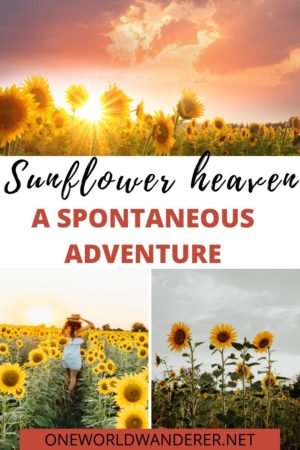 1. They don't bloom all year round.
Well, they aren't called 'sun' flowers for no reason. Just like us Queenslanders (and summer lovers), sunflowers love the sun, and so sunny weather means these gorgeous yellow flowers LOVE to thrive!
2. They are so freaking amazing to look at
It might sound a little bias since these flowers are certainly my number one favourite flower (and yellow is my favourite colour), but they really are just incredible to look at. I mean, imagine dancing barefoot through field upon field of these stunning flowers? Taking photos, watching as the background changes with every dip of the sun?
Visiting a sunflower field is truly one of the most magical things I have ever laid eyes on, and I guarantee you will think the same!
3. Finding a Sunflower Field in bloom is like finding a golden treasure.
Sunflowers are 100% natural baby. They bloom and then they die rather quickly. It's just the circle of life. So, finding a field that's blooming can be tricky.
They are rare (especially in Australia), and they can be really hard to find.
4. Sunsets are just so much better when you're in a sunflower field
Literally. The sky lights up and contrasts perfectly against the sunflower fields.
Blues to oranges to pinks to oranges to yellows.
You need to see it to believe it.
5. Do it for the 'gram, the story, and the adventure!
You might not really care about Instagram. You might also not really like photography. If those aren't your things, don't worry. You'll still absolutely love the fresh air, stunning scenery, and adventure that comes with visiting a sunflower field!
But if they are your thing, then you're in for a flood of stunning content and one of the best opportunities to use those creative skills! A sunflower field at sunset is the perfect time to practice your photography skills and be the envy of your friends and Instagram followers with that perfect candid shot!
My Adventure Visiting a Sunflower Field
The day I visited a sunflower field day was one of the greatest, most spontaneous days of my life!
I heard about a fresh sunflower field that was blooming in the news right before I began an 8-hour shift. I was desperate to visit the fields as soon as possible but knew I was running out of time.
I messaged my sister before I started my shift, saying "WE HAVE TO GO HERE!" It was the end of the weekend and we were about to enter a new working week where we wouldn't have the time to go for a drive and explore.
We talked through our schedules, and realised that the only day we could actually make the two-hour drive to visit the sunflowers was that day.
Being the adventuresses we were, we had both been dying to see a sunflower field for months. We constantly spoke about how amazing the adventure would be! The pictures we'd take. The fun the mini road trip out there would be.
In my 30-minute lunch break at work, we quickly hatched a plan to leave as soon as my shift ended, knowing full well we would be racing against the clock and the quickly setting sun.
After finishing work, there would be an hour and a half until sunset and it was a two-hour drive north of Townsville until we would arrive at the fields. It was us against the sun, but we were both willing to take the risk of potentially missing golden hour at the sunflower field altogether.
Miraculously, without speeding and with minimal road disturbances, we made it just in time to watch the beautiful colours of sunset spread across the horizon and illuminate the golden hues from the field.
And it was one of the most beautiful things I have ever experienced.
As it turns out, golden hour lasts for a little longer than when the clock says 'sunset' is. So our sunflower field was lit up brighter and more magnificent than any other time of day.
Visiting a sunflower field was one of the most heartwarming experiences I have ever had. Something about the cheerful, yellow flowers set my soul on fire and was one of the most incredible experiences I've ever had.
We drove home with happy hearts that day, only made better by the stunning array of the Milky Way that lay before us on our journey home.