Tchupala Falls and Wallicher Falls are two waterfalls located in the tropical Wooroonooran National Park of North Queensland, Australia, and some of the most stunning locations I have ever been lucky enough to lay my eyes on.
Although they're not as popular as other waterfalls in the area, Tchupala Falls and Wallicher Falls are perfect for the adventure lovers out there, who get to view two waterfalls on the same hike! And the best part is- not many people know about these epic falls, so you might have it all to yourself.
Truthfully, I was one of those people that had never heard of the waterfalls, and before this day, was oblivious to their existence. But boy am I glad I found them from stumbling across the wonderful world of Instagram. Their beauty was completely unexpected, alike to some of the most stunning waterfalls I've visited over in Europe.
Tchupala Falls and Wallicher Falls are locations I recommend everyone add to their North Queensland bucket list immediately.  Here's how you can find these epic falls!
If you are visiting Tchupala and Wallicher, I highly recommend checking out Nandroya Falls and the Millaa Millaa Waterfall Circuit which are both nearby.
Book Your Trip To The Atherton Tablelands
Book Cheap Flights
Still in the planning stage of your trip? Currently, the best and easiest way to find cheap flights is to use eDreams, Bravofly and Skyscanner. Between them all, you'll be guaranteed to always find the cheapest flight, anywhere in the world.
Book Your Accommodation
Whether you're looking for hostels, hotels, guest houses, or resorts Booking.com will always give you the best deals.  Sometimes, if I want to stay in a place a little longer, I'll use Airbnb. You can sign up with Airbnb and get $51 AUD off your first trip!
TIP: For the best hostels, I usually compare reviews on Hostelworld and YHA (when in Australia) then check other booking sites to compare prices and deals. Not sure on hostels? Read this post to find out everything you need to know about them!
Book Tours and Transport
Although a combination of independent travel and touring is my ideal form of travel, if the best, cheapest, and safest way to explore is to book a tour or package, I'll do it! For this, I always use Viator andGet Your Guide.
Finding a Car in Australia
Having a car or camper is an awesome way to travel. You can compare rental car deals on EuropCar.
Don't Forget Adventure Travel Insurance
If you're reading this blog then you're more likely to be seeking epic adventures for an affordable price over relaxing and luxurious vacations. By far, my favourite, most comprehensive adventure travel insurance is World Nomads.
Disclosure: This blog post contains affiliate links, which if you click, adds absolutely no extra cost to you. These links allow One World Wanderer to continue providing you with free guides and travel content.
How to get to Tchupala Falls and Wallicher Falls
To get to Tchupala Falls and Wallicher Falls, you'll need your own car. Despite the tours that travel down from Cairns to the Atherton area, most of them don't visit this particular area. It is better to hire a car for a day and explore the off the beaten track locations yourself.
It's a fairly long drive from Cairns to Tchupala Falls and Wallicher Falls, however, if you are looking to spend a day in the tablelands, there are many other falls in the area, you can make a day trip out of. Check out the Millaa Millaa Waterfall Circuit if a longer trip is in the cards!
Finding Wallicher Falls and Tchupala Falls is no easy feat. Truthfully, I drove past the stop twice when looking for it. However, I hope this guide helps you avoid the same mistake!
When travelling down the Palmerston Highway in Wooroonooran National Park from Millaa Millaa/ Cairns keep an eye out for the Henrietta Creek Campground. Continue onwards for another couple of minutes, keeping your eyes peeled to the left for a sign pointing to the trailhead.
You'll notice a small sign that points to hikes and a waterfall. There is a small section of dirt for you to park your car on either side of the road.
For your reference, if you make it to the Gooligan's picnic area, you've gone too far!
Likewise, if you are travelling north from Townsville or Ingham, keep your eyes peeled to the right about 5-minutes after passing Manu Tropical Skywalk or just after the Gooligan's picnic area!
If you reach Henrietta Creek Campground, you've gone too far!
Below you'll find the pin for the location of the trailhead. It's very easy to miss, and mobile reception isn't too great in the area. Be vigilant, and you shouldn't have a problem.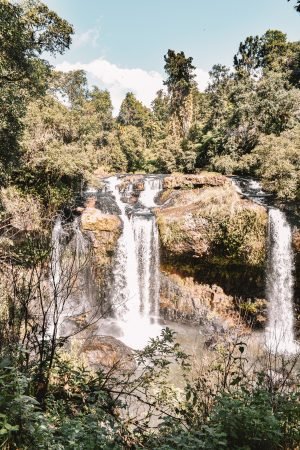 The Waterfalls
Once you park your car, you'll notice a trailhead sign indicating the start of the track. Both waterfall tracks branch off the same starting trail, with Wallicher Falls to the left, and Tchupala to the right after approximately 100 meters. Signage will point you in the right direction.
Tchupala Falls Track – What to Expect
If you only have time for one waterfall, then I'd definitely recommend Tchupala Falls. It is the shortest of the two, and unlike anything, I've ever seen.
The track winds right after the first signpost, following a trail through dense tropical rainforest for around 5 minutes. The hike is easy, however, caution should be taken when wet, as it was quite muddy, slippery, and thin in areas with a steep drop.
After approximately 600 metres, you'll reach the top level of Tchupala Falls, which is a wide rainforest waterfall fed by the Henrietta Creek.
From my research of the falls, there were originally three major levels with viewing platforms. Unfortunately, due to the powerful force of the waterfalls in the wet season, the path is too dangerous to keep open and has been closed and overrun by forest for quite some time.
There are several signs on the upper viewing platform that tell travellers not to continue down to the lower levels. Normally, I am not one to stray away from a little off-the-path hiking (although I don't condone that behaviour at all), I was travelling alone, and did not feel comfortable heading down while by myself.
It was disappointing not getting to see the falls at their most magnificent level, but it was still beautiful getting to see them from the top while I had the view all to myself.
Wallicher Falls Track – What to Expect
If you do have time to do both waterfalls, then it's also worth checking out Wallicher Falls on the same track. Instead of turning right at the first fork, turn left and continue on for about 1 kilometre.
The hike winds through the dense rainforest, almost parallel to the main highway, but deep enough that you have the rainforest all to yourself.
The walk was easy and flat the entire way so it is perfect for everyone. When you reach the lookout point, you'll get great views of the powerful Wallicher Falls.
If you want a closer view, then you can walk down the steep track just in front of the viewing platform. I walked halfway down and felt safe doing so, however, was happy enough with the views from the top.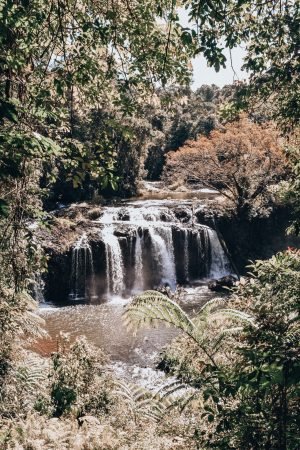 When To Visit The Falls
Travelling around North Queensland is always done best in winter, between the months of June and September. Outside of this time, the weather is hot and muggy, with monsoonal and cyclone season pairing with summer. I always recommend the winter months, outside of the school holidays, for your best chance at fighting the crowds. Although it had been raining a fair bit when I visited in July, the waterfalls were not at maximum capacity- but boy it would have been incredible seeing them at their full level!
Can You Visit Tchupala Falls And Wallicher Falls solo?
Absolutely! I travelled North Queensland Solo in July 2020 and did this hike post-COVID-19 lockdown all alone. Not once did I feel unsafe along the trail. I came across two other groups of young travellers that were all equally as lovely as one another. My only advice doing it solo is to let someone know where you're heading before you leave. There is no reception along the trail and it is better to have someone you trust know your whereabouts in case something happens.
I also recommend sticking to the tracks and taking plenty of water for your own safety!
Make It A Waterfalls Chasing Trip
On my trip to The Tablelands, I spent an entire day checking out over 6 different waterfalls in the area. You'll find the links below to all of my favourites.
The Millaa Millaa waterfall circuit, including Millaa Millaa Falls, Zillie Falls, and Elinjaa falls is only about half an hour from Tchupala Falls and Wallicher Falls. They are three of the most popular waterfalls in Australia and absolutely worth checking out if you are in the region! Check out my guide to it here.
Nandroya Falls
One of my favourite waterfall within this region, and one that also includes a decent hike and delicious swimming spot, is Nandroya Falls. The hike will take you a couple of hours in total, but you'll be rewarded with an epic waterfall in a large rainforest clearing. Oh and did I mention, it's right around the corner at Henrietta Creek?
Just remember to pack lots of water for your day of adventuring!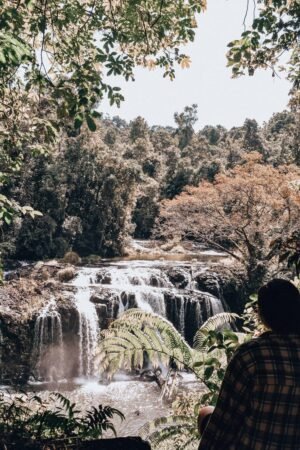 Atherton Tablelands Accommodation Guide – Where to Stay
Best Budget Hostel in the Tablelands 
If you're looking for somewhere close to all the action, On The Wallaby Lodge is located in the Central Tablelands town of Yungaburra. It's less than a 5-minute walk to town, where supermarkets, cafes, and gift shops are in abundance.
Stay in a Tree House
There's nothing more relaxing than being pampered amongst the rainforest in a 5-star resort. Luckily for you, the Tablelands has several of Australia's top luxurious treehouse and retreat accommodations. Mt Quincan Crater Retreat and The Canopy Rainforest Treehouses are two of the most popular treehouse accommodations in the area and will offer you the perfect getaway.
AirBnB
There are countless AirBnB's within the region that are bang for buck and totally stunning! While they may be a little pricier than most areas, most of them come with stunning views of the surrounding hillside and rainforest. Don't forget to sign up with Airbnb and get $51 AUD off your first trip!
Hotels
There are countless hotels, motels and camping grounds to stay in throughout the region. From Millaa Milla town to Yungaburra, to Malanda. Alternatively, check out the full list of hostel and hotel deals in Cairns
Planning a holiday to North Queensland? Check out these posts!
12 Places you need to visit on the Atherton Tablelands
Exploring the Millaa Millaa Waterfall Circuit in North Queensland
Top Things To Do In Townsville- The Ultimate Local's Guide
An incredible day trip to the Great Barrier Reef with Reef Magic Cruises
10 Reasons You Should Travel Australia With Greyhound
Top things to see and do in Charters Towers- North Queensland's Hidden Gem