If you're thinking about travelling the East Coast of Australia in a van, caravan, or some other kind of mode of transport, this is the first blog in my series outlining my vanlife adventures. This is my itinerary for my vanlife road trip from Townsville to Yeppoon.
My vanlife journey started in early March 2021. It had taken a lot to get there- check out this post for more into the background of my vanlife journey. My life had been up and down since the start of the pandemic, from being forced home from Canada in early 2020 when the pandemic hit, to multiple quarantines, to buying a van that fell apart just days before I was meant to leave for my yearlong road trip.
It was messy, to say the least.
I had packed up everything I owned and was ready to leave home for good when all of a sudden I was forced to adapt my plan. Again.  When my van died, I pivoted my plan to be a shorter trip. 3 months in a hire van, and then I was going to assess what was next.
When planning to live in my van there really wasn't any set plan other than to relax and to make my way from Townsville to Jindabyne, where I wanted to work for the winter season. I wanted to live each day authentically, waking up and go where my feet decided to take me. It was a matter of needing to explore and needing to rest. If I woke up and wanted to spend all day reading in bed, that is what I was going to do. If I wanted to go to the beach and sunbake, that is what I was going to do. If I wanted to adventure and jump around town doing all the fun things there was to do, that is what I was going to do.
And looking back on the three months I lived out my vanlife dreams, that is exactly what I did.
The van broke me and broke into me in so many ways. I've barely been able to put into words the experience I had, other than it was a once in a lifetime journey.
It was a journey through my soul, where I learned so much about myself, and I fell in love with every piece I picked up along the way.
It was the undoing of so many emotions, so many learned beliefs I had about myself and the world.
It was the creating of memories and stories and experiences that I will cherish until the day I die.
Although I won't go into the emotional journey I went through in those months, because being alone in the wilderness with scarcely a person around for months on end is a strange and wonderful and incredibly intimate thing, I will go into the exciting and amazing things I got up to along the way.
The places I stayed and the adventure I had.
This is my vanlife road trip from Townsville to Yeppoon!
Want to visit all my favourite islands on the Great Barrier Reef while road tripping? Check out this post!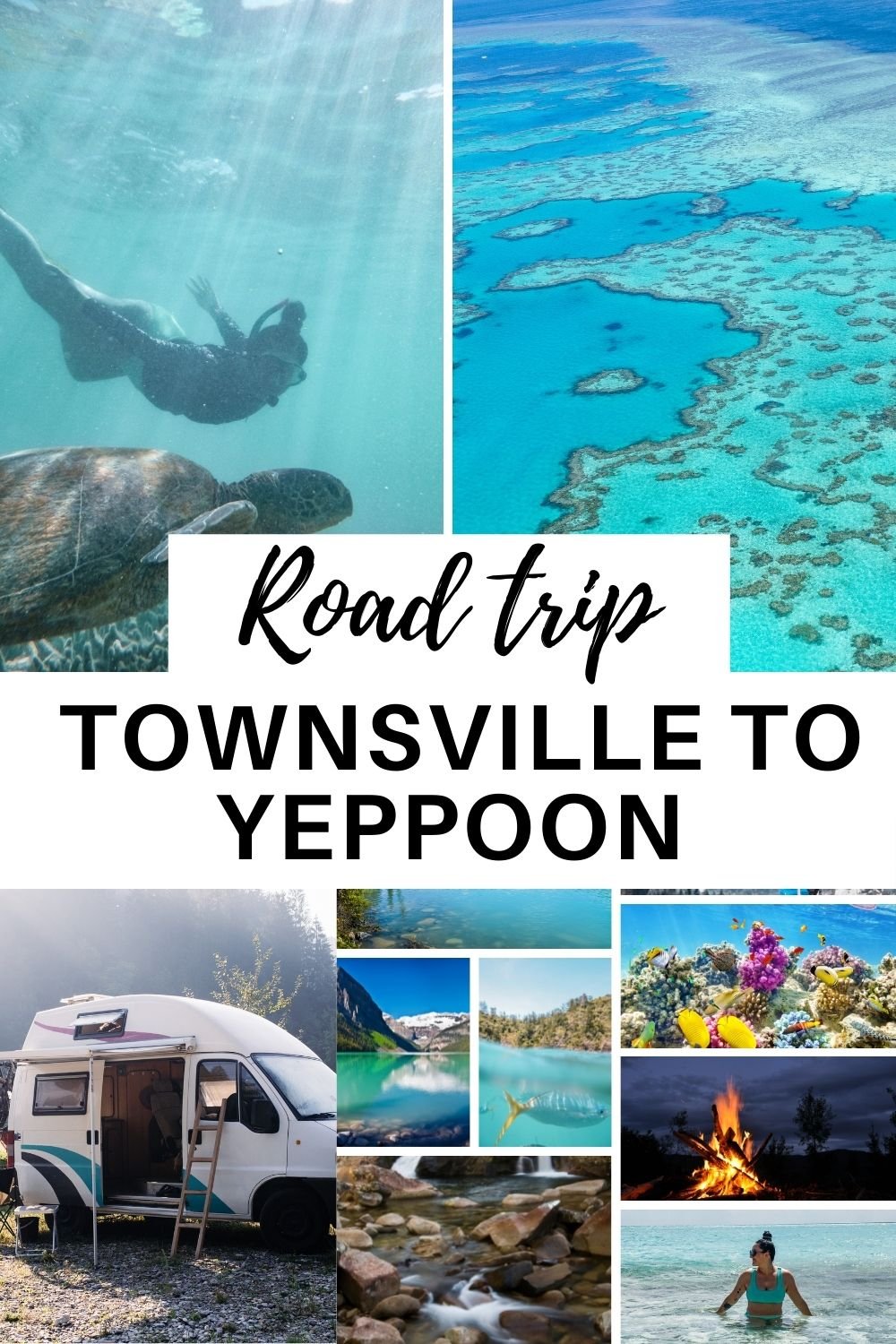 Townsville to Bowen
Leaving home wasn't easy. Anyone who has ever left behind people they love and adore is lying if they say it is.
When I left home, I was saying goodbye to my niece, my sisters, my belongings, and the city I had called home for 24 years. It was strange. I knew it would be the last time in my life I called Townsville my permanent home, and so leaving meant letting go of a lot of security.
And jumping into the wild life of a nomad.
The first stop on my vanlife road trip from Townsville to Yeppoon was Bowen, or as I was brought up calling it, blowin' Bowen. The small town is located just three hours south of where I grew up, and it is one that often gets missed and forgotten about when road tripping around North Queensland.
I stopped into Bowen for two days, three nights. My plan was, simply, to get my feet wet in vanlife. I decided to stay in a rather expensive campground while I was there because I wanted to feel safe while I learned the ropes of vanlife and understood how my van worked.
And, despite the horror I faced with swiping my card to sleep on a patch of grass, it was worth every penny for the experience of getting to call the van home for the first time.
Bowen Beaches
There are endless things to do in Bowen if you like the beach. It is a coastal town in North Queensland and is home to some of the most beautiful fringing reefs along the coast.
Bowen's claim to fame is its beautiful array of pristine beaches. Surrounded by a beautiful coastline, each beach has its own charm. Some are perfect for secluded walks along long stretches of silky soft sand. Some are perfect for swimming and snorkelling.
I did both, visiting the famous Horseshoe Bay for a swim in the turquoise waters, wandering along the popular Rose Bay shoreline, and went for a long walk along the 5km shoreline of Queens Beach.
If you're a mango lover, you'll also want to check out the worlds largest mango- the Bowen Mango.
Bowen's original Big Mango was erected on the 25th of May 2002 as part of a community campaign and has boosted tourism. The 10-metre high sculpture is located adjacent to the Bowen Visitor Information Centre on your way out of town and is a must-do when visiting Bowen.
Another must-do when in Bowen, is visiting the popular lookout, Flagstaff Hill. Here, you'll find a lookout tower and binoculars, which offers the best view out over the Whitsundays. You get a glimpse of the reef from up here, with a lighthouse in the centre being the ultimate attraction.
You can find out more about what there is to do in Bowen here.
Bowen to Proserpine
Next on the list of places to explore was Proserpine. Or, at least, the drive to Proserpine.
Although my time in Bowen was relaxing and full of adventure, it was also spent getting to understand the van I was travelling in. This meant figuring out how to fill up the gas bottle for the stove and fill up the water tank, along with many other things.
I was wildly unprepared for both scenarios.
I was unable to fill up my water tank (for another week after this actually) due to having the incorrect nozzles to connect it to the water taps. When I managed to figure out exactly how to fill up a gas bottle, I realised there was actually a gas leak in the line.
The company I had hired the van from was at fault for both of these issues. They were incredibly unhelpful and unprofessional in how they handled my experience- but I will not go into detail over the specifics.
Alas, I vowed to myself that I would not let this get to me.
I soldiered on with my trip and looking back, I am grateful for the strange experiences I had with the van (there were many) that enabled me to experience this way of life in its entirety.
When I finally left Bowen, my first stop was Dingo Beach and Hideaway Bay. I had visited these spots years prior and had always remembered how beautiful the beaches were. I stopped to catch up on some work and have lunch here. There were people skinny dipping in the ocean below, and I could see the run reflecting on the reef.
It was my first taste of the Great Barrier Reef for the trip, and made me so excited for what was to come!
I arrive at the Peter Faust Dam (Proserpine Dam) campgrounds later that evening with heightened anticipation and excitement. The dam is located 25 minutes from the small country town of Proserpine, and 45 minutes from Airlie Beach.
This was my first foray into free camping, and I was so excited about the adventure. Thankfully, there were hot showers and toilets to utilise (although later I would come to grow used to living without these luxuries).
The dam was an excellent spot to dive into free camping. There were barely any people around, the view was stunning all day long, and it was without reception, allowing me the time to switch off, read a book, and grow used to my new life.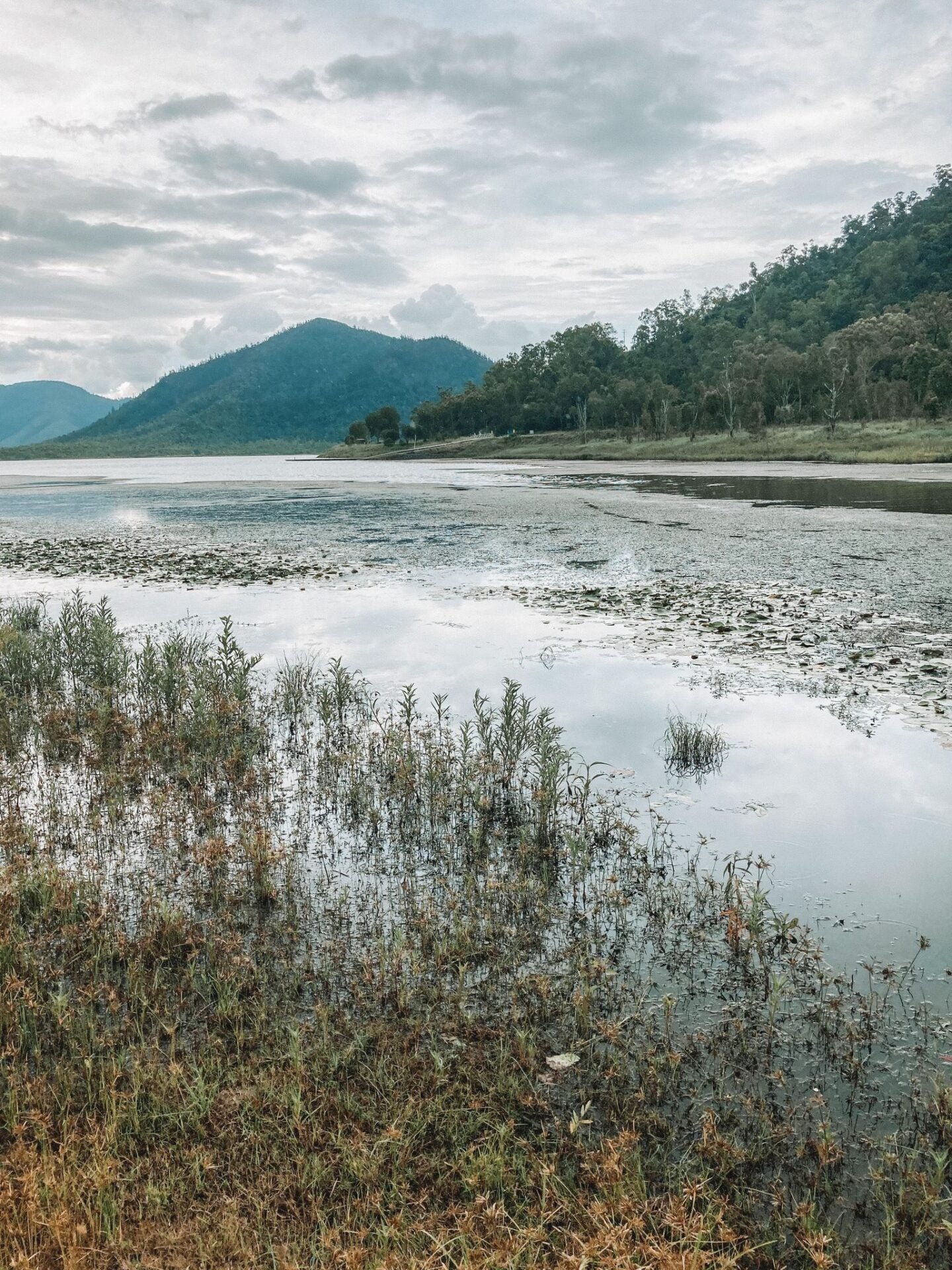 Proserpine to Airlie Beach
After a few days of relaxing at the Proserpine Dam, I decided it was time to move on. Next stop- Airlie Beach.
Growing up in North Queensland, the Whitsundays and Airlie Beach was a regular destination I visited. I had explored the Great Barrier Reef in the region on multiple occasions, visiting many of the Islands and Reefs there.
This time around, however, I wanted to do something different, and I wanted to get in and out as quickly as possible. I didn't want the days of partying and drinking that often go hand in hand with visiting Airlie Beach because I didn't want to blow money in a location I had visited so frequently when I knew there were so many new places come my way.
Instead, I chose to do one tour, in one day and spent only two nights at Nomads Backpackers. I would fill up on fuel, food, water, charge up my electronics, and then be on my way.
Thundercats Tour of the Great Barrier Reef
The tour I did was the Thundercat Whitsundays tour and I can say without the shadow of a doubt, this was, is, and will always be my favourite tour on the Great Barrier Reef.
It was beyond phenomenal.
The tour was an exhilarating ride around the Whitsunday Islands on one of the fastest catamarans in the Whitsundays. The group was picked up from their hotel's first thing in the morning and taken to the marina where you sign in and do a safety briefing with life vests.
Then, we were off on the adventure of a lifetime.
The first place we visited on the reef was a new location for me- Black Reef. Here, we snorkelled in open waters on the edge of one of the most stunning reefs I have ever seen. We even saw a turtle!
Want to visit some of the other Great Barrier Reef tours I loved like this one? Check out this post!
Our next stop on the day trip was the famous Mantaray Bay. Here, we swam with millions of beautiful fish. Mantaray Bay is one of the most popular snorkelling spots in the Whitsundays Islands. It is situated on the northern tip of Hook Island and is home to an array of underwater valleys, caves and plenty of different fish types.
You have probably heard of the world-famous Hill Inlet and Whitehaven Beach. If you haven't- be sure to check out the below photos!
The water on Whitehaven Beach is often voted one of the clearest in the world. Whitsunday Island's famous beach stretches for seven kilometres and is washed by swirls of turquoise, blue and green water. The sand is 98 per cent pure white silica, which gives it a brilliant, near luminescent colour. You can even clean your jewellery in it!
Sailing into the bay, we had lunch aboard the Catamaran. Lunch was a delicious buffet, and as we sailed, we spotted dozens upon dozens of turtles, making it an exciting game of spot and seek.
After lunch, we were dropped off at the beach and hiked up to the famous Hill Inlet where we got the most stunning views of my life. The day was perfect, creating some of the most vibrant swirls of colour they had seen all season.
We then ventured down to the beach to swim in the crystal clear waters. There was no one around- just my group and dozens upon dozens of stingrays floating elegantly in the water around us.
It was magical.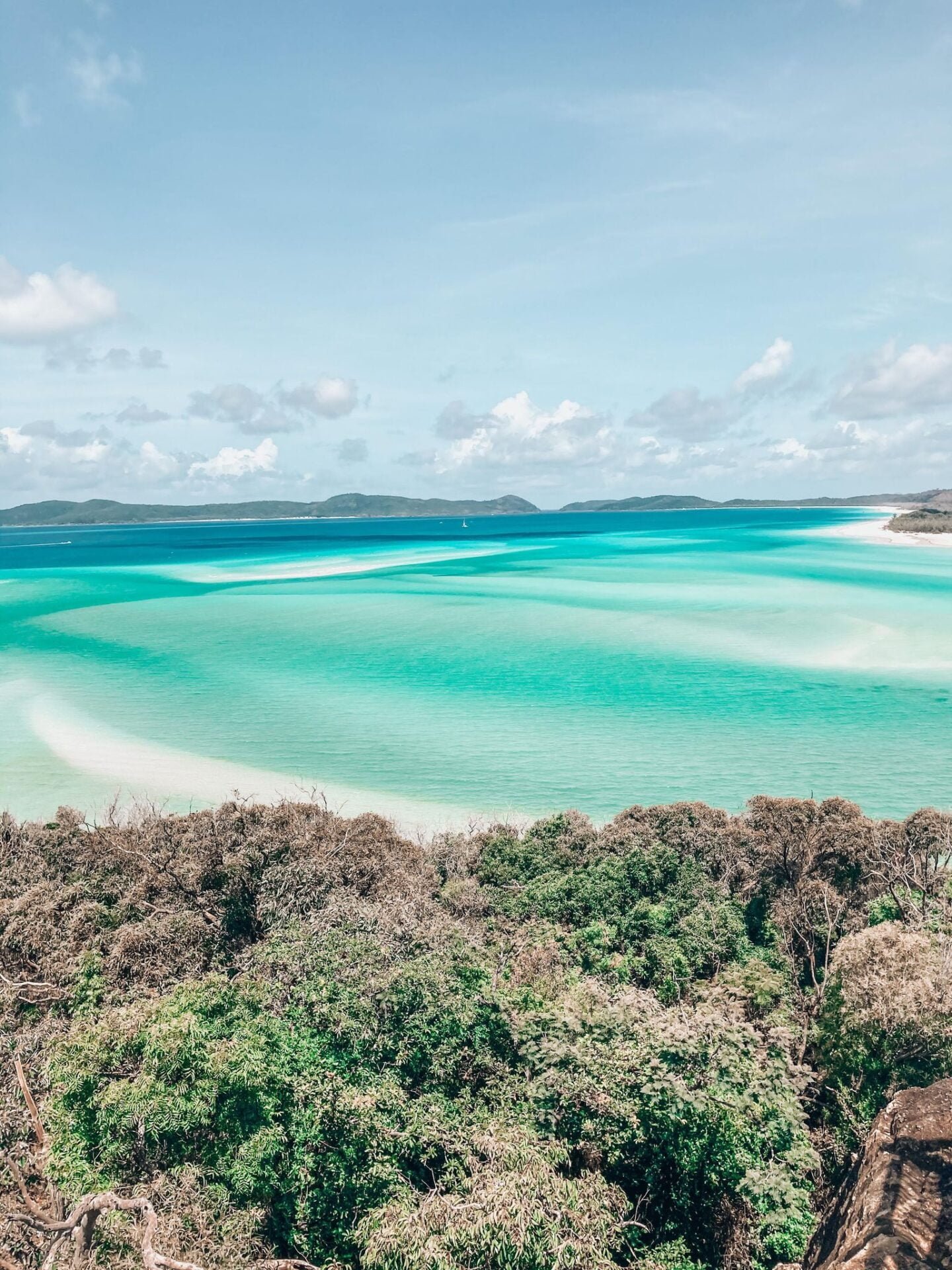 Airlie Beach to Cape Hillsborough
Ending my trip to Airlie Beach on a high, I left the next morning to one of my favourite locations on my whole trip- Cape Hillsborough.
Cape Hillsborough is a lesser-known spot in Queensland, just north of the city of Mackay, but it was one of the highlights of my trip.
I chose to camp at Smalleys Beach, a National Park campground that cost me $6 a night. And what a spot it was. The campgrounds were spacious and faced the beach, with private paths down to a long stretch of sand.
Each camping space had a tap with drinking water, there were flushing toilets, as well as picnic tables at every campsite. This made mornings with the perfect breakfast view over the ocean unreal.
My only advice if you plan on visiting here is to bring plenty of bug repellant- the midgies were bad.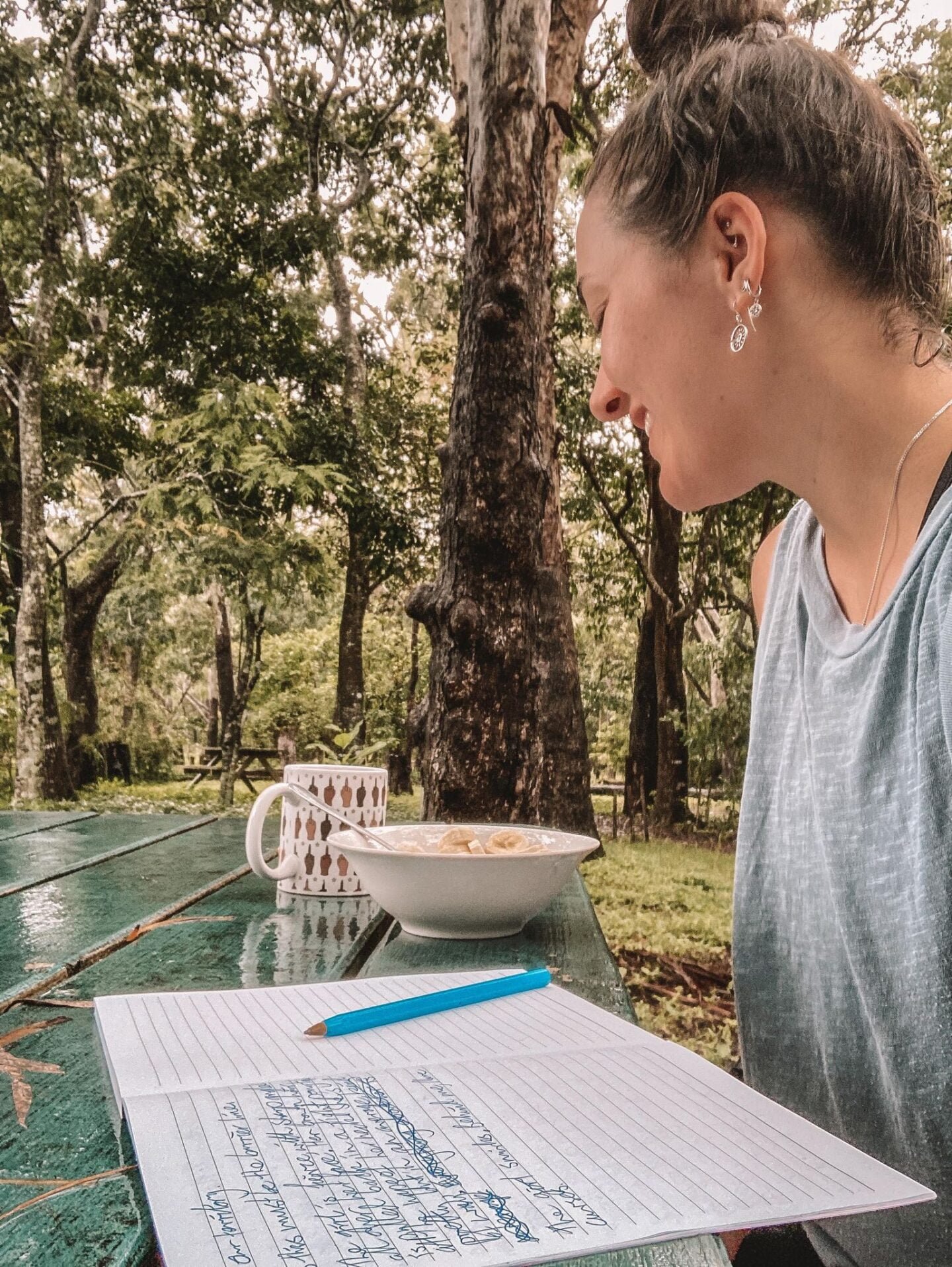 Kangaroos at Sunrise
Although Cape Hillsborough isn't a widely known place in Australia, there is one part of it that people often see pictures of.
The Kangaroos at sunrise.
The Kangaroos and Wallabies on the beach at sunrise is an experience like no other. Cape Hillsborough is renowned for its spectacular sunrises. Not only for the vast array of hues that colour the sky but for the greeting you get from the local residents. Eastern Grey Kangaroos and Wallabies make their way to the beachfront, just outside the Cape Hillsborough Nature Tourist Park, each morning to feed on seaweed and mangrove seed pods that have washed up from the overnight tides.
Being a National Park, there is a ranger here who watches over the interactions with the animals to ensure that the people watching do not interfere with the animals.
This was an amazing experience. The animals were so curious! They would walk right up to you, steal each others food, and wander off to enjoy the beach.
And the best part? It's an entirely free experience!
Cape Hillsborough Walking Trails
I spent the day at this beach, reading, writing, and going for walks along the sand.
It was a beautiful spot to spend a day, and there were very few people around.
There are many walks to do here, including walking over to Wedge Island at low tide, that I loved doing.
The Andrews Point Track provides five scenic lookouts which deliver fantastic views of the coastline and the Whitsundays. This is a popular track that wanders through the rainforest and open eucalypt forests. You can enjoy the views from Twin Beach Lookout and Turtle Lookout, the perfect location to spot turtles or whales (during migration season). And then at low tide, you can proceed across the causeway to Wedge Island.
Wedge Island is located just offshore from Cape Hillsborough Nature Tourist Park. Two hours on either side of the low tide the causeway to the island becomes accessible. Take the time to explore and enjoy the natural beauty of this island. Walk along the small beach, up the rocks and through the cave to a track on top of the island where you can enjoy scenic views of the coastline and surrounding areas.
Finch Hatton Gorge
Another spot that is nowhere near as popular as it should be was the magnificent Finch Hatton Gorge. This stunning Gorge is around an hour's drive from Cape Hillsborough, and I chose to do it on the morning I was leaving the Cape and continuing my journey south.
The drive was absolutely stunning through winding hillsides and rainforests.
So much so, I took some of my favourite photos of the trip here!
Arriving at the Gorge, I was a little nervous. There were very few people around and there was no reception. I hadn't really done much research on how long it would take or what to expect, but I was pleasantly surprised to find the walk to be easy, and incredibly stunning.
The path to the Gorge is well developed and twists through the tropical rainforest. When you finally get to the Gorge, there is a path to a rocky area where it is nice to sit and relax. There were no people around when I was there, so I chose to go for a swim in my underwear- and boy was it refreshing and well- needed after a few days without a shower.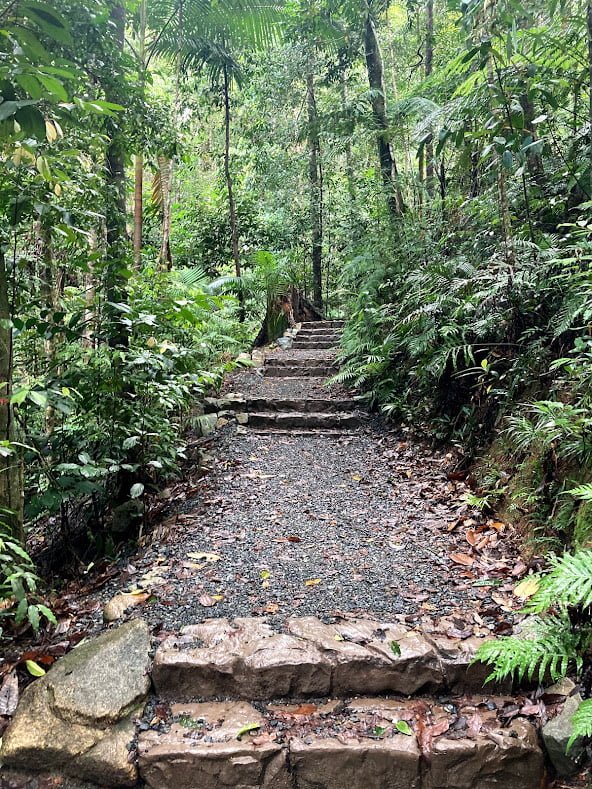 That night, I stayed at a very random little campsite on the beach in the middle of nowhere, Armstrong Beach. This is what I love about Australia- there are campsites on the beach all along the East Coast, and there are scarcely any people around!
I went for a walk along the beach to watch the sunset while there was a man practising the bagpipes.
It was the perfect way to end a perfect day of van life.
Armstrong Beach- Yeppoon
I left Armstrong Beach early the next morning, with the intention of driving straight through to Yeppoon, where I was meeting my family who were down for a wedding.
That was until I drove through Clairview.
Clairview is another random beachside town with views overlooking the endless reefs. Calling it a town is probably a little over the top-it was a tiny cluster of houses and a picnic table with toilets set amongst the beach.
I stopped here for lunch, the tranquil sea breeze and nothing but open views at my doorstep.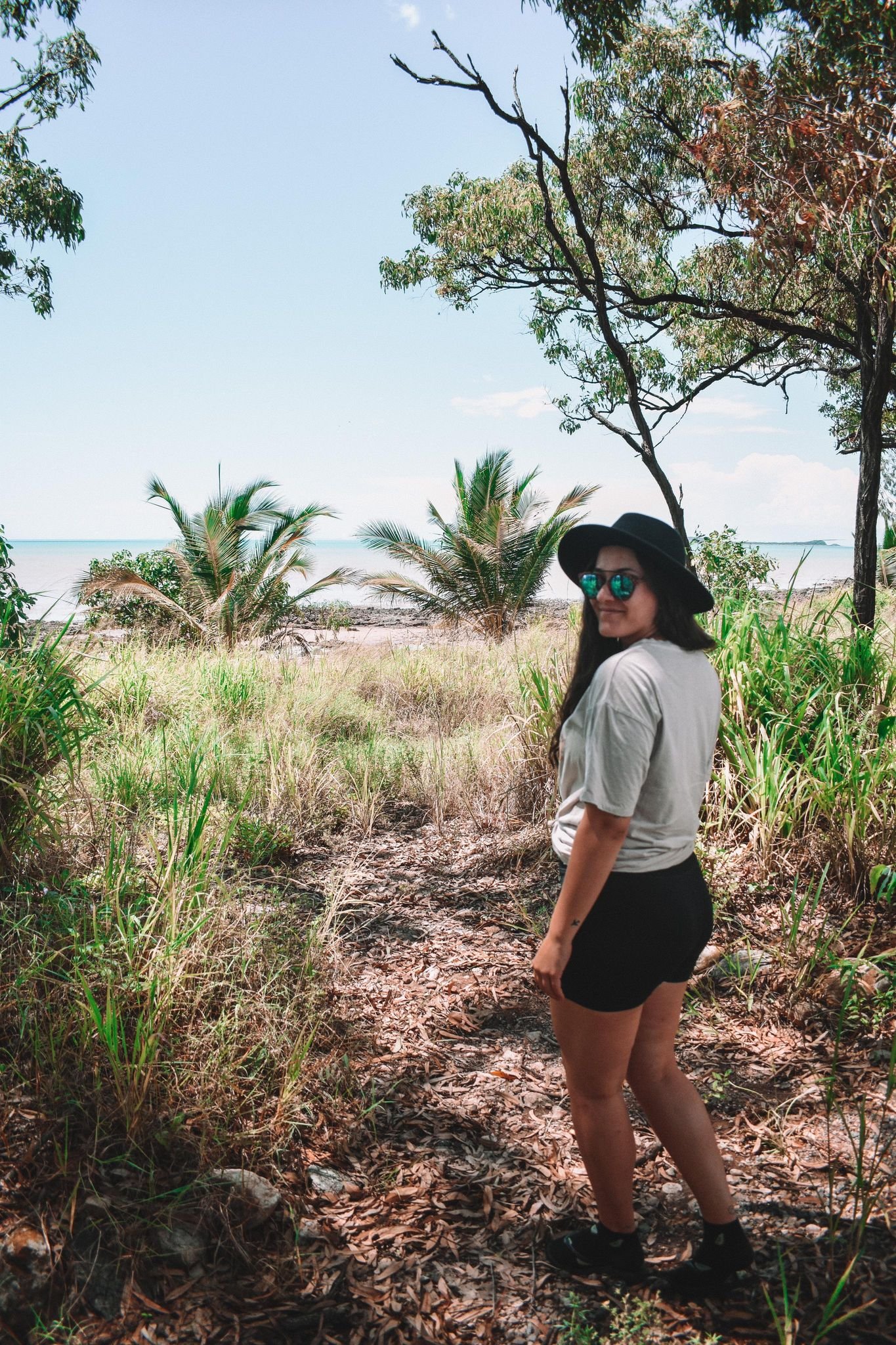 Arriving in Yeppoon was magnificent. I had no idea it was such a stunning town. The beaches were unreal, the sunsets were epic, and the views were amazing.
Yeppoon is situated 38 kilometres northeast of Rockhampton and is the gateway to Great Keppel Island and the wonders of the Southern Great Barrier Reef.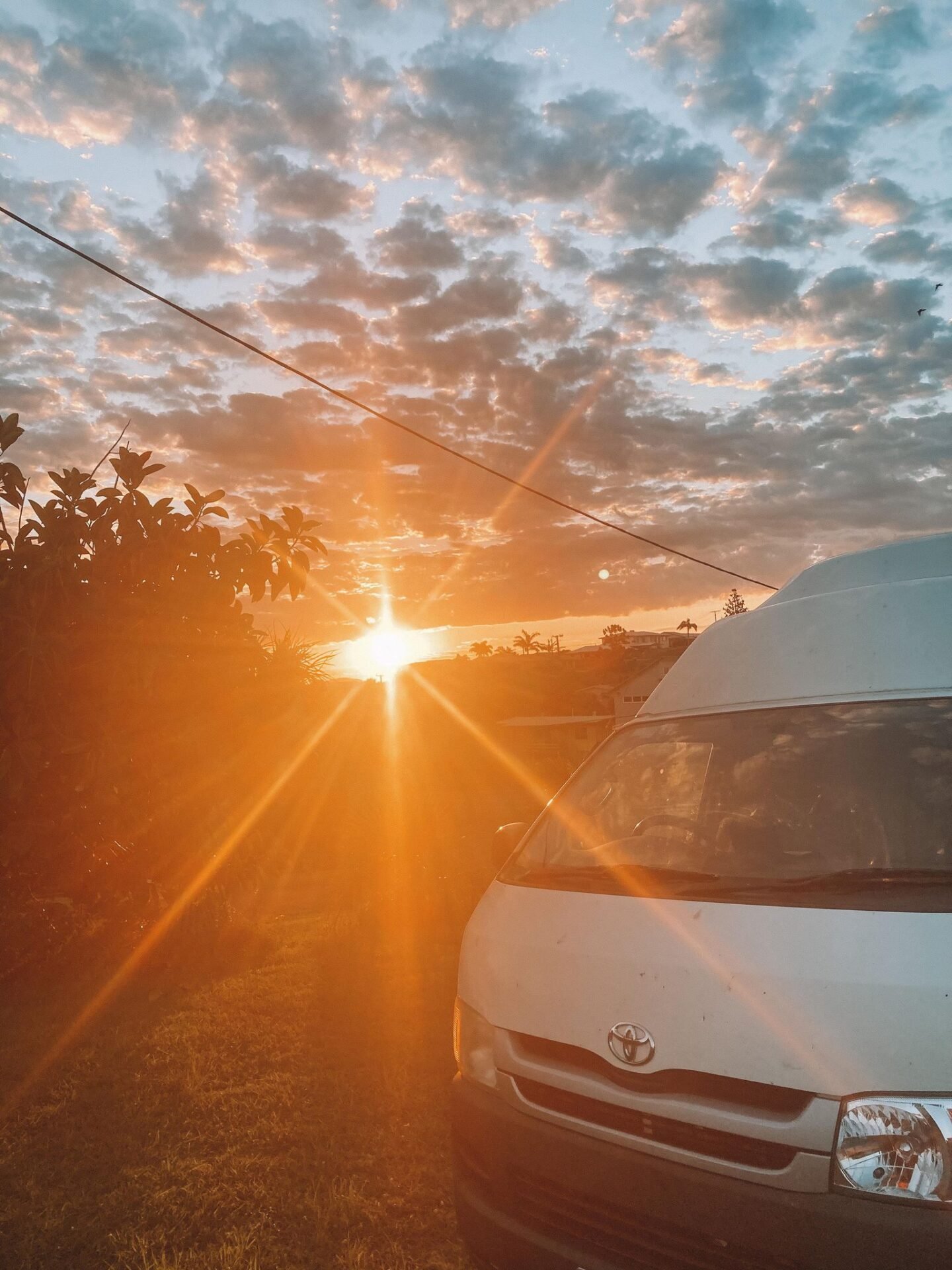 My family were staying at an incredible holiday home in Emu Park. I parked up here with them for a few days and loved every second of it (and not just because of the hot showers).
The Yeppoon Lagoon
The Yeppoon Lagoon is the jewel of Yeppoon, and one of the spots that make this such a family-friendly destination. The 2500 square-metre resort-style lagoon pool is located right on the beachfront and includes a shallow children's play area, an informal lap swimming area and a swim-up infinity edge with stunning views over the Keppel Islands.
We visited the area and had such a refreshing swim!
The pool is fringed by barbeque areas, shaded areas perfect for picnics, and cafes and bars that would be the perfect spot for brunch or a catch up with friends.
The lagoon is free and is patrolled Monday to Sunday year-round.
Great Keppel island
Great Keppel Island is one of the best island getaways on the Southern Great Barrier Reef, and I decided to take my sister there for her birthday. This place was incredible! There are over 17 beaches on the island, with the option of snorkelling right off the beach readily available, and wildlife spotting hugely popular while hiking one of the many tracks along the rugged hinterland.
With so many families visiting the island, we felt pretty safe that if we went for a walk to one of the less popular snorkelling beaches, we would be alone. And we were right! We hiked to Monkey Beach, and there were only two other small groups of people there.
It takes around 40 minutes to walk to this spot from Fisherman's Beach (where you arrive on the ferry). Sitting within a protected bay, it is easy to access from the island, but the walk is definitely not for the faint of heart. It was hot, steep in some places, and also incredibly rocky.
It is so worth it though. Monkey Beach has an exceptionally high coral cover and over 38 coral species. The water is also incredibly clear, making it easy to see all kinds of fish and wildlife.
Unfortunately, my underwater camera did not want to play with us when we were on Keppel Island. We captured dozens of incredible images under and above the water of its brilliant colour and vibrancy, but when we got back to the land, none of them had been saved.
It was disappointing, but it's all the more reason for us to return!
Want to visit some of the other islands I loved like Great Keppel? Check out this post!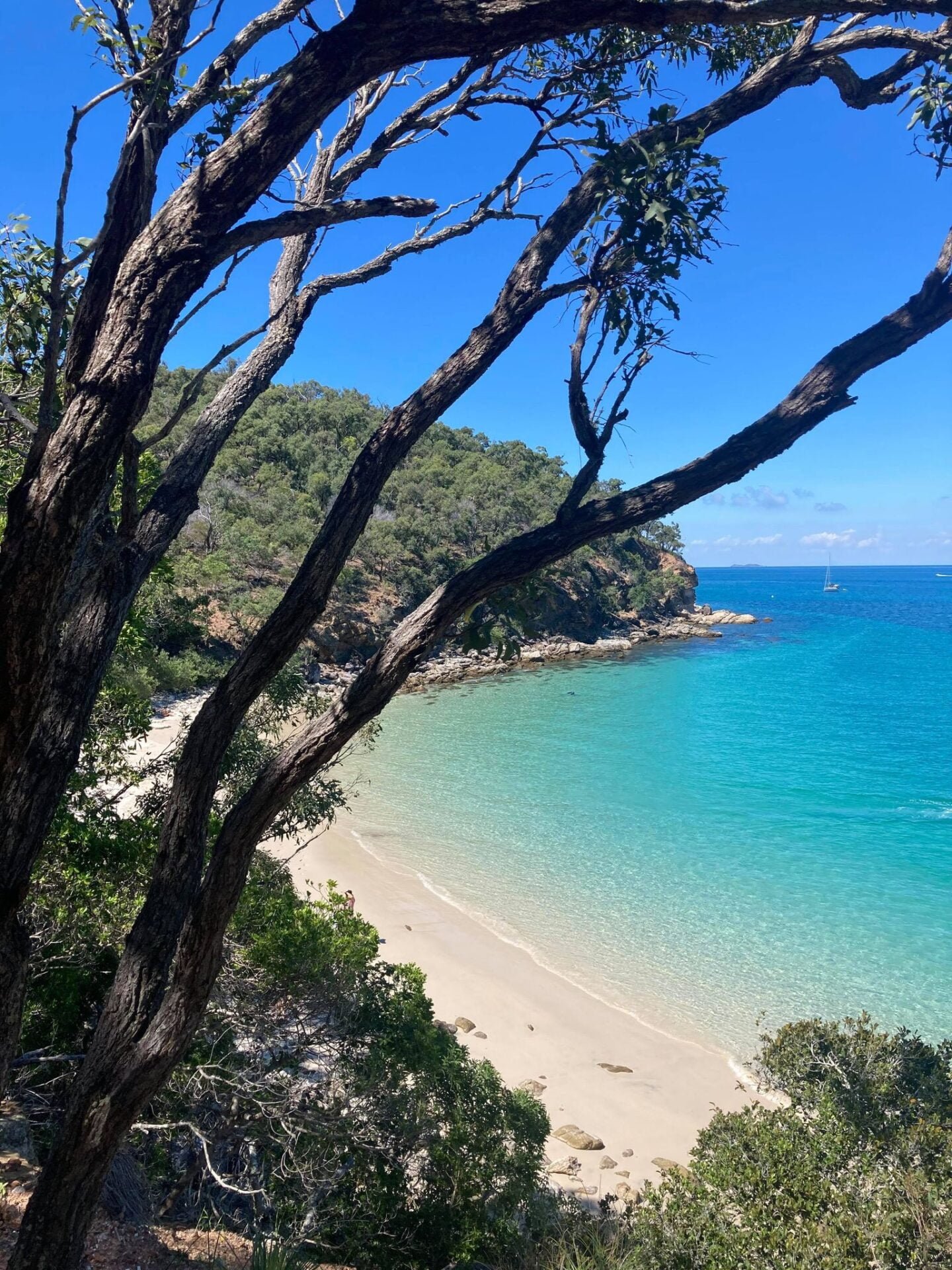 Thoughts on my Vanlife Road Trip from Townsville to Yeppoon
The first portion of my vanlife trip took a few weeks- and it was the best foray into life on the road in a van. It wasn't by any means an easy journey, but it was essential for settling me into vanlife. I learned so much in the short period of time between leaving home and arriving in Yeppoon, and it was amazing!
Like this blog? Why not check out some other Queensland posts!
A weekend on Heron Island, a tropical island on the Great Barrier Reef 
12 Places first-timers need to visit in the Atherton Tablelands 
Ultimate travel guide to North Queensland's Millaa Millaa Waterfall Circuit 
Top things to do in Townsville- the ultimate local's guide 
Exploring Tchupala Falls and Wallicher Falls in North Queensland 
Hiking Nandroya Falls in the Atherton Tablelands