Even though we had a tight schedule for our travels in the Baltics, we squeezed in a jam-packed, sight-seeing day trip to Mostar from Sarajevo, which added a different city to our itinerary. I think Mostar is one of the most surprising and beautiful places I have ever visited- and it is so easy to take a day trip from Dubrovnik or Serbia, that it is honesty SO worth it.
This is a place you'll never forget. Here's why!
The Stari Most Bridge is stunning
I think it's appropriate to start with the most obvious iconic landmark of Mostar and probably from the entire Bosnia & Herzegovina: the Stari Most(Old Bridge). It's the beating heart of the city for sure; a strong iconic symbol of its history and the main reason that led us to Bosnia in the first place.
I felt like a child given candy when I got to see the bridge for the first time. It's beautiful and charismatic. Still, what surprised me the most was the scenery of the valley around it. The 50 shades of green from the surrounding mountains and from the Neretva river create a stunning setting by itself. Put one of the most simple and elegant bridge designs ever and voilà, you have a true postcard scenery in front of you!
One of the things we absolutely loved about visiting Mostar was the history we learned, especially about the bridge. Stari Most was built back in the 16th century during the Ottoman Empire. The single-stone arch span was considered a major technological advance. It lasted until 1993 when it was destroyed during the Yugoslav wars. After years of reconstruction, its rebuilt works were finally finished in 2004. We got to watch a video of the bridge, its fall, and its reconstruction. It was so interesting!
Today it's a UNESCO World Heritage Site and a symbol of unity for an ethnically divided city.
One of the things we really wanted to do (and have definitely added to the bucket list for next time) was jump off the famous bridge! You're probably thinking the same thing most people did when we said this: why the hell would I jump from a 30m high bridge?! Well, Stari Most has a long history of being used a diving platform both by locals and tourists. One of the Red Bull Cliff Diving World Series stages takes place here. You can watch people jump from the bridge while you're there, although, this were more as a tourist attraction to scam money from people.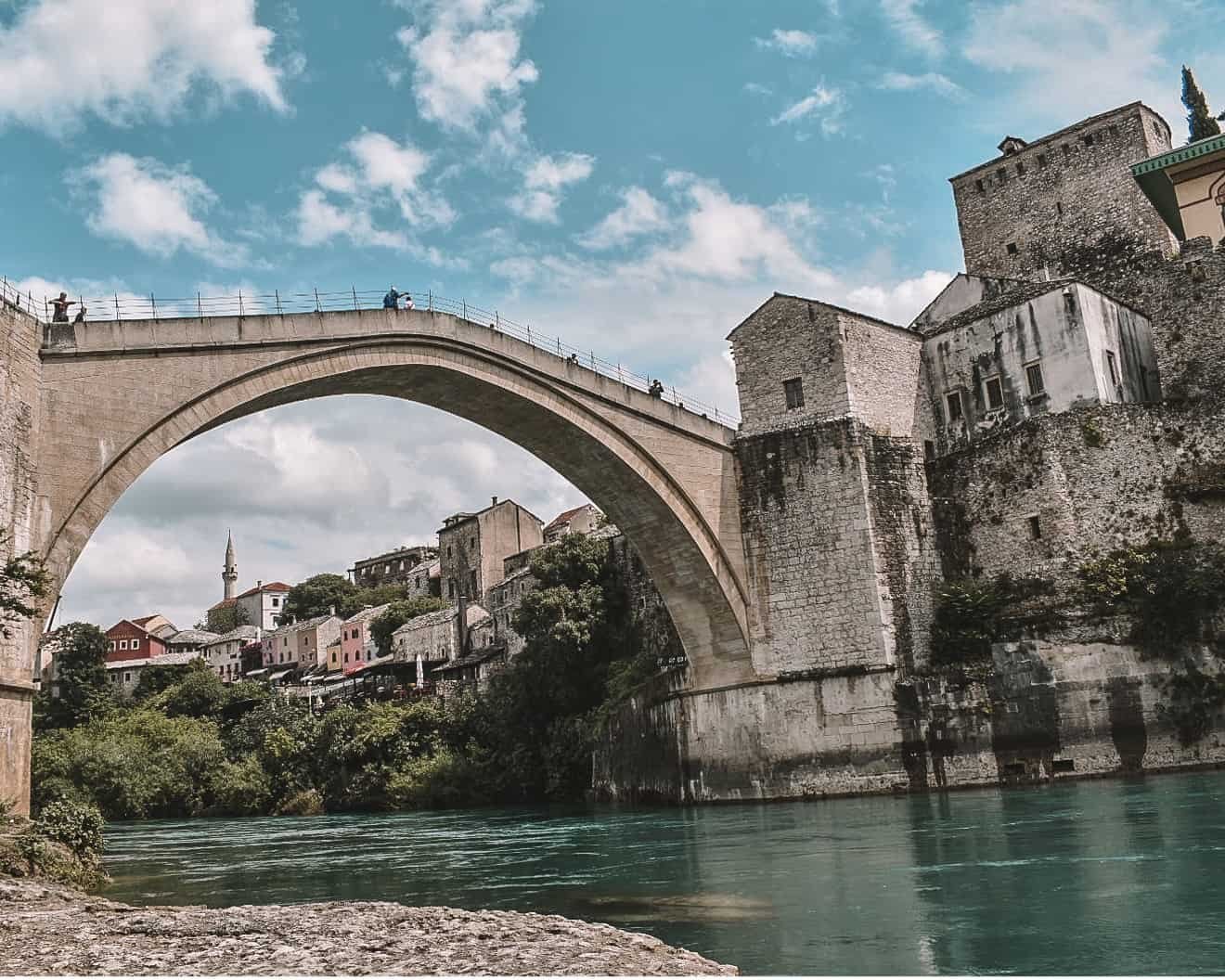 Mostar locals are uber-friendly
The wounds from Bosnia's rough past are still very recent. During my short visit, I got the impression Bosnians are very quiet and somehow melancholic. Nevertheless, they manage to be extremely nice people. Like, seriously, some of the nicest and friendliest people I have ever met.
Even though sometimes the communication was made in a dodgy English, in general the customer service in restaurants, cafés and bars was great. People genuinely want to talk about the wars and the history of Bosnia, so they are more than happy to answer your questions and talk about theirs experiences. Everyone was directly affected or at least had a family member affected. I got the feeling Bosnia & Herzegovina has still a lot to do to recover from their violent past. After all, it's not only the buildings that were destroyed.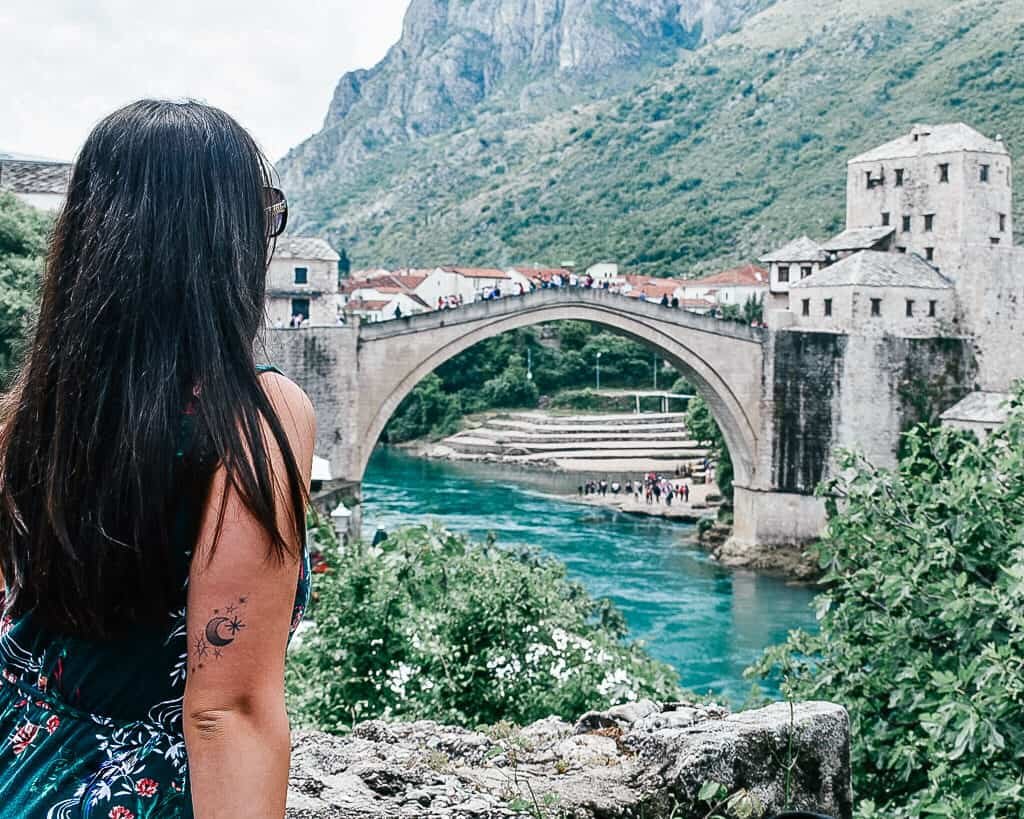 Mostar is cheap!
No matter how large my travel budget is, this will always be a great reason to visit a place. And Mostar, like the whole of Bosnia & Herzegovina, is quite cheap, even comparing to its neighbour Croatia. In other words, it is perfect for budget travellers.
The Ottoman influence is evident: the smell of shisha, Turkish cafés/restaurants and even the alleys of bazaar selling all kinds of metalwork, clothes and jewellery. You can't help yourself- you simply must buy it all!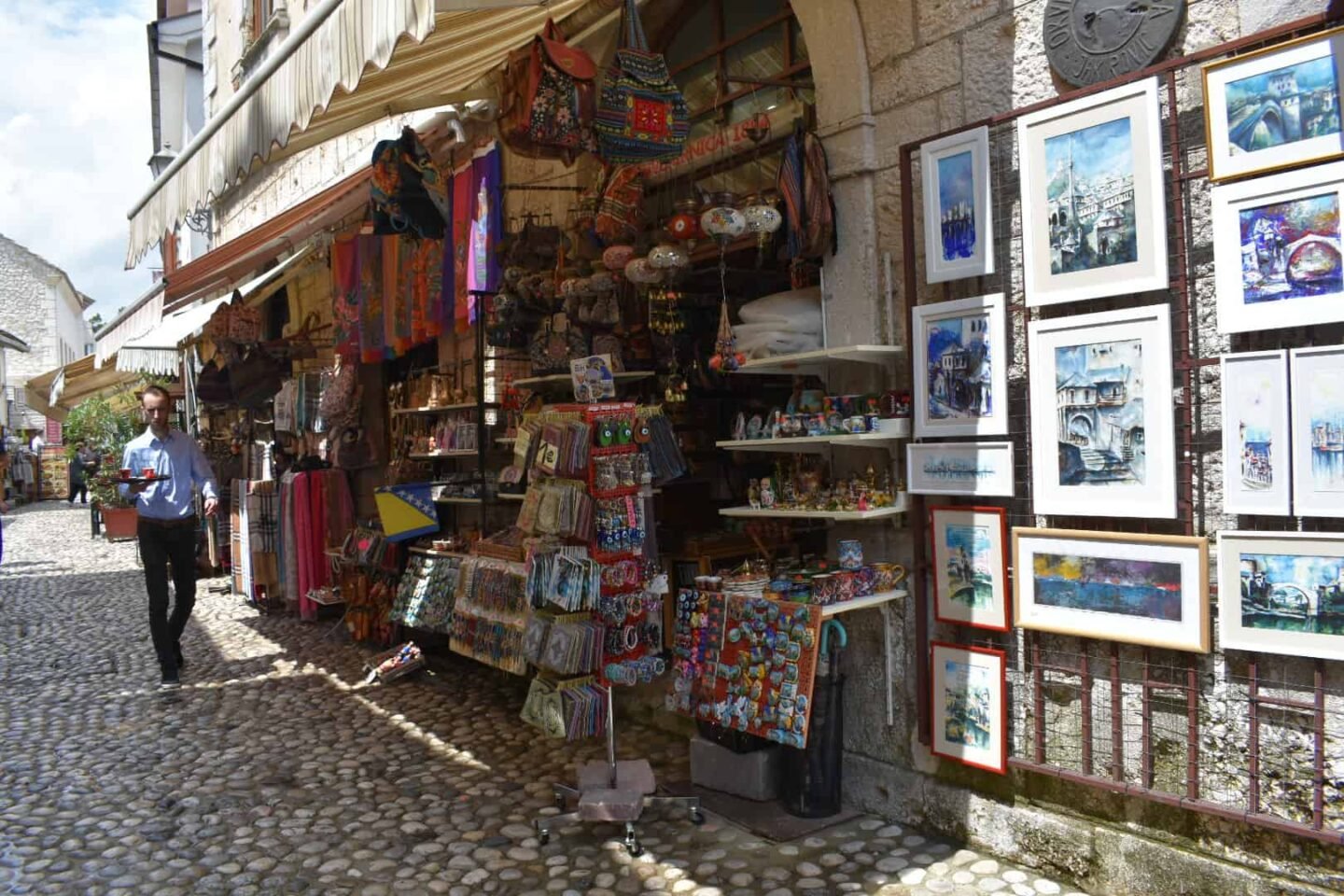 The food and fruit in Mostar are AMAZING!
If there is one thing I do as a vegetarian, it is judge each city and country by its quality of food. Although Bosnia & Herzegovina is very much meat orientated, I found that there were some really interesting and delicious vegetarian options as well!
One of the highlights of travelling through Bosnia to get to Mostar, is the roadside stops where there is an abundance of fruit on sale. This fruit is hands down my favourite in all the 32 countries I have been in the world. I have never, I repeat, NEVER, tasted strawberries so delicious! My only regret is not buying more when we had the chance. And taking photos of them!
Mostar is one of my favourite cities in Europe, just as Bosnia is one of my favourite countries in the world. I simply cannot wait to go back!
To book your own day trip to Mostar, I recommend this tour! It provides the perfect combination of adventure, sight-seeing, and culture!
Travelling to Europe and wanting more inspiration? Check out these posts!
Tallinn Truly is a Baltic Fairytale
Why Bosnia and Herzegovina is a Must-Do on your European Vacation
Ultimate City Guide For Things to do in Madrid!
11 Things To Know Before You Visit Rome
Tips and Tricks For First-Timers in Venice