Your Lake Louise Winter Season- Part 2
So you're finally heading off on your Lake Louise winter season (or a working holiday in Canada), and working at the Lake Louise ski resort that you've been planning for what feels like forever!
I am so excited for you!
Nothing feels more real than when you have got that visa and you take those steps off the plane into the country you're about to call home!
This post is more about the little bits of life admin you will need to do when you arrive, alongside what to pack and what to expect from your Lake Louise winter season.
If you've been following along since my latest post- Working Holiday in Lake Louise, Canada- part 1, you should have all the important things organised already. I'm talking about your Canadian Visa Letter of Entry, as well as a job and a nice chunk of savings for your arrival.
You should also have sorted out your travel insurance and started thinking about flights, and packing for winter!
If not, read part 1 here so you can start planning from the beginning.
When you finally arrive in Canada, there are a few bits and pieces of 'admin' that you will need to do before you can completely relax and start to enjoy your working holiday. But first, let's quickly touch on what you will need to pack for your first winter season!
What to pack for your arrival in Canada and your Lake Louise winter season?
For those people that have experienced living in a cold winter before, this might be really straightforward. But for most Aussies, it's really hard to know what exactly you will need for your first Lake Louise winter season. The best thing about Canada is that it is a first-world country, and you have plenty of shopping centres where you can buy anything that you've left at home – so don't stress too much!
While you are packing for at least a 6-month trip, it's important to remember that you don't have to pack absolutely everything. I have gotten way better at packing lighter and lighter over the years, and I still overpack! My rule is to lay out everything you think you might like to take, and put back at least a third of it. I know you think you'll need it all, but just remember you will spend most of your time in ski gear or work clothes. Not sure what to pack while skiing? Download and print out my trip packing checklist so you can tick it off as you go!
Here is a very simplified guide to what you should pack for your first Lake Louise winter season! If this is your first winter season or your first time skiing, read my more in-depth guide for more packing tips and skiing tips!
A GOOD Street Coat
It's a really good idea to have a separate jacket to your snow jacket for wearing around the village or on days off. You won't really want to wear your ski jacket to and from work or around town.
I personally have a Kathmandu down jacket, and was very rarely cold wearing it! I also had a beautiful hand-knitted coat I used on days off, when I was going out, or when the weather was a little warmer.
Whatever you have, just make sure it's warm and thick!
Socks
For skiing, the thinner the better. It's all about the materials sweat-wicking ability, and how comfortable the sock sits in your boot. I found that with good boots, I could usually get away with one good pair of winter socks, even on -30celcius days! For skiing, generally, you should only wear one layer, so you won't really need a whole lot when you pack.
In saying this, I know some people that would wear two, three, or even four layers to keep their feet warm throughout their days. I would occasionally wear two, but it depends on the quality I guess.
I had a pack of these socks off AMAZON which were nice and snug!
I also had several of these thermal socks, also off AMAZON.
These were my most worn socks while living in Canada!
Thermals
Thermals are perfect for wearing underneath your snow gear and on your days off to help keep you warm! I practically lived in my thermals when I lived in Canada.
You can get some amazing thermals for a small price from AMAZON- like these ones!
Hoodies, Sweaters, and Sweats!
Canada, and in particular Lake Louise, gets freezing in winter. It regularly sits around -25 degrees celsius, with the lowest it getting being -45/-50 celsius in the winter I was there. It was coldddd!
Having a nice array of winter hoodies, sweaters and sweatpants are good for the times between work and bed, and on your days off. Living with people that you also work with gets you so comfortable in so many ways that most of us didn't care that we would walk around shoeless and looking like we just woke up from a horrifying nap. Comfort is key in winter, and you get so close with your housemates and roommates that it doesn't matter what you wear.
Generally, I would wear jeans (I packed two pairs) and a nicer sweater (with a thermal layer underneath) if I was heading into Banff or going out to lunch or drinks.
Layering normal T-shirts with thermals was also popular, and a good way to keep warm, so I recommend packing a variety of T's as well.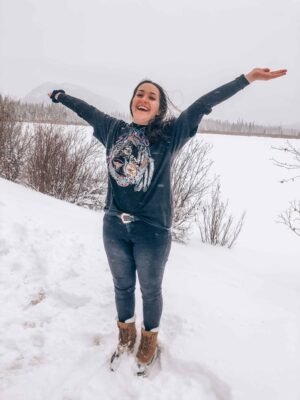 Winter gloves
A knitted or leather pair of gloves always come in handy when it is bitterly cold outside! I had a pair of inner gloves as well as a pair of great waterproof and windproof gloves that worked perfectly for whenever I was out and when I went skiing.
Lots of Beanies!
You'll be wearing beanies pretty much any time you are not at work (depending on your department) or skiing. People wear them inside, at bars, in bed, literally everywhere! you'll want a couple to keep you warm throughout winter- like this one and this one! Here are a couple of the ones I had!
 A Decent Pair Of Waterproof Boots
It honestly blows me away how many people try to walk around the snow in converses or vans. Sure, these are okay for a quick dash between buildings within the town, or on a night out, but not for walking across the snow or long distances. Your feet will be freezing in no time, and they offer very little grip so you will fall.
In saying this, we all found that Docs were the most slippery shoes! Even worse than my Havianna thongs (flip flops).
I would highly recommend investing in a good pair of winter boots like Sorels, or Timberlands.
I repeat I highly recommend investing in a good pair of winter boots!  I can promise you will regret not having some when you are falling through the streets of Banff and Lake Louise. The bruises just aren't worth it!
I had docs for work, a pair of thongs (flip flops) for inside the accommodation, and a pair of Sorell's for walking in the snow and it was all I needed for the entire season!
Work Clothing
Some jobs will require you to have specific items of clothing such as black pants or shoes, that you need to supply yourself. Your department and contract should let you know before you start work! However,  I'd highly recommend having at least one set of these clothes ready to go, so you don't have to rush to the mall to get organised before starting work.
For your Lake Louise winter season, depending on the job, they may give you a uniform. Food and Bev will require a pair of non-slip boots (Docs or Vans passed) and a pair of black working pants. We were also allowed to wear black thermals under our T-shirt, so make sure you have a few of these if you are in F+B.
Swimwear!
It sounds strange to add this to a winter packing list, but Canada is the land of hot pools and saunas! They are an amazing way to wind down and warm up after a big day on the slopes, so don't forget your swimmers!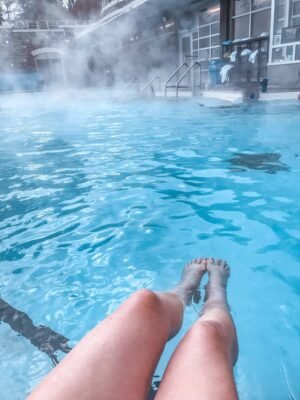 Basic Toiletries
Obviously you know which toiletries you are going to need, however, I recommend to not pack too many toiletries on the way over.
You can use small reusable travel bottles for the first few days or weeks before you settle in and can do some shopping!
Save yourself the kilo's in your luggage allowance, and just bring enough to get you through the first week. If you have enough time to shop for essentials, you can do so when you first arrive- however, keeping in mind that Lake Louise can be expensive.
Amazon prime and Bath and Body Works became our go-to at Lake Louise, because of its remote location. It was way cheaper to buy online and have it shipped to our place!
Arriving in Canada
Acquiring A Social Insurance Number (SIN)
First things first, you need a Social Insurance Number (SIN) so that Canada knows you exist! Legally, you're required to have a SIN to start working in Canada. You'll also need your SIN number to apply for a bank account and a phone plan. Applying for a Social Insurance Number is free, really easy and relatively quick.
You can apply for your SIN number in Calgary and Vancouver. All you will need is your work contract, your passport, and a smile!
Choosing A Bank
Banking in Canada is a weird and wonderful experience. The upside to being a foreigner is that most of the 'big' banks in Canada offer a 6 to 12-month introductory to newcomers, however, I have heard that the fees afterwards are higher than in Australia.
The most common bank for Lake Louise would be either CIBC or ATB. CIBC has a branch in Banff, whereas the only branch in Lake Louise is ATB. Both are excellent, but the only comment I would say is that ATB does not have a Visa card available, making it hard to make purchases online like booking flights or other travel.
Online banking is a thing in Canada, but not nearly as advanced as we are used to in Australia.
I went with ATB. The accounts set up was really easy and their customer service was always great!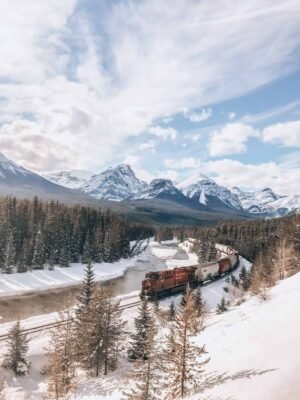 Transfer money to your CAN bank!
Even though you might have cash on hand or a traveller card with your bank or post office, you also have the option to transfer money across to your Canadian bank account. Transferwise is a company that is easy to use and transfers your money fast and with minimum fees. On several occasions, I transferred money from my NAB Australian bank to my ATB Canadian bank and back again. If it is less than $1,000 it takes less than three days to transfer across. Over $1,000 and you do have extra security to go through to ensure your money's safety, but otherwise, it's a breeze!
Sign up to Transferwise here, or bookmark it for later. It works with almost every currency, so it's perfect for any working holiday!
Choosing A Phone Plan Provider
You definitely can get away without having a Canadian SIM card while in Canada, even for a Working Holiday. In Lake Louise, the ski resort, accommodation, and the town itself, all have the same easy and fast wi-fi network.
However, if you want to have a back up if/when the Wi-Fi is down or when you are travelling around Canada, then having a phone plan doesn't go astray. There is a multitude of options when it comes to mobile service providers and offerings in Canada. You can choose to buy a prepaid sim, and top up your credit on a monthly basis. Or you can start a plan that is either pre-paid or billed. I guess this is similar to most offers in Australia too.
I went with Phonebox (Telus network) and thought they were great. They had excellent customer service and plans as cheap as $40 a month.
** If you are given GDL accommodation for your Lake Louise winter season, you will not have phone service, so unless you are planning on doing travel and spending your days exploring, it isn't worth having a sim card!
What Should You Expect From Your Lake Louise Winter Season?
By now you should be feeling confident you have everything that you need in terms of information surrounding your working holiday in Canada. How exciting! This is going to be epic!
These final parting tips will help you prepare yourself, so make sure you have a read.
Skiing in Lake Louise
Lake Louise is one of Canada's top ski resorts, renowned for its black runs, extensive terrain park, and blue-bird days.
But it is also known for being icy thanks to the cold, and you'll be scraping your frozen goggles every lap to be able to see.
My biggest advice is to enter the skiing (or boarding) world of Lake Louise slowly. Whether you've done it a thousand times before, skiing and boarding at Lake Louise is entirely different from other places, because the mountain is freaking high and ridiculously cold all the time.
The jump from the practice hill to the easiest green run is huge. The green runs equate to hard blue runs at some other places in the world, and they are not easy to navigate as a first-time skier.
Staff get free group lessons and half-priced one-on-one lessons, so it is worth your time to practice and learn good techniques before you get out there on the big hill.
And when you finally leave the bunny hill just take it easy, and get down safely. You'll get to know the mountain and soon you'll know the runs like the back of your hand.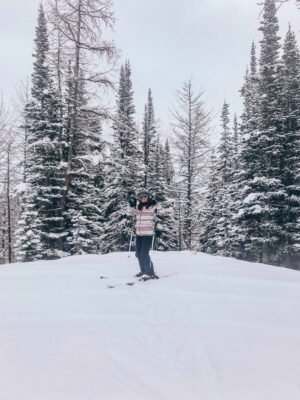 Get Ready To Party
While Lake Louise supposedly has a pretty tame party scene compared to Whistler and Big White, don't let that fool you. The Charleston Residence is home to plenty of house parties, (GDL people make regular appearances here), and there are also various themed nights out at the local bars in Banff. Seriously, there is something on almost every single night, so you could party all week long if you wanted too. Wine Wednesdays and Church nights (Sunday) are ridiculous, along with almost every birthday, holiday, and just random days when you feel like partying.
I also feel that I should mention the amount of drug use that you'll find, on any ski resort for that matter. Honestly, I found this quite confronting at first, as I went in completely unexpected. Drugs are much cheaper and seemingly more accessible in Canada than Australia, which seems to be why so many Aussies make their way to Canada.
At no point did I ever feel pressured to party, drink or do drugs by my friends. Sure, they encouraged a night out, but as someone who didn't like to party all that much, I never felt I was left out or forced into doing anything! Know what you enjoy and what you don't, and you'll find the party and drug scene can be as little or as big as you personally want it to be!
You Do Actually need to show up for work
One of the most popular sayings at Lake Louise is 'dress up, throw up, show up!'
Your employer knows you are in Canada on a working holiday, and they are aware you're there to ski, party, and travel, but they do also expect you to show up to work every shift.
Truthfully, you will probably be reprimanded if you don't.
Of course, if you go overboard once or twice and have to call in sick, you shouldn't get fired. But don't expect to hold down your position if you are constantly late, hungover or lazy in your workplace.
You Will Make Friendships That Will Last A Lifetime
It sounds pretty cliche, but it's true! Working a season brings some of the best friendships of your life.
You most likely won't maintain a close friendship with everyone, and that's okay. But then there are some friends that you make, that really will stick around. And what's better? They could be from anywhere in the world!
Most of the people you'll meet in your Lake Louise winter season will be Australian, but most of my close friends were surprisingly from Canada and the UK! Sure, you won't see them often, but if your love of travel continues, your paths will undoubtedly cross time and time again over the future.
Make the most of your surroundings
You're living in the Rockies, one of the most stunning places in the world, so don't forget to explore. Sometimes, partying, working, and skiing can take over every second of your days, but remember to get out and see the beauty of Canada before you go home!
Some of my travel highlights around the Lake Louise and Banff area include the frozen lakes, hiking, dog sledding, and snowmobiling!
Here is a post I wrote about the 9 best winter activities to do in the Rockies to help inspire you!
If you can prepare and plan well for all the things listed over the last two posts, you'll have an easy and smooth transition into working in Lake Louise for your first winter season. Once you're organised, you can relax, and enjoy the amazing snow.
And once again, don't forget to check out my skiing tips, tricks, and packing guide if you're looking to shred the slopes!
If you have any other questions about your working holiday in Lake Louise or anywhere in Canada, feel free to reach out at any time! I love talking about it and would be more than happy to assist you or answer any questions. Feel free to email, comment, or message me on Instagram!