Working Holiday in Lake Louise, Canada- Part 1
There are many things to consider when contemplating your first working holiday. You probably have a million questions about where to work, where to live, how to get visas, what to pack, etc. I know that I spent hours upon hours researching these things before I did my first season. That's why I want to share all of the tips I learnt along the way from my working holiday in Lake Louise, Canada.
A working holiday had long been on my list of things to do before I finished travelling and settled down (if that ever really happens). When I finished my creative writing degree in 2019, I knew that it would be the perfect time for me to live out my dream of moving abroad. So, in 2019, I bit the bullet and moved to Lake Louise in the province of Alberta, Canada.
It was not without considerable amounts of planning, researching, stressing and saving, that I arrived in Lake Louise. Even then, once I arrived I had a lot of 'wholly crap' moments, and you probably will too!
No matter how organised and prepared you think you might be, moving abroad for an extended period of time can be pretty confronting.
But, that doesn't mean you should be afraid of taking the leap. It will also be one of the best things you've ever done!
With this post, I hope to make your planning process a little bit easier. Hopefully, I'll also shed light on all the reason why a working holiday in Lake Louise, Canada (or just anywhere in Canada) should be on your bucket list. Especially, if this working holiday is in ski season.
This is part 1 of a 2 part series. You can read part 2 here with more tips for your working holiday when you arrive in Canada, along with my ultimate skiing packing tips and preparation guide!
Why do a working holiday in Lake Louise?
I got asked this question hundreds of times in the lead up to my move and when I arrived.
My answer?
Because it is literally the quintessential Canadian winter destination.
We've all heard of the stunning Canadian Rockies, and the idea of living inside a national park surrounded by the world's best snowy mountains sounded heavenly.
Lake Louise came highly recommended from many of the people who had travelled there. But what also drew me to Lake Louise was rumours of awesome ski resorts- the Big3.
Whether it's your first season or your tenth, there is terrain suitable for everyone in the area, with Lake Louise as one of the world's top resorts. My favourite pro's of Lake Louise are the affordable housing and accommodation options, and that most jobs give you the flexibility to get plenty of riding time in.
A working holiday in Lake Louise, Canada gives you access to great perks. These include a free season pass (incredible!), discounts at all the Lake Louise owned hospitality and retail outlets (including many places in Banff, and at the Fairmont food outlets), reciprocal lift passes at local resorts and free usage of the other Big3 ski resorts- Norquay and Sunshine Village.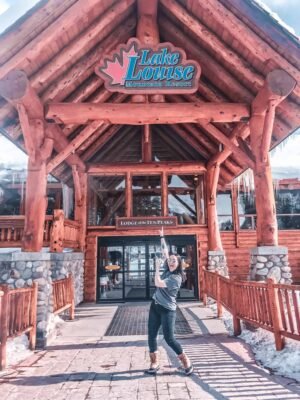 Applying For A Visa
The visa application process for Canada may have changed slightly since I went through it, and could likely change again before long. With this in mind, I would highly recommend that you head to the official Canadian Immigration website to read up on the most up to date facts surrounding the application process.
This advice also comes from an Australian, with our visa requirements in mind, and is only a guide!
You will want to apply for the International Experience Canada (IEC) program. This program allows eligible candidates under the age of 35 to attain an open work permit for a 24-month duration. There is plenty of detailed information available through the links above.
The two main things to be aware of before starting your application is that you will need a police check and you will be required to provide biometrics in a major city like Brisbane, Melbourne, Perth, Sydney, as apart of the application process. Be sure to read the instructions provided to you carefully. If you stuff up or miss the deadline, your visa will be declined and you'll be sent back to square one (speaking from experience).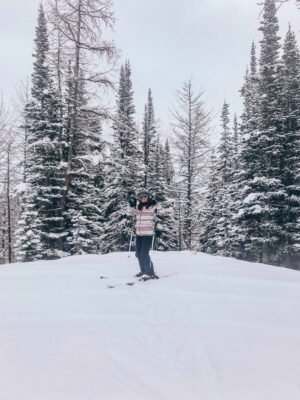 Accommodation for your working holiday in Lake Louise
One of the things I loved about a working holiday in Lake Louise was that they offered staff accommodation. There were three options- The Lake Louise Charleston Residence, The Banff Townhouse, and The Great Divide Lodge (GDL). The former two were in their respective towns, while GDL was located about 15 mins from Lake Louise. All three options had their perks and downfalls, but each of them meant you were surrounded by people that quickly became your family.
The Great Divide Lodge (GDL)
Ahh, home. I was lucky to be placed at GDL for my winter season in Lake Louise. It was incredible. I was in a room with one other girl who quickly became my best friend. I was styled like a hotel room, with two single beds, a fridge, cupboards, a TV, table and chairs, and a bathroom. Although it was small, it was a good enough size to make it comfortable and homey. There are, however, door rooms and bigger rooms with Queen or Duble beds, as well as cozy couple rooms with balconies. It really just depends where they place you.
GDL was fabulous for its bar and restaurant where staff were given discounts on food. In winter, it is just staff living at GDL, so you can really make it a home and become family with the other residence. Many nights were spent in the common room, partying, watching movies, and just chilling. There is also a sauna that regularly got used, a fire pit outside, and plenty of couches and seating to make yourself at home.
Shuttles run regularly to and from the resort and GDL, but the only downside was that the last shuttle bus was at 6 pm, so night time is generally spent at GDL rather than in Banff or Lake Louise.
Charleston Residence (aka Chucktown)
Chucktown was the main accommodation lodge for Lake Louise staff, with hundreds of bedrooms! Rooms are set up in an apartment-style, with a kitchen, lounge room, two bathrooms, and about four bedrooms (6-8 people) per apartment. Although there are a lot of people living in the area, I saw several apartments that were really clean and comfortable. It depends on who you live with, but most apartments felt like small families.
Charleston has a gym, a large co-op shop to buy food from, and a huge rec room where many nights were spent partying! It's 5 minutes from the actual resort, and a 5 minutes walk from the small Lake Louise Village.
This youtube video gives a walking tour of Chucktown!
The Banff House
The Banff House, located in Banff, was a huge three-story house with several bedrooms on each floor. I believe there was two big living rooms, as well as three kitchens (although ever time I was there I was drunk so I can't exactly remember!).
The Banff House was incredible, and the residence that lived there were extremely close. The one major perk of living here was that you are living in town. There are plenty of clubs and restaurants and shops in Banff, so you have everything you need at your fingertips! The only downside is that you live 45 minutes away from Lake Louise and work, so they often missed the gatherings and social events at Chucktown and GDL.
Many people who have worked at lake Louise for more than one season choose to live in Banff so they are closer to town, while others move there midseason. Banff is the ideal location because you actually get to live in a town, but the costs involved with finding and paying for your own accommodation far exceed that of the options Lake Louise have to offer.
While in Canada, I heard story after story of people in other resorts around Canada, like Big White, having to leave because they had no place to live! Or that they were stuck living in the Hostel for the majority of the season. This is without a doubt one of the major perks of a working holiday in Lake Louise, Canada. They literally have to offer you accommodation if you are hired as staff.
How to get a working holiday job in Lake Louise, Canada
Thankfully, this is the easiest part!
Lake Louise hires hundreds of staff on a yearly basis, for both the winter and summer season. Job applications start fairly early, with Summer applications happening around February, and Winter around June/July.
Lake Louise hires a lot of staff from companies such as The Working Holiday Club, a popular company which helps thousands of Australians each year get job offers in Canadian ski resorts. You can look into their website and the jobs they offer here.
If you'd rather fly solo, Canadian ski resorts list their jobs on sites like Indeed and Seek.com, as well as on their websites. This is a great option for people who have decided last minute that they'd like to do a season, or are super brave to just wing it once they arrive.
The good thing about working holidays at ski resorts is that once you have one under your belt, your resume will be more appealing to other ski resorts. You also gain preference over others if you are returning for a season, and they are more likely to take into consideration what jobs you would like.
Want to experience a magical winter working holiday in Australia? Check out my Jindabyne winter post.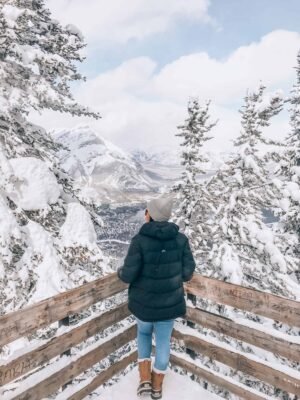 Getting to Lake Louise
Lake Louise and Banff are incredibly accessible and getting there is super easy, which is another reason why it's so popular. Many major carriers provide direct flights into Vancouver from Australia, and Air Canada is generally really cheap to book. From there, you can spend some time in Vancouver (which I highly recommend you do), or connect to Calgary. From there, you can catch a two-hour Brewster bus trip to Banff, or a three-hour Brewster bus trip to Lake Louise. It's that easy!
If you have the time or are a money-conscious traveller, the cheaper option to get from Vancouver to Lake Louise would be to travel by bus. Although it is a 12-hour bus trip to Lake Louise, the ride is beautiful. You get to watch the city disappear into the wide-open country, before finally turning into the incredible snowy Rockies.
I did this trip when I arrived in Canada as well as when I left, and wouldn't travel any other way! The bus had wifi, a toilet, regular food stops, and comfortable seats. It also allowed a cheaper way for me to carry luggage and ski gear, as flights often charge a fortune! You can book the bus here!
Planning on going in Summer? Check out my first-timers guide to summer in Lake Louise
Tips for a working holiday in Lake Louise, Canada
Travel Insurance is Essential
Travel insurance is a compulsory part of your visa checklist. You will most likely be denied entry without it.
Depending on who you get at immigration, you may only be provided with a visa for the length of your insurance policy. With this in mind, it's a good idea to purchase a policy for the expected length of your stay in Canada.
If you are willing to take the risk, many of us arriving in Vancouver had 6-months or one year of insurance and were still granted the full two-year visa. However, I did have friends who were only granted a 6-month visa because of their insurance, so the risk is yours to take.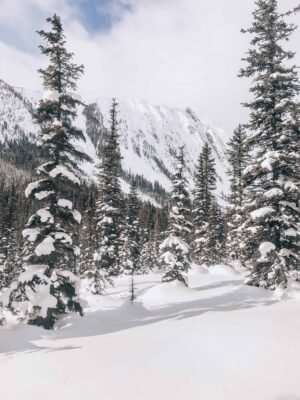 I use World Nomads Insurance when I travel. I've listed some important information about their company below.
7 things you should know about travel insurance from WorldNomads
All of the information provided about travel insurance is a brief summary only. It does not include all terms, conditions, limitations, exclusions and termination provisions of the travel insurance plans described. Coverage may not be available for residents of all countries, states or provinces. Please carefully read your policy wording for a full description of coverage.
Be Diligent With Your Visa Process
What I mean by this is to take your time with the visa 'terms and conditions'. Be sure that you understand what is required of you, and that you action those things. Just because you have attained the Letter of Entry, doesn't mean you will be provided with a visa when you arrive.
For example, some requirements for approved entry into Canada include having travel insurance, proof of onward travel and proof that you have $2,500 CAD in your bank to support yourself during your time in Canada.
Side Note: I wasn't asked to prove any of those things, but it all depends on who you get in immigration. You just have to ask yourself if it is really worth the risk to make it all the way to Canada and then be denied entry?
Go To Canada With As Much Savings As Possible!
This is a big one. Even though you will be working, Lake Louise is freaking expensive.
You are living and working in a national park after all.
The Banff IGA is pricey for food, and the restaurants aren't exactly cheap either. However, the option to travel to Canmore or Golden if or some of your friends have a car or you don't mind catching a few buses gives you access to a Save on Foods. Here you can get bulk food for ridiculously cheap prices! Calgary isn't too far away either, and many of my friends would go there on days off to do shopping.
Even after the excitement of having started your working holiday in Canada, money flows like water throughout your season. You'll be earning minimum wage (around $15 an hour), and you'll most likely be eating out a lot and partying with your new friends. Cannabis is legal, alcohol becomes, virtually, essential, and you'll also be keen to invest in some awesome winter gear (or upgrade some of your old gear). Having some savings behind you will provide a huge release of pressure, I promise.
In saying this, I was able to save a fair bit of my paycheck each week to be able to do a lot of travel around the area, book flights to New York and Mexico, and have more than enough money in my savings to come home with! Some people struggled, but thankfully I know just how to budget so I can travel more.
I was able to do so much travel throughout my time at Lake Louise. I went dog sledding, snowmobiling, hiking, frozen lake hunting, and so much more! It was the perfect location to tick off my winter bucket list and see the beauty that is Canada.
Everyone is different, but I would recommend at least $4,000 in your account before you arrive if you have dreams of living comfortably, purchasing ski gear, and doing some travel.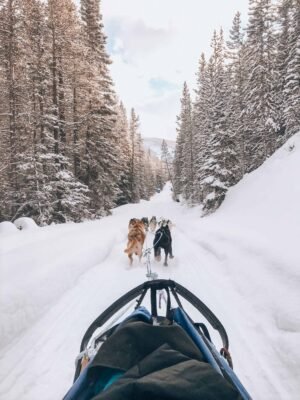 Want to know how I budget to travel more? Read these posts!
46 Easy Ways to Travel on a Budget
19 Ways to Cut Your Expenses So You Can Afford Your Dream Trip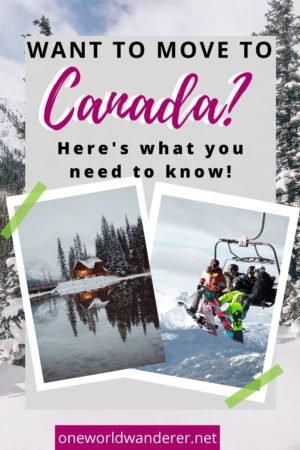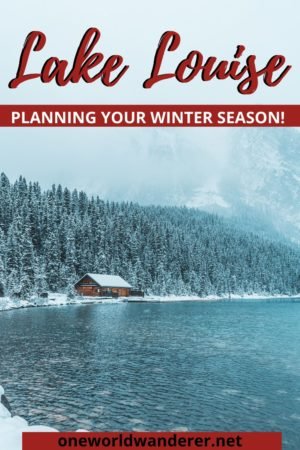 I hope this post can help you put your working holiday in Lake Louise, Canada dreams in motion. Even though this post is heavily based on Lake Louise, you could apply the steps to any resort!
Lake Louise really is an awesome mountain and was a great place to call home. If you have any other questions, don't hesitate to comment, email me, or reach out on Instagram!
If you want to read more about a working holiday in Lake Louise, and what you need to know when you get there, check out part 2!
First time on a ski holiday or working holiday? Read this post for tips, tricks, and packing!