I've always wanted to visit Canada. I doubt anyone would pass up the opportunity to venture out into the iconic wilderness – complete with epic landscapes, bears, moose, and endless hiking trails. But, when I decided to move to Canada, it was for many more reasons than those above. I also wanted to experience some of the Canadian cultures, such as trying maple syrup in its motherland, finding out what poutine is, and watching an ice hockey game. Of course, it can be really hard to fit all this into a vacation- so moving there seemed like a pretty good idea to me.
Here's what made my Canadian bucket list (and what I have done!)
Loving the winter vibes and Canadian wanderlust? Why not try a working holiday! If you want to read more about how to prepare or begin your working holiday dream, you can find all the information in part 1 and part 2!
First time in the snow or on a ski holiday? Read this post for all the best winter tips, tricks, and packing guides!
1. See a Glacier (Check!)
A visit to one of the many Canadian National Parks is special for many reasons, but arguably the best way to experience it is to hitch a ride on a glacier flight over one of the many famous glaciers! The Banff and Jasper National Parks are beautiful for this reason!
2. Canoe on a lake 
Water activities on a lake (and by a lake, I mean literally any lake), are near enough to an institution in Canada. Summers are typically spent out on the lake with family or friends, kicking back, and taking in the scenery around you.
Some of the famous lakes to add to your Canadian bucket list include Lake Louise, Moraine Lake, Emerald Lake, Abraham Lake, Maligne, and Peyto Lake. You can read my guide to the top lakes in Banff here!
3. Visit Banff National Park (Check- moved there)
Banff National Park is probably the most beautiful of all the National Parks in Canada – with crystal blue waters, an expansive mountain range, and the most picture-perfect landscape you will ever see!
It's a stunning place to live and work, but if you are only able to travel through Canada, I highly recommend you add this area to your Canadian bucket list!
4. Calgary Stampede
Whilst visiting Banff, be sure to make your way over to Calgary and if you can, time your visit to include attending the famous Calgary Stampede, an annual rodeo show held every July in Calgary, Alberta.
5. Visit Montreal, the home of Cirque du Soleil
If you have an appreciation for the performing arts, you will have heard of the highly renowned Cirque du Soleil – the world's most famous and successful circus. The shows are all created in Montreal where the Cirque troop is based, before heading off to tour the world. If you're in town when a show is in local previews, you'll be one of the first to see a new Cirque show!
6. Visit the Yukon 
Over in the Northwest of Canada is one of the most authentic regions with friendly locals and glorious landscapes – 'The Yukon,' or simply Yukon, if you prefer. The Yukon is one of the world's best places to see the famous Aurora Borealis as well as do other incredible winter activities!
This is in my plans for late 2020/2021 and I cannot wait!
7. See Niagra Falls
Niagra falls is one of the world's most famous waterfalls, lying on the border between Ontario (Canada) and New York (USA). It looks pretty spectacular, and given that 30 million visitors head to the falls every year, it's definitely worthy of your Canadian bucket list!
8. Watch an Ice Hockey Match
I once asked a Canadian what other sports are popular in Canada other than Ice Hockey. The answer: 'other sports exist?'
If you time your visit to Canada during ice hockey season, be sure to check out the game + crowd atmosphere at either a local, regional, or national match! I've heard they are incredible.
I was due to watch an Ice Hockey game in early 2020, but due to Coronavirus, my game got cancelled. Hopefully, when I go back I can see one!
9. See the Northern Lights
One thing I hope I get the opportunity to view at some point in the near future is the highly popularised northern lights. The lights are visible in many parts of Canada, but none more popular than the Yukon and Northern Territories.
If there is one thing you need to add to your Canadian bucket list, it's the northern lights! Trust me- you won't regret it.
10. Visit Nova Scotia
Located in the east Maritime provinces, Nova Scotia is argued to be one of the most beautiful parts of Canada to visit.
For now, it remains on the bucket list!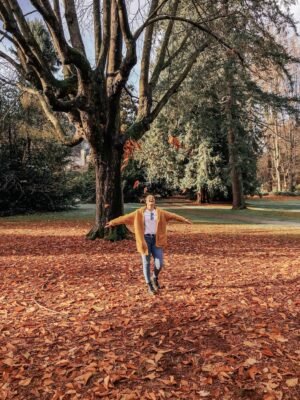 11. Eat Poutine (CHECK!)
"What should I eat in Canada?" is one of the things I asked a lot of people before I left for Canada. I can't tell you how many people were quick to tell me I must try poutine!
Poutine is essentially chips (french fries) with gravy and cheese curds on top! It sounds like cheesy, gravy chips, but it is sooo much more delicious that any other version I have ever tried.
12. See a Bear
Seriously. There is nothing more I wanted to see in Canada than a bear. Perhaps the best way, I should imagine, would be to see one from a car… but to be honest, I'd take (almost) any opportunity to see one!
My plans to stay in the Banff region in summer in the hopes of seeing a bear were unfortunately trumped by Coronavirus, but I will definitely be returning to make this bucket list dream of mine come true!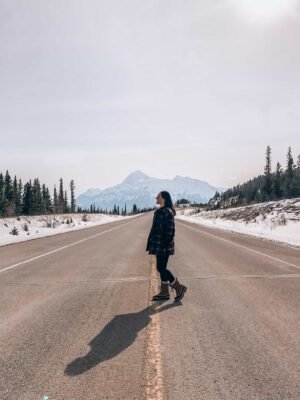 13. Eat a Bagel (Check- so many bagels)
Yep, bagels are a thing in Canada! Like, a real, obsessive kind of thing!
Apparently the best bagel is to be found in Montreal, but I'm uncertain how wrong you can go with a bagel? Toasted, raw, cream cheese or salad- any kind of bagel is good.
For all my Australian readers- vegemite on bagels is also the bomb!
14. Ski in the Canadian Rockies (Check- I worked at Lake Louise!)
The Canadian Rockies are one of the most magical places to ski in the world.
Trust me- I got to ski and work in one of the most highly-acclaimed ski resorts every single day. There are so many different resorts to visit, and I highly recommend adding this to your Canadian bucket list.
15. See an Iceberg up Close
Show me an iceberg. Any iceberg. ALL OF THE ICEBERGS!
I'm not 100% sure when I will be able to do this, so it remains on the list nonetheless!
16. Make Friends with a Canadian (CHECK!)
Canadians are probably the easiest people in the world to befriend. They're open to conversation and very friendly without being loud and obnoxious (quite the contrary).
Living in Canada introduced me to some of the most incredible people I will be friends with for the rest of my life. Canadians really are as friendly and kind as people say- plus they have the best accents around!
17. Eat at Tim Horton's (Check)
How I had never heard of Tim Horton's before, I have no idea! According to every Canadian I encountered, Tim's is a must. It's also a great (and reliable) cheap meal which can be found on almost every corner or highway in every town or city.
18. Visit at least 5 National Parks (3 so far)
Canada is renowned for its stunning landscapes and beautiful national parks- with 48 national parks in total!
I was lucky enough to get to work in Banff National Park and live in the Yoho National Park which is one of the coolest experiences ever!
While 3 is a pretty good first run, I'd love to see many more National Parks in Canada!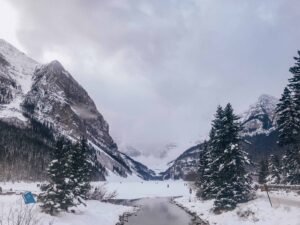 19. Visit the Hot Springs in the Canadian Rockies (Check)
Because….wow.
Visiting hot springs is the perfect way to end a long day of skiing, adventuring, and travelling around Canada. You will be able to find hot springs virtually anywhere you go, but I particularly loved the ones around Banff!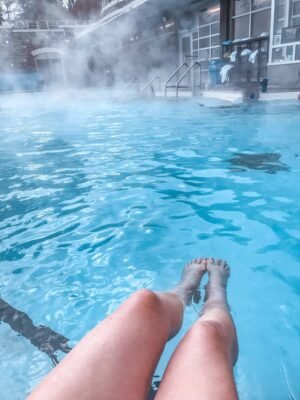 20. Walk over the Capilano suspension bridge, BC (Check)
Because….also wow. The Capilano Suspension Bridge is located in Vancouver and was definitely a highlight of mine from the time I spent in Canada. Seriously, add it to your Canadian bucket list and check it out.
21. Lake Activities in Winter (CHECK!)
Spending time outdoors enjoying nature is one of the must-do things you have to do in Canada! Many of the popular ways to get outdoors and enjoy life are by having fun with winter activities on the frozen lakes! Whilst in Canada, be sure to say yes to any and all opportunities to have fun on a lake. That could include ice skating, snow-shoeing, cross-country skiing, fly fishing, and much more.
I spent a lot of time on frozen lakes throughout my time in Canada! One of the best experiences was ice skating on the famous Lake Louise, but I also loved chasing bubbles on the famous Abraham Lake!
You can read about my favourite lakes in this post!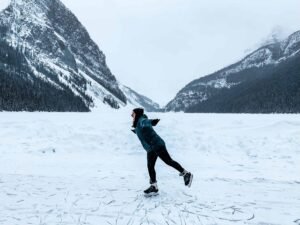 22. Visit the Land of Anne of Green Gables
If you're a fan of the famous novel, then this is one to add to your Canadian bucket list!
Also known as Prince Edward Island in Canada's East, it's apparently just like the book!
23. Visit West Edmonton Mall (The Largest Shopping Mall in North America)
Taking a break from all the outdoor activities here and offering an indoor extravaganza, let's not forget about the West Edmonton Mall, located in Edmonton, Alberta. Not only is this the largest shopping mall in North America, but it is also the 10th largest in the whole world. I can't wait to check it out someday soon!
24. Ride cross-country via Rail
While I haven't done this yet, I have heard from numerous sources that the cross-country railways are another fantastic way to see the country and all of its' diversity.
This is a great option for those who don't drive or those who don't want the responsibility of driving around Canada!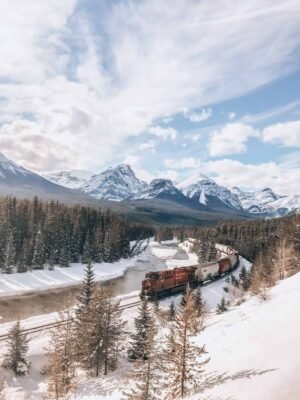 25. Go to Jasper National Park
If there could be just one National Park on my Canadian bucket list, it would be Jasper National Park.
In fact, I wanted to visit there so bad, I was supposed to be working there in the summer of 2020! Unfortunately, thanks to the Coronavirus outbreak, the job was not open and I was forced to head home to Australia.
I can't wait to visit one day soon!
26. Eat Maple Syrup (Check)
Canada is the birthplace of maple syrup and where the sugary treat is made and then exported to the world. But what you'll soon realise when you visit Canada for the first time is that Canadians really love their maple syrup…. on everything! One of the maple things I love the most is the maple creme cookies!
Seriously, they are to die for.
27. Drive the Top of the World Highway
Also whilst in the area (The Yukon), be sure to catch a ferry across the river from Dawson City to the start of the Top of the World Highway.
This stunning drive (that goes through to Alaska) will have you feeling just that; on top of the world. This is definitely on my bucket list for when I return to Canada! I cannot wait to head north and see all the beautiful arctic sights!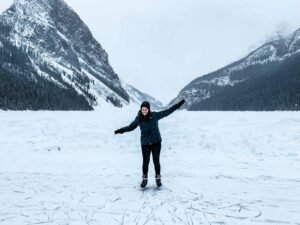 28. Try a Nanaimo Bar (Check!)
Working in a Canadian ski resort allowed me the chance to try many Nanaimo bars (think caramel slice, crossed with chocolate mousse and a dusting of coconut- but even better). The Nanaimo bars I ate were one of the most delicious sweet treats I have ever tried. You absolutely have to try these in Canada!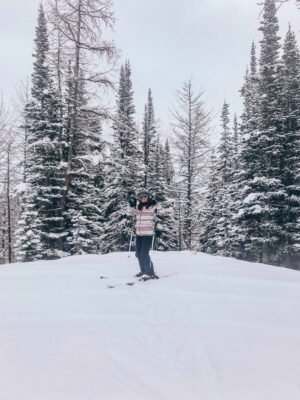 29. Rent a van/car/motorhome and drive, drive, drive…
Probably at the top of my Canada bucket list is to drive to all of the places mentioned on this list. I don't know why exactly I'm so obsessed with the idea – perhaps because it's such a Canadian thing to do – or perhaps because I want to live out my dreams of being a full-time gypsy living in the back of my car.
Who knows.
30. Go dog sledding (Check!)
One of the biggest bucket list items for my trip to Canada was ticked off in early 2020 for my birthday.
For anyone travelling Canada in winter, going dog sledding is an absolute MUST DO! If you happen to be in the Banff region- Howling Dog Tours was phenomenal to go dog sledding with. It'll be the highlight of your Canadian adventure.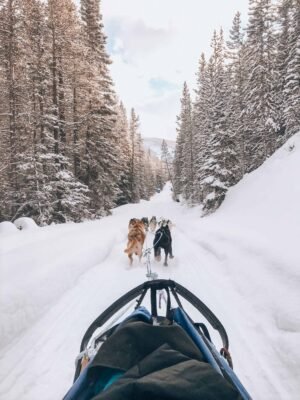 Let me know in the comments how many you can tick off the list!
For other destination guides, check out these posts:
First-Timers Guide to Summer in Lake Louise
I went solo female travelling in Doha, Qatar
The Ultimate Red Centre Itinerary
Tallinn Truly is a Baltic Fairytale
Townsville's Top 10 Hidden Secrets You Need To Visit This Summer!