Guest Post by Ben Lloyd- Ben Lloyd spent a year working at the Fairmont Chateau Lake Louise and is the co-creator of Ticket4Twoplease– a travel blog that offers advice and inspiration for couples seeking long-term travel options. You can find him on Instagram and Pinterest.
Summer in Lake Louise and Banff is all about sunshine, mountain adventures, and moments full of beauty.
It is a chance to take a break away from your stressful life and venture into nature to see some of the most surreal sights on the planet.
Lake Louise offers you the chance to try something you never have before, like rock climbing or mountain biking, and hiking some of the world's most stunning trails- and we recommend you jump at all the chances it offers.
Be wowed by the spectacular beauty of Banff National Park's mountains, lakes, and valleys on a scenic drive through the Rockies or a once-in-a-lifetime helicopter flight. Canoe on the world's most colourful lakes. Venture where the wifi is weak and explore the stunning trails of the world. And unwind beside a campfire under the starry sky or on a sunny outdoor patio with a glass of prosecco in hand.
It is time to connect with nature and truly relax.
Our first timer's guide to summer in Lake Louise will walk you through what you need to know about visiting the Lake, Village, and Ski Resort in Summer and some of the top things we recommend doing! 
What to Know Before Visiting Lake Louise in Summer
Lake Louise is a Lake, Village and a Ski Hill
This is hugely important to know before you visit Lake Louise because you definitely don't want to end up in the wrong place! But, something that most people aren't aware of is that Lake Louise is more than just a lake- it is also a village and a ski hill/summer gondola.
The lake itself is one of the most popular places in all of Canada- and when you look at pictures, it is easy to see why. Lake Louise was named after Princess Louise, the 4th daughter of Queen Victoria, and is one of the most photographed lakes in the entire world. In the height of summer (June-August), an estimated 15,000 tourists visit the famous shores of Lake Louise each and every day. 
Lake Louise village is 4km away from the lake and located just off the Trans-Canada highway. The relatively modest village boasts a little shopping plaza, Samson Mall, that is home to a few cafes, a liquor store and a mini-supermarket. While not large, the place is very relaxed and often flowing with locals and visitors year-round.
Finally, we have the Lake Louise Ski Hill– the world-famous resort that hosts the FIS Ski World Cup every winter. The ski hill is a beautiful location to visit if you are into great ski terrain and is also a great place to work if you are interested in doing a Canadian ski season. 
Lake Louise is in Banff National Park – you're going to need a Parks Canada Pass
If you're visiting Lake Louise by car, you're going to need a Parks Canada Pass to be able to drive around Banff National Park legally. 
The Parks Pass costs CAD$10 per day, per adult. If you're travelling in a car with 2 or more adults, however, you can grab yourself a group pass that is CAD$20 for the day.  You can purchase them online before you visit, or alternatively, you can pick one up from the Banff National Park gates when you enter the park. It is important to always display the pass on your dash so you don't get in trouble- the rangers are very strict when it comes to park passes.
If you're visiting Lake Louise and using public transport, like catching the 8X from Banff, then you don't need to worry about getting a Parks Pass. The bus transportation is great, with the Brewster and the Roam travelling between Lake Louise and Banff/ Canmore regularly. 
There aren't many places to stay in Lake Louise
As Lake Louise is a fairly small place, the options for accommodation can be quite limited, so it's best to do some research. 
If you're looking for a luxury option, then the Fairmont Chateau Lake Louise has views that can easily rival any hotel in the world. Located directly on the shores of Lake Louise, the hotel offers panoramic views of the Lake and the towering Victoria Glacier in the background. 
If you're searching for a more budget-friendly option, then potentially Lake Louise Inn or Deer Lodge may be better suited. Both offer a mix of accommodation options, from dorm-styled rooms to large, spacious guest rooms. 
Perhaps the best option for a first-time visit to Lake Louise however, is to stay in Banff. The town offers a variety of accommodation options to cater for every budget and is only a short 40-minute drive from Lake Louise. There is more to do in Banff too- with restaurants, cafes, shops, and an excellent nightlife running year-round. 
Drive on the Bow Valley Parkway (1A) instead of the Trans-Canada
A great tip for a first-time visit to Lake Louise is to avoid the trans-Canada highway and opt for the scenic Bow Valley Parkway route instead. 
The lesser-travelled parkway (virtually no one travels this way on the off-season) will take you through lush, dense forests and offers the chance of spotting some of Canada's famous wildlife – it's not uncommon to see a Moose and a Grizzly Bear on the same drive. 
Two notable locations along the Bow Valley Parkway are Johnston's Canyon and Morant's curve. 
Things you Must See and Do during your first time visiting Lake Louise
Canoe on Lake Louise
There is nothing more iconic than the famous red canoes floating across the water on Lake Louise. Canoeing on Lake Louise features on the bucket-lists of travellers from all across the globe, and for good reason. 
There cannot be many places in the world where you can canoe with towering mountains to your left and right, a spectacular glacier in the foreground, and an all-encompassing view of the valley and ski hill to your rear. Not to mention the colours of the water.
Canoeing on Lake Louise is an absolute must for any first-timers visit to the famous Banff National Park hotspot. Be sure to check out this guide for canoeing on Lake Louise to get the most from your canoeing experience.  
Ride the Lake Louise Gondola
During the summer months, Lake Louise Ski Hill transforms into a lush, green meadow – the perfect environment for mother Grizzly Bears to raise their cubs. Though it isn't a 100% guarantee, the Lake Louise Gondola ride is your best shot at spotting the famous ursine creatures. 
Once you arrive at the top of the Lake Louise Gondola, you are greeted by spectacular views of the valley below. Far off in the distance, you'll be able to see Lake Louise itself, overlooked by the impressive Fairview Mountain. 
Pause for a fresh summer cocktail on the veranda of Whitehorn Bistro or indulge in their signature swiss fondue, a gastronomic experience not to be missed! The food, views, and afternoon drinks culture is big on the Lake Louise Ski Hill and Summer Gondola, so you are sure to have an amazing time no matter when you choose to go.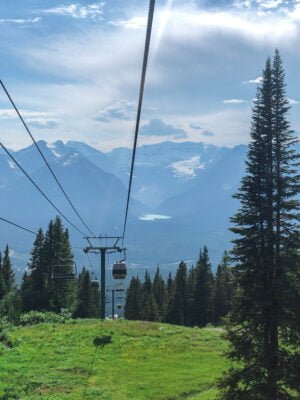 Visit the famous Moraine Lake
Though Lake Louise will undoubtedly be the highlight of your trip, there is another equally as stunning lake just a short 10-minute drive away. 
Moraine Lake is an idyllic setting for some of the greatest Instagram opportunities on the planet. If you just type in Moraine Lake into your Instagram or Google search bar- you'll know what I mean.
In terms of getting to Moraine Lake, the parking lot fills up very quickly, so you need to make sure you arrive pretty early to catch the famous sunrise shot. It's recommended that you arrive before 6 am in the height of summer, and at the weekends you may even be too late at this time. Best to arrive between 5 am-6 am at weekends just to be safe – it's definitely going to be worth the early start! 
Make sure you check out the guide to the top 6 must-see lakes in Canada for more incredible Canadian lakes to visit.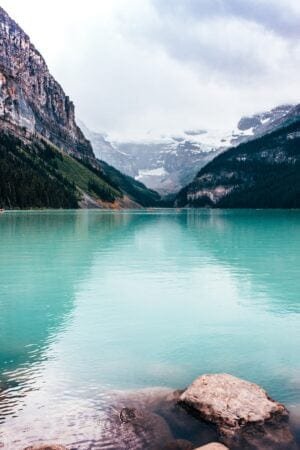 Summer hikes for first-timers in Lake Louise must not miss
Lake Louise is home to some of the best walking and hiking trails in Banff National Park, and for a first-timer, the options are endless. 
If you're looking for a peaceful stroll after dinner, then perhaps you should take the Lake Louise Lakeshore Trail. As the name suggests, the trail follows the shoreline of Lake Louise until you reach the very back of the lake. To get the very most from this trail, bring a flask of hot chocolate and head out at sunset – the view will be extraordinary! 
Any trip to Lake Louise is not complete without visiting the famous Lake Agnes Teahouse. The Teahouse has been serving tourists for over 100 years and is nestled amongst the trees, 433m above the turquoise waters of Lake Louise. 
With over 100 different flavours of tea to choose from, the teahouse will have a drink to cater to any palette. 
Make sure you read the guide to all the hikes, walks and strolls in Lake Louise, so you don't miss any of the amazing places to visit!
Quick Tips for your first-time visit to Lake Louise
The Parking lot at Lake Louise fills up very quickly in the height of summer and often the road up to the lake can be closed off to traffic. It's best to plan your day ahead and get to Lake Louise as early as you can. 

At Lake Louise itself, other than the Fairmont, there aren't any places to buy food or drink. If you're staying for a while, it's best to pick up all your supplies in Banff before arriving. Remember the Samson Mall, in Lake Louise Village, can supply you with the odd little bit too- but the convenience store can be on the pricey side. 

There are no litter bins on any of the hiking trails in Lake Louise so it is very important to bring a bag with you, so that you can carry all your trash back down the mountain and dispose of it properly. It is important not to litter or leave food around as this can draw a lot of animals which can be quite dangerous to tourists.

Be careful of the animals! While one of the notable things about visiting Lake Louise in summer is its access to wildlife, it is important to always keep your distance and be prepared. Many Canadian animals can be dangerous if aggravated, so do some research before you arrive so you know what to do.

Canoeing on Lake Louise is expensive! It costs CAD$125 per canoe for an hour rental. It is definitely worth the money, but don't be expecting a cheap experience!

Remember that Lake Louise will be busy in summer! It is a popular destinations tourists flock to from all around the world. Be prepared for crowds and always ensure you arrive early to ensure you can get a park!
Final Thoughts on First Timer's Guide To Summer In Lake Louise
Visiting Lake Louise in summer is a bucket list item everyone needs to do in their lifetime. While winter is stunning- boasting some of the most incredible views, snow, and ski conditions, summer flourishes. Nature comes alive, the colours of the lakes have to be seen to be believed, and the animals are incredible too.
Planning a trip to Lake Louise? Why not check out these posts too!
Working Holiday in Lake Louise Canada- Part 1
Top 6 Must-See Lakes in the Canadian Rockies
Your Ultimate Canadian Bucketlist