One of the main reasons we all have blogs these days is to eventually be able to work online, make an income, and share our knowledge with the world. Blogging is growing every day, with more and more people joining the world of online work, and so there are more and more people out there looking for help that YOU can give them.
But did you know you can earn money simply by providing your readers with a few links to some of your top resources?
The ones you love, trust, and have used time and time again.
One of the best ways to do this is by having a 'resource page' on your blog. Yep, that's right, just one page on your blog can help you earn passive income and can provide your audience with immense value!
This post is going to walk you through the benefits of having a resource page on your blog, the value they can offer, and what you should include!
If you want to know what a resource page looks like, I recommend checking out mine here.
What is a resource page and why you should have one!
Have you ever been on a blog you've loved, respected, and really really trusted, and bought something?
Maybe it was a course. It could have been photography presets for Instagram. Maybe it was a product that was recommended to you like a coat or a bag.
For bloggers and online entrepreneurs, giving trustworthy advice is the key to success, and the best way to do this is to have a few, key products that you use, love, and recommend everyone has!
This is often called affiliate marketing and is one of the main ways bloggers earn an income online.
Affiliate marketing means sharing a link on your blog to companies you highly recommend and think your audience will benefit from.
If affiliate marketing is new to you, then I highly recommend Michelle's Making Sense of Affiliate Marketing Course as it will teach you everything you need to know about affiliate marketing. This will help you build your resources page and ensure you are getting paid for all the products and services you recommend to your audience!
Some of the things covered in the course are:
What affiliate marketing is and how it works
Why affiliate marketing is great
The exact steps bloggers have taken to earn over $300,000 from a single blog post
How to pick the right affiliate products to promote
How to increase conversions
How to build trust and not lose followers
Required disclosures that you need to know about
The one major tool you need for affiliate marketing
Different strategies to use to promote your affiliate products
How to use Pinterest to succeed at affiliate marketing (yes, this includes the newest Pinterest affiliate rules!) 
You can sign up to the course here!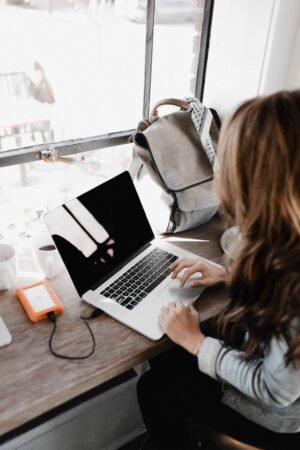 Although it is a good idea to use affiliate marketing across different posts, it is always a good idea to have a page dedicated to your top products, courses, and services that you recommend. This makes it easier for your readers to see all your recommendations in one place, and find other related things that may need or want.
Your readers come to you for advice on your niche topic (whether that is travel, beauty, cooking, babies, etc), and having your resources page easily accessible allows your readers to have a full list of everything you recommend.
Make sure you are using your affiliate links on this page so that you can earn a small commission on your readers' clicks.
It's a win-win for everyone!
What to include on your resources page
This really depends on the type of blog you run!
In general, you want your page to be neat, easy to navigate, full of pictures, and of course, links!
You should pretty much include any product, service, or course that you have personally tried, and recommend to your audience.
As my niche is travel and money related, I have a section on the best companies I have used and recommend my audience use for airfares, accommodation, tour companies, travel insurance, blogging courses, blogging resources, travel gear, and the companies I use that have helped me earn and save money online.
You can see a snapshot of my 'Earn Money Online' section here:
EARN MONEY ONLINE OR SAVE MONEY!
Survey Junkie: I personally use this free resource to earn extra cash by answering simple surveys online. This may help you save money or pay

for some of your groceries for the month because you can redeem cash or FREE gift cards (your choice). They are rated 8.7/10 which is one ofthe highest on TrustPilot reviews.
 You can sign up for Survey Junkie for FREE here and start earning free gift cards and cash during your spare time.
Swagbucks: Swagbucks is my go-to survey site when I want to earn a little extra cash in the evenings. You can earn cashback or vouchers by doi

ng arange of things from completing surveys to playing games online and watching videos. It's a legitimate site and in my opinion one of the best.
Palfish: Is an easy to use app and one of the best out there for teaching English online. There are two ways to make money on Palfish. First is with the Free Talk where you just chat to people, you don't need to have any specific qualifications for this (or to be a native English speaker) and you can set your own rates. The second is with the Official Kids Course (OKC) where you follow a prepared lesson; the pay is better here but you do need a TEFL/ TESOL certification which is easy to do and can be easily acquired here for $19.
**If you sign up to Palfish please enter my invitation code: 91355193. I will be assigned as your mentor in the app and will be happy to coach you through the whole application process and answer any questions you might have :)**
These are all products I have personally used to help me earn money online! I trust them, I think they are awesome, and I want my readers to know all about them so they too can benefit from them.
You can see how easy it is to place links throughout the section too. Each link is an affiliate link, meaning I will earn a small commission at no extra cost for my readers. So not only will I earn a small amount, but I will also be helping my audience.
How to make the best resources page for your blog
The first thing you need to do to create your resources page is to collect all the links you are going to put on it. I keep my affiliate links (my recommended links) in an easy to read word document. I know some people use google docs or excel, but as a writer, I love word!
Once you have the list, you should create a page on your blog and add this page to your menu. This way, it's easy for your readers to find. Mine is located under my about section in my main menu. You can see it here.
For each resource, add the name and link it to the website of the product. Write a small paragraph on why you recommend this product to your readers. If you have written a blog post about the product or created a video on another platform, make sure you link to that on your resource page as well. That way your readers can get an in-depth understanding of why they should purchase or sign up to something.
You need to give your readers all the information so they can decide whether or not to purchase the product, so don't hold back. Photos also help convert readers. People are more visual, and so having photo or company logos may help people feel more at ease with the product!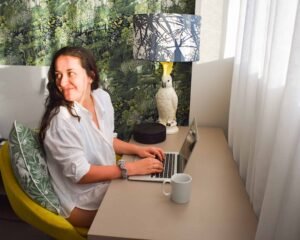 Additional tips for adding a resource page and earning an income
Never add a product or service you haven't personally tried or tested. You want your readers to trust you!
Review your resource page once a month to make sure all the links are still working. This is when you can add new products or take away products you no longer consider relevant or of good value to your readers.
Only add relevant products and services to your blog. You may have some great ideas on what to add, but if they are not about your topic, your readers will most likely get confused and leave the page. Leave the page = no commission.
Disclose your affiliate relationships to your readers. A simple mention at the top or bottom of your page is fine. It is a legal requirement to let your readers know there are affiliate links on a website, so ensure you do not ignore this! Say something along the lines as "

Please note that some of the links above are affiliate links, and at no additional cost to you, I earn a commission if you make a purchase." 
Feel free to leave a question in the comment section if you have any!