Dog Sledding in Alberta Canada- Everything You Need to Know
When it comes to things to do in winter in the Northern Hemisphere, nothing is better than going dog sledding in Alberta Canada. Sure, skiing and snowboarding, ice skating and snowmobiling (just to name a few) are all incredible activities to do- but there is something magical about gliding through the forest with unobstructed views for hundreds of miles around- on a sled run by huskies.
Having spent a winter season living in Canada I had tried my hands at most activities involving cold weather and being outdoors, but dog sledding was something that absolutely blew my mind.
And what better time to do it than on my 23rd birthday?
This post talks about all things dog sledding in Alberta Canada- guiding you through why you should do it, how much it costs, what to expect, how to pack, and so, so much more!
Loving the winter vibes and Canadian wanderlust? Why not try a working holiday! If you want to read more about how to prepare or begin your working holiday dream, you can find all the information in part 1 and part 2!
Book Your Trip To Alberta Canada
Book Cheap Flights
Still in the planning stage of your trip? Currently, the best and easiest way to find cheap flights is to use eDreams, Bravofly and Skyscanner. Between them all, you'll be guaranteed to always find the cheapest flight, anywhere in the world.
Book Your Accommodation
Whether you're looking for hostels, hotels, guest houses, or resorts Booking.com will always give you the best deals.  Sometimes, if I want to stay in a place a little longer, I'll use Airbnb. You can sign up with Airbnb and get $51 AUD off your first trip!
For a list of all the best Hotels in Banff, check out booking.com!
TIP: For the best hostels, I usually compare reviews on Hostelworld then check other booking sites to compare prices and deals. Not sure on hostels? Read this post to find out everything you need to know about them!
Book Tours and Transport
Although a combination of independent travel and touring is my ideal form of travel, if the best, cheapest, and safest way to explore is to book a tour or package, I'll do it! For this, I always use Viator and Get Your Guide.
Don't Forget Adventure Travel Insurance
If you're reading this blog then you're more likely to be seeking epic adventures for an affordable price over relaxing and luxurious vacations. By far, my favourite, most comprehensive adventure travel insurance is World Nomads.
Disclosure: This blog post contains affiliate links, which if you click, adds absolutely no extra cost to you. These links allow One World Wanderer to continue providing you with free guides and travel content.
What is Dog Sledding and Why Should I go Dog Sledding in Alberta Canada?
There are a few popular locations around the world you can try dog sledding, but nothing beats the views that come with a trip to the Canadian Rockies. Dog sledding in Alberta Canada is one of the most scenic places to glide over snow and take in the breathtaking views of the Rocky Mountains, frozen lakes, and scenic forestry.
As in the name, dog sledding or commonly called dog mushing is when you are seated within a sled or standing at the helm of a dog sled which pulls you over the ice and snow. The team of dogs are usually healthy, snow dog breeds that love to pull and run. It's an experience like no other!
How Much Does Dog Sledding in Alberta Canada Cost?
In Alberta, home to some of the best snow seasons, there is an abundance of companies that do dog sledding tours around the Rockies. You can expect an average dog sledding price per person to be around $200, with varying prices depending on who you go with and the type of tour you choose.
The Cost of dog sledding in Alberta Canada will also vary depending on features of the tour! The length, inclusions, and extra features are dependent on your budget.
With some research, you'll find everything from 30 minute 'Narnia' tours, 'multi-day adventure' tours, 'half-day' adventures, and so, so much more.
How to Prepare for Your Trip
High winds whipping your face, frozen fingers snapping at the camera, and looking into the bright white snow with icicles forming on your lashes… in case you didn't know, it is super freaking cold in Canada. 
To give you an idea of just how bloody cold it gets, I lived in Lake Louise for 6 months over the winter months of 2019 and 2020, snd the lowest temperature it got down to was -45 degree Celcius. Now, don't start fretting- you won't be able to go dog sledding in temperatures that low because it is just too dangerous. But, Dog sledding can still run when temperatures fall below -25 and -30 degrees Celcius, so you need to be really rugged up and prepared.
All dog touring companies will recommend preparing for your Dog Sledding tour by wearing snow gear. First time in the snow? Read my full guide to best winter tips, tricks, and packing guides!

What to Wear Dog Sledding in Alberta Canada
Here's a quick rundown of clothes I recommend to wear.
Extras
Hand & Toe Warmers – because of the wind that comes with gliding through the mountains, it is going to be freezing. I recommend buying a box of these hand and toe warmers to take with you on your trip, and always having a couple on you in case you need them.
Lip Balm with SPF – the wind, sun, and snow will all absolutely destroy your lips. I always carry this lip balm in my pocket in winter to avoid chapped, sunburned lips- and with dog sledding- you're likely to get both!
Warm, woollen beanie– You'll be wearing a beanie pretty much you're whole winter vacation,  but definitely when you go dog sledding. These are a couple of the ones I had on my Canada trip!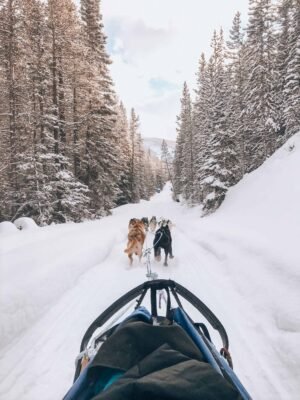 What Company Should I use to go Dog Sledding in Alberta Canada?
As I mentioned, there are an abundance of companies that operate throughout Alberta, Canada, with each one running a unique service!
Although there are countless more, I assume you are probably going to be based in the Banff/ Canmore/ Lake Louise regions, so these are the ones I highly recommend!
If you ever have the opportunity to dog sled in Alberta Canada, I couldn't recommend Howling Dog Tours more. They took great care of both the dogs and us, they were value for the money we spent, and the adventure was one I will remember forever. 
*** This post is not a sponsored post. I genuinely enjoyed my experience, and as a travel blogger, wanted to share it with my audience!
FAQ'S About Dog Sledding in Alberta Canada
Will I have the option to drive my own sled?
Driving your sled really depends on the tour. I know there are some that prefer to have trained staff run at the head of the sled, while others allow you to take control and go solo with the dogs!
On shorter tours, there probably isn't much of a chance to learn how to run the sled, however, there still may be the opportunity to stand at the head with the operator. This was one of the highlights of my Howling Dog half-day tour- both my friend and I had the opportunity to stand up with the staff member and fly through the trees. Truthfully, it looks rather hard to execute, and just standing up will give you an adrenaline rush enough to feel like you've done it!
I won't have a car, how do I get to the dog sledding site?
One of the greatest things about the tours that run in Alberta (namely Banff, Canmore, and Lake Louise) is that most tour companies will pick you up and drop you off at your accommodation. Several tour companies (not limited to those above) are located deeper in the mountain ranges and so offer those services for all passengers!
Will I see wildlife on my tour?
Banff is honestly wild! You never know when you'll see a whole herd of moose, a bear, or deer walking beside your car on the road. In winter, the animals are less active than other seasons, but you definitely have the opportunity to see them if they are around! If not, you're literally on a sled with huskies (the cutest dogs ever might I add), and that is a pretty exciting bonus!
Is dog sledding right for me?
Do you love dogs? Winter? A small adrenaline rush?
If you said yes to at least one of those things, you will probably love it.
One of the biggest concerns for people considering a dog sledding tour is the weather. You do need to be mindful of just how cold it will be on the day you are planning to partake in the tour and to really rug up accordingly. However, it is completely up to you whether or not you will let the weather dictate your plans!
Dog sledding is virtually able to be done by anyone. You will likely be sitting in a sled for a little while, but as for the length of the tour- that is completely up to you.
If you have any concerns as to whether or not you are able to do it, just call or email the company you are wanting to tour with and they'll be happy to offer you advise!
Is Dog Sledding Ethical?
Truth is, before I did my dog sledding tour, I really didn't know.
I had heard horror stories about dog mushing, the dogs being overworked, or even worse. But, having owned a VERY energetic pet husky for the past few years, I went into the tour with the gut feeling that it was completely and utterly ethical. Huskies, after all, love to pull… and pull… and pull… and they never seem to run out of energy!
With a lot of research, I found there were far more uplifting stories than sad ones out there. Countless vets and dog sledding companies wrote about the fact that it is a really healthy activity for husky breeds, and that they are treated extremely well, with regular veterinary check-ups, lots of rest breaks, and healthy food.
And luckily, what I found, was exactly this!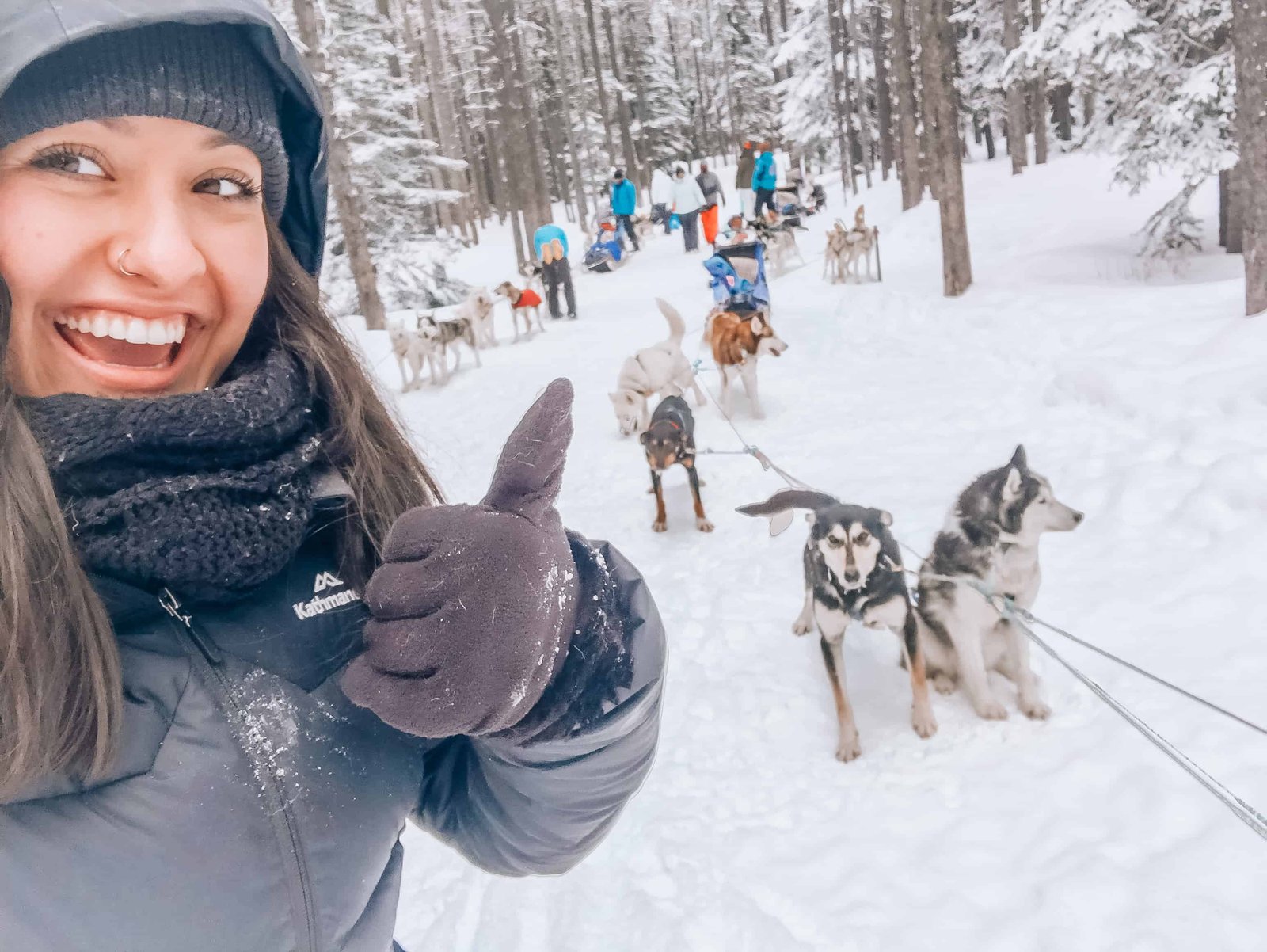 My Dog Sledding Experience
My first foray into the world of dog sledding was remarkable, astounding, incredible… all the good words!
I booked in with Howling Dog Tours with a good friend of mine to go dog sledding on my birthday!
The day looked like this:
We were picked up from a location in Banff and driven to Canmore at around 12:00 pm. In the car, they ensured we were all wearing enough clothing, ran through some history about dog sledding, collected payment, and had us sign papers to say we knew what we were getting into (don't worry, it's nothing dangerous).
The drive up the mountain and into the range behind Canmore is stunning and easily able to pull you into a daze of wonder. The scenery was unrivalled by anything I'd seen, which explains why so many famous movies have been filmed around the area. Some of my favourites include Togo (the dog sledding movie you have to watch!), Jumanji 2, and The Revenant.
Despite the frigid temperatures, (it was not long after the temps had dropped to -40 and -50), the sun was out and the landscape looked spectacular covered in snow beneath a pale blue sky.
Arriving at the site
As we walked our way up to the dogs, we could hear their excited howls echoing in the valley. Our guides met up with us- one per group/couple/ individual, and took us to our sleds to strap in the dogs. With so many gorgeous dogs around, we couldn't help but run up and pat as many as possible. Their happiness was evident, and they jumped into our arms, tongues out and licking our faces.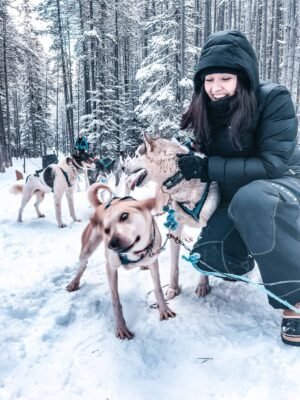 Once we had gotten our share of puppy love, our guide, began explaining how things would work. He explained that the dogs are rotated out regularly, so the ones in the pens would either be going later with other groups or had already run that morning, meaning our dogs were freshly rested and ready to go!
We were then shown how to clip the dogs onto the sleds, with one of us pulling the ropes taught, and the other holding down the sack (where we would both be able to sit comfortably in). He then explained why the dogs must be tied up at all times (being pack animals, they would challenge each other for dominance, causing injury), and how to look after them.
We were then introduced to our beautiful pups. We had: Charger, Tequila, Tank, Lita, Whiskey, Fire, and Ryder.
Once they were all ready, it was time for us to get in and go!
Gliding Over the Snow and Into the forest!
I don't think words can really describe the feeling of dog sledding. It's fun, exciting, beautiful, majestic, wholesome- all wrapped together to create the experience of a lifetime! It was a surreal feeling to be gliding over the snow and ice, with just the sounds of the sled on snow and the dogs breathing in front of us.
The views were sensational, with snowy mountains rising up all around us, a frozen lake or two to the left, and Canadian pine trees fringing the sides of the sled track.
Not only are you in awe of the beauty of nature, but of the dogs, too! Watching them pull us like it was the most natural thing in the world for them to do was truly astonishing.
Twisting and turning along the trail was fun! We learned that we had to lean into each turn to ensure we kept our balance, while the dogs looked back to make sure we were ok. The movements were synonymous with one another- a synchronised dance of both animal and human to ensure both parties remained safe.
After about 40 minutes of sledding through the forest, we were taken to a resting spot where we would be given warm hot chocolate and biscuits and best of all, a chance to cuddle and play with the dogs.
Morning tea!
There were four separate sleds in our party, and stopping for morning tea allowed us all to meet up and play with each other's sled dogs. Most were very loving- licking your face, hands, and enjoying the cuddle.
Some, however, did not want a bar of it (see the husky below).
But regardless, they were all very friendly and comfortable around people, trained enough to not be a threat to anyone.
The end of the day
After jumping back on the sled to head back to the base site, we were given the opportunity to stand at the top with the operator. This was a whole new experience in itself, and I loved the way the forest and mountains looked from yet another angle.
Once we arrived back at the camp, the dogs were fed a small treat and chicken broth before their harnesses were taken off and they were taken away to rest up. We were given the opportunity to talk to the owners of the company, get warm by the fires, and reflect on the magical day we had had in the mountains dog sledding in Alberta Canada!
Pros and Cons of Dog Sledding in Alberta Canada
Pros of dog sledding in Alberta Canada
You will be doing the most iconic, quintessential Canadian winter activities!
Hanging out with adorable huskies all day.
Trying something new, like driving a sled!
Views, more views, and even more stunning views of the Canadian Rockies
Friendly staff- the amount of times mine said happy birthday was insane!
The downside of dog sledding in Alberta Canada:
It can be very, very cold!
You will probably get dog hair all over your clothes.
There are inherent risks that come with dog sledding (falling off the sled being one) but this is VERY unlikely and rare.
Without a doubt, my dog sledding experience was one of my favourite things I did in Canada! I don't think I stopped smiling once- both in the sled, and hours later recalling the day of adventure. If you're wanting to plan a trip to Canada in winter, put dog sledding on your list. You 100% will not regret it.
For some other incredible winter activities, check out my latest posts:
9 of the Best Winter Adventures Near Banff/Lake Louise
Top 6 must-see lakes in Canada
Your Ultimate Canadian Bucketlist
Johnston's Canyon: Everything You Need To Know About Hiking It
*** This post is not a sponsored post. I genuinely enjoyed my experience, and as a travel blogger, wanted to share it with my audience!