So, you've finally decided to take the ski trip you have been dying to do for a long time! Skiing (or boarding if that is what you choose to do) is the best! I am so excited for you!
Fresh powder, untouched tree runs, and warm cosy fireplaces. Yep, winter wonderlands really do exist- and you'll get to experience one first hand when you go skiing for the first time!
I have done a ski trip in Australia down to the stunning Perisher Ski Resort, I spent a week snowboarding around Queenstown, and in 2019, I moved to Lake Louise, Canada to work at the ski resort there. I'm hoping this post will help you with the basics of what to pack, what to wear skiing, general skiing tips, and what to keep in mind for your ski adventure regardless of whether you are beginner skiing or a pro.
Download your ski trip packing checklist here!
To Ski, or to Snowboard?
First thing's first, the ski or board debate!
You have probably heard the infamous debate over which is better, skiing or boarding? And the truth is, neither of them really ever win. The snowboarders I know can't understand how anyone would ski, while the skiers grow pale at the idea of having both legs strapped onto one board.
I've tried both, and I know hands down that skiing is for me. I did not enjoy the concept of snowboarding at all, but you might not be like that.
Both have their own fun quirks, and both come with their own unique challenges.
My advice is to try both if it is possible. But, keep in mind that you won't be able to progress quickly if you are jumping between the two. Skiing will be easier to pick up at first because boarding requires a lot more patience with learning to turn the board and not fall over. If you only have a short time and want to get in as much slope time as possible, skiing might be your best bet.
But, if boarding has been your dream for a while and you're eager to get to it then give it a go!
Just know that with both, you'll need several days before you get the hang of it and can be tackling the big slopes!
Regardless of what you choose, be prepared for a very sore bum!
Want to learn how to save money so that you can travel more? Check out this guide.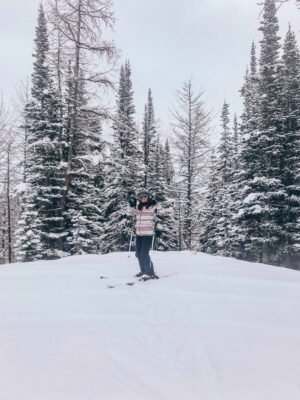 What to expect when skiing for the first time
You'll Definitely Fall Over
There's no easy way to say this- you are going to be very sore and bruised when you debut as a skier or boarder. It just comes with the sport. And trust me, even after skiing as a child, boarding as a teen, and working at a ski resort for a winter season, my last day of skiing before I came home to Australia left me with a sore neck, a migraine, and a bruised hip for weeks!
You will fall, and that's okay!
I still have tantrums and cry when I'm having a bad ski day, and I still fall over a lot. Learning to ski can be really frustrating, but just know that you're not alone. We have all been there.
Just don't forget to laugh at yourself. In between the crying of course.
Skiing For The First Time- Why you should Take a lesson
Whether it's your first real-time on snow, or you haven't been in a long time, I would highly recommend booking in for a lesson on your first day.
In fact, I would say you're doing yourself and everyone else on the mountain a disservice if you don't. Often there can be thousands or tens of thousands flocking to ski resorts on busy days, and if you aren't prepared to dodge small children or avoid boarders and branches and moguls while speeding down the mountain, you really shouldn't be there. It is just too dangerous.
Lessons are not just for newbies. They're a great way to refresh your memory if it has been a while, and teach you good habits even if you think you're a pro.
Depending on where you go will depend on the lessons and prices, but generally, there are group lessons in all different levels- from 1-5 (1 being brand new and 5 being on the mountain learning advanced techniques). There are also private lessons where you can work one on one with an instructor.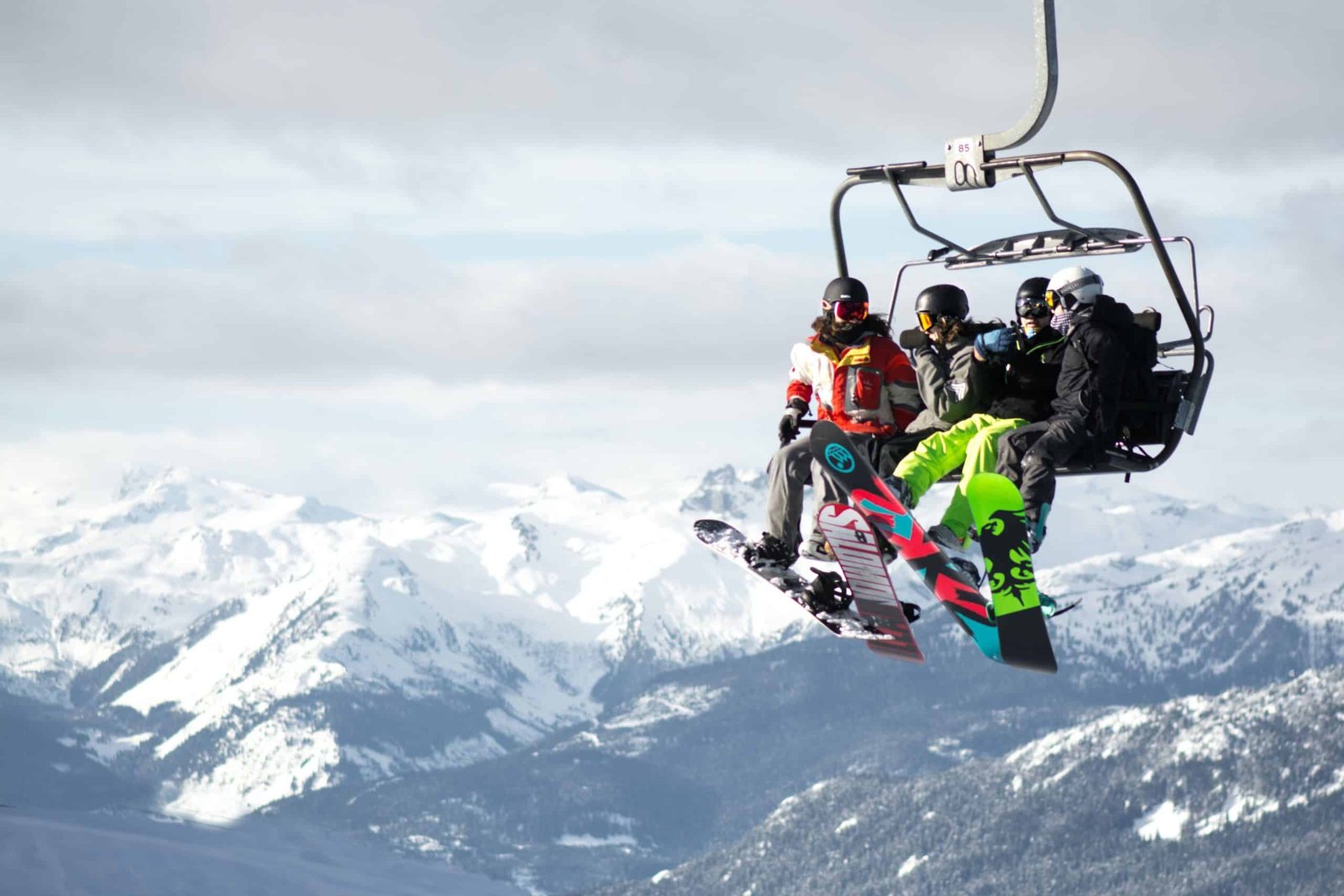 Stay Fed & Watered Throughout the Day
This sounds obvious, but eating and drinking water when on the mountain is something that easily gets forgotten. You can go all day hitting the slopes and realise only when you reach the bottom that you haven't had a drop of water! And believe me, when that hits, it hits like a tonne of bricks.
Skiing is hard work on the body, and the cold air dehydrates you very quickly.
But the good thing is, most resorts have areas with free water stations so you don't need to spend money on bottled water. Resorts like Lake Louise even have mid-mountain and backside cafes and restaurants, meaning you don't even have to go down to the base to get a bite to eat or a drink of water, so it can be easier to refuel and hydrate. It's awesome!
One thing to note is that if you are living on a budget or conscious of your spending, ski resorts are not at all cheap. Resorts like Perisher in Australia charge as much as $25 AUD for a plate of nachos. In Canada, often a small sandwich that wouldn't even be enough to fill you could be $16AUD. It's insane!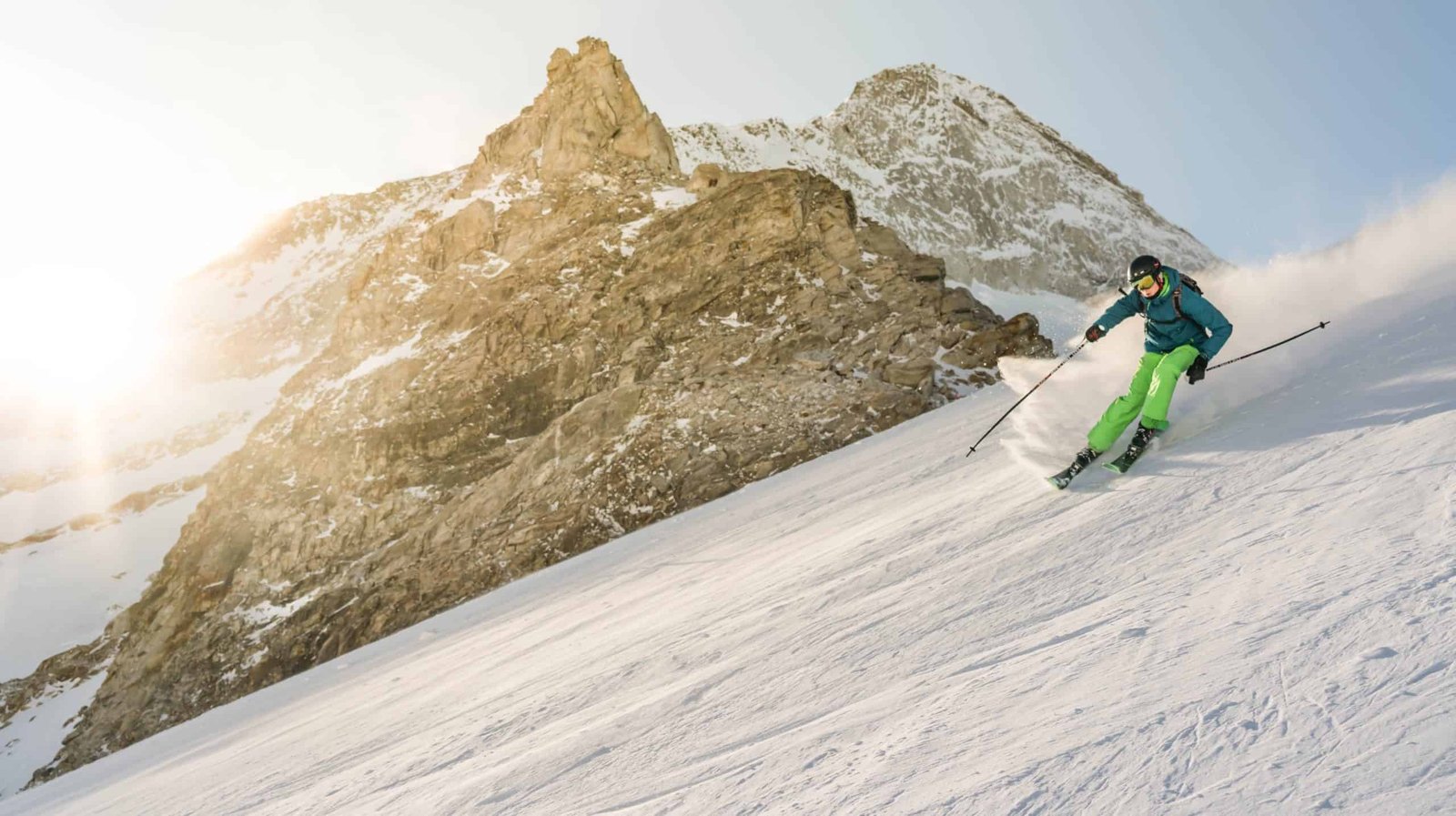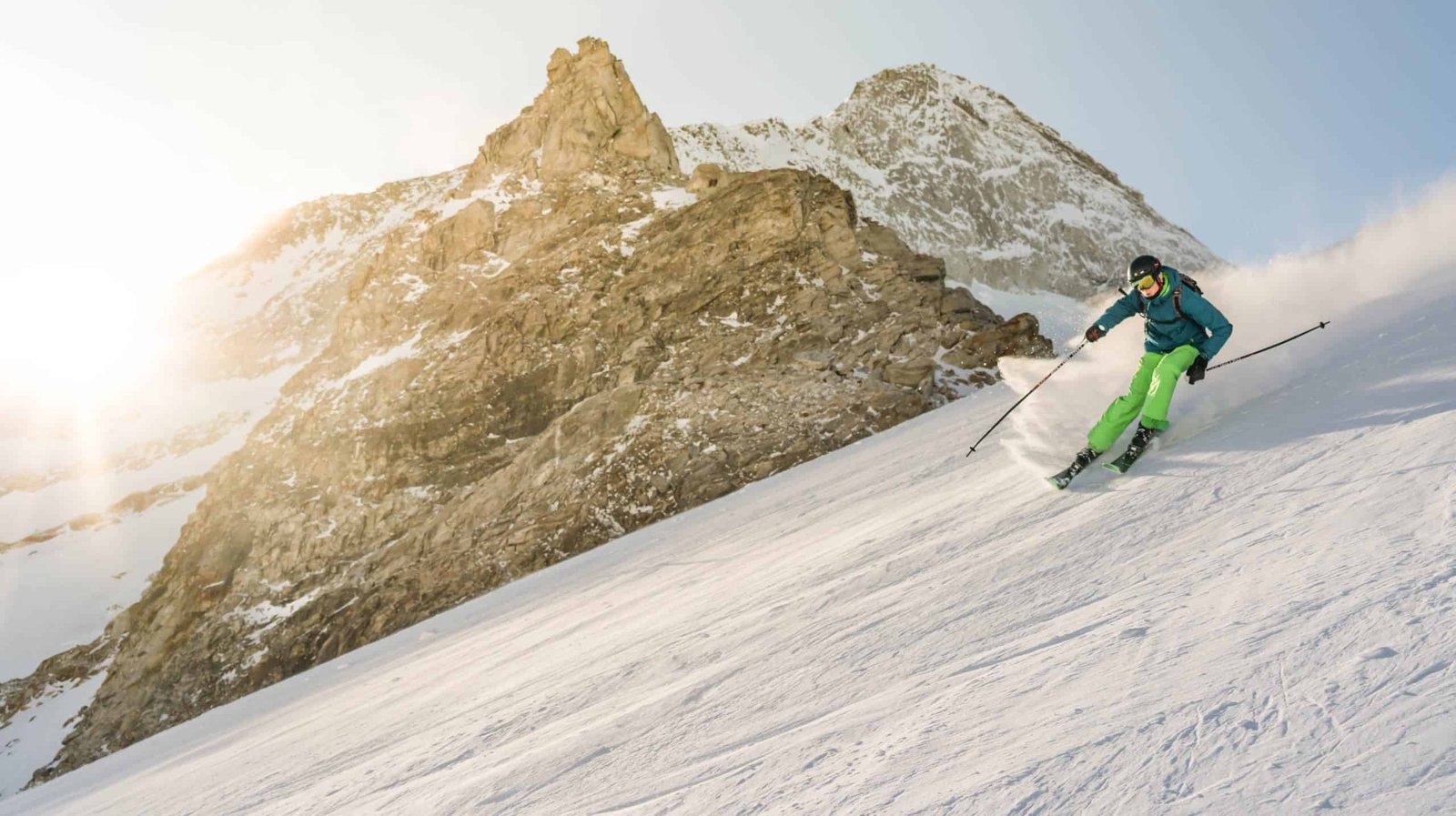 Skiing terms you need to know!
The world of skiers can sometimes seem foreign. They are, after all, people who enjoy plummeting down mountains and using slang that makes no sense. It's weird. I get it.
But if you want to understand some of the things we say, I have provided a brief definition to help you.
Now commit them to memory, use them wisely and join your fellow shredders, park rats and magic carpet riders!
Après-Ski: The day's over – it's time for drinks.
Backcountry: Otherwise known as off-piste and similar to backside which is the back of a mountain. Often the most memorable days spent skiing are in the backcountry, away from the popular tracks and floods of people.
Balaclava: A facemask worn to cover exposed skin. A key extra whenever you are caught riding a lift in fierce, driving wind or snow.
Carving: A series of clean turns using the edges of skis or a snowboard. Carving turns can vary from tight turns to giant "S" shaped swoops.
Dump: Slang term for an epic snowfall of fresh powder. The best ski days happen after big dumpings of pow-pow!
First Tracks: Cutting through fresh snow before anyone else does, leaving behind your trail for all else to see. It's literally the best feeling!
Gondy: Also know as a Gondola! Essentially a boxed in chair-lift that can take you to the top of the mountain. Perfect for giving you the extra time you put on your helmet and take a few selfies!
Green, Blue, Black, and Black Diamond: Depending on the resort, these might mean slightly different things or have different names entirely. They are the easiest to hardest runs to do, warning skiers not to attempt ones that are too difficult before they are ready and guiding you down different tracks on the mountain!
Liftie: A slang term for a ski lift operator. Lifties are always the best to talk to!
Magic Carpet: Unfortunately, not like Aladdin. There will be no flying. Instead, a slow incline on a conveyor-belt like surface. Typically found only on smaller, bunny slopes where you learn to ski and snowboard.
Park Rat: A Snow Park junkie who refrains from exploring or leaving the confines of his playground. Often attempting jumps and rails. Risky stuff!
Pow (Pow-Pow): Light, dry, fluffy snow referred to normally as powder.
Tracked Out: Slang term for a slope of once fresh snow that has been ridden over repeatedly. Generally means it is a bit icy and not as easy or fun to ride down.
White Out: When visibility drops to almost nothing; caused by heavy snowfall, fog, or a combination of the two.
Wipe Out: A pretty un-poetic and painful fall
What to pack and wear when Skiing For The First Time
Skiing or snowboarding is an expensive sport. However, when skiing for the first time, it's not important to have all the high tech gear or expensive outerwear. That is, until you fall in love with it, of course.
Most importantly, if you are a beginner skier, is staying warm, comfortable and using well-functioning gear that supports you out there in the weather. You can usually hire all your ski gear, including outer layers. So if this is you, come ready with some warm underlayers, and get ready to suit up!
Most locations you ski will be freezing in winter. It regularly sat around -25 degrees celsius in Lake Louise, Canada, with the lowest it got to being -45/-50 celsius in the winter I was there. It was coldddd! 
But don't worry, not everywhere you go will be that cold.
Other places might be warmer, but I recommend to do your research before you travel in order to be prepared!
You can download a packing checklist here with everything you'll need when you go skiing!
If you're still not sure whether to rent or buy your gear, check out my money-saving tips for getting into skiing.
For The Slopes:
Ski's, Poles, Snowboard, Bindings – If you have the gear and are travelling to ski or board, then you are definitely way better off taking it with you, rather than hiring when you arrive. If you don't have your own gear, hiring is fine too!
Boots – I will always suggest bringing your own boots if you have them. Rental boots can be excruciatingly painful. If you do need to rent boots, don't let the rental assistant convince you to just take the boots they've put you in if they're not comfortable. You will have a horrible time if your feet are sore.
Helmet – It is super important to protect your noggin. Even if you are going at a snail's pace, you don't know what the other riders around you are doing, and unfortunately, some people are irresponsible in their riding. You don't want a head injury! You can purchase a helmet like this prior to going, or hire one when you get there.
Jacket Essentials!
Lip Balm with SPF – the wind, sun, and snow will all absolutely destroy your lips. I always carry this in my pocket! Seriously, you won't want to go skiing without it.
Headphones– I only recommend this if you are NOT a beginner. Headphones are a lovely way to relax and enjoy the ride when going down the mountain. I always keep the volume down low so I can hear my surroundings, but it really pumps you up! These are the wireless headphones I use!
Hand & Toe Warmers – if you get really, really cold, or if the weather is going to be freezing and miserable, make sure you chuck a few hand or toe warmers in your pocket. It could be the difference between you staying out all morning, or going in to defrost those fingers and toes, that you're not sure you have anymore. I recommend buying a box of these so you have plenty for the duration of your ski trip.
Ski holidays are not just all about the skiing part! They're also about the evenings. The after-ski drinks, the food, the glühwein, the saunas, the relaxing by the fireplace, the meeting new people!
The good part is, most properties, restaurants and bars have amazing central heating so inside, you can wear normal clothes. Here are a few things I would recommend packing when you're adventuring around the village.
Skiing For The First Time packing For The Village:
Hoodies, Sweaters, and Sweats!
Having a nice array of winter hoodies, sweaters and sweatpants is good for the times between skiing and bed. You'll want a nice array of going out jeans and sweaters for after ski drinks and dinner (if you make it back to your accommodation to change), as well as comfortable sweats and hoodies to keep warm when you're chilling.
Layering normal T-shirts with thermals is also popular, and something I love to do in winter, so I recommend packing a variety of T's as well.
These are also what you should wear when skiing! I usually wore my tracksuit pants, a T-shirt and thermal, and occasionally a hoodie as well. I have layered, so personally, I never wore much when skiing, but I know people that would wear several layers and combinations of the above each day. If you are skiing for the first time, unfortunately, it's kind of a game of trial and error.
Winter Gloves
A knitted or leather pair of gloves always come in handy when it is bitterly cold outside! I had a pair of inner gloves as well as a pair of thermal gloves that worked perfectly for day time, and to double as an under-layer when I went skiing. I also had a nice pair of knitted gloves for days off.
Want to experience a magical winter in Australia? Check out my Jindabyne winter bucket list post.
Lots of Beanies!
You'll be wearing beanies pretty much any time you are not at work (depending on your department) or skiing. People wear them inside, at bars, in bed, literally everywhere! you'll want a couple to keep you warm throughout winter- like this one and this one! Here are a couple of the ones I had!
 A Decent Pair Of Waterproof Boots
It honestly blows me away how many people try to walk around the snow and ice in converses or vans. Sure, these are okay for a quick dash between buildings within the ski village, or on a night out, but not for walking across the snow or long distances. Your feet will be freezing in no time, and they offer very little grip so you will fall.
I highly recommend investing in a good pair of winter boots, like Sorels or Timberlands. These are what I recommend for women and these ones for men. 
The most important thing to remember about your packing list is to not try to be super fashionable with your wardrobe. Warm, dry, and comfortable are the aim here.

Travelling for a ski trip or skiing for the first time but not sure where to go? Here are some more winter guides!
Your Jindabyne Winter Bucketlist
Snowboarding in New Zealand: A Guide To The Best Resorts
Your Ultimate Canadian Bucket list
Top 6 lakes to visit in Canada in winter
A Working Holiday in Lake Louise, Canada- Part 1
Rent of Buy? Money-Saving Tips for getting into Skiing