Are you looking for rainforest waterfall hikes in Far North Queensland that will blow your socks off? A waterfall, an epic day trip from Cairns, or a delicious view to feast your eyes on? Nandroya Falls is up there as one of the best waterfalls to see in North Queensland (and possibly all of Australia), and trust me, I've seen plenty.
Like it's sister waterfalls Tchupala Falls and Wallicher Falls just five minutes down the road, or Millaa Millaa Waterfall Circuit not too far away, Nandroya Falls is often hard to find and easily missed. That's why this short guide will help walk you through getting to the falls and inspire you to visit!
Book your trip to the Atherton Tablelands
Book Cheap Flights
Still in the planning stage of your trip? Currently, the best and easiest way to find cheap flights is to use eDreams, Bravofly and Skyscanner. Between them all, you'll be guaranteed to always find the cheapest flight, anywhere in the world.
Book Your Accommodation
Whether you're looking for hostels, hotels, guest houses, or resorts Booking.com will always give you the best deals. I always search using the map feature to find accommodation in the best locations. Sometimes, if I want to stay in a place a little longer, I'll use Airbnb. You can sign up with Airbnb and get $51 AUD off your first trip!
TIP: For the best hostels, I usually compare reviews on Hostelworld and YHA (when in Australia) then check other booking sites to compare prices and deals. Not sure on hostels? Read this post to find out everything you need to know about them!
Book Tours and Transport
Although a combination of independent travel and touring is my ideal form of travel, if the best, cheapest, and safest way to explore is to book a tour or package, I'll do it! For this, I always use Viator andGet Your Guide.
Finding a Car in Australia
Having a car or camper is an awesome way to travel. You can compare rental car deals on EuropCar.
Don't Forget Adventure Travel Insurance
If you're reading this blog then you're more likely to be seeking epic adventures for an affordable price over relaxing and luxurious vacations. By far, my favourite, most comprehensive adventure travel insurance is World Nomads.
Disclosure: This blog post contains affiliate links, which if you click, adds absolutely no extra cost to you. These links allow One World Wanderer to continue providing you with free guides and travel content.
Where is Nandroya Falls located?
Finding Nandroya Falls can be hard. It's easily missed when driving the Palmerston Highway through the stunning Wooroonooran National Park. To get to this incredible waterfall, you'll need to find Henrietta creek campground on your map and pin it for later as there is often no reception within this area.
The drive to Nandroya Falls is around 1.5 hours from Cairns, or a 20-minute drive from Atherton, depending on where you are coming from. Regardless of how long it takes you to get to Nandroya Falls, take my word for it, the drive will be well worth it.
If you are looking to spend a day in the tablelands and drive from Cairns, there are many other falls in the area so I recommend making a day trip of it! Check out the Millaa Millaa Waterfall Circuit and Tchupala Falls and Wallicher Falls!
Henrietta Creek Campground is easily sign marked, and it is there that you can park to begin the hike to Nandroya Falls. Here, there are also clean toilets, a stream that is perfect for swimming in, and picnic tables. To the left of the campgrounds, you'll cross the footbridge and round a bend to the right that follows parallel to the main road. Approximately 50 meters further, you'll see the signpost for the Nandroya Falls hike.
The road to Nandroya Falls and Henrietta Camp Ground is sealed, so you shouldn't have any trouble getting here in a regular sedan or hatchback.
What is the Nandroya Falls Hike like?
The Nandroya Falls waterfall hike quickly became a personal favourite of mine. The trail is narrow and surrounded by thick rainforest vines and tropical vegetation on all sides, but it is peaceful and stunning every step of the way.
Depending on your fitness level, the hike will take about 40 minutes to reach the main level of Nandroya Falls but you'll probably spend more time exploring as there are three waterfalls perfect for swimming in along the trail. Personally, I'd allow at least 2 hoursfor the return trip back to the campground car park with a bit of time at the falls.
Wait- you said three waterfalls?
Yep. You heard me right. There are three epic waterfalls are along the Nandroya Falls trail.
These include Silver Falls and the two tiers of Nandroya Falls and each one is awesome to swim in.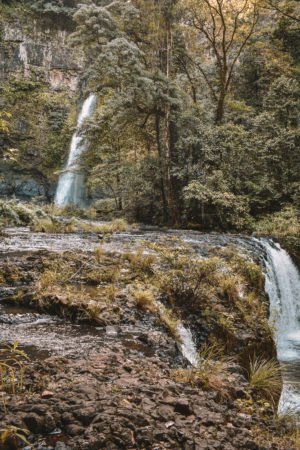 Silver Falls
There are two trail options when hiking Nandroya Falls. The first is about 2km each way to the falls, while the other is 4km each way. From what I have heard both are awesome, however, the shorter one allows you to stop at Silver Falls- and that was enough to convince me!
Approximately 20 minutes into the shorter trail option, you'll pass Silver Falls. Although much smaller than Nandroya Falls, Silver Falls is still a beautiful waterfall that flows gently into a shallow blue pool. It looks something like out of the fairytale and gives you the perfect opportunity for a swim or a drink from the freshwater stream.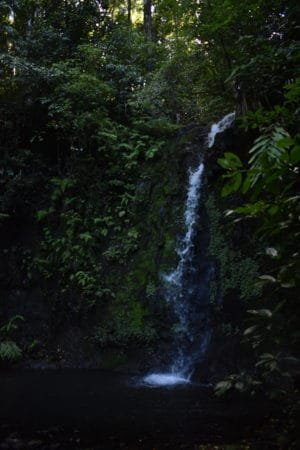 Nandroya Falls- the lower level
After about 40 minutes of walking, you'll begin to hear the force of Nandroya's two main waterfalls. That means you're almost there! But first, you'll come across the lower-level of the falls immediately to the right of the track.
This is one isn't as tall, but is wide and can get be pretty powerful in the wet season. If you walk down a couple of metres, you can get a view of the taller upper level gushing in the distance. It may look small in photos, but the 50m drop of Nandroya Falls is in no way small.
Although easy to put your feet in when the water isn't flowing at full force, I would be careful when swimming at the lower levels as the rocks are unsteady. Nandroya falls is only a couple of metres away, so you may as well save your swimming for the large waterhole it has to offer!
Nandroya Falls
Only a few metres further, you'll reach the upper level of Nandroya Falls. This is the main waterfall and the primary attraction of the rainforest hike- and boy is it worth it.
Nandroya Falls is a 50-meter waterfall flowing vertically down a tall cliff into a deep, blue pool. There are palm trees and tropical vines covering nearly all sides of the large valley clearing, and a beautiful rocky surrounding that makes you feel far from society, and one with nature.
The entire scene creates a natural amphitheatre of lush rainforest greenery which frames the waterfall perfectly.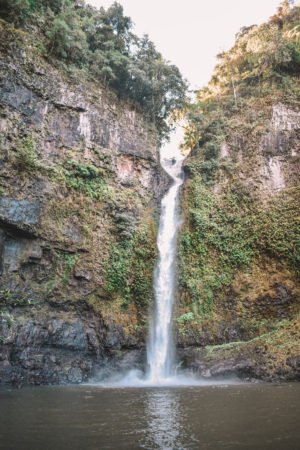 Although it's a spectacular waterfall, Nandroya Falls is not as popular as some of the other waterfalls in the Atherton Tablelands and rarely spoken about in North Queensland. However, I'd probably rate it as a much better waterfall due to being more secluded and tranquil. Even though I was hiking just after the Covid-19 lockdown ceased, I got the feeling not many people visited Nandroya Falls. It was quiet and peaceful and felt wilder than other waterfalls hikes I had been on.
There was something special about it that had me sitting with my feet dangling into the water long after the sun began to set.
When is the best time to visit Nandroya Falls?
Personally, having grown up in North Queensland, I never recommend doing anything in summer. It is just so damn hot, and when you add in the thick, muggy air of the tropical rainforest, or the monsoons and cyclones that come with it- I find it is best to stay indoors where the air conditioning is pumping. Winter, May-August would be the best months to travel, and although often wet in the tropics, you'll find it to be a much more comfortable experience when hiking through dense forests. I visited at the end of June, and it was perfect weather- not cold enough to need to rug up, and not hot enough to break a sweat!
Can you do this hike solo?
Absolutely! I travelled North Queensland Solo in 2020 and did this hike post-COVID-19 lockdown all alone. Not once did I feel unsafe along the trail. I came across two other groups of young travellers that were all equally as lovely as one another. My only advice doing it solo is to let someone know where you're heading before you leave. There is no reception along the trail and it is better to have someone you trust know your whereabouts in case something happens.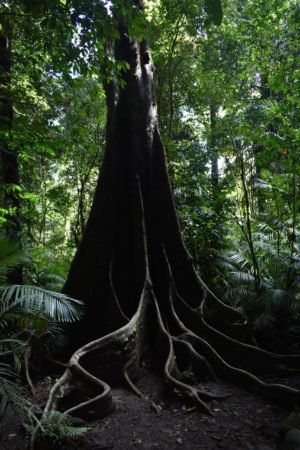 Atherton Tablelands accommodation guide – Where to stay
Best Budget Hostel in the Tablelands 
If you're looking for somewhere close to all the action, On The Wallaby Lodge is located in the Central Tablelands town of Yungaburra. It's less than a 5-minute walk to town, where supermarkets, cafes, and gift shops are in abundance.
Stay in a Tree House
There's nothing more relaxing than being pampered amongst the rainforest in a 5-star resort. Luckily for you, the Tablelands has several of Australia's top luxurious treehouse and retreat accommodations. Mt Quincan Crater Retreat and The Canopy Rainforest Treehouses are two of the most popular treehouse accommodations in the area and will offer you the perfect getaway.
AirBnB
There are countless AirBnB's within the region that are bang for buck and totally stunning! While they may be a little pricier than most areas, most of them come with stunning views of the surrounding hillside and rainforest. Don't forget to sign up with Airbnb and get $51 AUD off your first trip!
Hotels
There are countless hotels, motels and camping grounds to stay in throughout the region. From Millaa Milla town to Yungaburra, to Malanda. Alternatively, check out the full list of hostel and hotel deals in Cairns