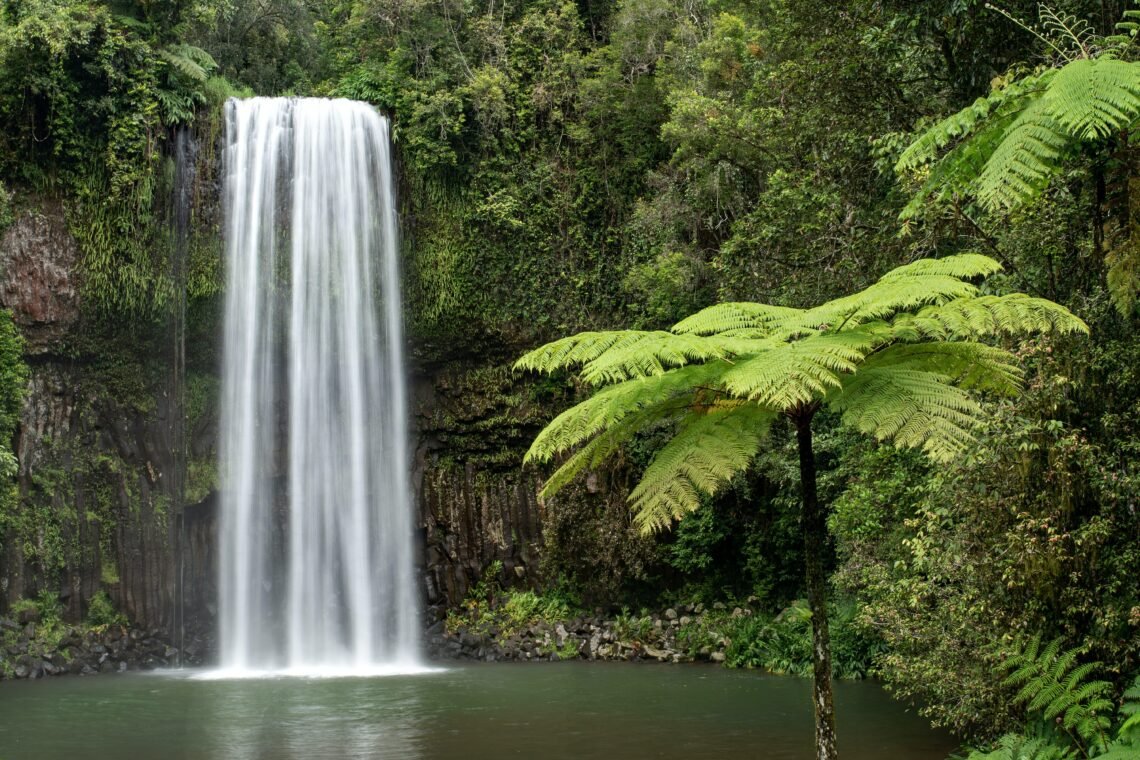 12 Places First-Timers Need to Visit in the Atherton Tablelands
Having grown up in North Queensland, I feel pretty lucky to be able to say that I had the Great Barrier Reef, the world's oldest rainforest, and some of the most magical waterfalls in the world right at my doorstep. Atherton Tablelands is a magical place- so much so that I used to believe fairies and elves and tiny little gnomes lived under the dewy treetrunks and foliage.
While the jury's still out on whether or not that's true, it's a magical place nonetheless, and I love telling people about it. Between the famous Millaa Millaa Falls, the secret hikes and waterfalls I've discovered over the years, the awe-inspiring spots that will blow your breath away, and the destinations that absolutely cannot be missed- I'm ready to share my top spots.
This guide details the 12 places first-timers need to visit in the Atherton Tablelands, and it's a post you'll want to save for the time you are lucky enough to venture to North Queensland and discover why it is David Attenborough's favourite spot in the world! The list is in no order at all- but each one is absolutely worth your time on a visit to the Tablelands!
When to Visit the Atherton Tablelands
The Atherton Tablelands, like most of North Queensland, can get extremely hot in summer. We're talking high humidity, stinking heat that hits you like the blast from a sauna.
But, there is one reprieve to this horrible heat- and it's not just winter (although winter is the best time to visit here). The Atherton Tablelands, thankfully, cools down a lot more than other areas, meaning that the temperatures are actually bearable, and not horrifically warm. Be careful of the wet season though- if the area is expecting or experiencing rain, many of the roads can be closed.
If you are not used to extreme heat and humidity, I would recommend visiting North Queensland during the months of winter, between May and September, when it is much cooler. I did this in 2020 and it was absolutely beautiful, with only the need for a light cardigan if there is a breeze.
Road tripping the East Coast of Australia? Check out Part 1 of my vanlife road trip from Townsville to Yeppoon.
Map created with
Wanderlog
, a journey planner app
12 Places First-Timers need to visit in the Atherton Tablelands
Millaa Milllaa Falls Circuit
Everyone has seen the beautiful images of the Millaa Millaa waterfall. It's without a doubt, one of the top places first-timers need to visit in the Atherton Tablelands.
However, take my advice when I say- it's not the only waterfall in the Tablelands, and the others are definitely worth checking out too.
The Millaa Millaa waterfall is actually a part of a circuit of waterfalls that are all equally, if not more beautiful than the last. The other two falls are Zillie Falls and Ellinjaa Falls.
The waterfall circuit is located along Theresa Creek Road (although there is a tonne of signage when you are on the Tablelands), and is a 15 kilometre stretch of road. The road is beautiful, offering scenic views over the rolling hills and pockets of dense rainforest, however, it is not the nicest of sealed roads, with lots of potholes- so just make sure to drive carefully.
Want to read more on the Millaa Millaa Waterfall Circuit? Read this post!
Millaa Millaa Falls
Millaa Millaa is usually the busiest waterfall on the circuit because there is a great big swimming hole in front of it that is perfect to cool off and photograph.
Millaa Millaa waterfall is one of the most popular waterfalls in Australia. As a result, it's earned itself the title of "Australia's Most Photographed Waterfall." You'll often see van lifers taking epic shots from the back of their van, tourists piling up to take lots of snaps, and families gathering at the base of the fall to dive through the water and enjoy it.
There are toilets and picnic benches here making it a great spot for a day trip!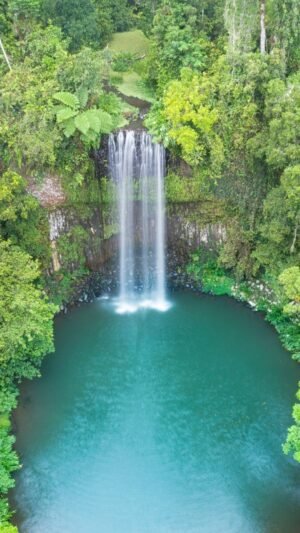 Zillie Falls
Unlike the other waterfalls on the circuit, Zillie is quite easy to miss if you are not paying attention. There is a sign and a large carpark, but I recommend keeping an eye out on the drive so you don't drive straight past it!
Once you arrive, you'll walk out to a viewing platform that is positioned above and adjacent to the waterfall. There are beautiful views up here, however, if you want to go further, you have to go down the 'unofficial' track which can be incredibly muddy, slippery, and unstable. You'll find it by looking for a small clearing in the forest beside the viewpoint.
At the based of the falls, there are tonnes of rocks to climb on for a great view looking up at the falls. You can wander further down the stream to swimming areas, however, it did not look overly safe to do so, and I would recommend caution!
Zillie Falls is certainly not the easiest falls to see on the circuit, but in my opinion, it is not worth missing! I found it to be more enjoyable because of the lack of crowds, and a little more natural since there was nothing but a waterfall and lots of rainforest!
Elinjjaa Falls
Ellinjaa Falls is my personal favourite waterfall on the circuit. In fact, it would be up there as my favourite waterfall of all time- next to Tchupala and Wallicher Falls!
This waterfall requires the longest walk to reach out of the three. In saying that, it's probably going to take you less than 5 minutes. The track is sealed and meanders through the rainforest, so it is a really peaceful walk to do.
Although smaller, this wide, cascading waterfall in a small rainforest clearing creates an otherworldly scene. There is plenty of space to swim, and shallow rock pools that go right down the stream, meaning it is easy to explore! The waterfall at the base is very open, with rocks and swimming pools scattered around. Depending on the water level and how much rain there has been, it's easy to wander down the river over the rocks to find yourself a lovely spot to swim for the day!
First-Timers Guide to Atherton Tablelands- Mamu Tropical Skywalk
Depending on the direction you arrive in to arrive on the Tablelands (from Innisfail or Cairns) will depend on whether or not you drive past the Mamu Tropical Skywalk– but it is an excellent spot to spend a few hours!
The Mamu skywalk is at the entrance to the Wooroonoon National Park and just 15 minutes out of Innisfail. It's a stunning skywalk through the canopy of the rainforest consisting of beautiful elevated walkways, a cantilever, a large observation tower- and all offer spectacular panoramic views of World Heritage rainforest landscapes.
I spent over an hour wandering through the walkways, the forest, and on the tower. The misty views over the valley below and the beautiful sounds and smells of the rainforest made it an incredible experience that felt truly relaxing.
You are given an audio guide to wander through the forest with, and I highly recommend taking it. It was great to learn a little about the history of the area and the stories of the volcanoes that were once around.
This is definitely a place I wouldn't miss if you plan on taking a trip to the Atherton Tablelands!
Purchase your tickets here to save money!
First-Timers Guide to Atherton Tablelands- Visit Tully Gorge
Tully Gorge blew my mind away. It filled my eyes with tears upon first laying eyes on it. It was, is, and will always be one of my favourite places in the world.
I lived 23 years in North Queensland and never knew there was a gorge that rivalled even those of Norway right at my doorstep.
The Tully Gorge is hands down one of the top places first-timers need to visit in the Atherton Tablelands.
Tully Gorge is a 293-metre rocky gully carved by the Tully River. It is located within the Tully Gorge National Park and was once a heavily popular spot for tourists to visit in the Tablelands. However, the late 1950s saw the Tully River fitted with a dam further upstream, meaning that the Gorge and the Falls have lost popularity and meaning that you will virtually always have it to yourself!
Another of the reasons the gorge is not so popular with tourists and visitors anymore is because the Gorge is a little off the beaten track and out of the way.
If you're looking to visit the Tully Gorge, don't mistake it for the township of Tully. The gorge is located near the town of Ravenshoe (another excellent place to add to your list of things to do on the Tablelands). There are plenty of signs directing you to the gorge, but keep in mind that the uphill drive through the dense rainforest is quite long, and without phone reception- so make sure your phone is charged and your car is ready to go.
There is a walking track at the gorge that leads you to a natural infinity pool (if there has been rain) and more epic views over the Jurassic landscape below. While you will see many Instagram shots of people swimming at the gorge, I wouldn't recommend it as it isn't safe or advised by Queensland Parks. The walk is still gorgeous and filled with beautiful and magical streams. Not to mention the fresh air that comes with a rainforest over 700m above the sea.
For the two hours I stayed at the gorge, I didn't see another soul. I ate my vegemite on vitaweets, I danced, I listened to peaceful music, and I breathed. The fog rolled over and the rain started, coating myself and the landscape of raw, ancient beauty in a beautiful coating of glittering water.
It almost felt like magic.
First-Timers Guide to Atherton Tablelands- Take a dip at Lake Eacham
The clear blue and green waters of Lake Eacham make it a go-to-place on a sweltering summer's day, and one of the top places first-timers should absolutely visit on the Atherton tablelands.
On my two recent trips to the Tablelands, I found myself here more than once, wandering through the rainforest track, swimming in the tranquil lake, and watching in awe with a picnic by my side.
Lake Eacham, like its sister Lake Barron just up the road, is a former volcanic crater with an average depth of 65 metres.
It's an enclosed catchment, isolated from any other waterways. The lake only fills with rain, and there are no motors allowed on the lake, meaning it is crystal clear, quiet, and with water quality good enough to snorkel and dive in.
For those who don't want a dip, viewing platforms give a better look at this breathtaking lake and its inhabitants, including fish and turtles. Apparently there is also one local crocodile- but don't worry, he's a freshwater croc and harmless unless attacked.
Another awesome feature of visiting Lake Echam is the peaceful 3km rainforest walking track encircling the lake. The walk is popular for those who want some exercise, some nature, or for the renowned birdwatching.
It's without a doubt, one of my top pics for the Tablelands!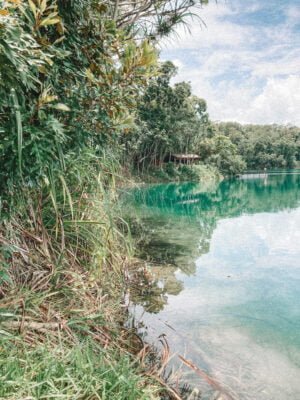 Visit the Medieval-Aged Fig Trees
There are two significant and old Fig Trees located on the Atherton Tablelands that are incredible displays of nature and well worth visiting. The Curtain Fig Tree is a 500-year-old Tree located just a few kilometres from Yungaburra, is truly a hidden gem and a proud icon for Tablelands locals.
The Fig Tree was named the Curtain Fig due to the 15-metre heigh aerial roots that drop from the canopy to the rainforest floor. The tree is nearly 50 metres tall, with a circumference of over 39 metres!
Although it's difficult to tell, most sources point to the Curtain Fig tree being around half a century old- older than our colonial records of Australia.
The tree has a 180m boardwalk that surrounds it, meaning you can wander around it's circumference and truly admire its magnificence!
The Cathedral Fig Tree  is another giant, old tree that is situated within the Tablelands, located in the Danbulla National Park. Although I have heard it is just as incredible, if not more incredible than the curtain fig, I have never actually been, and have added it to my list for future travels.
First-Timers Guide to Atherton Tablelands- Go Platypus Watching
One of the top things to do in North Queensland, and something I recommend everyone do on their first-time in the Atherton Tablelands is go platypus watching!
Platypus are a native Australian animal that are extremely shy, so it can be quite tricky to see them in the wild. However, the Tablelands is one of the top spots to do so!
Yunguburra has an awesome viewing area where you can sit and watch platypus, however, I recommend doing this at night when the street traffic is quieter and you are more likely to see them (they come out at night).
Another place my family used to see them when I was a child was in Malanda near the falls and along the rainforest, creek walks!
Wander through a hand-made Palace at Paronella Park
Paronella Park is one of those dreamy destinations that everyone needs to see in their lifetime. Seriously. It's insane. And that is exactly why I recommend it as one of the top places first-timers need to visit in the Atherton Tablelands.
The history of the park goes a little like this. José Paronella arrived in Australia from Catalonia in Spain, in 1913. After working on sugar cane farms for a decade he decided to buy land-  and settled on the 13 acres of scrub along Mena Creek which he bought in 1929. His plan was to build the park as a pleasure garden and reception centre for the enjoyment of the public.
The park has beautiful waterfalls, the house and castle that the family lived in, a waterfall and waterhole, a ballroom, toilets, a museum, and a large forest area that is incredible to walk through.
In 1948, José died of cancer, leaving Margarita, daughter Teresa, and son Joe, to carry on. In 1967 Margarita died, and in 1972, Joe died, leaving Val and the two boys to continue the hard-working tradition and keep the dreams alive. The Park was sold out of the family in 1977 and sadly, in 1979, a fire swept through the Castle. For a time after that, the Park was closed to the public. Mark and Judy Evans, the current owner/operators, purchased the Park in 1993 and formulated a plan to put the Park back on the map- and now host a nightly light display, as well as tickets to the park, camping, and a historical museum.
It's a place that needs to be seen to be truly admired, and I recommend everyone add this to their bucket list!
Tickets for Paronella Park can be bought here. If you plan on doing both Paronella Park and Mamu Tropical Skywalk, make sure you purchase them together to save!
Drink Tea and Scones at the Nerada Tea Plantation
If you're a tea drinker, there is no way you haven't heard of Nerada Tea. They do incredible chai teas and are known for their black tea!
If you are visiting the Atherton Tablelands, the Nerada Tea Plantation and Tea Rooms are not to be missed.
As you drive over the hill to reach the tea plantation- located just outside of Malanda, you can see the miles and miles of rolling green tea plants. It is stunning!
You can wander and have a look through the beautiful tea fields, learn about how it transforms from a vibrant green plant to a delicious drink we all love, and try a cup at the cafe! I had the scones and a black tea there- and they were both delicious!
You can purchase tea from the gift shop at a discounted rate- it is fresh and made on house after all, or you can even try and spot the resident tree kangaroos.
Visiting the Nerada Tea rooms is an awesome way to spend a morning on the Tablelands, and I highly recommend you do not miss this spot!
Watch a Sunset at the Millaa Millaa Lookout
I've been to the Atherton Tablelands over a dozen times in my life, and only in 2021 after I took my van up there did I find this spot. That's why I want to share it with you and why I think it is one of the top places first-timers need to visit in the Atherton Tablelands.
Wow. Just… wow. This is all I have to say about the lookout. That and, the Millaa Millaa Lookout would have to be in my top 5 favourite places on Earth- and I have done a lot of travel.
The view is incredible. Rolling green hills over a hazy sky. The breeze is refreshing and free of any pollution; vibrant with the smell of nature and rainforests and freedom. It's quiet too- in the three times I visited the lookout over the course of a weekend, I only saw a handful of people who came, snapped a few photos, and left.
It was incredible and you absolutely don't want to miss it.
Just type 'Millaa Millaa Lookout' into maps and look out for the turnoff just outside of the Millaa Millaa township.
First-Timers Guide to Atherton Tablelands- Tchupala and Wallicher Falls
Tchupala and Wallicher Falls would have to be my favourite falls in all of North Queensland.
Both waterfalls are located within the Wooroonooran National Park and are stunning and quiet spots most people drive straight by.
Finding Wallicher Falls and Tchupala Falls is no easy feat. Truthfully, I drove past the stop twice when looking for it. However, I hope this guide helps you avoid the same mistake!
When travelling down the Palmerston Highway in Wooroonooran National Park from Millaa Millaa/ Cairns keep an eye out for the Henrietta Creek Campground. Continue onwards for another couple of minutes, keeping your eyes peeled to the left for a sign pointing to the trailhead.
You'll notice a small sign that points to hikes and a waterfall. There is a small section of dirt for you to park your car on either side of the road.
For your reference, if you make it to the Gooligan's picnic area, you've gone too far!
Likewise, if you are travelling north from Townsville or Ingham, keep your eyes peeled to the right about 5-minutes after passing Manu Tropical Skywalk or just after the Gooligan's picnic area!
If you reach Henrietta Creek Campground, you've gone too far!
Tchupala Falls
If you only have time for one waterfall, then I'd definitely recommend Tchupala Falls. It is the shortest walk of the two, and unlike anything I've ever seen.
The track winds right after the first and only signpost you'll come across, following a trail through dense tropical rainforest for around 5 minutes. The hike is easy, however, caution should be taken when wet, as it was quite muddy, slippery, and thin in areas with a steep drop.
After approximately 600 metres, you'll reach the top level of Tchupala Falls, which is a wide rainforest waterfall fed by the Henrietta Creek.
From my research of the falls, there were originally three major levels with viewing platforms. Unfortunately, due to the powerful force of the waterfalls in the wet season, the path is too dangerous to keep open and has been closed and overrun by forest for quite some time. However, the top layer where I am standing in the photo still had a beautiful view and was still worth checking out!
Wallicher Falls
If you do have time to do both waterfalls, it's also worth checking out Wallicher Falls on the same track. Instead of turning right at the first fork, turn left and continue on for about 1 kilometre.
The hike winds through the dense rainforest, almost parallel to the main highway, but deep enough that you have the rainforest all to yourself.
The walk was easy and flat the entire way so it is perfect for everyone. When you reach the lookout point, you'll get great views of the powerful Wallicher Falls.
If you want a closer view, then you can walk down the steep track just in front of the viewing platform. I walked halfway down and felt safe doing so, however, was happy enough with the views from the top.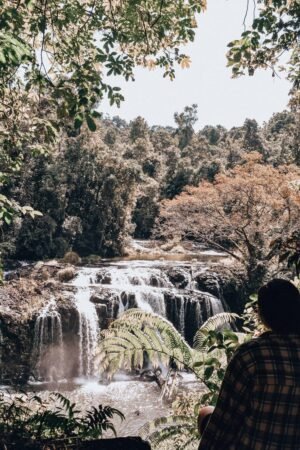 First-Timers Guide to Atherton Tablelands- Hike Nandroya Falls
When it comes to visiting the Atherton Tablelands, there are a tonne of popular waterfalls and waterholes that pop up when you are doing your initial research- but Nandroya Falls isn't one of them.
Along with it's sister waterfalls, Tchupala and Wallicher, located just down the road, Nandroya Falls is actually quite a secluded and unknown spot- which is exactly why I love it.
Finding Nandroya Falls can sometimes be hard. It's easily missed when driving the Palmerston Highway through the Wooroonooran National Park. To get to this waterfall, you'll need to find Henrietta creek campground on your map and pin it for later as there is often no reception within this area.
Henrietta Creek Campground is easily sign marked, and it is there that you can park to begin the hike to Nandroya Falls. Here, there are also clean toilets, a stream that is perfect for swimming in, and picnic tables. To the left of the campgrounds, you'll cross the footbridge and round a bend to the right that follows parallel to the main road. Approximately 50 meters further, you'll see the signpost for the Nandroya Falls hike.
Depending on your fitness level, the hike will take about 40 minutes to reach the main level of Nandroya Falls but you'll probably spend more time exploring as there are three waterfalls perfect for swimming in along the trail. Personally, I'd allow at least 2 hours for the return trip back to the campground car park with a bit of time at the falls.
There are two trail options when hiking Nandroya Falls. The first is about 2km each way to the falls, while the other is 4km each way. From what I have heard both are awesome, however, the shorter one allows you to stop at Silver Falls- and that was enough to convince me!
Approximately 20 minutes into the shorter trail option, you'll pass Silver Falls. Although much smaller than Nandroya Falls, Silver Falls is still a beautiful waterfall that flows gently into a shallow blue pool. It looks something like out of the fairytale and gives you the perfect opportunity for a swim or a drink from the freshwater stream (I did this but I am not entirely sure it's okay to do).
The 50 metre waterfall has a beautiful large swimming pool, as well as a second falls level just below it, meaning you can stand there and get a view of both which is pretty awesome.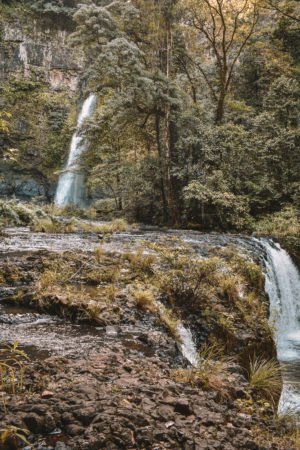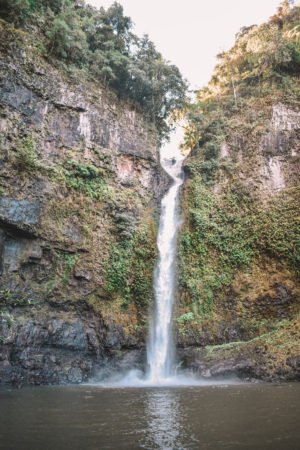 First-Timers Guide to Atherton Tablelands- Visit Lake Tinaroo
Visiting Lake Tinaroo was like a right of passage growing up in North Queensland. We went there on camps, on family camping trips, or simply when Grandad wanted to fish and you had the weekend off work so could go with him.
Everyone here has been there, and rightly so. It's a beautiful freshwater lake- with a dam- and the perfect spot for camping and water activities. The last time I went camping here was New Year's Eve back in 2016, and the stars were out of this world! Some of the best I've ever seen.
If camping isn't something you are into, and you're happy sleeping in a comfortable bed with amenities at your fingertips, Yungaburra has a lovely day-use spot just outside of town- and it is the perfect place to go for a picnic, to reset, and to write (or at least, that is what I did).
Tinaroo is definitely a place in the Atherton Tablelands that first-timers shouldn't miss. It's serene, peaceful, beautiful, and depending on your schedule and what you like to do, has a world of opportunities available to you.
Final thoughts on the top spots to visit on the Atherton Tablelands
As you've probably gathered, I love the Atherton Tablelands. I love all of North Queensland, for that matter. There is so much to do up here- so much life and colour and nature. The air is fresh and the forests are wild. The waterfalls are always flowing, and the animals (when you get to see them) are pretty amazing too.
I hope you can visit the Tablelands one day and explore these epic spots.
Keep wandering,
Abbie xo
Planning a holiday to North Queensland? Check out these posts!
Visiting Tchupala and Wallicher Falls
Weekend guide to Heron Island, the #1 place on the Great Barrier Reef to visit
Vanlife Road Tripping as a Solo Female Traveller from Townsville to Yeppoon.
Exploring the Millaa Millaa Waterfall Circuit in North Queensland
Top Things To Do In Townsville- The Ultimate Local's Guide
An incredible day trip to the Great Barrier Reef with Reef Magic Cruises
10 Reasons You Should Travel Australia With Greyhound
Top things to see and do in Charters Towers- North Queensland's Hidden Gem