Is hiking Kings Canyon in central Australia really worth it?
This is a question I often get asked when people talk to me about travelling around the centre of Australia. It is easy to dive straight to the famous Uluru, explore the culture centre, and take a walk amongst the Valley of the Winds- and don't get me wrong, these are each incredible- but one of the most impressive sites in the world often gets bypassed. There is a lot more out there than just a large, red rock plunked down in the outback. Kings Canyon, in my opinion, is amongst one of the most stunning outback locations in the world, and here's a secret: it should not be missed!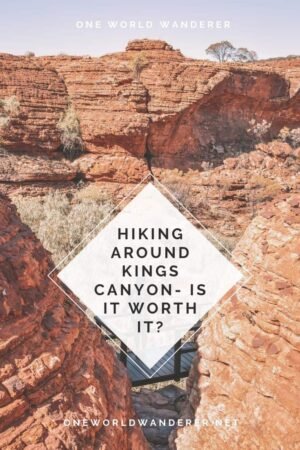 Disclosure: This blog post contains affiliate links, which if you click, adds absolutely no extra cost to you. These links allow One World Wanderer to continue providing you with free guides and travel content.
Plan Your Trip To Kings Canyon
Book Cheap Flights
Still in the planning stage of your trip? Currently, the best and easiest way to find cheap flights is to use eDreams, Bravofly and Skyscanner. Between them all, you'll be guaranteed to always find the cheapest flight, anywhere in the world.
Book Your Accommodation
Whether you're looking for hostels, hotels, guest houses, or resorts Booking.com will always give you the best deals. I always search using the map feature to find accommodation in the best locations. Sometimes, if I want to stay in a place a little longer, I'll use Airbnb. You can sign up with Airbnb and get $51 AUD off your first trip!
TIP: For the best hostels, I usually compare reviews on Hostelworld and YHA (when in Australia) then check other booking sites to compare prices and deals. Not sure on hostels? Read this post to find out everything you need to know about them!
Book Tours and Transport
Although a combination of independent travel and touring is my ideal form of travel, if the best, cheapest, and safest way to explore is to book a tour or package, I'll do it! For this, I always use Viator and Get Your Guide.
Finding a Car in Australia
Having a car or camper is an awesome way to travel, particularly on long journeys. You can compare rental car deals on Europcar.
Don't Forget Adventure Travel Insurance
If you're reading this blog then you're more likely to be seeking epic adventures for an affordable price over relaxing and luxurious vacations. By far, my favourite, most comprehensive adventure travel insurance is World Nomads.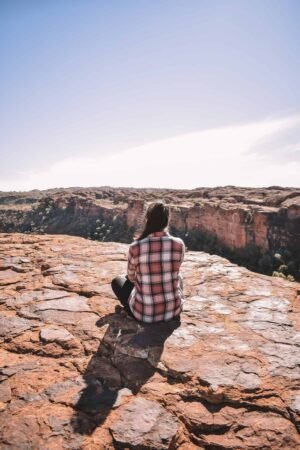 Hiking Kings Canyon
There are two hikes that can be done in and around Kings Canyon: the slower-paced 2km hike through the canyon valley, and the more challenging rim walk which is a tougher 6km hike along the upper rim of the Canyon. The shorter walk is perfect for those who aren't at a high level of fitness or may not have a whole lot of time, and the views are still spectacular. But, if you arrived in the desert with the desire to take in as much as possible, then hiking Kings Canyon along the upper level is definitely the way to go.
360 views of the stunning surrounding desert? Boy, is it worth it!
The hike begins with a 500-step climb to the top of the rim. This is the most strenuous part of the hike, and it will no doubt break a sweat on your brow. However, once at the top, hikers are treated to scenic views and stunning canyon scenery that makes every strenuous step worthwhile.
The landscape here is amazing. The palette of colours, with the reds and oranges of the rocks, the green leaves on the trees, the small patches of bright blue sky, and the white puffy clouds, is absolutely gorgeous.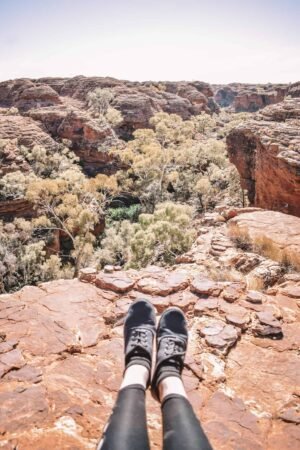 The walk around the rim is spectacular. If I had flown all the way to the Red Centre of Australia just to see this, it would have totally been worth it.
The tranquil 360° degree view from the rim of the canyon is hard to describe. It truly was one of the most incredible things I got to see.
Having travelled there in the off-season, I was lucky enough to get to admire the impressive weathered formations without the disturbance of other travellers.
It is important to note that hiking Kings Canyon places you on the cusp of sacred land (so don't walk off the path!), and you can really feel the immense importance along the trail. Watarrka National Park has been home to the Luritja Aboriginal people for more than 20 000 years, and it is important all visitors act respectfully and be grateful that they are able to bear witness to the stunning location in the first place.
The hike around the Kings Canyon can be as long or as short as you want it to be. No matter whether it takes 3 hours or 6, be sure to take the time to do the loop, take in the scenery from every angle, and snap a few pictures while you're at it.
What tours can you do?
If you aren't into solo travel or don't have the means to go exploring the outback alone then there are an abundance of awesome tours that can take you exploring around Kings Canyon and the surrounding outback attractions. I highly recommend doing a camping trip in this area to experience the full beauty the Australian outback has to offer. If this isn't possible, day trips from the small township of Ayer's Rock or from Alice Springs are also an excellent idea!
Here's my review of a budget camping tour I absolutely adored!
Some other tours I highly recommend looking at are:
 4-day Uluru-Kata Tjuta budget camping trip
Full-day's Kings Canyon tour from Ayer's Rock Resort
Full-day King's Canyon 4WD tour 
King's Canyon walking tour and hike
What you should pack for the hike
Remember the climate at Kings Canyon is as equally harsh as Uluru and other outback Australian areas, so do not forget sunscreen, sunglasses, hat and lots of water. Most signs and forums recommend at least 1L per 2km you walk- and there is a freshwater tap you can use to refill your bottle at the base of the hike.
Just remember: it is not uncommon to experience high temperatures above 40°C throughout the day in summer, and warm weather in winter that can still seriously dehydrate you (although it will be freezing at night). Always prepare for the worst!
What you should pack:
Proper, supportive boots- Hiking is the best way how to enjoy the unique scenery of the Kings Canyon Rim Walk, and sturdy hiking boots are essential.
Protection against sun – Sunglasses, Lipbalm with SPF protection, Sunscreen, Hat-  Sun in the Kings Canyon is harsh, do not walk outside without proper protection.
Comfortable and breathable hiking clothes.
Camera–  Capture all memories on your holiday. The Camera gear I can't live without is the Nikon D3400 and the Mavic Pro
Water Bottle– It is super important to stay hydrated so bring a large water bottle with you.
Flynet– In summer and even some times in winter, the flies can be atrocious in the outback. Pack a flynet in case they are particularly bad
Snacks– it is a long walk and the perfect place to stop for morning or afternoon tea.
Where to Stay?
As I mentioned, a camping trip in outback Australia definitely comes highly recommended. It is the perfect way to experience Australia at its full capacity, with campfires, Australian damper, and endless stars at night.
However, this may not be suitable for you, and that's okay! Both Alice Springs and the small township of Ayers Rock have beautiful hotels and motels perfect for travellers from all walks of life.
So, is Kings Canyon worth it? Absolutely. Dare I say that I enjoyed this hike more than the walks at Uluru and Kata Tjuta?! The beauty was so unexpected and unlike anything else I had ever seen. Hiking Kings Canyon is an absolute must!
Combine a day or two of walking around Kings Canyon with free camping nearby, and it creates the perfect addition to your incredible Uluru trip.
You will not be disappointed!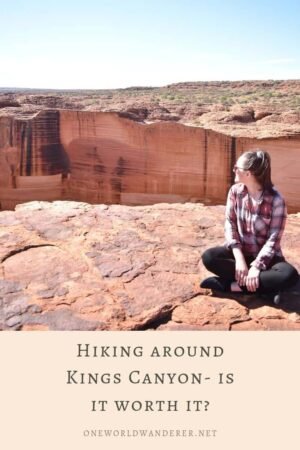 Travelling Australian and looking for more adventures? Check out these blog posts:
Falling in Love with Coober Pedy
The Ultimate Red Centre Itinerary
Townsville's Top 10 Hidden Secrets You Need To Visit This Summer!