Travelling Dubai On A Budget- Top Cheap Things To Do
Guest author Ramanuja is a travel writer for raynatravelogue. He also works as a freelance yoga coach on the side. He loves to believe in the miracles of destiny and wants to travel all over the world one day.
Have you ever wondered if you can travel Dubai On A Budget? Ramanuja is here to tell us you can! And it's much easier (and cheaper) than you think.
Dubai is known for its luxurious shopping malls, opulent architecture, fine-dining restaurants, and ultramodern lifestyle. It is a global city that is thronged by lakhs of tourists year after year to indulge in the glamorous life the city promises to offer. Dubai is an expensive place and many people feel that a vacation to this magnificent city will burn a hole in their pockets. However, what many people are unaware of is that it is possible to plan a trip to Dubai on a budget and enjoy the wonderful things this city has to offer. Sounds unbelievable? Read on to find out how you can do this.
Want to combine your trip to Dubai with another amazing Middle Eastern Country? Why not visit Qatar!
Disclosure: This blog post contains affiliate links, which if you click, adds absolutely no extra cost to you. These links allow One World Wanderer to continue providing you with free guides and travel content.
What is the cheapest month to visit Dubai?
Although any trip to Dubai throughout the year can be done on a budget, the summer months are often when you'll find the most affordable prices. Due to the extreme heat that ravages the country, travelling Dubai on a budget in summer (June, July, August) is when the low season is. Fewer tourists, more money in your pocket.
What currency is used in Dubai?
The currency in Dubai and the wider United Arab Emirates is the Dirham. When transferring money to Dirhams, you will find notes in denominations of 5, 10, 20, 50, 100, 500 and 1000 Dirhams (AED). At the time of writing this post in 2020, 1 AUD is worth approximately 2.62 Dirhams.
BOOK YOUR TRIP TO DUBAI
Book Cheap Flights
Still in the planning stage of your trip? Currently, the best and easiest way to find cheap flights is to use eDreams, Bravofly and Skyscanner. Between them all, you'll be guaranteed to always find the cheapest flight, anywhere in the world.
Book Your Accommodation
Whether you're looking for hostels, hotels, guest houses, or resorts Booking.com will always give you the best deals. I always search using the map feature to find accommodation in the best locations. Sometimes, if I want to stay in a place a little longer, I'll use Airbnb. You can sign up with Airbnb and get $51 AUD off your first trip!
TIP: For the best hostels, I usually compare reviews on Hostelworld then check other booking sites to compare prices and deals. Not sure on hostels? Read this post to find out everything you need to know about them!
Book Tours and Transport
Although a combination of independent travel and touring is my ideal form of travel, if the best, cheapest, and safest way to explore is to book a tour or package, I'll do it! For this, I always use Viator and Get Your Guide.
Don't Forget Adventure Travel Insurance
If you're reading this blog then you're more likely to be seeking epic adventures for an affordable price over relaxing and luxurious vacations. By far, my favourite, most comprehensive adventure travel insurance is World Nomads.
What to do in Dubai on a budget
Jumeirah Mosque
The marvellous Jumeirah Mosque gives you a fascinating insight into the Emirati culture. It is one of the few mosques open to non-Muslims and guided tours are available on all days of the week except on Fridays, for non-Muslims for AED 20. The mosque is constructed in the traditional Fatimid style of architecture that originated from Syria and Egypt. The white marble façade with the yellow and blue walls and intricate carvings are incredible. It is one of the most photographed mosques in Dubai and looks brilliant once illuminated in the evenings.
Souks
Who doesn't love shopping? And if you don't want to splurge at the expensive shopping malls in Dubai, then don't worry! Souks in Dubai are perfect for budget travellers. They are traditional markets that are an integral part of the city. There are a variety of souks – spice souks, gold souks, textile souks, and perfume souks. Stroll through the narrow alleys and see some of the most dazzling jewellery on shop windows. You can buy herbs, spices, essential oils, teas, footwear, traditional garments, and other trinkets from here at very reasonable prices.
Downtown Dubai
This place is home to some of the most iconic attractions in the city. The breathtaking Burj Khalifa is right here. Though the view from the top of Burj Khalifa is mind-blowing, it can be a very expensive affair. But you can always enjoy this majestic structure from below and click many pictures against the stunning backdrop.
Head to Dubai Mall to experience the extravagance of Downtown Dubai. Even if you don't buy anything, there are plenty of inexpensive and free activities to do such as Dubai Aquarium Tank, Ice Rink, Dubai Dino, and Human Waterfall to keep you entertained.
In the evening, witness the beautifully choreographed and illuminated Dubai Fountain for free. The downtown area of Dubai with its outstanding attractions is enough reason for you visit Dubai.
Al Bastakiya Quarter
When travelling Dubai on a budget, one of the Al Bastakiya Quarter is one of the best places to visit. This neighbourhood will give you a glimpse of Dubai's fascinating past. Also known as Al Fahidi Historical Neighborhood, this area is lined with colourful art galleries, cozy cafes, and lovely restaurants. The buildings here are made of natural materials such as mud, stone, wood, coral, and gypsum. Visit the Dubai Museum for just AED 3 to get some interesting information about the Arabian culture or combine your visit with other top attractions on a guided tour. The Arabian Tea House and Dubai Coffee Museum are also great places to stop by for budget-friendly refreshments.
Dubai Creek
Dubai Creek has always been an essential part of the city's history. Running through the centre of the city, this saltwater creek separates the city into Bur Dubai and Deira. The creek is famous for Abras, beautiful wooden boats and have been running on these waters for many decades. You can cross the Dubai Creek in an Abra for just AED 1 and it is one of the most beautiful ways to get a taste of old Dubai and explore the beautiful city of Dubai on a budget.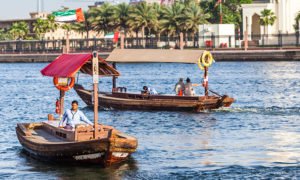 Camel Museum
The Camel Museum gives an interesting insight into the history of camels in the UAE. Located in the Al Shindagha area, this museum pays a tribute to these beautiful animals and explains the affection and distinct relation they share with the people of this region. You can also get information about their history, evolution, camel racing, and the medicinal role the camel had in the traditional society.
The Walk, JBR
This Walk at JBR is a splendid promenade lined up with trees on either side of the road. This area is vibrant with plazas, trendy boutiques, high-end restaurants, and cozy cafes, and is a must-visit after sunset. There is an amazing collection of luxury cars here and you should check out this place if you are a fan of cars. Dubai Marina The Dubai Marina is an 8 km long stretch dotted with high rises and skyscrapers. The waterfront comes alive in the evenings with people thronging the boutiques, bars, restaurants, and clubs. Stroll down the stretch and admire the waterfront and the luxurious glitzy buildings all around you. This is one of the best ways to spend your evenings, and it is entirely free to look upon!
Where to eat in Dubai on a Budget
Dubai is known for its world-class restaurants which are quite expensive. But if you are visiting Dubai on a budget, there are also many eateries which serve delicious meals for reasonable prices. Deira, Karama, and Bur Dubai have many restaurants that serve Indian, Arabian, and Lebanese food that are yummy as well as pocket friendly.
Some famous restaurants in these areas are Ravi Restaurant, Delhi Darbar, Arz Lebanon, Sangeetha Vegetarian Restaurant, Al Mallah, and Punjab Sind Restaurant. If you want to save money on your trip to Dubai, it is good to stay away from international chains and eat at local restaurants.
Where to stay in Dubai on a budget
When travelling to Dubai on a budget, you may think that finding affordable accommodation would be hard. But the truth is, there are many budget-friendly options for you!
The older areas of Dubai such as Deira and Bur Dubai have plenty of budget hotels. Some of the most popular ones are Crystal Plaza Hotel, Premier Inn, Rove City Center, Dubai Ibn Battuta, Fortune Karama Hotel, Ramada Chelsea, Zain East Hotel, Savoy Park Hotel Apartments, Holiday Inn Express, Novotel, and Ibis.
Airbnbs have gained popularity in recent years and you can rent clean and comfortable rooms for your stay at great prices. You can sign up with Airbnb and get $51 AUD off your first trip! Make sure you check if the price of the stay includes taxes such as VAT, Municipal tax, Property Service, and the likes so that the final rates are well within your budget.
In case you are planning to travel by Metro during your stay, it is better that you book accommodations close to a Metro station.
Check out the full list of accommodation options here, and be sure to set the price limit according to your budget.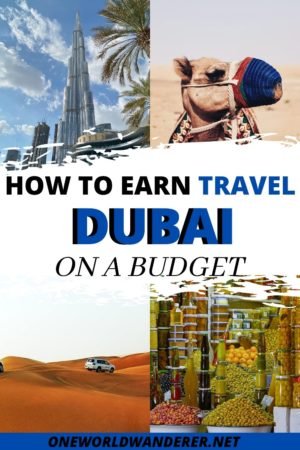 As you see, there are innumerable attractions that you can enjoy in Dubai without breaking your bank. If you are tempted to spend more, a desert safari, Dhow dinner cruise, Aquaventure Waterpark, Dubai Miracle Garden are highly recommended. For the best, cheapest, and most reputable tour operator, check out Get Your Guide and book your tours in advance for the best prices!
So, what are you waiting for? Plan a trip to Dubai immediately.
Want to learn other ways to save money, travel on a budget, and travel more? Check out these posts:
46 Easy Ways to Travel On A Budget 
19 Easy Ways to Cut Your Expenses and Afford Your Dream Trip
How to Earn Money Online So You Can Travel More