Planning a trip to the land of floating canals and elegant history? For first-timers in Venice, it might be a little overwhelming.  Planning a vacation is already hard enough without having to consider a lack of land and boat trips to see the city.
But I'll let you in on a little secret- visiting Venice is actually super easy. And it's 1000% worth the effort.
Venice is one of the most popular tourist destinations in Europe, with millions of visitors flocking to the city to lay eyes on the unique canals, incredible architecture, and historical grandeur. It's a bizarre experience- a city devoid of cars and streets unlike any other in the world, but it is without a doubt one of the most beautiful places you are likely to witness.
In order to see the city in its full glory, you need to equip yourself with some insider tips. Read on and follow my tips and tricks for first-timers in Venice to book your next vacation.
Best Time to Visit as a First-Timer in Venice
Although Venice doesn't boast a large off-season like some other locations in Europe, in order to avoid the mass crowds, I recommend steering clear from travelling there in summer, on weekends, and the days of the carnival.
For first-timers in Venice, the best time to visit are the months of March, April, October, and November, although I also found December not to be too bad for crowds as well (just be prepared for cold weather and rain).
Why you Should Visit Venice
If you've lived under a rock for most of your life, you may not have heard of the incredible city that literally lives on the water. Venice is a place where the sea, land and sky come together as in no other place on Earth. The city of Venice is an archipelago of tiny islets divided by canals, and it is overwhelmingly beautiful to lay eyes on.
The sinking city of Venice is a sight to behold by day, and a glorious wonder by night. With aqua-blue canals and twinkling lights set up around the city, it's no wonder the city is often referred to as magical!
But the real reason Venice is so unique among world cities is that through its art and architecture it continues to flaunt its immense wealth, mostly accumulated by the Venetian Republic so many centuries ago. On every corner, you'll find an array of stunning buildings and galleries, courtyards and artwork. It truly is a sight to behold, only believed by viewing it yourself.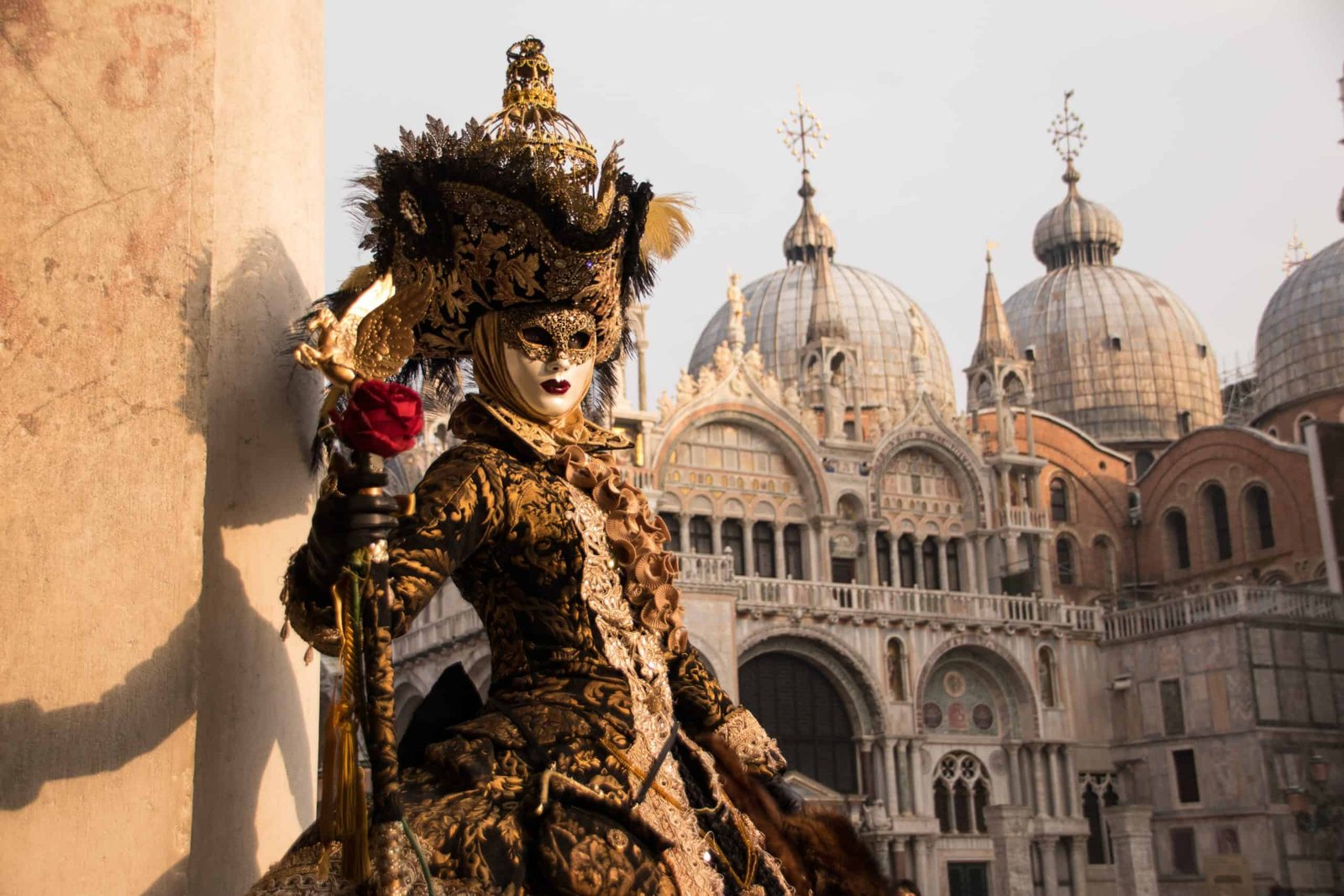 What Makes Venice so Special?
The history around the enchanting city has always captivated me (you know, a history major and all). Located strategically at the top of the Adriatic Sea, Venice once held the power of one of the greatest Empires in the world controlling all trading routes between the west and the east. Thanks to this trade, Venice brought us all the delicious drink most of us cannot live without, coffee! If Venice had not fallen in love with coffee in the 17th Century, it would never have spread from the Ottoman Empire to the rest of Europe. Venice literally brought us all coffee!
The city and lagoon of Venice were founded in the 5th century but became a major maritime power in the 10th Century. Venice is an extraordinary architectural masterpiece where even the smallest buildings and alleyways contain works by some of the world's greatest artists.
Its economic boom was incredible throughout it's rise to power, but at its peak, the Renaissance and Englightenment periods gave rise to the art, music, clothing, and literature that helped lay the foundations for some of the cultures we still enjoy today.
Most of Venice is now listed as a UNESCO World Heritage Site, and still to this day, stands in all its glory.
Top Things to do For First-Timers in Venice
1. St. Mark's Basilica
St. Mark's Basilica, one of Venice's most-visited sights and one amongst Italy's top cathedrals is an absolute must-see for first-timers in Venice! It houses the mortal remains of St. Mark himself and is considered the world's finest blend of Byzantine, Romanesque, and Gothic architecture (my historian self literally froths over this!).
The Piazza San Marco, often known as St Mark's Square or La Piazza, is the principal public square of Venice which forms the social, religious and political centre of the city. From this square, you can get just about everywhere in the city as there are many alleyways with signage pointing you back to La Piazza. It is also where you will find some of the best restaurants!
Get Your Guide, a well-respected company, offers more than 50 tours in Venice ranging from gondola rides and boat trips, to "skip the line tickets" at St Mark's Basilica – even day trips to Venice from Rome and other cities.
2. Gondola Tour in Venice
If there is one thing I recommend doing as a first- timer in Venice, it's taking that infamous Gondola ride around the canals. Gliding on a gondola is said to be the most romantic way of exploring the alleys and charming landmarks of Venice, and I can definitely attest to this.
Going to Venice and not hopping onto a gondola is synonymous to going to Dubai and skipping the Burj Khalifa, or heading to Paris and not seeing the Eiffel Tower up close. There's nothing, I repeat nothing, more quintessentially Venetian than a Gondola ride. Descending onto an elegantly black boat and setting off on an enchanting ride around the cities finest architecture is one of the most romantic affairs in Venice, if not the whole world. Sitting comfortably on the cushioned seats and passing under awe-inspiring bridges, your heart will truly feel at peace.
3. Leonardo Da Vinci Museum
The Leonardo Da Vinci Museum, located within the old town centre of Venice, offers a unique glimpse into the mind of the Italian Renaissance man whose painting, engineering, history, sculptures, and geology have been world-famous since his heyday! Although not as popular as some of the other Venetian attractions, this is truly one for the books if you're visiting Venice for the first time. Especially for the art and history lovers!
Grab discounted tickets to the Leonardo Da Vinci Museum.
4. Doge's Palace
Ranked as one of the top things to do in Venice (and I definitely agree), the Doge's Palace is a popular tourist attraction because of its incredible beauty, history, and accessibility. The historic location used to seat important meetings between the Venetian Republic, and the walls hone secrets and stories rarely found elsewhere.
You can book your tickets to Doge's Palace here.
5. The famous book staircase/ Libreria Acqua Alta
Regularly referred to as one of the most beautiful book shops in the world, the Libreria Acqua Alta is a creative work of art that will have even the non-book lovers frothing over its creativity. Books are on display in all manner of things like canoes, gondolas, and bathtubs, and are even turned into furniture themselves. It is every photographer or Instagrammers dream location, and one that is not worth missing.
First-timers in Venice Saving Money Tips and Tricks
Steer clear of the restaurants around tourist attractions. Restaurant with flags of multiple countries, Italian music playing, and tourist menu advertised can generally be expensive
If you choose to sit down and eat a meal rather than stand, you'll likely pay double. Along with your meal, a hefty service charge and table charge is usually on the bill; so stand and indulge your meal if you're on a budget.
Ask for "acqua semplice" or "acqua da rubinetto" to get tap water to drink. Places can charge up to 5 euros if you ask for water, and they'll assume you don't mean tap unless you're specific about it.
If you're on a budget, some of Venice's most celebrated sights don't cost a penny. There are 139 churches in Venice and two of the best churches in the city – Basilica di San Marco and Basilica di Santa Maria della Salute don't have an admission fee! Check out all the free things to do by simply doing some research before you go!
Don't spend more than 3 euros for 3 scoops of Gelato. Places tend to charge an arm and a leg for gelato. Specifically in tourist areas.
Want more money-saving tips? Check out these posts!
46 Easy Ways to Travel on a Budget
8 Easy Ways to Travel as a Broke Student
19 Ways to Cut Your Expenses So You Can Afford Your Dream Trip
Where to Stay for First-Timers in Venice?
Venice is one of those locations with hotels and hostels and AirBnB's galore! If you're looking to keep to a budget and not spend all your money on accommodation, I highly recommend staying off the main Island. It is much cheaper to catch a water taxi to central Venice than forking out a fortune on accommodation.
For a full list of the best, most affordable accommodation, check out Booking.com!
Don't forget to sign up with Airbnb and get $51 AUD off your first trip!
First-Timers in Venice- Plan Your Trip
Book Cheap Flights
Still in the planning stage of your trip? Currently, the best and easiest way to find cheap flights is to use eDreams, Bravofly and Skyscanner. Between them all, you'll be guaranteed to always find the cheapest flight, anywhere in the world.
Book Your Accommodation
Whether you're looking for hostels, hotels, guest houses, or resorts Booking.com will always give you the best deals. Sometimes, if I want to stay in a place a little longer, I'll use Airbnb. You can sign up with Airbnb and get $51 AUD off your first trip!
TIP: For the best hostels, I usually compare reviews on Hostelworld and YHA (when in Australia) then check other booking sites to compare prices and deals. Not sure on hostels? Read this post to find out everything you need to know about them!
Book Tours and Transport
Although a combination of independent travel and touring is my ideal form of travel, if the best, cheapest, and safest way to explore is to book a tour or package, I'll do it! For this, I always use Viator and Get Your Guide.
Finding a Car in Australia
Having a car or camper is an awesome way to travel. You can compare rental car deals on EuropCar.
Don't Forget Adventure Travel Insurance
If you're reading this blog then you're more likely to be seeking epic adventures for an affordable price over relaxing and luxurious vacations. By far, my favourite, most comprehensive adventure travel insurance is World Nomads.
Disclosure: This blog post contains affiliate links, which if you click, adds absolutely no extra cost to you. These links allow One World Wanderer to continue providing you with free guides and travel content.
Travelling to Europe and wanting more inspiration? Check out these posts!
Tallinn Truly is a Baltic Fairytale
A City Guide to Kotor, Montenegro
This is Why You'll Never Forget a Day Trip to Mostar, Bosnia
Why Bosnia and Herzegovina is a Must-Do on your European Vacation
Ultimate City Guide For Things to do in Madrid!