It's the town of wonders, unique in every way possible, and probably unheard of by many passing by. Charters Towers, the accessible Australian outback, only an hour inland from the Great Barrier Reef, and a few hours south of the rainforest! There are an abundance of things to do in Charters Towers if you are planning a vacation to North Queensland, Townsville, or Cairns that you should not miss out on!
Founded in 1871 after the discovery of gold, Charters Towers was established as a place for prospectors to mine their fortune in the goldfields of North Queensland.
Today, although the rush has well and truly concluded, Charters Towers remains a beautiful outback Australian town, with a lot of unique character.
If you find yourself travelling North Queensland, looking for things to do in Townsville, or wanting an outback adventure without having to drive to the Red Centre of Australia this guide will highlight the best things to do in Charters Towers.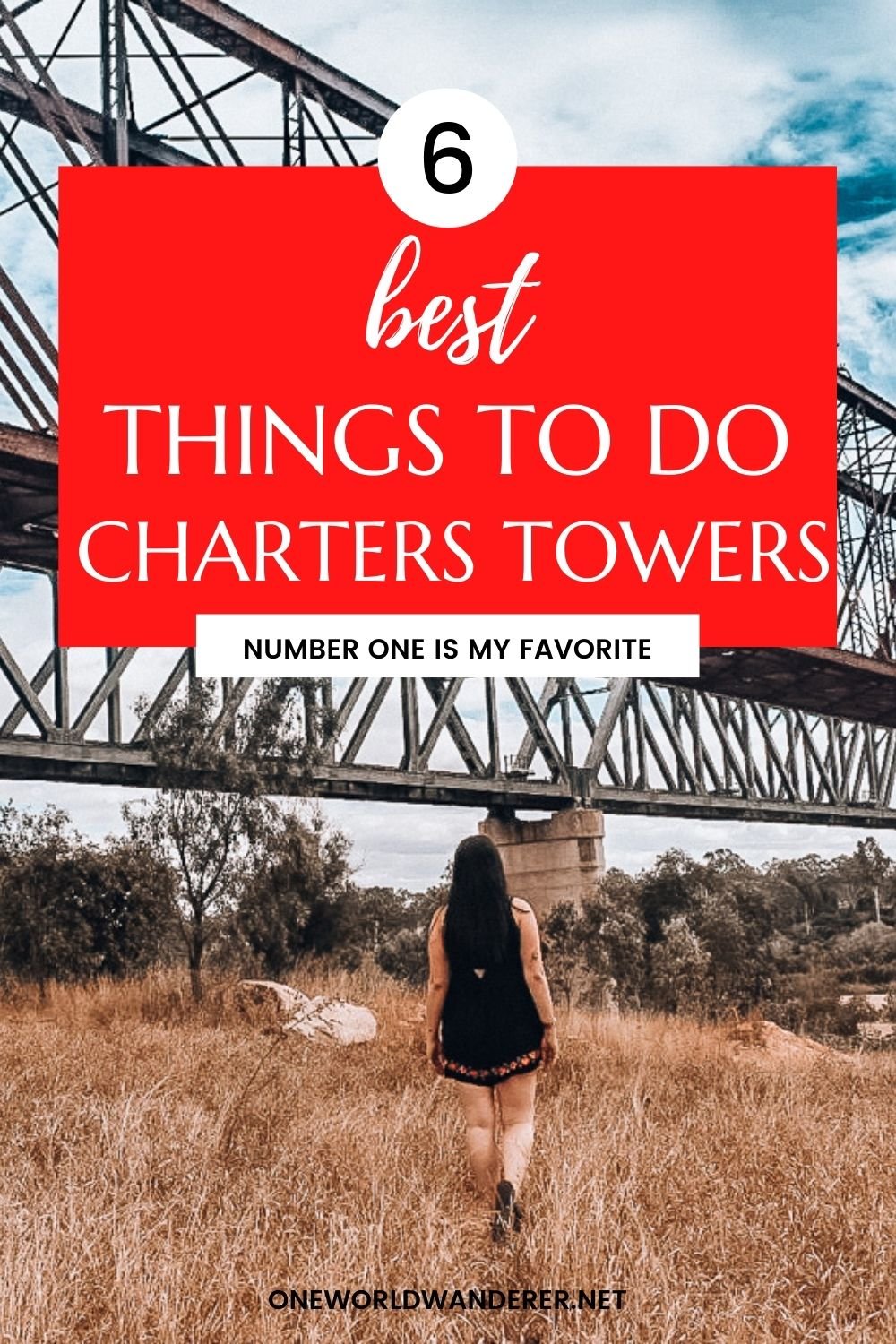 Where is Charters Towers Located?
Charters Towers is located in North Queensland, approximately an hour inland from the coastal town of Townsville.
If you're ever travelling around North Queensland, the popular Overlanders and Great Inland Way routes cut right through the town, so it is worth considering a small stop in Charters to view a unique part of Australian history.
I personally love driving to Charters Towers in the late afternoon, before sunset. With grass that looks like it was covered in flecks of snow, rusty, old windmills, and an afternoon glow, it always provides a beautiful scenic drive into the heart of country North Queensland.
When is the Best Time to Visit Charters Towers?
Travelling around North Queensland is always done best in winter, between the months of June and September. Outside of this time, the weather is hot and muggy, with monsoonal and cyclone season pairing with summer. I always recommend the winter months, outside of the school holidays, for your best chance at fighting the crowds.
Can you Travel to North Queensland Solo?
Absolutely! North Queensland is relatively safe of crime and the perfect place to explore solo. I have been doing so since I became an adult and have never felt threatened or unsafe!
If you are thinking about travelling solo in this area but are worried about exploring alone- shoot me an email. I'm always looking to meet other lovely travellers!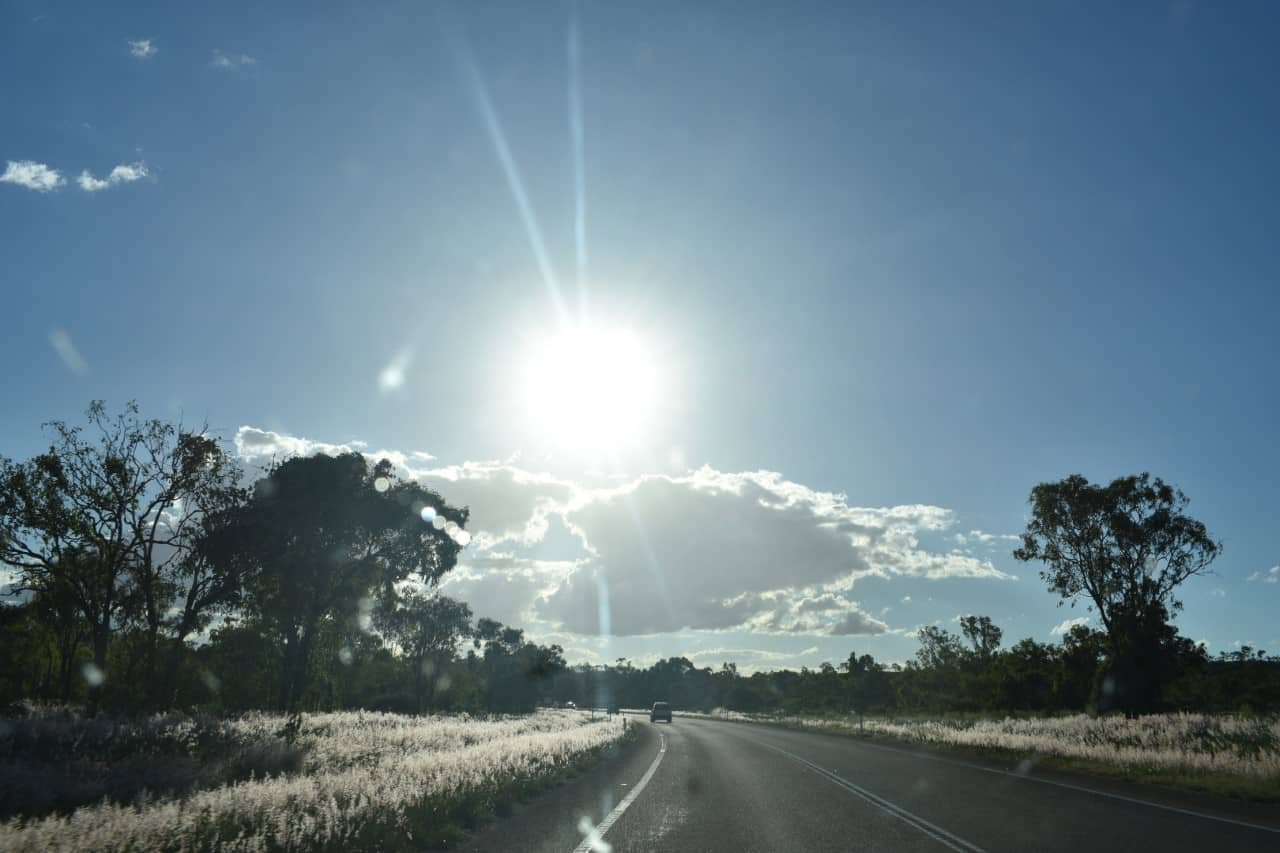 1. Tors Drive-in
Charters Towers is home to the Tors drive-in– one of the oldest drive-in theatres in Australia, and one of my favourite spots in all of North Queensland. Open continuously since 1966, the retro cinema is run by a local family with the aim to recapture the nostalgia of the drive-in era.
The Tors theatre plays popular blockbusters for less than the price of a single movie at other cinemas. Entry for a student is $6 and entry for an adult is $8. For that price, you get to watch two popular movies in your own little parking nook with surround sound. They have a snack bar with hot food, candy, and locally made soft drink brewed right in the heart of Charters Towers- all of which sit perfectly into anyone's budget!
One of the coolest things about the Tors Drive-In is that it was built with almost everything being second hand – bricks, iron, timber, cafe counter and the railway line- all used to construct the screen tower!
I recommend taking comfortable camping chairs, pillows, blankets, and a jacket, as outback country air can be quite chilly in the evenings!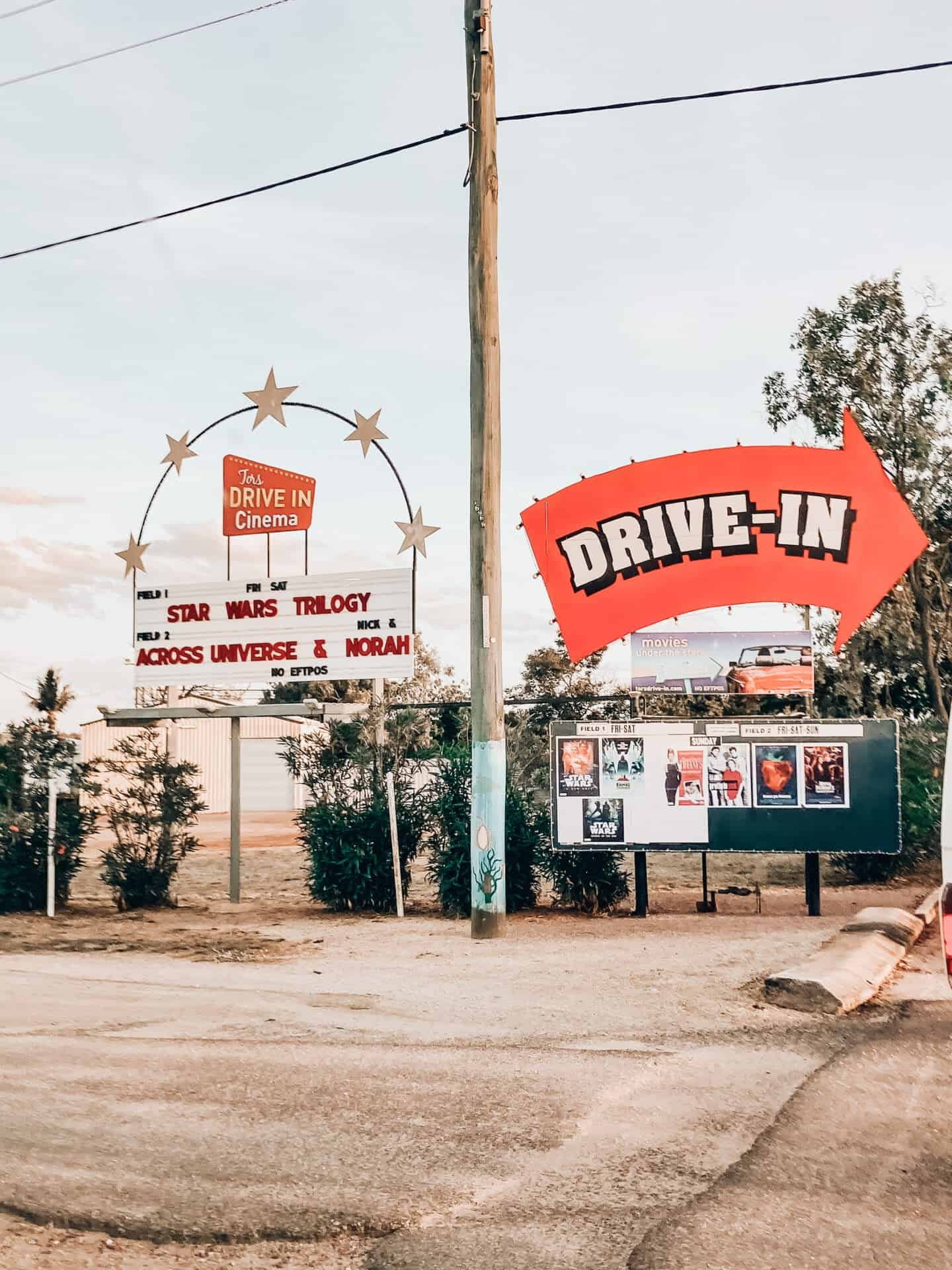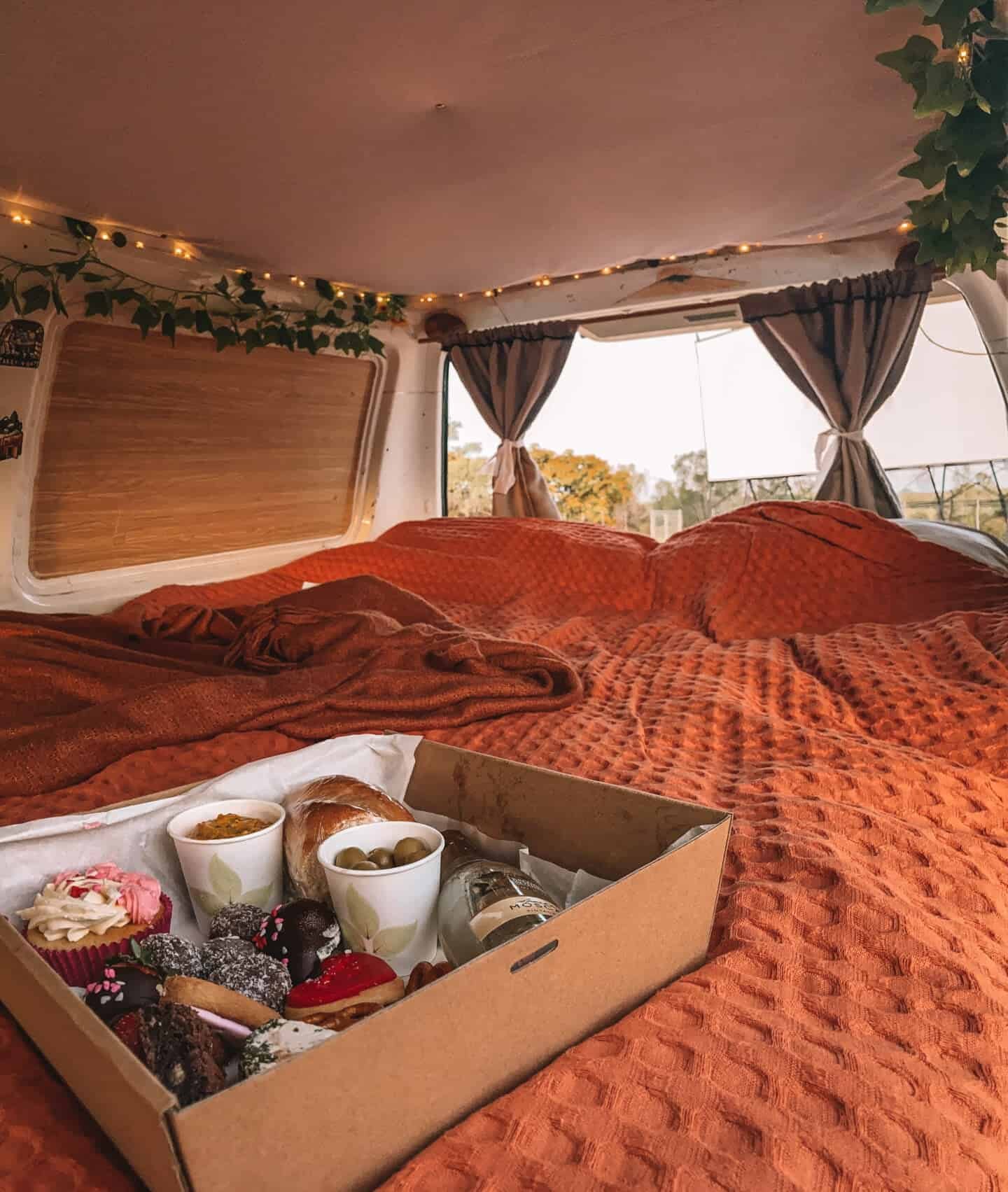 2. Watch the Sunset Atop Towers Hill
Although a backlit 'Charter Towers' sign won't greet you at the top of the popular Towers Hill, you will find one that calls it 'The World.' Nicknamed by the locals when the town was thriving as the second biggest city in Queensland (hard to imagine when you look at it now), locals believed that Charters Towers had absolutely everything you could ever need, meaning that there was no reason to travel anywhere else (could you imagine!).
Towers hill only sits 420 metres above sea level but is the best way to watch the sunsets in the evenings. And the outback sunsets are truly stunning up here!
If you travel there throughout the day, Towers hill is also is a great location to get in some exercise. Many of the locals tend to walk the hill daily to get their steps in!
3. Visit The Charters Towers Weir
Albeit, not an appealing name for a stop (because when are Weir's ever good stops?), but the Charters Towers Weir is a beautiful little location to sit, relax and watch the birds.
The Weir is a relaxing place for a picnic, with a lovely open grass area and plenty of seating and BBQ areas. It is surprisingly a lot more beautiful than you would think!
4. Visit The Macrossan Bridge
Another little stop on the drive from Townsville to Charters Towers, the Macrossan Bridge is 15 minutes east of Charters Towers on the Flinders Highway, and it's a beauty! The location is a popular camping stop for many weekend travellers, with awesome views of the Burdekin Dam.
The double bridge is an awesome spot to sit and wait in the hopes of catching two trains crossing at the same time. It's a photographer's dream!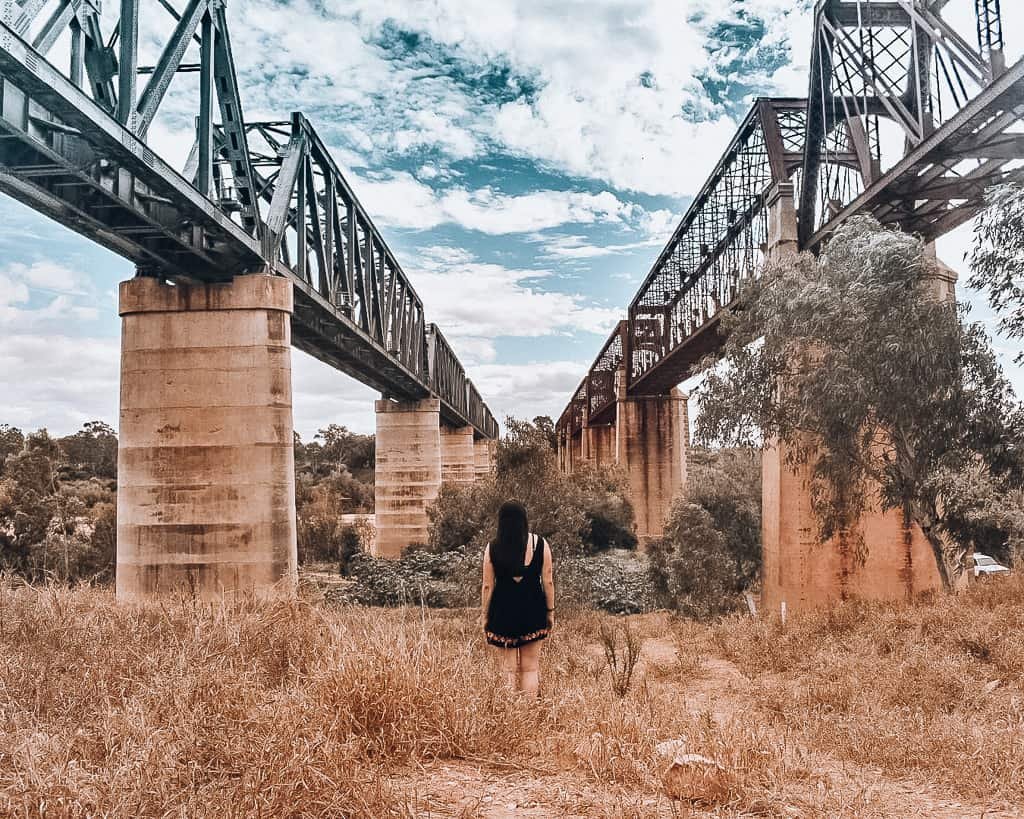 5. Meet Some Texas Longhorns
Texas Longhorns in Outback Queensland? Yep, that's right, you can find real, living and breathing Texas Longhorns in Charters Towers, North Queensland! Situated just 10km from the famous city of Charters Towers, or 140km south-west of Townsville is Leahton Park, home to Australia's largest herd of purebred Texas Longhorns.
Take a horse-drawn wagon ride back in time to the old west, in the era of the Texas Longhorns, or enjoy oven cooked damper and billy tea served from the cowboy wagon. If you're lucky, you might even spot Water Buffalo, Bison, or Scottish Highland Cattle.
This is a unique and memorable experience you will never forget!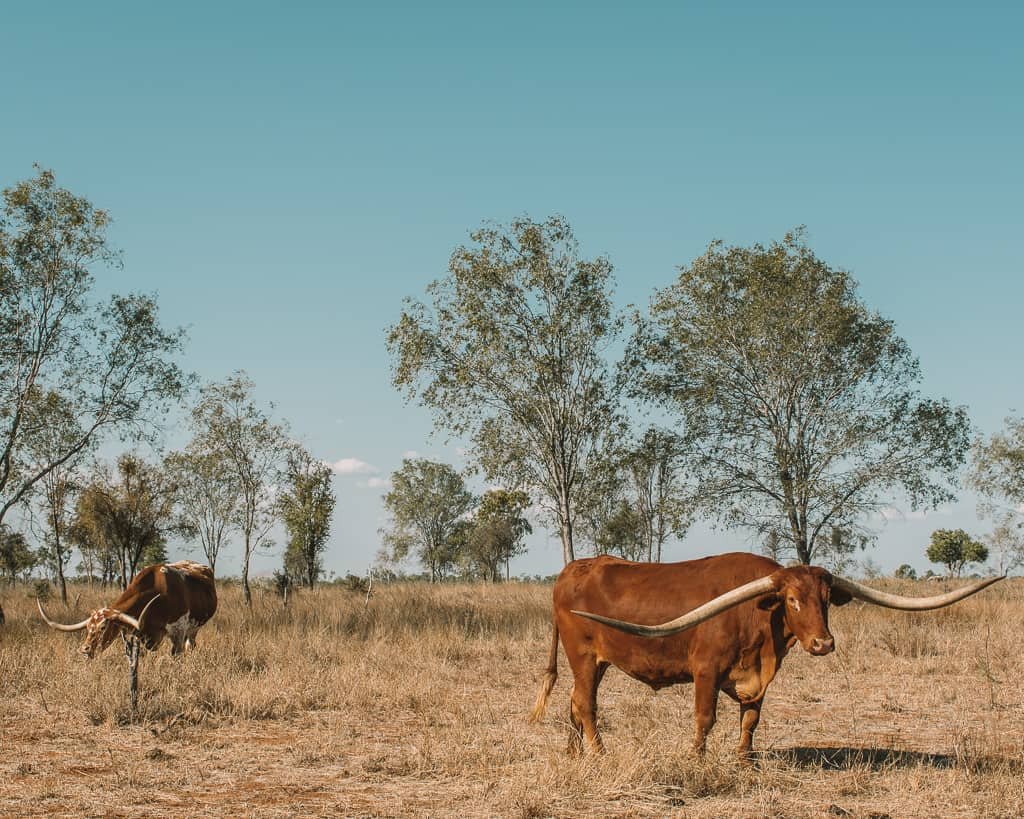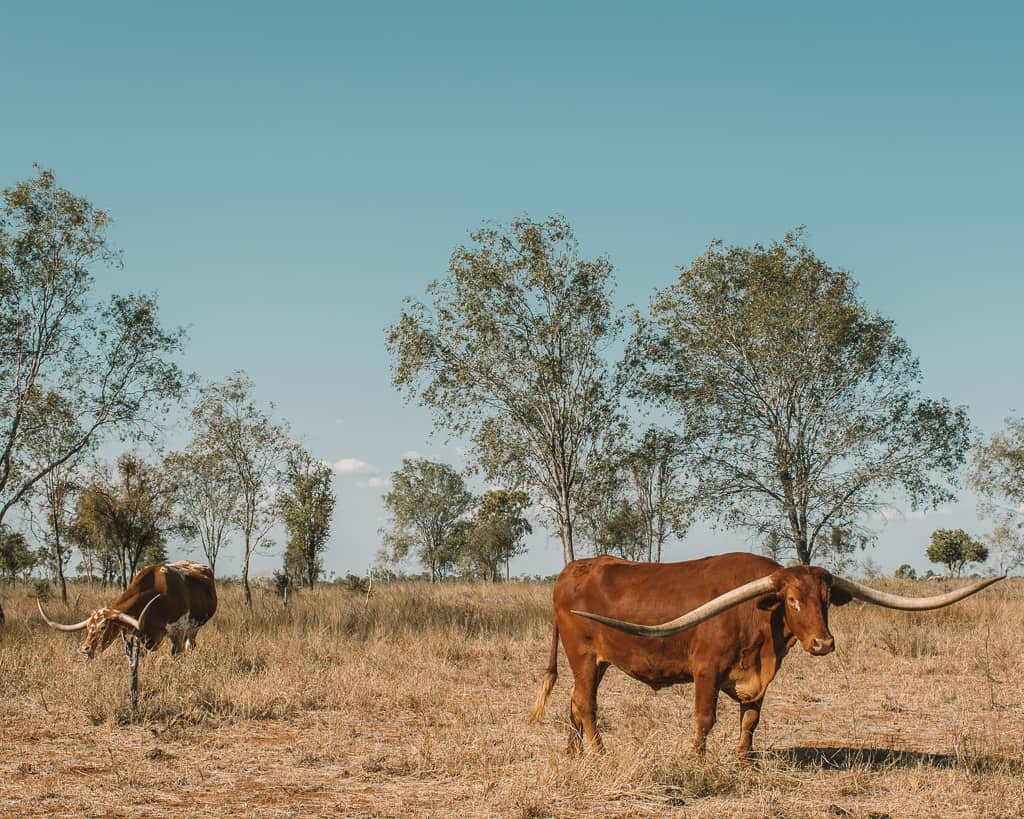 6. Visit the Historic Town of Ravenswood
Take a step back in time to the historic town of Ravenswood, a magical gold mining ghost town! Located 15 minutes from Charters Towers, Ravenswood is an awesome stop along the drive or day trip where you can explore more heritage-listed buildings and get a greater understanding of the days of gold mining.
Like Charters Towers, Ravenswood also had a thriving gold mining heyday, which has largely been preserved. Now, Ravenswood sits virtually as a ghost town with a couple of old pubs and small businesses. Walking through the main street (because, you know, there's only one here), it's difficult to imagine that throughout its boom in the 19th Century, there were over 50 pubs, but even the small number that remains have kept the old charm of those days, and so have the locals.
Ravenswood is definitely worth taking a small detour to if you are travelling to Charters Towers. The mullock heaps, the old shafts, the chimneys, the rusting machinery and the historic buildings that still sit virtually untouched will all take you on a journey into the past of a once-thriving gold mining town.
Ravenswood is a truly inspirational location for those with a sense of nostalgia and a camera.
Make sure you check out:
– Courthouse Museum
– Imperial Hotel
– Ravenswood Court House and Police Station
– Lookout
– Post office
– Railway Hotel
– Mabel Hill
Charter Towers Accommodation Guide – Where to stay
AirBnB- There are countless AirBnB's within the Charters/ Townsville region that are bang for buck! Don't forget to sign up with Airbnb and get $51 AUD off your first trip!
Hotels- There are countless hotels, motels and camping grounds to stay in throughout the region. Check out the full list for Charters Towers here or try Townsville for some awesome seaside and rainforest action.
Plan Your Trip To Charters Towers
Book Cheap Flights
Still in the planning stage of your trip? Currently, the best and easiest way to find cheap flights is to use eDreams, Bravofly and Skyscanner. Between them all, you'll be guaranteed to always find the cheapest flight, anywhere in the world.
Book Your Accommodation
Whether you're looking for hostels, hotels, guest houses, or resorts Booking.com will always give you the best deals. Sometimes, if I want to stay in a place a little longer, I'll use Airbnb. You can sign up with Airbnb and get $51 AUD off your first trip!
TIP: For the best hostels, I usually compare reviews on Hostelworld and YHA (when in Australia) then check other booking sites to compare prices and deals. Not sure on hostels? Read this post to find out everything you need to know about them!
Book Tours and Transport
Although a combination of independent travel and touring is my ideal form of travel, if the best, cheapest, and safest way to explore is to book a tour or package, I'll do it! For this, I always use Viator and Get Your Guide.
Finding a Car in Australia
Having a car or camper is an awesome way to travel. You can compare rental car deals on EuropCar.
Don't Forget Adventure Travel Insurance
If you're reading this blog then you're more likely to be seeking epic adventures for an affordable price over relaxing and luxurious vacations. By far, my favourite, most comprehensive adventure travel insurance is World Nomads.
Disclosure: This blog post contains affiliate links, which if you click, adds absolutely no extra cost to you. These links allow One World Wanderer to continue providing you with free guides and travel content.
Planning a trip to Queensland soon? Check out these posts!
Top Things to do in Townsville
12 Places you need to visit on the Atherton Tablelands
Visiting North Queensland's best waterfalls- Tchupala and Wallicher Falls
Exploring the Millaa Millaa Waterfall Circuit in North Queensland
An incredible day trip to the Great Barrier Reef with Reef Magic Cruises
10 Reasons You Should Travel Australia With Greyhound
Weekend guide to Heron Island, the #1 place on the Great Barrier Reef to visit