Coober Pedy, a town of solid rock, hard exteriors, and harsh extremes. It's a small town in the middle of nowhere, that no one really knows about. On the weekends, cars upon cars pass through without a second glimpse. Campervans fuel up in a hurry, desperate to get back on the road and as far away from the dirt-encrusted pitstop that offers a measly rest stop and well-deserved coffee. Tourists continue onwards, never once offering Coober Pedy the chance it needs to help you fall in love.
And I get it. It's a small town covered with dirt. Why would anyone want to stop off and give it the time of day?
But beneath the surface, after peeling back the layers and layers of a century's worth of roughin' it in the outback, if you give it the tender love and care, you can reveal a whole new world of wonders.
Literally.
Because, after all, Coober Pedy is famous for its underground way of life: houses, churches, accommodation, and rich opal mining fields still abundantly full of riches. It's a peaceful place of beauty that allows you the chance to fully relax into the outback way of life, away from the hustle and bustle of everyday life.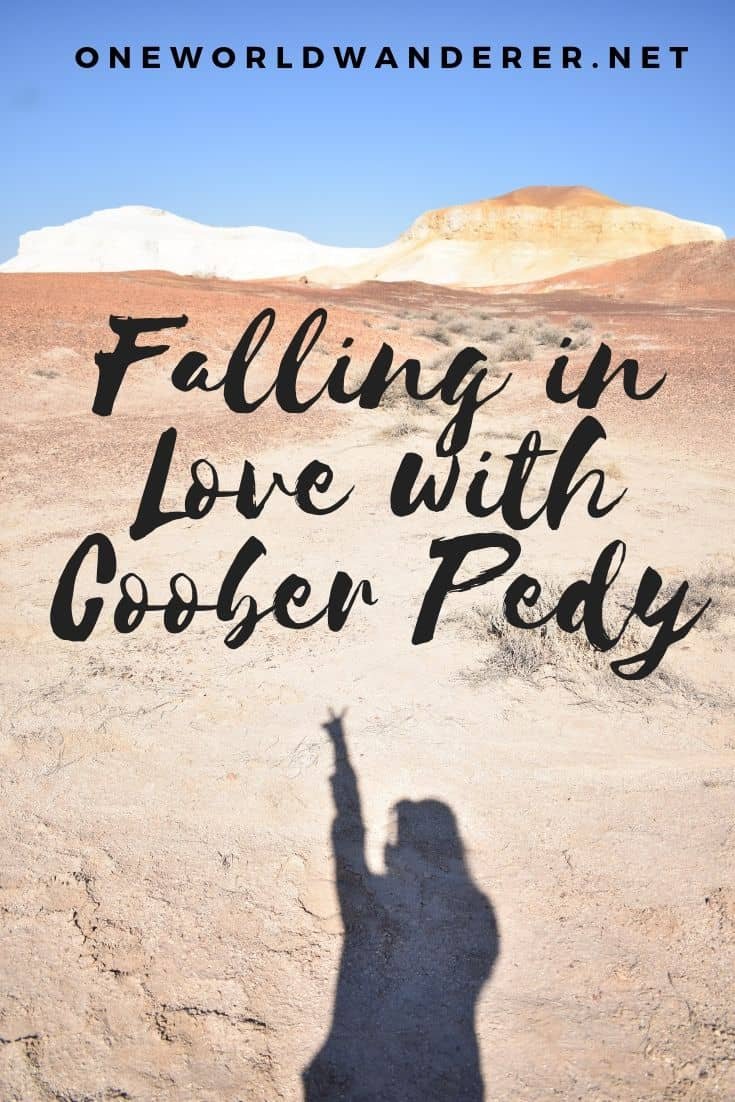 My desire to visit Coober Pedy started when I was a child and was forced to watch a movie in school about opal mining. While many of the other kids dozed off and doodled on their school books, I sat there mesmerised, dreaming of the day I would set foot in the town that lived underground and opals were in abundance.
When the chance to travel with Greyhound Australia arose in 2019, my first thought was to head to the outback. Sure, I was keen to visit Uluru and Alice Springs, but deep down I knew my outback dreams would come true the moment I arrived in Coober Pedy.
And boy was I right.
I arrived around 6 am after the long overnight Greyhound bus from Adelaide and instantly fell in love. The sun was just beginning to open its eyes to the world, offering a soft, golden glow over the Coober Pedy sign. The desert air was crisp in my lungs and the last of the stunning array of stars were twinkling out, making way for the day that my dreams would come true.
It was love at first sight.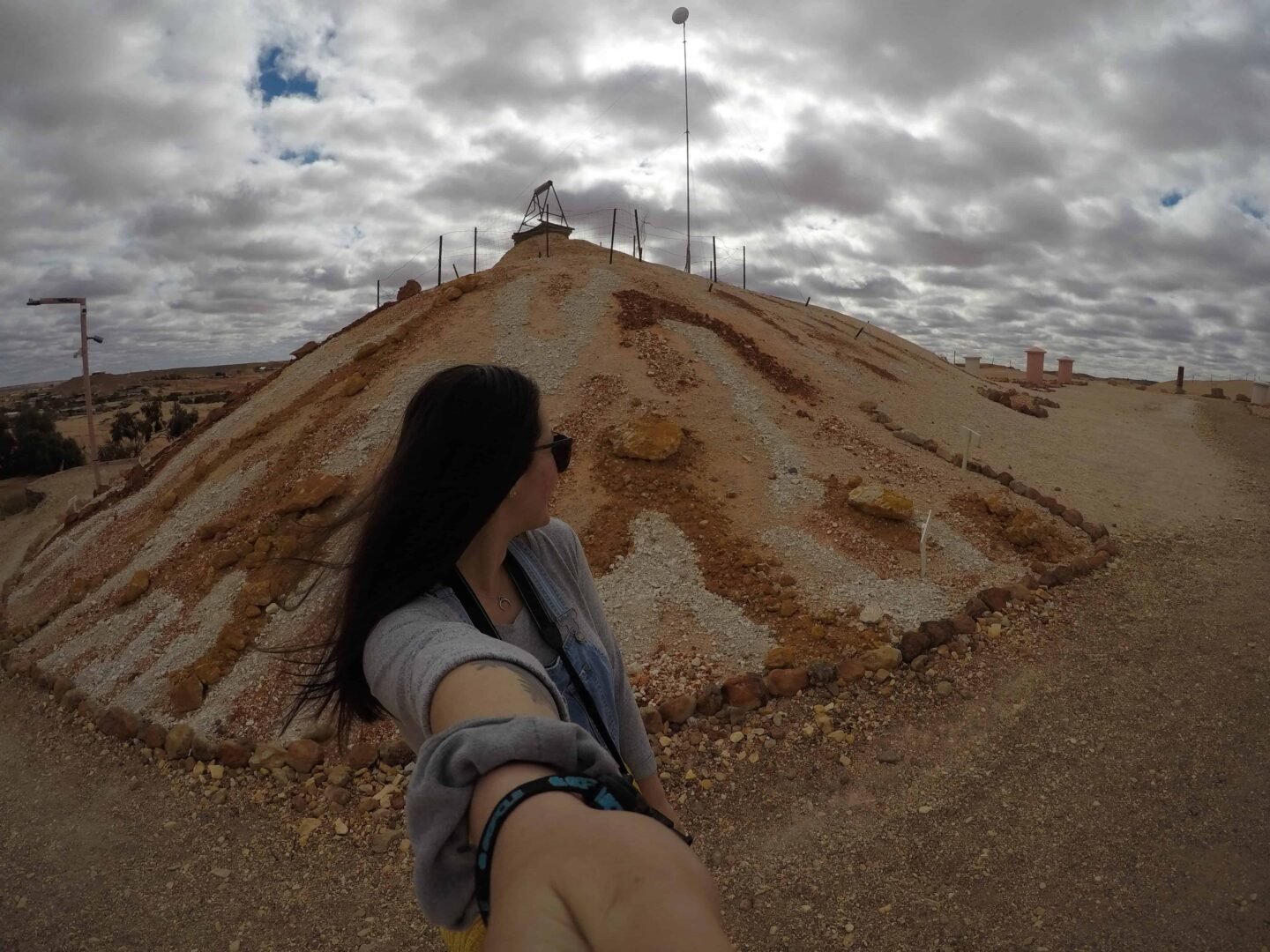 After a nap and a strong coffee, it was time to explore. I started by wandering the town. No doubt the locals thought I was a lunatic. What was this solo female traveller wandering around with a smile from ear to ear doing here? People don't come to Coober Pedy to enjoy themselves. They pass by and ignore it.
But that was exactly what I didn't want to do. So, I made the most of my 48 hours and saw everything I could possibly see.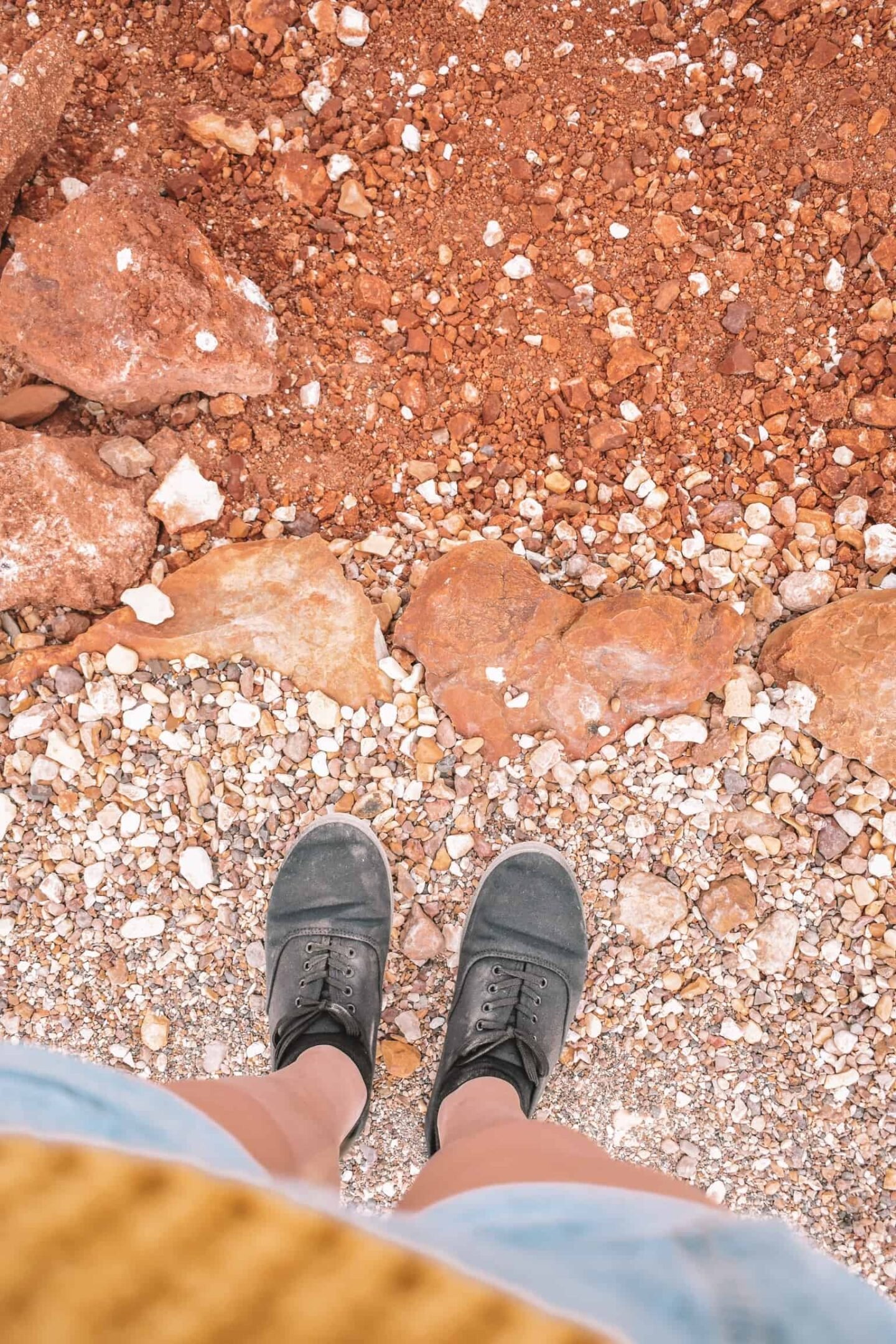 Opal Mining
It started with an opal. Around 150 million years ago, Coober Pedy was covered by ocean – and when the water receded, the sandy silica minerals from the seabed flowed into the rocky cracks and cavities and solidified over time into multi-coloured gem-stone – opal. The first European explorer to pass near the site of Coober Pedy was Scottish-born John McDouall Stuart in 1858. The town was not established until after 1915 when opal was discovered by Wille Hutchison.  Miners first moved in about 1916. With some of the richest opal fields in the world, it's every miner's dream to visit the opal fields and try their luck.
There are several ways you can appreciate the incredible journey Coober Pedy has undertaken as an opal mining town. Wandering the Umoona Opal Mine and Museum in the town centre is the perfect way to begin. Inside, there is a detailed museum that gives life to the land and its traditional owners, as well as a deep history of how opal came to be there.
There are two video screening areas inside the museum. The first can be purchased, and this goes into detail about how opal was discovered in Coober Pedy while the second is a free documentary that tells the story of several mining men who have found success in the mining industry but also offers an insiders voice to the struggles and difficulties they face every day. I watched both and I highly recommend them to all visitors.
The museum is unique because it is situated on top of an old, extensive mining system that had great success with mining opal in the early days of the settlement. There are three guided tours offered throughout the day (or you can book the Stuart Ranges Tour and it's included) that take you down into the mine and explain what it was like to be a miner before electricity and the machinery that make mining a much easier experience today.
When exiting the mine, you have the option to walk up a few steps to see a beautiful view of the town. This is also a perfect sunset location as well.
Shop for opals, or dig for them yourself!
Opal-mania runs through the town. On pretty much every corner and inside every building, there is a small, locally-owned opal shop. You can buy opals in all shapes and colours and sizes, and they are a lot cheaper than you'll find in retailer stores.
If you'd rather try your luck with opal mining, you can noodle for opals. On the outskirts of the town, there are dirt mounds that the public has the ability to noodle through. Although it is not common for people to find opal, there is the odd story of travellers wandering through and finding up to $20,000 worth of opal laying in the piles.
It really is a game of luck, but it is good fun.
Take a tour of Coober Pedy
With only two days in Coober Pedy, I decided to spend the second day on a tour with Stuart Ranges Outback Tours to see as much of Coober Pedy and the surrounding areas as possible. And boy am I glad I did. From inside the town centre, Coober Pedy seems tiny. I'm talking a ten-minute walk from one side to the other. And even that is a stretch. But once you leave the centre, there's a whole world of Coober waiting to be discovered.
Stuart Ranges first took us to the local sites: a golf course made entirely of red dirt, a small football pitch that cost over a million dollars to be created just because the grass is not sustainable in Coober Pedy. We saw the tiny local jail, and piles and piles of junkyards. An interesting stop was the Greek Orthodox Church, a beautiful big church built entirely underground.
Although I loved the uniqueness that the town inherits, leaving the town was when my adventure boots kicked in. Stuart Ranges took us out of Coober Pedy and into the mining fields. This area was a particular favourite of mine because of just how many mines there are. Hundreds, thousands, and probably even millions of mounds scatter the outskirts of Coober Pedy. Because opal mining is really a game of chance, mines litter the fields, making it a really interesting place to drive through. According to the driver, people can purchase a license of a certain amount of area to mine, and they own that area of land and any prospective opals inside it. If they find nothing, they'll move on. If they find opal, they find all kinds of cheeky ways to extend the land mass and get as much from the ground as possible.
You might be thinking 'sure, a church, some mounds of dirt, and a golf course, how interesting', but every part of Coober Pedy is a unique treat to the eye because it is unlike anything you'll have ever seen before. With a guide to explain each of these locations in great depth, it becomes an intriguing experience that teaches you so much more about the town than any guidebook could.
For the adventurer, it's the perfect place to go!
Explore the Breakaways, Dog Fence, and Moon Plains
The Breakaways, Dog Fence, and Moon Plains are three of the driving attractions for Coober Pedy because they represent a stunning part of the outback: The Painted Desert.
The Breakaways are a stunning sight to look out on appreciate millions of years of Australian geographical history.
Did you know that the dog fence is the longest fence in the world? Spanning miles and miles across Queensland, New South Wales, and South Australia, it protects the sheep farms from the wild dogs.
If you've ever wanted to visit the moon or Mars than you'll want to visit The Moon Plains. In fact, it's one of the main locations in the world that off-world movies are filmed because of the similarities it has to the moon.
Stay underground
Staying underground was one of the highlights of my Coober Pedy trip because it meant I got to experience true living in the town. The reason the majority of citizens live underground is because of the extreme weather Coober Pedy experiences. In summer, the weather is beyond boiling, but in winter, the cold is frigid and icy. My favourite form of travel is by staying in hostels, and so I booked in at Radekas, the local backpackers with underground dorms.
Sleeping in a dorm several metres underground was a strange experience. There are moments of anxiety where you feel like living in a small cave under the ground is completely unnatural. I had small bouts of claustrophobia because I felt as though I was trapped with no way out if something happened. And I also felt confusion, because time and sound disappears the moment you descend the steps.
But the experience is well worth it because you are literally sleeping underground.
Radekas was awesome because it was affordable, it had a huge communal kitchen, warm showers, an opal shop, lots of travel guides and brochures, and it was located in the heart of the town.
Visit the Coober Pedy sign
Ahh… the sign.
My fascination with town sign is one I am totally not ashamed of. I visited the Coober Pedy sign a total of three times in my two days there… and I loved it! The Coober Pedy sign sits atop a hill overlooking the town centre. It's a beautiful place for sunset, but an even better place to just sit back and enjoy the view of the town and the surrounding desert lands. I took a picnic up there the first time I visited and it was very peaceful.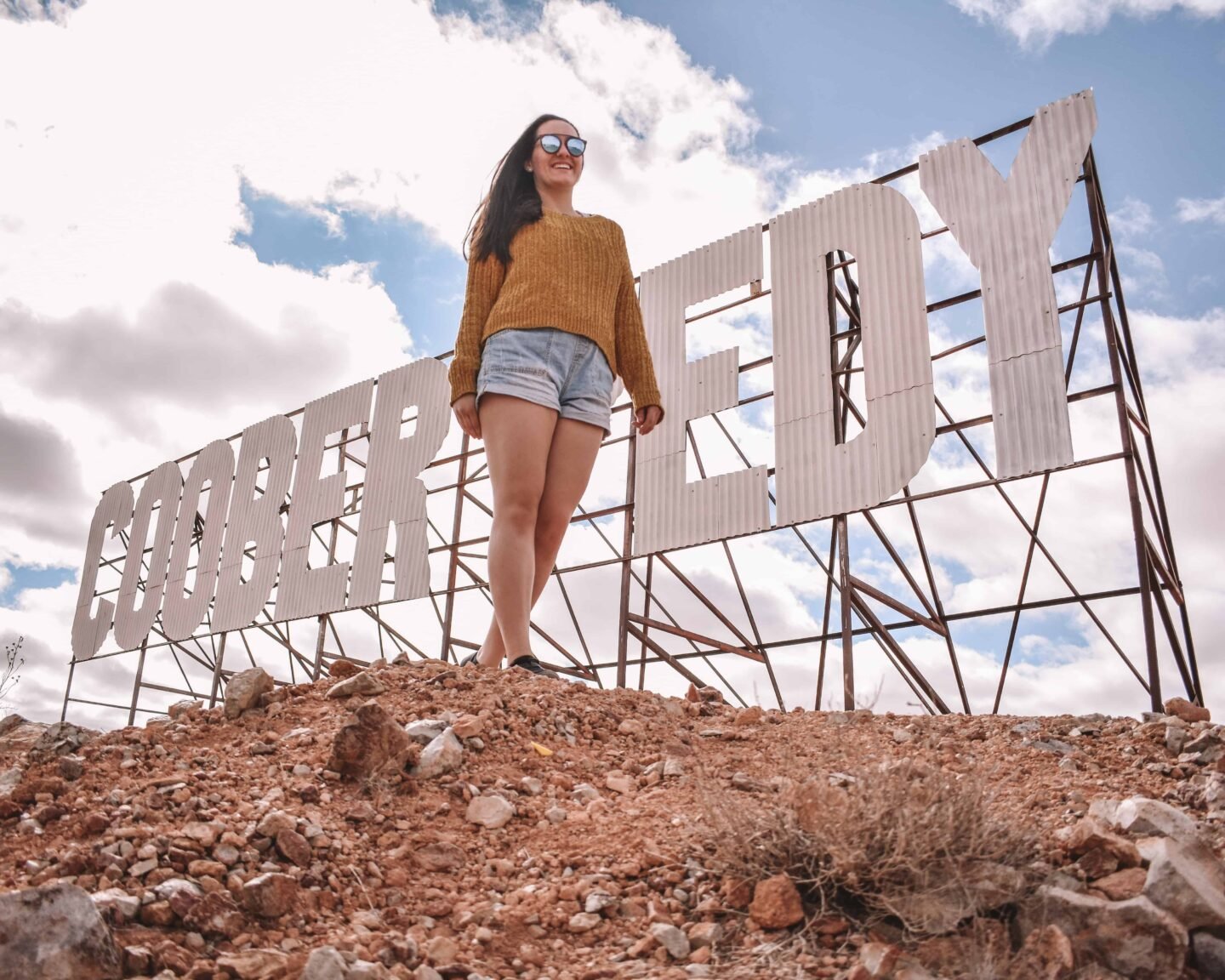 Watch a sunset in Coober Pedy
It's true what they say about outback sunsets- they really are stunning! I got to view two outback sunsets in my time at Coober Pedy: one on top of the Umoona Mine, and the other on top of the Coober Pedy sign. I was alone at both locations, and so I had epic 360-degree views of the changing colours of the desert.
Key tips:
You can drink water from a tap, and it is delicious.
Know what season you are going in, and pack accordingly. Summer if boiling hot, but winter is freezing.
Reception coverage in town is amazing, but wifi is limited!
Pack comfortable shoes that you don't mind getting dirty because red dirt lines every creak and crevice of town.
The Bakery is SO GOOD!
There are two famous Pizza shops in Coober Pedy and they are DELICIOUS!
Travelling to and from Coober Pedy requires long distances. If you aren't making the trip by campervan, caravan, or car, you can travel by Greyhound as they offer overnight buses from Alice Springs and Adelaide, stopping in all towns in between. It is the perfect way to sit back, relax and visit outback Australia.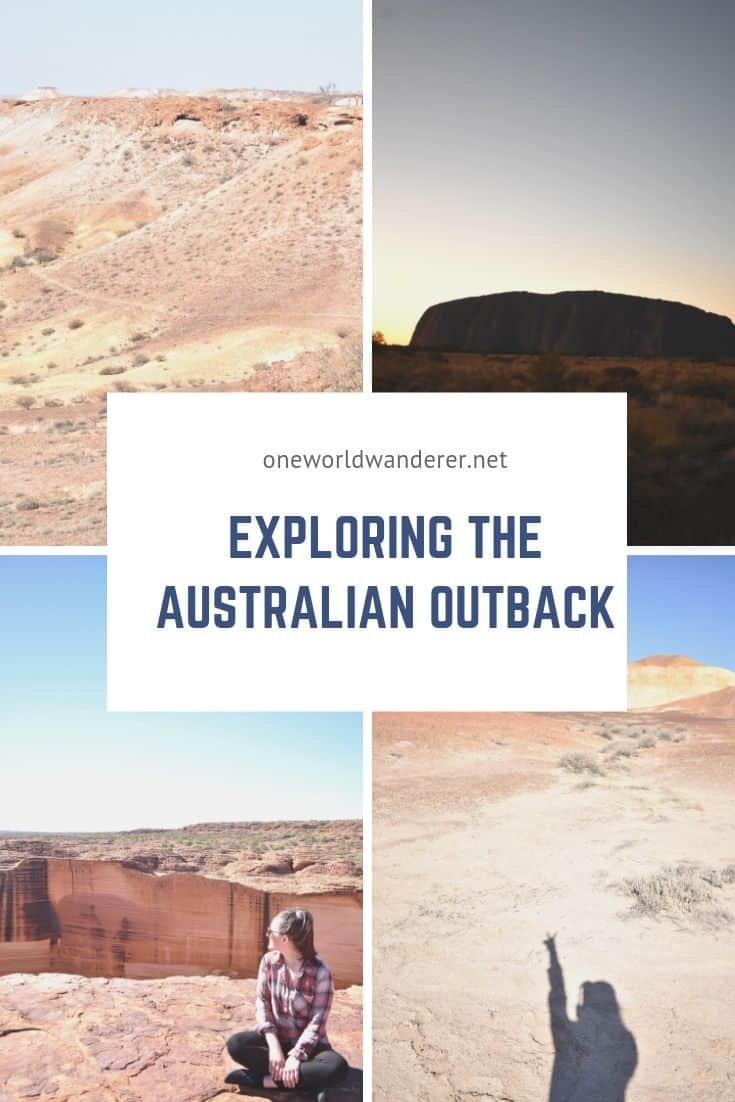 Planning an Australian holiday?
Falling in Love with Coober Pedy
The Ultimate Road Trip Itinerary to Outback Australia
12 places first-timers need to visit in the Atherton Tablelands
Visiting Tchupala and Wallicher Falls
10 Reasons You Should Travel Australia With Greyhound
Exploring the Millaa Millaa Waterfall Circuit in North Queensland
Top Things To Do In Townsville- The Ultimate Local's Guide
An incredible day trip to the Great Barrier Reef with Reef Magic Cruises
Top things to see and do in Charters Towers- North Queensland's Hidden Gem