Hiking Johnston Canyon in winter is one of the highlight attractions that brings people from all around the world to the Banff National Park. I can't say much about what it is like in summer, fall, or spring, but in winter, snow and ice transform the canyon into a stunning Narnia-esque winter wonderland that looks like it was taken straight off the set of the movie. Complete with frozen waterfalls, a snow-covered forest, and a canyon dripping in icicles, it's easy to see why the Johnston Canyon hike is one of the top things to do in Banff in winter!
The Johnston Canyon trail is a combination of steel walking platforms and forest paths, which, in winter, is covered entirely in snow and ice. The walk may sound treacherous, but it isn't difficult to do with the right gear. Read on for everything you need to know about Hiking Johnston Canyon in Winter!
Where is Johnston Canyon Located?
Johnston Canyon is located midway between the small townships of Lake Louise and Banff, along the Bow Valley Parkway. The Parkway is accessible from both ends, as well as another inlet at the Castle Mountain Junction (approximately 10 minutes from the Canyon car park). I recommend spending time before or after your hike exploring the other spots along the Bow Valley Parkway as they are some of the most unique and stunning locations in the Banff National Park. These are listed down below. 😉
How to get to Johnston Canyon
From Banff, get on the TransCanada Highway going west. Take the Bow Valley Parkway-Highway 1A exit and merge onto the Bow Valley Parkway. In winter, the Parkway is almost entirely empty so be sure to keep a wary eye out for wildlife. It is important to also be wary of the weather, and check with Parks Canada about road conditions. Occasionally, the road is closed for maintenance, but I also know it does not get ploughed as often as others, so caution is to be taken before driving it.
Alternatively, you can begin the drive at the Lake Louise end of the Parkway, and the Canyon is roughly the same distance from the start as it is to Banff. The Bow Valley Parkway starts just up from the township on the drive to the Lake Louise Ski Resort.
Should You Take a Tour of the Canyon?
Johnston Canyon is a suitable hike for all ages and levels of physical fitness, which makes it easily accessible to most. However, if you are concerned about what the hike is like in winter, having to strap on cleats yourself, or don't have a car to get there, you can book a Johnston Canyon tour which will take all the stress out of it. Going with a guide is also a great way to learn about the landscape you're walking through. The morning and afternoon tours are really popular and are one of the best ones rated on TripAdvisor!
There are several levels to the Johnstons Canyon hike, so it's important to note that tours typically only head to the Lower Falls. If you'd like to continue to the Upper Falls or the Ink Pots, this tour is most likely going to suit you more.
Evening Ice walks are also available to do with a tour and these are supposed to be one of the most epic things to do in the Banff National Park!
Is The Hike difficult?
If you are wondering whether or not the hike around Johnston Canyon is going to be hard or not, let me tell you: it isn't. Sure, after a little snowfall it can be quite slippery in places (ice cleats are a must) but it is a slight gradual incline at most, and easily accessible for most people. Still, it's important to check the conditions for the timing of your visit. Parks Canada regularly updates its Johnston Canyon trail report- both the drive there and the walking conditions- so visitors can prepare accordingly.
When is the Best Time Hike Johnston Canyon?
There are Johnston Canyon tours in the morning and later in the afternoon so these tend to be quite popular and busy. Ideally, a window in between is best to avoid the crowds.
As for the winter months- the cold temperatures start around October, with December to February being the coldest, iciest months of the year. Because of the duration of winter in the Canadian Rockies, and the possibility of cold temperatures even in summer, winter could be a balmy 0 degree or it could be SO much colder, often sitting anywhere between -10 and -30 celsius (yep, I said -30 degrees!). That means you really need to be cautious of weather when deciding to do the hike at Johnston Canyon. Personally, I would recommend reconsidering the winter hike if the temperatures fall below -20 celsius. It just becomes too cold and dangerous.
As with any outdoor winter activity, the right clothing and gear are what separates a fun, enjoyable time from a miserable painful one. Later in this post, I will detail the best clothing to wear, along with the extra gear you may need to do the hike in winter!
The Johnston Canyon Lower Falls
Starting the hike at the car park, you'll pass the summer accommodation and cafe (both closed in winter) and begin the trail to the Lower Falls. The flatter ground at the trailhead will give way to a gently sloping path as it follows the outline of the canyon, and it is truly beautiful to meander through the forest here. With a little over one kilometre of terrain to cover before reaching the Lower Falls viewpoint, it's the perfect spot to start snapping away at your camera and enjoy the scenery.
When you finally reach the Lower Falls of the canyon, you're greeted by a natural arch for a close-up view of the frozen falls and the natural plunge pool.
The Upper Falls of Johnston Canyon
Once you have your fill of the lower falls, you will eventually move back to the trail, and head up to the Upper Falls.  From this point, it's about 1km more until reaching the top. The path slopes upward in a slightly steeper fashion than before and it's at this point, you'll certainly recognise the value of those ice cleats.
Although you won't be as low to the river as the earlier path, the higher perspective gives you better views of the snowy forest and river. When you make it to the Upper Falls intersection, you'll notice there are 2 viewing platforms- one from below and the other a bit further up the path. The lower platform comes up first and gives you a dramatic look at the tall waterfalls frozen along the canyon. Most days throughout winter, you'll find ice climbers practising their skills as they claw their way up the frozen falls. From this lower viewing platform is gives you an awesome viewpoint to admire the climbers.
Although the Upper Falls are the main attraction here (and they really are amazing), don't forget to look at the river and the winding canyon you just walked through! One of the prettiest views you'll see on the trail is actually behind you.
After watching the ice climbers be sure to head back to the trail and continue up to the higher viewpoint as well.
The Ink Pots
For winter hikers planning to see Johnston Canyon and the Ink Pots- several mineral springs that differ in colour because each pool fills at a different rate- it is approximately 2km from the Upper Falls. This hike is said to be a little steeper than the previous ones but is quieter than the others as most people skip it.
The Secret Cave at Johnston Canyon you Don't Want to Miss
We've talked about the 3 main sites on the hike- the Lower Falls, Upper Falls, and the Ink Pots, but one of the best places along the Johnston Canyon hike is the stunning not so secret "secret cave." You've probably seen this one on Instagram or the internet, and wondered 'how do I get a photo like that?' Well, if you aren't looking for it, you'll walk past it without even knowing.
Approximately 150 meters before reaching the Upper Falls is an unmarked trail that goes off to the right. It looks like a little path into the woods, and chances are, many people along the trail have done it that day, so it should be fairly visible. You want to walk about 5 minutes downhill towards the creek. It is there you'll find the cave- a huge, stunning rockface that is every photographer's dream.
Just remember to be careful in winter when following the path down to the cave as it may be slippery!
Helpful Equipment for Hiking Johnston Canyon in Winter
Hiking Johnston Canyon in winter is best done with a pair of ice cleats. Although walkways are usually fairly stable, once you pass the Lower Falls, the terrain can be a lot more slick, meaning you need the right gear to continue on. You don't need heavy-duty ice spikes though, as any will be suitable. I recommend purchasing these ones from Amazon before you travel as they are cheap items you will most likely need on the duration of your winter trip in Canada!
Walking poles (even ski poles) are also a popular item to travel with when hiking in winter, and can come in handy for the steeper sections of the trail. Personally, I didn't need them, but many people we passed along the trail were using them. If you're looking at buying a pair before you go, these Amazon ones are collapsable, so they'll fit easily in your suitcase!
Winter gear can be easily rented at most retailers in downtown Banff. For those staying in Lake Louise, Wilson Mountain Sports in the Lake Louise Village is also a good option for gear rentals.
What to Wear if you're Hiking Johnston Canyon in Winter
Here's a quick rundown of clothes I recommend to wear on your hike in order to keep warm.  Read my full guide to best winter tips, tricks, and packing guides here!
Sunglasses – You will need sunglasses to protect your eyes from the glare of the snow, sun, and wind!
Gloves- thermal liners and waterproof outers –  Make sure the gloves you have are waterproof, warm snow gloves, as you will want them to be wind and water-resistant. You should also have thermal or thin 'inners' to wear as well as the waterproof glove for extra warmth.
Thermals – Thermals are the perfect base layer! You wear thermals underneath your snow gear (and other layers) to keep the warmth of your body close to you! I practically lived in my thermals when I lived in Canada- don't underestimate them!
Layers, layers, and more layers– In winter, layers are the key to staying warm. I recommend starting your outfit with a good pair of thermals, then layering with either a thin sweater and tights and a pair of sweats, or just a pair of sweats depending on the temperature. You'll then finish the outfit with a warm ski jacket. When it comes to winter in Canada, the more layers, the more comfortable you'll be.
Warm, wool socks –For snow adventures, you always want sweat-wicking, woollen socks to keep you dry and warm all day. For snow days, generally, you should wear a couple of layers, starting with a thermal woollen style, and layers with a couple more (as many as you want really). I had a pack of these socks off AMAZON which were nice and snug! I also had several of these thermal socks, also off AMAZON. These were my most worn socks while living in Canada!
Outer layers – What you wear on the outside should be able to resist wind and water as you never know what the weather might be life. Think winter hiking pants or even ski pants, as well as a jacket similar to this one. Johnston's Canyon is covered in snow in winter and if you slip and get wet, jeans and leggings will absorb the moisture, freeze and make for a very cold experience.
Warm, woollen beanie– You'll be wearing a beanie pretty much you're whole winter vacation,  but definitely when you go dog sledding. These are a couple of the ones I had on my Canada trip! White pom pom beanie, Fleece-lined beanie, The Northface black beanie
Other Things to do in the Area
Lucky for you Johnston Canyon is located along the popular Bow Valley parkway- a location that offers a stunning list of attractions. In winter, I found it really quiet, and we even had the chance of spotting a coyote!
Here's a short list of nearby attractions along the Bow Valley parkway you should definitely check out.
The highlights of the Bow Valley Parkway include Mule Shoe Picnic Area and Hillsdale Meadows, as well as Castle Junction, where connection to the main highway is also possible and views of the stunning Castle Mountain are at their best. Internment Camp Memorial is another notable attraction along the Parkway as it marks a World War I memorial that was used to keep prisoners from European armies throughout the war. Morant's Curve, my favourite location in all of Canada, is a scenic stop for all photographers. Here, the railroad offers the chance to see a picturesque Rocky Mountaineer train pass by, with panoramic views amongst a stunning mountainous backdrop the best in the area!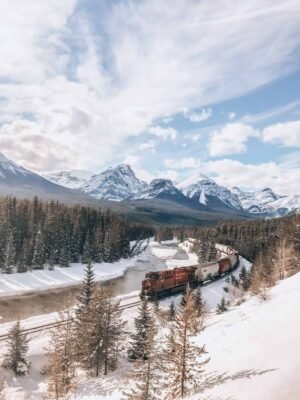 BOOK YOUR VACATION TO BANFF OR LAKE LOUISE
Book Cheap Flights
Still in the planning stage of your trip? Currently, the best and easiest way to find cheap flights is to use eDreams, Bravofly and Skyscanner. Between them all, you'll be guaranteed to always find the cheapest flight, anywhere in the world.
Book Your Accommodation
Whether you're looking for hostels, hotels, guest houses, or resorts Booking.com will always give you the best deals.  Sometimes, if I want to stay in a place a little longer, I'll use Airbnb. You can sign up with Airbnb and get $51 AUD off your first trip!
For a list of all the best Hotels in Banff and Lake Louise, check out booking.com!
TIP: For the best hostels, I usually compare reviews on Hostelworld then check other booking sites to compare prices and deals. Not sure on hostels? Read this post to find out everything you need to know about them!
Book Tours and Transport
Although a combination of independent travel and touring is my ideal form of travel, if the best, cheapest, and safest way to explore is to book a tour or package, I'll do it! For this, I always use Viator and Get Your Guide.
Don't Forget Adventure Travel Insurance
If you're reading this blog then you're more likely to be seeking epic adventures for an affordable price over relaxing and luxurious vacations. By far, my favourite, most comprehensive adventure travel insurance is World Nomads.
Disclosure: This blog post contains affiliate links, which if you click, adds absolutely no extra cost to you. These links allow One World Wanderer to continue providing you with free guides and travel content.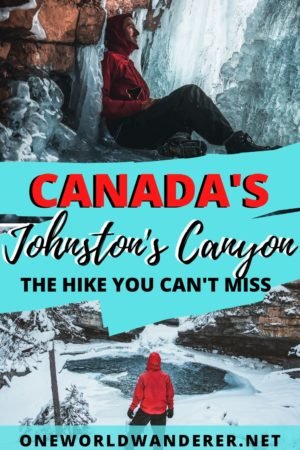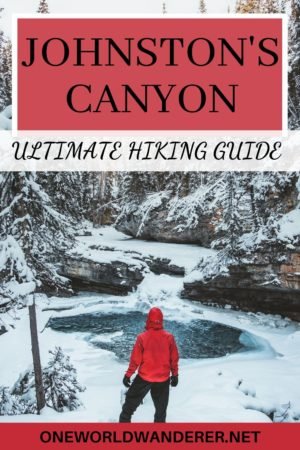 For more Rocky Mountain winter adventures, check out my other posts:
Dog Sledding in Canada: to do or not to do?
9 of the Best Winter Adventures Near Banff/Lake Louise
Top 6 must-see lakes in Canada
Your Ultimate Canadian Bucketlist
First-Timers Guide to Summer in Lake Louise
Loving the winter vibes and Canadian wanderlust? Why not do a working holiday in Canada? If you want to read more about how to prepare or begin your working holiday dream, you can find all the information in part 1 and part 2!