At approximately 350,000km2 in size and stretching 2,300km along the Queensland coast, the Great Barrier Reef is the only living structure on Earth that can be seen from outer space, and the first coral reef ecosystem in the world to be awarded World Heritage status. Pretty cool hey? And even cooler that I grew up here!
If you are planning a trip to Cairns anytime soon, then, my friend, you've come to the right piece of prime internet real estate. I spent a few days exploring gorgeous, tropical Cairns and have sourced the very best reef cruise for you to do while you are there!
I have been to the reef a number of times in my life, but nothing compares to my trip to Moore Reef with Reef Magic Cruises. With wonderful staff, delicious food, terrific activities, and one of the best reefs out there- this cruise is the one to do!
Want to visit some of the other Great Barrier Reef tours I love like this one? Check out this post!
The Great Barrier Reef offers experiences from every angle – underwater, above water, in the air, or on the land, and Reef Magic Cruises accommodates them all.
Prone to sea sickness? Head up into the clouds to see the GBR from the air.
Don't like heights? Cruise around the water instead with the glass bottom boat or semi-submersible boat.
Want to get up and close with sea life? Why not try snorkelling or scuba diving, or even one of their new and exciting helmet adventures.
Just want to relax? They've got you covered with a full sundeck to relax and soak up some quiet time by the reef.
There is something for absolutely everyone on Reef Magic Cruises Marine World!
Your day will begin at 8am as you check into the Cairns Reef Fleet Terminal for a 9am departure. The 90 minute trip from Cairns on a fast catamaran will introduce you to the friendly staff and explain how the day will run. There are tonnes of activities available throughout your visit on Marine World and all of these will be explained as you cruise along, admiring the beautiful views of the ocean.
Included in your day:
All snorkelling equipment including personal flotation devices in adult/child sizes
Wet suit and lycra suit
On board Marine Biology presentation/talk en-route to the reef
Fresh water showers and changing rooms
Morning/afternoon tea plus a full hot/cold buffet lunch with delicious vegetarian options (you guys, this buffet was amazing!!)
Tea/coffee and drinking water is available free of charge throughout the day
Several international speaking crew members are available to assist international visitors
During the 5 hours you will spend on Marine World, there are also a tonne of FREE activities you can do! I checked them all out and listed them below:
Play with Wally!
Wally, a Giant Maori Wrasse, is the token fish friend of Marine World. He swims around almost every day, and is not afraid to get up and close to you! I got to snorkel with Wally for a few hours and watching him swim through the ocean, unphased by the humans flailing about, was astonishing. He made me want to trade by feet for fins and spend my life swimming gracefully through the ocean like a mermaid. A girl can only dream, right?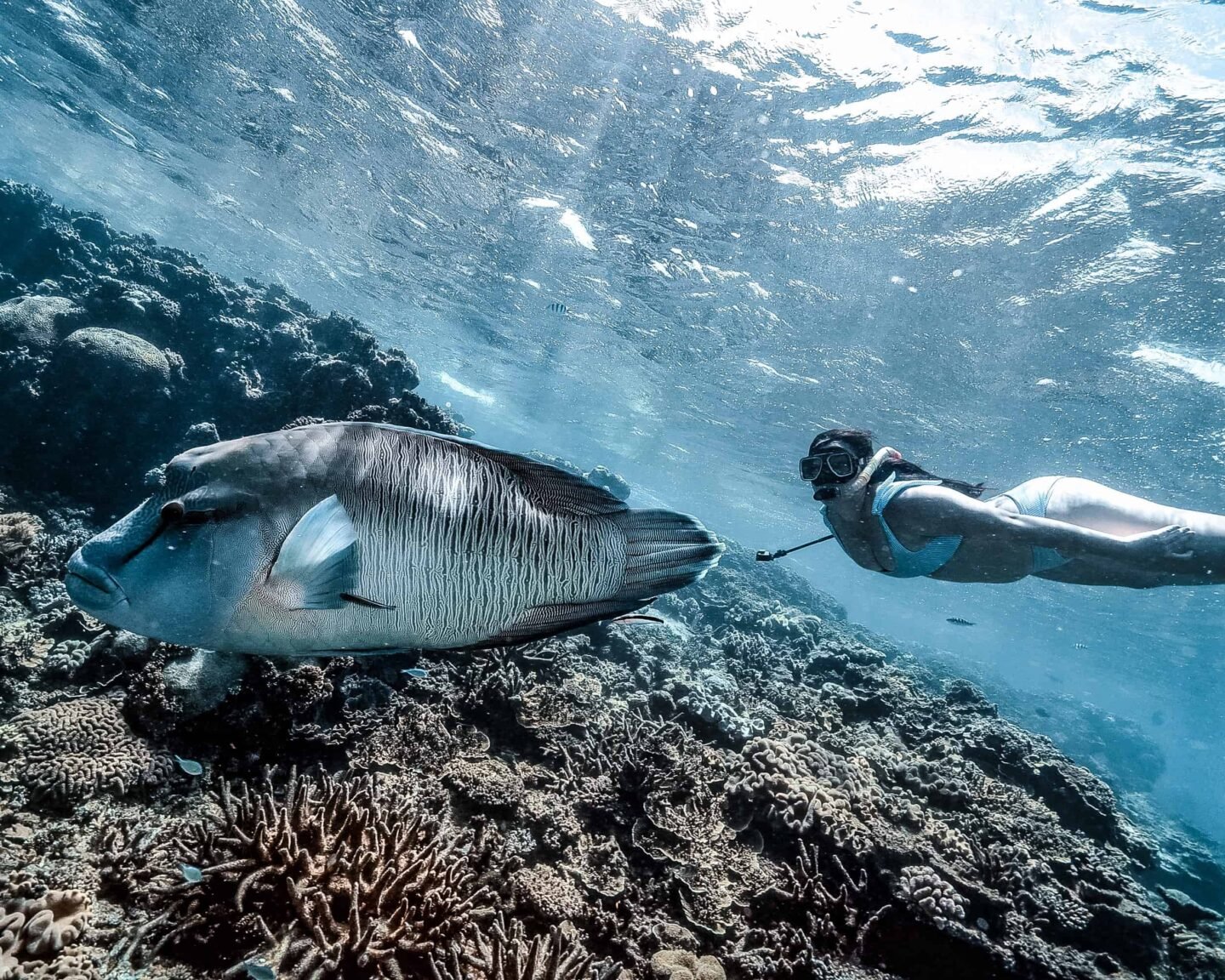 Snorkel, Snorkel, Snorkel
My absolute favourite activity on my time at Marine World was snorkelling with all the fish. You guys, this reef is stunning! It's one of the best reefs I have swum on, with so much life and colour about it!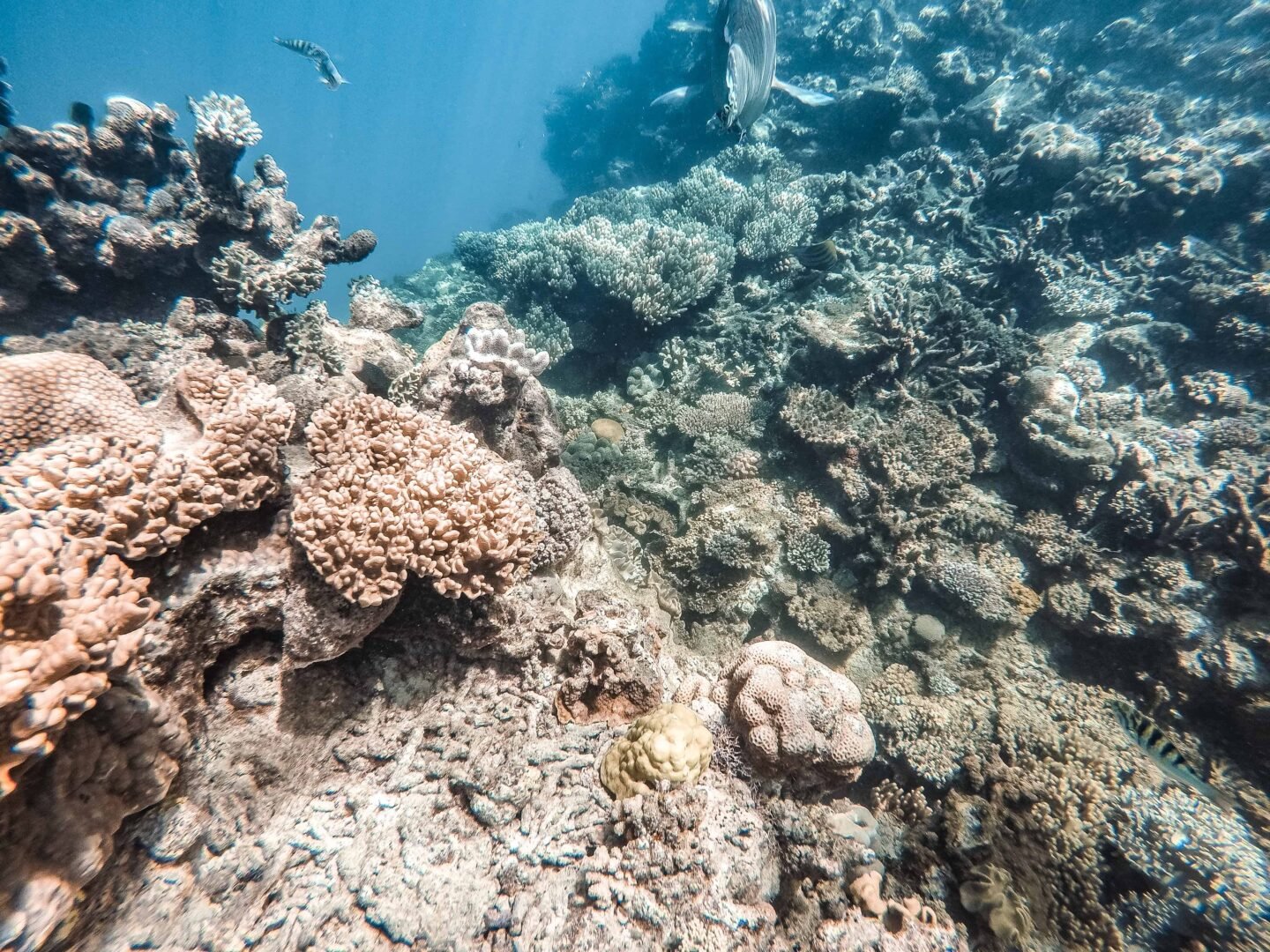 Semi-Submersible tours with interactive commentary
These are some of the views you can get whilst sitting in the air conditioned semi-sub, comfortable and completely dry! Sitting 1m below the waterline, the tour takes you on a 30 minute guided tour of the reef. You will glide through coral gardens and along the edge of coral drop off's while spotting colourful reef fish, and maybe even spot a turtle or a reef shark (we saw three!).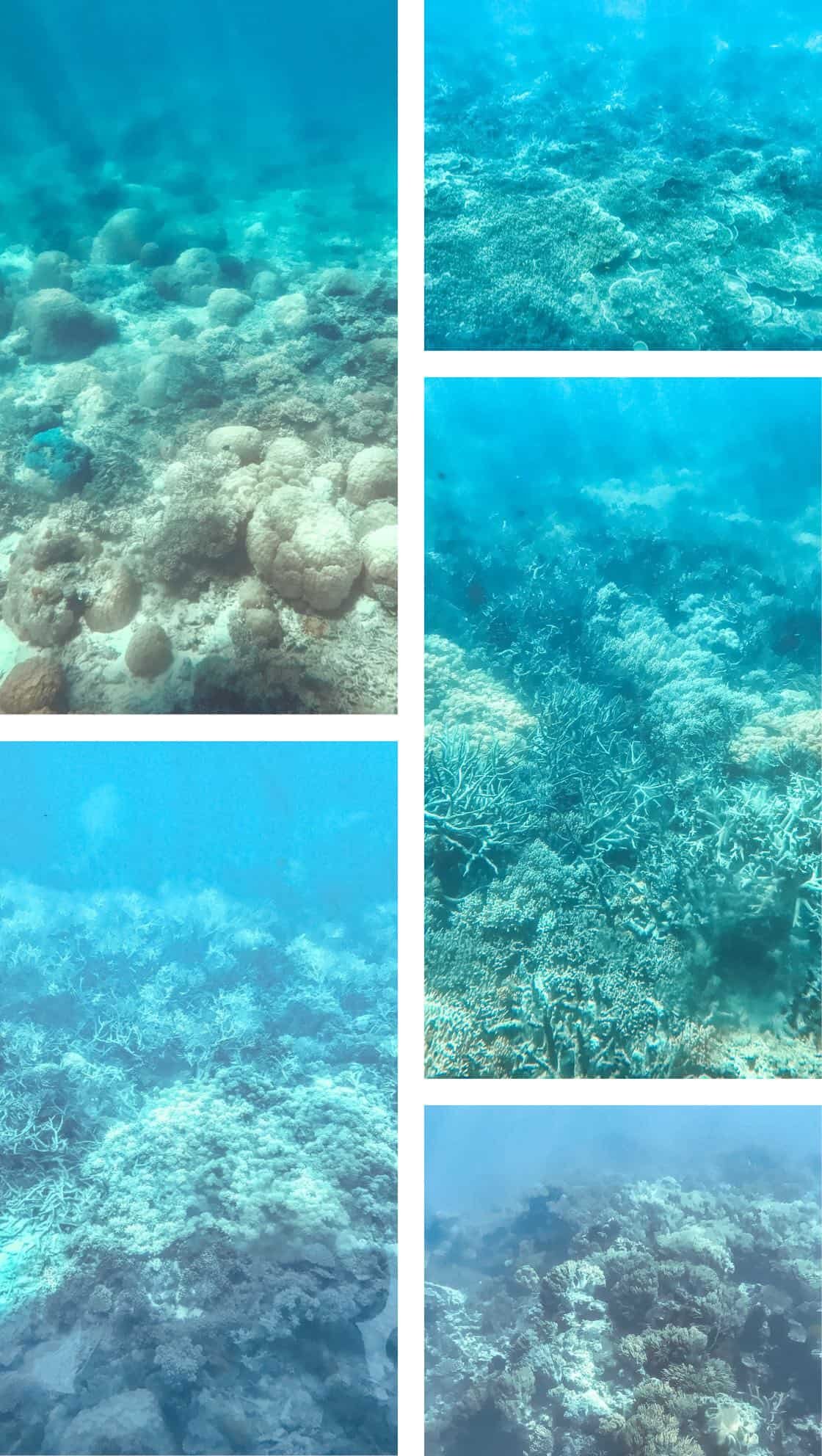 Glass Bottom Boat tours with interactive commentary
The open-air glass bottom boat is smaller than the semi-submersible, allowing you to hover over beautiful coral gardens, giant clams, schools of colourful reef fish and more! The tours will last around 20 minutes and include a running commentary of where you are and what you are seeing.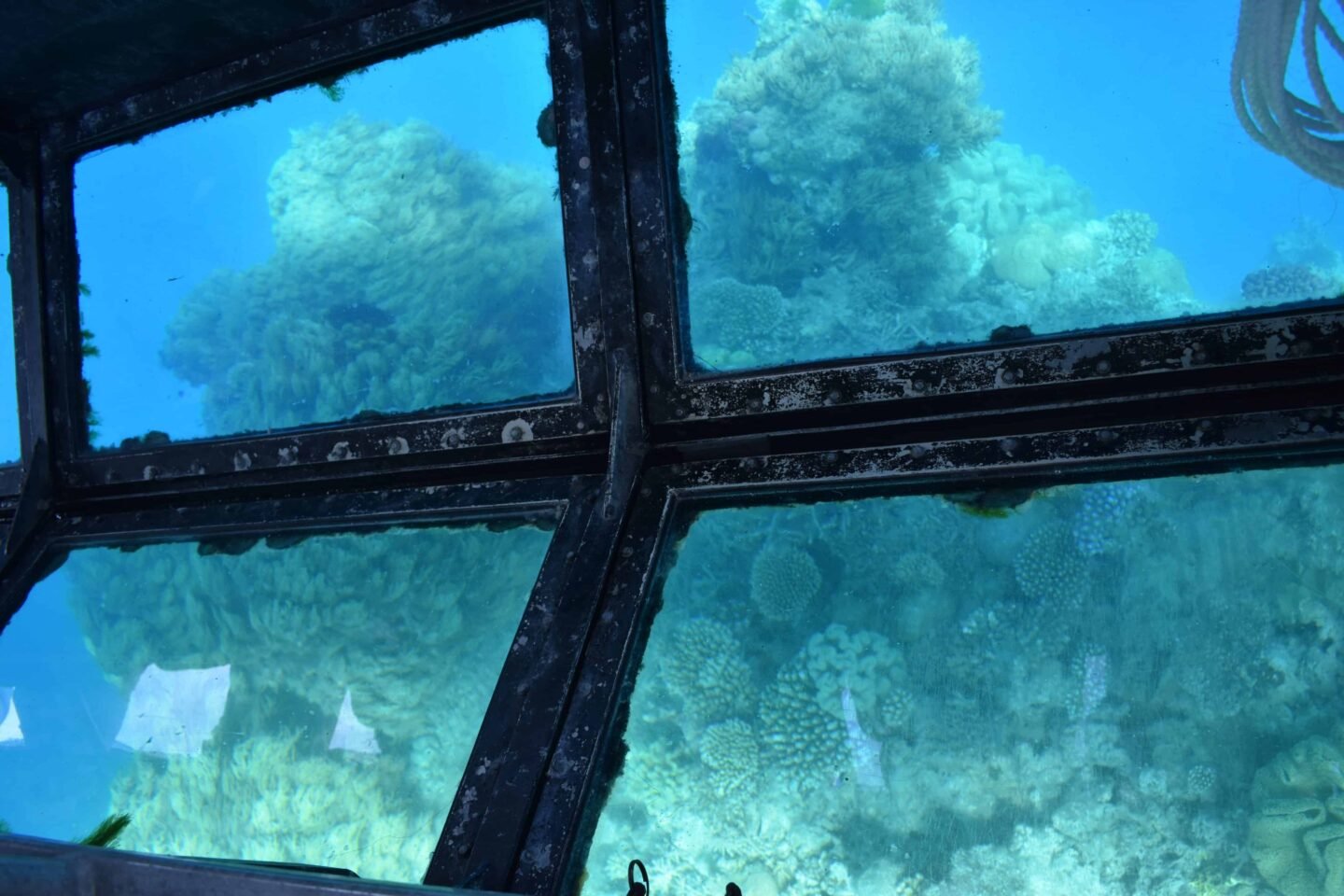 Fish feeding with a Marine Biologist
While you are munching away on your delicious buffet lunch, the Marine Biologist on board will announce the fish feeding demonstration which starts in front of the observatory windows before moving to the snorkel platform. You can choose to go snorkelling and get amongst the fish feeding, or take a seat on the submersed snorkel platform as the fish bustle in around you looking for a free lunch- just like Wally did in the picture below! This fish feeding was an awesome experience as you got to see tonnes of marine life and learn about them too!
Underwater Observatory
The underwater reef viewing observatory is open for you to walk through at any time of the day. With walls full of information and views deep into the reef, it is definitely worth checking out and spending some quiet time learning about the unique part of the world you are visiting.
Relax on the sundeck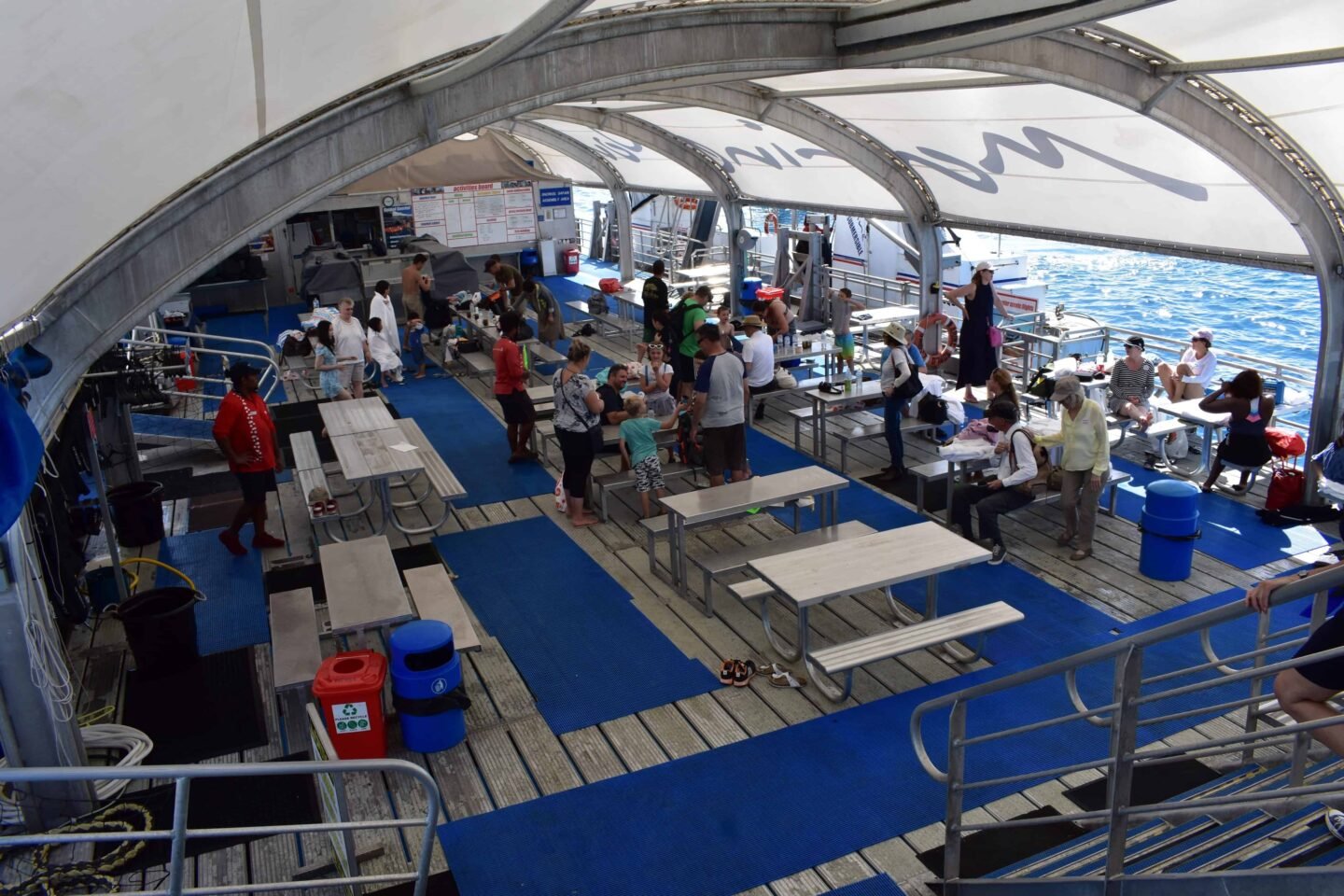 Some of the optional activities:
Available at additional cost, there are also loads of optional activities that can be pre-booked or booked on the day.
After filling your belly with a delicious buffet lunch, and some snacks for afternoon tea, you will say goodbye to the fish friends you made and jet off back to Cairns. You will be able to purchase your awesome photographs from the fantastic underwater photography team, and watch some more exciting Marine Biologist presentations! You will arrive back in Cairns at approximately 5:00pm after a perfect day filled with memories that will last you a lifetime.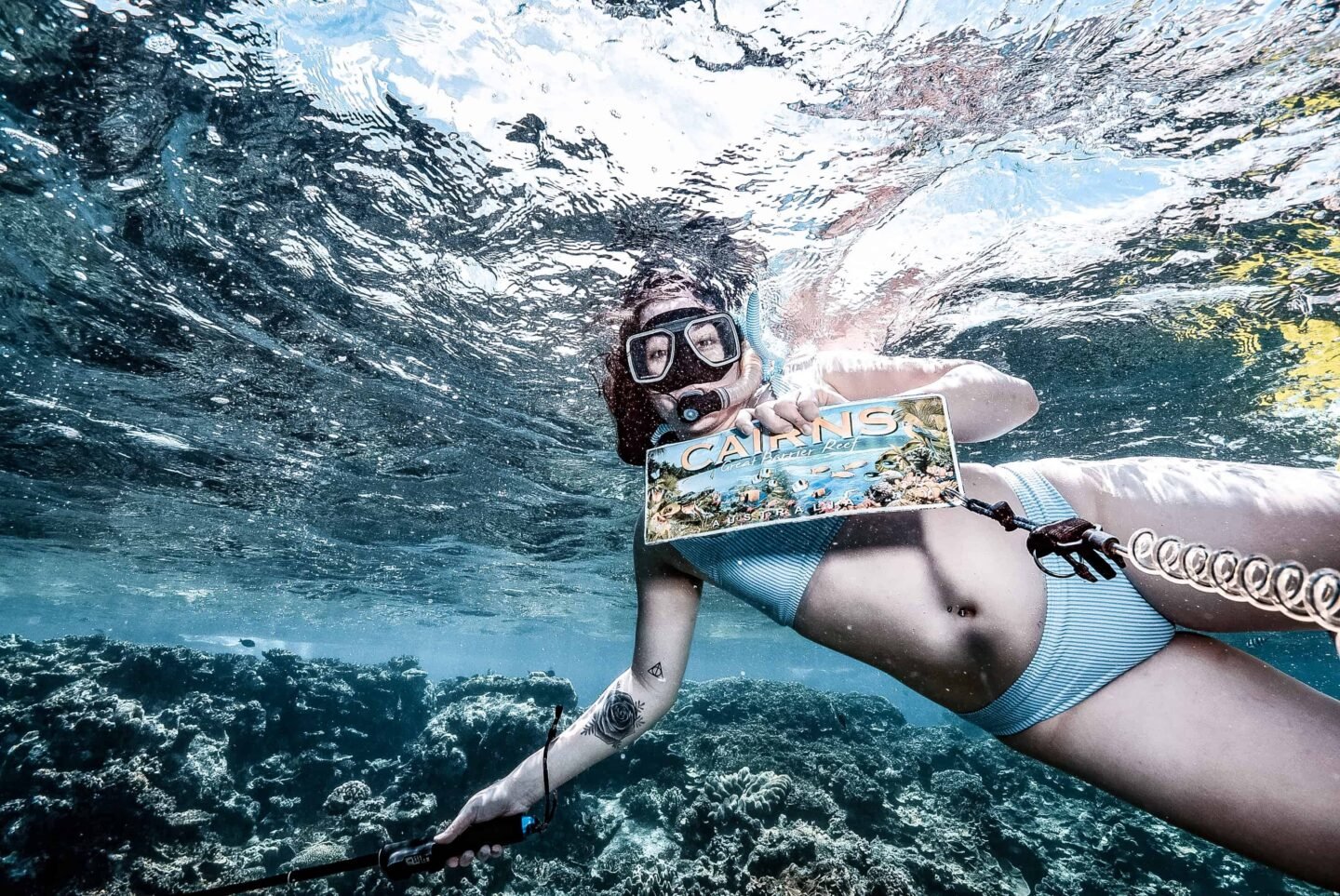 Just remember-  Reef Magic Cruises Marine world is a green zone and a world heritage site, which means you must care for it like you would care for your own home!
You must leave nothing but memories, and take nothing but photos. 
Love,
Abbie xoxo
Need another magical reef trip? Check out this post on Heron Island!