Have you ever wondered what the best Great Barrier Reef Islands are?
I was lucky to be brought up along the Northern East Coast of Australia, in the heart of the world-famous reef.
My childhood was spent going on endless reef trips.
School camps involved remote Islands on the Whitsundays.
Dates were spent gallivanting to Islands and having an absolute blast while doing it.
The Great Barrier Reef holds a special place in my heart and it is probably my favourite place on this planet.
And, with over 3000 coral reefs, 300 coral cays, and over 600 islands scattered amongst them- there are endless choices when it comes to visiting.
This blog will dive into my top 6 Great Barrier Reef Islands you need to add to your bucket list. It includes all the information you need on how to get there and what there is to do when you are there!
Want to see most of these islands all in one road trip? Check out my Vanlife Road Trip from Townsville to Yeppoon! 
The Great Barrier Reef
The Great Barrier Reef covers 344,400 km2 in area and is the worlds largest coral reef system and home to over 10% of the world's coral reef systems. To give you a better idea of the size of the Great Barrier Reef, it is approximately the same size as Japan, Malaysia or Italy.
You can even see it from space!
The reef is a Marine Park and a World Heritage Area that sees millions of visitors each year. It is one of the biggest contributing factors to Australia's tourism industry. So, when you visit it, it's easy to understand why.
Best Great Barrier Reef Islands to visit
Green island
Perhaps one of the Best Great Barrier Reef Islands that I have visited. It is the magic gem located just off the coast of Cairns, in Far North Queensland.
Green Island is home to some of the most stunning reefs Also, the island being a haven for people searching for a relaxing slice of paradise.
The Island is approximately 45 minutes away from the port of Cairns.
You can also see the Great Barrier Reef from Cairns, with one of my favourite all-time tours departing from the harbour. Check out my experience with Reef Magic Cruises here.
How to get to Green Island
Big Cats Green Island Tours is an excellent tour to take if you are just searching for a day trip option to Green Island.
With this tour, you can snorkel, dive, view the spectacular underwater reefs in our semi-submarine. Also, it has a glass-bottom boat, or simply laze on the white sandy beach.
I highly recommend the full-day tour where you can enjoy your time on the Reef. Also, maximising your time on the fabulous tropical island.
The full-day tour is $99 and can be booked here.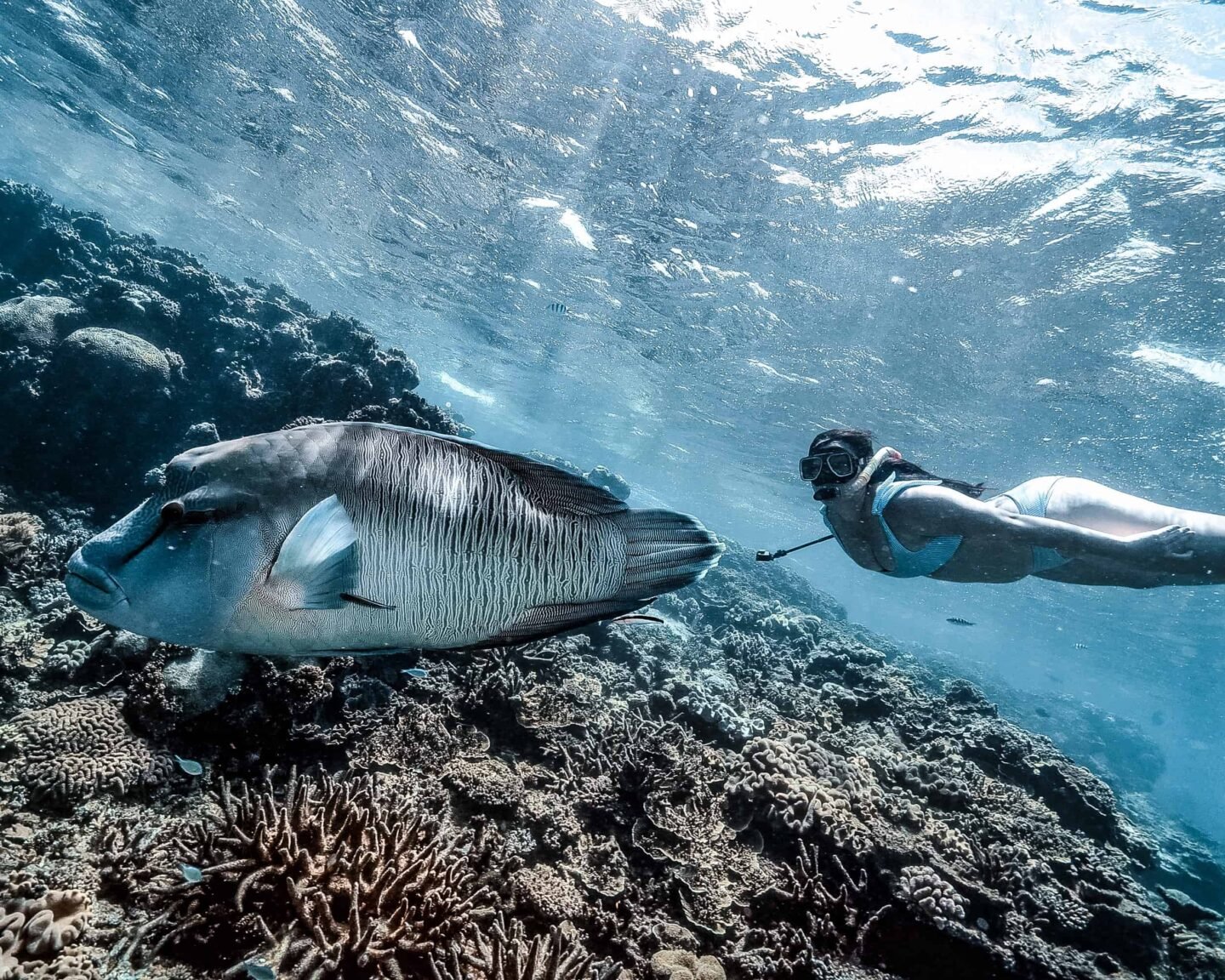 What there is to do on Green Island
Green Island is a beautiful 6000-year-old rainforest-covered coral cay. It is located within the Great Barrier Reef Marine Park.
Here, the water is so clear you will need sunglasses just to view it in all its glory (on a sunny day, that is).
Depending on what tour you do will depend on the activities you have available to you.
Here are just a few of the things available to you on the island and with Big Cats:
Snorkelling
Parasailing
Scuba diving
Sea walking
Kayaking
Glass-bottom boats
Swimming and relaxing by the beach, with views out over the reef.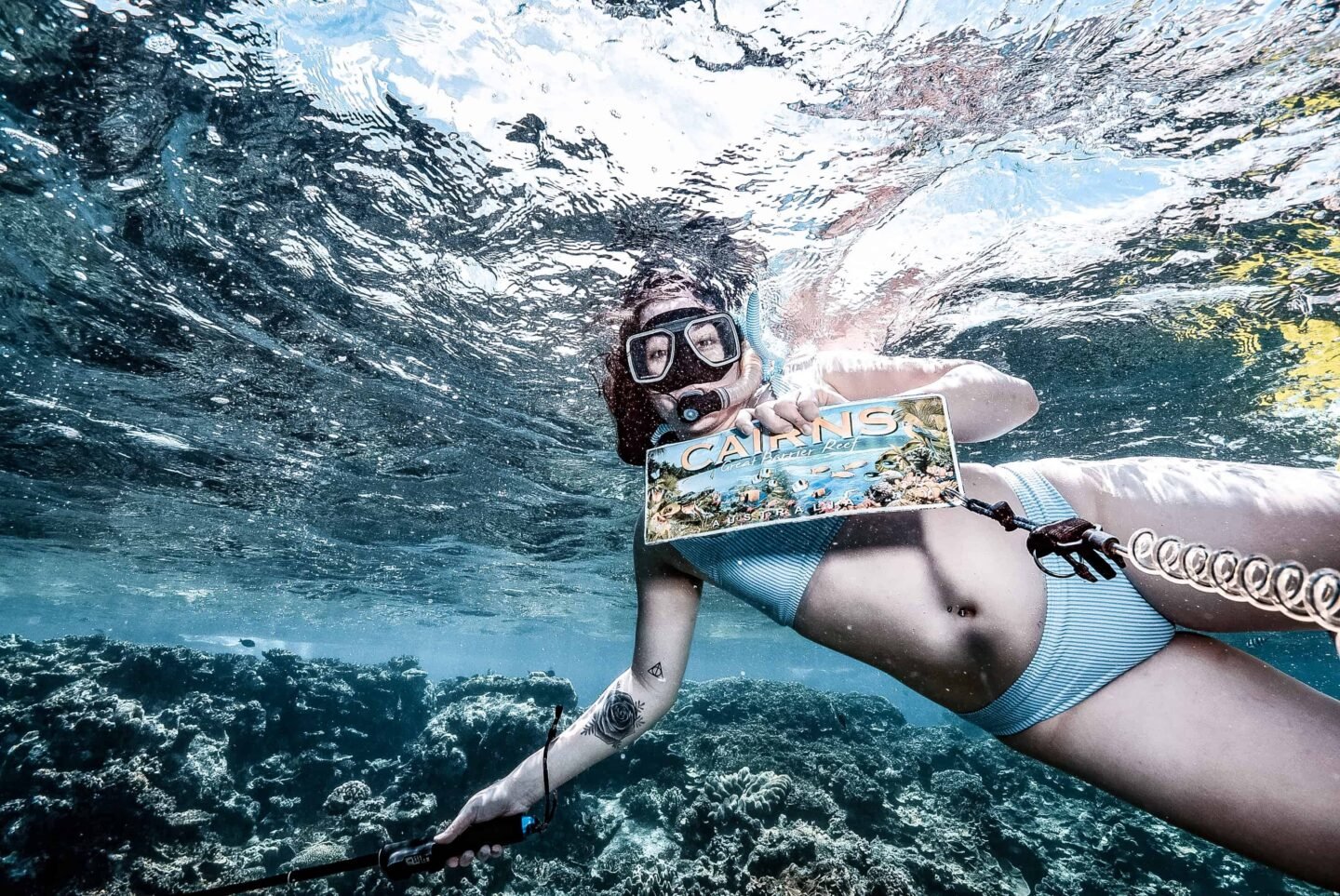 Magnetic Island
Growing up in Townsville, I had the pleasure of visiting Magnetic Island (Maggie Island) dozens of times throughout my life. Each trip has been equally as amazing as the last.
Maggie Island is 20 minutes off the coast of Townsville, Queensland. Also, it is one of the most stunning places in all of Australia. It is also one of the best Great Barrier Reef Islands to visit. So, it it is incredibly easy to navigate, and really affordable. The island is home to 2,335 people and really encompasses tropical island life. Things go at a slower pace here. There are no big chain stores, no busy roads, and only a handful of hotels.
Instead, there are miles of lush bushland, an abundance of wildlife that is actually thriving, and the most magnificent beaches.
Not to mention the reef.
Magnetic Island is a World-Heritage listed island on the Great Barrier Reef. It was inscribed on the world heritage list in recognition of its stunning natural beauty. It has a rugged landscape featuring large granite boulders and granite headlands rising to 497 metres at its highest point.
Visiting Townsville? Here are a few of my favourite things to do there.
How to get to Magnetic Island
There are two ways you can get to the Island. The first is via the Sealink ferry which goes from the marina in the city. The cost for a return day ticket is usually around $34, but you can get discounts for pensioners, Army personnel, students, or family passes. You can check out the timetable here.
The second way to get to Maggie Island is via the Magnetic Island Barge, You can take your own vehicle across to the Island. Although it is nice having a car on the Island if you are staying for a few days, there is no need for it. The island is walkable if you are into bushwalking. Also, there are regular busses that go between all the popular locations on a regular basis. Alternatively, you can hire a car, a moped, or the infamous topless barbie car when you arrive. Book your barge here.
What there is to do on Magnetic Island
There are so many things to do on Maggie that it really comes down to what you want out of your visit.
Are you travelling for a weekend of relaxation?
A day trip to enjoy the beaches?
Are you on a family vacation?
Or are you travelling solo?
Regardless of the reason, there is so much to see and do!
Bungalow Bay Koala Sanctuary
The Eco Accredited Bungalow Bay is one of the popular locations to visit while on the Island. It is located just outside Horseshoe Bay. The Bungalow Bay offers an educational wildlife experience, allowing visitors to get close and personal with the animals and teach important conservation messages.
Additionally, you can have breakfast with the koalas here, or you can stay in this unique hostel-like accommodation.
You can book your visit to Bungalow Bay here.
Bushwalking around Magnetic Island
The island is a bushwalkers paradise with over 20 km of walking tracks and many lookouts. More than two-thirds of the island is a national park and home to northern Australia's largest koala colony. Rock wallabies are commonly seen on steep slopes at all hours of the day which makes walking all the more fun!
Sealink has an excellent roundup of the best hikes to do on the island. Check the list out here.
Check out the beaches
Magnetic Island has a variety of incredible beaches for you to explore when you go.
When you arrive at the ferry terminal, you will likely be catching the bus to one of the more popular locations. It includes Horseshoe Bay, Arcadia, or Picnic Bay. I recommend visiting all three if you have a day trip planned.
Alma Bay (Arcadia)
This is my favourite spot for its gorgeous, turquoise water, the pub right across the road, the access to feeding the wallabies at Geoffrey Bay. Although, I recommend just watching rather than getting involved and the waves! The bay also has rocks all along the side, making it a gorgeous spot for pictures.
Horseshoe Bay
It is perhaps the most popular beach, with some of the best swimming spots. I don't particularly love the water here. Personally, I think it always looks rather brown.
However, the water sports are excellent and I highly recommend kayaking! From jetski's to tubing and kayaking, there are so many things to do. Also, it's located along the shore, there are blackboards and tents set up with vendors allowing you to hire their equipment for a certain amount of time.
We hired kayaks for an hour and kayaked across the coral bay- a stunning, hidden alcove away from other people, and it was so worth it!
Horseshoe Bay also has some excellent food and beverage places, which makes it a great place to head for breakfast or lunch.
Picnic Bay
It is a lot quieter than the other beaches. The Picnic Bay jetty is a great location to try your luck at fishing or to simply sit and watch the sunset while taking in the views of the Townsville coastline in the distance.
There is a specially designed swimming enclosure installed for the summer months, and the beachfront is patrolled by lifesavers during the summer school holidays, however, there is not much else to do here other than relax.
Radical Bay
So, it is a stunning North facing beach that is very popular with visitors to Magnetic Island. The bay is absolutely perfect for swimming on the fine, soft, golden sand and clear turquoise tropical water. The bay is entirely remote and is surrounded by nature, making it one of the best places to relax on the island.
Getting to Radical Bay can be a little bit more difficult than some of the other beaches. It can be accessed via the Radical Bay Road (only suitable for 4WD and walking). Otherwise, there is a walking track from the eastern end of Horseshoe Bay that takes you over the hill and through the eucalyptus forest to Radical Bay.
Balding Bay
It is also only accessible through the walking track at the end of Horseshoe Bay. This is one of the most secluded beaches but has a fun reputation for being a nudist beach. You don't have to swim nude, however, many do!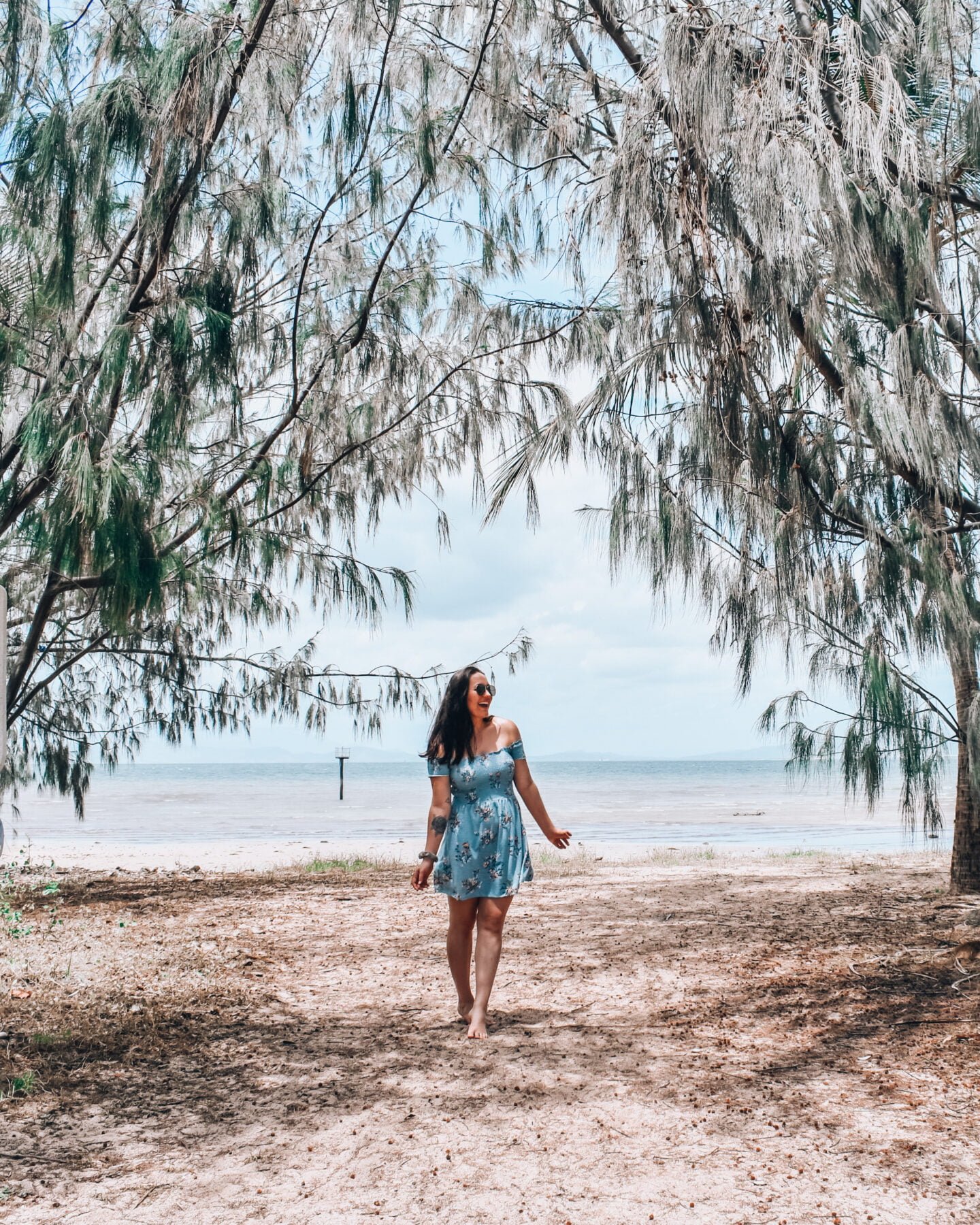 Shipwrecks and snorkelling
With a rich history to do with the war, Magnetic Island also has one special thing… shipwrecks. Aquascene Charters does one of my favourite tours on the island- the Sunset and Shipwrecks tour.
On a select few nights each month, when the tide is high and the sunset is right, Aquascene runs a tour that takes you to the S.S. City of Adelaide shipwreck,  telling you all about the history, and how she came to rest on Magnetic Island's shoreline.
A few other things to do from Magnetic Island on the Great Barrier Reef:
Orpheus Island
Located just 80km north of Townsville amidst the magical waters of the Great Barrier Reef lies Orpheus Island. So, it's a small island that stretches across the immaculate turquoise coastline. Comprised of National Parks and World Heritage-listed Marine Parks Orpheus Island is the perfect spot for all your ocean adventures!
Orpheus Island is an island of luxury and is one of the best islands in the Great Barrier Reef to visit if you are looking for a unique experience.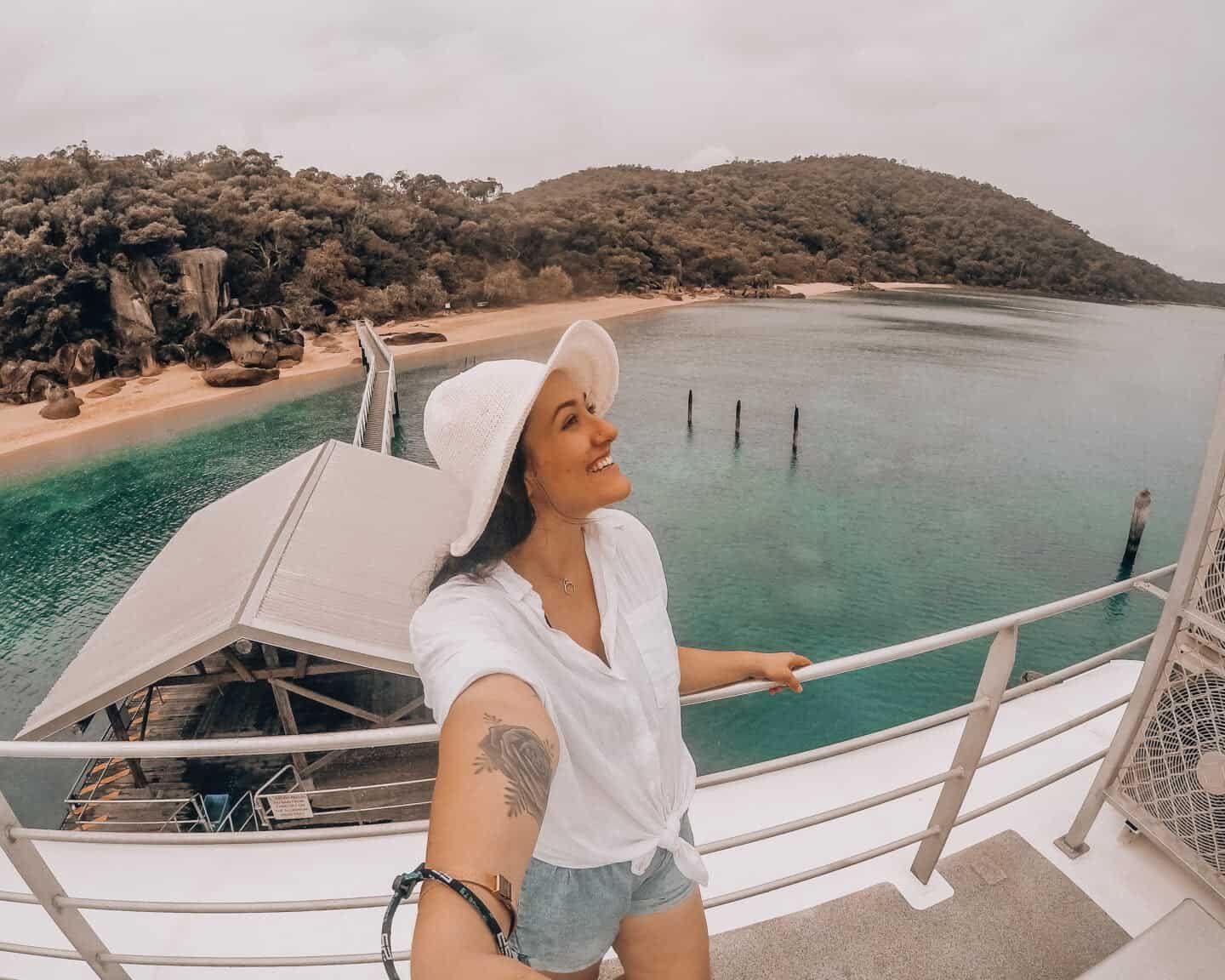 How to get to Orpheus Island
Depending on where you depart from will depend on how to get to Orpheus Island. The island is located between Cairns and Townsville and can be accessed via tours from Cairns, Townsville, and Ingham.
Also, the island is absolutely stunning and is by far one of the best Great Barrier Reef Islands out there. It is fringed by coral reefs, making it a haven for snorkelling and diving and relaxation.
I highly recommend the Orpheus Island day trip from Townsville. The journey is a 1 hr and 45-minutes scenic cruise through the Palm Island Group with Sealink. It is comfortable and full of beautiful scenery, including Humpback Whales from mid-July – August.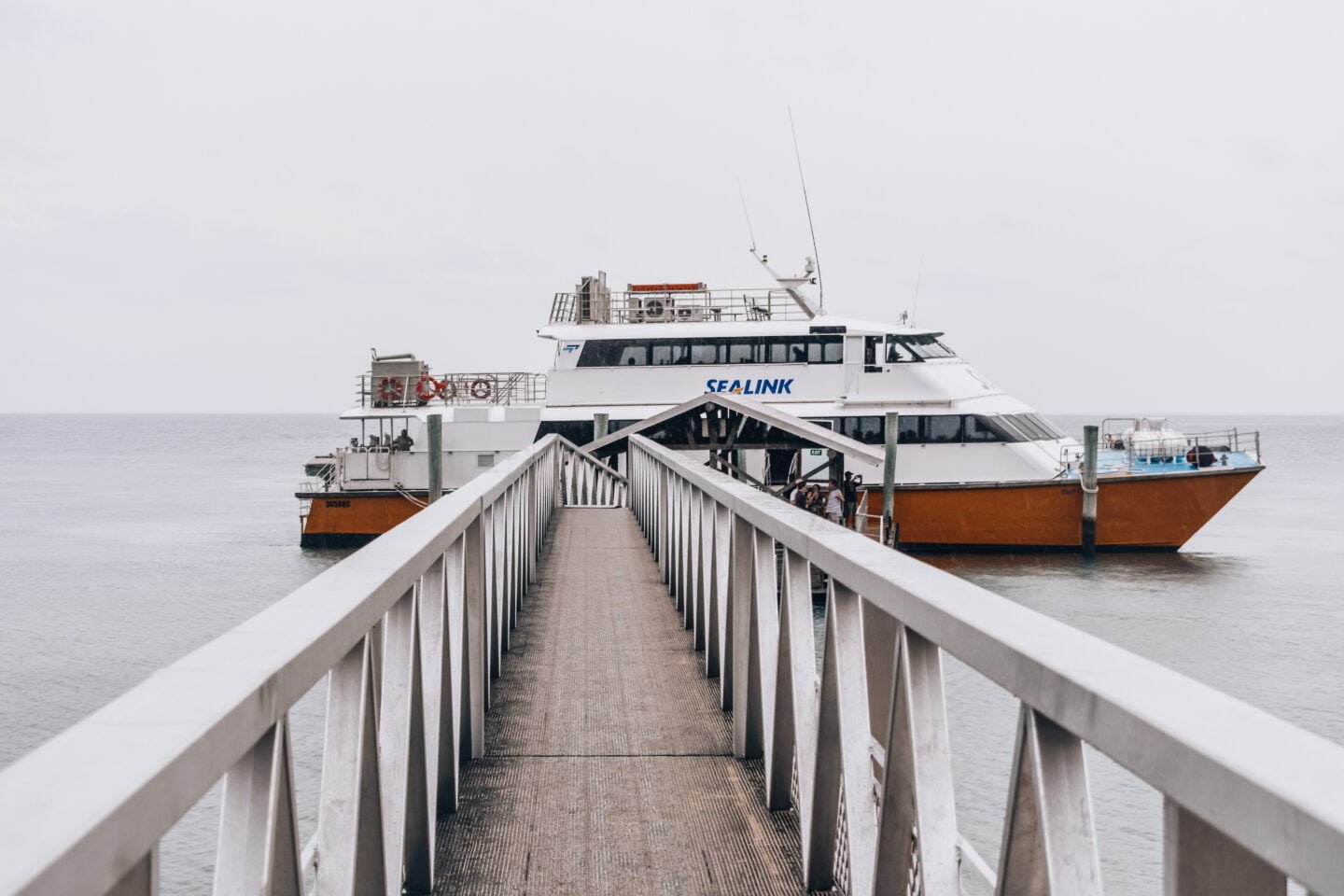 What there is to do on Orpheus Island
As the Island is a National Park, there are no facilities available when you arrive at Yanks Jetty (that's why Sealink is awesome).
That means that the island is ready for one thing- pure relaxation.
The tour gives you approximately 3-hours of free time to laze on the beach or jetty, cool off and explore spectacular fringing reefs, or take part in some beach fun. There is a short walking track you can do through the bush, however, I did this and I would recommend choosing to walk along the beach instead!
You can also go snorkelling right off the beach (snorkelling gear can be hired onboard).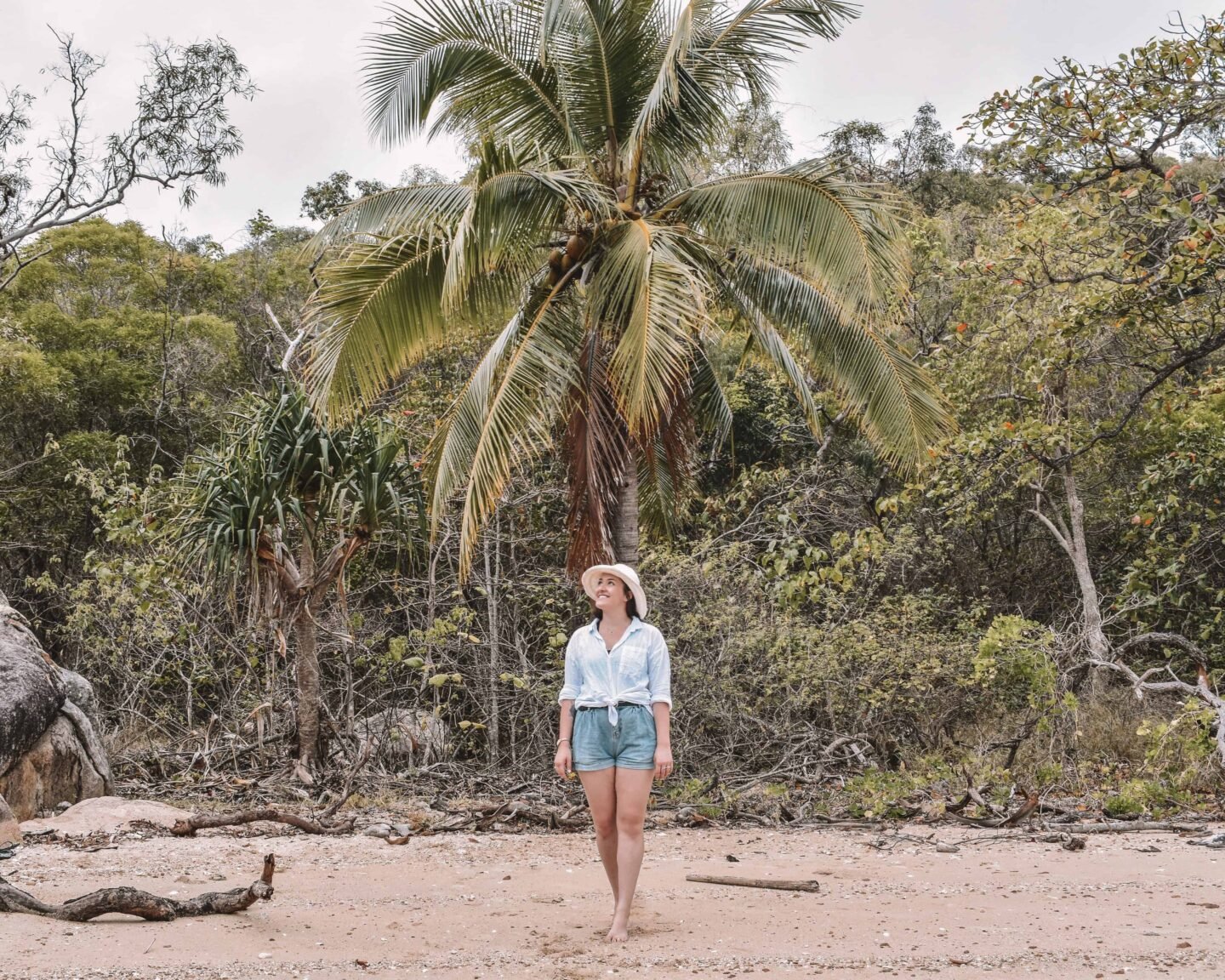 Whitsunday Island
You've likely already heard of the popular Whitehaven Beach and Hill Inlet, but what you may not know, is that both of these actually belong to Whitsunday Island.
Whitsunday Island is hands down one of the best Great Barrier Reef Islands to visit if you are travelling around Queensland. With some of the world's finest sand, clearest waters, and most unique inlets, it is a sight that can only truly be appreciated when seen in person.
The Island is a huge tourist attraction located 33km away from Airlie Beach, however, travel times will vary depending on the vessel you choose to travel on, the tide, and local weather.
How to get to Whitsunday Island
There are endless options for day trips to Whitehaven Beach and which one you select will depend on your budget and how much time you wish to spend on the beach.
I have done a lot of reef trips, and I hands down believe that Red Cat Adventures Thundercat Whitsunday Tour is the best there is. The tour offers an exhilarating ride around the Whitsunday Islands all in one day, visiting the world-famous Whitehaven Beach, Hill Inlet lookout and 2 snorkelling locations on the fringing Great Barrier Reef (most of which are unique and not busy with other touring groups).
The catamaran you travel on with Thundercat is one of the fastest catamarans in the Whitsundays and has been designed for stability and speed (it won't give you seasickness).
The food was delicious, the company was incredible, we saw an abundance of turtles, and I loved every second of it!
Thundercat is accredited as a Climate Action Leading tour- and this was very clear to me when travelling with them. They really prioritise the environment and ensure that the wildlife and ecosystems are put first.
You can book this tour here.
What there is to do on Whitsunday Island
Explore Whitehaven Beach
Whitehaven Beach stretches over seven kilometres and boasts brilliant white silica sand that is among the purest in the world (it is seriously so soft!). When we swam in the crystal clear waters, there were stingrays all over. They came right up to you and weren't afraid if you got close to them. It was such an incredible experience.
The great thing about travelling with Thundercats was that the tour guide was local. He knew a few secluded sections away from the other tourists, meaning we were able to enjoy the stunning turquoise waters in the hill inlet without other people around.
When I visited in March 2021, the island was very quiet due to COVID-19, however, it is important to be mindful that the Island is one of the most popular Islands in the world. It will likely be very busy!
Visit Hill Inlet/ Tongue Point Lookout
At the northern end of Whitehaven Beach is Hill Inlet, the stunning inlet where the tide shifts the sand and water to create a beautiful fusion of colours. Many people claim that the Hill Inlet and Whitehaven Beach are the most beautiful places in the world… and I have to agree that they come pretty close to the top of my list.
The walk to Tongue Point is not very long and gives you the perfect vantage point over the Inlet. Although skipping this to go swimming in the water straight away might seem tempting, I definitely recommend seeing the inlet from the lookout. There is nothing like getting to view the swirling sands from above.
Great Keppel Island
Great Keppel Island was certainly a surprise to me when I visited it.
I'd never really heard of the Island, nor did I realise that Yeppoon was such a stunning location filled with beaches as clear as those I was used to seeing further to the north.
However, Great Keppel Island is the gateway to the Southern Great Barrier Reef, and a magnificent island to visit if you are ever in Yeppoon. The Island is located approximately 30mins from the mainland and quickly climbed to the top of my list of best Islands on the Great Barrier Reef.
Like many other islands on the Great Barrier Reef, Great Keppel Island is a national park filled with white soft sandy beaches, pristine, untouched natural flora and fauna, and stunning coral reefs filled with life.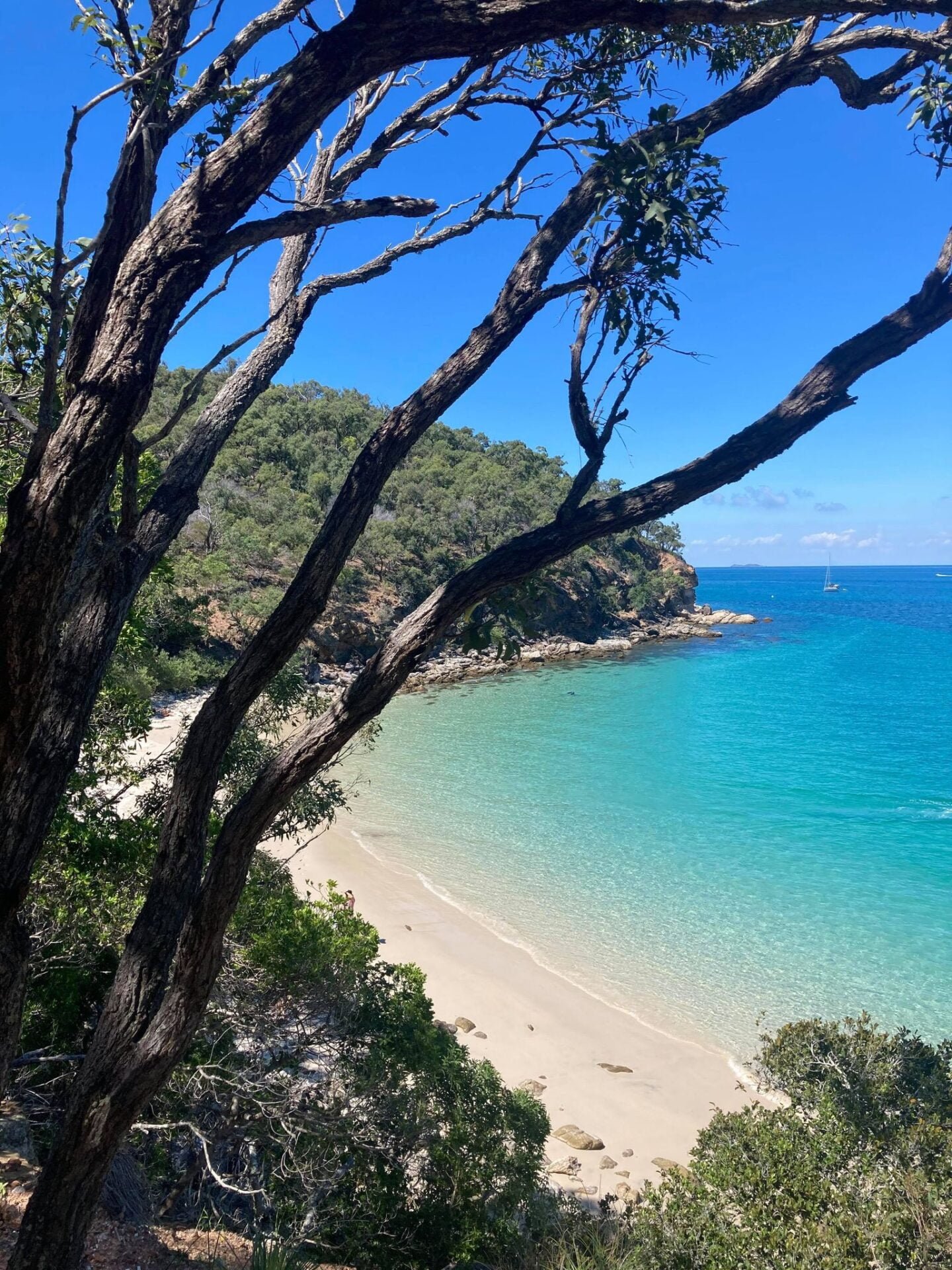 How to get to Great Keppel Island
Whilst there are many excellent tours you can do to get to Great Keppel Island, I recommend taking the ferry across and exploring on your own when you get there.
With Keppel Konnections, it takes approximately 30 minutes withto get to the islands, where it parks up on the beach and you can walk straight onto the sand of the island. It is approximately $45 return and with a morning and afternoon option available.
What there is to do on Great Keppel Island
Explore the beaches
The main beaches – closest to the resorts and the ferry arrival point – are Putney Beach and Fisherman's Beach. Although these beaches are absolutely stunning and perfect for families and couples wanting to relax and have a swim, the island is huge, with many other hidden and quiet spots for you to explore.
Wander Second Beach and you'll find the Buoy Tree, adorned with decorations and one of the prettiest spots to stop and relax.
If you want more seclusion, Long Beach on the southern side of the island has regularly been ranked in the top 20 of Australia's 101 Best Beaches.
Go for a wander on one of the many walking trails across the island and find see some of the incredible beaches there are to see!
Snorkelling
As you disembark off the ferry, to your left-hand side you'll see a sandy track that has a sign to Great Keppel Island Hideaway. You can head in this direction to get to the main restaurant and bar to get food from if you are wanting to purchase lunch, coffee, or a snack for the day.
You will also see a sign for the GKI Water Sports & Activities beach shack where you can hire snorkel gear and other water equipment.
The reef around Great Keppel Island is said to be some of the healthiest along the Great Barrier Reef, and I have to agree.
We asked these guys where the best place to snorkel would be, and they ​were able to give us plenty of advice on where to go to see the best reef with minimal people about. 
With so many families visiting the island, we felt pretty safe that if we went for a walk to one of the less popular snorkelling beaches, we would be alone. And we were right! We hiked to Monkey Beach, and there were only two other small groups of people there.
It takes around 40 minutes to walk to this spot from Fisherman's Beach (where you arrive on the ferry). Sitting within a protected bay, it is easy to access from the island, but the walk is definitely not for the faint of heart. It was hot, steep in some places, and also incredibly rocky.
It is so worth it though. Monkey Beach has an exceptionally high coral cover and a gorgeous array of fish. The water is also incredibly clear, making it easy to see all kinds of fish and wildlife.
I highly recommend getting out and exploring the island as much as possible!
Heron island
Heron Island is hands down one of my favourite places on Earth. When it comes to the best Great Barrier Reef Islands, nothing gets better than this spot.
Here, turtles are in abundance. Here, the reef is flourishing and thriving. Here, nature has its own call- a song and dance that thrives off being so far removed from the world of man.
The island is located along the southern edge of the Great Barrier Reef in Queensland.
It is approximately 2 hours from Gladstone, a destination that falls between Bundaberg and the Mackay region and is hands down one of the best Great Barrier Reef Islands!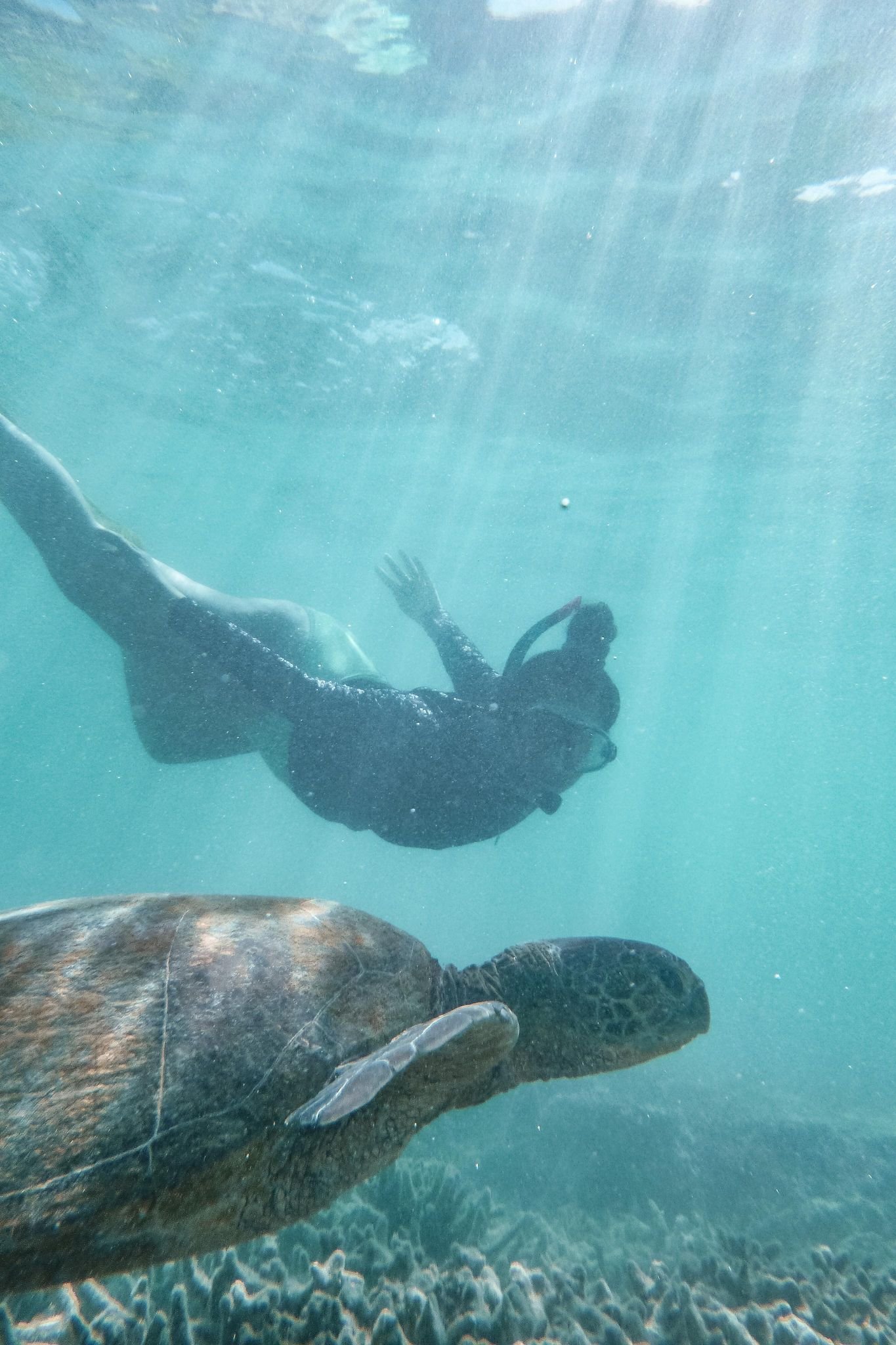 How to get to Heron Island
Getting to Heron Island is easy. The ferry is approximately 2 hours there and back and runs every day except Tuesday's and Thursday's. These are the days the island has a barge come for supplies.
It is a very remote island. Also, the day trips are not possible due to it being so exclusive, remote, and World Heritage-listed (for being a Marine National Park). Instead, it is a place you visit for luxury, for wildlife, for an up-close encounter with a thriving part of the reef, and a spot you visit for turtle season!
I recommend checking the weather and listening to any advice about needing sea sickness tablets for rough weather. Our trip over the Heron Island saw choppy seas- and those of us without seasickness tablets suffered!
You can, of course, also catch a helicopter to and from the island. Prices start at around $470 for the transfer. However, the ferry was just as good and cost $75 per person return.
To check out more about my time on Heron Island, read my post here.
What there is to do on Heron Island
Swimming and snorkelling
One of the things I loved about Heron Island was how much there was to do! It might sound crazy- how the hell can there be lots of things to do when you are on an island in the middle of the ocean- but there is so much.
First up, is swimming and snorkelling! These are definitely a highlight of the island because of the colour of the water. Also, the animals you might be privileged enough to swim with!
With your stay on the island, you get free snorkel gear. The reef is right there- all around the island. So, you can go swimming and snorkelling as much as you want and anywhere you want. It's magical!
Turtle hatching/ nesting season
Heron Island has one of the largest seasons of nesting and hatching Green Sea Turtles and Loggerhead Turtles in the world. In turtle season, you have the ability to see them hatch and nest here.
You can wander the island and see all of this at your own discretion. Also, there are naturalist walks you can do with a professional who will teach you about the local residents. I found the hatchling tour to be a great way to learn more about the island and the life cycles of the turtles we were about to see. It also taught me some of the best spots to watch for hatchlings- and we saw so, so many.
There are also bird-watching tours where you are able to go around the island with a guide. Also, you can learn all about the native animals that call Heron Island home. This, along with the tours above, is free and I highly recommend doing it.
Stargazing
With no light pollution to damage the view of the stars- this is truly one of the most magnificent displays of the Milkyway and our skies I have ever seen.
There are stargazing tours that happen every weekend with a guide and a telescope. They take you to the helipad and point out constellations and some of the more prominent things in our sky.
Although we didn't get to do this, we sat outside after sunset and watched the stars come alive. I could have laid there for hours looking up at the sky.
Sunrise and sunset
Being an island in the middle of the ocean, Heron island is lucky to have both sunrise and sunset over the ocean. So, they are some of the most incredible sunrises and sunsets I have ever seen!
The colours were so beautiful. Sunset happens over the pier, by the shipwreck. Also, we loved watching the sky turn to all shades of orange and red and pink while standing on the white sands of the beach,
Sunrise happens on the opposite side, in Shark Bay, and it was pure magic watching it happen. This is also where the moon rises at night, which I have heard is also a beautiful thing to watch. 
Final thoughts on the 6 best Great Barrier Reef Islands for your next QLD road trip
There are thousands of islands located along the Great Barrier Reef that are incredibly beautiful to see. Although I imagine, all of them are equally as stunning, these 6 islands are the ones that I have at the top of my list for places I would love to return to.
I just can't stop thinking about them!
When you visit an Island, approach it with respect. Respect for the local residents (if there are any), for the ecosystems, the wildlife, and the environments.
Islands on the Great Barrier Reef are often incredibly fragile. There are suffering a lot from climate change, pollution, and species extinction. They need to be treated respectfully so that we are not harming them further by visiting.
So, what do you think? Which islands are being added to your bucket list?