It's probably the most magical place on Earth- at least, it feels that way when you are standing there amongst nature and beauty and life itself.
It's the Great Barrier Reef. The reef of all reefs. The beating heart of our world.
And it is truly a sight to behold.
I recently spent a weekend on Heron Island, a tropical island on the Great Barrier Reef, and it was hands down the best trip of my life. In my favourite place on Earth.
Here, turtles are in abundance. Here, the reef is flourishing and thriving. Here, nature has its own call- a song and dance that thrives off being so far removed from the world of man.
Here, Heron Island encompasses the true meaning of 'paradise.'
And it can be visited for no more than the regular cost of your usual holiday!
My trip to Heron Island truly blew me away with just how stunning our world is if we offer ourselves a moment to just stop and enjoy it. I loved every second of exploring our reef, its inhabitants, and living in paradise for a few days.
This guide is going to walk you through my trip to Heron Island, with everything to see and do. And of course, information about turtle hatching season on Heron Island!
Here's a weekend on Heron Island, a tropical island on the Great Barrier Reef!
Road tripping the East Coast of Australia? Check out Part 1 of my vanlife road trip from Townsville to Yeppoon.  
Where is Heron Island?
Heron Island is located along the southern edge of the Great Barrier Reef in Queensland. It is an Island located approximately 2 hours from Gladstone, a destination that falls between Bundaberg and the Mackay region- and one of the most beautiful spots in the world in my opinion!
Looking for other island getaways along the Great Barrier Reef? Check out this post!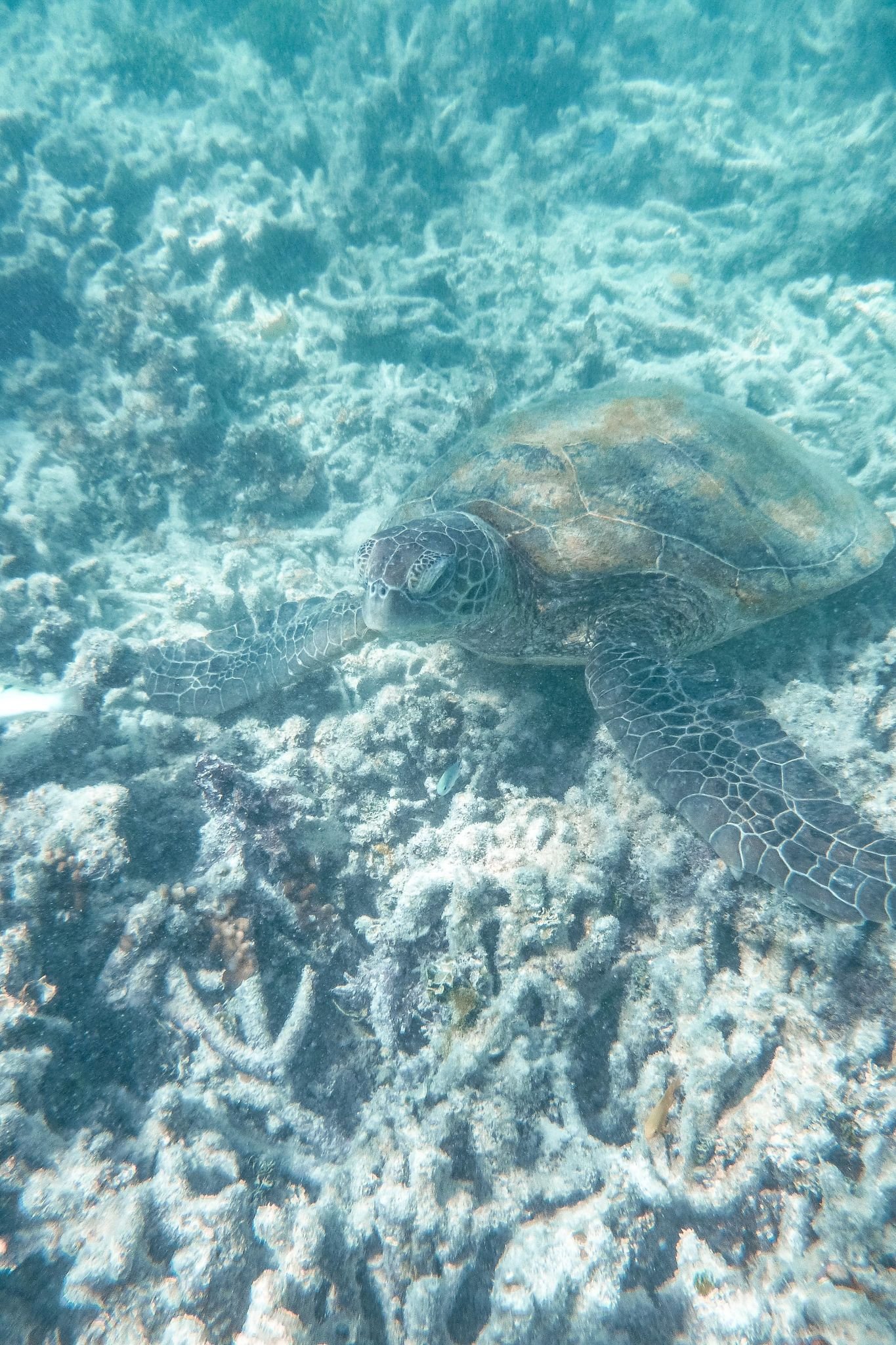 How to get to Heron Island
Getting to Heron Island is easy. The ferry is approximately 2 hours there and back and runs every day except Tuesday's and Thursday's (as these are the days the island has a barge come for supplies).
It is a very remote island, and day trips are not possible due to it being so exclusive, remote, and World Heritage-listed (for being a Marine National Park). Instead, it is a place you visit for luxury, for wildlife, for an up-close encounter with a thriving part of the reef, and a spot you visit for turtle season!
I recommend checking the weather and listening to any advice about needing sea sickness tablets for rough weather. Our trip over the Heron Island saw choppy seas- and those of us without seasickness tablets suffered!
You can, of course, also catch a helicopter to and from the island. Prices start at around $470 for the transfer, however, the ferry was just as good and cost $75 per person return.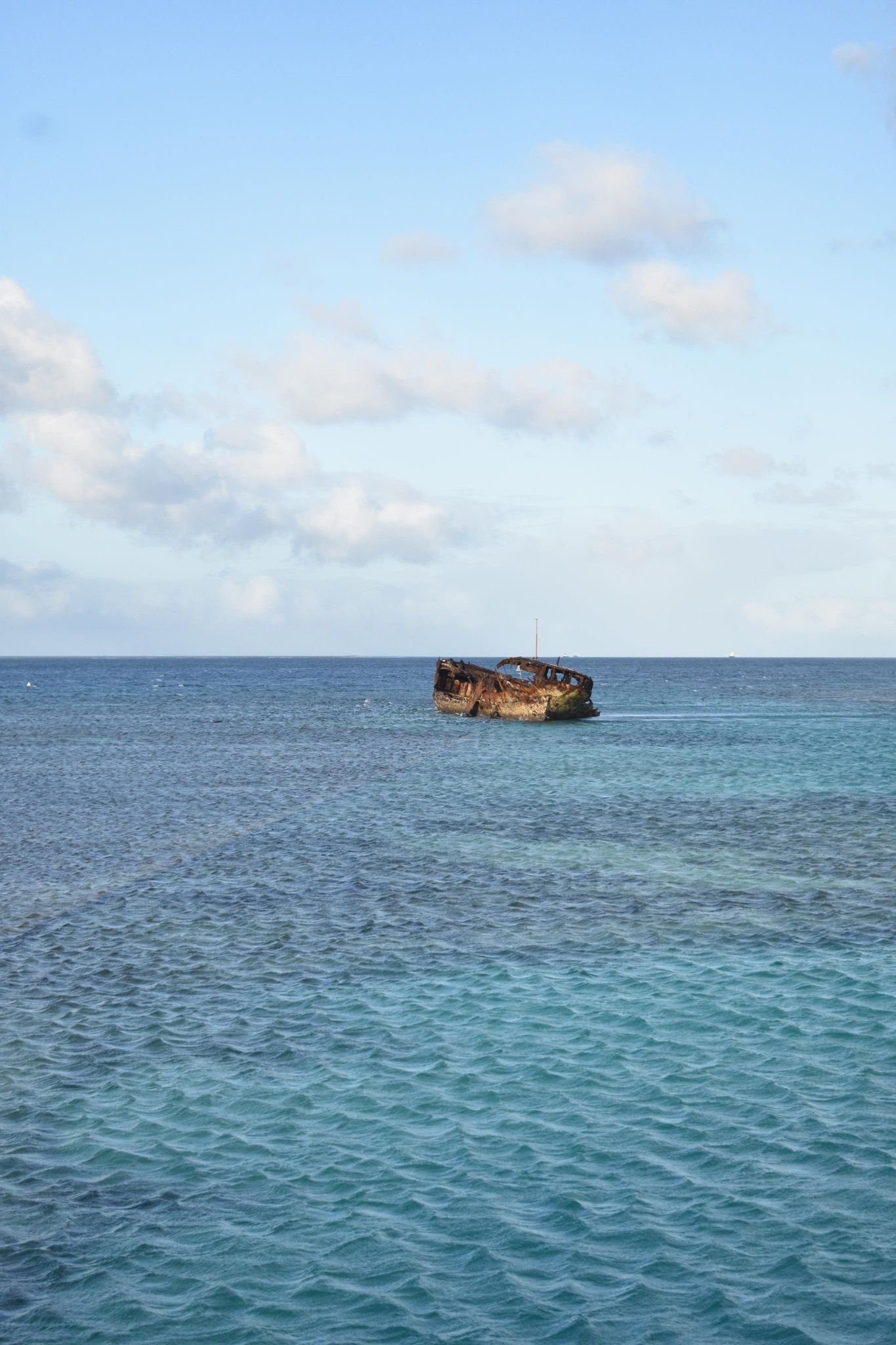 When is the best time to visit Heron Island?
Although Heron Island is beautiful year-round, I definitely recommend visiting in summer, between the months of November and April. These are the months that the turtles lay their eggs, as well as hatchling season- and these are two things Heron Island is known for. During these months, the waters are also a lot warmer, so activities like snorkelling, diving, and sunrises are not going to be so cold!
The winter months are also a beautiful time to visit the Island, however, even in April we found we needed jackets in the mornings and evenings, so I can only imagine how cold it is in winter!
Heron island's Turtle season
Heron Island is one of the main destinations on the Great Barrier Reef where you can see Green Sea Turtles and Loggerhead Turtles (both endangered) lay their eggs and hatch. It is impossible to know how many sea turtles nest here each year, but the number is high.
And the best part is that you can be witness to it all in your free reign throughout the season.
Nesting season occurs from November to March each year, with hatchlings beginning to emerge in early January. Most nesting turtles will begin to come up on the beaches around the high tide of night time, some turtles may still be on the beaches finishing the nesting process when the sun rises in the morning.
Turtle hatchlings will emerge from the sand from January until May, and sometimes you can see dozens of nests hatch in a night. That is how many turtles there are. The best chance of seeing the hatchlings making their way to the ocean is to take a walk along the beach, at the high tide mark, around sunset or sunrise. We had the most luck at sunset as the sand began to cool, but saw several still making their way to the water throughout the day- so you really just need to wander and pay attention.
The wildlife on Heron Island
One of my favourite things in the world is snorkelling. Is there anything more magical than diving down deep into the crystal blue waters of the world's oldest and most magical reef systems? And is there anything more magical than sidling up to giant Green Turtles? Or swimming side by side a reef shark? Or laying along the bed of the ancient sands as giant manta rays jump in and out of the water above you?
No? I didn't think so.
Heron Island is wild in every way- and this comes across in the wildlife and species you come across on the Island.
Not only is it a turtle haven- for both the ability to watch turtles lay eggs and hatch, and to swim with them, but animals are in abundance on the island.
You can simply sit with a coffee on the water's edge and watch dozens of reef sharks, sea and loggerhead turtles bob up and down, or watch manta rays and stingrays glide peacefully around the ocean.
The reef is also a sight to behold. I have snorkelled all up and down the East Coast of Australia along the Great Barrier Reef and nothing compared to the reef and wildlife I saw on Heron Island. Here, the colours of the fish are indescribable. They are everywhere! And so is the colour of the corals.
And it isn't just the animals under the sea that make Heron Island a World Heritage Listed spot. Heron Island could easily be mistaken for a bird sanctuary.
It is home to Black and Brown Noddy's, Herons and a crazy number of Wedge Tailed Shearwaters.
January is the peak breeding season for sea birds with many breeding colonies returning to the island to breed. Heron Island is estimated to have up to 200,000 on the island particularly Black Noddy Terns with there being up to 120,000 of these birds recorded and the Wedge-Tailed Shearwaters (Mutton Birds)
Just be careful to watch your heads. It is a right of passage to be gifted with a little gift of bird poo while on the island.
Things to do on the Island
Swimming and snorkelling
One of the things I loved about Heron Island was how much there was to do! It might sound crazy- how the hell can there be lots of things to do when you are on an island in the middle of the ocean? But there really is so much.
First up, is swimming and snorkelling! These are definitely a highlight of the island because of the colour of the water and the animals you might be privileged enough to swim with!
Heron Island offers many free and paid tours you have the chance to join in on- and you can choose to do tours in both of these options.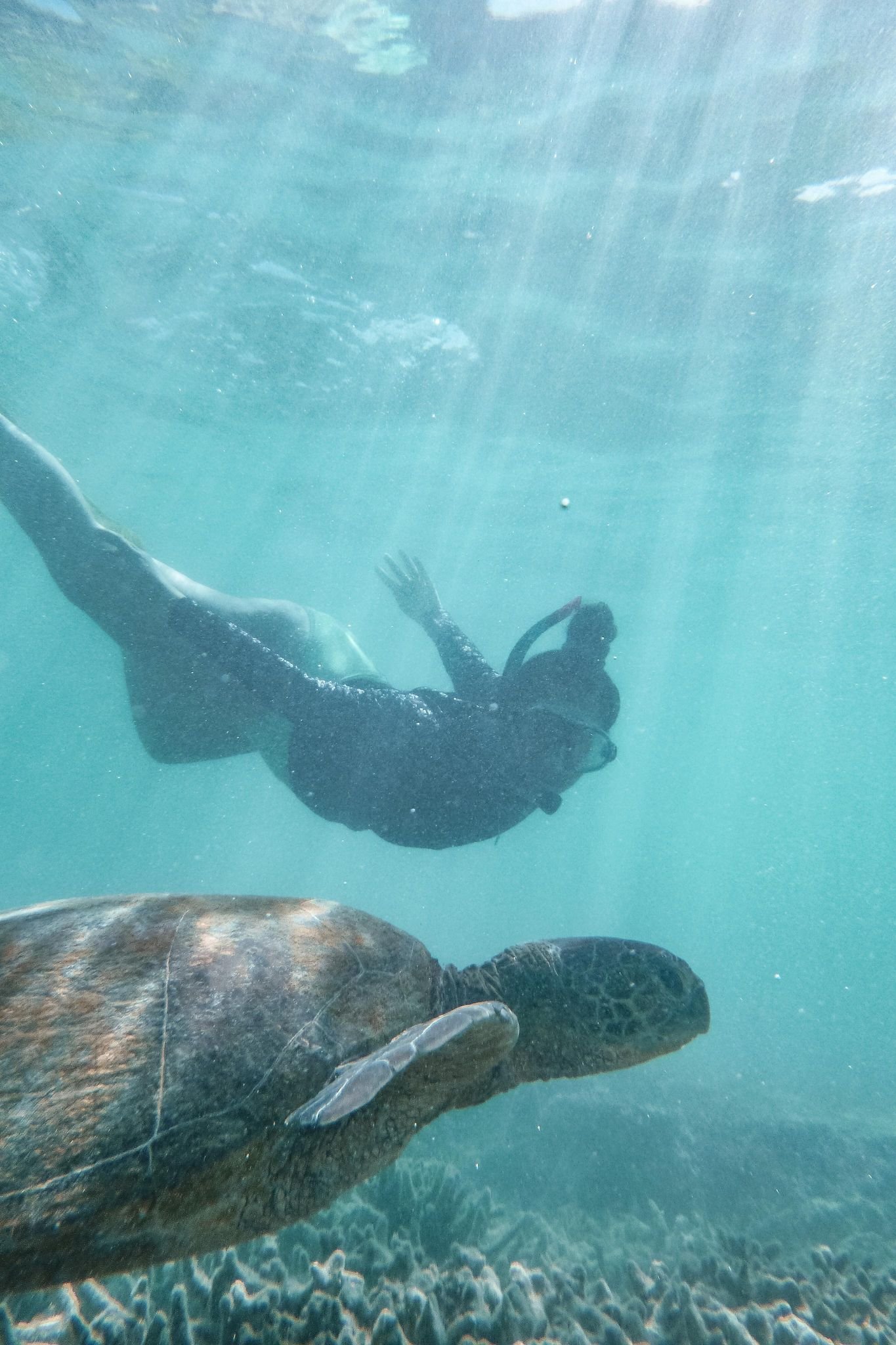 Free tours
In turtle season, you have the ability to join turtle tours. This is where a wildlife ranger/ marine biologist/ naturalist will walk you to some of the more popular breeding and hatchling spots and teach you about the local residents. I found the hatchling tour to be a great way to learn more about the island and the life cycles of the turtles we were about to see! It also taught me some of the best spots to watch for hatchlings- and we saw so, so many.
There are also bird-watching tours where you are able to go around the island with a guide and learn all about the native animals that call Heron Island home. This, along with the tours above, is free.
For children- they have an abundance of reef walks options that are all free, and give parents the ability to go child-free for a few hours.
Here you can find their list of complimentary activities. Taking part in these activities is such a great way to learn more about the island and its inhabitants, and I definitely recommend taking part in them.
Paid tours
You can also choose to pay for extra tours- like diving lessons, or Wilson island tours- one of the neighbouring islands that is said to be home to some of the best diving in the world! As I am yet to try diving, I did not do this, but I certainly will be jumping on it the next time I head to heron island, which I am hoping is sooner rather than later.
This is a list of the paid tours you can do on Heron Island.
Island things
Heron island also has a pool, and a bar/café. We found that sitting by the water drinking coffee or a cheeky wine in the afternoon was one of the highlights of the trip! In just one hour of sitting there, we saw an insane amount of wildlife! The coffee was great, and there was so much seating it was a beautiful spot to relax, read a book, and admire our beautiful world!
The bar has live music in the evenings, and the vibe is always great. We loved listening to live music and relaxing by the water.
When we weren't snorkelling or relaxing by the water's edge, we found that walking around the island was also such a fun thing to do! The island is only 29 hectares, and so walking around it was easy to do. Each side of the island had different views on offer, and we found that we couldn't get enough of it!
I definitely recommend walking around the island at different times of the day to fully appreciate the sands, the waters, and the colours it has with the different phases of the sun!
Aqua Soul Spa
There is, of course, a luxurious and beautiful spa on Heron Island that can really add to your holiday. Drawing inspiration from the beauty and rich diversity of the Great Barrier Reef, Aqua Soul Spa was created to embrace the powerful healing qualities of nature. There is a full spa menu available, complete with massage treatments, facials, and plenty of sensory treatments that will allow you to fully relax and embrace your beautiful vacation destination.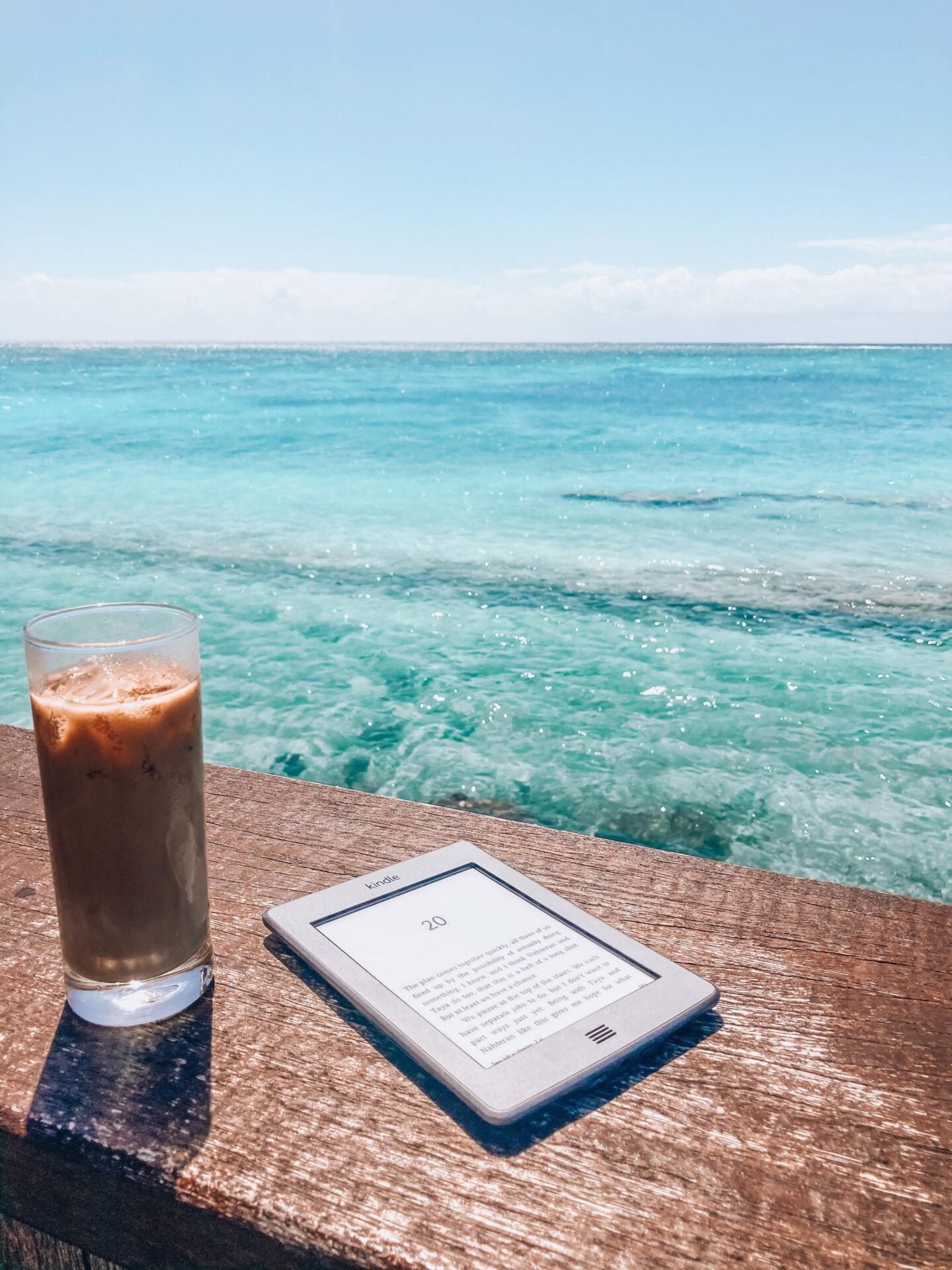 Stargazing
With no light pollution to damage the view of the stars- this is truly one of the most magnificent displays of the Milkyway and our skies I have ever seen.
There are stargazing tours that happen every weekend with a guide and a telescope. They take you to the helipad and point out constellations and some of the more prominent things in our sky. Although we didn't get to do this, we sat outside after sunset and watched the stars come alive. I could have laid there for hours looking up at the sky.
Sunrise and sunset
Being an island in the middle of the ocean, Heron island is lucky to have both sunrise and sunset over the ocean- and they are some of the most incredible sunrises and sunsets I have ever seen!
The colours were so beautiful. Sunset happens over the pier, by the shipwreck, and we loved watching the sky turn to all shades of orange and red and pink while standing on the white sands of the beach,
Sunrise happens on the opposite side, in Shark Bay, and it was pure magic watching it happen. This is also where the moon rises at night, which I have heard is also a beautiful thing to watch. 
Heron Island Food and Beverages
Heron Island has a bar and café called Baille's Bar. This is a lovely, open spot next to the ocean where you can come for a sandwich (delicious), coffee, drinks, or live music in the evenings. There is plenty of seating, and even if you are not buying anything, you can sit and relax by the water. Food and beverages are the average prices you'll find on land, and you can charge it to your room to pay in one lump sum at the end of your stay. We loved the coffee here!
There is also the Shearwater Restaurant, where they do breakfast, lunch, and dinner. Most bookings have breakfast in their stay, and it is a delicious buffet-style breakfast with so many options!
Although we never had lunch here, we heard the takeaway options were great!
Dinner was also delicious. They have a select menu for dinner of things that are a little more pricey and 'fancy.'
However, if you don't want to buy your food and beverages on the island, you can also BYO! Our room had a fridge and a kettle so making sandwiches and noodles was super easy for those times we didn't want to buy food or have to dine in a restaurant.
There is also a small gift shop on the island with snacks, ice cream, drinks, and things like chocolate and lollies. However, I did notice that these items were really expensive, so it is best to bring your own to the island!
Where to stay on Heron Island
Being a small Island, there is only one spot for accommodation on Heron Island and that is the Heron Island Resort. There are so many rooms to choose from here- starting with the Turtle Room for about $250 a night. Whilst it might seem pricey, and a little out of my normal budget travel here on One World Wanderer, it is without a doubt the most worthwhile money I have ever spent.
The rooms on Heron Island are really comfortable. There are small kitchen appliances like a fridge and a kettle. A comfortable bathroom and sitting area, a balcony with cozy seats that allow you to watch the wildlife around you, and the comfiest bed!
This was just the room I stayed in, however, varying in price, you can get yourself a beachfront villa, a suite, a family room, or something a lot more luxurious. There's something for pretty much every style of traveller.
 Final thoughts on Heron Island 
Heron Island can only be described in one word: magical. I have been to a lot of places and snorkelled in a lot of reefs, but this is hands down the best travel experience I think I have ever had. It was stunning, relaxing, adventure-filled and full of once-in-a-lifetime experiences like snorkelling with turtles and watching baby turtles take their first steps into the ocean.
It was magical, and I cannot wait to return.
If you are planning a road trip around Queensland, Australia or simply just want somewhere beautiful to go to, Heron Island is worth every penny you will spend.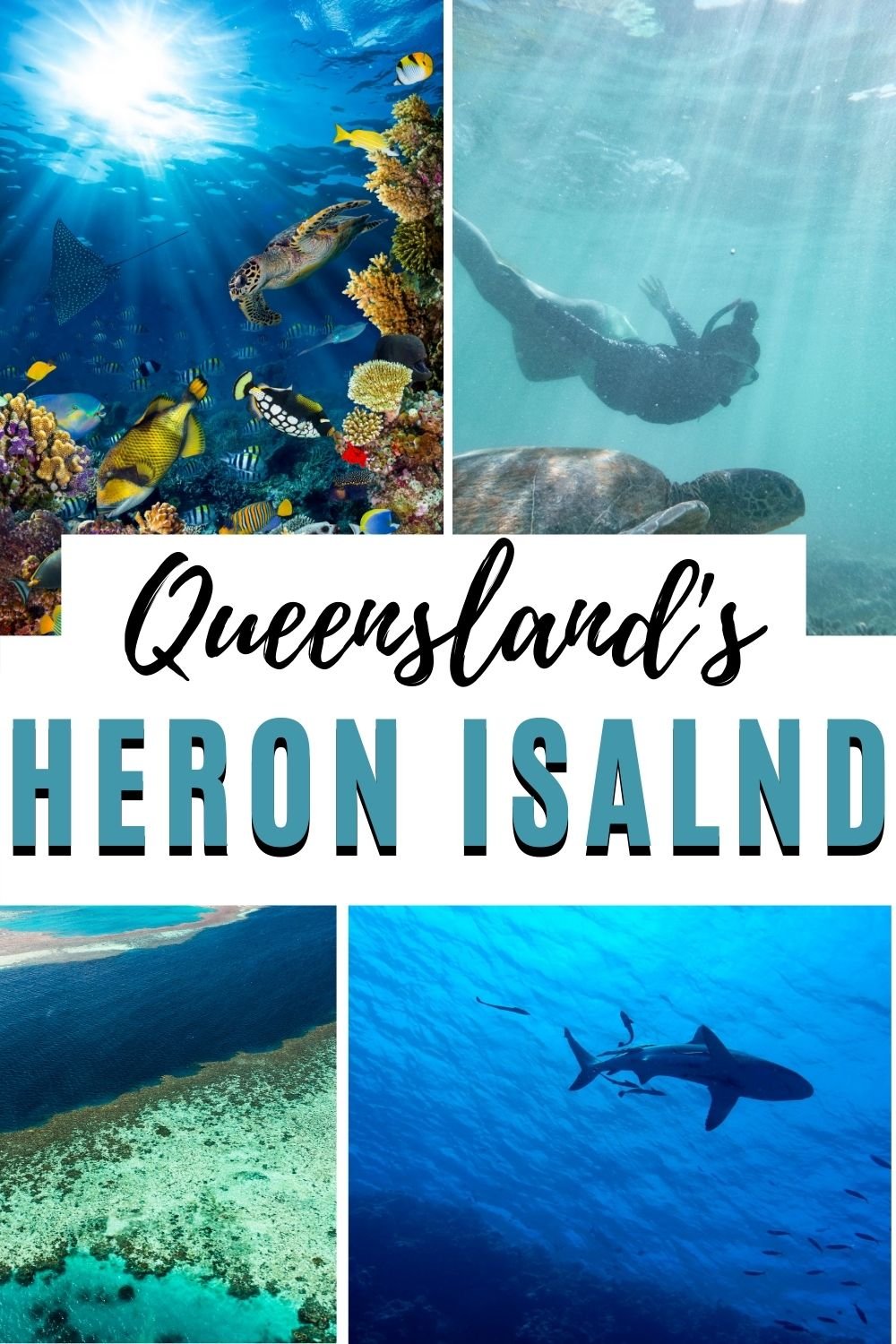 Travelling Queensland soon? Here are a few of the other things I recommend doing! 
Vanlife Road Tripping as a Solo Female Traveller from Townsville to Yeppoon.
Exploring the Millaa Millaa Waterfall Circuit in North Queensland
Top Things To Do In Townsville- The Ultimate Local's Guide
An incredible day trip to the Great Barrier Reef with Reef Magic Cruises
10 Reasons You Should Travel Australia With Greyhound
Top things to see and do in Charters Towers- North Queensland's Hidden Gem