Want to take a trip to the snow, but aren't sure how to plan the perfect vacation?
Don't worry, I've got you! Whether it's your first time seeing snow or your hundredth, I wrote your Jindabyne winter bucket list so that when you finally make it to the Australian Snowy's you'll be prepped and ready with all the information you need to make your trip a successful one.
And trust me- I lived there.
Planning a trip to the snow is never easy. You have to think about your budget- because a trip to the snow is likely never going to be a cheap trip, you have to think about how long you want to be there, you have to think about the activities, the clothing you'll need, and in some instances, how you are going to get around when you arrive.
And, you have to think about where you are going to go.
Lucky for you- this guide covers the gateway to Australia's Snowy Region- Jindabyne. Many people don't even realise that despite being known for its sweltering summers and heatwaves, Australia actually gets a decent winter each year. In truth, the alpine region often sees consistent dumpings of snow from May- October, and often into the summer months.
I lived in Jindabyne for five months over the winter 2021 season, working at the Perisher Ski Resort, and it was such a wonderful experience. From the adventurous hiking to the delicious food I got to enjoy with incredible people to skiing Australia's best slopes, it was an experience I will never forget.
Here's your Jindabyne winter bucket list- including everything you need to know about visiting Jindabyne in winter!
Where is Jindabyne Located? 
If you have ever wanted to take a step away from the hustle and bustle of city life and holiday somewhere both stunning and remote, the Snowy Monaro Region is the perfect escape.
If you are unsure where it is, that's probably because the Snowy Monaro is a quiet, laid back kind of place located in the southern region of New South Wales. It sits straddling the Victoria and ACT borders right in the heart of the Snowy Mountains.
The region is surprisingly quite large, covering over 15,000 square km and containing very few urban areas. Instead, it is full of rolling hills and mountain ranges, including the Kosciuszko National Park, home to Australia's largest mountain, Mount Kosciuszko.
Although there are many other quaint, small towns scattered around the Snowy Monaro, Cooma and Jindabyne are the two main areas in the region, within one-hour driving distance from one another. From here, you'll have a 5-6 hour drive to Sydney or 6-7 hour drive to Melbourne or a 1-2 hour drive from Canberra.
Jindabyne is often referred to as the gateway to the Snowy's. Sitting at the base of the Kosciuszko National Park, the small town is the perfect place to stay if you are planning on tackling the slopes during winter.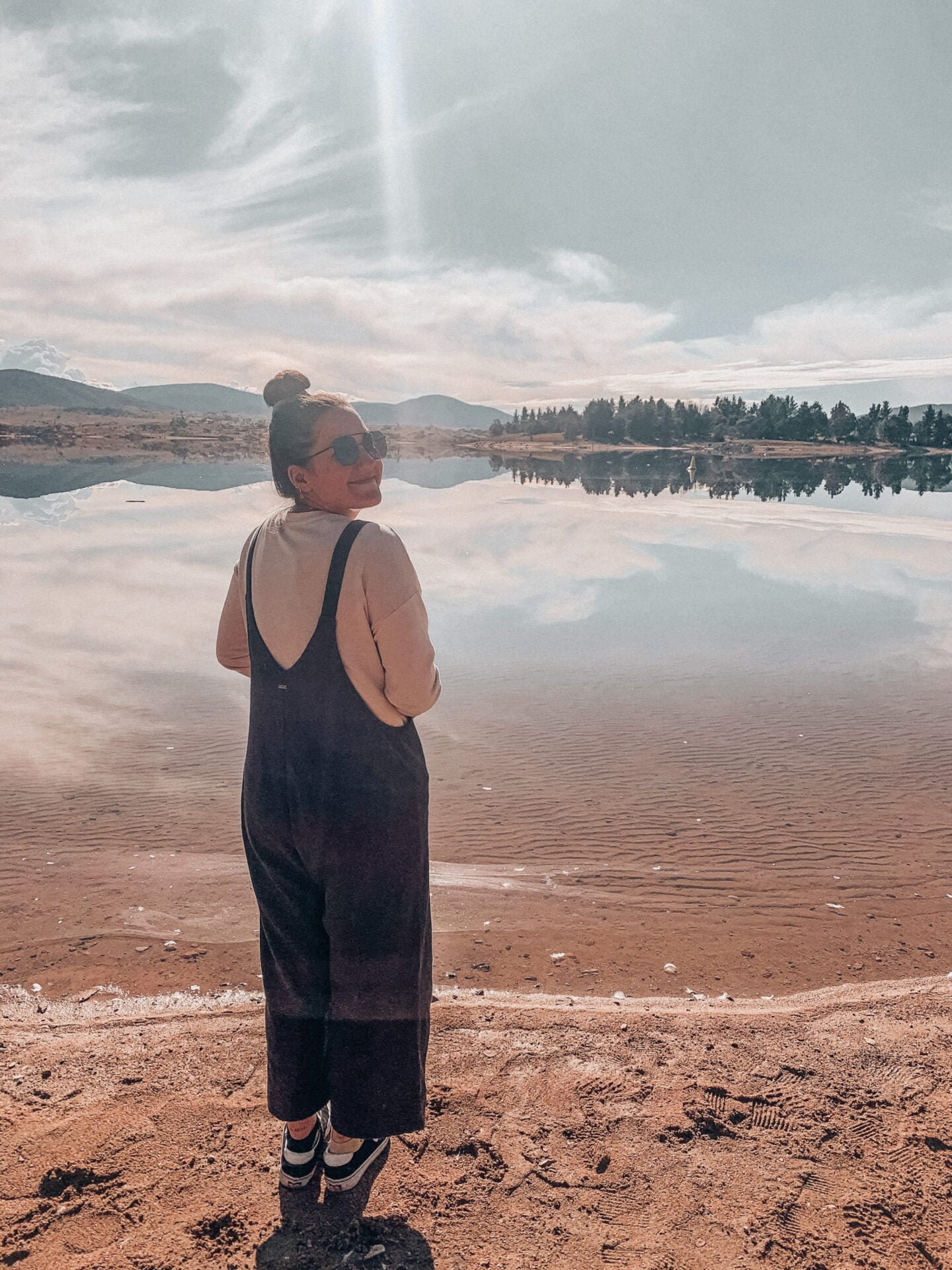 Where to stay in Jindabyne
Jindabyne is a really small town, with a little over 3,000 people living there. Because of this, you won't find many chain hotels there.
Instead, you'll find a long list of Airbnbs, boutique houses, cabins, or spare rooms being rented out for the winter season.
Finding accommodation in winter can be difficult due to the high demand of people visiting the region for the ski season, so I recommend booking your accommodation as early in advance as possible to ensure you have somewhere warm and cozy to stay while on vacation.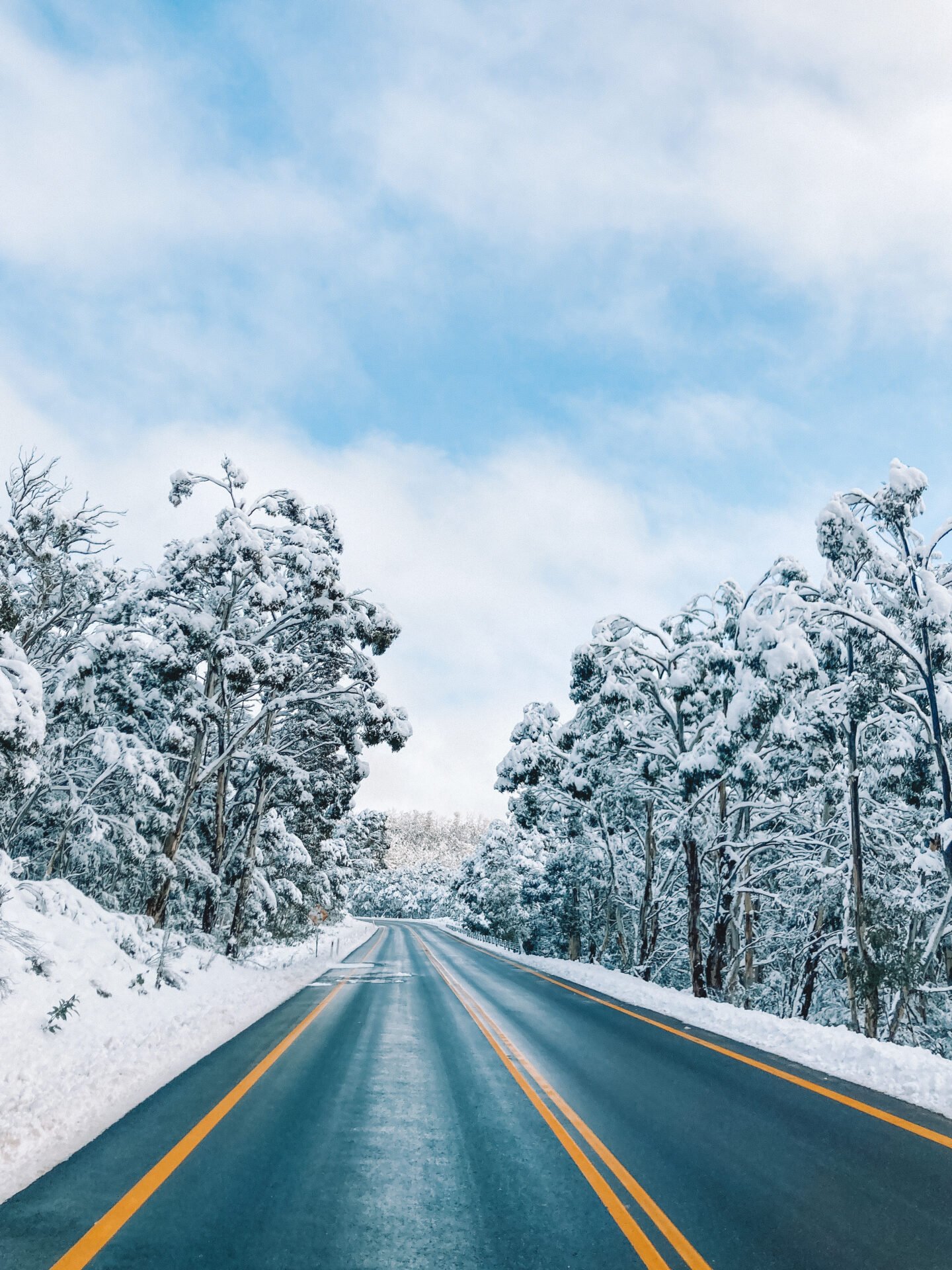 The History of Lake Jindabyne
One of the wonderful things about Jindabyne is that it is actually a town located around a large Lake.
The history of Jindabyne is fascinating. The town was originally settled in the 1840s as a picturesque gold-mining settlement. In 1959, the town was urged to relocate to higher ground when the filling of Lake Jindabyne began as a part of the Snowy Scheme. The relocation took a few years to do, with entire homes, headstones, gates, and human remains being shifted to higher ground.
The only reminder that the old town is deep below the lake is the Catholic Church Steeple which appears whenever the lake drops to a lower level.
Life located around the beautiful lake is always a unique experience. The crystal-clear water and sandy, tree-lined banks of Lake Jindabyne make it a haven for anyone who loves getting outdoors- and in Jindabyne, that's everyone. Even in the winter months, you'll find locals set up a base at a secluded beach, swimming in the freezing waters, paddleboarding, kayaking, windsurfing, or sailing around the many islands.
Winter Weather in Jindabyne
Coming from doing a season in Lake Louise, Canada, I was genuinely surprised to find myself really cold while living in Jindabyne. That's not to say I was anywhere near the bone-chilling freezing I was in Canada, but it was enough to make you uncomfortable if you were not wearing the proper clothing.
The winter high temperature for Jindabyne is approximately 4 °c, with the winter low temperature being approximately -3 °c. Mornings and late nights are particularly cold, with icy windshields and frosty grounds being a regular thing you will have to deal with if you are planning on driving before the sun comes out.
That being said, I only found that the cold months lasted from June- August, with late August tending to warm up.
It is not a common occurrence for Jindabyne to receive a decent snowfall, however in the five months I lived there in 2021, we had several dumping of snow all the way into town. While this was a particularly cold and snowy season for the region, it is always good to be prepared with enough warm clothing and proper car prep for your winter trip (chains, anti-freeze, ice scaper, etc).
Planning a ski trip? Check out my skiing for the first time packing guide. 
Winter Weather in the Kosciuszko National park
In the mountains, winter temperatures can drop quickly, sometimes down to negative 10-20°c. Whilst skiing or snowboarding, hiking or snowshoeing, it is important to be wearing the right clothing at all times and to keep an eye on the weather forecasts. It was surprisingly very common to get caught in white-outs, blizzards, rain, lightning storms or severe wind storms while skiing and one of them was usually a weekly occurrence in Jindabyne too; so be sure to get a weather forecast before heading up the mountain for the day.
Driving is also something you will need to consider during winter. Australia is not equipped for winter like other countries around the world, and neither are our cars. The first thing to know is that if you do not have a 4-wheel drive or all-wheel drive, you are required by law to carry snow chains when driving in the Kosciuszko National Park during winter. This applies ONLY to two-wheel-drive vehicles. It does not mean you have to fit them each day you drive to the snow, but there will be many days when chain bays are open and you will get pulled over if you are required to fit chains.
Snow chains can be hired from service stations and ski hire outlets in Jindabyne.
When driving in the snow, or with chains, the most important thing is to go slow. Follow the road rules, do your research before driving in winter conditions, and know how to apply your chains in case you get caught in a snowstorm and are required to use them.
Don't forget to download your ski trip packing checklist here!
Walks to do in Jindabyne during winter
If you're a walker/ hiker, you will be spoilt for choice when staying in the Snowy's. The alpines are known for having some of the best walking trails in all of Australia. From lakeside strolls to hiking Australia's highest peak, and anywhere in between, you'll never be disappointed for choice.
Here are some walks you should add to your Jindabyne winter bucket list.
Sawpit Creek Waterfall Walk
The Sawpit Creek Waterfall track is a grade 3 track around 6km long and located within the Kosciuszko National Park. The track starts at the Sawpit Creek picnic area (just past the National Park Information Centre on the drive up to Perisher Ski Resort) and passes under the road to get to the start of the track (you'll see a fork here, and it's best to go left to start the loop).
The walk is fairly easy, winding through the bush parallel to Sawpit Creek. There are slight inclines to pass over on the walk, but it is all worth it when you reach the small waterfall at the end. While the waterfall is only visible from the small platform, it was nice to sit and have a small picnic lunch while listening to the trickle of the falls.
On the return track, you will pass between huge granite boulders before returning to the picnic area. This section seemed to come out of nowhere and was a nice surprise, enabling us to view a unique part of the area's history.
Lake Jindabyne + Biking trails
One of the greatest things about visiting or living in Jindabyne is its huge emphasis on the outdoors. The area has virtually no shops or facilities (only the essentials) and so getting outside and exploring is one of the main things to do.
Jindabyne has a number of trails to get you started- or for anyone who is unable to take a longer hike, has children, is in a wheelchair, etc. The easiest walk to do is along the Lake Jindabyne foreshore. It starts at the Banjo Patterson Park right in the centre of Jindabyne and runs along the foreshore for 5kms.
You will pass several informational plaques, a children's park, and multiple seating areas until you reach the 'mudflats-' the parking area at the other end of the path where you'll find an outdoor gym area and frisbee golf setups.
The trail continues around the lake but turns into a dirt path not long after the mudflats. This is a popular mountain bike track in the warmer months but can be used as a normal walking trail as long as you give way to the bikes.
If you want a bit of a harder walk with fewer people around but the same stunning views of the Lake, try the Tyrolean Village Shared Trail or the Hatchery Bay trail. The Tyrolean Village Shared Trail extends over the dam wall for 10 km and winds up and down moderate hills, all with sensational views over the Lake and Mountains. The Hatchery Bay trail is similar in that it offers sensational views over surrounding farmlands, all while winding around the Lake.
My favourite walk in all of Jindabyne is a lesser-known walk, starting at Pooh Bay (nope, that wasn't a spelling mistake- it's actually called Pooh Bay). To start the trail, head to the junction between Townsend Street and Cobbon Crescent. Here, you'll see a large opening to the lake with a sign pointing towards the start of the mountain biking trail. Follow this trail along the lakefront, through the trees, over the rocks, and over three separate bridges until you come to a small building. Here, you can continue to twist around the lake and over towards the dam or head back.
This walk was a near-daily experience for me while living in Jindabyne, as it started at the bottom of my street and was almost always empty. It was beautiful at all hours of the day, with nice shaded areas to keep you cool during warmer days, and sunny spots to keep you warm during the cold ones.
Porcupine Rock Track
The Porcupine Rock track is a popular winter snowshoeing track that should definitely be added to your Jindabyne winter bucket list. It is a grade 3 trail approximately 5km return.
The track starts at Perisher Valley, beside the Man from Snowy River Hotel. You'll see snow poles marked along the ground, but if you have problems finding them, you can always ask the staff within the National Parks building or Wilderness Sports.
The track wanders through snow grass, snow gums and small shrubs until a large group of granite boulders is reached. These boulders provide an extensive view of the Main Range and Thredbo Valley all the way down to Bullocks Flat.
The walk is popular in winter for its beautiful sunrise views.
Rainbow Lake
Rainbow Lake was one of my favourite walks to do in Jindabyne/ The National Park over winter. While it is recommended that Rainbow Lake is grade 3, I would say it is only if there is snow or lots of mud on the ground. It is an easy 3km return trail with very few incline areas.
The track begins at a gate on the left side of the road towards Perisher around 1.5km past Sponar's Chalet and near Dainer's Gap. The track winds through snowgrass and snow gums to Rainbow Lake. While there is likely to be snow in winter, if you are wearing winter/ waterproof boots with a solid grip on them, you should be fine to do it without snowshoes.
The lake is a dam that was constructed to supply water to the Hotel Kosciusko. Sponar's Chalet was the staff quarters for the hotel and became the main accommodation building when the Hotel Kosciusko burnt down in 1951.
When the lake comes into view, it is a nice area to set up a picnic or sit for a while, admiring the view, or you can venture down closer to the lake and wander around it. The choice is yours.
Where to eat in Jindabyne in winter
When taking a winter vacation, there are a few things you absolutely cannot miss doing- and that's eating good food and drinking good hot drinks. Hot chocolate, mulled wine, tea- you name it, Jindabyne has it.
While only a small town, there is an abundance of food and drink places scattered around Jindabyne that makes your holiday worthwhile.
And lucky for you, I got to find all the best spots!
The Banjo Patterson Inn
Known to the locals as 'The Banj,' this pub/ nightclub/ restaurant is one of the hot spots in town. I wouldn't even attempt visiting here on a Wednesday night or Saturday night in winter unless you want to spend half the night waiting in line. Jindabyne's seasonal workers flock here on these nights- and you'll be lucky to get in if you are not there before the sun sets.
Although the food and drink are typically your average pub prices and sizes here, you'll always be sure to get a good feed and a good drink.
The pub also has an excellent range of vegan options, including the popular and delicious vegan schnitzel!
Mountain Munchies
If you're a burger lover (and let's face it, who isn't?) Mountain Munchies is an absolute must when you are in Jindabyne. This little gem is located in Nuggets Crossing by the entrance to Woolworths and has a large smorgasbord of options for wraps and burgers. And let me tell you- they are worth it. The vegan breakfast burrito is probably one of the best things I have ever eaten, and the lunch burgers are absolutely delicious.
The highlight of this place is not just how good the food is, but it's how cheap it is too. Burgers sit around $10 and they are so big, you rarely ever need to order fries with it.
The Wild Brumby Distillery
No trip to Jindabyne is complete without visiting the Wild Brumby Distillery. If you are visiting the town in winter, this should be at the top of your Jindabyne bucket list.
You might be wondering why Schnapps in this region is so popular- and trust me, I was too. Schnapps distilleries are native to the European Alps where the winters proved too cold for traditional wine production.
Wildbrumby founder, Brad Spalding, grew up in the NSW & Victorian fruit belt as the son of a fruit and vegetable merchant. He began working as a ski instructor at age 15 in the Victorian alps and went on to become director of the Thredbo Snow Sports School.
But it was several years earlier, while working as a ski instructor in the Austrian region of Kitzbühel, that Brad met his future wife, Monika.
Monika's grandfather, Stephen Hagleitner, had been distilling schnapps long before the couple were born.
Enchanted by this rich distilling heritage, Brad studied the traditional methods with a dream to one day introduce authentic schnapps to Australia's Snowy region.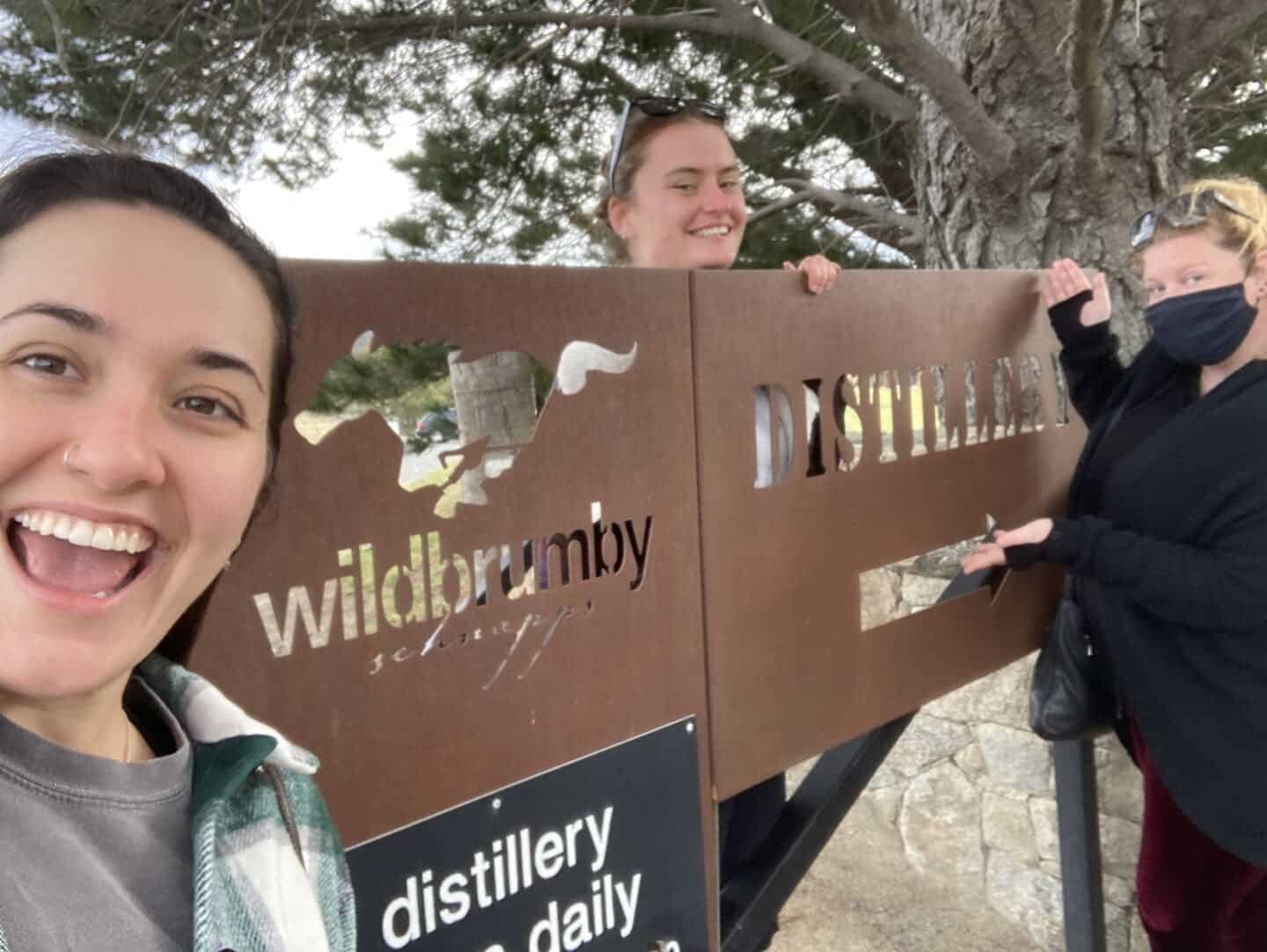 With its pure mountain water and rolling green hills, they judged the breath-taking Thredbo Valley the most fitting location to deliver home-grown schnapps to Australian alpine enthusiasts pining for a taste of European culture.
Brad and Monika now sell a wide range of award-winning liqueur schnapps, gin and vodka through the distillery door and their online shop.
As well as distilling world-class spirits, part of the Spaldings' mission was to create a haven in the Snowy Mountains for the arts to flourish, and a place for visitors to relax and be inspired.
The Wild Brumby is exactly that. This is often one of the most popular locations in Jindabyne. It's a place that often runs events and is always filled with good vibes and happy faces. You can shop for Schnapps, wander around the beautiful property, or you can dine on their delicious foods, having a schnapps tasting while doing so.
The butterscotch schnapps was a clear winner for me. Spiked hot chocolates became a regular nightly event in my household while living in Jindabyne.
I highly recommend checking this place out if you are ever passing through Jindabyne.
Parc Cafe
Parc is another little gem of a café that boasts excellent coffee and a great breakfast menu! The café is located inside the discovery/ information centre and has a cute outdoor balcony for sitting on warm, sunny days. I often loved picking up a coffee here and then taking it across the street to the lake and going for a walk.
That's the best thing about Jindabyne- it's so small you can walk to your nearest café, pick up a morning coffee, and continue walking along the lake- all within distance from home.
Taj Tandoori Indian Cuisine
If you're looking for a great dinner spot in Jindabyne, I highly recommend checking out Raj Tandoori Indian Cuisine. The food here is absolutely delicious. They do takeaway and in-person dining, but either way, you are going to get an excellent meal. I would often go here with friends and order the option where you can order multiple different meals (entrees, naan, main meals) and share them between a group of you. As with most Indian restaurants, this Taj Tandoori have some delicious vegan options!
Other honourable mentions
Birchwood Cafe– the most delicious juices and brunches
The Op Shop charity dinners– a weekly event with free/ gold coin donation dinners that are surprisingly good!
Enjoy the Sunrises and Sunsets
Sunrise and sunset in Jindabyne are an event in themselves. If you are planning on visiting Jindabyne in winter, viewing at least one sunrise and one sunset has to be something you add to your bucket list.
The combination of fresh air, beautifully crisp, clear skies on many mornings, and the elevation allow for some of the most spectacular sunrises and sunsets I have ever seen. I recommend watching a sunset over the lake on a clear day when the reflections are perfect. I also recommend driving out to Bullocks Flat or up into National Park to a spot where you can see open fields and mountains to watch the sunrise.
Just remember- if you are driving in low light, wild animals such as stag, deer, kangaroos, and wombats are susceptible to being out and about, so be careful.
Skiing and Snowboarding in Jindabyne in Winter
If you have been a reader of this blog for a while, you probably know I LOVE skiing. Check out my winter vacations archive if you're not sure what I mean.
Skiing is a huge part of my life, and this is partially why I chose to move to Jindabyne for the winter season. I worked at the Perisher Ski Resort for the 2021 winter season, and I absolutely loved it. The resort was fantastic, my job was so much fun and filled with an amazing bunch of people, and the skiing was phenomenal!
While I will always recommend Perisher Ski Resort, Jindabyne gives you access to a couple of other popular ski resorts too- and all of them are worth checking out on your winter vacation to Jindabyne.
Planning a ski trip? Check out my skiing for the first time packing guide. 
If you're not sure whether you want to hire or buy ski gear, check out this guide.
Perisher Ski Resort
It might be a little biased, but Perisher is by far my favourite ski resort. The reason for this is the large terrain park you have to play on. The resort is made up of four mountainous areas, Perisher Valley, Smiggin Holes, Blue Cow, and Guthega- and each one is so much fun to explore if you are experienced enough.
What makes the resort so fun is the ability to travel between these mountains. You can start your day at Perisher Valley, traversing across Mount P, Front Valley, and over to Guthega. After having a hot chocolate at Guthega's Burning Log Cafe, and enjoying some of the beautiful tree runs, you can head back over past Blue Cow, stopping in for lunch and sitting on the outside deck overlooking the mountains. Then, make your way back via a trip to Smiggin Holes, where you will often find fewer people than the other areas.
With over 47 lifts and a large variety of food and retail outlets, it's easy to fill up your days on the mountain. The resort also has a great variety of beginner, intermediate, and advanced terrain, so it is the perfect place to go for all levels of ability.
For food spots to enjoy, I recommend Mid Perisher Centre Restaurant, Bar & Cafe for a meal and a hot chocolate (be warned, it is pricey here), Brunelli's Cafe for a delicious coffee or chai latter, and for the experienced skiers who can get here, Alpine Eyre Cafe for a delicious burger and mulled wine (note: they only take cash).
Don't forget to download your ski trip packing checklist here!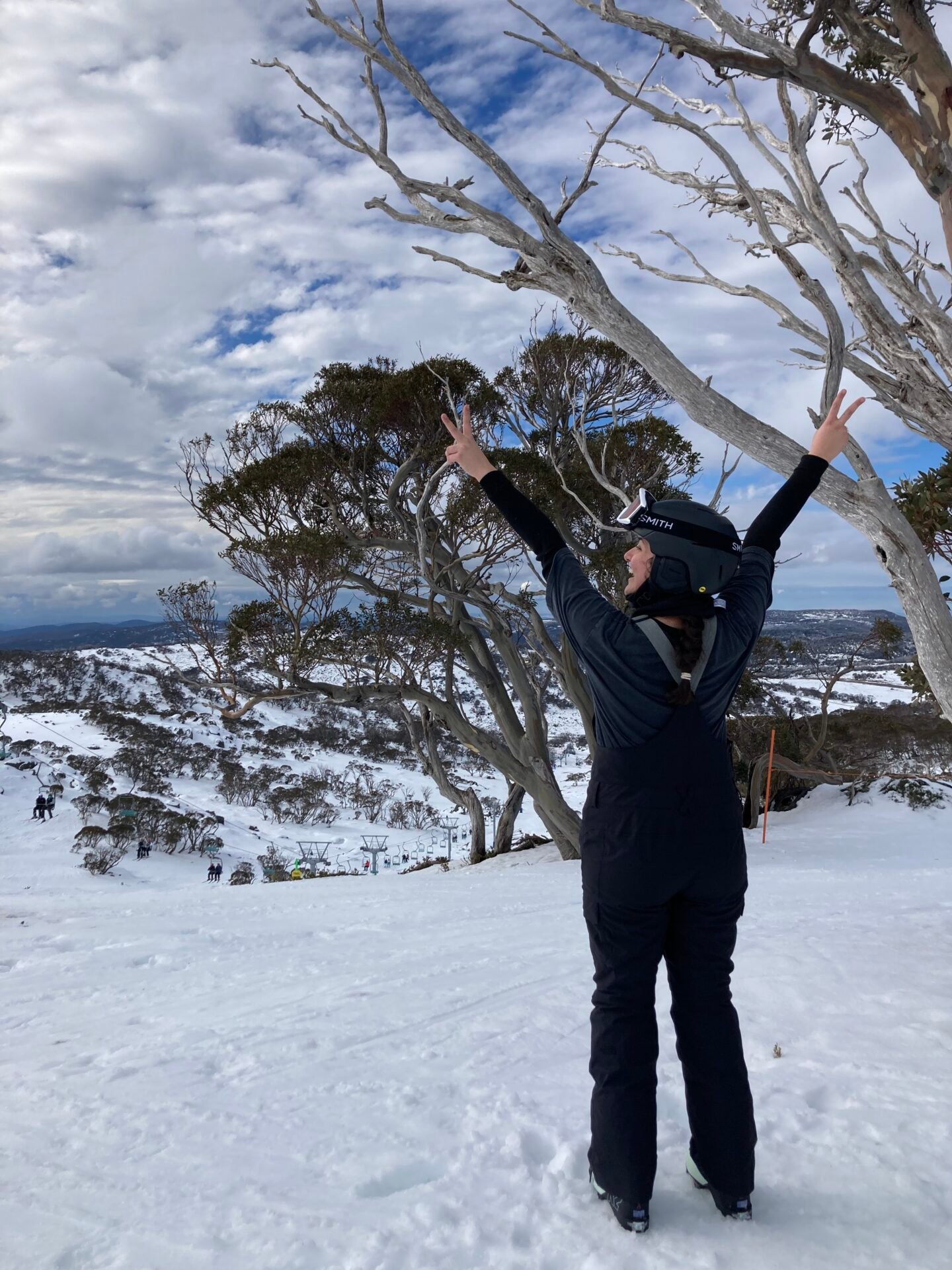 Night Skiing at Perisher Ski Resort
Another fun event you can participate in if you are visiting Jindabyne in Winter is Perisher's night skiing. The resort opens on Tuesday and Saturday nights from 6-9 pm for night skiing, and given the right conditions, a firework show.
Skiing at night is such a fun experience. The front valley run is always freshly groomed before reopening at 6 pm for skiing, and despite only having the front valley open, it is more of a social event than anything. You can have a beer and a warm meal before skiing, and then enjoy the unique fun after the sun goes down while waiting for the 7 pm firework show.
Charlotte's Pass
Charlotte Pass Snow Resort is Australia's Highest Resort and the only resort in Australia to be completely snowbound in winter. That means you cannot drive there- you have to take an over-snow vehicle to get there.
Because of this reason, the resort is a much more exclusive experience than exploring the other resorts in the Kosciuszko National Park. Unlike Perisher and Thredbo, you will find no cars, no crowds and no long lift queues during the winter months. Instead, there are large, open runs, unique chalets to stay in, and great food and drink options.
The resort is smaller than the others. There are only 9 lifts at Charlotte's Pass, with only 4 people for beginners.
Although I never skied at the resort, I drove past a few times when the roads opened up, and it looked like a very quaint resort that reminded me of ski-in-ski-out resorts overseas.
Thredbo Ski Resort
Thredbo Ski Resort was a really cool resort, that reminded me a lot of the resorts I visited in Canada. Although it is much smaller than those resorts, and smaller than Perisher, there is still a decent amount of terrain to play with in winter. Thredbo has Australia's longest run, and also gives youeasy access to Mount Kosciuszko if you plan to hike there and back.
Thredbo's terrain is perfect for all ages and abilities. Beginners will love the purpose-built area designed for skill progression in a safe environment. Intermediate skiers can enjoy Australia's longest runs and the wide variety of terrain. Advanced skiers and snowboarders will find endless on and off-piste challenges, powder bowls and natural features.
Thredbo Scenic Pass- a bucket list item
Although I did not get a chance to ski at Thredbo during the 2021 season due to COVID cutting my season short, I was lucky enough to head up on the scenic chairlift and gondola on the very last day of the 2021 season. The scenic chairlift and gondola is a great way to allow people to visit the snow, even if they are not planning on partaking in winter sports. It is a reasonably priced activity that takes you up the mountains and to the cafes and restaurants where you can get a coffee, a mulled wine, or a delicious meal. You can check out the activity here.
Yarrangobilly caves and thermal pool
One of the things you should absolutely add to your Jindabyne winter bucket list is a visit to the Yarrangobilly Caves and Thermal Pools. The caves are located approximately 2 hours from Jindabyne. To get here, depart Jindabyne as if heading towards Cooma, and then when you get to the turnoff to Mt. Selwyn Ski Resort just before reaching Cooma, you turn left towards the caves.
Here, you can take a walk into the past and discover stalagmites and stalactites in all their wondrous glory. There are six caves to explore that were created from a belt of limestone over 400 million years ago. You'll have the option to take a guided tour through some of the more unique caves, or you can visit the main one, South Glory, on your own. All tours and self-guided tours can be purchased through the Yarrangobilly Caves Visitor Centre.
A trip to the caves isn't complete without checking out the thermal pool. The pool stays at a constant 27 degrees Celsius and is absolutely magical in winter when the region is cold and icy. It is accessible via a signed path leading away from the caves.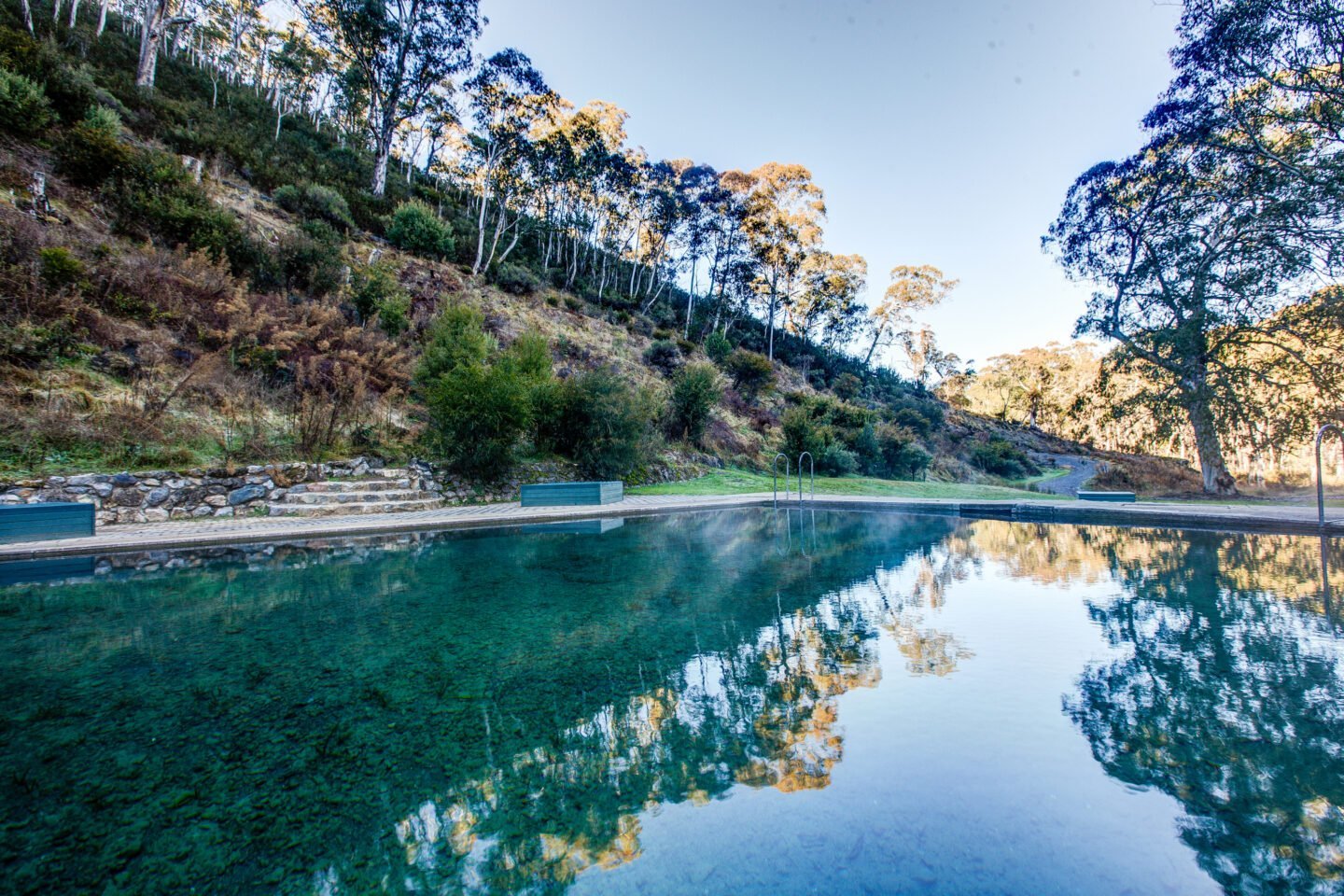 Flower dome session
If you are in Jindabyne and you are looking for a unique experience to keep you busy (and warm), I highly recommend checking out Thorn and Snow, a flower shop founded by Nicole Saunders and located in Berridale. Nicole's boho designs are incredible. She offers in-house workshops which enable you to create a piece of art to take home. The workshops are designed to be fun, relaxing, and a place to meet people or have fun gatherings with your friends and family.
Nicole runs many workshops, including a flower dome workshop, floral wreaths, botanical bouquet workshops, and pressed flower frames. Her designs are beautiful, and getting to be a part of creating your own whilst surrounded by friends, eating from her delicious grazing boxes, and drinking champagne is truly a wonderful experience.
Snowshoe in the Alps
If you're a winter sports lover and you don't mind a challenge, I highly recommend attempting to snowshoe. The alpine region is home to some of Australia's best walking and hiking trails, and many people love to do them in winter when the snow is covering the mountains and you can meander along the trails of white. This is definitely something you should add to your Jindabyne winter bucket list.
If you are a beginner, Perisher is a great place to start, with many small, marked trails leaving from the parking lot at the resort. Alternatively, if you consider yourself to be a bit more advanced, or you are wanting to challenge yourself, Main Range National Park and the trails to Mount Kosciuszko can also be done in winter, albeit with a little more difficulty.
You can hire snowshoes from Wilderness Sports– located in Nuggets Crossing or up at Perisher Ski Resort next to the National Park Building, and the staff would be more than willing to assist you with mapping out your trails, guiding you, or offering you advice on what would best suit your ability.
WANTING TO TAKE A WINTER VACATION? YOU MIGHT WANT TO CHECK OUT THESE POSTS! 
What it's like working a winter season in Lake Louise, Canada
To rent or to buy- money-saving tips for skiing and snowboarding
9 of the best winter activities to take in the Canadian Rockies
First-timers guide to visiting Queenstown in New Zealand
Skiing and boarding in New Zealand- your ultimate guide to the best slopes