Have you ever thought about visiting Townsville? Chances are, you probably haven't. It's a small town that doesn't always have the best reputation amongst travellers in Australia for being too hot all year round. Even those that live there often talk about how much they dislike it. But the truth is, there is an abundance of incredible things to do in Townsville, and if you go at the right time of year, you will have an incredible time.
From beautiful warm beaches to tropical coral reefs to dense rainforest to the outback; Townsville, located in North Queensland Australia has it all.
If you're passing through, planning an Australian road trip, or even a local trying to get out and find new things to do, this ultimate local's guide to the top things to do in Townsville will show you just how magical it can really be.
And trust me- I live here.
Road tripping the East Coast of Australia? Check out Part 1 of my vanlife road trip from Townsville to Yeppoon.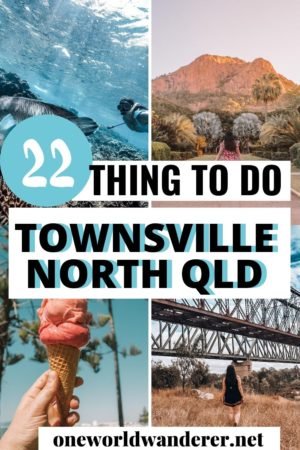 Where is Townsville Located?
Townsville is a small city-town located along the north-eastern coast of Queensland, Australia, and the place I have been lucky to call my home since birth. No matter where I travel in the world, I always find myself falling in love over and over again with this beautiful region because of its deep connection with nature. The town is unique for being one of the few locations in the world where thriving rainforests, the Great Barrier Reef, and the real Australian outback, are all accessible within under two hours.
That means you can literally travel in any direction and stumble upon one of these incredible places! 
Plus, what makes the location of Townsville even better, is that it is situated between the great tropical location of Cairns, and Airlie Beach, home to the Whitsunday Islands.
That makes it one of the best stops on a road trip around North Queensland! if you're planning an Australian road trip, here are my top 40+ things to pack to make sure you are prepared for everything (including the animals!).
When Is The Best Time To Visit Townsville?
Townsville is hot. There's no beating around that one. It's in the tropics, and for some reason, decides to be incredibly warm for 365 days of the year. That being said, temperatures ease in winter (between May and August) to be much cooler. It is at this time that venturing to the beach, rainforest, waterholes, and even the parks are beautiful.
Getting to Townsville?
A major downside to Townsville is it's lacking of an International Airport (although it means there aren't a lot of travellers which is nice). If you are looking to travel internationally, you'll want to fly into either Cairns or Brisbane (or Melbourne or Sydney if they are cheaper), and from there, you can catch a domestic flight. There are also trains and Greyhound buses that filter through the town and these offer a unique way of seeing more of Queensland. Plus, they will no doubt be cheaper, because flying in Australia can be really expensive!
If you are planning to travel around Australia on a budget, check out this guide!
Top Things To Do In Townsville North Queensland
This is my full, comprehensive list of the best things to do in Townsville and the places I regularly visit when looking to get out and about!
Castle Hill
Castle Hill is an odd sort of attraction, but one of the main icons of the town. It sits along the shoreline as a large granite monolith with a strange painting of an angel on it. The hill makes for an excellent hike to the top, or you can drive to get a beautiful birds-eye view of the ocean, from Cape Cleveland to Cape Pallerenda.
It's the perfect spot to watch the sunrise or sunset.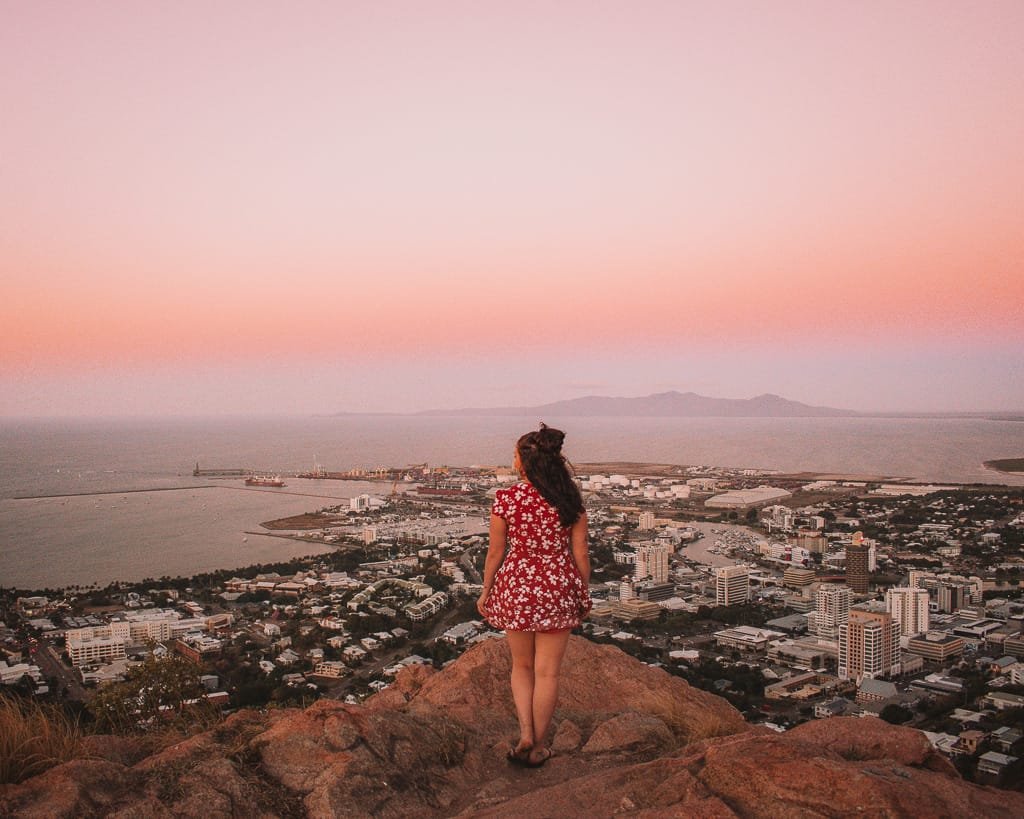 The Strand
The strand, aka the beach, is a beautifully designed esplanade that encompasses the bay that falls between Magnetic Island and Townsville. With palm trees, swimming areas, ice-creameries, and restaurants lining the edge of the water, it is one of the most popular attractions in Townsville for both locals and visitors. The walk along the strand esplanade is a little under 3km of flat cement, making it easily accessible to all and is without a doubt one of the best things to do when visiting.
Top tip: ensure to take note of Australia's 'stinger season' where very dangerous jellyfish fill the bay. The stinger seasons fall in summer, so if you plan on swimming throughout that time, make sure to swim in the designated stinger net areas!
Explore Magnetic Island
Among a list of the best things to do in Townsville, Magnetic Island sits at the top. This tropical island paradise is only 25 minutes away via the regularly running Sealink Queensland ferry and offers an abundance of things to do. From hiking in the forest to seeing wild koalas to snorkelling to sunset sails and more- the list is endless! You can book your return ferry tickets to Magnetic Island here!
Walk Jezzine Barracks
Bridging the gap between the Cape Pallerenda stretch of beach and the strand is an intriguing coastal boardwalk that offers stunning views of the ocean. With tranquil parklands and art installations along the walk, the Jezzine Barracks walk gives insight into the war history of Townsville and is one of the things not to be missed when visiting!
Museum of Underwater Art
New to Townsville in 2020 is the one and only Museum of Underwater Art, the only one in all of Australia! The stunning location was built as a way to preserve the Indigenous stories of the past, as well as add some unique insight to ecotourism and environmental issues. Although you need to take a diving or snorkelling tour to see the installation (unless you have your own boat, of course) it is well worth the day trip to view! You can book your visit to the Museum of Underwater Art here!
A walk along the strange near the central pier reveals the first of the installation- the Ocean Siren, which is a large statue sitting in the water modelled off the Wulgurukaba Traditional Owner, Takoda Johnson. The Ocean Siren changes colour with the temperatures of the water, reminding everyone who sees her to stay conscious of their impact on the environment.
Riverway Lagoon
Riverway Lagoon, located across town from the strand and along the Ross River, is a series of pools that are perfect for cooling off year-round.
If swimming is your thing, the upper pool is Olympic sized, meaning you are able to swim laps to your heart's content, while the lower one is surrounded by timber decks and trees, making it a more relaxing option.
Be sure to check out the Pinnacles Gallery and stroll around the Ross River on the popular Riverway Walking Circuit if you're visiting!
The Lagoon is free to use for all visitors and is watched by lifeguards in the day time.
Indulge In An Ice Cream At Frosty Mango
Whether you're already passing by on your way to Cairns, or you're looking for a fun adventure on a hot day, Frosty Mango is one of the top things to do in Townsville.
The popular ice cream joint is located 70km north of Townsville, near Jourama Falls and Crystal Creek, and is hard to miss! Out front, there is a giant mango man ready for you to snap photos of, while inside, you'll find ice-cream and sorbet flavours made from fresh seasonal fruit. Naturally, mango is the best flavour to try, but I hear the others are delicious as well.
Jourama Falls + Crystal Creek
Enjoy rainforest walks, a large array of flora and fauna, freshwater streams, and waterfalls at the two most popular waterfall attractions in North Queensland- Jourama Falls and Crystal Creek. Both spots offer visitors (and a large number of locals too) the perfect place for a rainforest picnic, a swim in a stunning freshwater stream, and sightseeing along the way! While Jourama Falls is a stunning, open location with a giant waterfall, Crystal Creek is actually made up of two different sections called Little Crystal and Big Crystal Creek that are easily accessible off the Bruce Highway and have camping spots as well.
Road tripping the East Coast of Australia? Check out Part 1 of my vanlife road trip from Townsville to Yeppoon.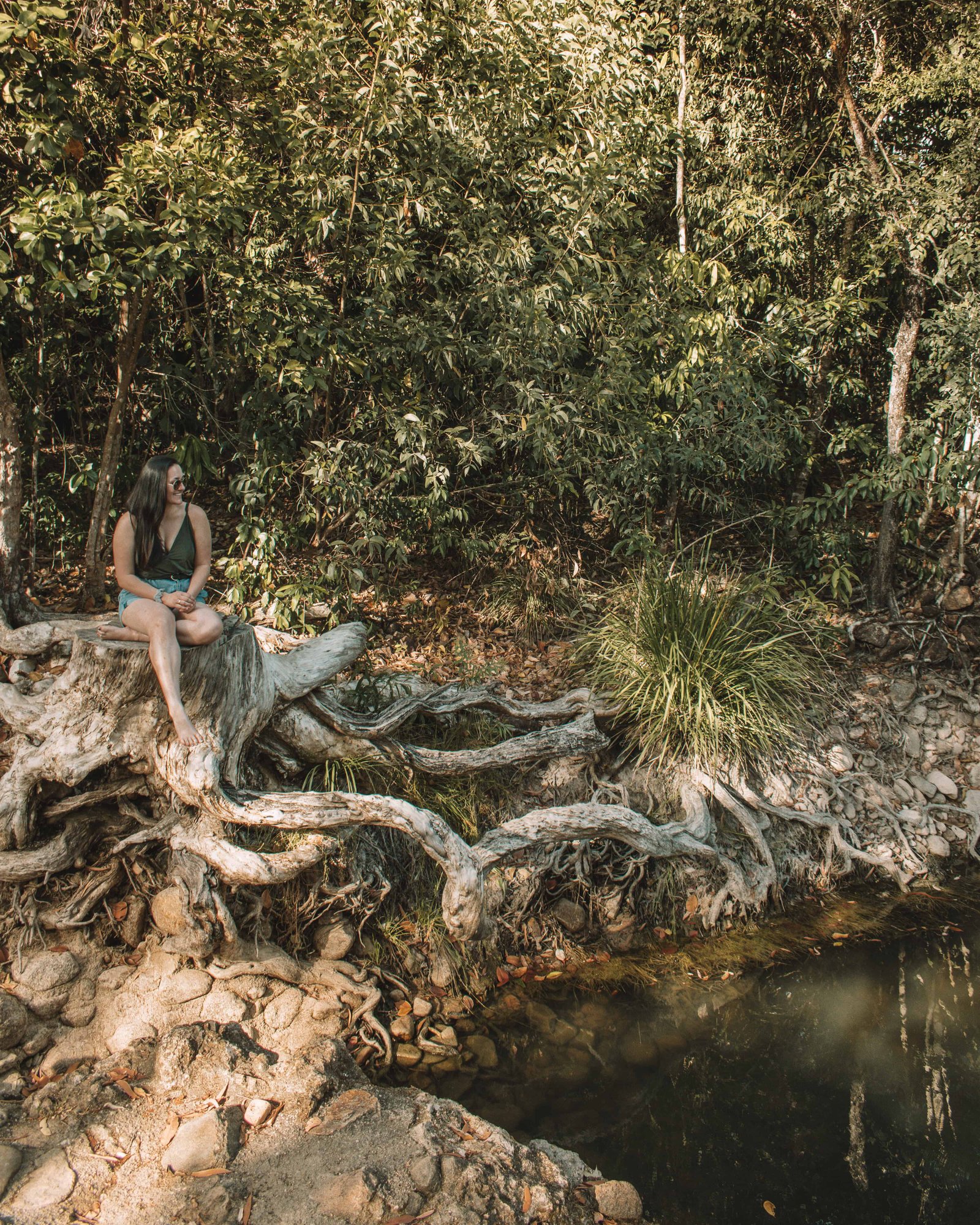 Visit the Museum of Tropical North Queensland
If you're a museum lover like myself, a visit to the Museum of Tropical Queensland shouldn't be missed when travelling around Townsville.
The star attraction of the museum is the HMS Pandora ship, which sunk off the coast of Cape York and into the Great Barrier Reef in 1791. However, if ships aren't your thing, there are still plenty of other exhibitions around the museum that touch on the reef, rainforest, and my favourite- dinosaurs!
Herveys Range Heritage Tea Rooms
If you're a tea, scone, and coffee lover, then taking a trip to the Herveys Range Heritage Tea Rooms is something you should definitely add to your weekend travel agenda when in Townsville.
The tea rooms are a popular Townsville attraction for the elegant hardwood heritage-listed building which was built in the 1800s, as well as the beautiful fairy garden that awaits you upon arrival. The cafe is surrounded by an array of trees, gardens, wishing wells, and a walking trail, but the real beauty is the drive up. 40-minutes of winding range, with lookout options and waterfalls off the side of the road- it truly is worth a day trip!
Oh, and did I mention the scones? Without the shadow of a doubt, the tea rooms have the best scones in Townsville. I challenge you to prove me wrong! 😉
Explore the Great Barrier Reef
If you would rather see the Great Barrier Reef in person, rather than on pictures, you can book your trip to the Great Barrier Reef here that departs Townsville! Scuba Dive or Snorkel among some of the healthiest and most active coral and sea life while visiting two world-heritage protected sites!
On this tour, you'll learn all about the reef while also being treated to morning tea, lunch, and afternoon tea with the best view in all of Australia- the Great Barrier Reef! I highly recommend it!
Play With Animals Billabong Sanctuary
Kangaroos, echidnas, wombats, cassowaries, koalas, and a whole range of creepy crawlies and snakes- Australia truly is home to some of the most intriguing and dangerous animals in the world! At Billabong Sanctuary you are able to get up close to all of these animals and more. Cuddle a Koala, feed the animals, and have an incredible day enjoying the very best of Australia's wildlife.
You can learn more about Australia in my post here!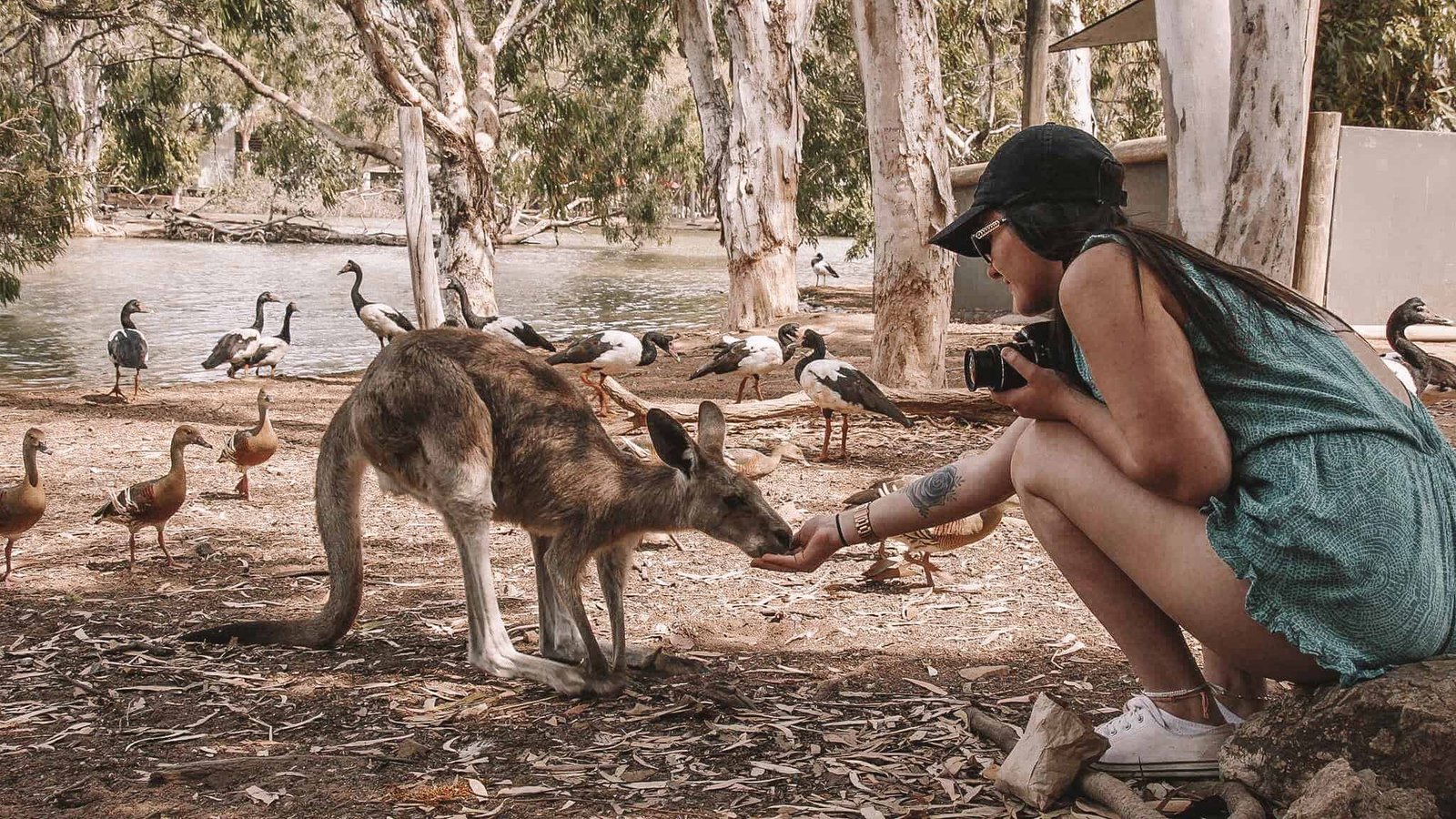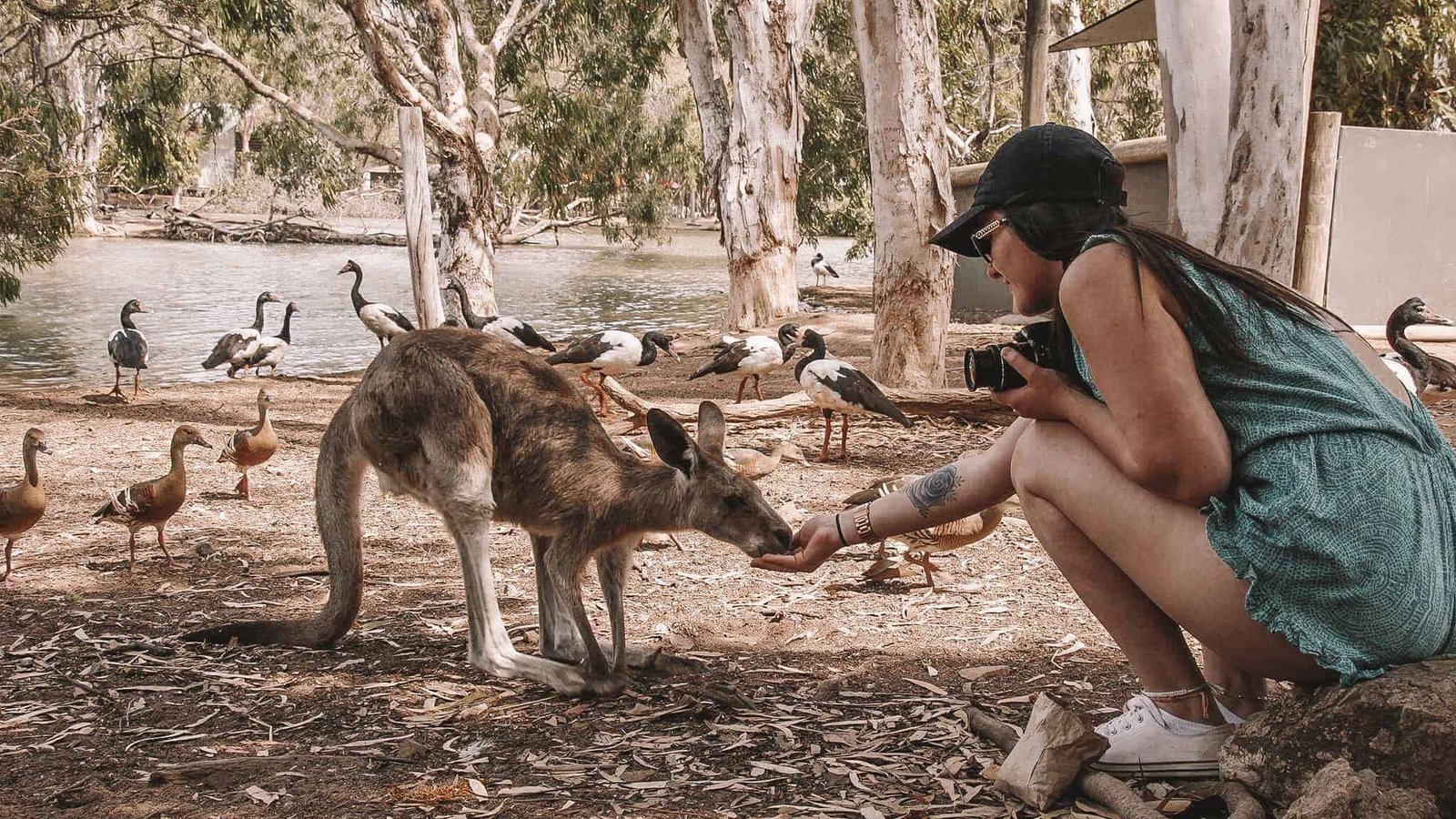 Take a Day Trip to Orpheus Island
Located just 80km north of Townsville amidst the magical waters of the Great Barrier Reef lies Orpheus Island, a small island that stretches across the immaculate turquoise coastline. Comprised of National Parks and World Heritage-listed Marine Parks Orpheus Island is the perfect spot for all your ocean adventures!
SeaLink makes getting to Orpheus easy by having snorkelling, swimming, and lunch trips a year. These trips allow you several hours on the island to soak up the island life. From bushwalks to palm tree frolicking to snorkelling the Great Barrier Reef- Orpheus really has it all!
Alternatively, Orpheus Island provides the perfect backdrop for a more private interlude, with a 5- star resort that can only be accessed via helicopter.
Hike Wallaman Falls
Wallaman Falls, Australia's largest single drop waterfall is a two-hour drive north of Townsville and set high in the mountains of the UNESCO World Heritage Wet Tropics. Although the drive may seem long, it is well worth it.
Hidden in the Girringin National Park, Wallaman Falls is a sight you don't want to miss when travelling around Townsville. From the lookout at the top, a plunge of 268 metres in a clear single-drop greets you. From here, you are able to continue admiring the view with a delicious picnic lunch, or the 3.2km trail right down to the base of the falls. 
It is recommended that the track is for intermediate hikers, but beginners are welcome to do it with caution and a little bit of fitness (and water!). While the hike down to the base of the falls is relatively straight forward, pace yourself on the return trip. It is not easy!
Visit Charters Towers
Charters Towers is a small country town located about an hour outside of Townsville in the outback of Queensland. Much like Ravenswood, the town has a rich gold rush history and a tonne of things to do.
Charters Towers is a town unique with heritage buildings and an abundance of things to do. It's a great spot for a day trip out of Townsville or an evening under the stars at the drive-in!
You can read my guide for the top things to do in Charters Towers here!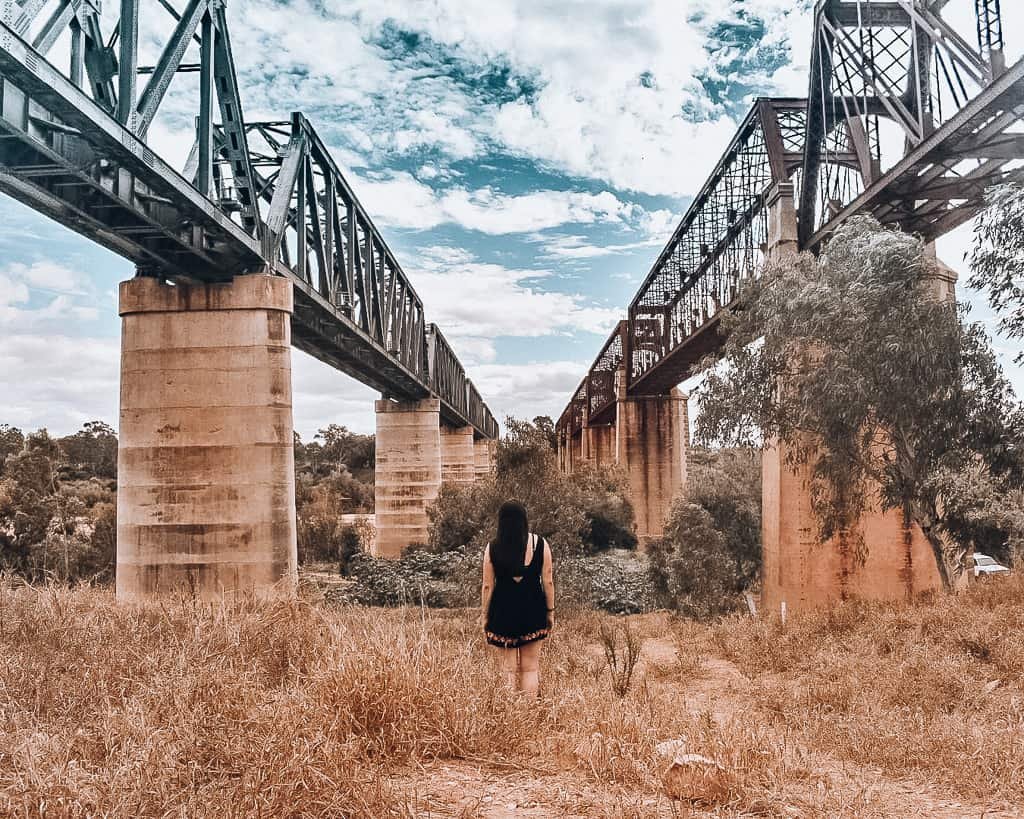 Watch a Movie at the Drive-In Theatre
The famous Tors drive-in is one of the oldest drive-in theatres in Australia. Open continuously since 1966, the retro cinema is run by a local family with the aim to recapture some of the nostalgia of the drive-in era.
The theatre plays popular blockbusters for less than the price of a single movie at other cinemas. Entry for a student is $6 and entry for an adult is $8. For that price, you get to watch two popular movies in your own little parking nook, with surround sound. They even have a snack bar with hot food, candy, and locally made soft drink brewed right in the heart of Charters Towers.
If you're heading to Charters Towers or spending some time in Townsville, going to one of the remaining drive-in theatres is an absolute must!
Check Out Some Texas Longhorns
Texas Longhorns in Outback Queensland? Yep, that's right, you can find real, living and breathing Texas Longhorns in North Queensland! Situated just 10km from the famous city of Charters Towers, or 140km south-west of Townsville North Queensland is Leahton Park which is home to Australia's largest herd of purebred Texas Longhorns.
Take a horse-drawn wagon ride back in time to the old west, in the era of the Texas Longhorns, or enjoy oven cooked damper and billy tea served from the cowboy wagon. If you're lucky, you might even spot Water Buffalo, Bison, or Scottish Highland Cattle.
This is a unique and memorable experience you will never forget!
Admire The Views At Queens Gardens
Situated in the heart of the Townsville city is a nature lovers playground. Although often used as the entry point to Castle Hill or the Strand, Queens Gardens is also the perfect location for a picnic, an evening stroll, or to watch the sunset over Castle Hill.
Watch A Sunset At Lucinda
There's no denying that palm trees are everywhere in North Queensland, but one of the most incredible places nearby to Townsville is the small coastal town of Lucinda!
Kissing the shoreline for kilometres on end are the most picturesque Palms in all of Queensland- and it's only an hour and a half's drive away.
Oh and keep an eye out for the Lucinda jetty- it is the longest service jetty in the Southern Hemisphere- 5.76 kilometres long!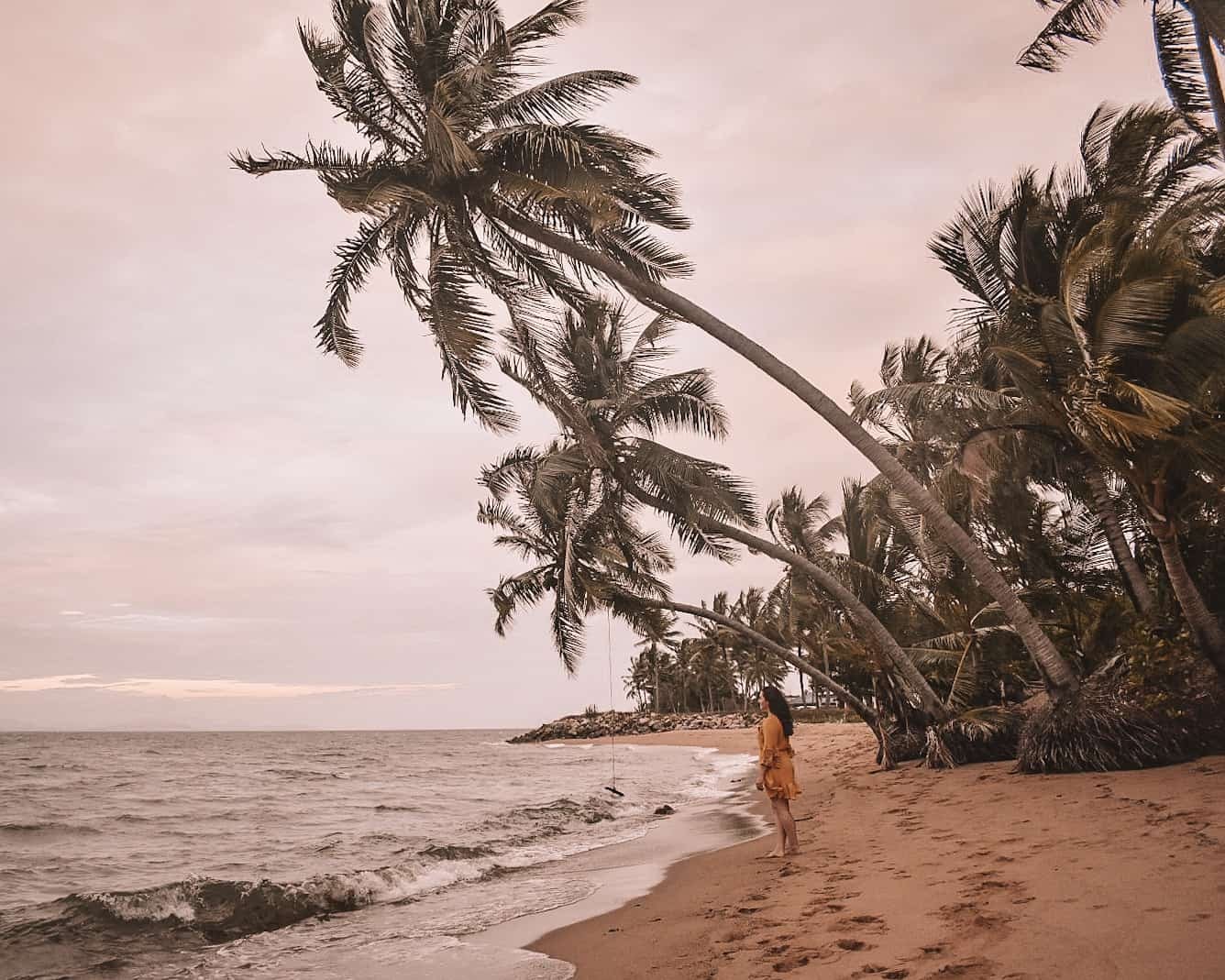 Day Trip to Broadwater, Abergowrie State Park
There are a tonne of beautiful waterfalls and swimming holes in North Queensland, but one of the less popular ones is the Broadwater, Abergowrie State Park. Deep in the heart of the Abergowrie State Park, you can meander along the rainforest walk to see the magnificent white fig, explore the bank of the Broadwater Creek, and visit the start of the long Dalrymple track.
It's a great spot nearby to Wallaman Falls, and a lovely spot for a swim, a picnic, and a peaceful day spent within nature.
Book Your Trip To Townsville
Book Cheap Flights
Still in the planning stage of your trip? Currently, the best and easiest way to find cheap flights is to use eDreams, Bravofly and Skyscanner. Between them all, you'll be guaranteed to always find the cheapest flight, anywhere in the world.
Book Your Accommodation
Whether you're looking for hostels, hotels, guest houses, or resorts Booking.com will always give you the best deals. Sometimes, if I want to stay in a place a little longer, I'll use Airbnb. You can sign up with Airbnb and get $51 AUD off your first trip!
For a full list of places to stay in Townsville, check out this list!
TIP: For the best hostels, I usually compare reviews on Hostelworld and YHA (when in Australia) then check other booking sites to compare prices and deals. Not sure on hostels? Read this post to find out everything you need to know about them!
Book Tours and Transport
Although a combination of independent travel and touring is my ideal form of travel, if the best, cheapest, and safest way to explore is to book a tour or package, I'll do it! For this, I always use Viator and Get Your Guide.
Finding a Car
Having a car or camper is an awesome way to travel. You can compare rental car deals on EuropCar.
Don't Forget Adventure Travel Insurance
If you're reading this blog then you're more likely to be seeking epic adventures for an affordable price over relaxing and luxurious vacations. By far, my favourite, most comprehensive adventure travel insurance is World Nomads.
Disclosure: This blog post contains affiliate links, which if you click, adds absolutely no extra cost to you. These links allow One World Wanderer to continue providing you with free guides and travel content.
Planning a holiday to North Queensland? Check out these posts!
12 Places you need to visit on the Atherton Tablelands
Vanlife Road Tripping as a Solo Female Traveller from Townsville to Yeppoon.
Visiting Tchupala and Wallicher Falls
Exploring the Millaa Millaa Waterfall Circuit in North Queensland
Ultimate Guide to Hiking Nandroya Falls
An incredible day trip to the Great Barrier Reef with Reef Magic Cruises
10 Reasons You Should Travel Australia With Greyhound
What do you think? Is there anything you believe should be added to the list?
Keep Wandering,
Abbie xoxo