Have you ever dreamt of watching the sunrise over the famed Angkor Wat Temple? Or learning the history of the Angkor Wat Complex first hand?
If you say yes- this post is for you!
I had dreamt just that, and believe me when I say that when dreams like this come true, it's one of the most phenomenal and overwhelming things that can happen.
Angkor Wat. Home to one of the most ancient civilisations in the world, some of the greatest history of both modern and ancient times, and one of the most beautiful tourist attractions of the 21st century.
If you haven't been yet, you absolutely have to add it to your list. This Angkor Wat Temple Travel Guide details the three main temples you can visit and everything you need to know about visiting them!
Disclosure: This blog post contains affiliate links, which if you click, adds absolutely no extra cost to you. These links allow One World Wanderer to continue providing you with free guides and travel content.
A Little History of Angkor Wat
You may have heard of Angkor Wat, but even if you haven't, it's a place well worth learning about!
The temple is an enormous Buddhist temple constructed in the 12th century. Originally, it was built to serve as a Hindu temple but converted into a Buddhist temple in the latter half of the century.
Standing at over 400 acres, the Angkor Wat Complex is the largest religious monument in the world! So big, in fact, it's viewable from space!
The temple used to be the centre of the Khmer Empire (or Angkor Empire) which ruled most of Southeast Asia from the 9th century to the 15th century.
This civilisation went extinct, but not before building amazing temples and buildings that were reclaimed by the jungle for hundreds of years. it was rediscovered in the 1840s by the French explorer Henri Mouhot, who wrote that the site was "grander than anything left to us by Greece or Rome-" a pretty big claim!
Read a full scope of the history here, or better yet, visit the temple complex yourself!
The most popular temples are Angkor Wat, Bayon and Ta Phrom. Although I only did a one day pass to these three temples, I would recommend getting a multi-day pass so you can visit some of the outer temples where there are fewer visitors.
Where is Angkor Wat Located?
Angkor Wat is one of the world's most popular travel destinations, located just outside Siem Reap in Cambodia. You can get to Angkor Wat by hiring a Tuk-Tuk from the main City of Siem Reap around 15-20 minutes away. Many Tuk-Tuk drivers offer tours of the area and can stick around for the day, however just be wary they aren't scamming you or overcharging!
Alternatively, book a tour to Angkor Wat. That way transport is already sorted, and you have a guide that's able to walk you through the complex and teach you the important history of the place! I recommend this sunrise Angkor Wat tour or one of these small group tours throughout the complex!
When is the best time of year to visit the Angkor Wat Complex?
I visited Angkor Wat when it was hot (November), and very rainy. I wouldn't recommend it unless you LOVE sweating in the muggy and humid heat and being covered in flies.
According to what I heard, the best time to visit is the dry season, which falls between December and March as the temperature is mild and there isn't a lot of rain. However, keep in mind that this is when it is busiest so tourists will be swarming and hotel prices may be up!
Is Angkor Wat Suitable for Solo Travellers?
Absolutely! South East Asia is very well suited for solo travellers, ( it is also very affordable if you happen to also be a budget traveller too).
There were many people travelling solo throughout my time in Cambodia, however, like anywhere you travel, I would definitely recommend practising caution (especially as a solo female)! There were some times when I felt a little uncomfortable by the stares or in rural areas very far away from western medicine and safety (even though I was travelling in a group).
Of course, this happens anywhere in the world, but being a different culture and being entirely different from the Westernised we're used to, I definitely recommend doing your research and practising safety and caution as much as possible!
You can read all my solo travel tips here!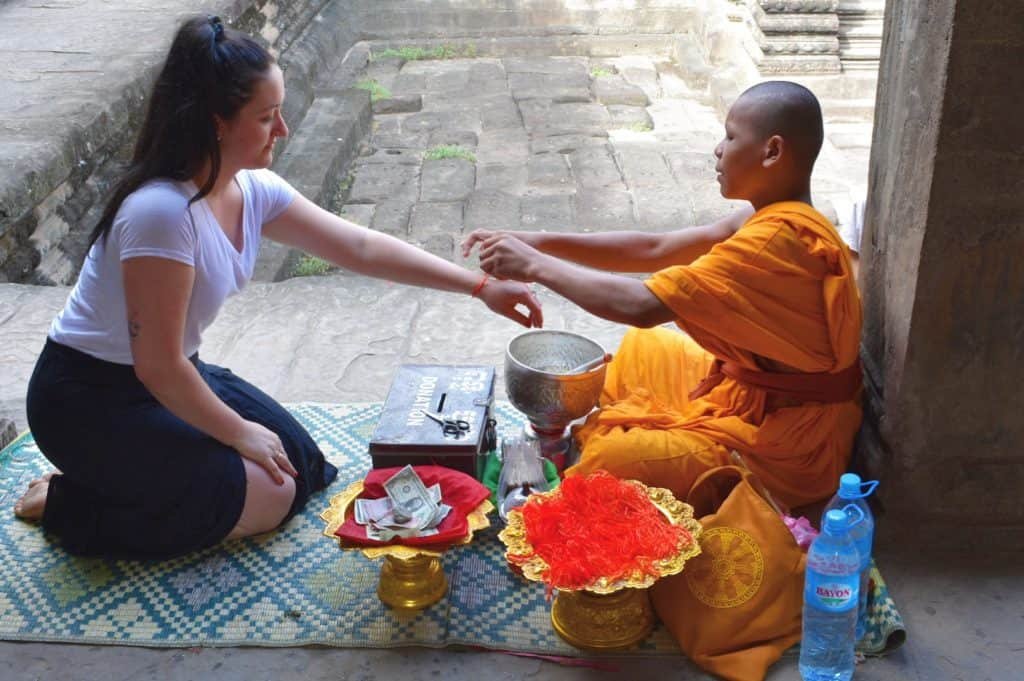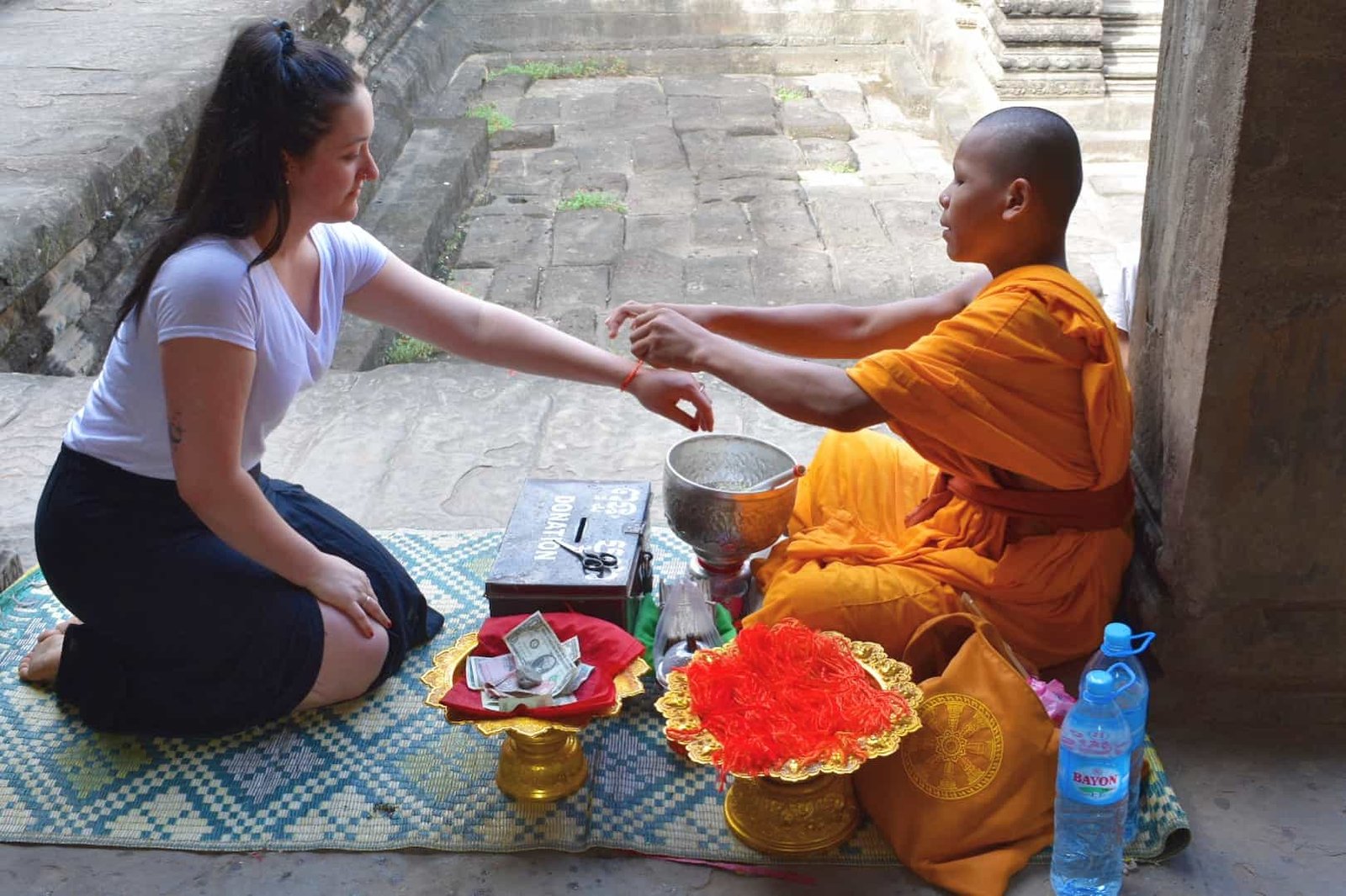 Opening Times for Angkor Wat
Angkor wat opens its gates for sunrise every day at 5 am and closes at dusk- 6 pm. I highly recommend getting to Angkor Wat to watch the sunrise, as this is the best and most stunning thing to do there! You also beat a lot of the day visitors, so it can be nice to wander the temples for a little while before it gets really really busy (it will still be super busy though).
As there is so much to see, you will need most of the day to explore, so be prepared for a long day of adventure if you do so!
How Much Does It Cost To See The Temples at Angkor Wat?
Firstly, it is important that you have a ticket pass BEFORE you get to the gates. There is only one place to buy the pass, and it has to be done in person. This is done at the Angkor Ticket Centre (The Angkor Enterprise), located on the corner of Road 60 and the Apsara Road (near the complex).
When you book a tour, most of the time you will stop in here on the way to the park in the morning as it is a quick and easy stop.
There are three types of passes you can buy.
3-Day Pass
$62 which is v
alid for any three days during a 10-day period. The 10-day period starts on the date of your first visit.
7-Day Pass
$72 which is v
alid for any seven days during a one-month period. The month starts on the date of your first visit.
When you purchase a ticket, they print you out a pass with your photo on it and you absolutely must have this on you at all time in the park or else you will get a lofty fine if found (they do check!).
When purchasing the ticket, the booths accept Khmer Riel, US Dollars, Euros and Thai Baht, but as with most places in Cambodia, change is only given back in Khmer Riel or US Dollars.

Angkor Wat Temple Travel Guide- The Temples
Angkor Wat Temple
The Angkor Wat Temple is the most popular and widely known temple in the complex. Partially, because it's the spot that everyone flocks to for sunrise (totally worth it), but also because it's also considered the biggest Asian pyramid.
The temple is over 200 feet high and has several layers to it. The central part has four towers in the shape of a lotus flower. This temple is the largest in the whole complex and is where the historic site gets its name. The central temple complex has 2,600 feet of bas-reliefs, including famous battles and Buddhist scenes like the Battle of Kurukshetra, the Army of Suryavarman II, Heaven and Hell, Churning of the Ocean of Milk, Elephant Gate, Vishnu Conquers the Demons, Khrisna and the demon King, Battle of the Gods and the Demons, and the Battle of Lanka.
Ta Prohm Temple in the Angkor Wat Complex
Ta Prohm, also known as the popular Tomb Raider Temple, is another one of the top picks for temples in the Angkor Wat Complex.
Still covered by the jungle, the temple is almost entirely in ruins. According to my guide, it hasn't been touched much since it was originally found in the 19th century, and so it stands as a representation of what it originally looked like- untouched, overgrown, and completely magical. You really feel this when wandering through, with all the vines wrapping around the buildings and the walkways being obstructed by trees.
Ta Prohm makes it easy to imagine how the whole complex looked when it was re-discovered in the 19th-century.
I definitely recommend watching Tomb Raider prior to coming. It's kind of cool wandering around trying to pick the places that the film was shot, and knowing that such a magical place was chosen for such a great movie!
The Bayon Temple in the Angkor Wat Complex
The Bayon Temple is one of the three most popular temples in the Angkor Wat Complex, and when I visited, it was one of my favourites!
The temple has 54 towers and has a total of 216 faces of Avalokiteshvara. I loved it. Every angle you looked there were faces of the god looking back at you. So much so, it's often referred to as the temple of faces.
The Bayon Temple stands in Angkor Thom and just feels happy. You're walking through, hot and exhausted after a thrilling day of adventure through the complex, and your spirits are renewed by the smiling faces staring back at you.
There are also ample photography opportunities here too, with so many halls, rooms, angles, and of course- faces!
Book Your Trip to Siem Reap (Angkor Wat)
Book Cheap Flights
Still in the planning stage of your trip? Currently, the best and easiest way to find cheap flights is to use eDreams, Bravofly and Skyscanner. Between them all, you'll be guaranteed to always find the cheapest flight, anywhere in the world.
Book Your Accommodation
Whether you're looking for hostels, hotels, guest houses, or resorts Booking.comwill always give you the best deals. Sometimes, if I want to stay in a place a little longer, I'll use Airbnb. You can sign up with Airbnb and get $51 AUD off your first trip!
Book Tours and Transport
Although a combination of independent travel and touring is my ideal form of travel, if the best, cheapest, and safest way to explore is to book a tour or package, I'll do it! For this, I always use Viator andGet Your Guide.
Finding a Car
Having a car or camper is an awesome way to travel. You can compare rental car deals on EuropCar.
Don't Forget Adventure Travel Insurance
If you're reading this blog then you're more likely to be seeking epic adventures for an affordable price over relaxing and luxurious vacations. By far, my favourite, most comprehensive adventure travel insurance is World Nomads.
Related Posts To Angkor Wat Temple
Being Blessed By A Buddhist Monk in Cambodia
Surprising Facts I Bet You Didn't Know About The Angkor Wat Complex
An Angkor Wat Sunrise: My Experience
The Killing Fields and S21 Cambodia