Have you ever considered a trip to New Zealand? Or what Skiing and Snowboarding In New Zealand are like?
When it comes to places of natural beauty, few destinations compare to that of New Zealand. The views are spectacular. In all my years of travelling the world, I still believe New Zealand is the most stunning country I have ever laid eyes on. And I've been to Norway AND Canada in winter, y'all!
New Zealand just has something special about it. And when winter hits, coating the mountains in a dusting of white, it just falls short of producing a tear in awe of everything. 
I went to New Zealand in for the second time in 2017 on a work 'famil' (a trip where, as travel agents, we were familiarizing ourselves with the destination in the hopes of selling more to clients), and had an absolute blast! It was the second week of the ski season and my first time hitting the slopes since I was nine years old. 
Whether you are Skiing and Snowboarding in New Zealand, just planning on taking a winter vacation, or looking for inspiration, this is the guide for you! Read on to learn all about skiing and snowboarding, packing tips, the best slopes to hit in New Zealand, and much more! 
First time on a ski holiday? Read this post for all the best skiing tips, tricks, and packing guides!
Disclosure: This blog post contains affiliate links, which if you click, adds absolutely no extra cost to you. These links allow One World Wanderer to continue providing you with free guides and travel content.
Why should you go skiing and boarding in New Zealand?
New Zealand is home to some of the world's best ski terrain. Because of the mountainous regions and the cold weather, the ski season often tends to be really long, and filled with incredible amounts of snow- without it being too icy! Not only this, but there is a tonne of incredible ski hills scattered around the South Island which are perfect for travellers, locals, and anyone looking to venture around a little.
If hitting the slopes isn't your number one priority when heading on a winter vacation, New Zealand also offers stunning scenery that is unique and unlike anywhere else in the world. The people are friendly, the adventure activities go far beyond skiing and boarding, the food is amazing, and there is just SO much to do that your vacation will be a lot more than skiing/boarding!
When is the best time to go Skiing and Snowboarding in New Zealand?
The general rule for catching the best snow is to visit New Zealand between July to September. That being said, there are occasionally some huge June months where the powder is incredible. If you're looking to beat the crowds you may want to look at visiting around mid- June to early July, however, keep in mind this is the holiday season for Australian and New Zealand kids which means it can still be rather busy in other parts. 
If you're after the full winter experience, August is the best time to visit. This is the heart of winter when things are freezing- but often means you'll have the best snow and regular dumping (for anyone new to the ski world- this means it's perfect conditions for hitting the slopes). Just keep in mind that this is peak skiing season which makes it super busy, so expect lots of visitors and increased prices!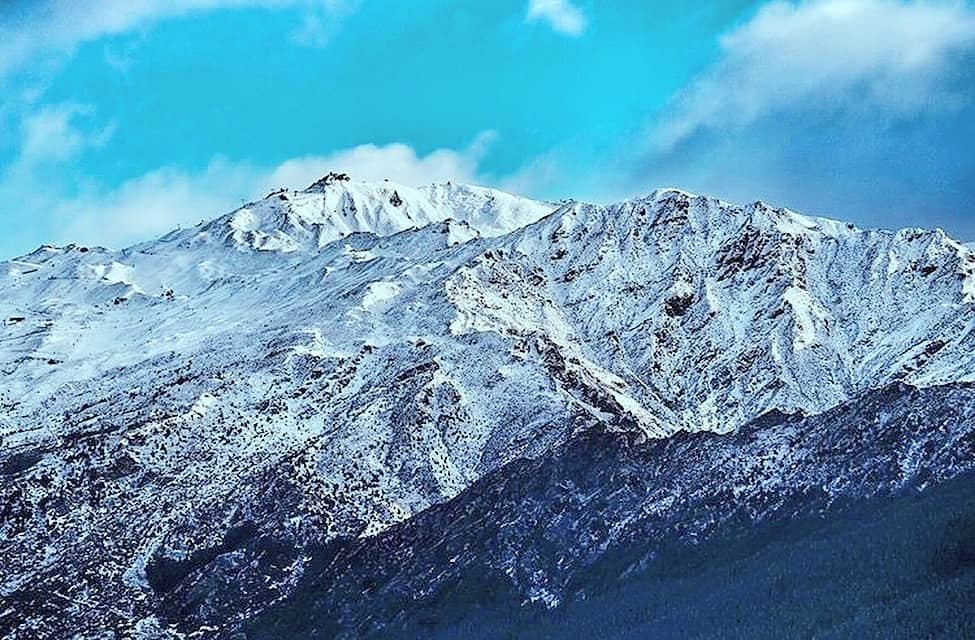 Winter in New Zealand- The Temperatures
Like most locations around the world, winter in New Zealand varies a lot. It regularly sits between -6 degrees celsius and 20 degrees celsius, with the occasional cold snap of -10 degrees celsius. To someone like me who absolutely LOVES cold weather and thinks -10 is amazing, this means I wouldn't pack a whole lot of clothes to wear skiing. Depending on your tolerance for cold weather depends on what you wear and how you handle the cold when visiting New Zealand. I do, however, recommend to always be prepared for the worst. There is nothing more unenjoyable than being cold when skiing and snowboarding.
If you're not sure whether to rent or buy your gear, check out my money-saving tips for getting into skiing.
What to wear Skiing and Snowboarding in New Zealand
Don't forget to download your ski holiday packing checklist here!
Ski's, Poles, Snowboard, Bindings – If you have the gear and are travelling to ski or board, then you are definitely way better off taking it with you, rather than hiring when you arrive. But don't worry, if you are a beginner, you don't have to bring your own gear, hiring is fine too.
Boots – I will always suggest bringing your own boots if you have them. Rental boots can be excruciatingly painful to start with because they haven't molded with your foot. If you do need to rent boots, don't let the rental assistant convince you to just take the boots they've put you in, if they're not comfortable. You will have a horrible time if your feet are sore.
Helmet – It is super important to protect your noggin. Even if you are going at a snail's pace, you don't know what the other riders around you are doing, and unfortunately, some people are irresponsible in their riding. You don't want a head injury so make sure you wear a helmet.
Ski Goggles – You will need ski goggles to protect your eyes from the glare, flying snow and wind! They don't need to be amazing or expensive. Just try to remember not to touch the insides. Otherwise, you'll have a nightmare de-fogging them. Trust me!
Gloves – or mittens are another essential item for your ski trip. Make sure they are waterproof, warm snow gloves, as you will regularly be falling if you're a first-time skier or boarder. You can also buy thermal or thin 'inners' to wear as well as the waterproof glove for extra warmth.
Ski Jacket & Pants – Make sure these items are warm and waterproof! I have a Bib similar to this, a pair of ski pants, as well as a jacket similar to this one, and both keep me warm, cozy, and comfortable throughout my days of skiing. If you plan on skiing again, these might be a good thing to invest in, regardless if it is your first time.
Thermals – Perfect for wearing underneath your snow gear to help keep you warm! Thermals are perfect for wearing underneath your snow gear and on your days off to help keep you warm! I practically lived in my thermals when I lived in Canada.  You can get some amazing thermals for a small price from AMAZON- like these ones!
Ski Socks –For skiing, the thinner the better. It's all about the materials sweat-wicking ability, and how comfortable the sock sits in your boot. I found that with good boots, I could usually get away with one good pair of winter socks, even on -30celcius days! For skiing, generally, you should only wear one layer, so you won't really need a whole lot when you pack.In saying this, I know some people that would wear two, three, or even four layers to keep their feet warm throughout their days. I would occasionally wear two, but it depends on the quality I guess. I had a pack of these socks off AMAZON which were nice and snug! I also had several of these thermal socks, also off AMAZON. These were my most worn socks while living in Canada!
For your Ski Jacket
Lip Balm with SPF – the wind, sun, and snow will all absolutely destroy your lips. I always carry this in my pocket! Seriously, you won't want to go skiing without it.
Headphones– I only recommend this if you are NOT a beginner. Headphones are a lovely way to relax and enjoy the ride when going down the mountain. I always keep the volume down low so I can hear my surroundings, but it really pumps you up! These are the wireless headphones I use!
Hand & Toe Warmers – if you get really, really cold, or if the weather is going to be freezing and miserable, make sure you chuck a few hand or toe warmers in your pocket. It could be the difference between you staying out all morning, or going in to defrost those fingers and toes, that you're not sure you have anymore. I recommend buying a box of these so you have plenty for the duration of your ski trip.
Want a full list of all the things to pack on a ski trip, including what to wear before and after the slopes? Read this post
What to expect if this is your first time boarding/ skiing
You Will Fall Over
There's no easy way to say this- you are going to be very sore and bruised when you debut as a skier or boarder. It just comes with the sport. And trust me, even after skiing as a child, snowboarding in New Zealand, and working at a ski resort for a winter season in Canada, my last day of skiing before I came home left me with a sore neck, migraine, and bruised hip for weeks!
You will fall, and that's okay!
I still have tantrums and cry when I'm having a bad ski day, and I still fall over a lot. Learning to ski can be really frustrating, but just know that you're not alone. We have all been there. Just don't forget to laugh at yourself, in between the crying.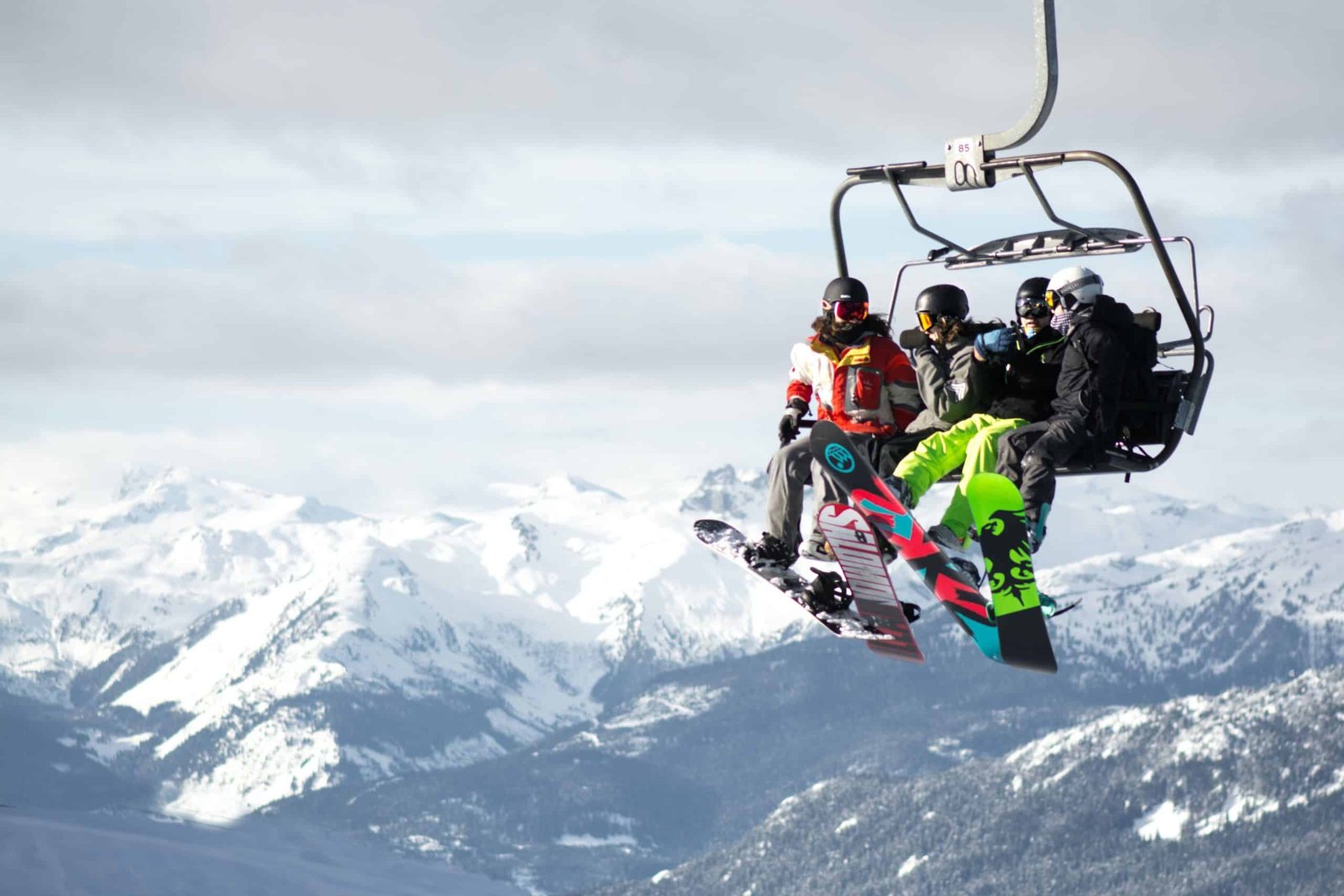 Consider Taking Lessons
Whether it's your first real-time on snow, or you haven't been in a long time, I would highly recommend booking in for a lesson on your first day.
In fact, I would say you're doing yourself and everyone else on the mountain a disservice if you don't. Often there can be thousands or tens of thousands flocking to ski resorts on busy days, and if you aren't prepared to dodge small children or avoid boarders and branches and moguls while speeding down the mountain, you really shouldn't be there. It is just too dangerous.
Lessons are not just for newbies. They're a great way to refresh your memory if it has been a while, and teach you good habits even if you think you're a pro.
Depending on where you go will depend on the lessons and prices, but generally, there are group lessons in all different levels- from 1-5 (1 being brand new and 5 being on the mountain learning advanced techniques). There are also private lessons where you can work one on one with an instructor.
Ski/Boarder Terms to Know
Want to fit in right off the bat without really even knowing what you're doing? The world of ski-bums and boarders is unique, and any outsider can feel alienated from it at the beginning. Especially if they literally have no idea what is being said.
Here is a crash course in the ski-terminology.
Now commit them to memory, use them wisely and join your fellow shredders, park rats and magic carpet riders!
Après-Ski: The day's over – it's time for drinks.
Backcountry: Otherwise known as off-piste and similar to backside which is the back of a mountain. Often the most memorable days spent skiing are in the backcountry, away from the popular tracks and floods of people.
Balaclava: A facemask worn to cover exposed skin. A key extra whenever you are caught riding a lift in fierce, driving wind or snow.
Carving: A series of clean turns using the edges of skis or a snowboard. Carving turns can vary from tight turns to giant "S" shaped swoops.
Dump: Slang term for an epic snowfall of fresh powder. The best ski days happen after big dumpings of pow-pow!
First Tracks: Cutting through fresh snow before anyone else does, leaving behind your trail for all else to see. It's literally the best feeling!
Gondy: Also know as a Gondola! Essentially a boxed in chair-lift that can take you to the top of the mountain. Perfect for giving you the extra time you put on your helmet and take a few selfies!
Green, Blue, Black, and Black Diamond: Depending on the resort, these might mean slightly different things or have different names entirely. They are the easiest to hardest runs to do, warning skiers not to attempt ones that are too difficult before they are ready and guiding you down different tracks on the mountain!
Liftie: A slang term for a ski lift operator. Lifties are always the best to talk to!
Magic Carpet: Unfortunately, not like Aladdin. There will be no flying. Instead, a slow incline on a conveyor-belt like surface. Typically found only on smaller, bunny slopes where you learn to ski and snowboard.
Park Rat: A Snow Park junkie who refrains from exploring or leaving the confines of his playground. Often attempting jumps and rails. Risky stuff!
Pow (Pow-Pow): Light, dry, fluffy snow referred to normally as powder.
Tracked Out: Slang term for a slope of once fresh snow that has been ridden over repeatedly. Generally means it is a bit icy and not as easy or fun to ride down.
White Out: When visibility drops to almost nothing; caused by heavy snowfall, fog, or a combination of the two.
Wipe Out: A pretty un-poetic and painful fall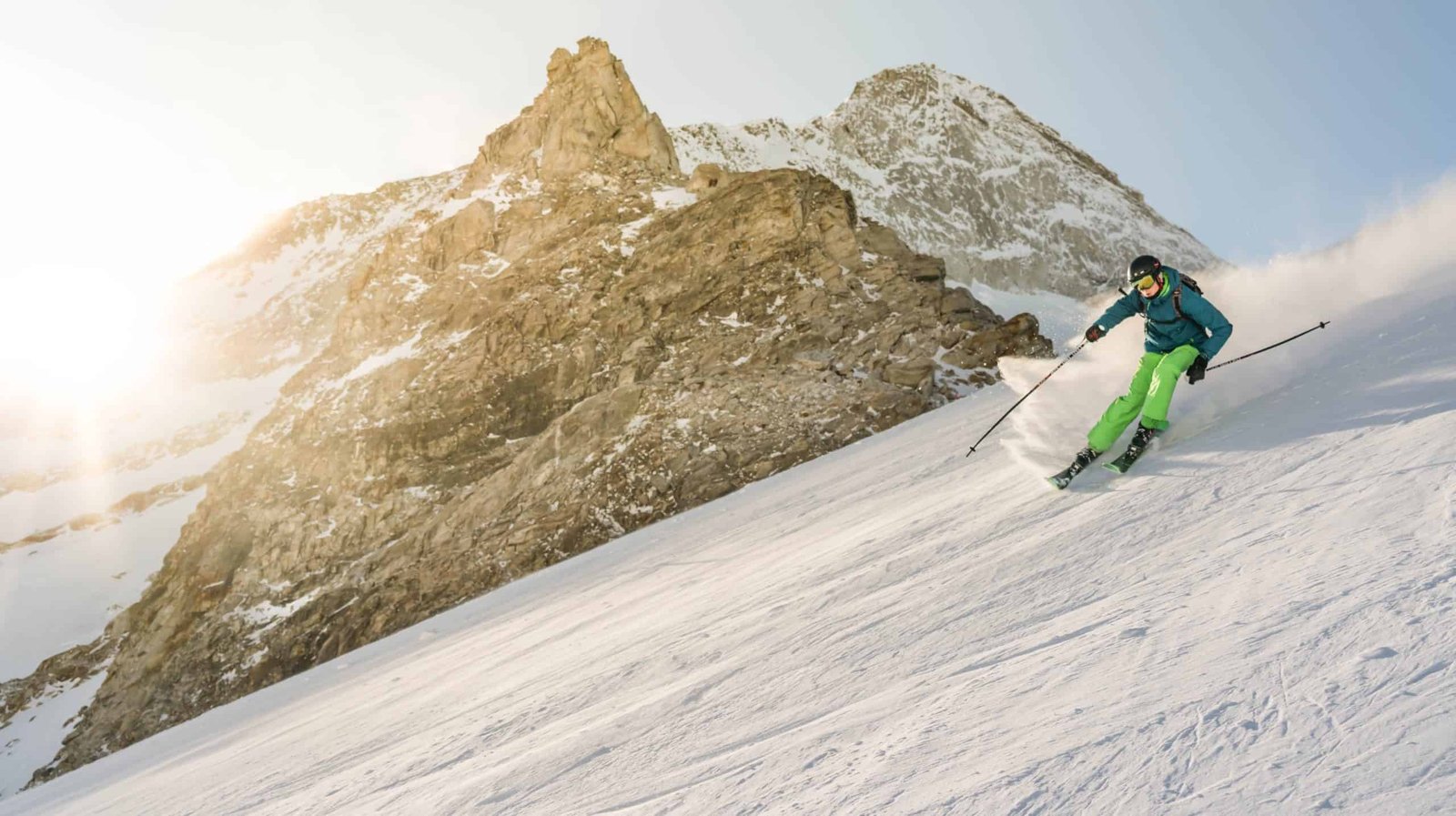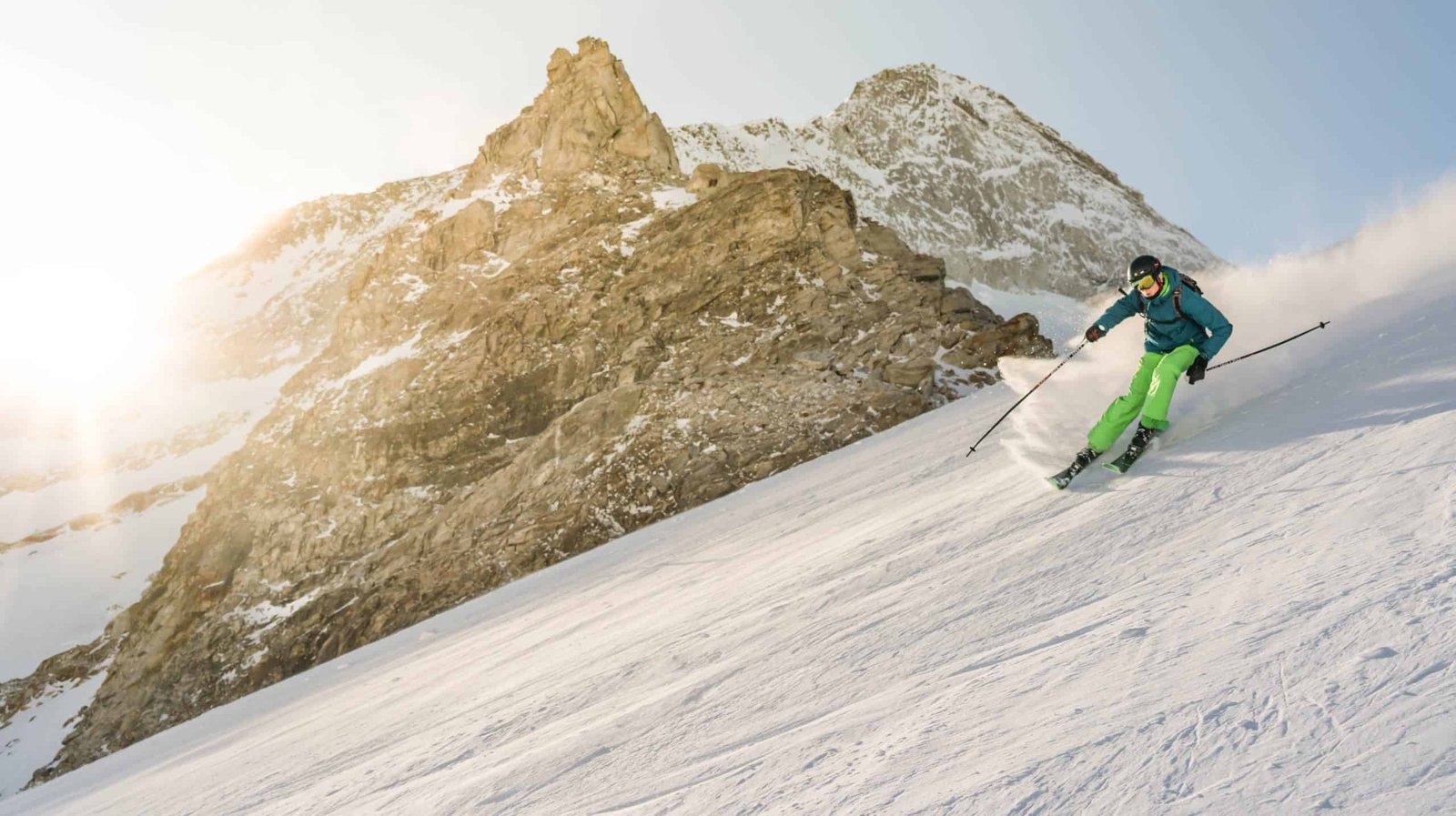 The Best Places to Go Skiing and Snowboarding In New Zealand
Okay, I'll be honest here and say there are probably a tonne more slopes out there that I just didn't get to- if you have been to others you recommend, please drop a comment and let me know!
However, the three that I did make it to are extraordinary, and it's hard to imagine that there can be better. These also happen to be three of the most popular in all of New Zealand, and ones that are known worldwide. If you're interested in taking a skiing and snowboarding trip to New Zealand, look no further than Queenstown– the home of the slopes, adventure sports, and delicious foods.
And, if you are planning a trip here, these are the three slopes I highly recommend you add to your list.
The Remarkables.
If you're thinking of exploring the famous town of Queenstown (and you really should if you go to New Zealand), then the Remarkables should definitely be on your list of places to ski and board at. I went at the very start of the ski season when the powder was just beginning to fall, but this didn't stop me from having a killer few days. The weather was incredible on the day I visited, allowing me to absolutely froth over the views of Queenstown and beyond! 
This was the first stop on my adventure to the ski slopes in New Zealand and it was amazing. Although I would have loved to conquer some of the bigger lifts and slopes (and trust me there were many), I, along with my group of friends, stuck to having two beginner lessons, and boy was that exhausting! Along with lessons for kids and adults of all experiences, The Remarkables also offers an ice bar, almost 400 hectares of terrain suitable for beginners to intermediates to experts, and many cafes and restaurants all equipped with a fully licensed bar for when you want to kick back and have a drink at the end of the day!
Cardrona
Cardrona was definitely the highlight of the ski slopes for me. I'd had a few snowboarding lessons by the time we got here so I was feeling a bit more confident and comfortable with my board and the whole snowboarding thing, but was still tackling the beginner's area, and let me just say- the beginner's area was perfect! The slopes were the perfect gradient to be comfortable but still push you to learn and practice. The staff were also incredible and patient which made the learning process so much easier.
Oh, but did I mention the views? They are absolutely stunning.
Another highlight that Cardrona had to offer its visitors is the Chondola- an enclosed, gondola- style lift that offers those who are still learning the ability to go to the top and check out some of the excellent views, without having to worry about fumbling your way back down.
Cardrona is within 35 minutes from Wanaka and an hour from Queenstown. With a massive area of slopes from expert to beginner, it was an excellent vibe to experience. There was tubing available, several conveyor lifts, many sightseeing spots, and several cafe's and restaurants, including an amazing noodle bar. 
Get your winter sightseeing pass here, multi-day lift pass, or all-inclusive with rental passes here!
Coronet Peak
Of all the fields we visited, Coronet offered some of my favourite views. I occasionally found it hard to look away and concentrate on the task at hand: not killing myself as I stumbled my way down the mountain. Like the other fields, I had ski sessions at Coronet. It offered nice wide slopes serviced by magic carpets, plus the Big Easy – a gentle green run, making it super easy for those who were brand new to snowboarding and skiing like me.
You'll find Coronet Peak a 25-minute drive from Queenstown with night skiing on offer from 4 pm to 9 pm on specific days. There are 4 conveyor lifts, 1 six-seater express chairlift, 2 high-speed quad chairs and 1 t-bar. You'll also find a tubing park, lessons for kids and adults alike and a great run perfect for beginners, and an awesome mountain-top ice bar!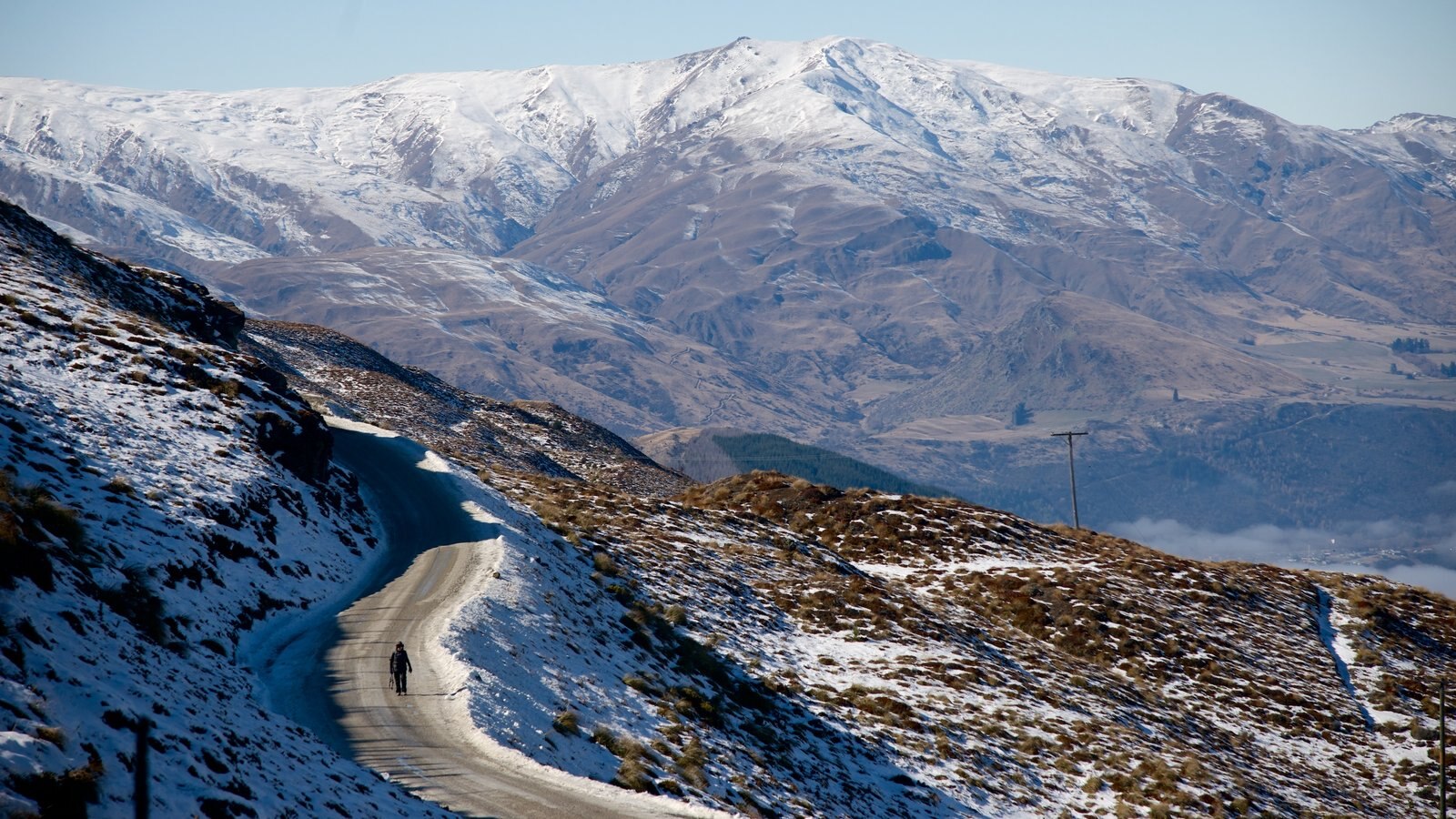 Booking your trip to New Zealand
Book Cheap Flights
Still in the planning stage of your trip? Currently, the best and easiest way to find cheap flights is to use eDreams, Bravofly and Skyscanner. Between them all, you'll be guaranteed to always find the cheapest flight, anywhere in the world.
Book Your Accommodation
Whether you're looking for hostels, hotels, guest houses, or resorts Booking.com will always give you the best deals. Sometimes, if I want to stay in a place a little longer, I'll use Airbnb. You can sign up with Airbnb and get $51 AUD off your first trip! Check out the full list of accommodation in Queenstown here!
TIP: For the best hostels, I usually compare reviews on Hostelworld then check other booking sites to compare prices and deals. Not sure on hostels? Read this post to find out everything you need to know about them!
Book Tours and Transport
Although a combination of independent travel and touring is my ideal form of travel, if the best, cheapest, and safest way to explore is to book a tour or package, I'll do it! For this, I always use Viator and Get Your Guide.
Finding a Car
Having a car or camper is an awesome way to travel. Especially in New Zealand! You can compare rental car deals on EuropCar.
Don't Forget Adventure Travel Insurance
If you're reading this blog then you're more likely to be seeking epic adventures for an affordable price over relaxing and luxurious vacations. By far, my favourite, most comprehensive adventure travel insurance is World Nomads.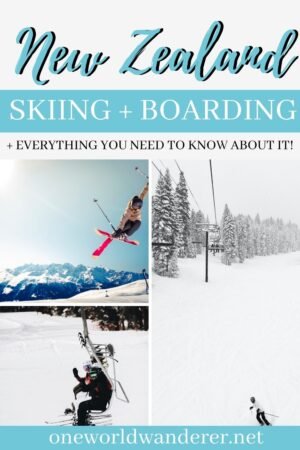 Have you gone skiing and snowboarding in New Zealand? Let me know in the comments what ski hills you fell in love with!
Love winter vacations or looking for somewhere new to go to try your awesome shredding skills? Check out these posts!
9 of the Best Winter Adventures in the Canadian Rockies
Your Ultimate Canadian Bucket list
A Working Holiday in Lake Louise, Canada- Part 1
Keep wandering,
Abbie xoxo