Have you ever seen the dreamy pictures of New Zealand's South Island, and frothed over the adventurous and stunning town of Queenstown?
If you have, you're not alone. Queenstown, located in New Zealand's South Island, is the adventure capital of the country, if not the world. It's here that some of the world's most scenic surroundings fall into place providing ample opportunity for adventure sports, winter sports, sightseeing, and relaxation vacations alike.
I've been lucky enough to visit Queenstown twice in my life. First, was with my family on a campervan vacation when I was 13, and second, was on a snowboarding trip with work when I was 20. Both times, I was blown away by my experience, and I'd even go as far as to say that it's one of my favourite cities in the world.
Here's my first-timers guide to visiting Queenstown, New Zealand and my top suggestions for things to do!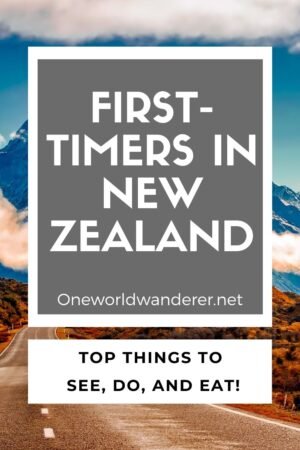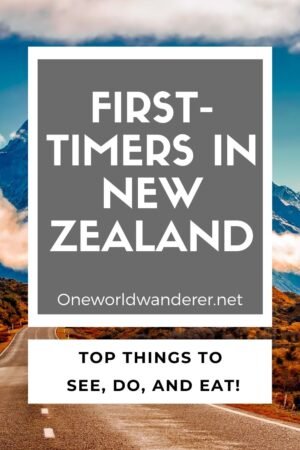 Disclosure: This blog post contains affiliate links, which if you click, adds absolutely no extra cost to you. These links allow One World Wanderer to continue providing you with free guides and travel content.
When is the best time of year to visit Queenstown?
I always like to answer this question with 'whenever you love travelling and are able to go!' for some of us, the best time to visit anywhere is whenever you can actually get time off work or book a holiday.
But, I also like to say that it depends on your favourite season. If you're like me and you love winter, snow, and skiing, then travelling to New Zealand in winter is going to be the best time to visit! This is when the town filled up with adventure seekers-people who await the magical conditions of snow-capped mountains and crisp bluebird days- the perfect ski conditions that equate to New Zealand having some of the best resorts in the world!
Winter falls between May and August, with the snow often falling earlier and later depending on how cold it is. Temperatures during winter often fall between 5-10°C with cold nights averaging around -5°C and -15°C. For my packing guide, tips and tricks for skiing and snowboarding, read my guide to skiing for first-timers here!
Planning a ski trip to Queenstown? Check out my recommendations for the best ski resorts!
If winter isn't really your jam than the best time to visit Queenstown is between December and February (the summer months). These are the warmest days, where temperatures average around 20-30°C throughout the day. The conditions in summer are perfect, with long, sunny days and clear skies that allow for outdoor activities like hiking, biking, and water sports to be enjoyed.
The only other thing I'll add here is that I visited New Zealand in September when it was Spring, and although the weather was still rather cold, it was a perfect time because you skipped all the winter and summer crowds!
Is Queenstown a place for solo travellers?
Believe it or not, I would have to say that visiting Queensland as a solo traveller is one of the safest and best places you could choose!
One of the wonderful things about the city is that it's filled with international travellers, tourists, and seasonal workers. In winter, the town blossoms, turning into a ski hub for young ski bums from all over the world. There is an abundance of hostels available, as well as opportunities for travellers to work.
It's not just winter though. The entire year, Queenstown is filled with travellers- both solo, groups, young and old, and so you'll never feel out of place or lost when there.
Want to travel solo but not sure how? Here's how to overcome your fears so you can take the road asap!
Top things to do for first-timers in Queenstown
Wander the streets of Queenstown
Quiet. That's one of the resounding things you'll probably notice when exploring Queenstown.
The city (I guess it's probably more of a town or ski village though) reminds me of something out of Europe. Cobblestone streets, gift shops, the smell of freshly brewed coffee, and smoking chimneys everywhere you look.
At one point, I swear I even heard the chime of bells… okay maybe not. But you get what I mean.
One of my favourite things to do in Queenstown, and the number one thing I recommend first-timers in Queenstown do, is to wander. Wander on foot, exploring the clothing stores and tourist shops, wandering the winding alley's and taking in the fresh air and sights! If you've got a taste for sweet food, visit The Remarkables Sweet Shop where you can try endless samples of fudge, or visit the famous Cookie Time for a freshly baked hot cookie smothered in ice cream.
Spend the afternoon wandering along the water's front, with a breathtaking backdrop of the alps and through the park that lines the water's edge, with alpine trees and paths that transported me to places like Canada and Norway.
Seriously, wandering through Queenstown was the epitome of tranquillity, and no matter if you're travelling for an epic adventurous vacation, for one of the many spa and treatment resorts, or something else entirely, it's well worth it.
Soak Up Queenstown From The Skyline Gondola
If you don't have a car to go exploring the outskirts of town, I recommend heading up to the Queenstown Skyline Gondola for unbeatable views of the town.
Seriously, it's so beautiful up there! Even though I had done this before, when I reached the peak, it took my breath away.
It's one of the top things I recommend first-timers do in Queenstown, and should not be missed even if you're not a first-timer.
The view up to the top is breathtaking, and it leads you to platforms that allow you to walk and get 360-degree views all around.
There are luge tracks that are incredibly fun! You can strap in solo or with a mate and race each other against one of the most beautiful backdrops imaginable.
You can also bungee from the top… but don't worry, that's next up on the list.
Finally, after a day of sightseeing and adventures, you can indulge in a delicious hot chocolate or coffee at the Skyline cafe or enjoy a buffet dinner and night under the stars in the evening.
Bungy Jump in Queenstown
For the adventure seeker out there, or the one who wants to be game while on holidays… this one is for you!
In Queenstown, you can join the AJ Hackett Bungy team and do one of the following: Nevis Bunjy or Swing, the Ledge Bungy which offers spectacular views over Queenstown, or the Kawarau Bridge Bungy.
If you're a rookie, I definitely recommend the swing (although maybe not the giant Nevis one- but probably in Taupo or somewhere else in New Zealand) or the Queenstown Ledge bungee that's at the top of the Gondola.
It's easy to access from the town, and it's really not that high (47m)! Don't believe me? I've done it.
I jumped off, first of my group (of about 30) and it was one of the most thrilling things I've ever done!
The great thing about all of these places is they'll pick you up and take you there, so there's no need to stress if you don't have a car.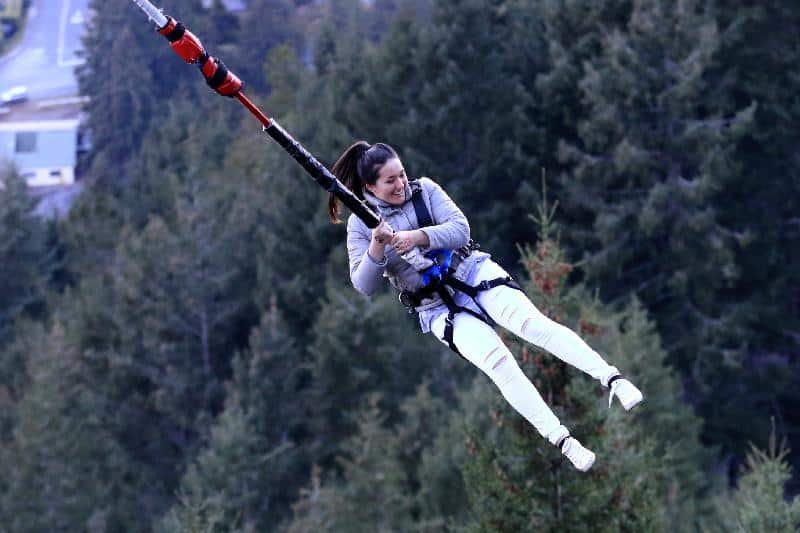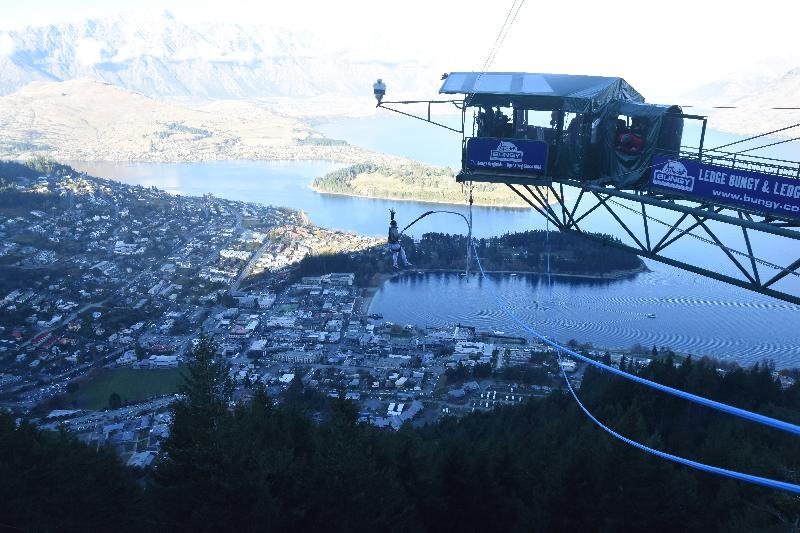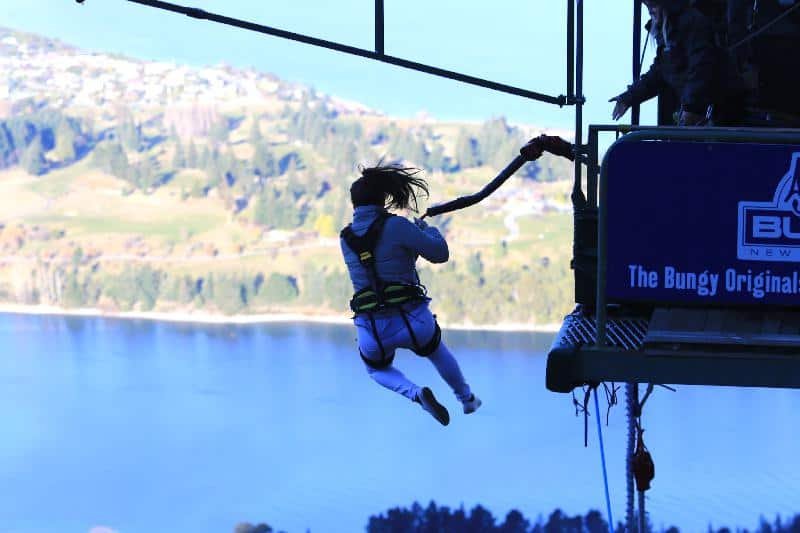 Go Skiing and Snowboarding in New Zealand's World Class Ski Resorts
World-class terrain. Skiing and snowboarding. Some of the best tracks, piste, and resorts you'll ever find.
Are you drooling? I'm drooling.
If you've been a follower of One World Wanderer for a while, you know there's nothing I love more than snow, mountains, and adventures!
Whether you're after the full snowboarding/ skiing experience, or just wanting to play in the snow, ride a Gondola to epic views, or sit I a lodge drinking hot chocolate all day, Queenstown is perfect!
I won't go into detail about winter sports here- you can read my full post about the top ski resorts to visit in Queenstown! The Remarkables, Cardrona, and Coronet Peak are my top picks- and I've boarded at all three!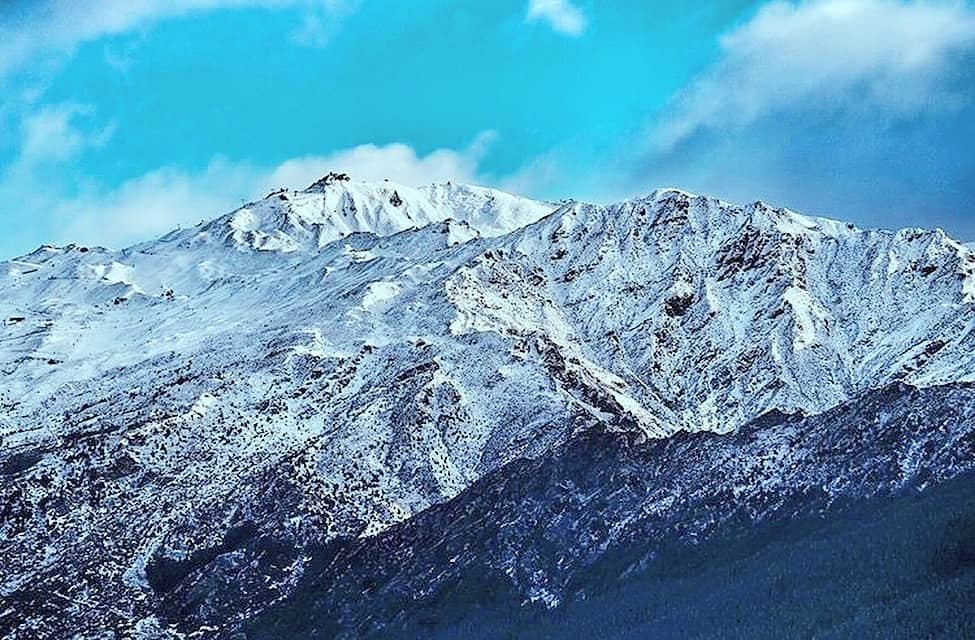 The number 1 place to eat in Queenstown (and New Zealand) is Fergburger
I had heard quite a bit about Fergburger before travelling to New Zealand, and every time, I laughed. How on Earth could a burger be that good.
You constantly hear of 5-star reviews. Of it being named the best this and the best that.
But is it really true? And what makes these burgers the best?
Well, before I say anything more, I just want to say that for first-timers in Queenstown, you absolutely HAVE to go to Fergburger. Check out their menu here!
When you get down off that mountain after a big day of snow fun, or after a day of adventuring and adrenaline rushes, you'll be ready for an absolute feast.
I can't explain to you why the burgers are so good, nor what makes them taste like heaven in a bun- it's something you just need to try for yourself.
They have a massive menu and plenty of options that cater to dietary requirements, breakfast, lunch, and dinner! My only advice here is to order ahead or be prepared to wait a little while… it's always busy! 
If a delicious burger doesn't tickle your fancy, you also have the option of trying the Ferg-bakery, where the pies go completely unrivalled. End your feast with a delicious dessert from Mrs Ferg's Gelato shop (they're all next to one another).
And I'm telling you, both are OUT OF THIS WORLD… just like the burgers!
Take a ride on The Shotover Jet
Queenstown is famous for great adventure activities. I've said that many times before. And one of the best things to do if you're an adrenaline junkie and not wanting to jump off or out of things is take a ride on the epic and equally as gorgeous Shotover jet!
"From the moment you leave the jetty, your adrenaline hits the roof. You'll speed over water as shallow as 10cm, experiencing 360-degree spins along the famous Shotover River and deep into the Spectacular Shotover Canyons. As the only company permitted to operate within these canyons, it's an irreplaceable white water ride.  As the Canyon walls tower over you, your expert driver puts the state-of-the-art Jet Boat through its paces, riding the rapids and performing thrilling, gravity-defying stunts within a hair's breadth of the awe-inspiring cliff faces." – The Shotover Jet Website
Book your tour on the Shotover jet here!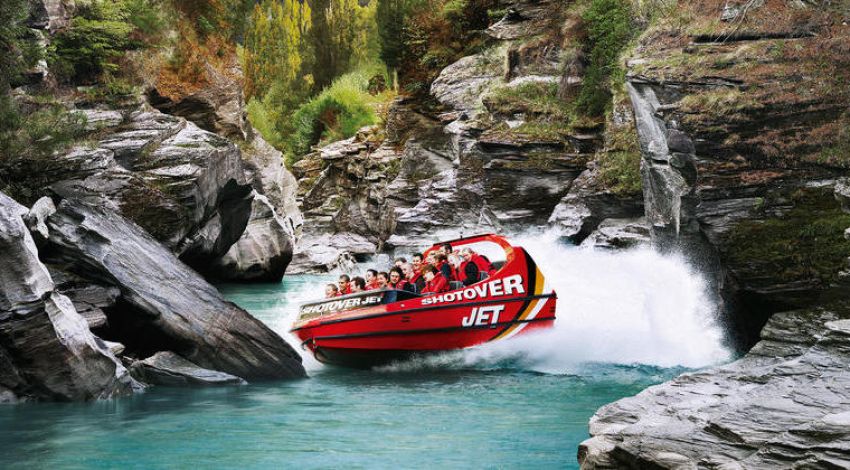 First-Timers in Queenstown simply MUST check out the nightlife
One of the reasons Queenstown attracts so many people from across the globe is its fantastic nightlife.
And I have to agree. I've partied, had drinks, or just gone out in a lot of places around the world, and Queenstown is one of the best.
Think an abundance of bars, ice/igloo bars, pub tours, world-class nightclubs.
Here's a list of the best Queenstown nightlife locations to visit, recommended by Queenstown itself!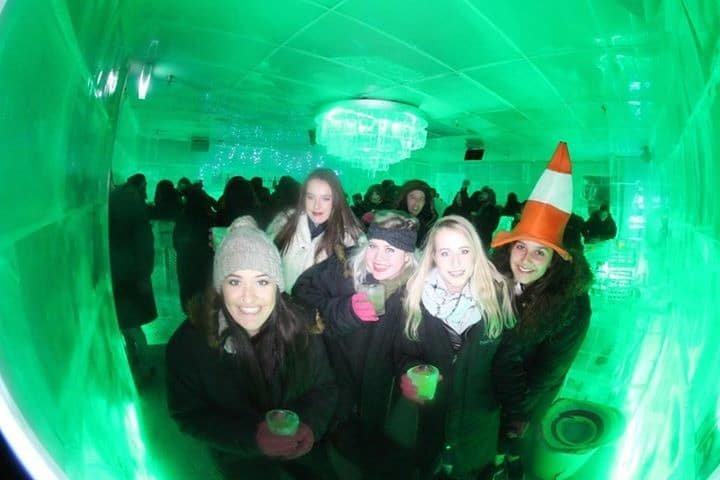 Final thoughts on Queenstown
There's no beating around the bush when it comes to saying that Queenstown, and largely New Zealand, is quite an expensive place. Food, accommodation, activities, and everything in between comes quite costly. It's just how NZ roles.
If you've ever been to the National Parks in Canada, or to anywhere in Australia, I'd say it's on par or if not more expensive, so it's not necessarily the best place to go if you are a budget traveller.
That being said, it's a great place for working holidays, as getting visas are quite easy for most countries, and there are so many job opportunities year-round that you'll never struggle to find work.
If working holiday's aren't your thing, and you really just want to have an amazing holiday, I'd recommend checking out campervans or road tripping in a car and camping. That way you'll see more while you're there and not have to worry about the price of hotels as well as transport. This is one of the main ways people travel to New Zealand and believe me when I say it's 10000% worth it.
Where to stay in Queenstown
For the budget traveller, I recommend checking out:
Lakeside Motel (the view oh my gosh)
Book Your Trip To Queenstown
Book Cheap Flights
Still in the planning stage of your trip? Currently, the best and easiest way to find cheap flights is to use eDreams, Bravofly and Skyscanner. Between them all, you'll be guaranteed to always find the cheapest flight, anywhere in the world.
Book Tours and Transport
Although a combination of independent travel and touring is my ideal form of travel, if the best, cheapest, and safest way to explore is to book a tour or package, I'll do it! For this, I always use Viator and Get Your Guide.
Finding a Car or Campervan
Having a car or camper is an awesome way to travel. You can compare rental car deals on EuropCar and choose the best way to get around (I highly recommend a campervan!)
Don't Forget Adventure Travel Insurance
If you're reading this blog then you're more likely to be seeking epic adventures for an affordable price over relaxing and luxurious vacations. By far, my favourite, most comprehensive adventure travel insurance is World Nomads.
Related Posts for First-Timers in Queenstown
Skiing and Snowboarding in Queenstown New Zealand
9 Winter Adventures in the Canadian Rockies
Skiing for the First Time + Packing Tips and Tricks
Travelling to New Zealand? Why not stopover in Australia too! Check out my full Australian library of posts here!