This post is a guest post, written by Martin from Evo – a ski, snowboard, mountain bike, surf, wake, skate, camp, and lifestyle retail brand with stores across the USA. Evo explores the collaboration between culture and sport by seamlessly joining art, music, streetwear, skateboarding, snowboarding, skiing, mountain biking, and wakeboarding. Their aim is to bring all things relevant to the urban, action sports lifestyle into one creative space. You can find Evo here.
Have you ever had a conversation that went a little bit like this?
"That sounds awesome, but I'm just too old to get into that now."
Or, "I wish I could do that, but it's just too expensive."
The fears and excuses come quick and fast every time we're talking to our non-skiing friends about how much we're looking forward to another winter of making turns on the mountains. 
They assume you can only enjoy skiing if you start at an early age – that you've got to pick up the sport when you're still young. And that you need to have tons of extra money lying around to get out onto the slopes.
But, with the right approach, that's simply not true. Skiing is a lifelong sport that is designed to be welcoming to beginners, regardless of their age. Anyone can become a skier and make it a lifelong passion, and it's never too late to start.
While we agree that skiing isn't the most affordable sport out there, people are often scared away from taking up the activity because of the cost.
There are just too many moving parts, you need the right gear, the right clothes, the lift tickets and season passes. It all adds up- don't worry, we completely understand. And if you happen to have a family and need to factor in multiple children, the bill just gets bigger.
But, we're here to let you know that skiing doesn't have to be prohibitively expensive. Sure, if you just dive in and throw your credit card around, you'll end up spending a bunch of money. But, with a little planning and creative thinking, you can save a lot of cash.
So here are our money saving tips for getting into skiing to get you out on the slopes, without breaking the bank. We've broken them into two categories, gear, and saving money at the resort. We hope this helps encourage you to get out there and try skiing. After all, there's a reason so many people love it! 
Skiing for the first time? Why not check out my tips and tricks to skiing for the first time guide! 
Money Saving Tips for Ski Gear… to rent or to buy?
Rent ski gear instead of buying.
When first getting into the sport, there really is no need to buy your skis, boots, and bindings your first season.
While you might hear otherwise from professionals and people who aren't fans of the rented gear, buying new gear certainly not recommended when you are starting out.
Consider doing ski rentals. While renting gear can prove cheaper than buying an entire setup, it also provides an additional benefit. Rental gear will have characteristics for the newbies, including softer flexing skis and boots, as well as skis with more rocker in the shape. These features make the learning curve more approachable so you can start having fun sooner on the mountain.
Likewise, renting gear also gives you the opportunity to trial gear before you put a hefty amount of money into it. You can learn what you like and don't like, and understand what you really need to be comfortable on the mountain.
For the money conscious skiiers out there with kids, Kids' ski gear is one of the biggest expenses of skiing as a family because they grow so fast. They'll often end up needing bigger skis, boots, pants, and poles every season, if they even make it that long without their feet growing out of their boots.
But there's a simple solution: often your local ski shop will offer kids season ski rentals. Basically, for a fraction of the cost of buying a full set of ski gear, you can rent a nice, new set of gear, that fits your child perfectly, for the full season. Just pick it up in the fall and drop it off in the spring. And, if your kid grows out of something during the ski season, you can often swap to a different size at the shop for no extra charge. Season rentals are the best way to save money as a skiing family.
Travelling soon but you need to stick to a budget? Check out my library full of helpful budget travel tips and tricks!  
Get the most out of your gear.
For gear that you do own, take good care of it, and it will last you much longer. This especially helps when siblings hand down the gear to younger brothers and sisters. Make sure to keep skis waxed regularly. Make sure boots get dried all the way after every day on the mountain (the only foolproof way to keep them from stinking). And if you do damage your gear, get it fixed immediately.
The saying "a stitch in time saves nine" applies to ski gear as well.
If you get a core shot, or an edge compression, take your skis to a ski repair shop immediately and get it fixed. Even if it's just a small problem, if you let water get into the core it can rot it out and cause bigger issues down the road. Treat your ski gear well, and it will treat you well.
A little ski tuning will save you a lot of money along the way.
Demo specialty skis.
It's tempting to want to build up a huge quiver of different skis for every snow condition. But when you multiply that number of skis by the size of your family, you can spend a bunch of money very quickly. Instead, find everyone one set of skis that they really like in most conditions. Then if you run into extraordinary conditions, like a really deep powder day, consider demoing ski gear. Demo skiing allows you to try new, expensive skis, for just a little more than the cost of a regular rental. You can demo fat skis for the whole family for that one deep day, for the cost of buying just one pair for yourself. And demoing gear before you buy can help guard against making costly purchasing mistakes that you'll regret.
Outerwear and snow accessories.
When it comes to skiing, it is important to know exactly what you should wear so that you are comfortable and can enjoy your time on the slopes.
Talking with a knowledgeable associate at a ski shop is a great way to determine what ski gear will best suit your situation.
For instance, if you are only going skiing for a few days a season, or live in an area with drier winter conditions, you don't need the highest rated waterproof gear.
Likewise, if you are somewhere like Canada where the temperatures are extreme during winter, you will need to ensure you have all the correct winter gear to keep you warm throughout your days on the slopes.
Also, consider using gear you may already have. For instance, if you already own synthetic or merino baselayers from another outdoor activity these will work well for skiing as well.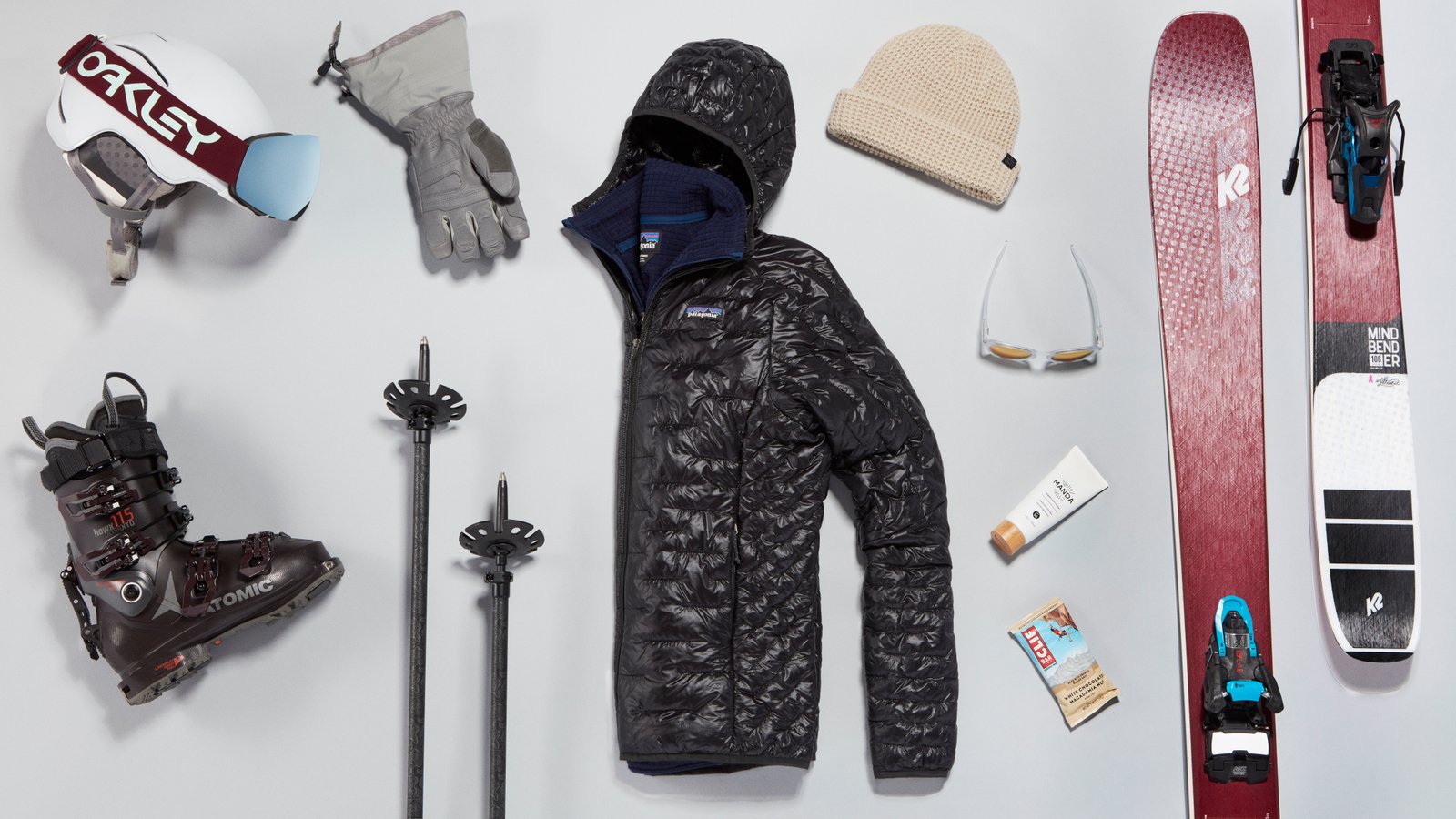 It's all about being smart with your gear and ensuring you don't go spending money when you might not need to.
Not sure what you need on your first trip to the slopes? Check out this guide to skiing for the first time which includes a packing checklist!
Money Saving Tips for the Ski Resort
Look for season pass deals.
Season passes cost a lot more than day tickets, but it's always a good idea to do the math. How many days are you planning on skiing this year?
Multiply that by the average price of a daily lift ticket. Even if you're just going on a week-long ski vacation, a season pass might end up costing less than five-day tickets for each of your family members.
There are an ever increasing amount of season passes to choose from that can work best for your specific situation. Each resort will typically have different tiers of season passes including lower-priced variations like a night pass, weekday only option, or spring season pass. 
Do the math, and have a bit of a plan as to how many days you want to ski before jumping into buying something.
Consider a conglomerate pass.
Are you planning on travelling around to different locations and might want to go skiing?
Do you live in an area with multiple resorts nearby? Or, planning a trial trip like mine in New Zealand when I learned how to snowboard and visited multiple resorts in the process?
You can actually purchase multi-resort season passes, and these are available (and can often include) international resorts as well.
These passes are a great way for families to save money while also skiing at multiple resorts.
If you're looking to ski new places, and don't need to ski a bunch of days at a single mountain, a conglomerate pass could be perfect for your family. With one of these passes, you can hit the road and explore the mountains in different regions while avoiding the huge cost that individual tickets would add up to.
Look for ski school and ski club deals.
Often ski schools and clubs offer package discount deals that get you rental gear, heavily discounted lift tickets, and a lesson for less than the cost of a lift ticket. These "learn to ski and ride" programs are a great option to save some money while you get a head start on skiing competently.
Ski resorts are trying to create repeat customers after all, so they're happy to give you a deal when you're learning how to ski, in the hopes that you will come back time and time again.
It's especially good if you are trying to get your kids into the sport. You can save money, then hand them off to an instructor while you go ski some laps yourself.
Always look for local deals.
If you're not going the season pass route, many resorts often offer discounted deals through local businesses like gas stations or ski shops.
Google, and ask around, there are often buy-one-get-one-free deals available that can save your family a lot of money.
And we absolutely LOVE saving money!
Bring your own food.
It can be very tempting to grab food and drinks from the resorts, but take this route and you'll have to be prepared to face the steep bill that comes along with it.
Ski resort food is expensive!
A better option is to pack food and snacks the evening before you head to the mountain. That way it's quick to grab and go the next morning. Many people enjoy setting up a nice home base at their vehicle in the parking lot to take breaks, eat, and recharge. And saving all that money makes that homemade food taste that much better.
Final thoughts on Money Saving Tips for Getting into Skiing
As a skier, there's a reason to look forward to every season.
From deep December pow days to sunny spring laps, skiing fills the winter with so, so much fun. And at the end of the day, that's what it's all about.
Skiing is fun, for everyone, no matter their age. And no matter what gear they wear or how much they spent to get there.
We hope this post helps you to save money on your next ski trip, or if you are new to the world of skiing, teaches you how you can save money and encourages you to get out there and give skiing a go!
So get in on the fun and start skiing this winter, all while saving a few dollars along the way.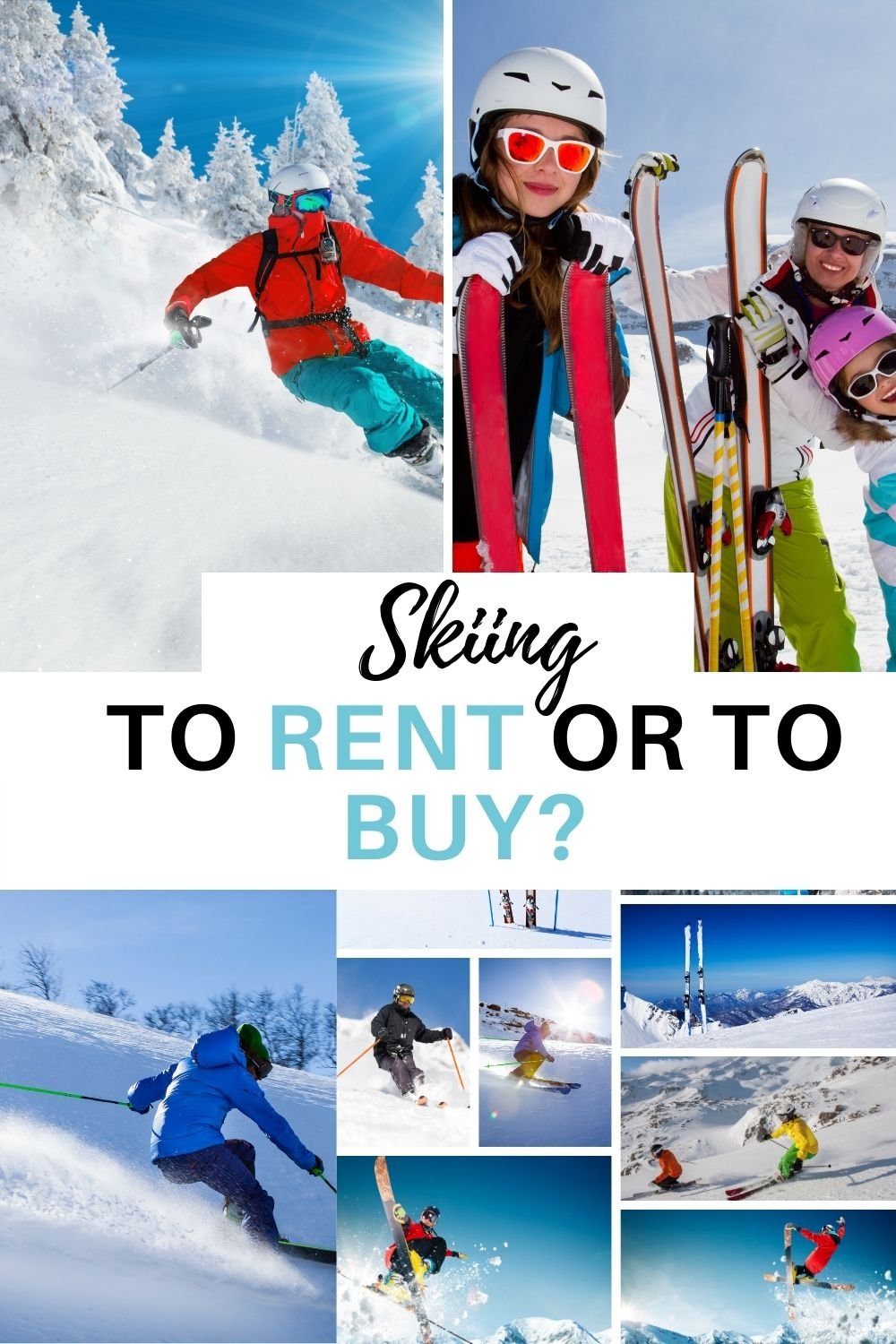 Wanting to take a winter vacation? You might want to check out these posts! 
What it's like working a winter season in Lake Louise, Canada
9 of the best winter activities to take in the Canadian Rockies
Your ultimate Canadian bucketlist
Hiking Johnston's Canyon in winter
First -timers guide to visiting Queenstown in New Zealand
Skiing and boarding in New Zealand- your ultimate guide to the best slopes